Ferrari 812 COMPETIZIONE and COMPETIZIONE APERTA First Look Review
The world premiere of the new Ferrari 812 COMPETIZIONE and COMPETIZIONE APERTA at a specially designed facility on the Fiorano test circuit. This is the ultimate version of the front-engined 812 superfast, with an 818 brake horsepower v12 that revs to 9,000 rpm.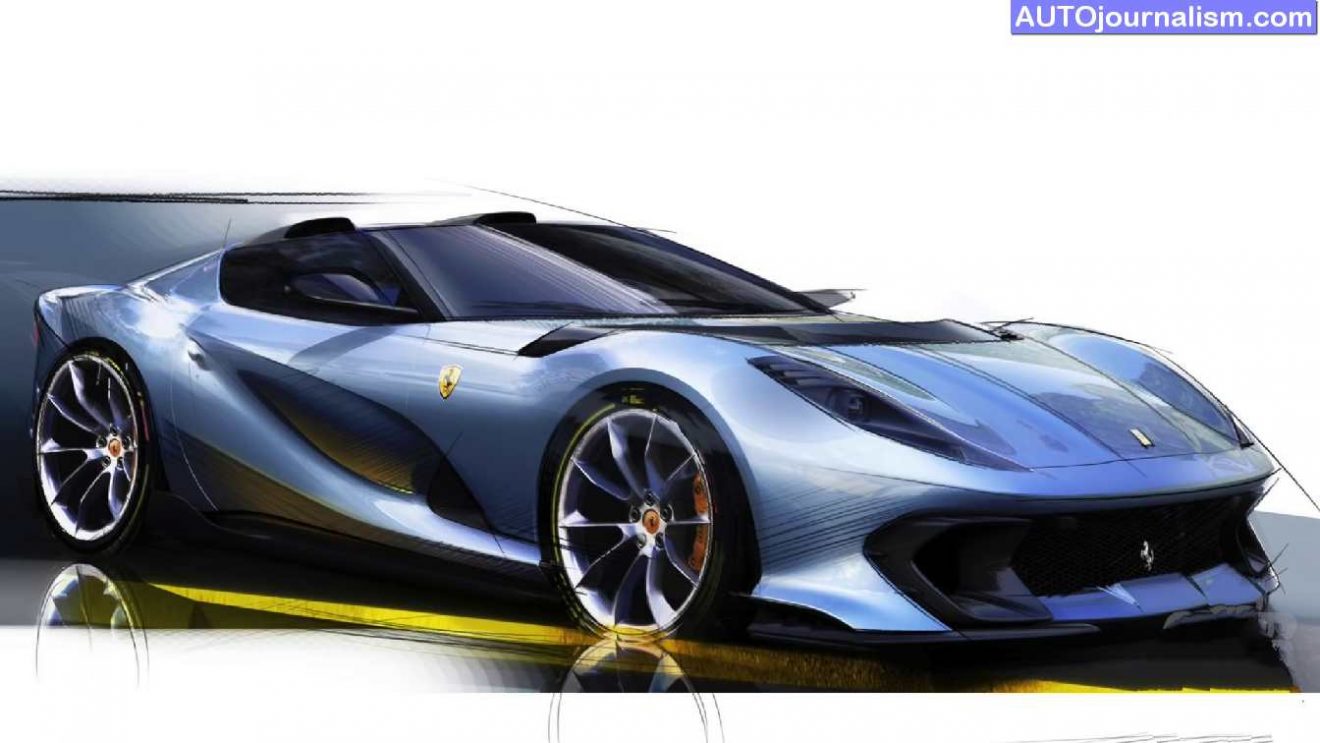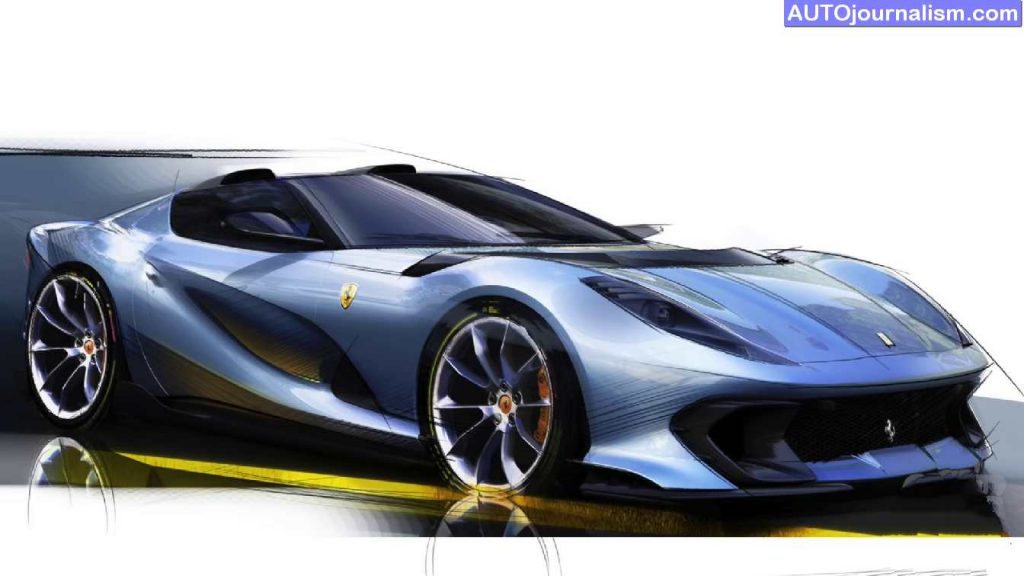 As sure as night follows day it was inevitable that Ferrari would announce the hot version of the 812 superfast, we've now seen all the details at the public briefing at the Fiorano test track we know everything about this car so I thought it'd be interesting to go through everything we know in detail
Tell you about the name
Tell you about the engineering
The technical specs
The design
And tell you exactly what I think of this new car
So if that sounds nice to you, great, let's get started. As you know, I'm a major Ferrari fan; I own five of them and have owned several more over the years, so I'm probably more excited about this car than the average person, but given the fact that I canceled my 812 super-fast order, I'm probably even more so. I wasn't sure how I felt about the launch of the hot version because we know that Ferrari is releasing several new models at the moment, one every few months, but this is one we certainly anticipated and one for which we believe we know the recipe, but now that we've seen the vehicle, does it live up to our expectations and are we still excited?
The f12 had the TDF the 599 had the GTO and even,
The 550 had the 575 m
And now we've got the 812 competition 818 brake horsepower from a naturally aspirated v12
A limited numbered production
Independent steering on all four wheels
And less weight
And I bet you want to know all about the hidden way that this car was revealed to collectors back in February 2021
How it was leaked?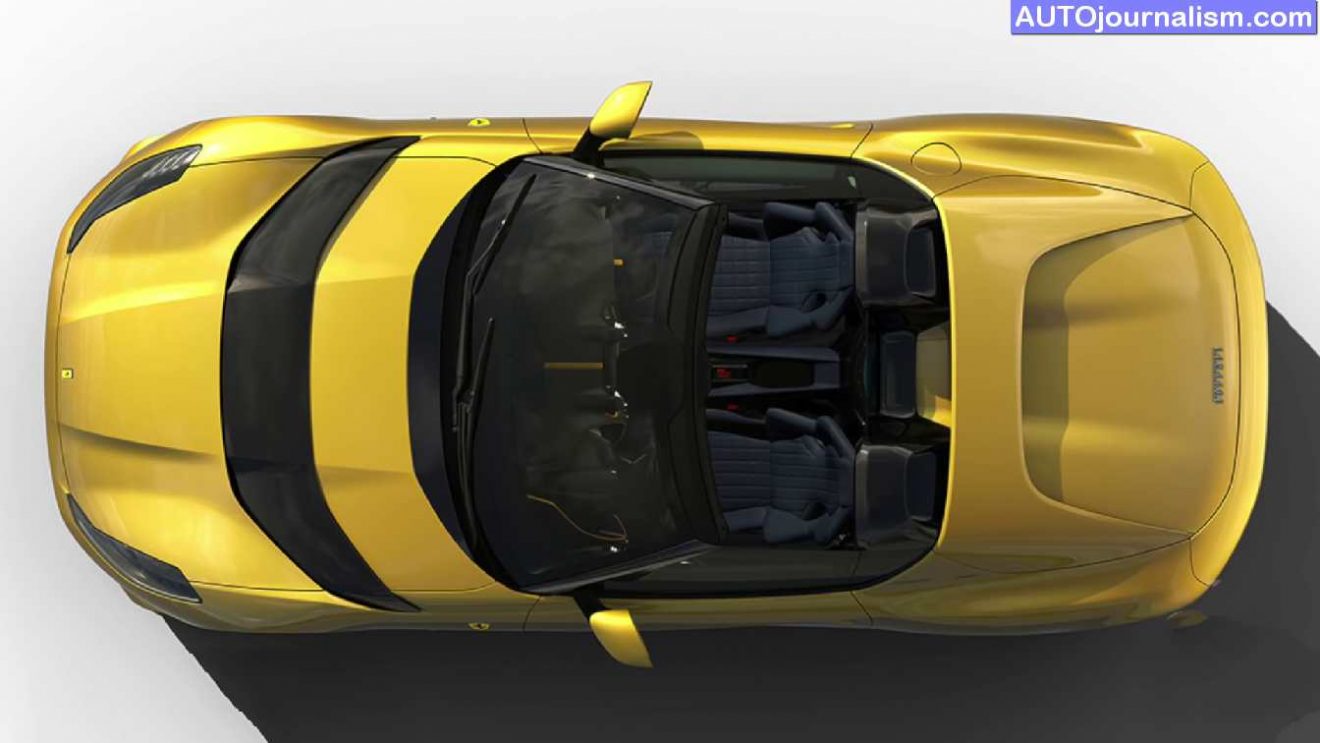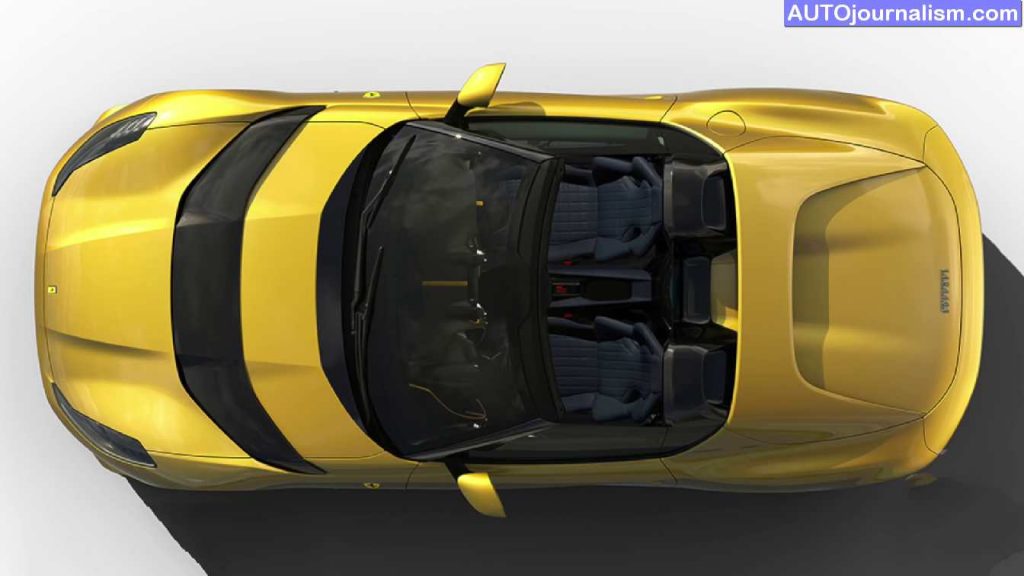 So buckle up, because I'm about to tell you how it all started on February 18th, 2021, when an email was sent out to collectors who had been chosen by Ferrari. The email was accompanied by a video message from Enrique Gallera, Ferrari's chief marketing, and commercial officer, who explained that a new car was coming and to wait for more details. Naturally, someone who received this leaked it almost immediately.
On the 25th of February, a second email was sent out, this time stating that more information would be available in April and that it would come from a very special place. Astute viewers of this video immediately noticed that there was a 250 gto model behind Enrico, and this began to fuel unbelievable speculation that the new car would be called gto.
Version Speciali
Then, on April 21, 2021, Ferrari finally confirmed the existence of a track-oriented 812 with the code name 812 vs or version speciali, which some who weren't paying attention to mistook for the actual name. This was supposed to be a private video to prospective owners but, possibly due to the amount of speculation and leaked imagery that had come out just before Fe, Ferrari decided to make it public.
So, we now know everything about the new car and the official Ferrari briefing from the Fiorano test track has just finished, So it's time to capture my thoughts and go through what we know about this exciting new car.
Incidentally, you may recognize this car this is my challenge to Darley
It is in Argento Nurburgring with a factory stripe
Its right-hand drive
It's done 20,000 miles
It's been serviced all through its life
And it is currently for sale
Here it is the newly named Ferrari 812 COMPETIZIONE and COMPETIZIONE APERTA design elements that immediately stand out to me the unusual ribbed rear deck where a rear window normally would be that striking blade running across the front of the car to aid cooling from that monstrous engine tyre writing.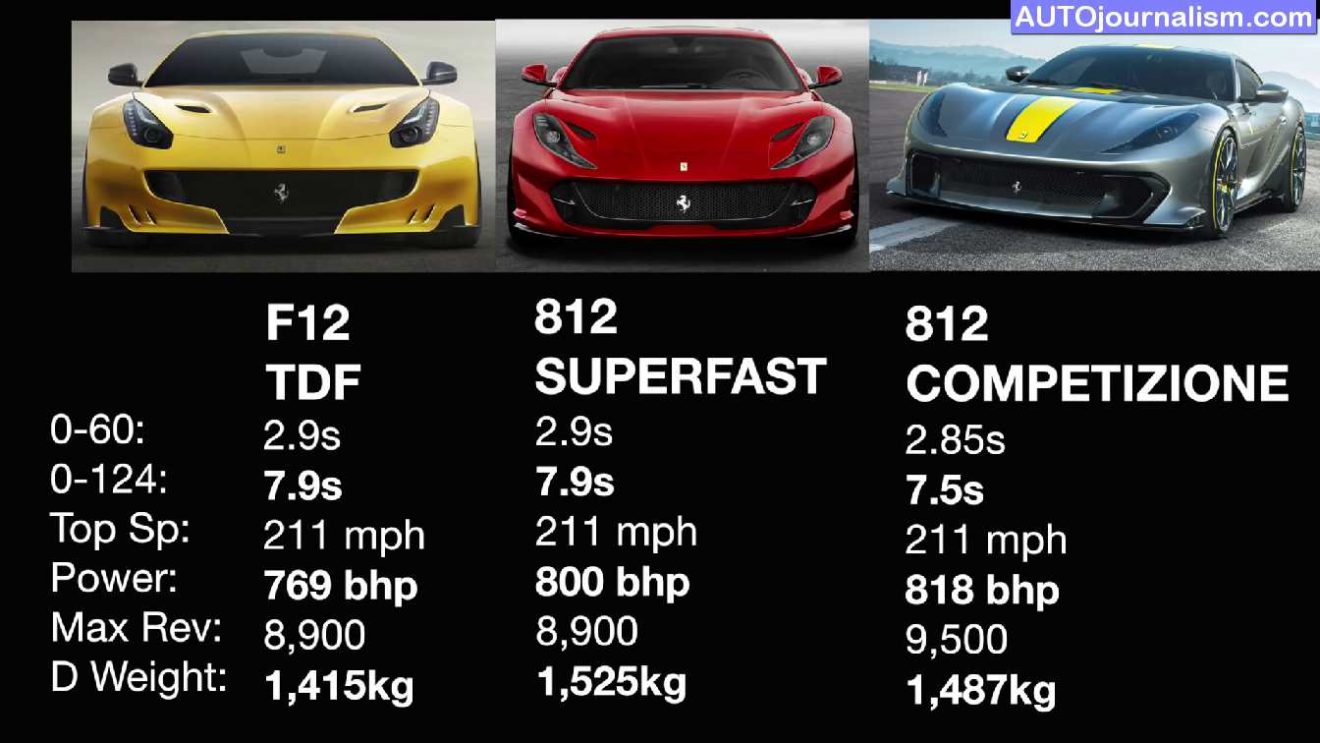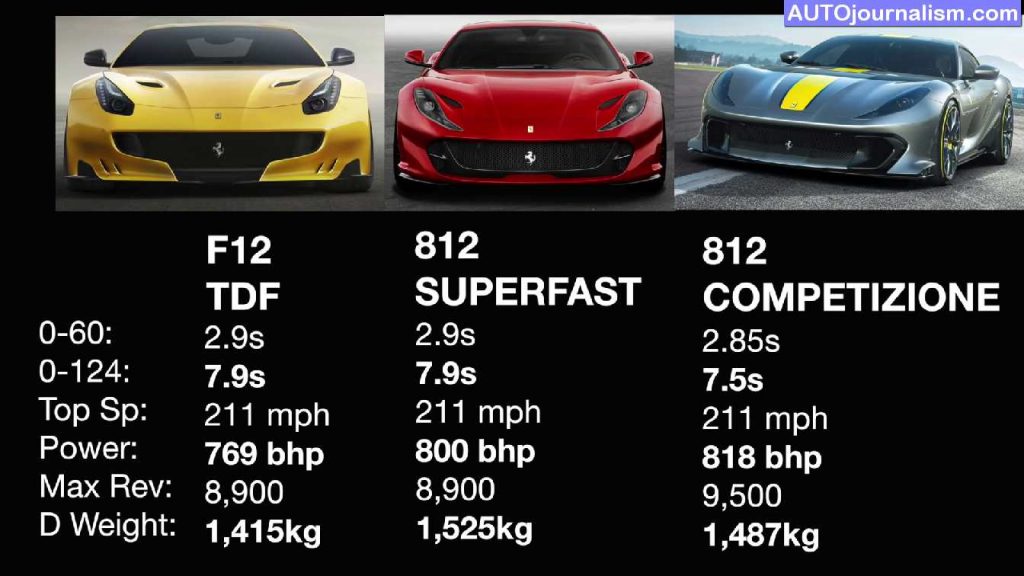 who on earth asked for that?
Interestingly brown rear lights and its a more aggressive stance overall it's certainly infused with racing DNA it's purposeful menacing and that new front treatment is spectacular.
The engine is an 818 brake horsepower front-mounted v12 that revs to nine and a half thousand rpm
That rear screen is a single piece of aluminum and it's fitted with carbon fiber vortex generators for aerodynamic efficiency
And to create cool contrails off the back you can also see in Pic the prominent rear camera
The spoiler at the back is higher than the 812 superfast
And there's that carbon fiber blade inset across the whole front of the car to aid cooling
New vehicle dynamics which goes beyond the 812 superfast rear-wheel steering give independent steering on all four wheels
And also features version 7 of Ferrari's side slip control
The interior doesn't have the new dashboard as shown on the SF-90 and Roma which is a real shame but it does have the new chrome h plate on the transmission tunnel which controls reverse auto manual and launch control
And most importantly it does have a proper starter button
And that name COMPETIZIONE well that's historic for Ferrari
HISTORY:
275 GTB COMPETIZIONE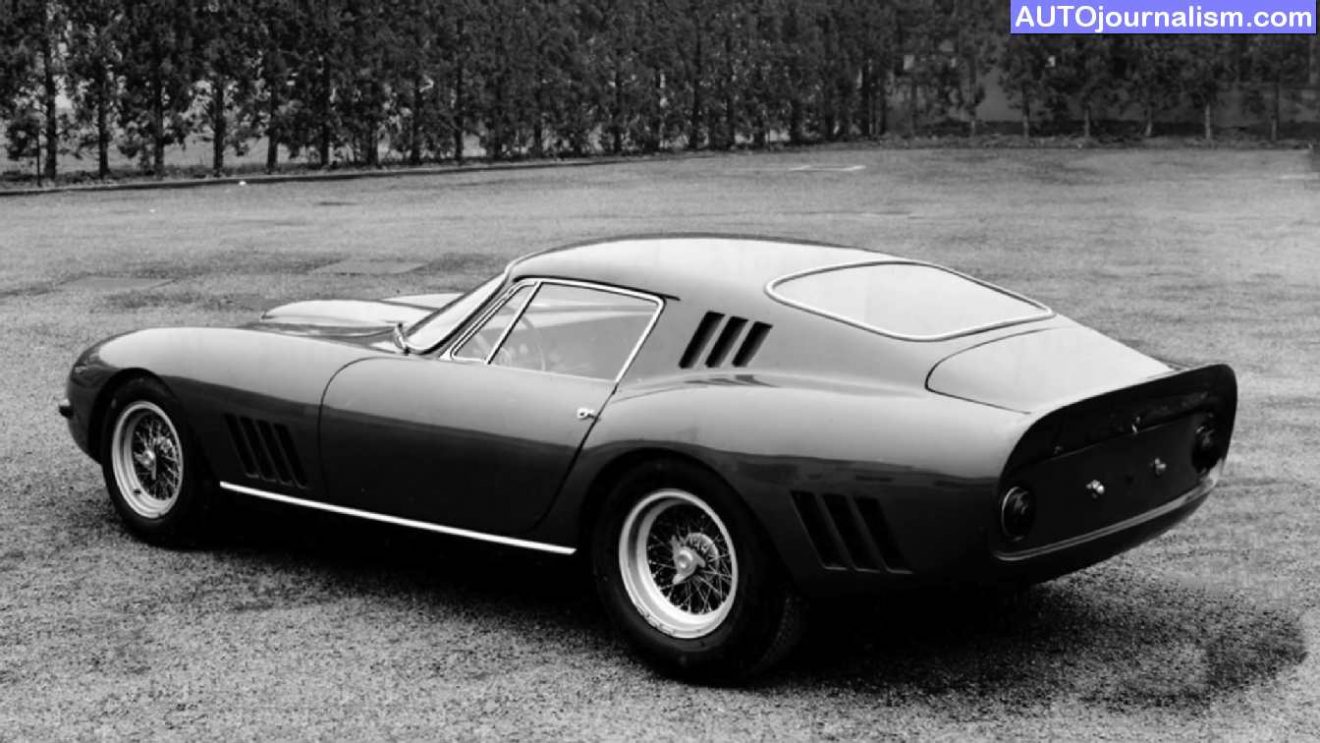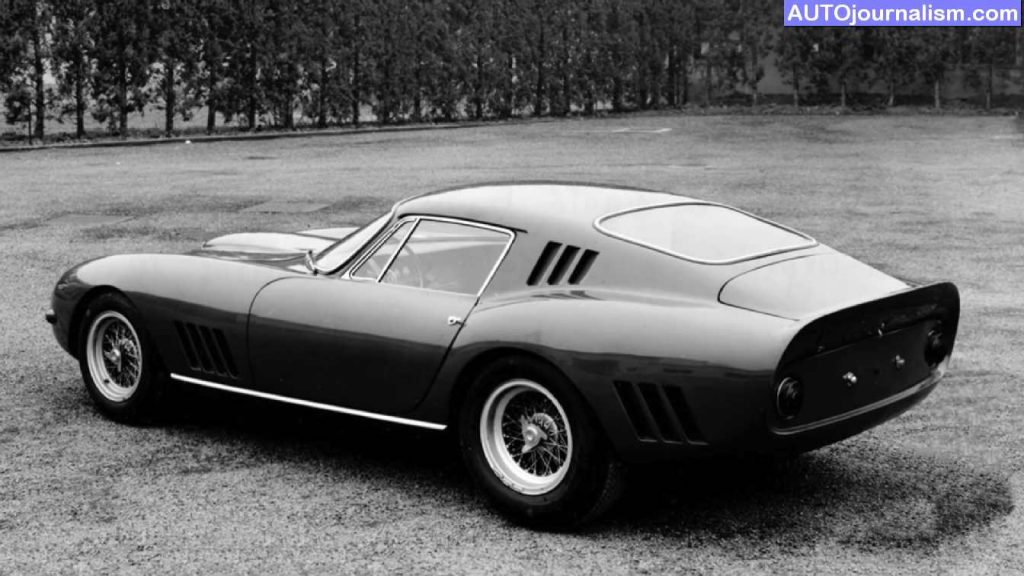 The 275 GTB COMPETIZIONE was introduced in 1965 and was a full-fledged racing machine that competed in the Targa Florio, a thousand kilometers of Nurburgring, and, of course, Le Mans in 1965, where it finished third behind two 250 lm Ferraris. It featured a 3.3-liter V12 engine that could reach speeds of 175 miles per hour and weighed just 1100 kilograms. In 1966, there was also a limited-run road car, similar to this one, which is owned by chef James Martin and is possibly one of the best I've ever seen.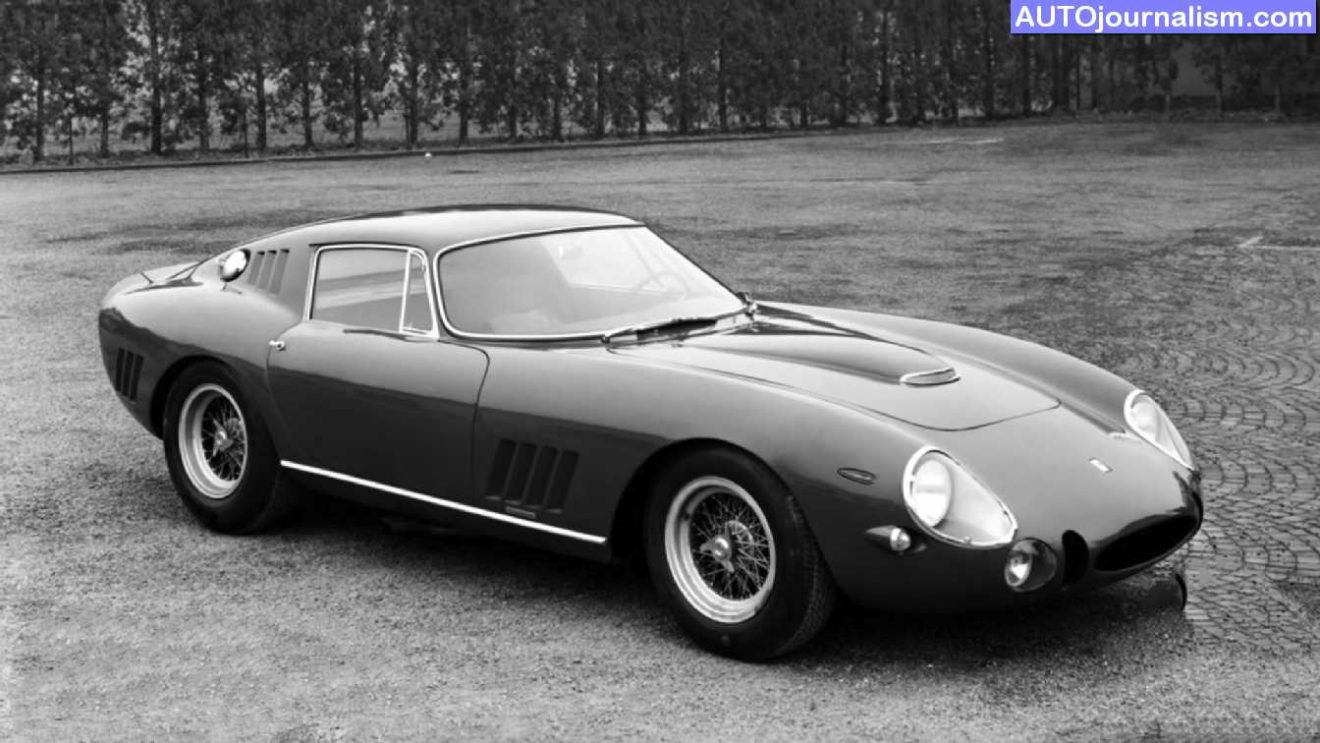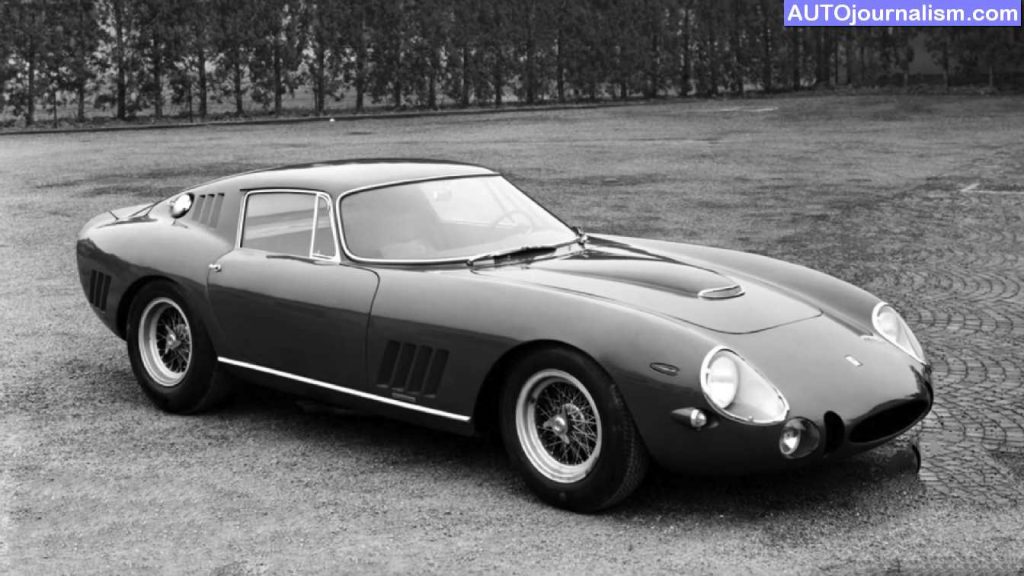 So I decided to compare the vital statistics of the f12 TDF 812 superfast and the 812 COMPETIZIONE. They're all remarkably close, which is unsurprising. The Competizione only pips the previous two to 60 times by a nats whisker. Top speed is the same for all three, but the competition gets to 124 miles per hour almost half a second faster, making it a true whaling car. banshee is a fictional character. Ferrari only announced the COMPETIZIONE's dry weight, while usually, you'd get the ones with fluids as well, so I've placed dry weights for all you can see. In reality, the TDF is the lightest. but the COMPETIZIONE does lose 38 kilograms over the superfast.
So, what do I think of the new 812 COMPETIZIONE? Well, I'm very interested in seeing it in person because it's a new hot version v12 front-engine Ferrari, and who wouldn't want to see that?
Blade Across the Bonnet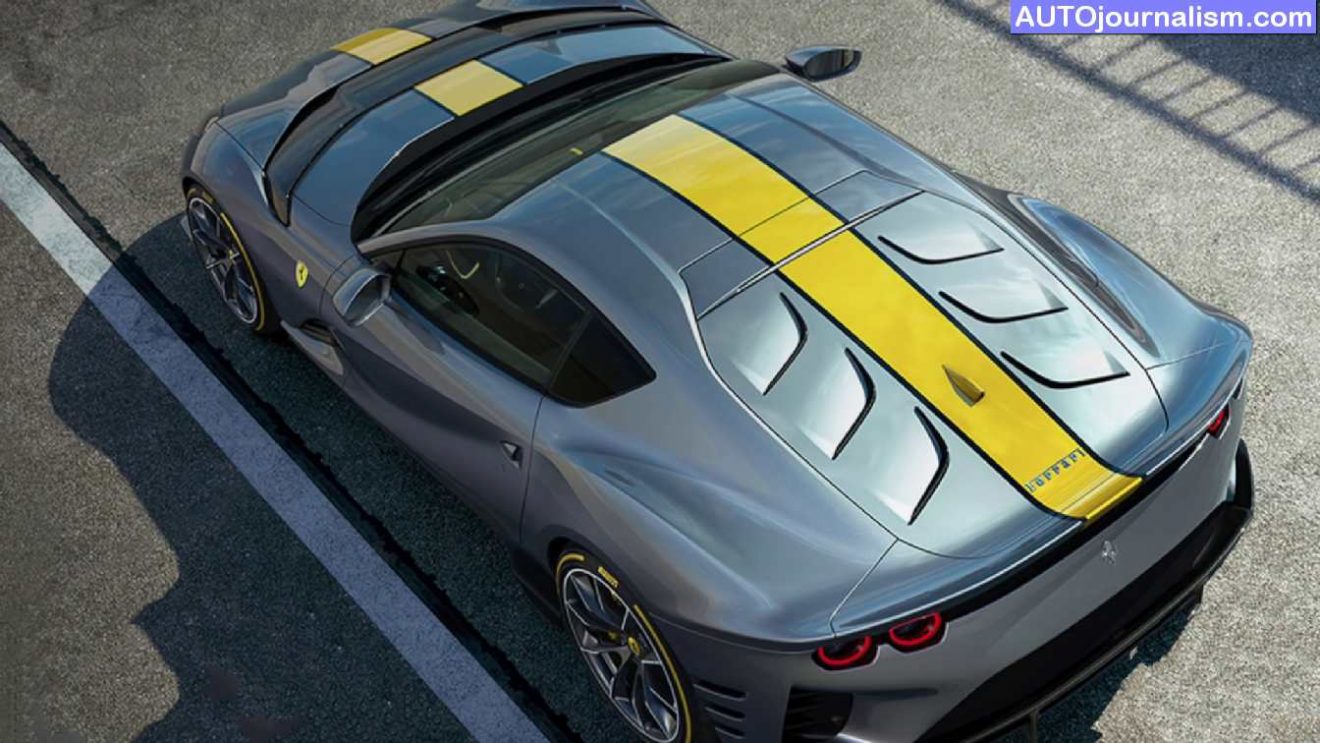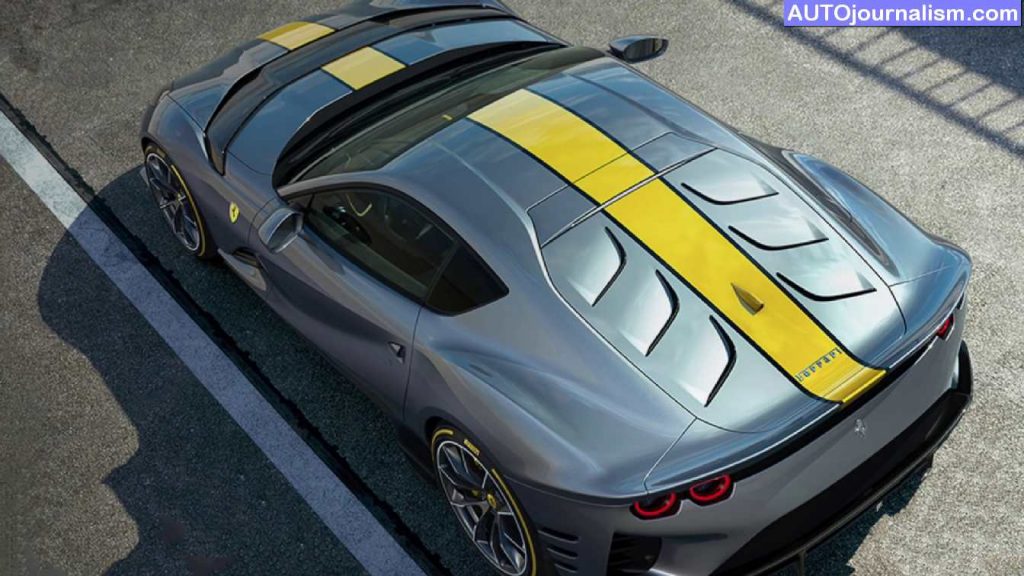 It has two major pieces of body art, the blade across the bonnet and, of course, the rear deck with the carbon fiber strips on it. I don't mind that the rear window is covered because I think it looks properly cool and means, I mean just imagine what this car will look like all black.
The new front bumper and arrow seem to be suitably costly since they seem to be one piece on the TDF, so if you ding that, it'll be at least 35,000 pounds to instal, and the rear diffuser and boxes are huge, much larger than any car before it, which I don't mind because it suits the overall aggressive design.
Spy Shots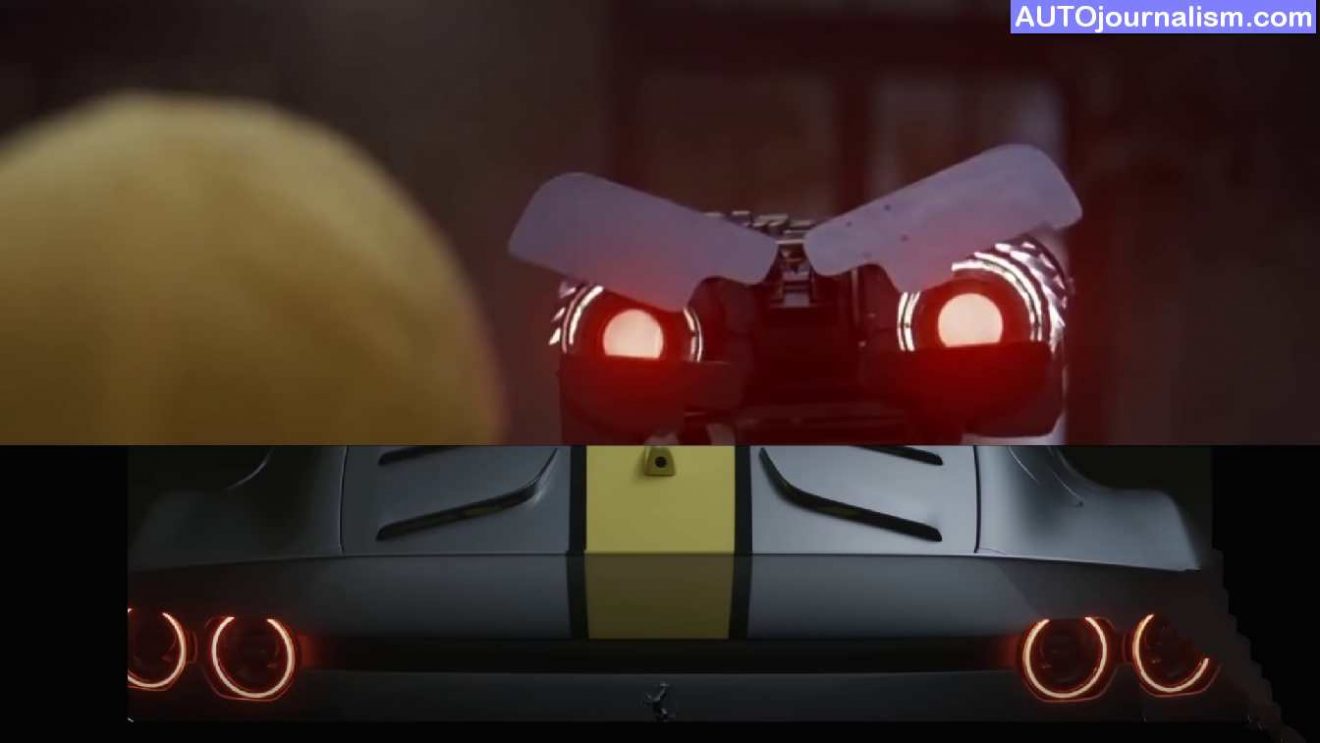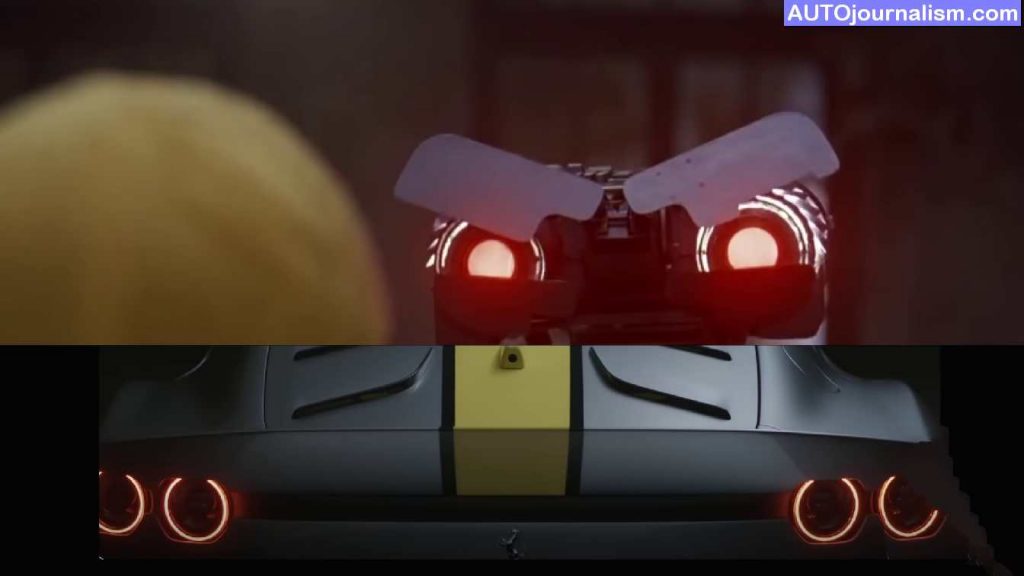 And from all the spy shots we've seen, it's clear that it was going to be like that. It's worth noting that the car isn't seen with painted shields. There was a report that Ferrari will provide free painted shields with this top-of-the-line model, but that doesn't seem to be the case. If it's not too late, Ferrari, please make painted shields a requirement for this car because they would look fantastic. I'm hoping that, like the pista, Ferrari throws in a lot of carbon for free because the car is likely to be much more costly than the 812 superfast, but that may just be wishful thinking.
Rear Panel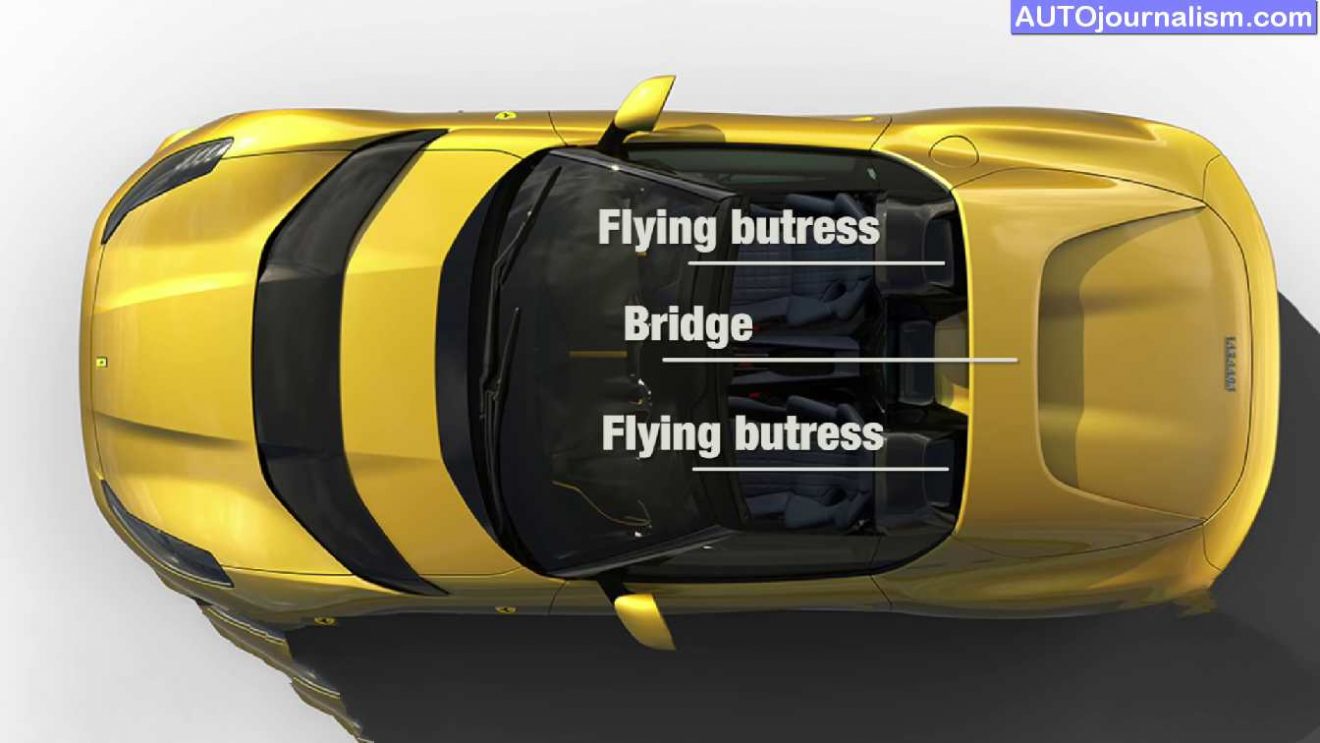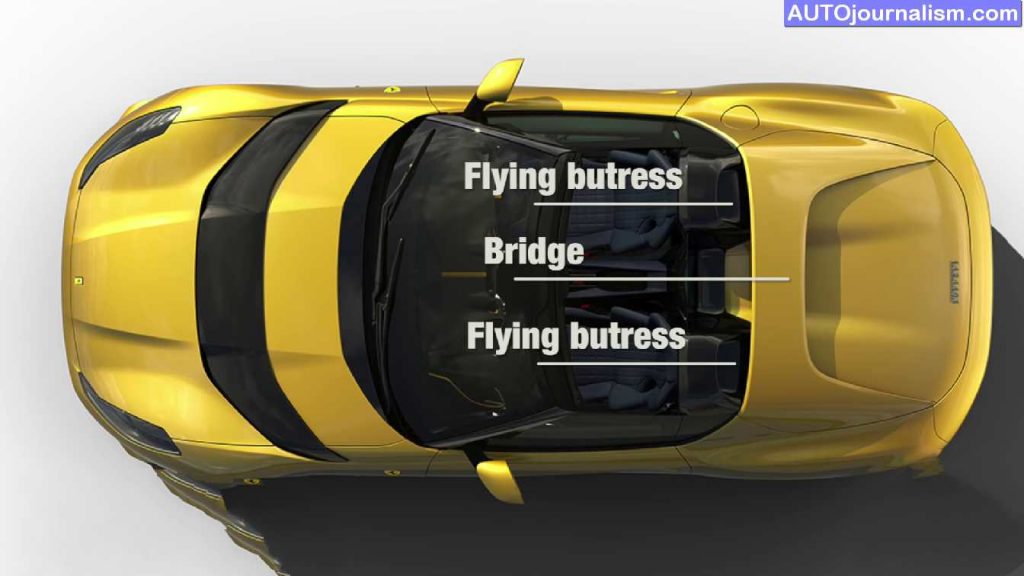 The small vent in the top of the rear panel has been replaced with three angled vents on the rear body panels, evoking the 275 COMPETIZIONE of 1965-66. Also, if you look closely, the side skirts that run below the doors stretch out and downwards right towards the rear tyre, much as they did on the TDF.
Rear Headlights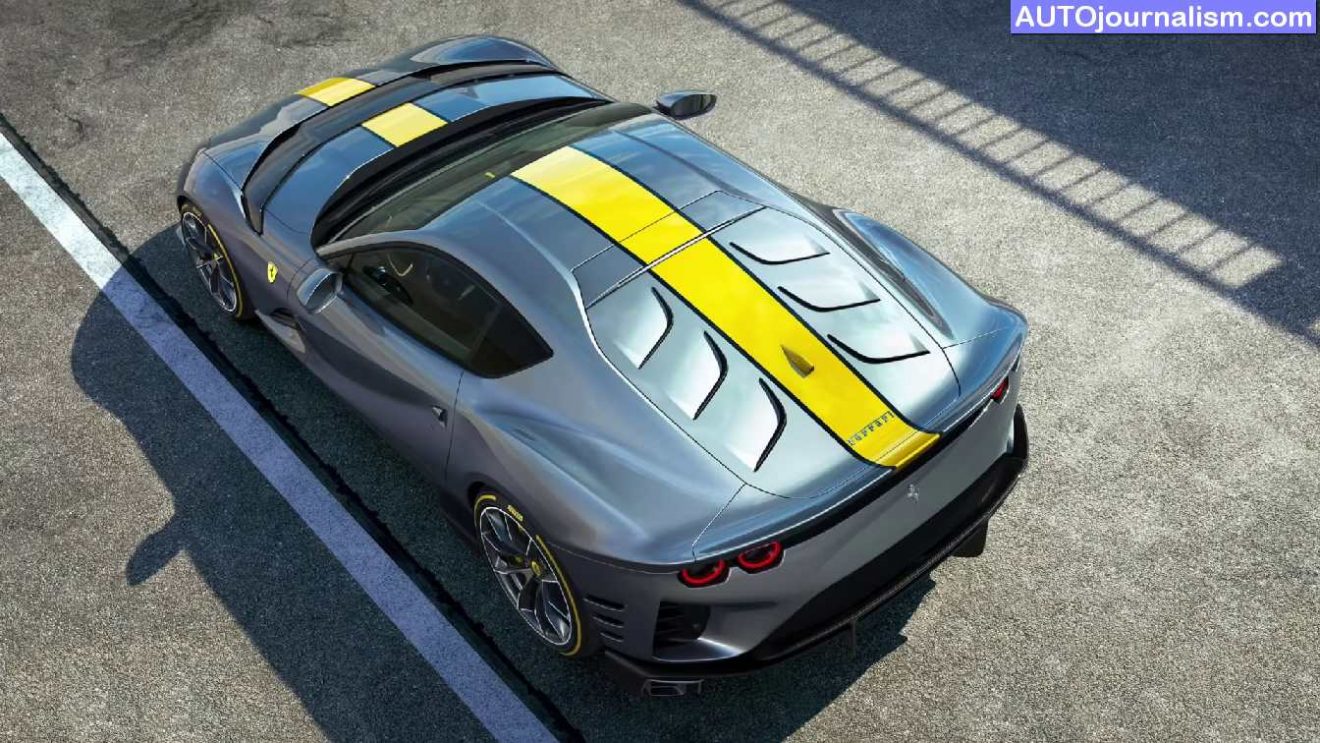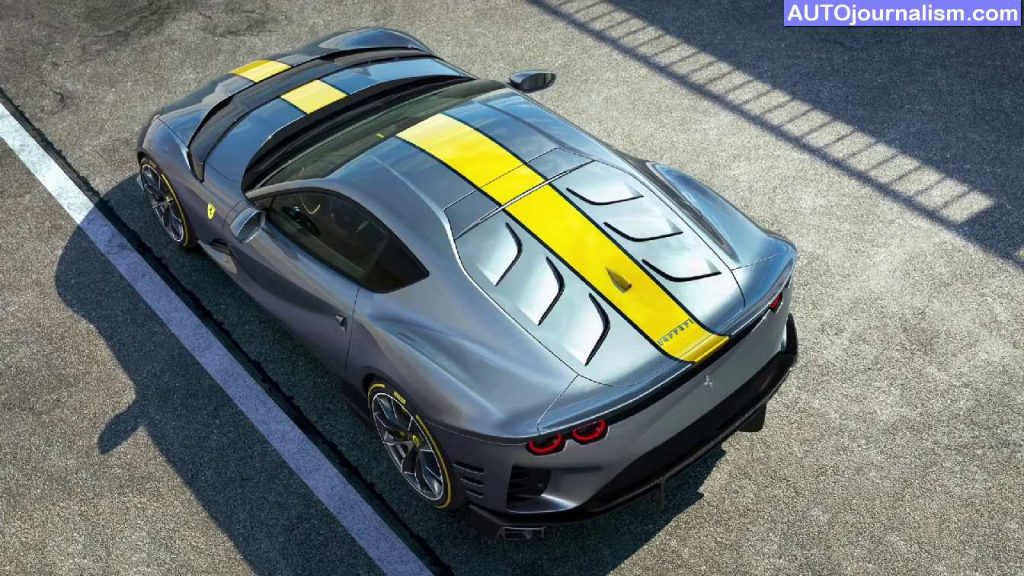 I like how the rear headlights have been treated; they now have a park cowl over them, which makes them look just like the robot john e5 in Short Circuit 2 when he gets really angry " poor humans ". It's too much to expect a whole new interior because that will obviously come with the 812's replacement.
New Dashboard and Screens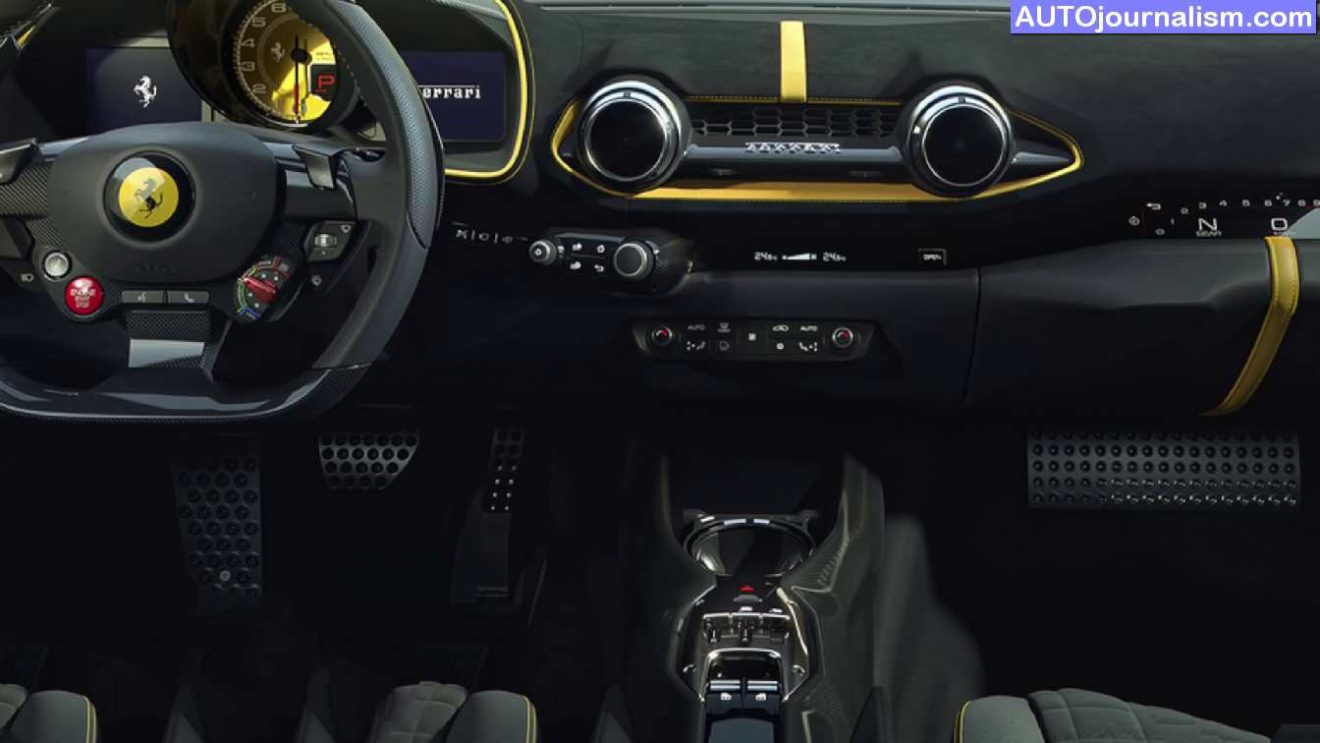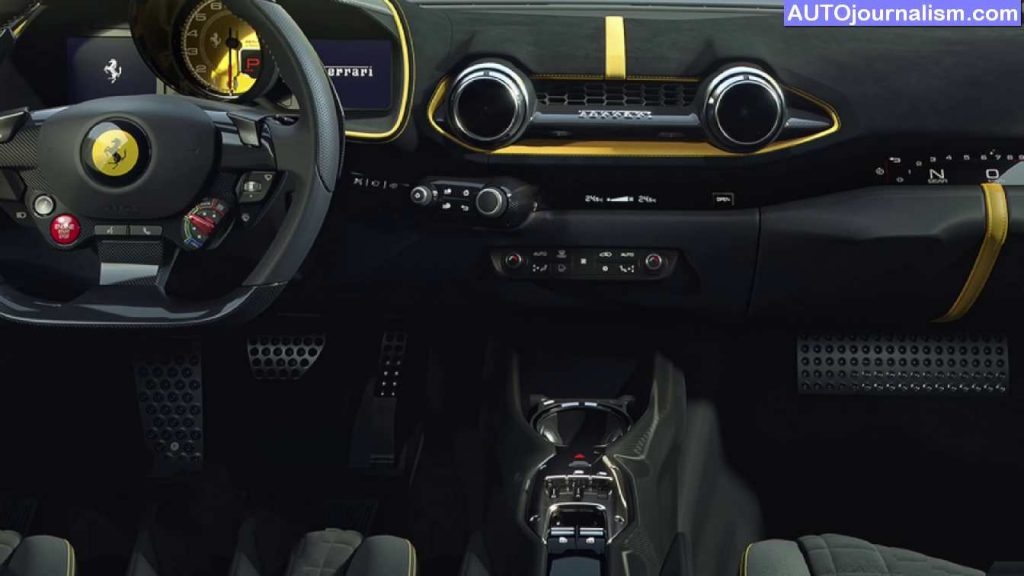 But it's a shame we're not getting the super sci-fi new dashboard and screens from the sf90, which would have been perfect in this car. As it is, we're still getting the very ancient three TFT screen display and the very unfriendly unergonomic buttons to control them, which is now really starting to show its age. It's nice that they brought in a little bit from the Roma sf90 into the cockpit, but I'm not sure I agree.
Aperta
I really had no idea that today's launch will include both the Aperta and the hardtop compotizy only it was a pleasant surprise and boy does that car look sensational with a removable Targa top and a bridge between the two flying buttresses to aid aero in the absence of the vortex generators this is one serious looking machine and in the same mold as the f60 America the big que.
Overall, I'm very excited to see this car in person because I think it looks so mean and aggressive and depending on the spec, it'll look fantastic. It really looks like a super mean 812 super quick, and surely that's when cars will start arriving in 2022. I'm pretty sure we can all agree that this car will be hotter than a furnace in a fireworks factory. ( BBC )
NEXT