In this article, we will give you Full info About the Comparison Between the Indian Navy and Pakistan Navy plus Let's get started by comparing the current and prospective key battleships of both India and Pakistan in this Article.
Aircraft carrier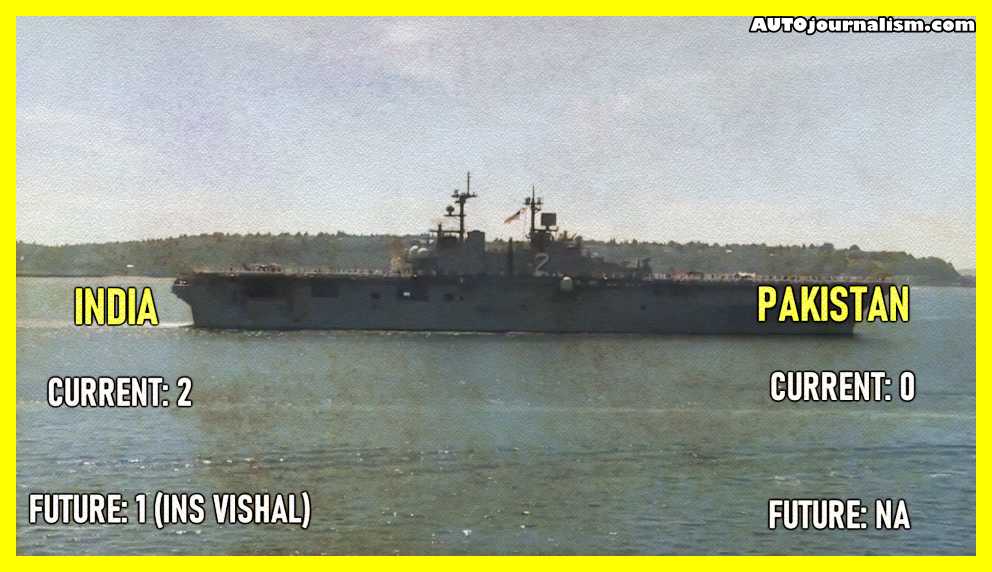 | | |
| --- | --- |
| INDIA | PAKISTAN |
| To begin, let us compare aircraft carriers. India currently has two aircraft carriers, the ins Vikramaditya and the ins Vikrant. The ins Vikrant is currently undergoing sea trials and will be inducted into service soon. India is also planning to build another aircraft carrier, the ins Vishal, which will be the largest aircraft carrier in the country. | Pakistan presently does not have an aircraft carrier, and there are no plans to build or acquire one in the near future. |
Helicopter Carrier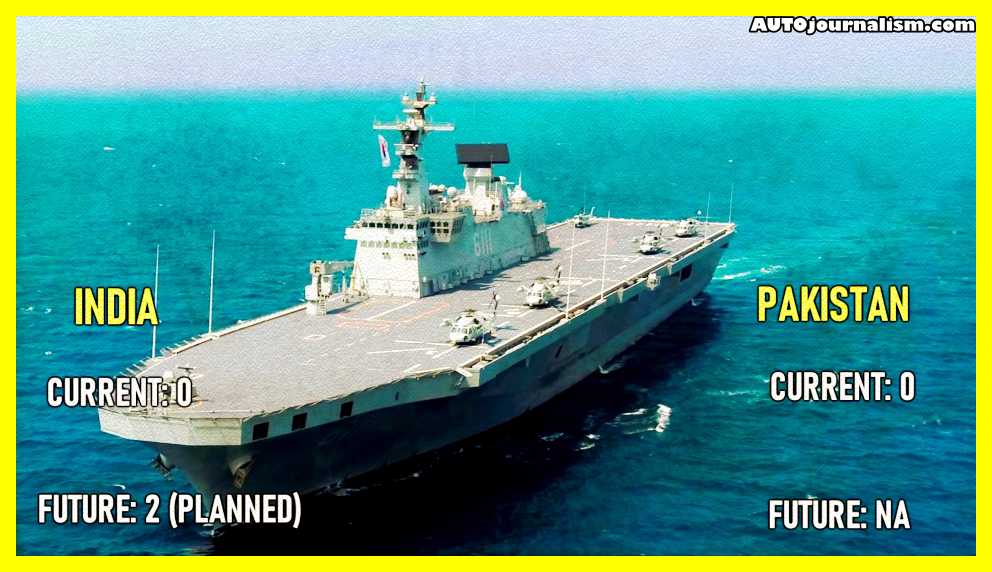 | | |
| --- | --- |
| INDIA | PAKISTAN |
| carrier of helicopters India currently lacks a helicopter carrier but plans to add two in the next years, ranging in size from 21,000 to 27,000 tonnes. | Pakistan presently does not have any helicopter carriers, and there are no plans to develop or acquire any in the near future. |
Submarines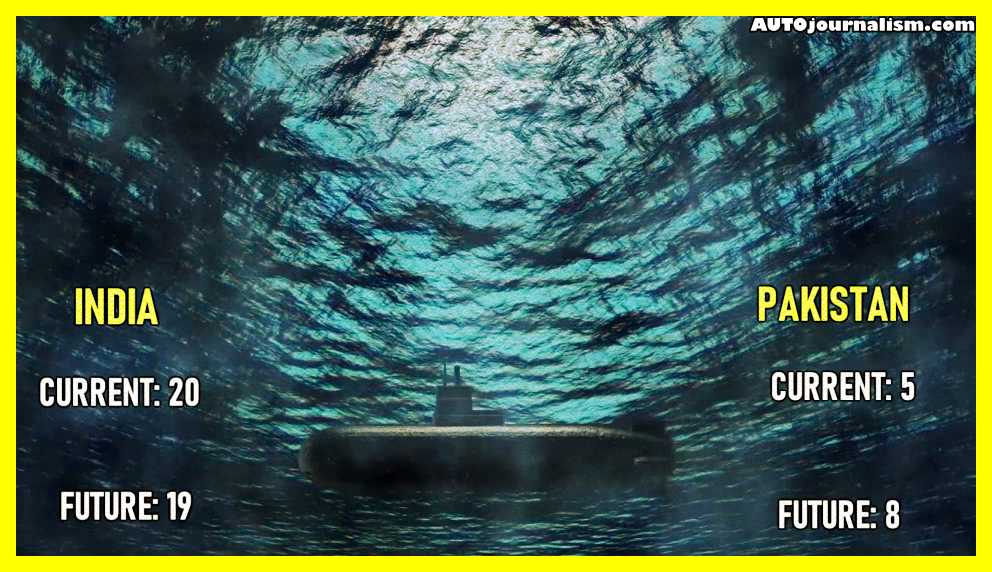 | | |
| --- | --- |
| INDIA | PAKISTAN |
| India now has 20 submarines, 17 of which are operational, and three undersea trials, three of which are nuclear-powered. In the future years, India plans to induct 19 more submarines. There are 12 nuclear-powered submarines and seven diesel-electric submarines. | Pakistan has five submarines and is ordering eight more from China's Hangar class. Pakistan's military currently lacks nuclear-powered submarines. Pakistan also possesses three tiny shallow water submarines, each weighing 110 tonnes. |
Destroyers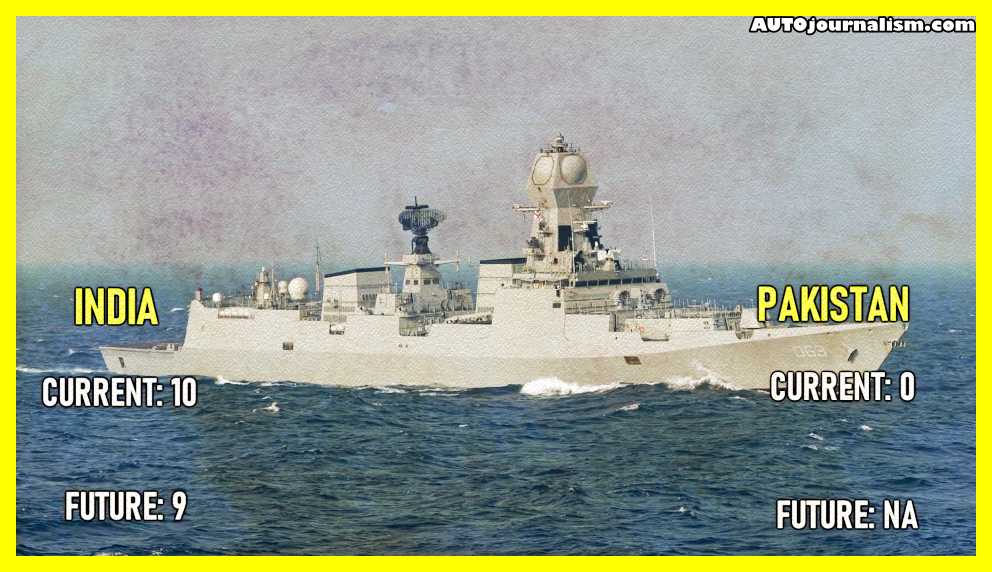 | | |
| --- | --- |
| INDIA | PAKISTAN |
| India presently possesses ten destroyers, nine of which are operational and one of which is undergoing trials at sea. In the following years, India plans to induct nine next-generation stealth-guided missile destroyers, three of the Vishakhapatnam class and six of the Project 18 class. | The Pakistani navy currently lacks destroyers, and there are no plans to add any in the near future. |
Frigates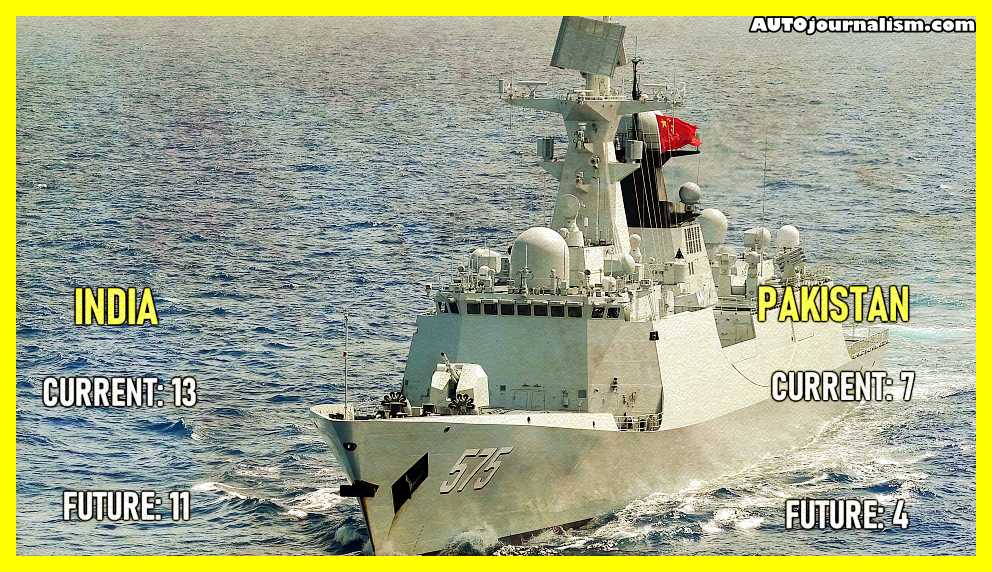 | | |
| --- | --- |
| INDIA | PAKISTAN |
| Frigates are smaller warships than destroyers. India presently has 13 frigates and is building 11 more modern stealth-guided missile frigates ranging in size from 400 to 6700 tonnes. | Pakistan's navy presently has seven frigates in service and is planning to acquire four more types 54 ap class multi-role guided missile frigates from China, each weighing roughly 4100 tonnes. |
Corvettes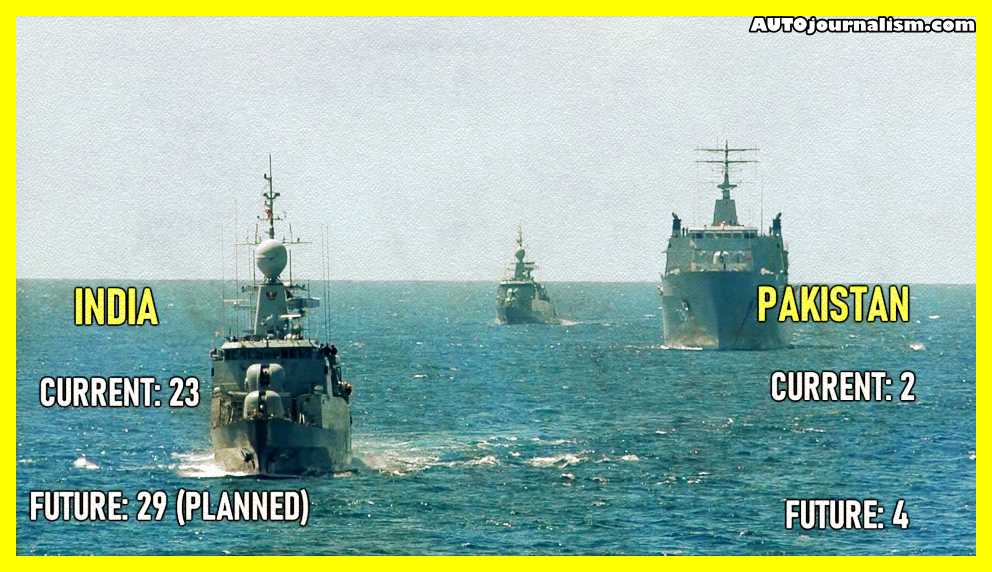 | | |
| --- | --- |
| INDIA | PAKISTAN |
| A corvette is a smaller version of a frigate. India now possesses 23 corvettes and plans to add 29 more next-generation stealth corvettes in the next years. | Pakistan's navy, on the other hand, operates two corvettes and is planning to order four more based on Turkish mil-gem class corvettes. |
The navy, often known as the sea force, is a branch of a country's armed forces that is primarily responsible for naval and amphibious combat as well as related responsibilities. Surface ships, amphibious ships, submarines, and seaborne aircraft, as well as ancillary support, communications, training, and other disciplines, are all part of it. The Navy is an important aspect of every country's defense. The Pakistan Navy and the Indian Navy have had numerous encounters. But what are their capabilities, what weapons do they have, and how many people do they have in each force? Let us not spend any time and compare the naval forces of India and Pakistan in detail. Keep in mind that this is merely a comparison of the assets that both navies possess; we are not promoting a confrontation or making any assumptions about the war in any way.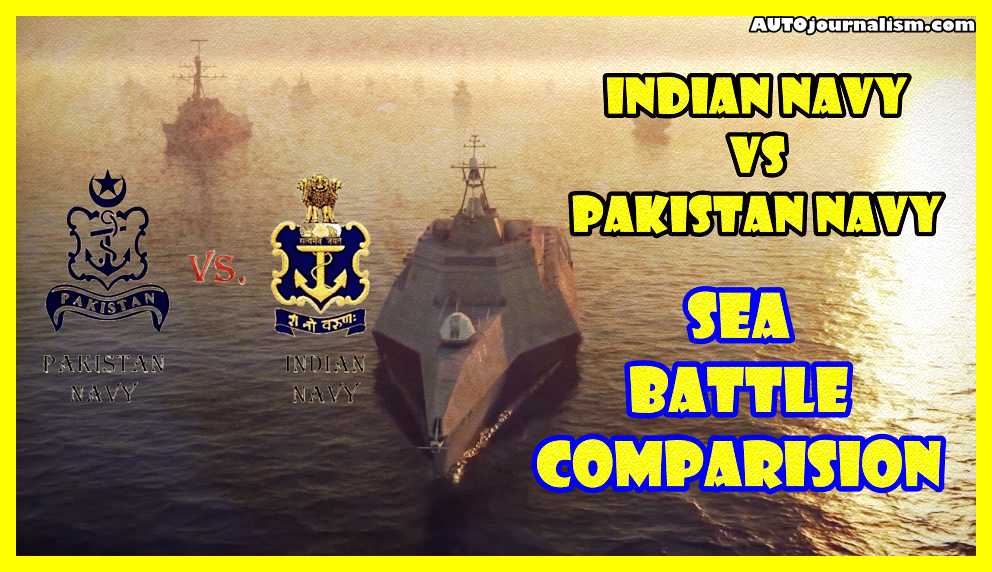 This comparison is limited to naval forces, namely the Pakistan Navy and the Indian Navy.
Forces

Number

( approx )

Active Soldiers

(Military members who are currently serving full-time in their military position are referred to as active soldiers.)

25000

Reservists

(Reservists are not generally armed, and their primary purpose is to be ready to battle if their military needed additional personnel.)

5000

Marines

(A branch of expeditionary and amphibious warfare tasked with projecting power from the sea, utilizing the Navy's mobility to deliver combined-arms task operations quickly.)

1200

Maritime Security

(A law enforcement agency run by the Navy and controlled by the Navy, whose objective is to safeguard maritime interests and enforce maritime law.)

2000

Civilian Personnel

(Civilians serving in the Navy without a valid commission)

2500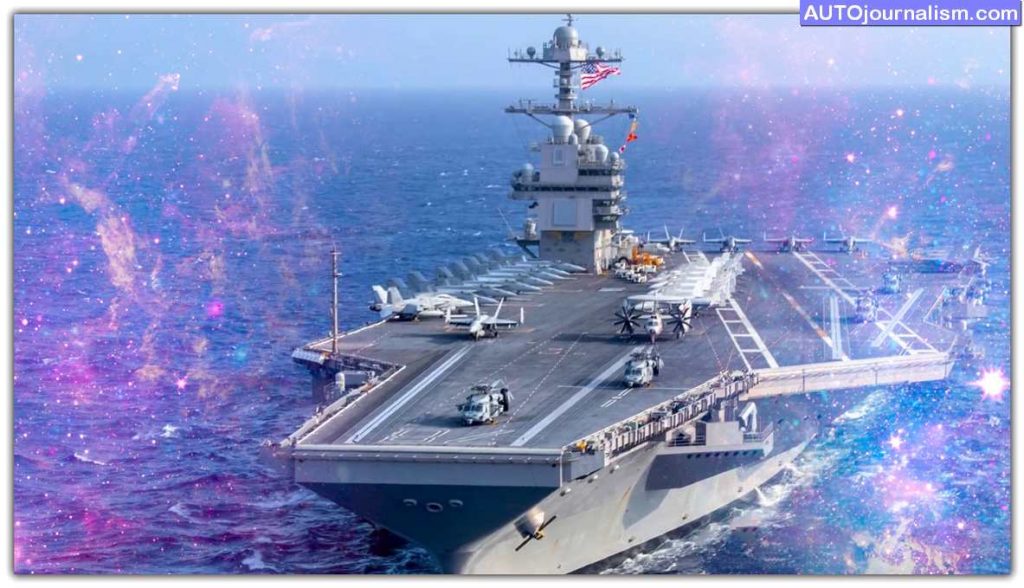 | | |
| --- | --- |
| Forces | Number |
| Officers | 10,393 |
| Sailors | 71,656 |
Weaponry
Land and air weapons are not the same as sea weapons. The following is a detailed list of the weapons that both countries have.
Super Carrier
Supercarriers are the world's largest warships, designed for offensive power projection over great distances. They can deploy over 70 combat aircraft from numerous runways for both blue water control and attacks on enemy ground objectives. The United States is the only country that uses these.
Aircraft Carrier
These are huge battleships capable of deploying fixed-wing aircraft with a conventional takeoff. Naval strike groups rely on them as a force multiplier because of their ability to deploy aircraft at sea. Many ideas are centred on coastal defence or offensive power projection.
A modified Soviet Kiev Class aircraft carrier is owned by India.
STOVL/ Helicopter Carriers
Helicopter carriers are often smaller than other types of aircraft. A number of critical systems, such as arresting gear for deploying conventional fixed-wing aircraft, are missing from these vessels. Only rotary-wing aircraft and, in the case of STOVL carriers, specialized fighters with vertical landing capability can be accommodated. This is a low-cost method of deploying airplanes at sea.
Destroyers
Long-range warships that are large, swift, and highly armed, geared for blue ocean operations and power projection. Air defense, anti-surface, anti-submarine, or a mix of these functions are possible. The lethal water defenders are these ships.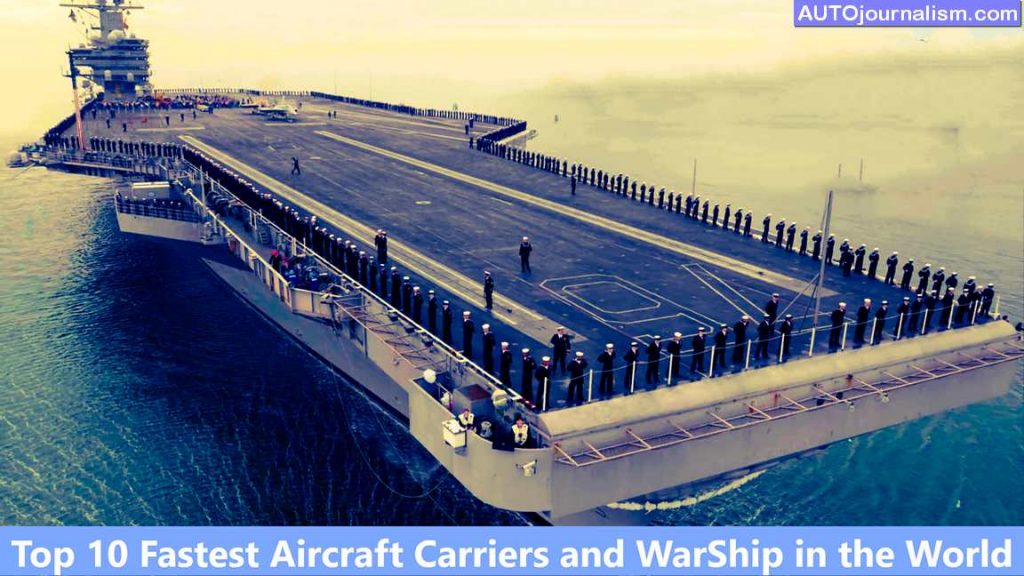 Pakistan
There are currently no "Destroyers" in the Pakistan Navy's inventory.
India
The Indian Navy has 11 destroyers.
| | |
| --- | --- |
| Kashin Class | 5 |
| Kolkata Class | 3 |
| Delhi Class | 3 |
Frigates
Frigates are medium-sized warships that are generally employed to protect bigger assets like destroyers and carriers. A less expensive way to field highly equipped surface battleships than destroyers.
| | |
| --- | --- |
| Type 053H3 | 4 |
| Oliver Hazard Perry Class | 1 |
| Type 21 | 4 |
| | |
| --- | --- |
| Shivalik Class | 3 |
| Krivak | 6 |
| Godavari Class | 4 |
Corvettes
Small warships of less than 2,500 tonnes serve as a complement to larger frigates and destroyers. Because of their narrow range, Corvettes are limited on the defensive front.
| | |
| --- | --- |
| Tarantul Class | 8 |
| Kamorta Class | 3 |
| Kora Class | 4 |
| Khukri Class | 4 |
| Abhay Class | 3 |
Attack Submarines
Nuclear or conventionally powered attack submarines are available. Built with survivability in mind, and capable of confronting enemy surface warships.
Read more: The Pakistan Navy Is The Epitome Of Pakistan's Smart Power
In addition to engaging enemy submarines and ground targets, the attack submarine may also engage hostile submarines and ground targets.
| | |
| --- | --- |
| Diesel Attack Submarines | 5 |
| Nuclear Powered Submarines | 0 |
| | |
| --- | --- |
| Diesel Attack Submarines | 15 |
| Nuclear Powered Submarines | 1 |
Ballistic Missile Submarines
The most powerful submarine class, carrying nuclear-armed ballistic missiles to give nuclear nations with a second-stage strategic deterrent on the seas.
These navy vessels are meant to assist combatant ships and other naval activities. Although they may have some limited combat capability, mainly for self-defense, these are not principal combatants.
Patrol Craft

(Used to guard against enemy attacks in offshore locations.) Torpedoes, missiles, and other anti-ship weaponry systems are frequently deployed.

11

Mine Warfare

(Used to resist enemy attacks on offshore locations.) Torpedoes, missiles, and other anti-ship weaponry systems are frequently employed.

3
| | |
| --- | --- |
| Patrol Craft | 139 |
| Mine Warfare | 4 |
The figures come from the book "Military Watch."
Thanks for Reading.
NEXT