Top 10 125cc Scooters 2022
Here is the list of Top 10 125cc Scooters 2022, 125 cubic centimeters is the magic engine displacement amount that permits you to attain highway speeds while also avoiding exorbitant licensing fees and high insurance premiums. All things considered, twist and go scooters in this class are among the most popular city commuters for millions of people all over the world, and in today's article, we'll take a look at the newest 125 models that combine superb dynamic performance with excellent practicality.
1. Honda Super Cub 125 ( Best 125cc Scooters 2022 )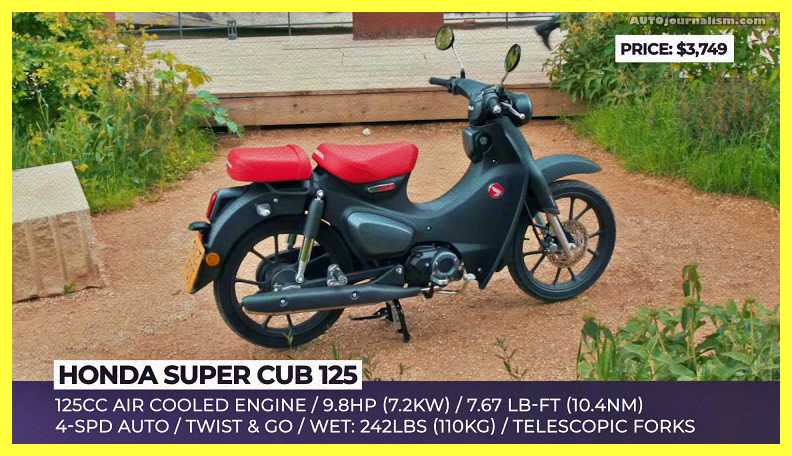 The cub continues to claim the title of the most produced motor vehicle in history after 62 years on the market. This year, the 125 cc model has received various upgrades aimed at making ads more practical and fuel-efficient, including the first to meet tier 5 regulations. The four-stroke engine features a new air-cooled SOHC architecture, as well as matching ECU tuning and a new exhaust system.
It produces 9.8 horsepower and is mated to a 4-speed automatic transmission with twist-and-go functionality. The tubular steel frame remains intact, but the new springs improve the telescopic forks and double shocks. The lightweight wheels have been increased to 17 inches in diameter, and the super cub now has a small LCD screen embedded into the analog speedometer as well as a smart key keyless ignition system.
2. Yamaha Xmax 125 ( Best 125cc Scooters 2022 )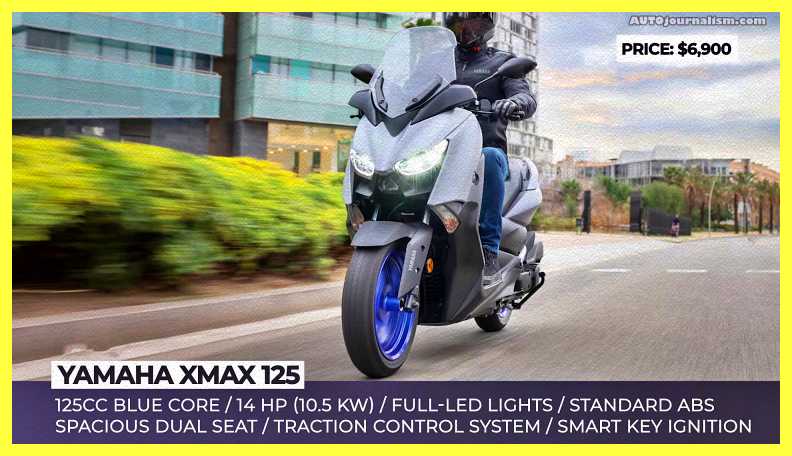 Look no further if you're looking for a scooter that strikes a balance between practicality, sportiness, and functionality, because the x-max 125 is one of the smartest options in this segment for 2021. The model is powered by an updated 125 cc blue core engine that not only becomes cr5 compliant but also gains a start-stop system for better fuel economy. The dynamic wind beating bodywork, sharp twin led headlamps, and motorcycle-type front forks with 110 millimeters of travel emphasize the sporty DNA on the outside.
For the asking price, the capacious dual seat can be configured with a rear carrier and a 50 liter top case, while there is enough storage under the seat for two full-face helmets. The x-max 125 also comes with an ABS traction control system and a smart key ignition system as standard features.
3. SYM Joymax Z+ 125 ( Best 125cc Scooters 2022 )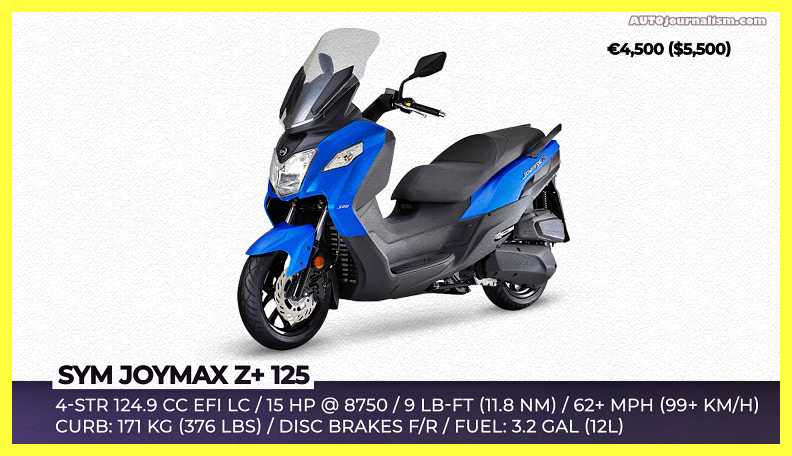 Sim is bringing a dynamic iteration of the joymax c to anyone looking for a capacious maxi-style scooter without sacrificing the benefits of 125 cc displacement. The model now has new body colors and fully led drls and headlights for added safety in the event of a crash. The four-stroke single-cylinder engine is slow mounted and produces just shy of 15 horsepower at 8750 rpm.
The joy max c 125 achieves a great combination between swift handling and riding comfort thanks to its compact body size, adjustable telescopic forks, dual shock absorber, and ABS. The scoot's functionality is further extended with adjustable windscreen storage for two helmets with a hydraulic lifter and a glove box with USB charging capability. Finally, the scoot rides on 14-inch front and 13 inch rear alloy wheels with Max's pro tires.
4. Lexmoto Aura ( Best 125cc Scooters 2022 )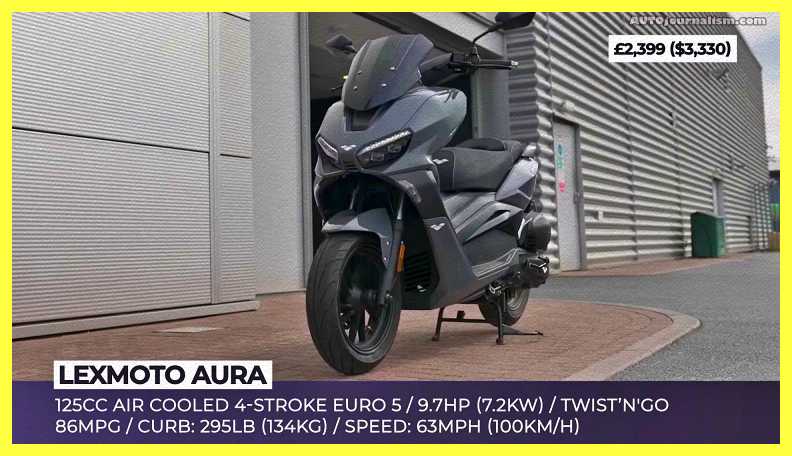 This legal city commuter returns as a learner. 86 mpg satisfies your five emission criteria and can travel over 180 miles on a single tank of gas. This vehicle's 54-inch wheelbase and 285-pound curb weight make it easy to manage. According to Leximoto, the tube gets a 125 cc air-cooled single cylinder for stroke that produces 9.7 horsepower and can propel the vehicle to 63 miles per hour.
Hydraulic disc brakes, bright led headlights, electric start, and a huge lcd screen are also included. You can charge your phone via a standard USB port, and there is plenty of storage. Finally, ordinary telescopic forks and a double shock absorber make up the suspension.
5. Honda PCX125 ( Best 125cc Scooters 2022 )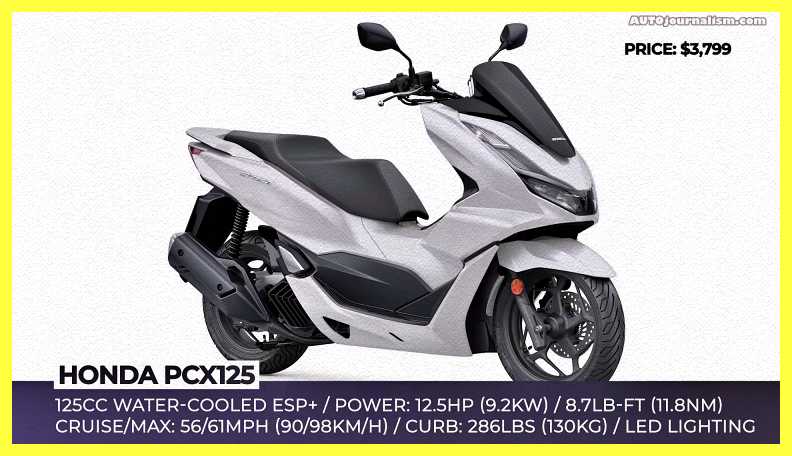 On the scooter market, this is a relatively new model. The Honda pc-x has been on the market for ten years, and in 2021 it will be completely overhauled. It will be built on a new solid steel cradle chassis with improved rear shocks and mismatched 14 and 13-inch wheels. With updated led lighting, additional floor space, and more under-seat storage, its outward appearance transforms into a cleaner, crisper version of itself. the glove compartment
The smart key now controls both the ignition and the seat, and there is new wide-screen instrumentation, but the most significant update for the 2021 model is the new enhanced smart power plus 4 stroke engine with water cooling, which delivers 12 and a half hp. 8.7 pound-feet of torque with peak speeds of 61 miles per hour in ideal conditions
6. Kymco Downtown 125 ( Best 125cc Scooters 2022 )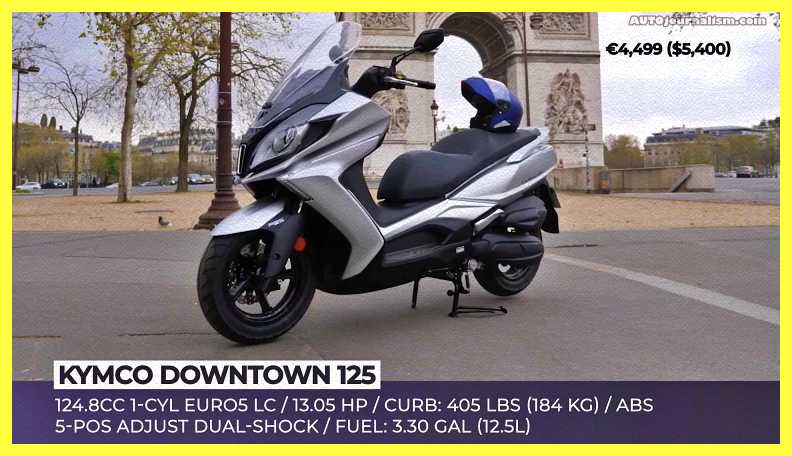 The Taiwanese Kymco claims to have the most diverse selection of 125 ccs in the industry, with eight models now on the market. The downtown 125 is the largest model with 2d credentials. It sees a substantial lineup change without having to say farewell to the executive change.
The Kymco downtown 125 has a euro 5 124.8 cc mill with compelling 13 horsepower and a top speed of 70 mph. The bike gets a sportier exterior with unique shiny black body color and, most importantly, more modern led optics following the maxi scooter template. The Camco downtown 125 has 2 series saddle passenger handles and footrests, while the windshield is a reliable guard against the elements.
7. Aprilia SXR 125 ( Best 125cc Scooters 2022 )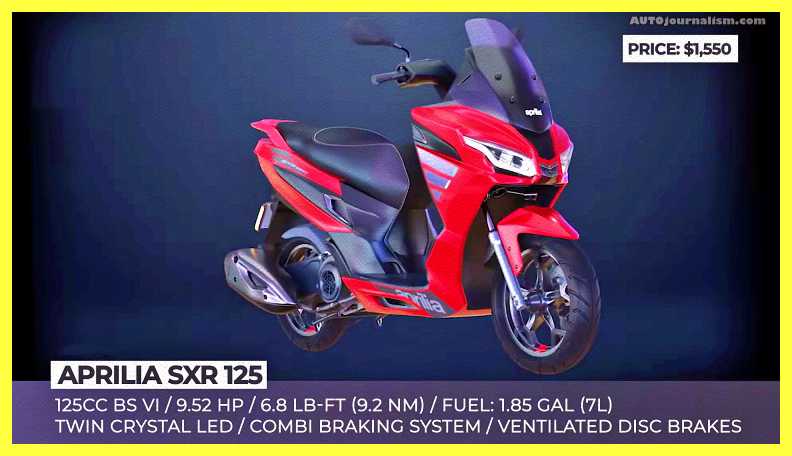 It was created in Italy for India. The new sxr is based on the maxify life philosophy, which entails a mix of current style and maxi scooter comforts in a small size. The newcomer is finished in a tri-coat HD Aprilia hallmark graphics with matte black inlays and chrome components. The headlights are equipped with twin crystal led technology and position trls, and the rear wraparound slide cluster is also lit entirely by LEDs.
Our nine-and-a-half horsepower 125 cc bivi engine with three-valve fuel injection and clean emission engine technology is written on 5 spoke metallic grey alloy wheels with signature red brand stamps at your disposal. With ventilated disc brakes and twin pants caliper hydraulic brakes, the s6r125 boasts a huge multipurpose all-digital cluster.
8. Yamaha NMAX ( Best 125cc Scooters 2022 )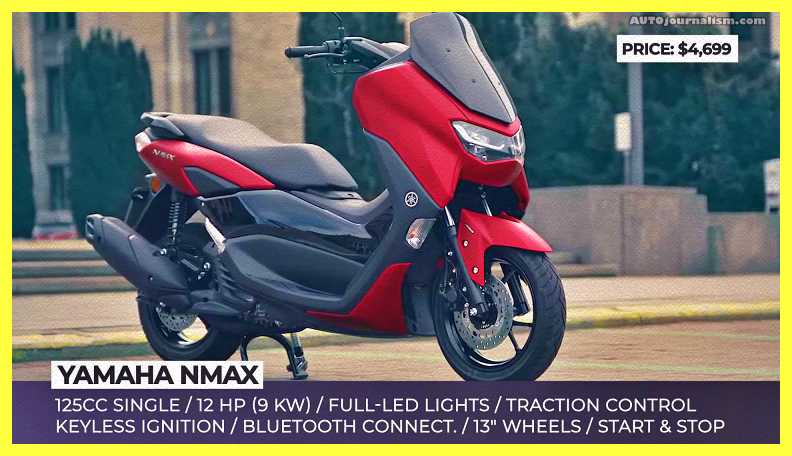 Yamaha's answer to the needs of autonomous urban commuting is supported by a completely rebuilt chassis, which improves nmax agility at greater speeds while also allowing the rider to increase comfort by modifying the feed position and maximizing wind protection. The scooter's engine achieves complete Euro 5 compliance while retaining all of its torque and power.
The engine features traction control and stop-start technology and rides on 13-inch wheels in the front and back. The model also features leaker bodywork, a more aerodynamic fairing, and a less angular front end with new twin-led headlights and drills. The max also has a larger LCD instrument panel, as well as additional standard features including keyless ignition and rudimentary Bluetooth connectivity.
9. SYM Fiddle 125 ( Best 125cc Scooters 2022 )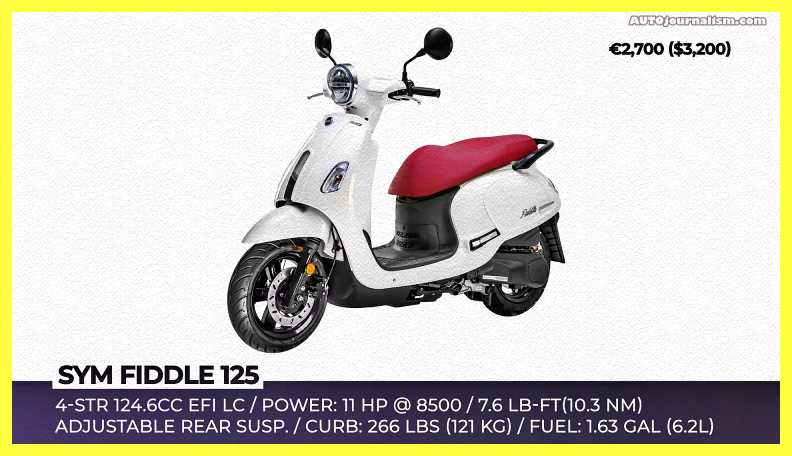 Thousands of youthful riders who respect unconventional design and low prices have flocked to the retro-inspired violin. The freshly refurbished model features all-around led lighting and a check leather finish. The sim's engine is a simple 11 horsepower mono cylinder with liquid cooling.
It is, however, Euro 5 compliant and now features a cutting-edge anti-lift engine hanger system that improves handling stability. At 6500 rpm, the sim federal 125 produces 7.6 bone feet of torque, and it can cruise at nearly 70 miles per hour. The newcomer comes with a dangerous control light, a new LCD instrument panel, a USB 2.0 port, and a rear suspension that can be adjusted. Among the standard features are CBS-assisted brakes, a 33-liter trunk, and a double rear shock absorber.
10. Lexmoto Apollo 125 ( Best 125cc Scooters 2022 )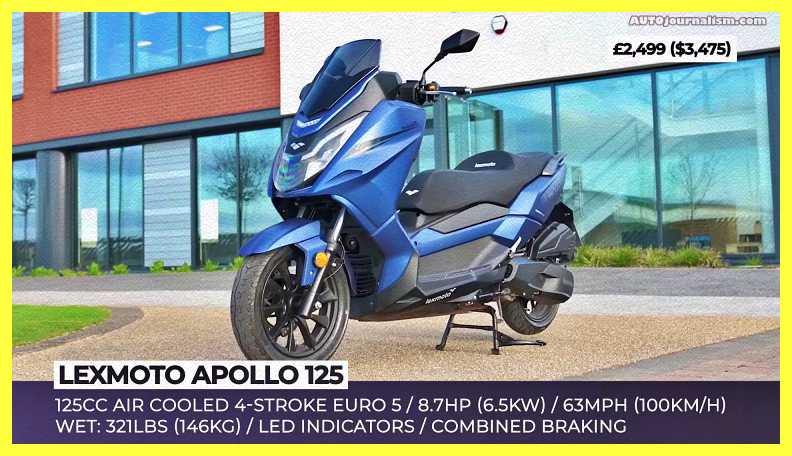 For 2021, everything is brand new. The apollo maxi scooter was created with a larger 3.4 gallon gasoline tank, ergonomic riding stance, and a huge comfy seat in mind. The model is 85 inches long and weighs 321 pounds when wet, so it should be rather comfortable for daily use.
It's your 5 compliant single cylinder with air conditioning that produces 8.7 horsepower and can move the scooter to a top speed of 63 miles per hour. Up front, there are two lockable storage compartments and more stuff can be kept behind the apollo seat. LED indications, a USB charging port for your house, and an easy-to-read fuel gauge with a digital display are among the other noteworthy features.
11. Yamaha Zuma 125 ( Best 125cc Scooters 2022 )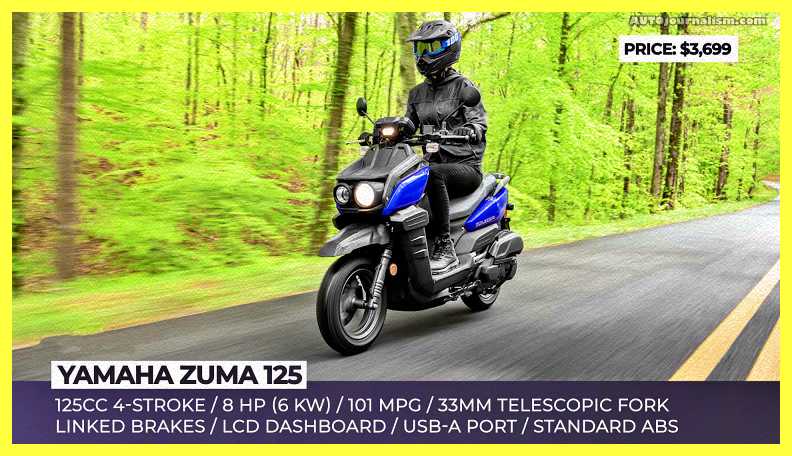 in addition to a rough appearance, The revamped Zuma is one of the most affordable scooters from the Japanese company, with plenty of adventure-ready features packed neatly into one of the most affordable models. The beak-shaped front fender has grown in size and angularity, while the front end has become boxier, with a revised asymmetric headlight profile. The new lightweight wheels are the same size as the previous model's.
The source of propulsion is the classic air-cooled 125 cc single-cylinder, but it has been tuned for higher torque at low RPMs and more power at high speeds. connected brakes and anti-lock brakes In the storage compartment, there is an LCD monitor and a USB port as standard.
FAQ
Q: 125cc scooter top speed
Ans: 25cc scooter can go more than 70 mph, Taiwanese Kymco have 13 horsepower Engine and a top speed of 70 mph. The list is available on this website.
Q: upcoming scooters Philippines 2022
Ans: Top 10 scooter list is available on this website.
Q: new scooter launch in India 2022
Ans: in this article, we provide lots of details like the top 10 list of scooters, etc. when new scooter Launch in India 2022 we will inform you through website post, stay connected.
NEXT