Top 10 Adventure Motorcycles 2022
Here is the list of Top 10 Adventure Motorcycles 2022, In this article, you will get Full info related to Adventure Motorcycles, that you can buy for your Tour and Adventure in 2022.
List of Top 10 Adventure Motorcycles 2022
1. 2022 Honda Africa Twin Adventure Sport ( Best Adventure Motorcycle 2022 )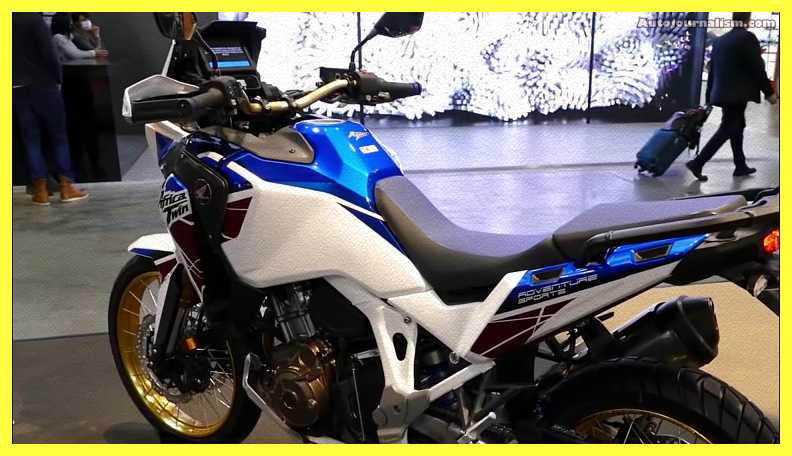 2022 Honda Africa Twin, Africa Twin Adventure Sport revealed with new color and graphic updates. Over three decades after first rolling into Europe, the Honda Africa Twin is a name that is synonymous with history and adventure. For 2022, the CRF1100L Africa Twin and its continent-crossing sibling, the CRF1100L Africa Twin Adventure Sports, both feature new upgrades, refined dual-clutch transmission settings, and striking new looks. To complete the 2022 upgrades, both models will receive striking new color and graphic updates. Honda CRF1100L Africa Twin 2022 model year updates. For 2022, the CRF1100L Africa Twin now features refined Dual Clutch Transmission (DCT) settings for even smoother handling in 1st and second gears, standard fitment for the aluminum rear carrier, and striking ultra-modern 'Big Logo' graphics. Adding to the style and design are all-black aluminum side covers, and a new standard fit aluminum rear carrier. You can pick a colour from Pearl Glare White Tricolour, Grand Prix Red, Matte Ballistic Black.
2. 2022 Kawasaki Versys 1000 ( Best Adventure Motorcycle 2022 )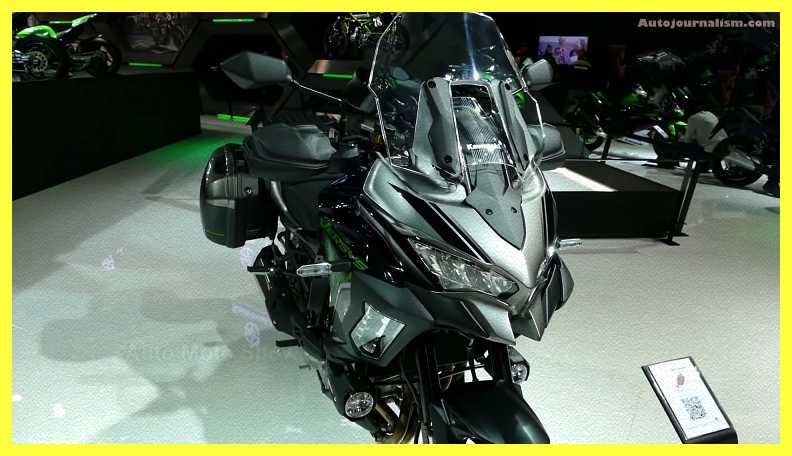 The Kawasaki Versys 1000 range is expanded for 2022 with the addition of a new entry-level 'Standard' variant, plus a new SE trims to sit above S. The Kawasaki Versys 1000 range will continue on into 2022 with only minor changes after the Japanese company confirmed the range will be expanded out to three trim levels. The flagship of Kawasaki's popular adventure-tourer Versys line-up, 1000 retains the same signature look and 999cc engine generating 118bhp and 75foot pound of torque. Instead, the big changes come with a rejig of the trim levels with the addition of a new top of the range SE version, plus the inclusion of a new 'Standard' model which provides a new entry-point into the range. The existing 'Standard' is now known by the S trim. Kit levels on the Kawasaki Versys 1000 SE over the S include the addition of electronically damped Showa Skyhook suspension and other electronic rider aids designed to promote greater confidence over touring adventures. Prices for the Versys 1000 SE start at £14,999, rising to £16.699 for the Grand Tourer with larger panniers and more practical pillion solution. The standard Kawasaki Versys 1000 meanwhile comes in at a competitive £12,099 but does without the electric rider aides and rider modes and TFT instruments, while a larger windscreen, grip heaters and hand covers are priced accessories.
3. 2022 Ducati Multistrada V4S ( Best Adventure Motorcycle 2022 )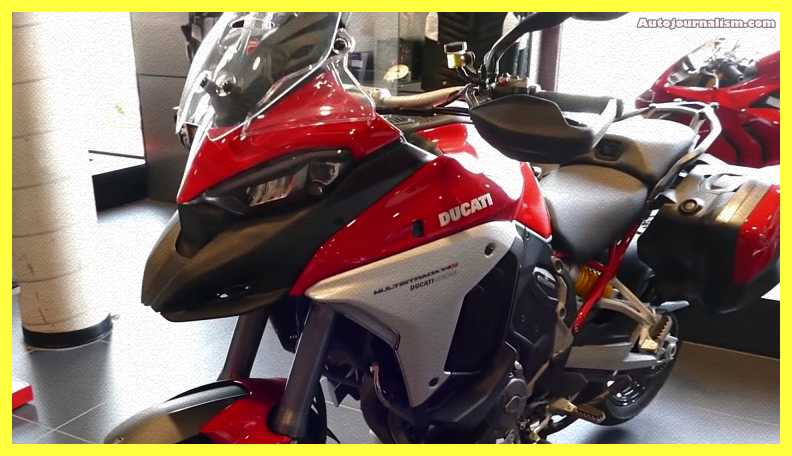 Sport Livery with glossy black wheels with a red tag. Available with alloy wheels. Get ready to discover the fourth Multistrada generation. Sportier and more touring, stronger in off-road use, and easier in urban action. Lightweight and compact, with the new 170 HP V4 Granturismo engine for a sporty and exciting ride on mixed terrain. Ready for long journeys thanks to the navigation system that can be viewed on the dashboard and the innovative rider assistance radar system, it will offer you excellent riding comfort and the main service interval only after 36,000 miles, the Oil Service, is now scheduled at 9,300 miles or 24 months. And when the asphalt ends fun will continue thanks to the high ground clearance, the electronic suspension, the surprisingly fluid power delivery, and the perfect ergonomics for stand-up riding. After your adventures, you will feel great ease and control in daily use thanks to the advanced electronic ride assist systems and the ability to adjust the seat down to 810 mm in height. New Ducati Multistrada V4: ruling all roads has never been easier. The adjustable multi-element windshield was developed in wind tunnel sessions in order to enhance the attitude of facing long journeys. Full protection that transforms every ride into a total comfort experience.
4. 2022 Suzuki V-Strom 1050XT PRO ( Best Adventure Motorcycle 2022 )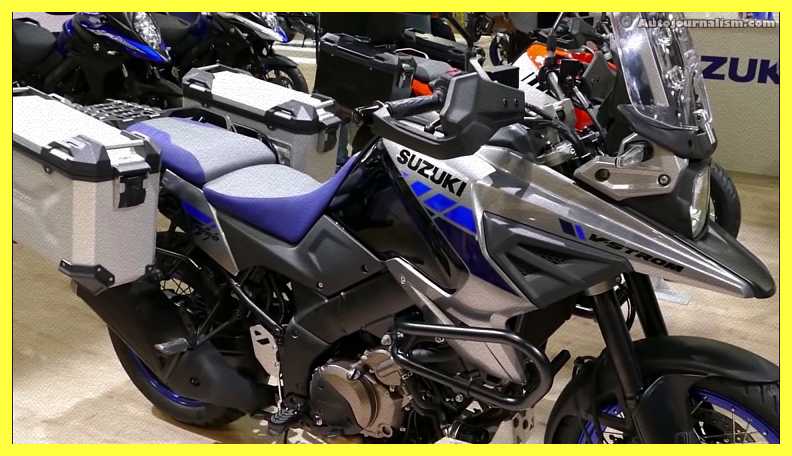 5 reasons the Suzuki V-Strom 1050XT may be the best value big adventure bike around. Despite riding and writing about bikes week in, week out, the excitement of a new bike arriving at the ABR offices never wears off. As soon as we hear the unmistakable growl of an exhaust approaching, we always jump up from our desks and outside to discuss said bike in detail. Some keep us occupied for longer than we'd care to admit, while others aren't quite as beguiling, but there was one bike in particular that caused quite a stir the other week. I'll kick off the five reasons with the most obvious of them all, the price. Suzuki has long held a reputation for producing competitively priced bikes, and the V-Strom 1050XT is no different. It's available for less than £12k, a relative bargain for what is the premium offering in the V-Strom range, particularly when you look sideways at some of its competitors in the market (think the Honda Africa Twin Adventure Sports starting at £14,649, or the R 1250 GS Adventure starting at £14,905). For your money, you get spoked wheels, a complete range of electronic rider aids (we'll touch on those in a second), crash bars, handguards, an adjustable screen and seat, and a center stand, all as standard.
5. 2022 Kawasaki Versys 1000 S E grand tourer ( Best Adventure Motorcycle 2022 )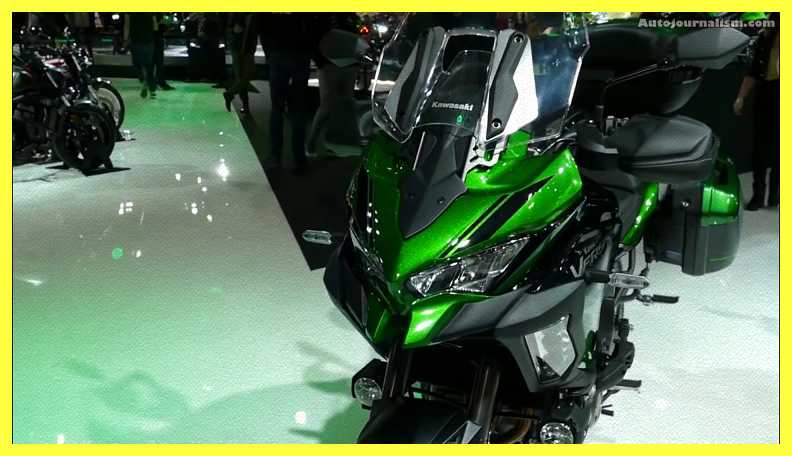 Bike adventures are life's best adventures. Every day brings opportunities for fresh challenges. Beyond the roads you know lie whole new vistas. Unknown roads are easier and faraway places nearer with the Versys 1000. When Adventure Calls, you and the Versys 1000 have the answer. Smartphone Connectivity. Complementing the Versys 1000 S's TFT dashboard is a Bluetooth chip built into the instrument panel which enables riders to connect to their motorcycle wirelessly. Using the smartphone application "RIDEOLOGY THE APP," a number of instrument functions can be accessed, contributing to an enhanced motorcycling experience. TFT Full-Colour Instrumentation. The compact all-digital TFT color instrumentation gives the cockpit a high-tech, high-grade appearance. The high-grade full-color display features TFT (thin-film transistor) technology, delivering a high level of visibility. The screen's background color is selectable (black or white), and screen brightness adjusts automatically to suit available light. In addition to scrollable multi-function windows, two display modes offer riders a choice of how they want their information presented.
6. 2022 Harley-Davidson Pan America 1250 ( Best Adventure Motorcycle 2022 )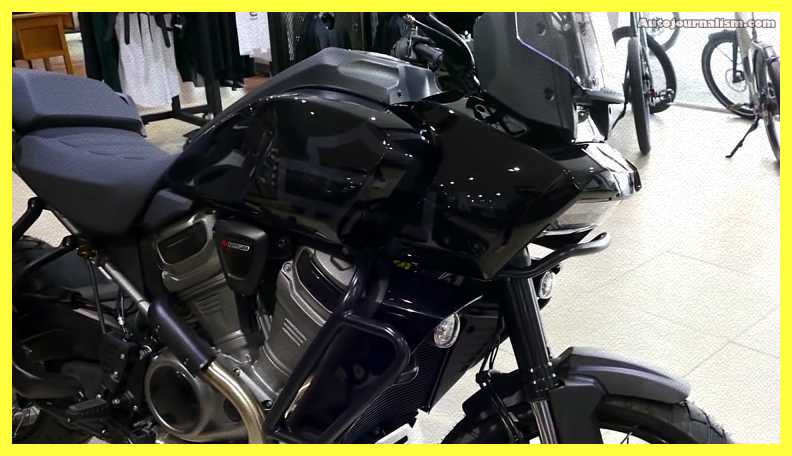 For A New Generation of Iconic Bikes. The next chapter in a century of legendary V-Twins is here. Revolution Max is a liquid-cooled powertrain with over 145 horsepower, full of ample torque, and a surging power band tuned to maximize rider control. Dual Purpose Powertrain. The Revolution Max 1250 is a structural component of the motorcycle chassis, eliminating a traditional frame —which significantly reduces overall weight and keeps handling taut. This is performance you can feel, with the center of gravity low and the chassis super rigid. Peak Performance Where It Counts. Double Overhead Camshafts (DOHC) facilitate higher peak horsepower, and independent Variable Valve Timing (VVT) broadens the overall power band and improves torque management. All this to say you'll have as much low-end acceleration off the line and high-RPM horsepower you can twist. Adaptive Ride Height. Revolutionary Suspension. Adaptive Ride Height makes its debut on the Pan America 1250 Special. This factory-installed option unlocks the confidence you can feel by lowering seat height when stopped and maintaining a constant, optimum suspension sag at speed by adjusting preload while continuously sensing weight inputs.
7. 2022 Honda Africa Twin DCT URBAN ( Best Adventure Motorcycle 2022 )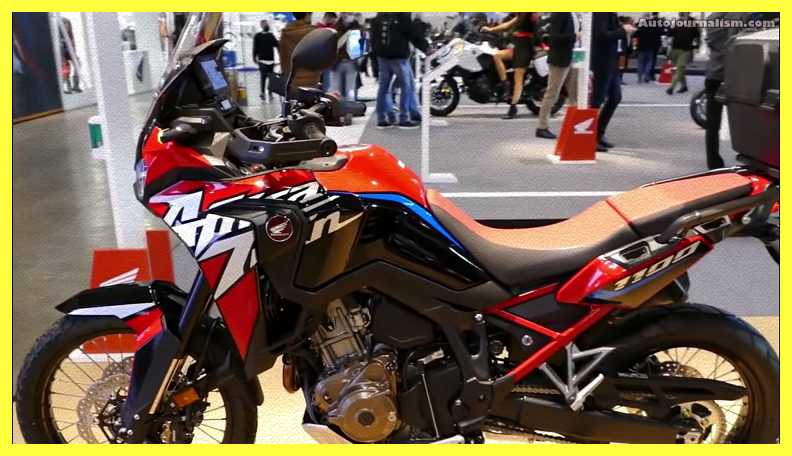 The original bike was a svelte 52-degree V-twin. The current machine is a counterbalanced parallel twin with a 270-degree crankshaft; in addition to its versatile chassis geometry and a smooth, flexible, powerful engine, there's also the option of Honda's automatic Dual Clutch Transmission (DCT), which greatly assists the rider in demanding off-road sections. In 2018, with a few technical updates, the Adventure Sports version was added to the mix. 2022 both the standard Africa Twin and the Adventure Sports model benefit from technical updates designed to keep them atop their market segment. According to information released in Europe, the fully Euro 5 homologated 2022 engine now displaces 1,084cc, up from the original's 998cc. The increase comes from a longer stroke, up from 75.1mm to 81.5mm; the bore remains unchanged at 92mm. With the larger engine, output increases from 94 to 101 hp, at the same 7,500 rpm, while peak torque went up from 73 to 77.5 pound-feet at an equally unchanged 6,250 rpm. The substantial peak-torque increase also fattens the whole torque curve from 2,500 rpm onward. The extra power and torque don't come from the extra displacement alone.
8. 2022 Triumph Tiger 1200 ( Best Adventure Motorcycle 2022 )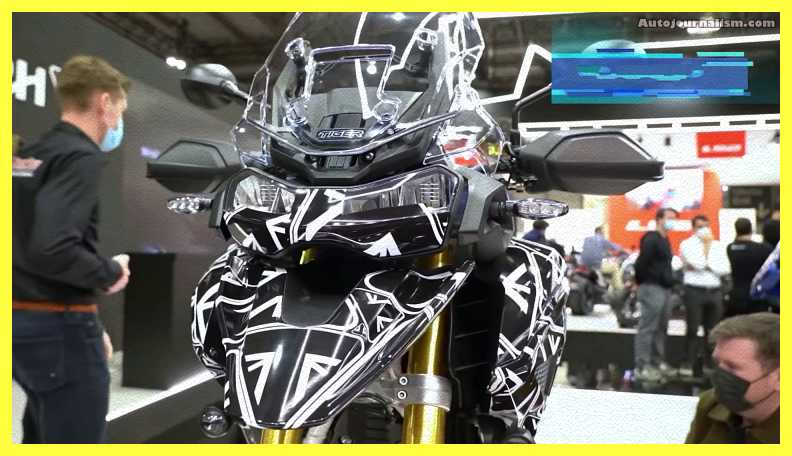 Designer Explains Development Process. After years of anticipation and numerous teaser videos, the 2022 Triumph Tiger 1200 broke cover in December 2021. Similar to the new Tiger 900 series, the heavyweight ADV platform now hosts five models split between two families: Rally and GT. Along with the new sub-ranges, 1200 boasts a 148-horsepower inline-triple, blind-spot detection, and Brembo Stylema brakes. While the 2022 Tiger 1200 ups the ante with premium components, less weight, and a styling refresh, those improvements didn't happen overnight. To lay out all the work behind the scenes, Triumph designer Rodolfo Frascoli gave Italian media outlet Motociclismo a peek behind the design desk. "The project started in the spring of 2017," stated Frascoli. "It was a very demanding project because it involved practically all the components of the bike. Starting with the engine, which is only partially that of the Speed Triple. Everything else was designed starting from a white sheet." "First of all, this had to be a Super Tiger," admitted Frascoli. "The previous Tiger is a bike that many have loved, a great traveler. The new Tiger 1200, on the other hand, has raised the bar. Both for the "adventure" side and for the tourism side.
9. 2022 Aprilia Tuareg 660 ( Best Adventure Motorcycle 2022 )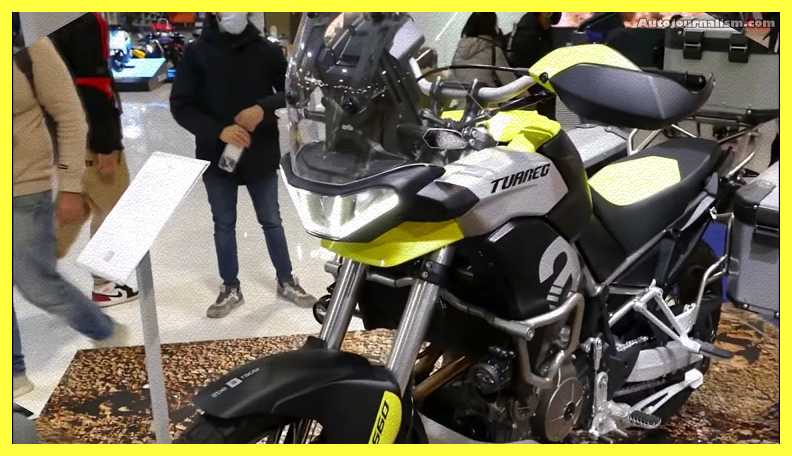 According to Aprilia, the 2022 Aprilia Tuareg 660 will be built on the same platform as the RS 660 and Tuono 660. Beyond the DOHC parallel-twin motor, which Aprilia claims is "redesigned" and "fine-tuned to handle even the most demanding off-road riding," we're not sure what that means. The engine produces 80 horsepower and 52 ft-lbs of torque at its maximum. A low-profile oil sump for added ground clearance and a high-mount exhaust are among the other off-road enhancements. The 2022 Aprilia Tuareg 660 has a starting price of $11,999. You receive the Acid Gold and Martian Red color options for that price. Indaco Tagelmust is yours for the asking price of $12,599 on the table. The blue, white, and red Indaco Tagelmust is described by Aprilia as a nostalgic graphic. We believe it's fantastic. The new Aprilia 660 Adventure bike has "long-travel suspension," according to Aprilia. With 9.4 inches of travel on both ends, the Tuareg 660 has a fully adjustable 43mm USD fork and progressive linkage shock. The ground clearance is 9.5 inches and the wheelbase is 59 inches.  The ergonomics were "designed with off-road riding in mind." The Tuareg has a "slender body volume," according to Aprilia. With a low-seat option, the seat height is 33.8 inches.
In Europe, preorders begin on November 3 and in the United States on November 10. The 2022 Aprilia Tuareg 660 will be delivered in February 2022. The new Tuareg 660 has a plethora of gadgets. Four different Riding Modes are a wonderful place to start. Power delivery, traction control, and engine braking are all adjustable. It has cruise control as an adventure touring motorcycle. A five-inch TFT dash makes it simple to set up the electronics. ABS may be defeated on either the front or both wheels. The reported wet weight is 449 pounds. The Tuareg 660 is estimated to weigh in at a competitive 449 pounds with its 4.75-gallon gasoline tank full. Its direct competitors, the KTM 890 Adventure R and Yamaha Ténéré 700, are both lighter. Aprilia intends to sell a variety of accessories. The Tuareg can be customized to be more off-road capable or more comfortable for touring purposes.
10. 2022 Yamaha Tenere 700 ( Best Adventure Motorcycle 2022 )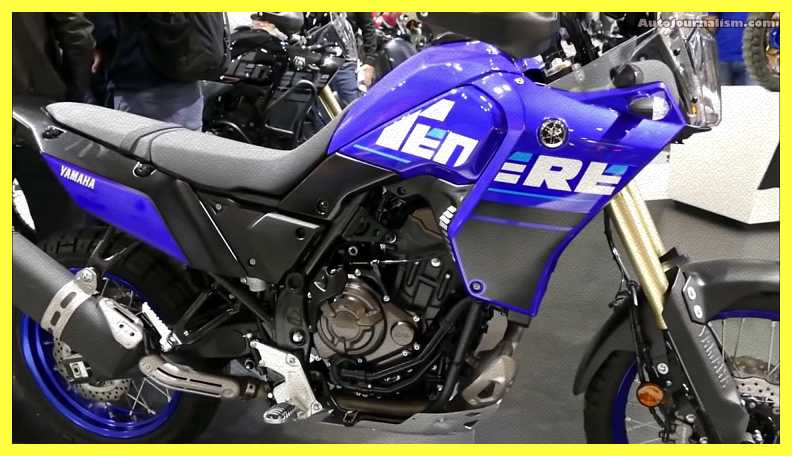 Yamaha has unveiled a radical off-road-focused concept based on the popular Ténéré 700 that they say "is just the beginning". The Ténéré 700 has been an incredibly successful bike for Yamaha thanks to its combination of engaging engines, decent spec, and competitive price. Since it was unveiled some riders have taken the Ténéré 700 to places we doubt Yamaha would have ever envisaged, including Pol Tarrés entry into the notoriously difficult off-road event Red Bull Romaniacs. Inspired by Tarrés and other escapades, Yamaha has built a more extreme and off-road-focused concept that's been designed to thrive in the place that gave the bike its name. Arguably the biggest gains have come in the suspension department, with both front and rear stock items replaced with units from Kayaba. Not only do these bring increased adjustability they also bring 60mm extra suspension travel at either end, bumping it up to 270mm front and 260mm rear. The forks and shock now sit in custom-made yokes and linkage respectively. To cope with the harsh realities of the desert Yamaha has also done some work to the engine including a new airbox and filter, an oversized radiator with twin fans, and added an oil cooler.
NEXT
Top 10 Earthmoving Machines in the World