Top 10 Best American Electric Cars
In 2010 Tesla became the first American car company to go public in more than 50 years not only did their success skyrocketed the development of electric vehicles by legacy manufacturers but also spawned a new wave of automotive enterprises in the u.s in this POST we'll cover the latest American-made electric cars This Year and beyond, these are set on reinvigorating the automaking industry in the states as well as dominating the rapidly emerging EV worlds.
Top 10 Best American Electric Cars ( list )
1) GMC HUMMER EV SUV – American Electric Car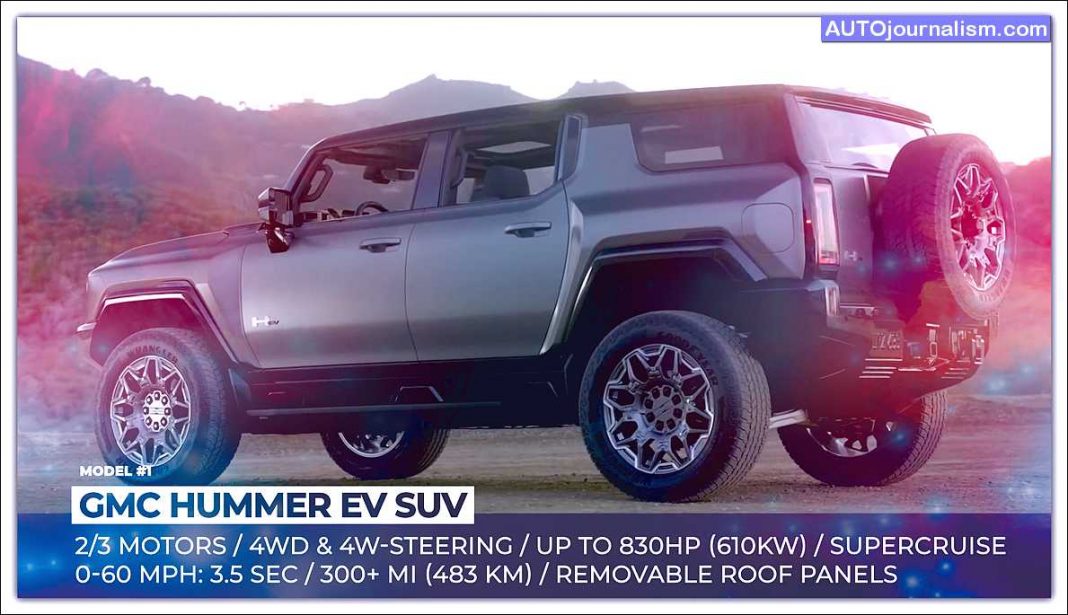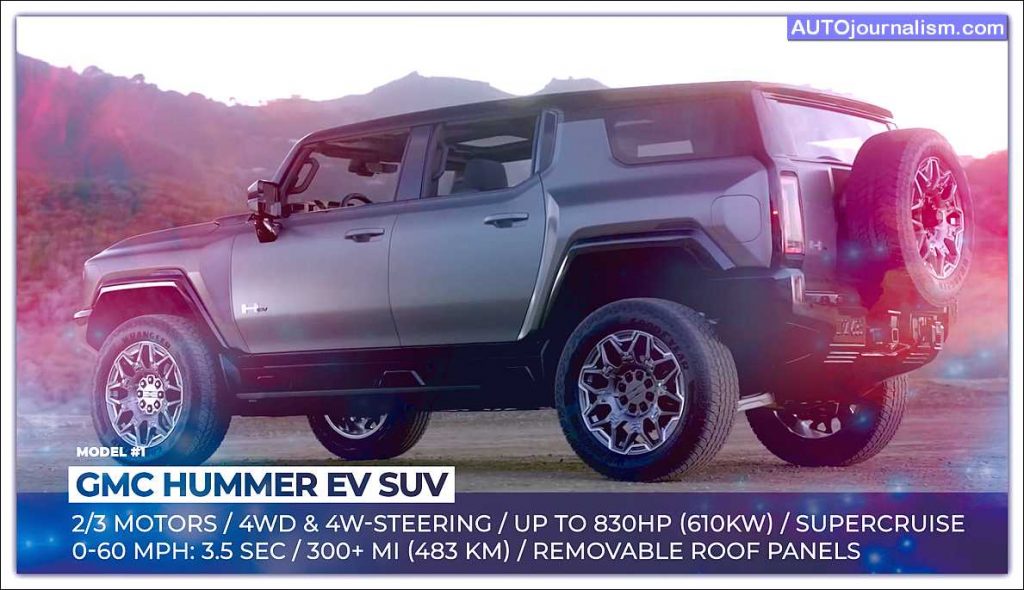 We have already covered GMC upcoming electric pickup so today we'd like to focus on the recently revealed SUV version of the hammer EV built on the same platform it has a 9-inch shorter wheelbase to improve off-road maneuverability but keeps the front wheel steering with grab walk and an adjustable air suspension that can raise the SUV by 6 inches the model also gets removable roof panels that easily stow away in the front trunk to experience open-air driving the power system is represented by two or three electric motors large ITM battery up to 200-kilowatt hour and four-wheel drive depending on the model the output reaches 625 or 830 horses the cabin looks upscale packs a 12.3-inch driver's display a 13.4-inch infotainment and comes equipped with the latest super cruise tack
2) FISKER OCEAN – American Electric Car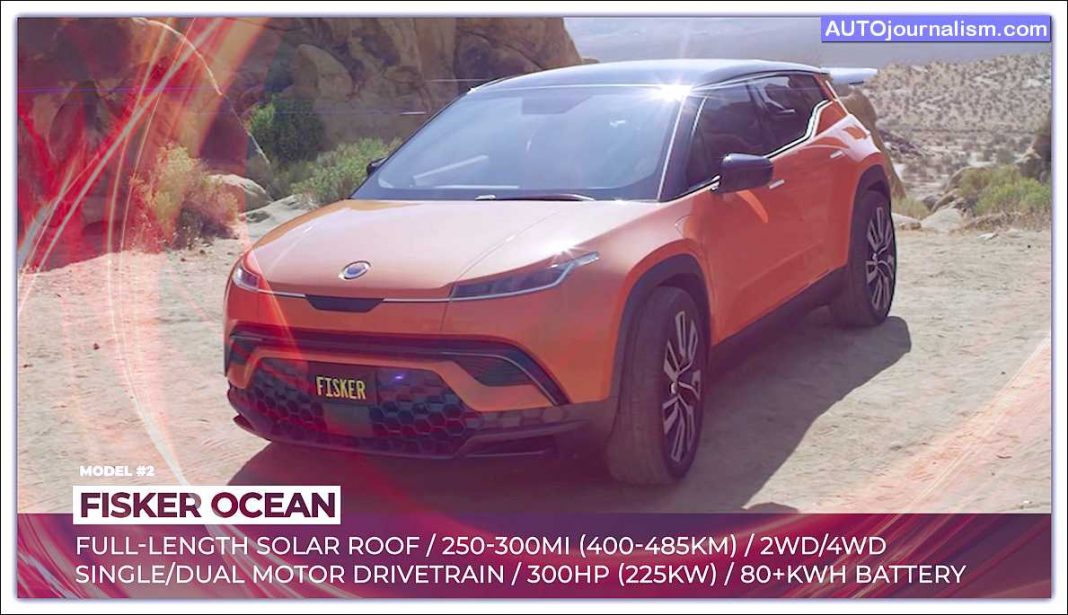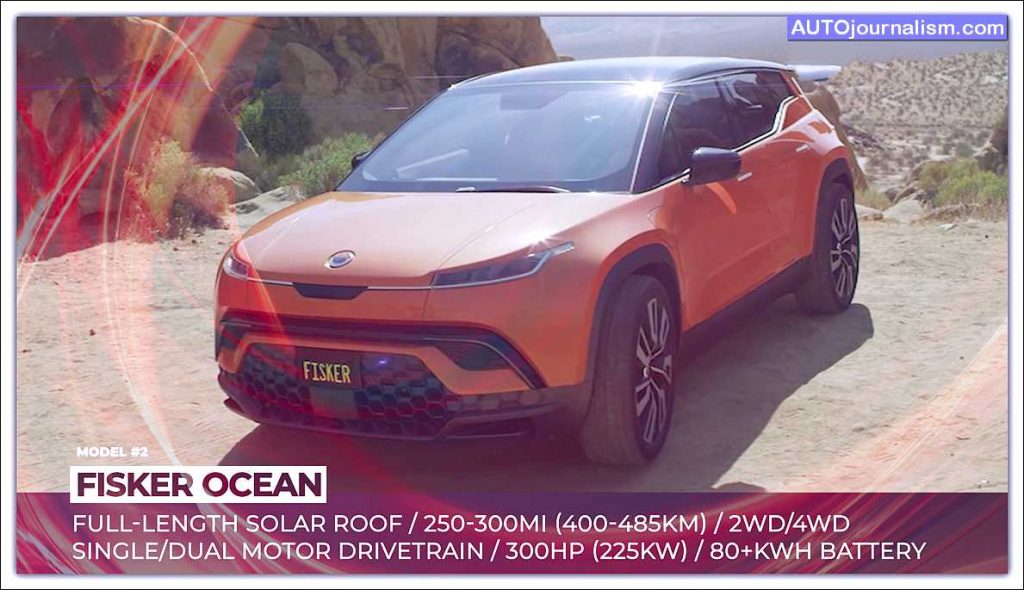 Failure is inevitable on the road to success, So we should give yet another chance to Hendrick fester this time the danish automotive designer is making a compact accompanied by his wife Gita Gupta Fisker who acts as a co-founder and CFO of the new company the power couple pitches the electric crossover ocean as the most affordable long-range model in this segment its 80-kilowatt hour battery should be good for 300 miles and will get either a single or a dual motor propulsion system with 0-60 acceleration as quick as 2.9 seconds the ocean gets the latest infotainment attack all the interior optional full-length solar roof and a patented California mode that lower all nine glass panels and symphony moreover Fisker inc plans to introduce a Flexi lease with 30,000 miles annual driving allowance and zero penalties.
3) JEEP WRANGLER MAGNETO – American Electric Car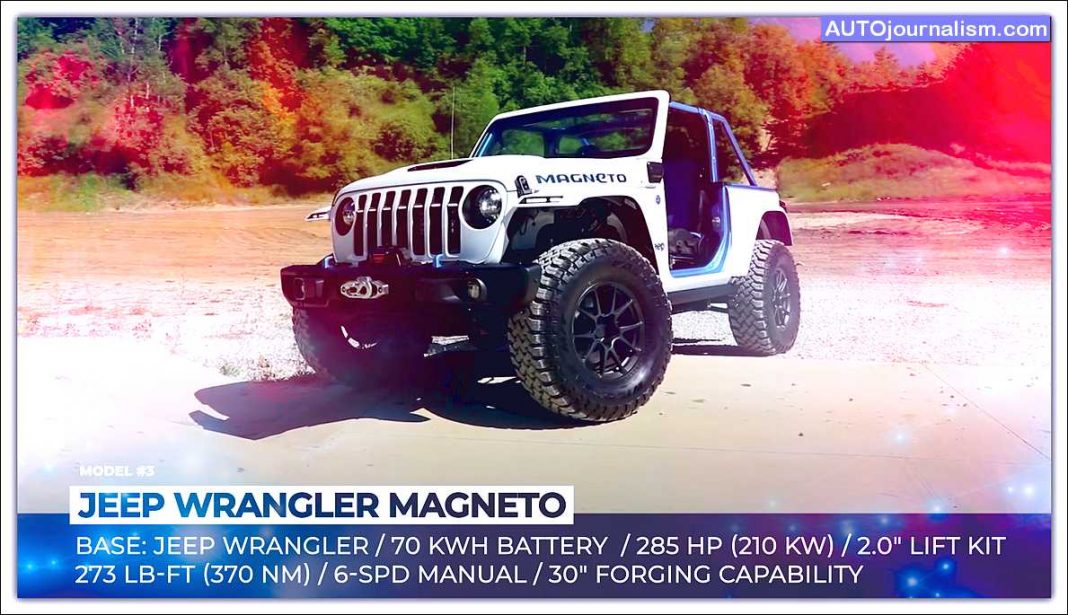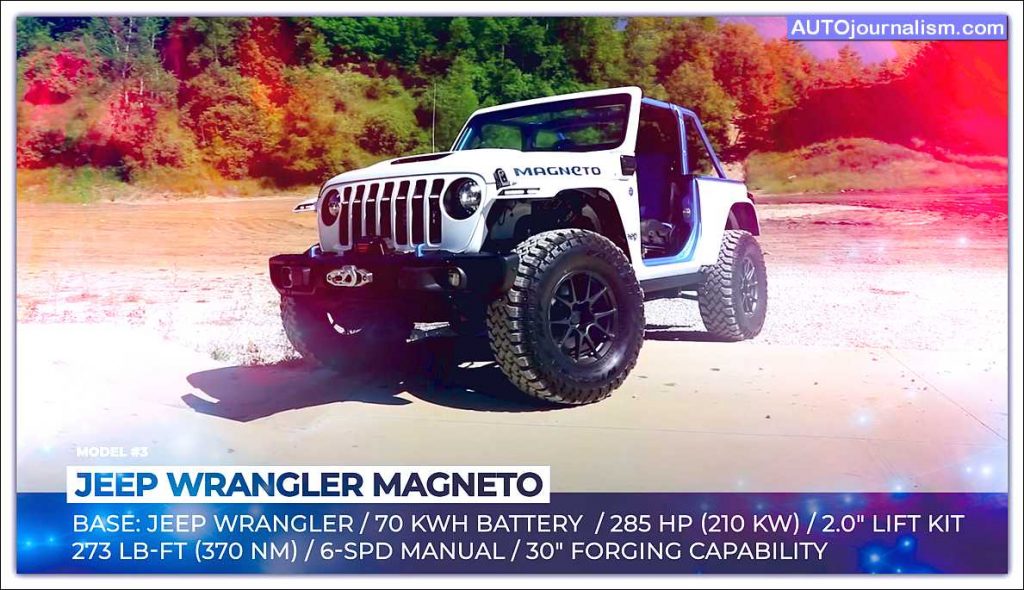 This concept is not the first electric jeep we have been waiting for but a retrofit conversion is still a good start based on the iconic two-door wrangler rubicon the magneto headlines jeep's 2021 Moab easter safari it loses the standard 3.6-liter Pentastar v6 and gets a custom-built axial flux unit the motor is connected to the significantly modified 6-speed manual transmission with a conventional pedal-operated clutch the resulting 285 horsepower and 273 pound-feet of torque output matches the ice model but offers faster 0 to 60 acceleration of 6.8 seconds four battery packs are distributed across the body to balance the weight and are enclosed in waterproof containers consequently the magneto keeps its 30-inch water forting capability additionally the concept boasts a 2-inch lift kit new 17-inch wheels with 35-inch mod tires one winch and a custom roll cage.
4) RIVIAN / R1T R1S – American Electric Car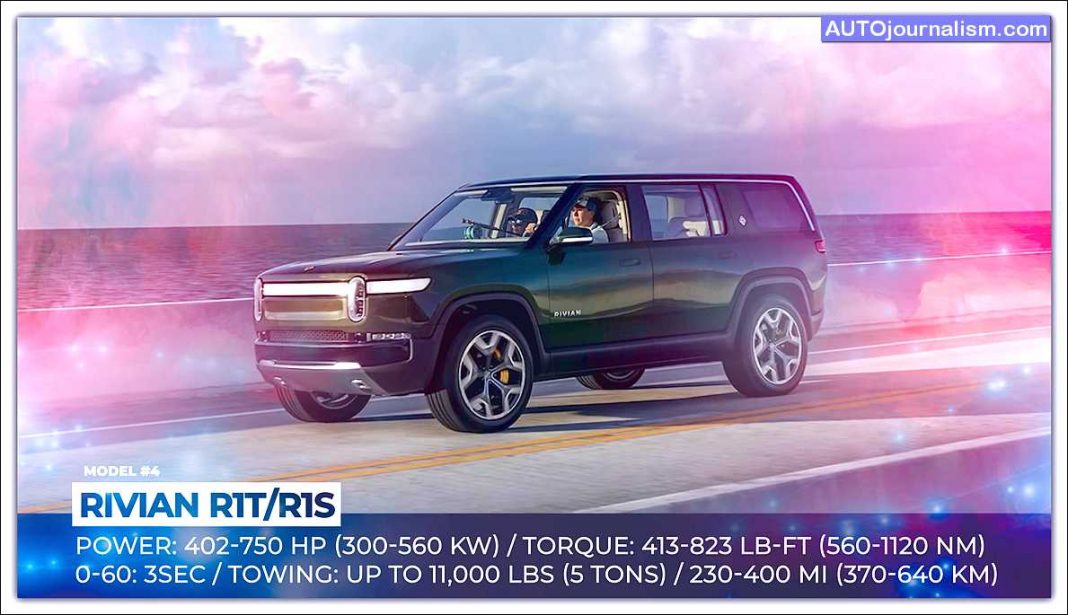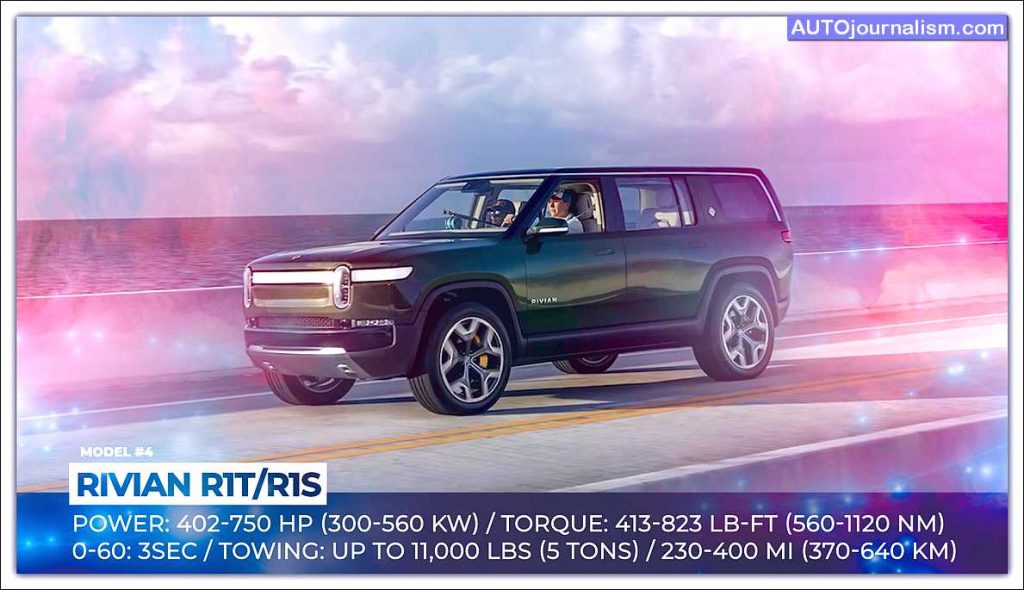 According to sentiment rose personal rating RIVIAN is the most promising up and coming electric car company in 2021 they are planning to perform a history defying stunt of releasing three electric vehicles in a row from a factory that was last operational six years ago the pickup truck r1t seven-seater three-row SUV r1s and delivery van will be built on the in-house developed skateboard platform in the top-spec versions it sports the quad motor all-wheel-drive setup with up to 400 miles range 750 horsepower output and 11 000 pounds tone capacity the passenger vehicles of the trio were chiseled out for adventures hence they possess three feet water weighting capability rock crawling and high-speed cornering modes on the inside the RIVIAN are all about premium functionality with elevation audio system by meridian wi-fi hotspot vegan leather driver plus semi-autonomy and a panoramic sunroof.
5) CHEVROLET BOLT EUV AND BOLT EV – American Electric Car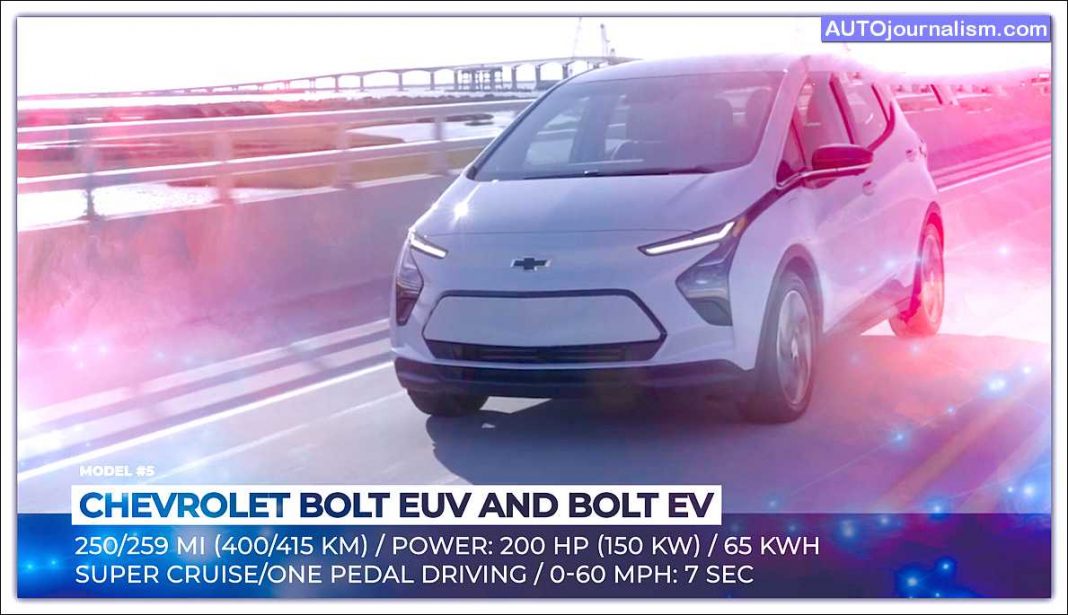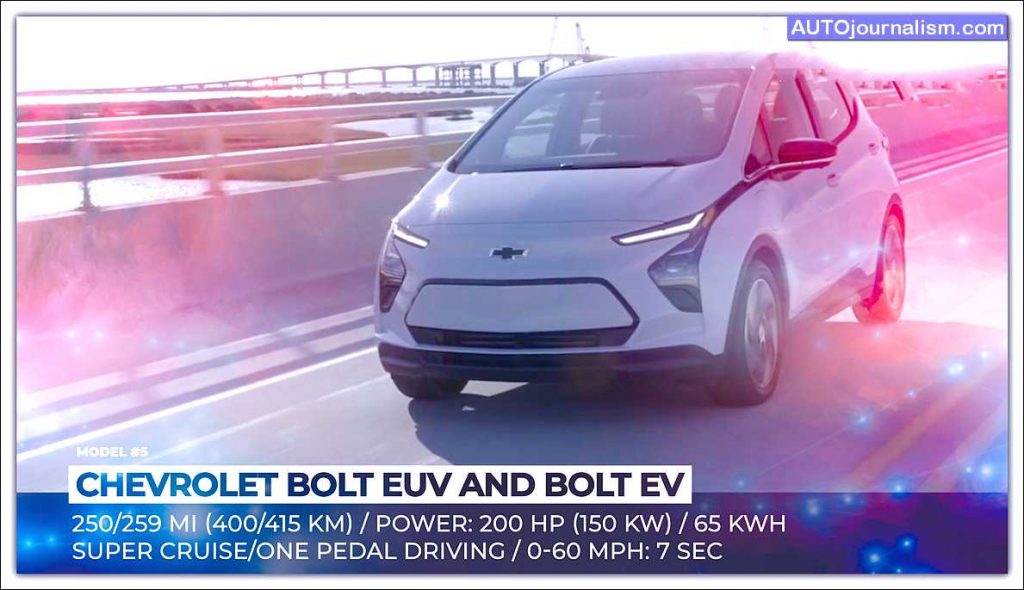 Despite the consumer consensus that the first generation vault was a solid EV gm never expected it to turn profit and treated the model as a compliance vehicle hopefully this approach will change with the arrival of the second generation and the newly discovered passion of the American conglomerate for the electric cars the newcomer abandons its former duality and embraces two distinctive body styles a classic x-shaped hatchback and a subcompact crossover UV in the popular fashion the headlights are split into two sections raising the narrow led DRLS and lowering the major beams closer to the bumper the models retain the 200 horsepower motor and competent 250 miles of range plus add semi-autonomous super cruise system one battle driving an all-new interior with 10.2 inch touch wireless smartphone connectivity and upper market finishings make your contribution into the promotion of electric cars by smashing the like button and sharing this video with your friends you should also participate in the conversation below the video let's proceed.
6) TESLA MODEL S PLAID+ – American Electric Car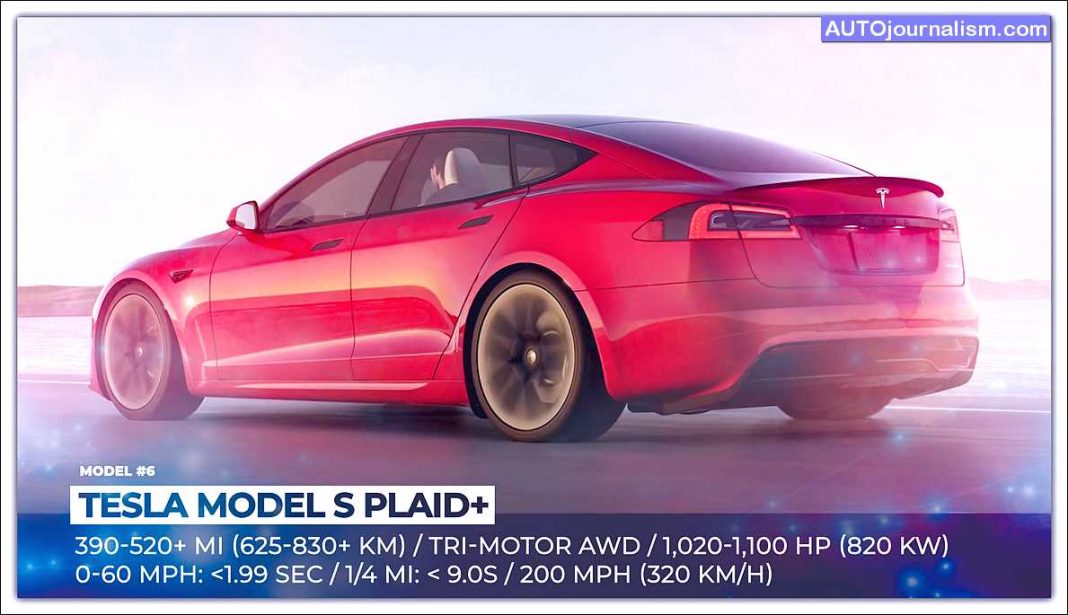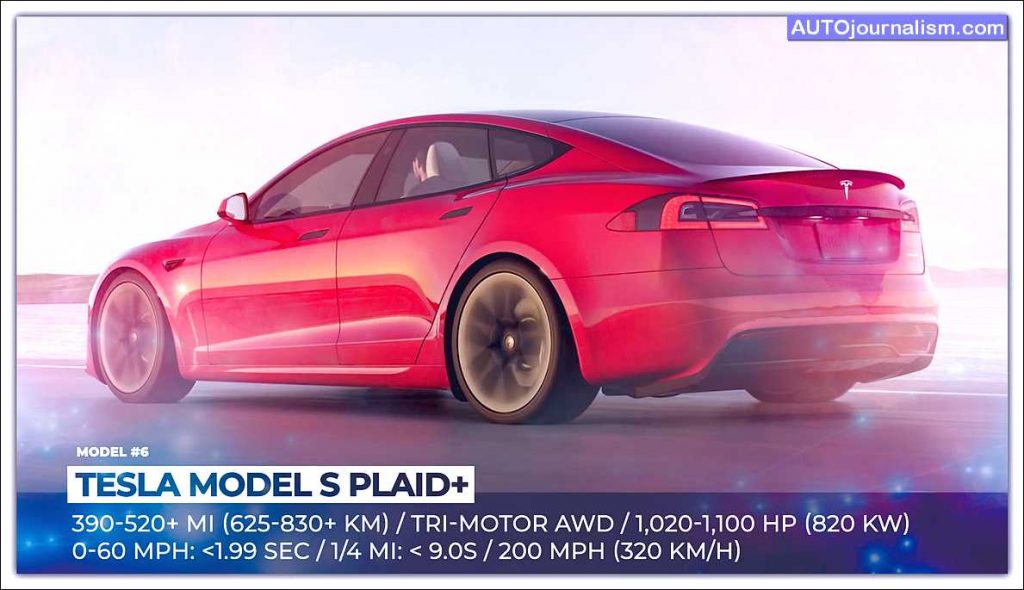 As of April 2021, the model s has been out of production for three months but according to the latest estimates, the face-lifted version will hit the assembly lines within the next couple of weeks the refreshed sedan is getting a re-sculpted hood reshaped lower part of the bumper and slightly tweaked headlights plus there are a horizontal screen and a controversial heel steering wheel the true motivator to get a new model s though is the plaid and the plat plus trumps with dry motor powertrain the pre-order configurator contains weight bunker's numbers 390 miles range and 1020 horsepower for the former an unbeatable 520 miles and 1100 hp for the plus that was postponed until mid-2022 the highest grade of the s has 200 mph top speed under 1.99 seconds 0 to 60 and under 9 seconds quarter-mile time.
7) LUCID AIR – American Electric Car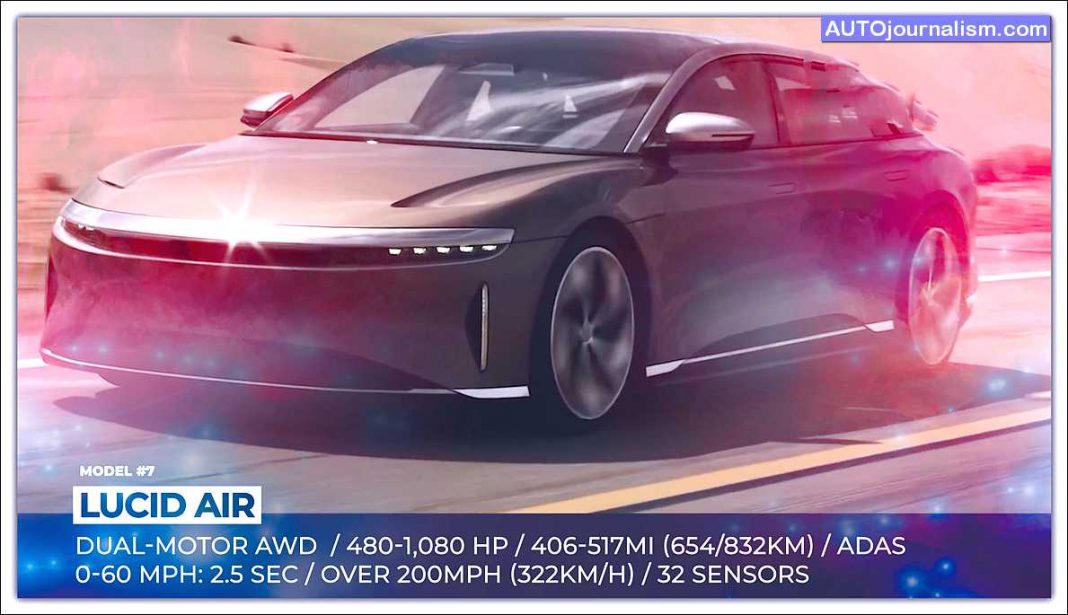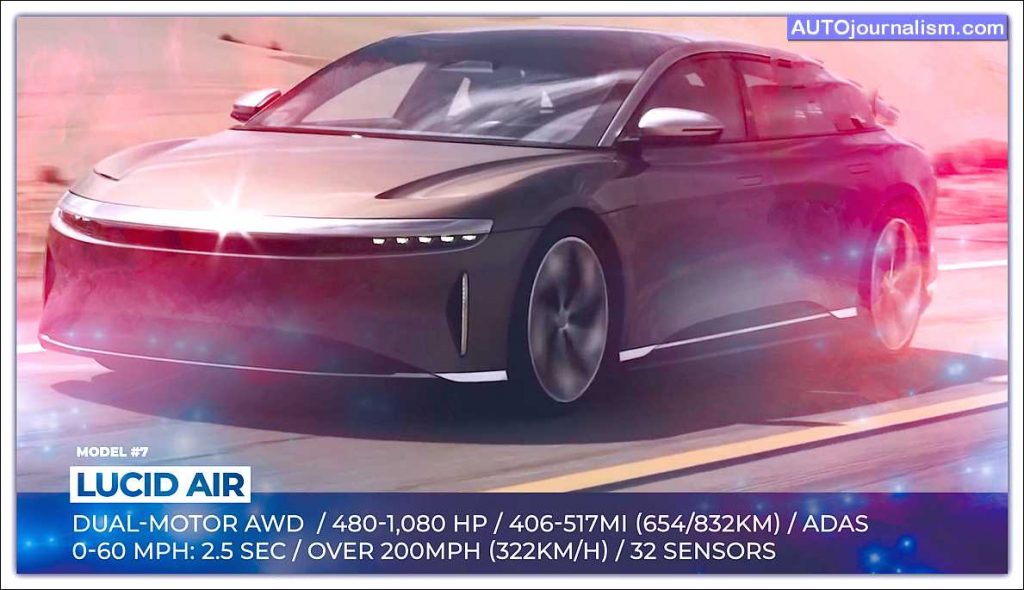 Sticking firmly by the claim that the listed sedan will become the world's first true luxury electric car the startup is staying away from the robot assembly and doubles down on quality control the initial air dream edition flagship units will arrive in the second half of 2021 offering astounding 517 miles of range and 1080 horsepower from a dual-motor all-wheel-drive powertrain further in the production cycle lucid plans to release more affordable single motor models with at least 406 miles range as well as an SUV also mounted on the leap EV platform the sedan is factory equipped with 32 sensor driver assistance package and challenges competition by offering a jet lag interior luxury in the form of five themes three upholstery options available executive seating glass canopy and floating 34-inch glass cockpit with 5k resolution.
8) FORD MUSTANG MACH-E – American Electric Car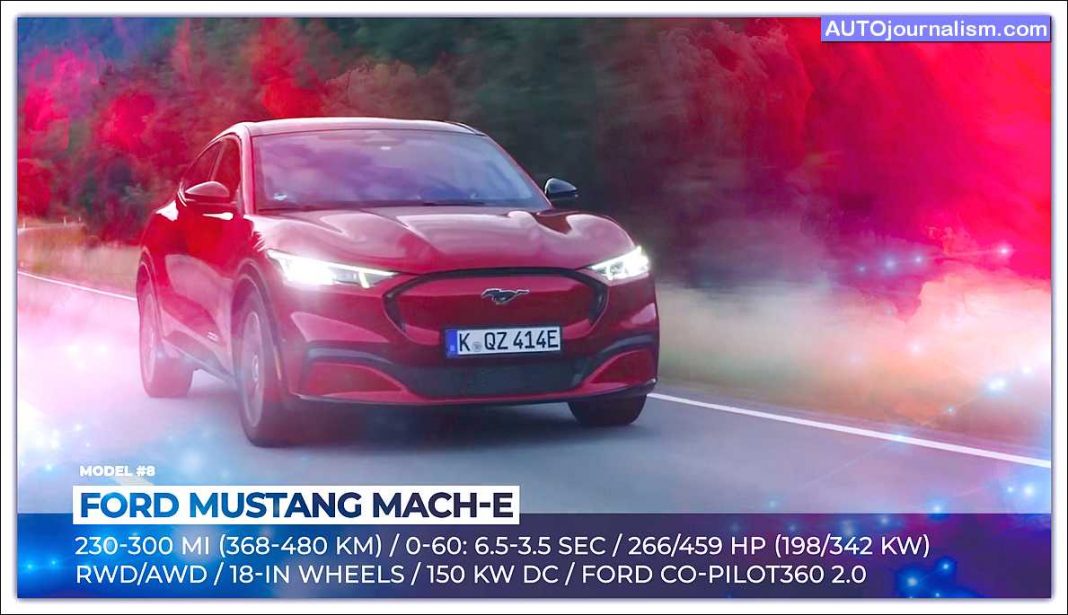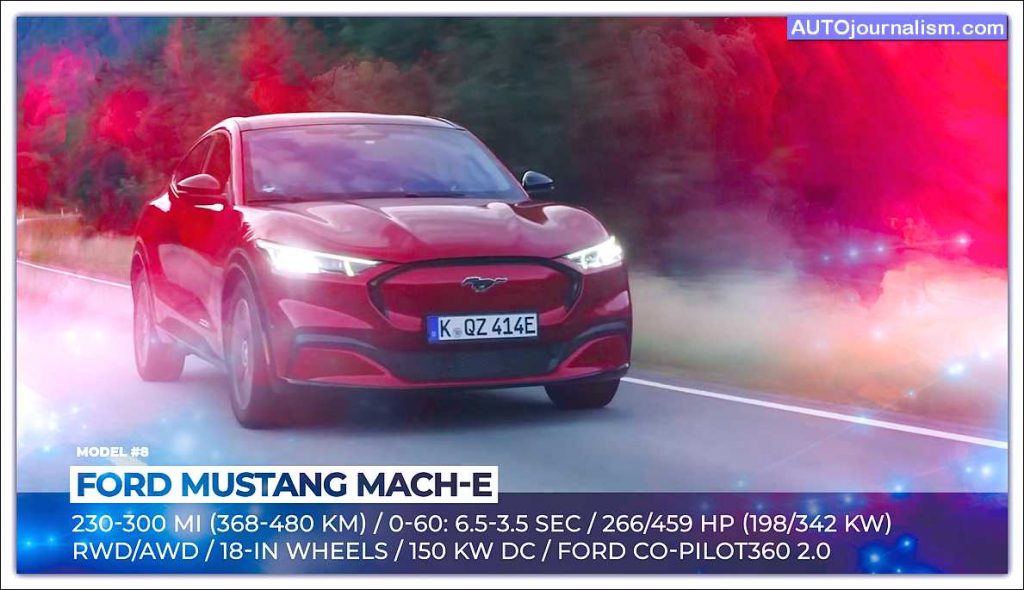 Ford's first non-compliance electric car has had a promising start on the home market snatching the title of the 2021 North American utility vehicle of the year it mixes up sporty coupe UV profile powerful front fascia iconic name and competitive parameters expect the mustang mock-e to cover 230 miles in the entry-level Selectrum and up to 300 in the premium with the two-year complimentary access to the ford pass charging network as standards this is a single motor 266 horsepower rear-wheel-drive crossover, however, the performance-oriented gt version doubles the numbers of motors adds electronic all-wheel-drive boosts the numbers to 459 hp and ensures mid 3 seconds 0 to 60. this cv gets an all-new vertical 15.5-inch sync 4a infotainment 10.2-inch digital cluster and ford slater's driver assistance stack copilot 360 2.0.
9) FARADAY FUTURE FF91 – American Electric Car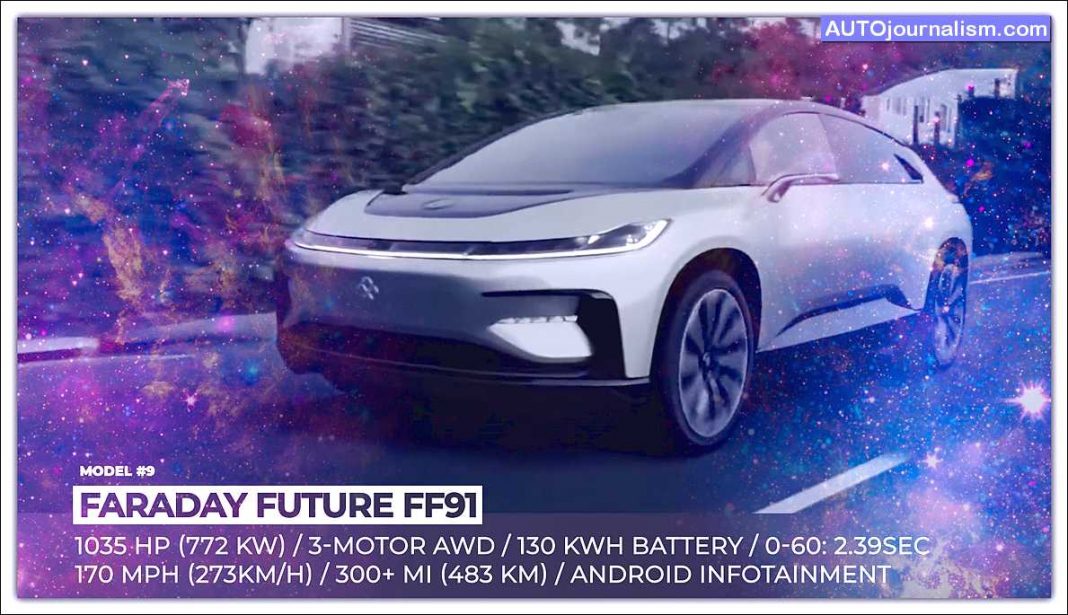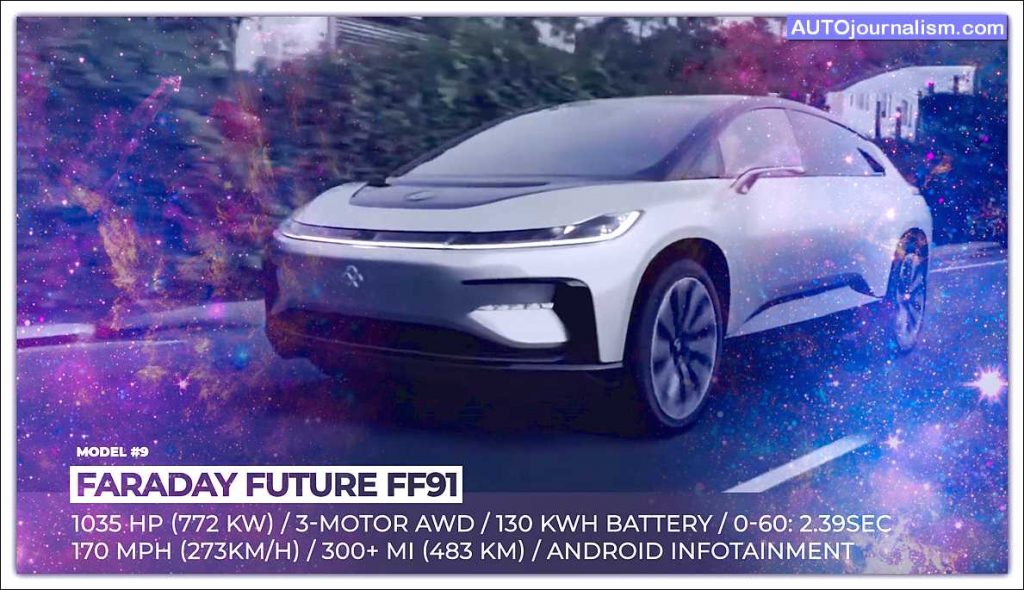 Announced to go public through a merger with property solutions acquisition corp the struggling California startup verity future will finally bring its ff81 SUV to the market the model gets a modular battery pack comprised of 22-kilohertz strengths that allow delivering multiple configurations of the EV the upper market offering both of a massive 130-kilowatt hour unit and three electric motors producing 1035 horsepower combined in this configuration the f581 should be able to accelerate to 16 mph in 2.39 seconds and also it will be feeling right at home at german autobahns driving at 170 miles per hour we should also mention that faraday is expected to establish a strategic partnership with the Chinese Gili and Taiwanese Foxconn so the entire car or at least some of its parts will likely be manufactured at their facilities.
10) BOLLINGER B1 AND B2 – American Electric Car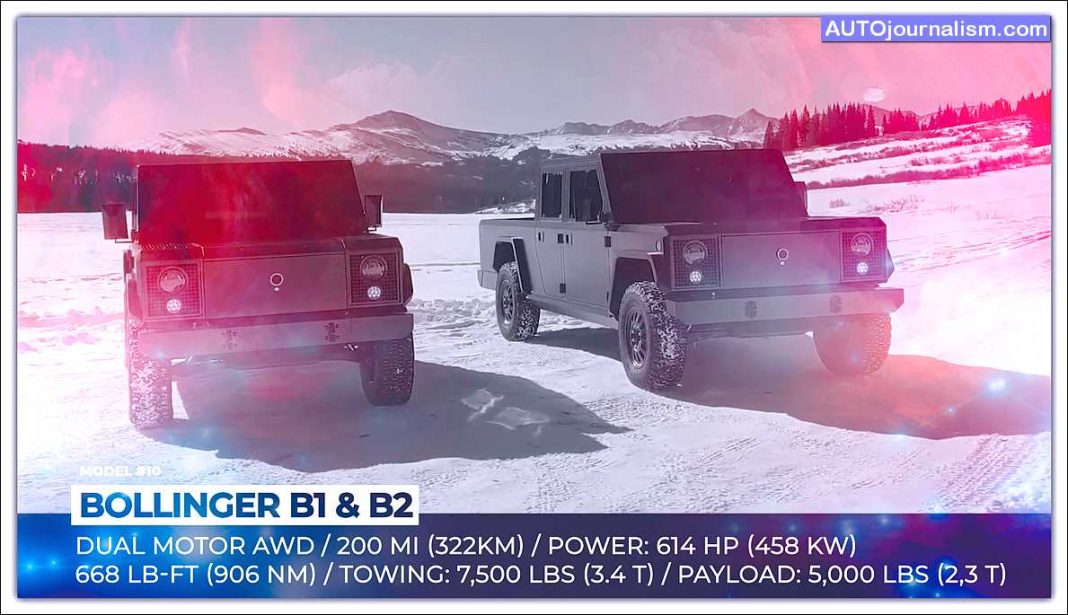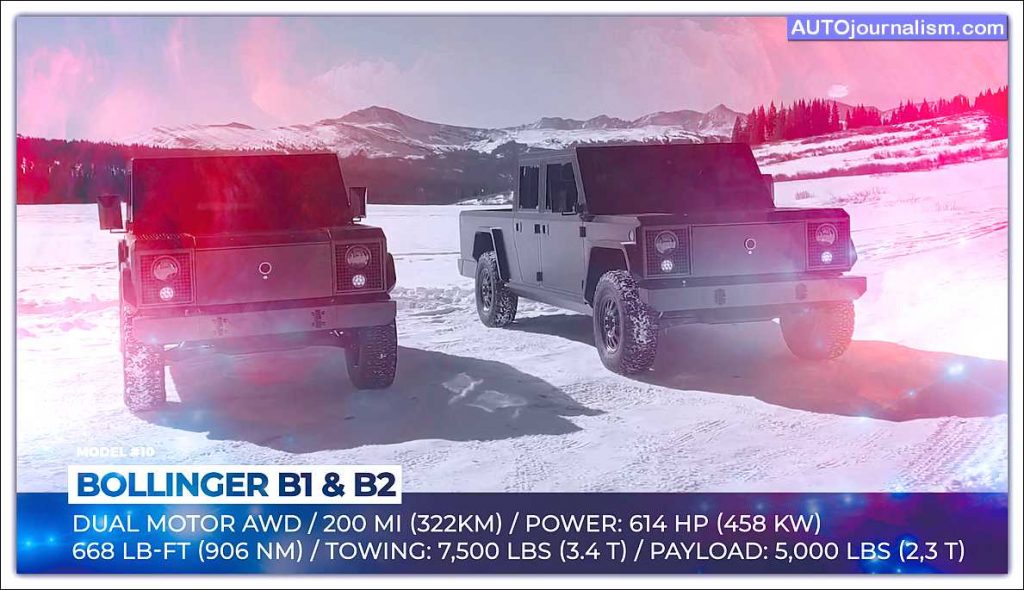 Revealed back in 2019 the production-ready b1 SUV and b2 truck are utilitarian offroad red EVs from the American startup bill lyncher that is based in Michigan both are motivated by the dual-motor setup that in turn is used by 120-kilowatt hour battery to yield 614 horsepower and 668 pound-feet of torque it is enough to ensure 7 500 pounds towing and 5,000 pounds payload capacities with the EPA estimated range of 200 miles built on the same platform both the b1 SUV and the b2 truck have 15 inches of ground clearance and all-aluminum chassis with hydro-pneumatic suspension that is ready to take a heavy beating the models are expected to launch to the market in 2021 though admittedly we have not heard much about the company's progress in the recent months
11) APTERA EV ( BONUS MODEL ) – American Electric Car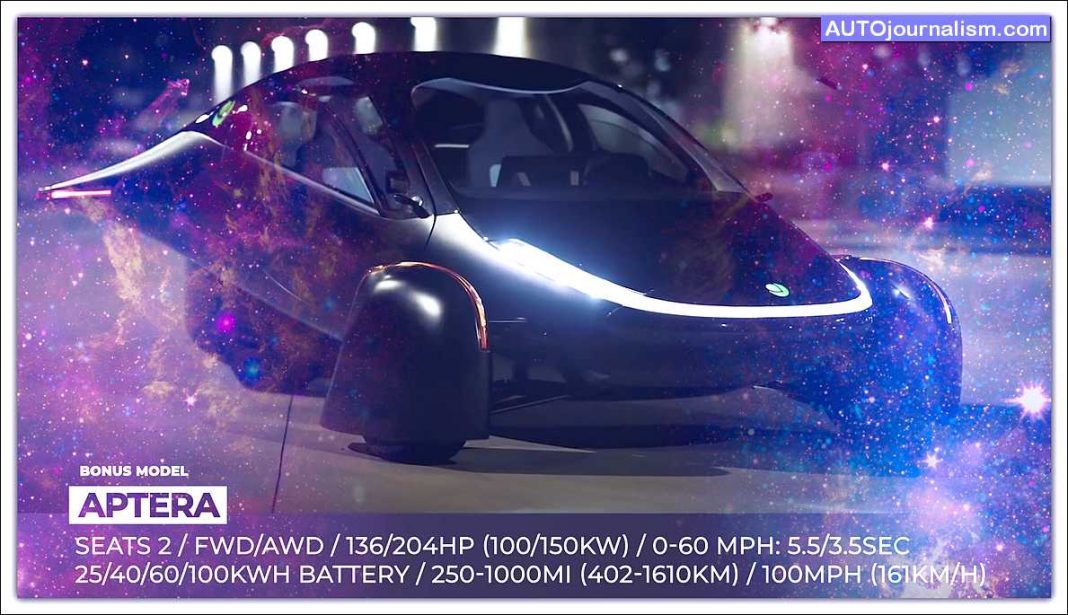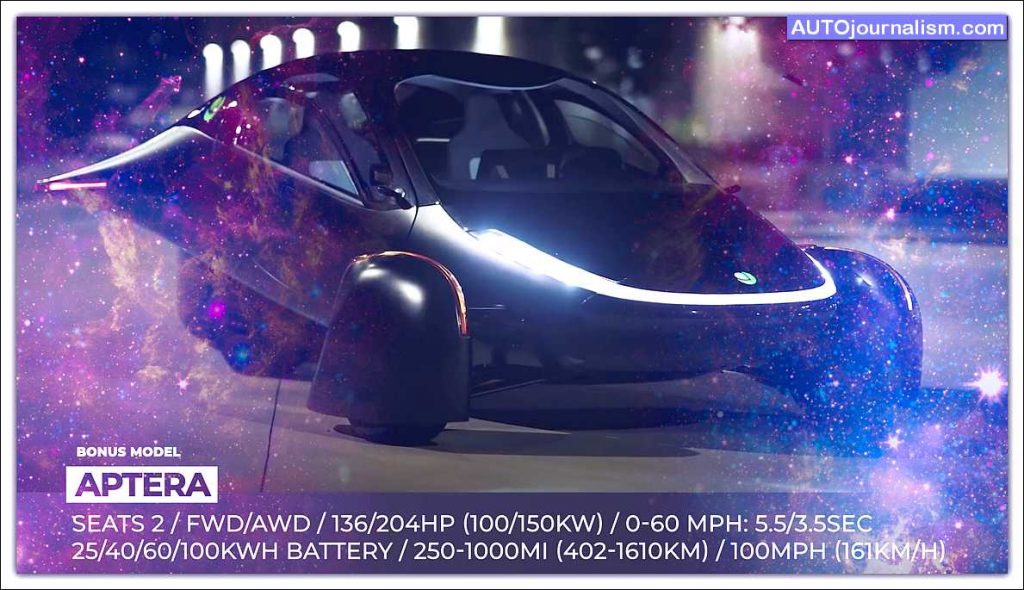 The concept of the APTERA EV a never charged extremely aerodynamic and efficient EV has been around for 16 years in 2021 however after a decade-long hiatus the original founders of the company are making a comeback collecting 200 million dollars worth of pre-orders and selling out their entire 2022 plant production patch unlike other many EVs this three-wheel two-seater offers superior passenger safety ensured by the formula one inspired safety cell advanced airbag and composite technologies looking like an airplane fuselage, the Aptera has a 0.13 dry coefficient and consumes only 100-watt hours per mile with four battery sizes 25 40 60 and 100 kilowatt-hours the car will supposedly cover from 250 to 1000 miles moreover its solar array is set to restore up to 40 miles of charge per day effectively covering the majority of daily commutes.
Would you agree that electric car news is getting more and more exciting which model from this lineup is the Most Promising. Let's talk this over in the comments section. Thanks For reading this post.
NEXT
New Bike Triumph 1200 Scrambler Steve McQueen Limited Edition