Welcome to the world of auto journalism. We've been following CARLEX design, a polish tuning studio, for a while now, and the time has come to devote an entire episode to their full line of stunning conversions, Top 10 Best Modified SUVs and Cars In the World. These bold pills will take on any modification task, from HYUNDAI jeeps and FORDS to bespoke Ferraris and beautiful waggons.
Top 10 Best Modified SUVs and Cars In the World
#1: Mercedes X CLASS racing green ( Modified )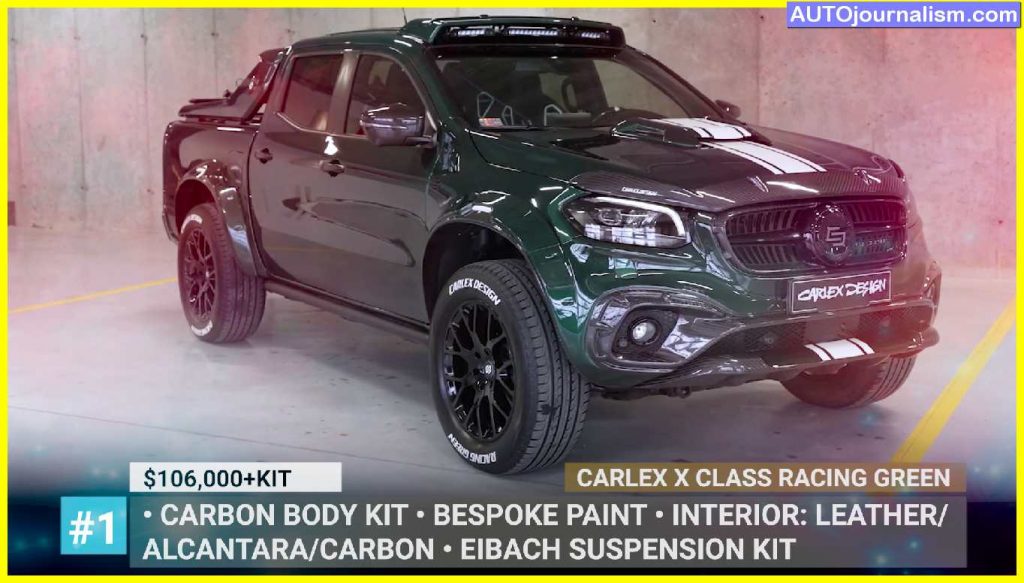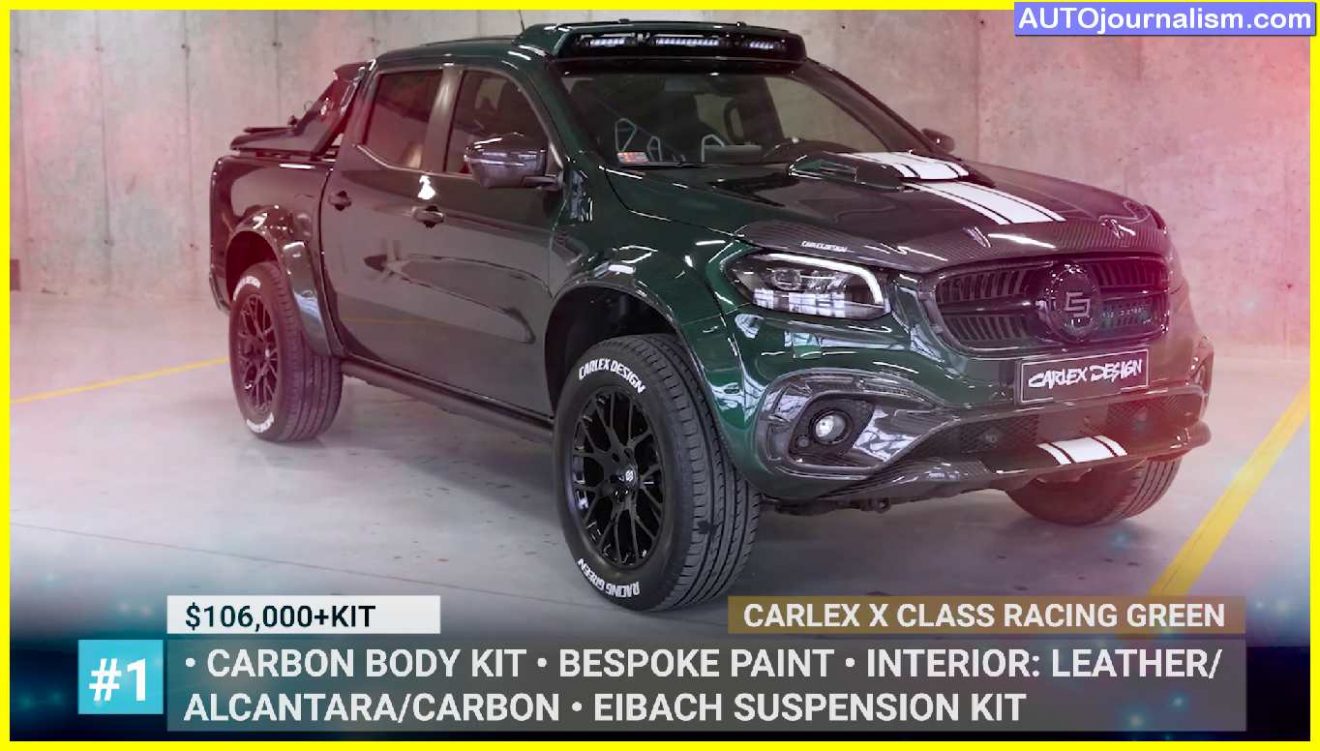 Even if the now-discontinued Mercedes truck failed to win over the mainstream market, it still had the unique German heritage that CARLEX utilised. The racing green edition is the X-tenth class's and most impressive modification, with a completely rebuilt exterior, new carbon fiber body kit side cells, and a carbon truck bed bar that gives the vehicle an aerodynamic appearance. The tuned pickup was equipped with an Eibach suspension kit and 20-inch alloys. The kit can be installed on any x-class, but it will be most appropriate on the top-of-the-line x350d, which is powered by a three-liter v6 to grow diesel with 255 horsepower and 406-pound feet of torque and paired to the 4matic permanent all-wheel drive and a 7-speed automatic front and rear seating was converted by CARLEX design and the e350
#2: MERCEDES AMG G63 CARLEX YACHTING EDITION ( Modified )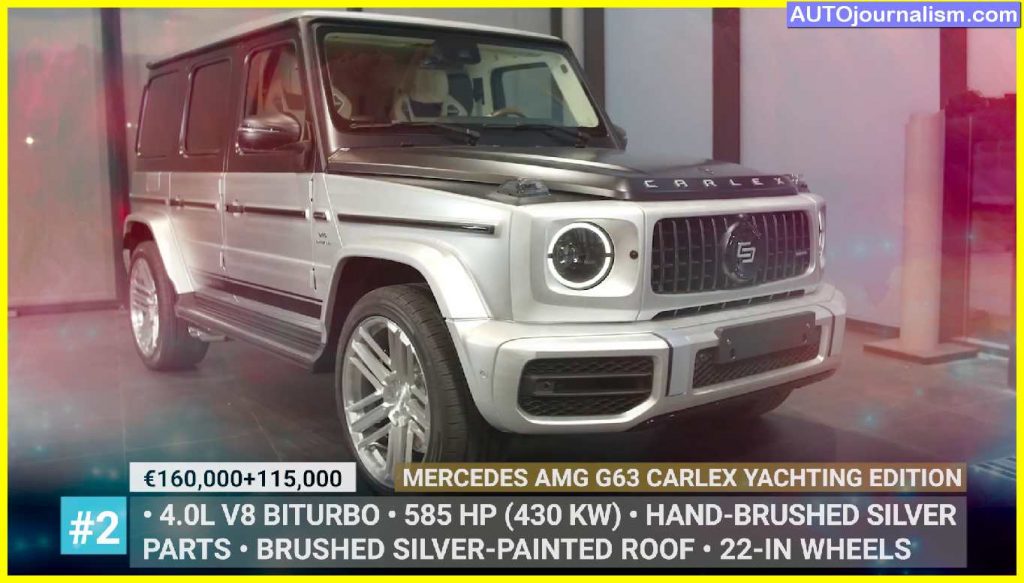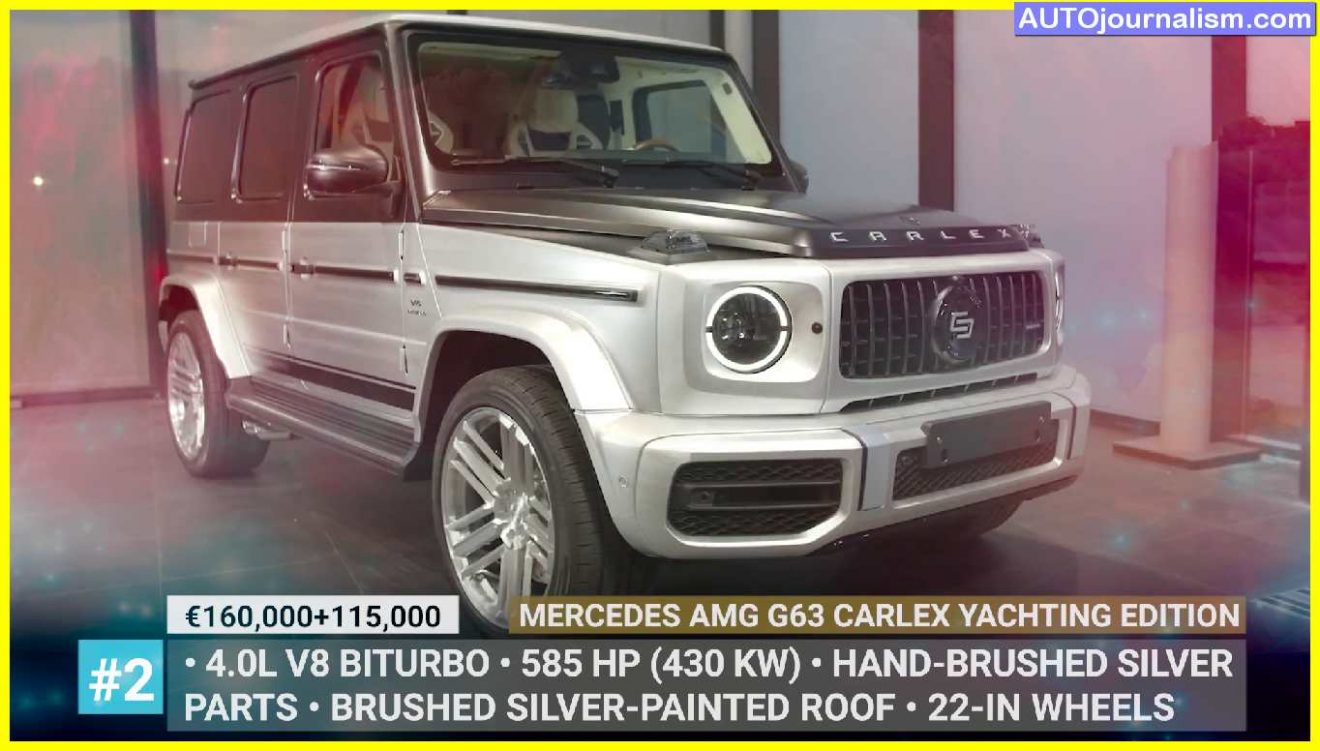 Instead of the typical all-black exterior, the suv wears a dual-tone paint scheme that combines satin black with polar white or brushed silver large 22-inch wheels get exclusive 15 spoke design and are also painted silver on the inside The latest CARLEX upgrade for the Galant waggon takes the flagship amg g63 as the base vehicle and turns it into the luxury yacht on wheels instead of the typical all-black exterior the suv wears a dual-tone paint scheme that combines satin black with polar The interior is finished in el cantra and perforated lather in cognac or off-white, with distinctive embroidery and stitching on the chairs, while the cargo hult is finished with natural wood panels with no mechanical alterations. This special edition retains the factory 4 litre turbocharged v8 engine, which produces 585 horsepower.
#3: CARLEX URBAN EDITION HYUNDAI SANTA FE ( Modified )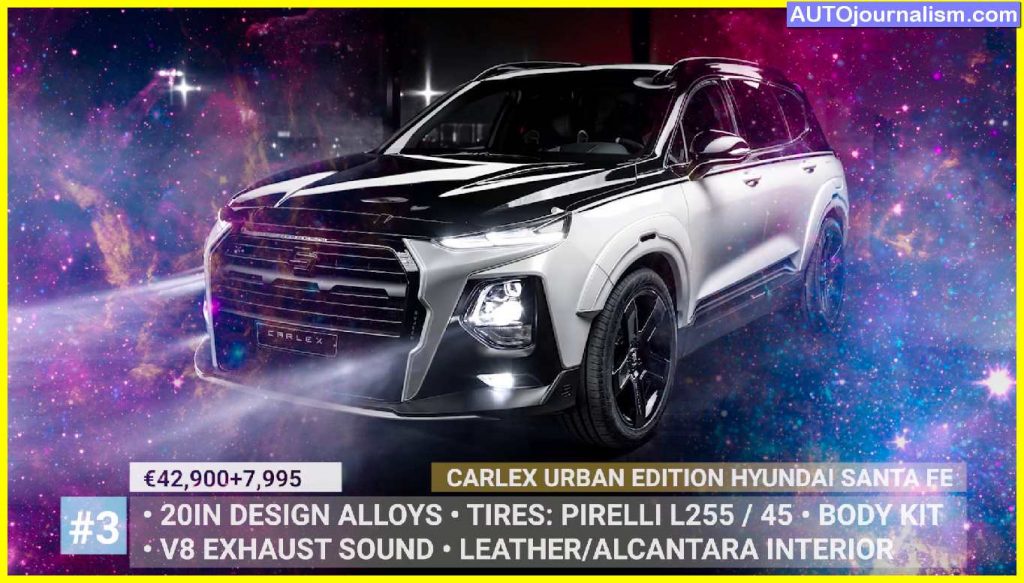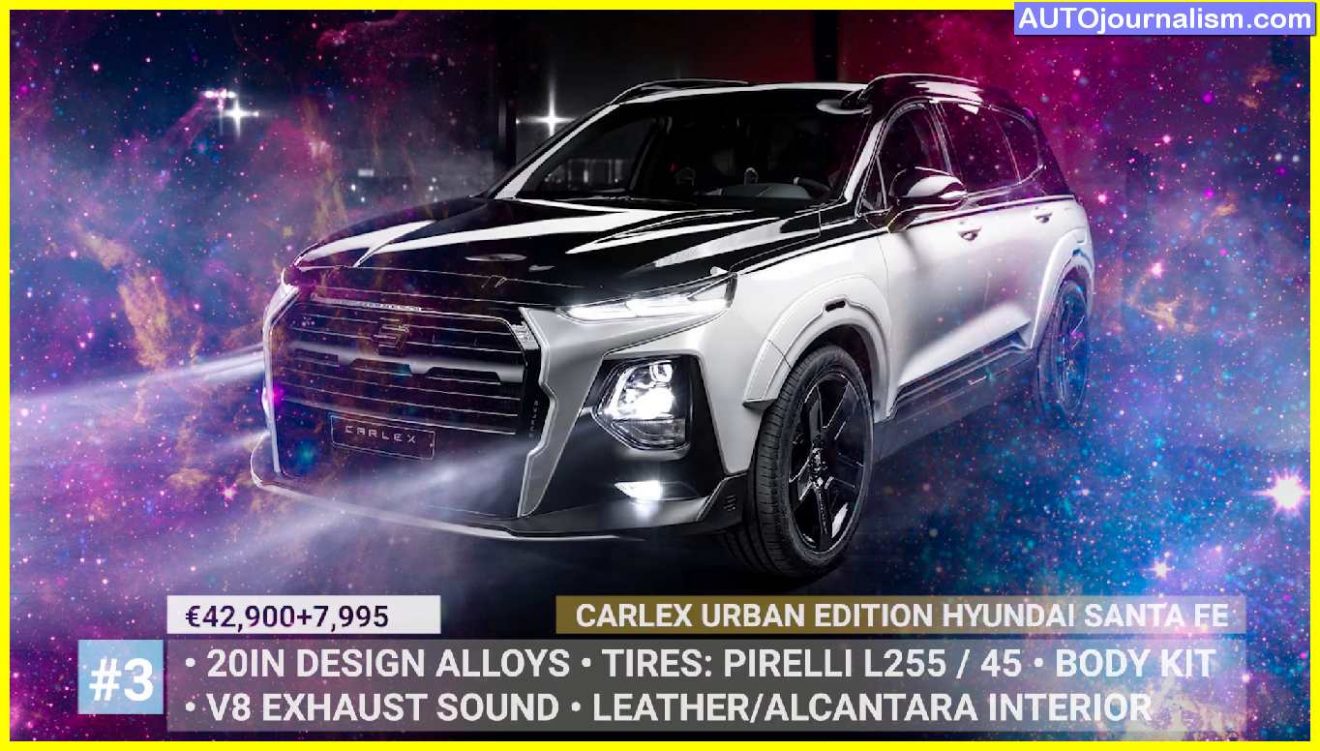 Santa Fe, which is known for its family values, is not a frequent visitor to tuning shops. As a result, the CARLEX package is a one-of-a-kind approach to transform your SUV into a sporty and aggressive vehicle. The urban edition option includes a full bodywork makeover with new front bolt bumpers, aerodynamic rear spoilers, and a diffuser, making this mint size almost unrecognizable. A set of inch alloy wheels wrapped in racing Pirelli rubber completes the new look. Dark leather and Alcantara are used everywhere, as well as the seats. Bolt lime inserts are used to embellish the door panels. Finally, the SUV gets a new steering wheel design. Eibach springs for a more comfortable ride and different exhaust tips to give the powertrain a v8 sound please like and subscribe to our channel and consider purchasing one of our spring t-shirts if available in your country the links will be displayed below the video thanks in advance and let's keep going
#4: CARLEX FORD TOURNEO CUSTOM ( Modified )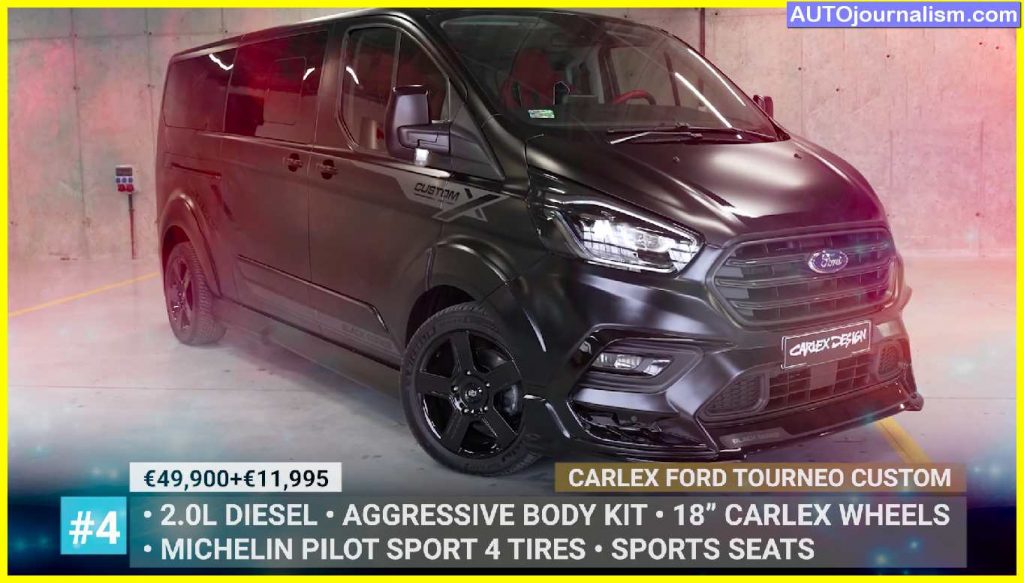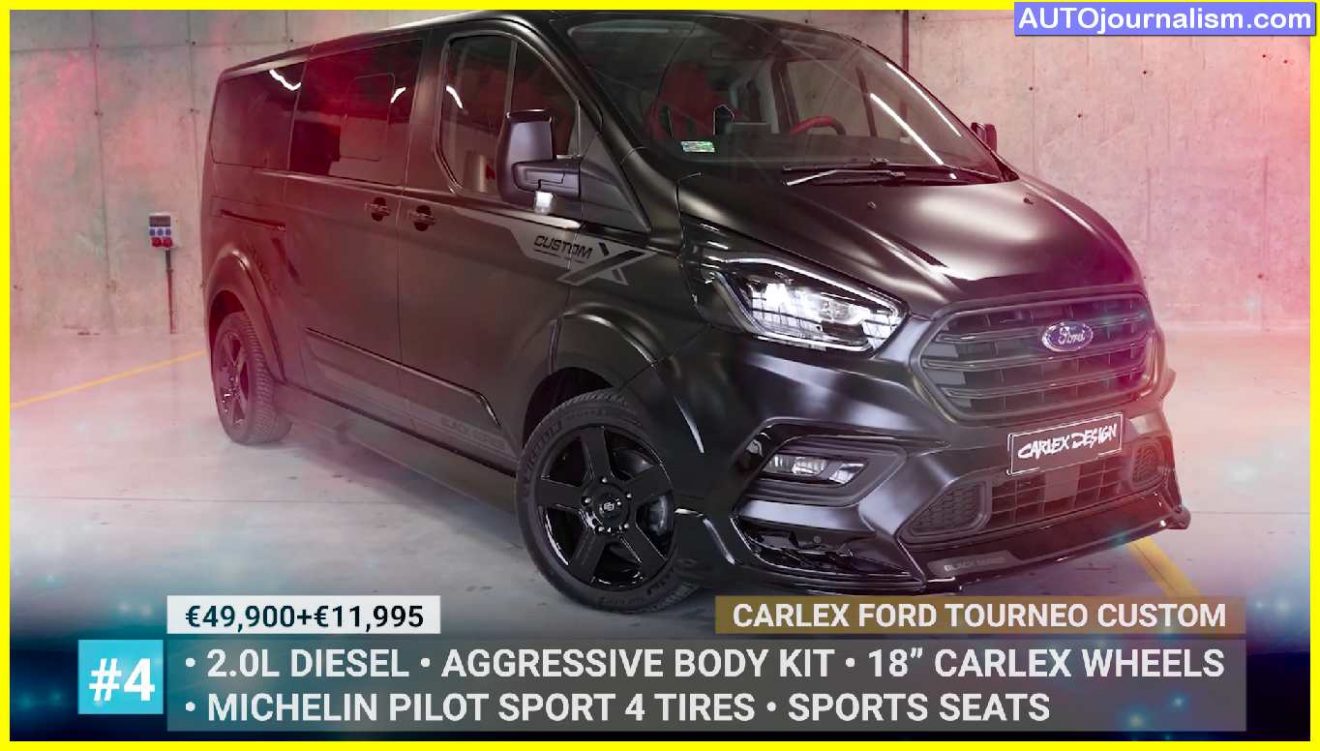 The van conversion market for adventure seekers is oversaturated today, but when it comes to making your MPV look aggressive and sharp, the poles are among the few tuners who are up to the task in 2021 carl's design unveiled two sporty body kits for the latest forternell custom the first adopts the x final edition and adds a new front bumper and grille as well as sporty side skirts and larger arch extensions. Sports seats and leather steering wheel details are included in the final edition's cabin, as well as a rear spoiler. The custom x black series is the brand's second take on the vehicle, with a comparable white body kit but all-black paintwork contrasted inside by a luxury thread upholstery with black accents.
#5: CARLEX FERRARI 812 SUPERFAST ( Modified )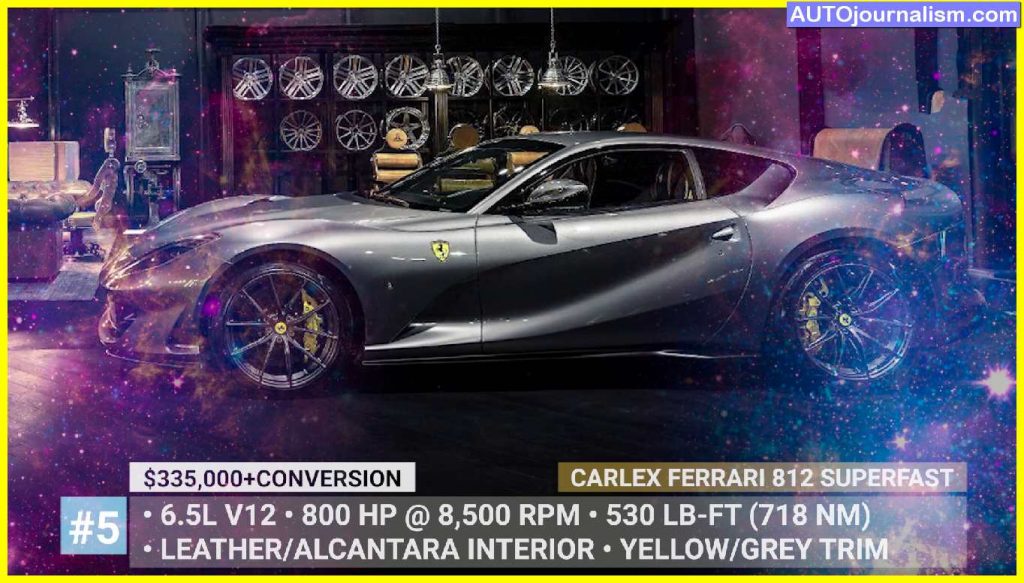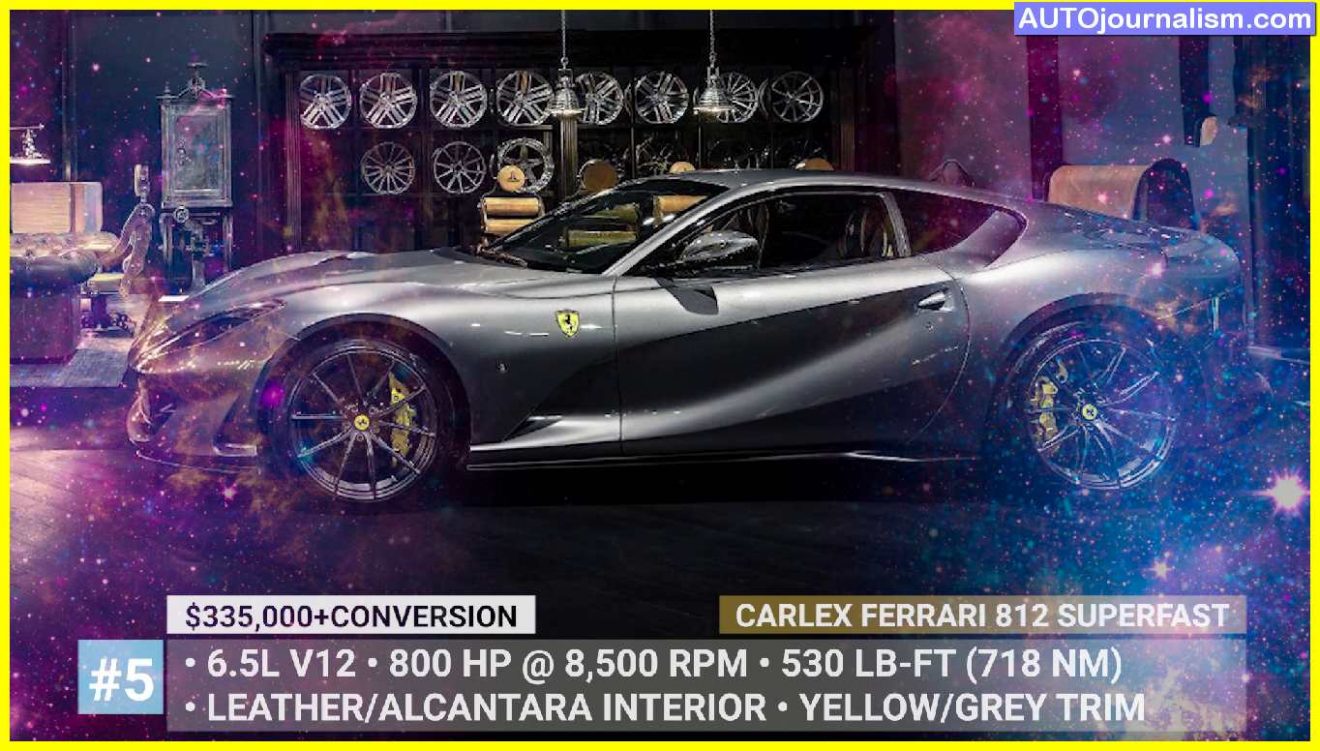 Some may argue that modifying the iconic masterpieces of Italian automotive artists is blasphemy, but car legs are beyond these superstitions. The striking manifest for the designers' freedom of choice focuses on the complete rework of the 812th interior, with all visible components meticulously clothed in dark leathers. Alcantara and Alcantara with bright yellow inserts Because the a12 superfast is the quickest road-going Ferrari ever made, no mechanical modifications are required. The 6.5-liter V12 engine revs to 8,900 rpm and produces 800 horsepower, allowing it to reach 60 mph in 2.9 seconds and a top speed of 211 mph.
#6: CARLEX AUDI RS Q8 ( Modified )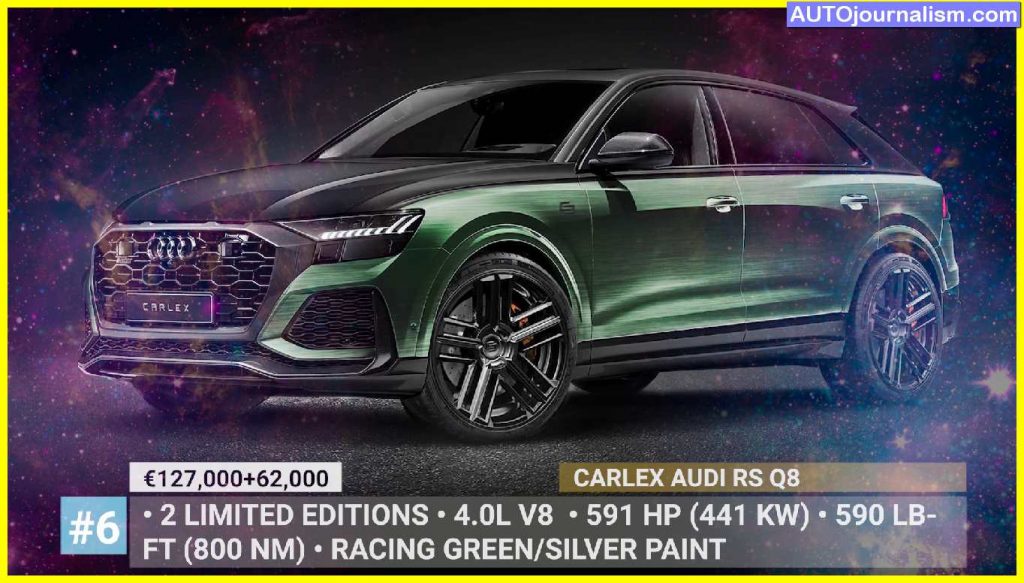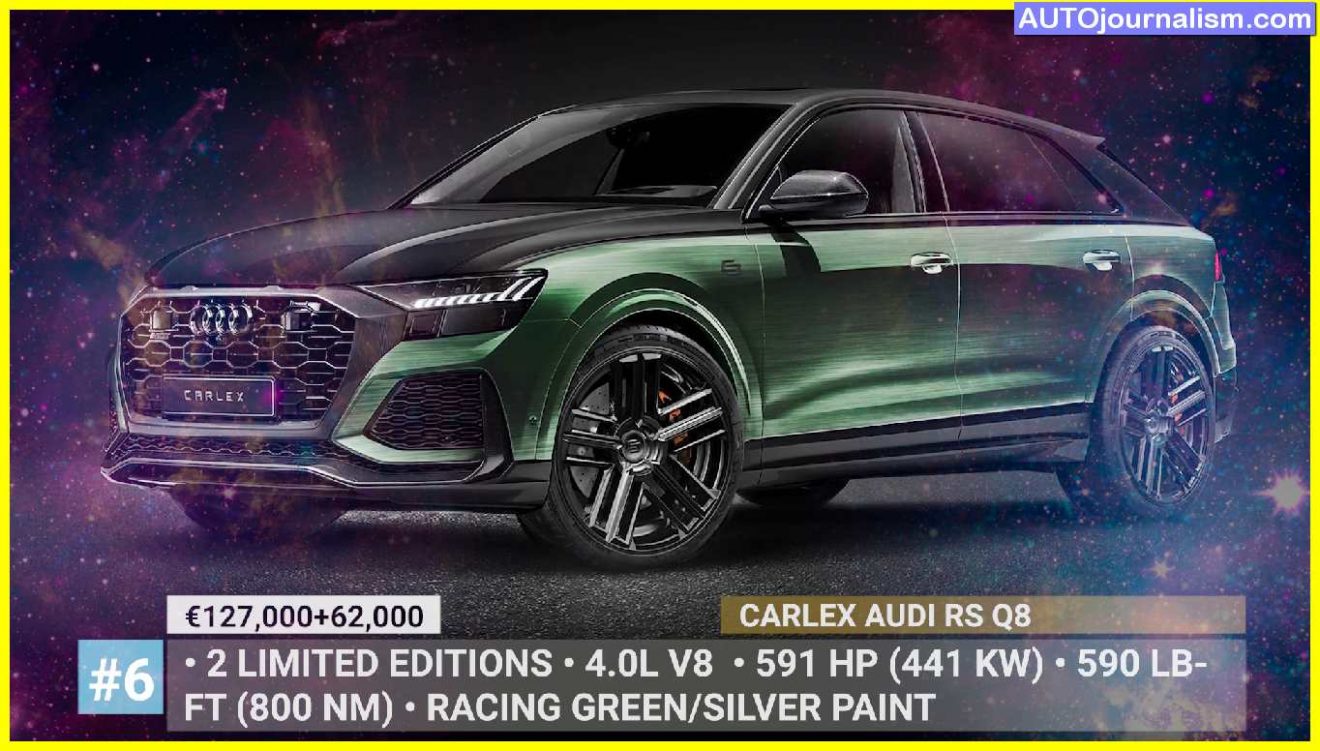 This year, the freshly refurbished performance version of the q8 is given two limited edition modifications by garlic's design: racing green and silver storm. Exclusive two-tone exteriors are added to the vehicles. The former has a green and black paint job with 22-inch graphite wheels, while the latter has a brushed silver body with a deep bluebonnet bumper and roof, as well as silver-painted 22-inch wheels. Hand-stitched leather anal counter upholstery in caramel black or silver-blue is available in deluxe cabins. The rescue 8's 4-liter v8 engine remains unmodified, capable of 591 horsepower and speeds of up to 180 mph.
#7: CARLEX FORD RANGER ( Modified )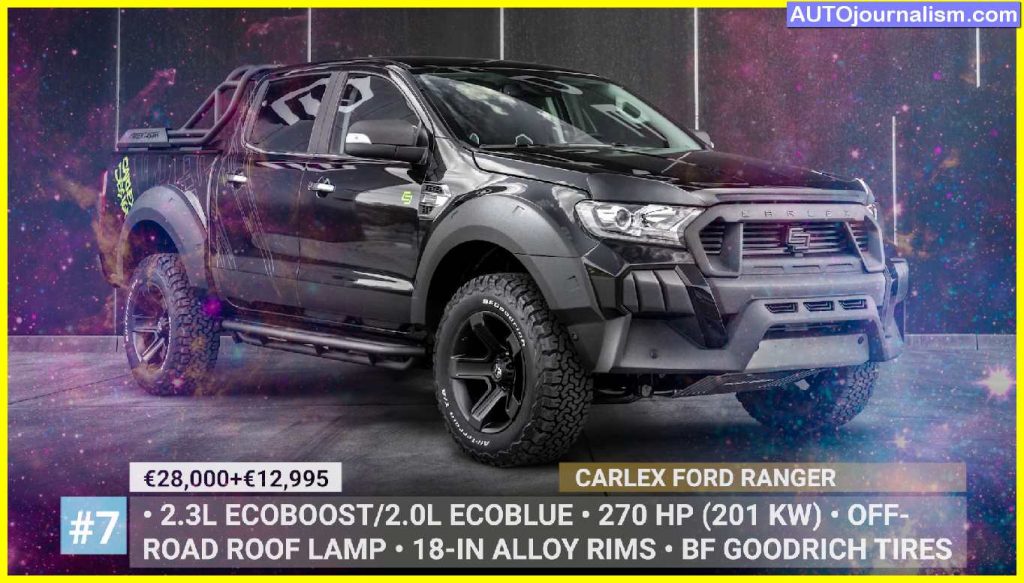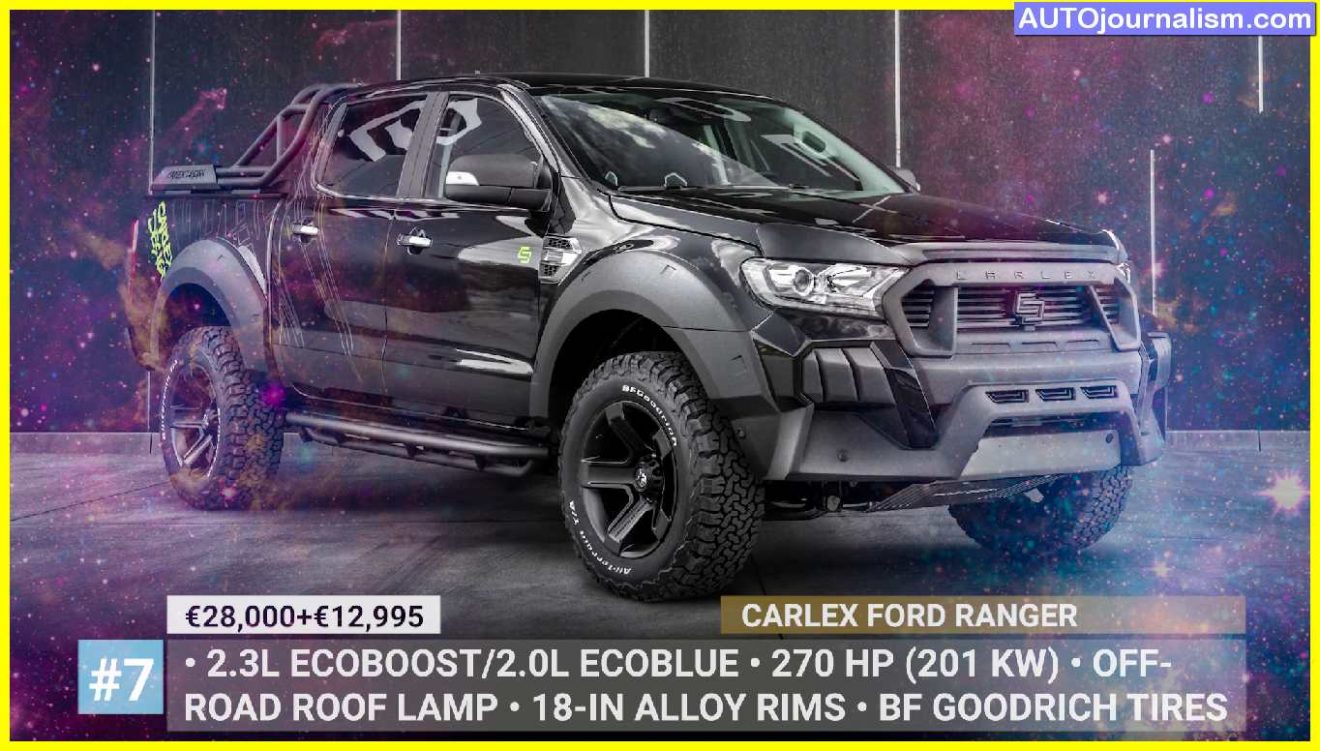 The Ford Ranger is a tough-looking, off-road competent vehicle right off the manufacturing line, but when compared to this customized white body variant by CARLEX, the stock ranger appears soft, like iketti for starters. The designers added a big grill and a strong front bumper, then white arch extensions and big skid plates, and 18-inch alloy ramps with 5 spokes each to complete the medicinal look. A suspension lift kit, a laser roof-mounted led lamp, or carrier rails for two bikes are included in the standard conversion package. You can also add a suspension lift kit, a laser roof-mounted led lamp, or carrier rails for two bikes. The Ranger does have a v8 exhaust sound system from CARLEX, but nothing else changes beneath the hood.
#8: CARLEX DEFENDER YACHTING & RACING GREEN ( Modified )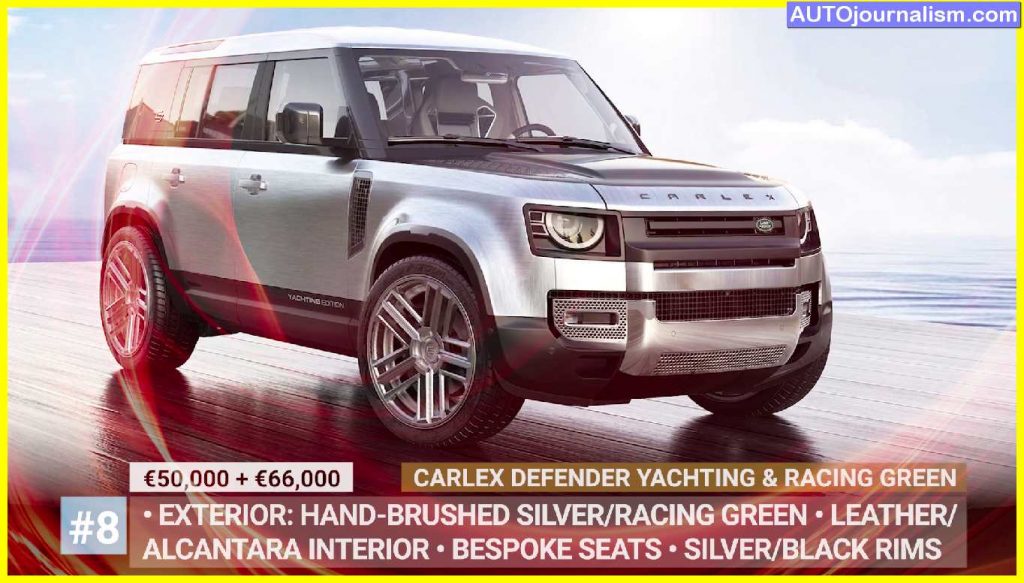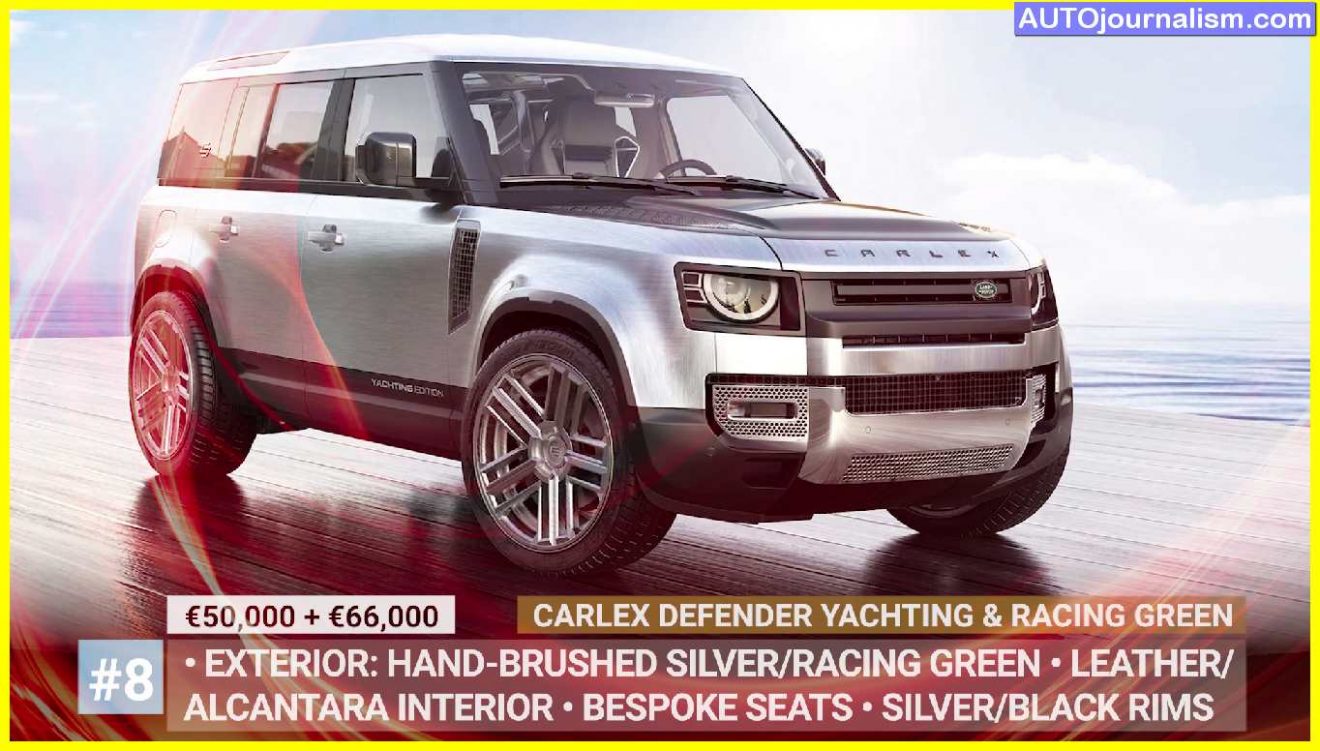 The 2021 Defender pushes the boundaries for modern car innovations in style so well that it was awarded the world card design of the year award. The pulse is taking notice and is going even further with a custom land rover defender yachting and racing green editions that respond to the posh and sports alter egos of the off-roader. The yachting style implies hand brushed silver parts bespoke and the racing green edition implies hand brushed silver parts bespoke. As for the racing green white body package, it's all about carbon fiber fenders, 15 spoke wheels, and a brown leather inside with sports seats, as well as customized seat designs.
#9: CARLEX MERCEDES G 63 AMG RACING EDITION ( Modified )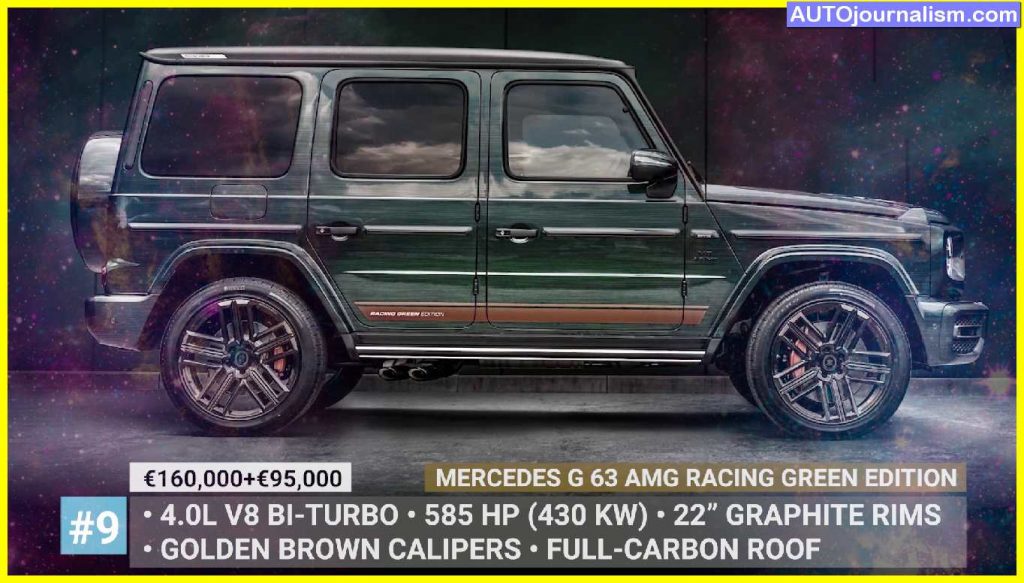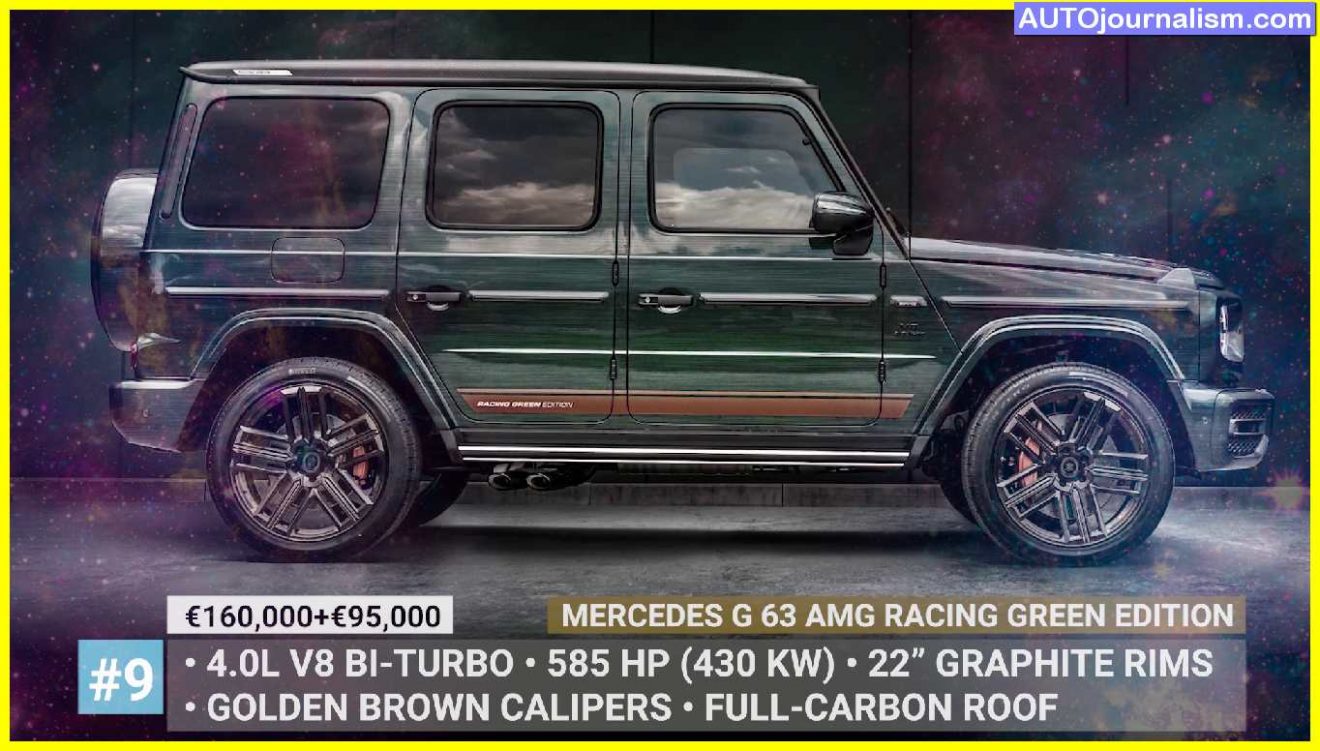 Another new addition to the CARLEX chew wagon lineup is the hand-brushed racing green edition, which features a deep emerald green hue, special AMG G63 huge 22-inch alloy wheels with golden brown brake calipers, a full carbon roof, and a carbon spare wheel cover. Similar styling cues are applied to the interior, where the dark bottle green lather caref There's also CARLEX branded floor mats and an Alcantara covered headliner and pillars, as well as non-mechanical modifications like perforated brown leather on the seats and dashboards. Expect to hit 60 in 4.5 seconds and a top speed of at least 137 miles per hour.
#10: CARLEX DESIGN JEEP GLADIATOR ( Modified )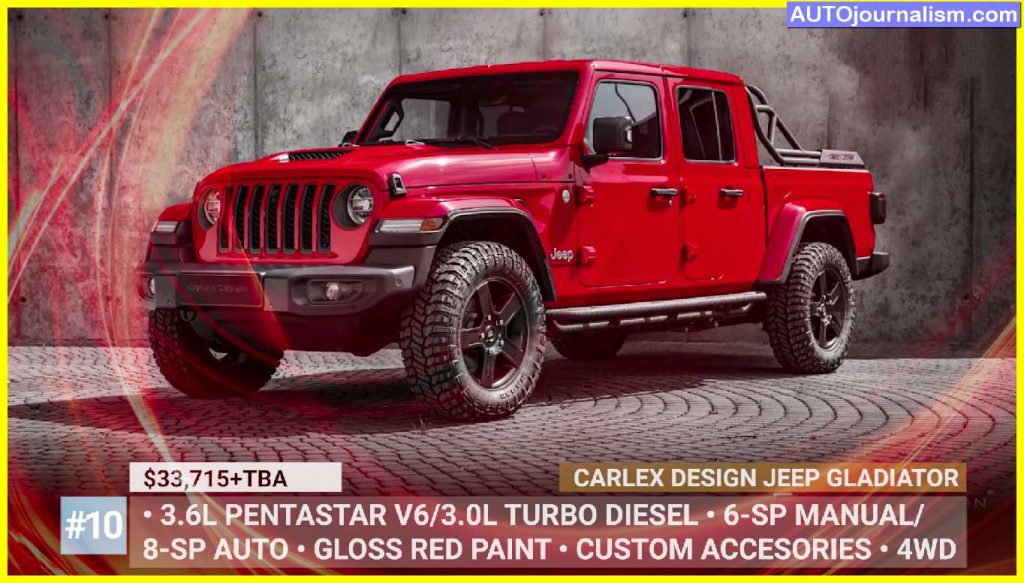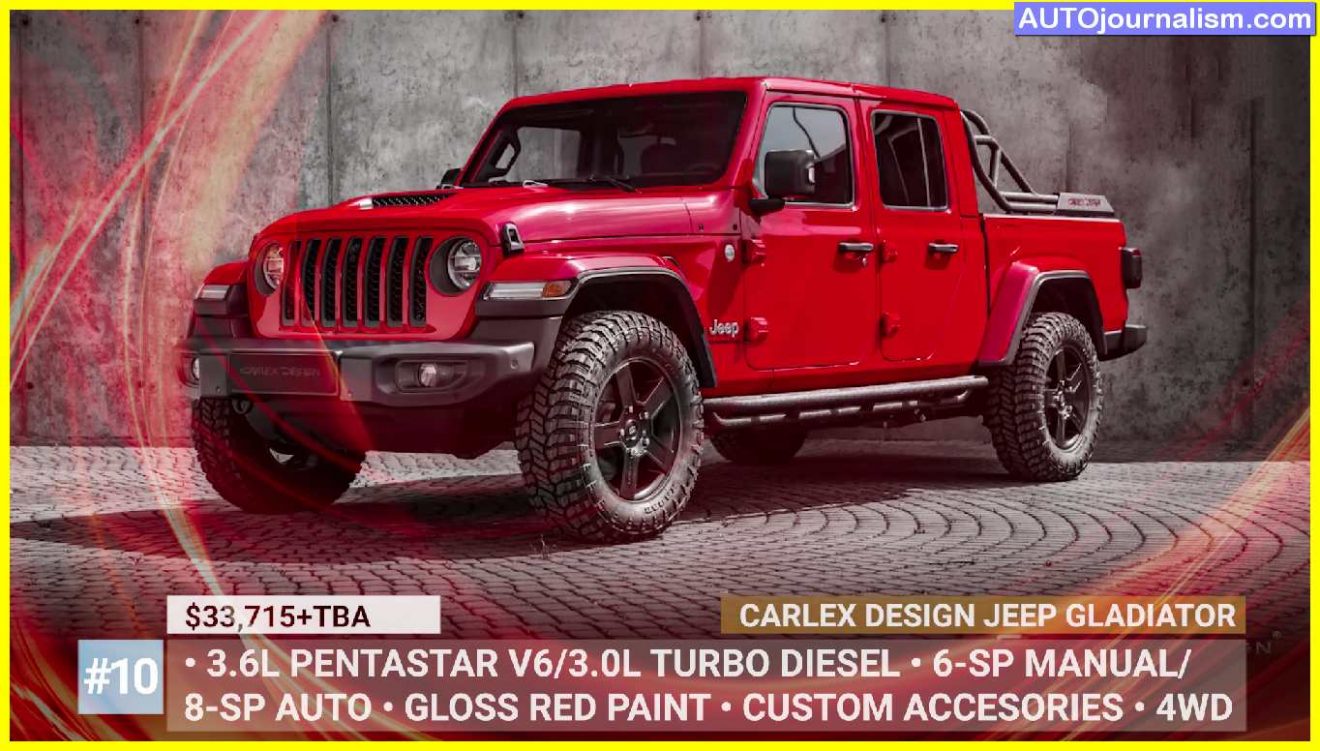 With a few changes from CARLEX, the rejuvenated Gladiator gains a more refined vibe. The truck wears a lost truss glass rod exterior paint, rides on new wheels, and is outfitted with a couple of bespoke accessories. Although nothing else is known about the offered improvements, the disclosed photographs show the garlic's design to bed rack system and side steps. The pickup's inside is finished in black with red highlights and boasts nice stitching on the seats. As for materials, we assume CARLEX uses the standard mix of quality leather and Alcantara. What are your thoughts on the garlic's design conversions? Do you think they can compete with German tuners such as CARLEX apt mensory and Brabus.
Share this Post with your friends, thanks for Reading. ( BBC )
NEXT