Top 10 Biggest Ships in The World
( Bigger than Titanic )
The Royal Mail steamer Titanic or Titanic in short is a British passenger liner in the North Atlantic Ocean and one of the famous ships that sank on the 14th of April 1912 after striking an iceberg during her maiden voyage it was the biggest ship during her time but till date, there are more than 50 ships that are larger and longer than the Titanic and these are some of the cruise ships' oil tankers container ships and ball carriers but in our list today we will take only the selected Top 10 Biggest Ships in The World larger than Titanic.
Here are the Top 10 Biggest Ships in The World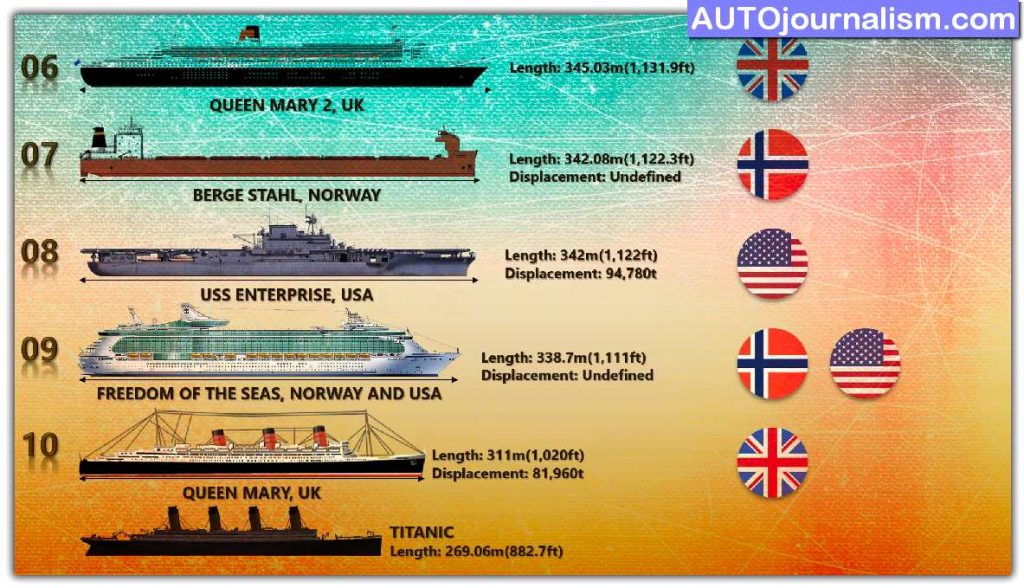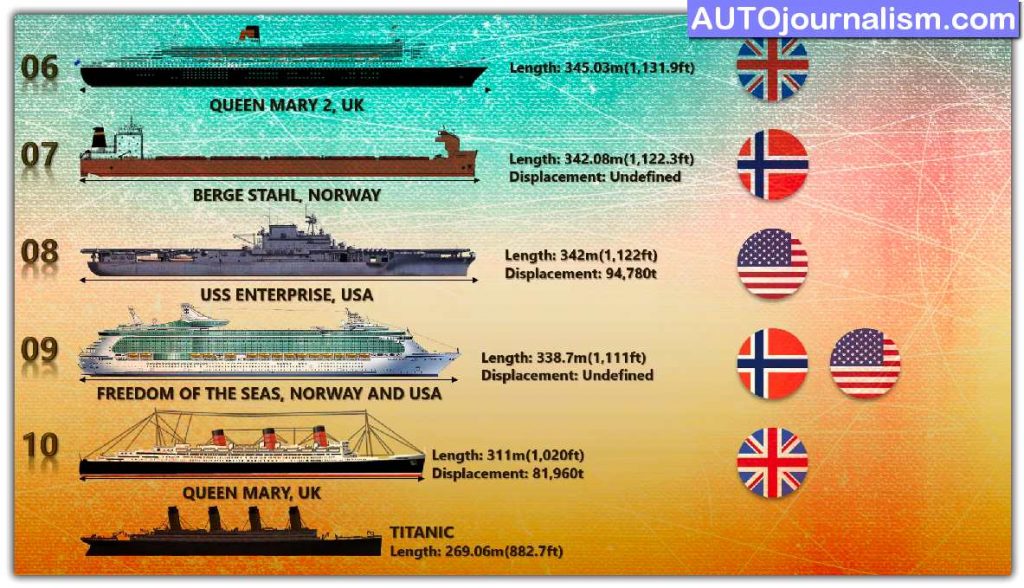 10. QUEEN MARY, UK ( SHIP )
Number 10 is Queen Mary it is a retired British ocean liner that sailed primarily in the North Atlantic Ocean from 1936 to 1967 Queen Mary was once considered the finest ocean liner and it made exactly 1001 transatlantic crossings before it was converted into a hotel in Long Beach California.
9. FREEDOM OF THE SEAS, NORWAY, AND USA ( SHIP )
Number 9 is Freedom of the Seas is a cruise ship operated by Royal Caribbean International and launched in May 2006 as of November 2018 she is one of the 15 largest passenger ships in the world with about three thousand six hundred and thirty-four passengers and 1,300 crew
8. USS ENTERPRISE, USA ( SHIP )
At number eight spot comes the biggest Navy ship ever built in history the USS Enterprise is a decommissioned nuclear-powered aircraft carrier in service from 1961 to 2012 it has a length of 340 2.2 meters and a weight displacement of 94 thousand seven hundred and eighty-one tons.
7. BERGE STAHL, NORWAY ( SHIP )
Number seven is MS BERGE STAHL the MS bridge style is a bulk carrier merchant ship mainly transporting out of an or that has a capacity of 364 thousand seven hundred and sixty-seven tons deadweight and she was one of the longest during her time a length of about three hundred and forty-two point eight meters.
6. QUEEN MARY 2, UK ( SHIP )
Number six is QUEEN MARY to Queen Mary to named by Queen Elizabeth in 2004 is a British American liner that made her maiden voyage in January 2004 at the time of her construction Queen Mary 2 was the longest at three hundred forty-five point three meters and largest with a displacement weight of 79 thousand three hundred tonnes.
5. ALLURE OF THE SEAS, NORWAY, AND USA ( SHIP )
At number five is ALLURE OF THE SEAS another royal Caribbean international ship at number five on the list a lure of the Seas is an Oasis-class cruise ship it is one of the most water ships in the world as of 2018 Oasis-class ships for the largest passenger ships and lure of the Seas has a total length 360 meters and displacement of a hundred and thousand tons.
4. MS VALE, BRAZIL ( SHIP )
Number four is MS VALE brazil m AZ or brazil previously known as well brazil is a very large or carrier owned by the Brazilian mining company vale she is the first of seven four hundred thousand ton very large or carriers and it is designed to carry iron ore from Brazil to Asia ms rail Brazil stretches up to 362 meters.
3. MAERSK LINE, DENMARK ( SHIP )
Number three is MAERSK LINE, Mayer's Triple E craft container ships comprise a family of very large container ships of more than 18,000 TEU and when they were built they were the largest container ships in the world the biggest of this class is Maersk McKinney Moller with the length of three hundred and ninety-nine point two meters and a displacement of 55,000 tons.
2. BATILLUS CLASS, FRANCE ( SHIP )
Number two is BATILLUS CLASS the babbles class supertanker was a class of supertankers ships built in France at the end of 1970s and for such ships were built between 1976 and 1979 serving until the final one was scrapped in 2003 the lengths of each battlers class was 414 point to 2 meters and the displacement of 77301 is c wise giant or nock nevus.
1. SEAWISE GIANT/KNOCK NEVIS, JAPAN ( SHIP )
The SEAWISE GIANT/KNOCK NEVIS later known as Mach nevus was an AU LCC supertanker that was the longest ship ever built it possessed the heaviest dread rates ever recorded and the length of knock nevus is 450 8.45 meters when fully loaded its displacement was 657 thousand and 19 tons it sank to you in the Iran-Iraq war but was later salvaged and restored to service it was converted to floating storage and offloading unit in 2004.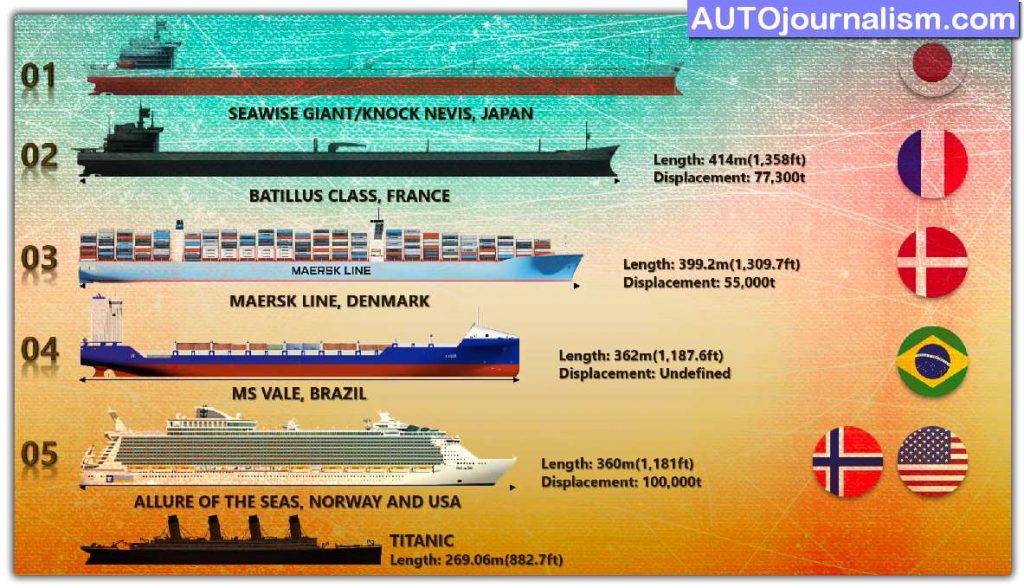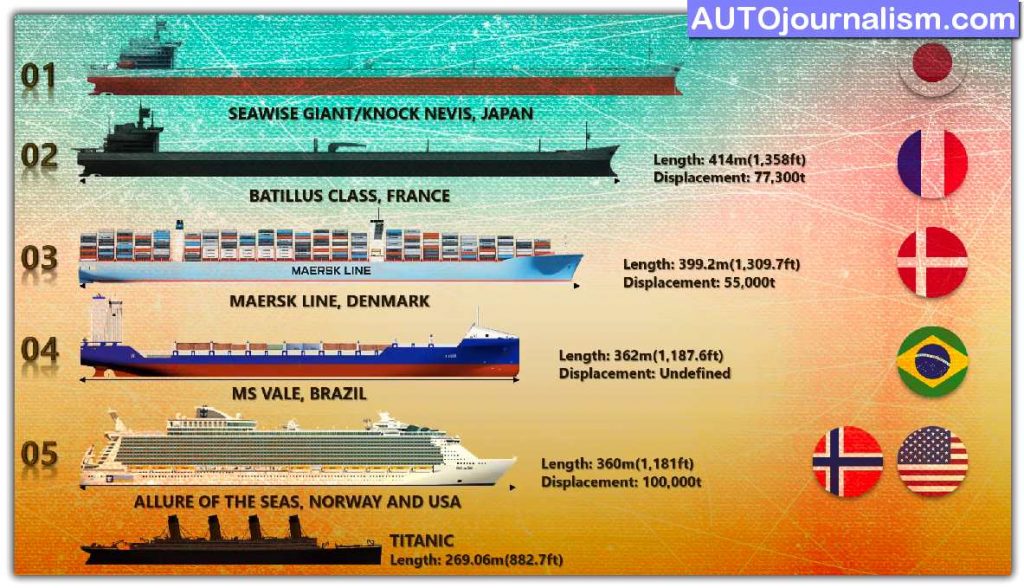 So guys that were The Top 10 Biggest Ships in The World if you've enjoyed the video don't forget to smash that like button and the subscribe button so you won't miss out on any of our upcoming POST thank you so much for reading This. ( BBC )
NEXT