Top 10 Camper Vans 2022
Here is the list of Top 10 Camper Vans 2022, If you're in the market for a camper van, go for a 4×4 model because you never know where the road might take you today we gathered a lineup of exciting class b's that will not shy away from off-road adventures but have premium and practical interiors as always we have all the prices walk-around footage and lists of the vital specifications.
List of Top 10 Camper Vans 2022
1. Thor Motor Coach Tranquility 4×4 ( Best Camper Vans 2022 )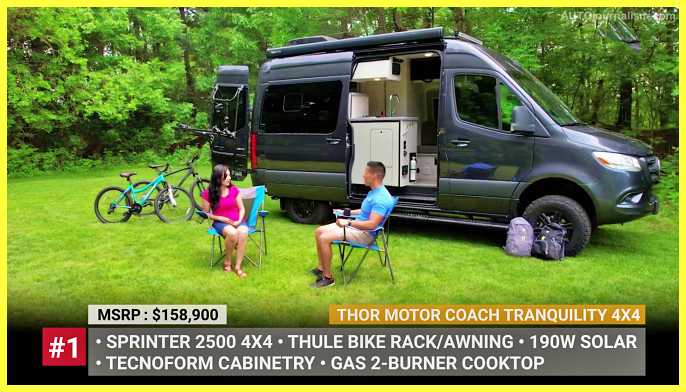 As the name implies, this van is designed for a relaxing journey to its destination, but for more difficult situations, the 4×4 sprinter 2500 chassis is outfitted with black alloy wheels and optional off-road tires. Tule accessories such as a powered awning with LEDs, a roof ladder, a roof rack, and bike rack systems would be ideal for active outdoor enthusiasts, but after a long day of hiking, the most important thing is a comfortable cabin. This class B has two-floor plans with easy-to-clean linoleum flooring and techno form hero cabinetry.
The 19p converts the rear bench into a sleeping area, whereas the 19l can accommodate you on either the mid-coach bench seating or the rear beds with froli sleep system. The peaceful kitchen features a dual burner gas stove microwave solid surface countertops and a 12-volt fridge, while the living room entertains guests with a 24-inch tv JBL flip speaker and the Winegard connect 2.0 wi-fi and digital antenna.
2. Airstream Interstate 24X ( Best Camper Vans 2022 )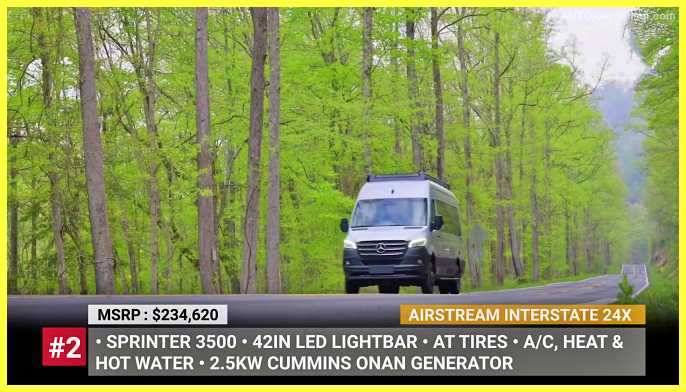 The airstream interstate lineup previously included fancy highway travel coaches, but the all-new 24x takes a more rocket shape suitable for any adventure hobbyist based on the Mercedes printer the van gets standard air suspension 3-liter tube diesel and a 4×4 system. The exterior kit includes a 42-inch LED light bar, rugged all-terrain tires, extra underbody protection, a retractable awning, and up to 400 watts of solar in transit.
The interior of this airstream is designed for utility with an aluminum l-track storage system convertible seating and batting and a modular table system. It also has an efficient hydronic furnace and hot water systems 12.5-kilowatt commons own and generator organized system controls and premium kitchen appliances such as a moment pull down faucet 2 burner propane cooktop 0.7 cubic feet microwave and a 5 cubic feet fridge.
3. Advanced RV NELSON ( Best Camper Vans 2022 )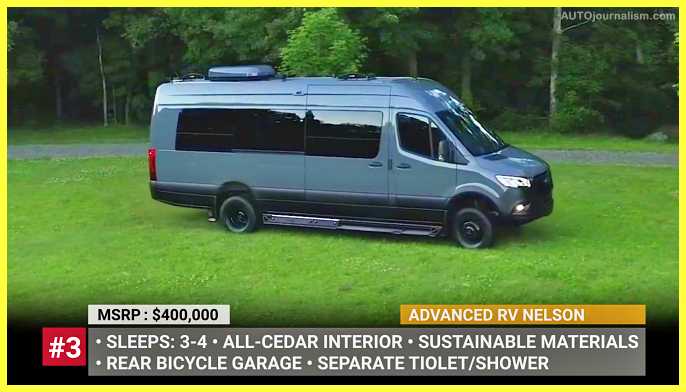 One of the highlights of today's lineup is this stunning printer conversion by the willow by Ohio workshop, which was commissioned by advanced turvy for an undisclosed sum that could reach $400,000. The Nelson is built on a 170 inch Mercedes-Benz chassis and features an all-cedar interior with minimal animal products. Green curtains, sofas, and stainless steel kitchen appliances are the only contrasting elements.
The shower and toilet are located in the back behind a barn door floors are heated and the cabin environment can be fine-tuned all year round thanks to the heavy-duty ac and furnace units this nomad stream has a bike garage a large tv for movie nights and any other creature comforts
4. Off-Highway Vans High Plains Drifter ( Best Camper Vans 2022 )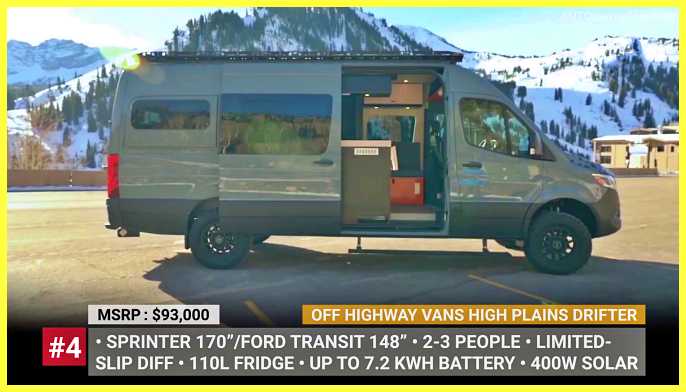 The ohv's adventure van, based on the 170-inch sprinter or the 148 inches for transit extended chassis, is one of the most recent builds to arrive from Utah. This structure will accommodate three people and will include modular seating and sleeping options. There is high-quality flooring, an indoor shower, and a large pass-through garage for your belongings. This off-road vehicle can transport up to 7.2-kilowatt hours of batteries. 400 watts of solar power and a 2-kilowatt inverter from Centrix
The cabin is well insulated, and the environment is controlled by the max air deluxe fan and pro master heater, which is also in charge of the hot water supply. Recently, off-highway vans began offering a limited-slip differential for sprinter events, which was co-developed with vape track differentials with the ohv LSD both two-wheel drive and four-wheel drive models from 2007 and newer can become more capable without sacrificing fuel efficiency.
5. Winnebago Boldt ( Best Camper Vans 2022 )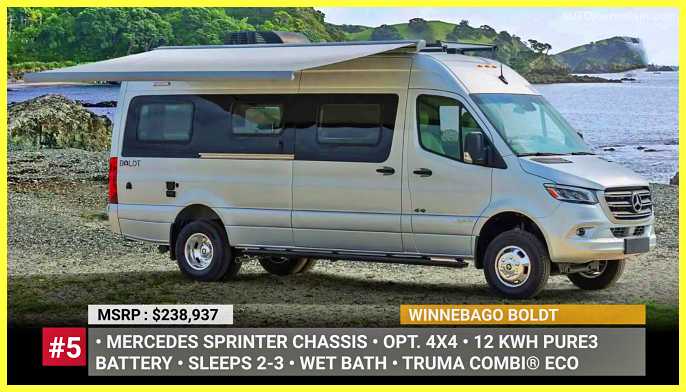 To commemorate the contribution of this German polymath, Alexandra von Humboldt became the first scientist to extensively travel and explore the Americas from a modern western scientific point of view on the eve of the nineteenth century. Winnebago Boldt creates his own camper van. The motorhome is built on a Mercedes-Benz printer chassis, so its back sheet includes a 3-liter 6-cylinder tube diesel, optional on-demand all-wheel drive, active safety systems, a 10 engine bux infotainment system, and powerful LEDs.
The bolt has two different floor plans. sleeping two people with an additional wardrobe or three with a convertible day net The electric patio awning trauma combi echo plus heating Coleman Mach 10 ac pure three battery system with 12-kilo output of lithium-based energy storage and a Korean solid surface countertop is among the highlights of the features list.
6. Trakka Trakkadu AT ( Best Camper Vans 2022 )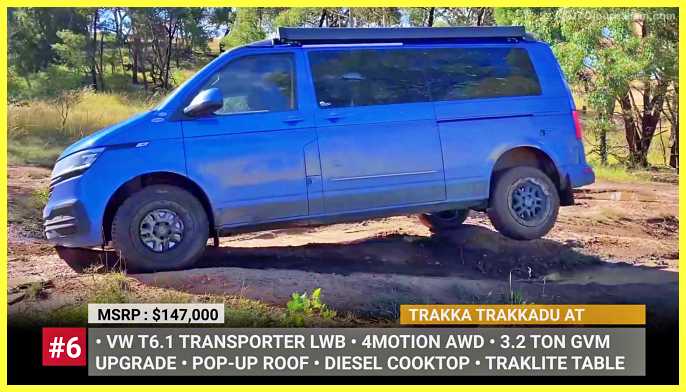 Keeping true to the VW transporter underpinnings, this model by Australian Tracker incorporates the most recent transporter. The Trakka Trakkadu AT gets a 3.2 ton gross vehicle mass upgrade as well as a race suspension from zykl plus engine and gearbox guards from the same brand the 204 hp 2 liter turbo diesel is paired with a 7-speed DSG there is a newly added rear differential lock and 4 motion all-wheel drive as standard the van rolls on 17-inch steel wheels wrapped in kumhole all-terrain tires
However, 17-inch bar steel alloys are available as an option. On the inside, two swiveling front seats, a multi-position track light table, a pop-up roof, and a transformer bench that serves as a bed and moves using floor-mounted rails ensure your comfort. There's also a mini kitchen unit with a diesel-powered no-flame cooktop and a 100-ampere-hour battery with solar charging.
7. Pleasure-Way REKON 4×4 ( Best Camper Vans 2022 )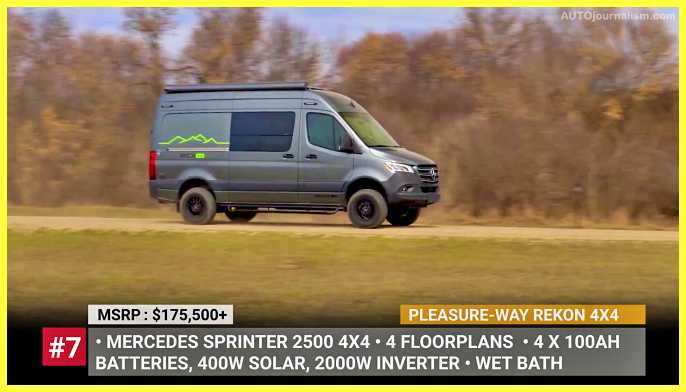 in operation, since 1986 The Canadian Pleasure-Way REKON 4×4 certainly knows how to construct a camper van. The latest recon 4×4 class b from the brand is built on the standard sprinter 2500 chassis with a 144-inch wheelbase, a total length of 233 inches, and a ground clearance of 11. The campervan comes standard with a 40-gallon fresh water tank, four batteries with 100 amp-hours each, 82 kilowatts, a Pentax inverter, 400 watts of solar, and trauma cabin and water heating.
The recon provides only one layout. There is a private watt bath, a removable kitchen area, and a swivel lagoon table, but the splatter way's signature feature is its massive rear garage with 124 cubic feet of space and an l track system for securing your gear. A double Murphy bed that folds down in the garage takes care of sleeping.
8. Storyteller Beast Mode 4×4 ( Best Camper Vans 2022 )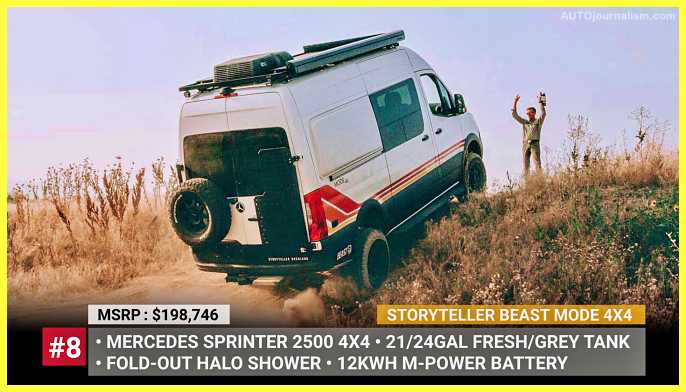 The beast, as you might have guessed from the name, is the most afro-potent model by Alabama Storyteller Overland, based on the Sprinter 4×4. The model combines a tough design with superior all-terrain capabilities and a well-organized floor plan with plenty of storage options. The beast has a clearance of nine and a half inches. is outfitted with an agile suspension kit and tuned fox shocks, and rides on low-profile off-road wheels and tires.
To ensure that you stay on the road longer, the exterior of the camper is treated with exclusive stickers, new bush guards, and a light bar from KCH lights. The van also comes with 21-gallon thrash and 24-gallon gray water tanks. A massive 12-kilowatt hour amp power battery and a 3.2-kilowatt inverter are included. The cabin has a 13.5 kb2 ac and diesel heating, as well as a portable toilet and a fold-out halo shower.
9. Rocket Camper Mountain ( Best Camper Vans 2022 )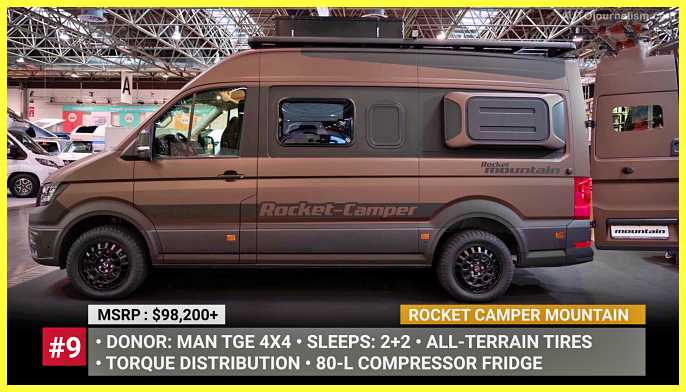 The new mountain does not have 20 20 concepts fancy and impractical hanging table and deconstructed bathroom but it does retain its unique floor plan and off-road muscles these include variable torque distribution all-terrain tires underbody skid protection a snorkel and a locking differential though the latter is optional.
Two of the features are paid options. The unusual layout of the rocket includes an l-shaped kitchenette that stretches from sidewall to sidewall and is equipped with a stove and an 80-liter compressor fridge. A wabaster heater, numerous power outlets, and insect screens are also included in the standard package. When you add the optional pop-up tent, you get two more sleeping spots.
10. Maverick 4×4 ( Best Camper Vans 2022 )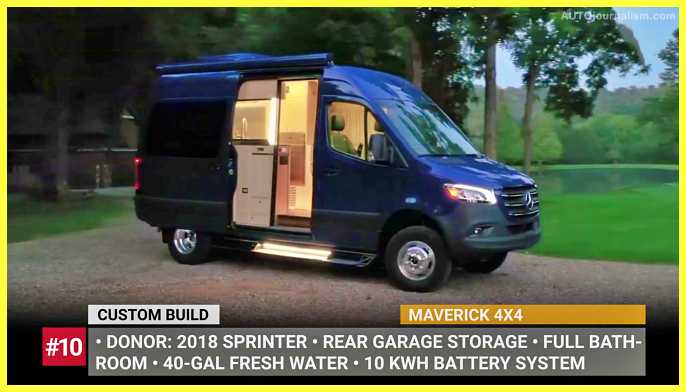 This short-wheelbase camper van was designed for two customers who wanted to attend music festivals and watch the performances from the top of the RV. To make this easier, the model received a sturdy rooftop platform that can accommodate two people and is accessible from the inside to provide for a multi-day trip maverick also received a rear storage system and a 10k hour battery.
a complete bathroom with 40 gallons of fresh water and a small contour top with a fridge and microwave Finally, for outdoor recreation, the van has a side awning and additional stabilizers to keep it secure on sloping camping grounds.
NEXT
Top 10 Ukraine Weapons ( List Update )
Top 10 Future Weapons of Russia
Top 10 Mobile Cranes in the World
Top 10 Future Weapons of Pakistan