Top 10 Cheapest Electric Cars in 2021 – Price & HD Images
Today we present to you, the most detailed Top 10 Cheapest Electric Cars in 2021 with Price & HD Images And the cheapest electric cars on sale in 2021, Bear in mind that we have randomized the entries so Read it till the end and not to miss any worthy models subscribe to Autojournalism.com and get New Offers with Latest Price.
Here is the Top 10 Cheapest Electric Cars in 2021
KANDI K27 and K23

DACIA SPRING

MINI ELECTRIC HARDTOP 2 DOOR

OPEL CORSA-E & PEUGETON E208

NISSAN LEAF

RENAULT TWINGO ELECTRIC

HYUNDAI IONIQ

MG5 EV

SMART EQ FORT TWO / FOR FOUR

RENAULT ZOE

VW EUP + SKODA CITIGO E – IV + SEAT MII ELECTRIC

FIAT 500 ELECTRIC
Top 10 + ( 2 Bonus ) Cheapest Electric Cars – Reviews
1. KANDI K27 and K23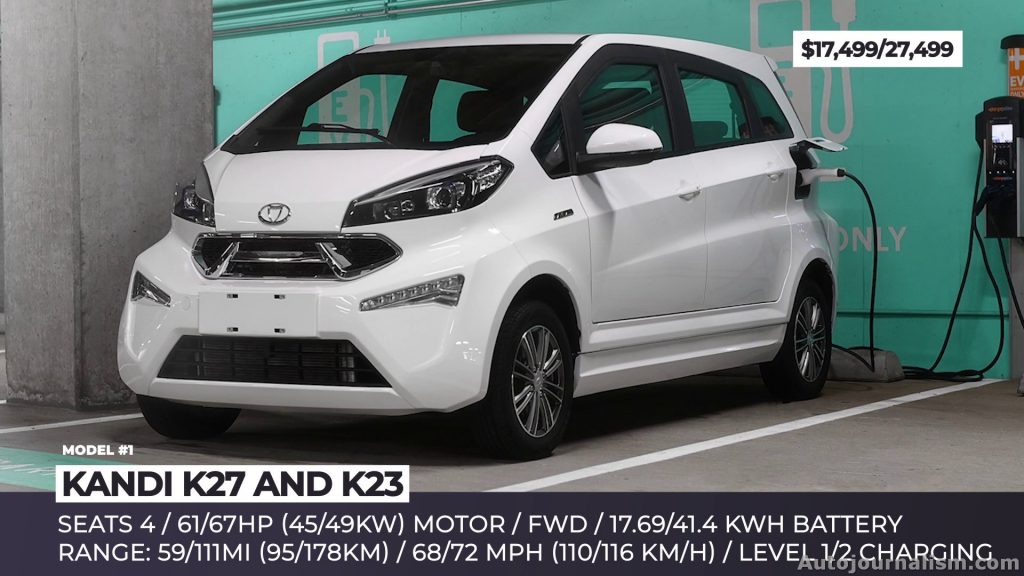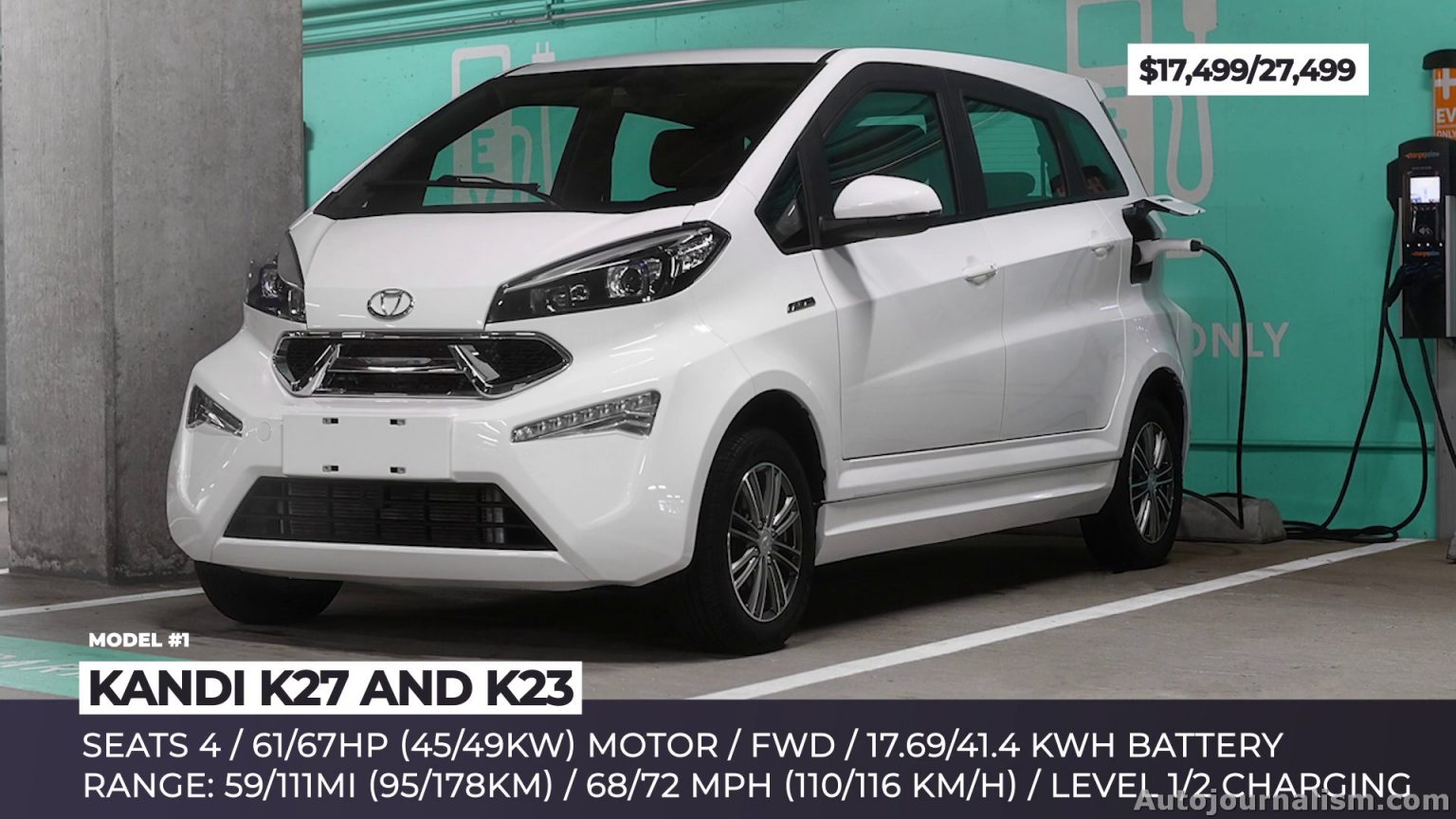 positioned to become the cheapest electric cars that you can get in America
the k27 and k23 are tiny for suitors that are produced by the Chinese manufacturer
candy technologies group looking like a mix of a mini cooper smart and Ikea soul the k27 has the smaller and less powerful of the pair it is propelled by a 61 horsepower electric motor and a 17.7-kilowatt-hour lithium battery pack.
The car has a maximum range of 59 miles and a speed of 68 mph so it can hardly be called highway worthy the candy k23 on the other hand gets a stronger drivetrain setup and an entirely different exterior design its 67 hp front axle motor produces 72 mph speeds
while the 41.4-kilowatt-hour ternary lithium battery promises 111 miles of driving both models to get large touch infotainments abs and dual front airbags.
2. DACIA SPRING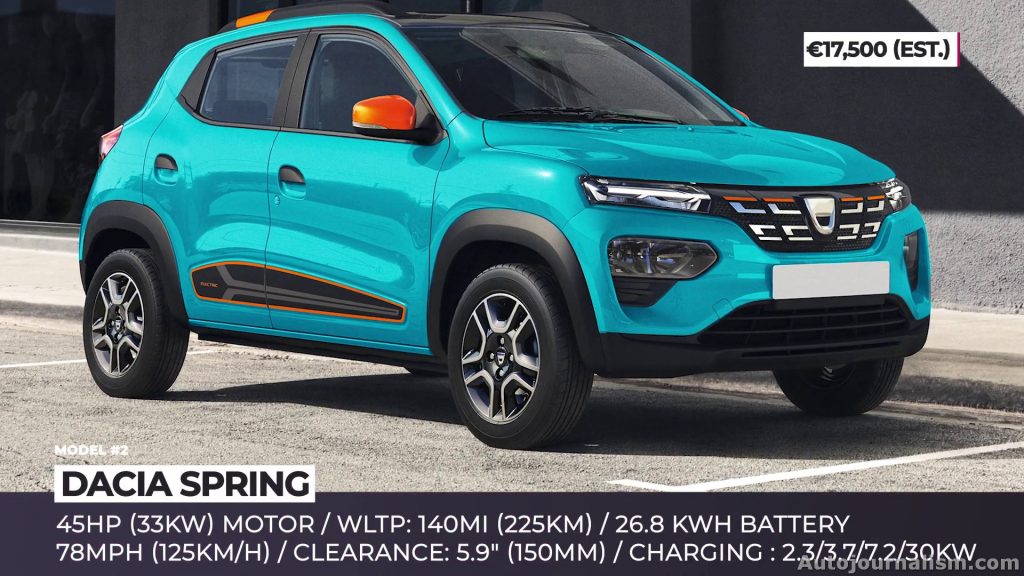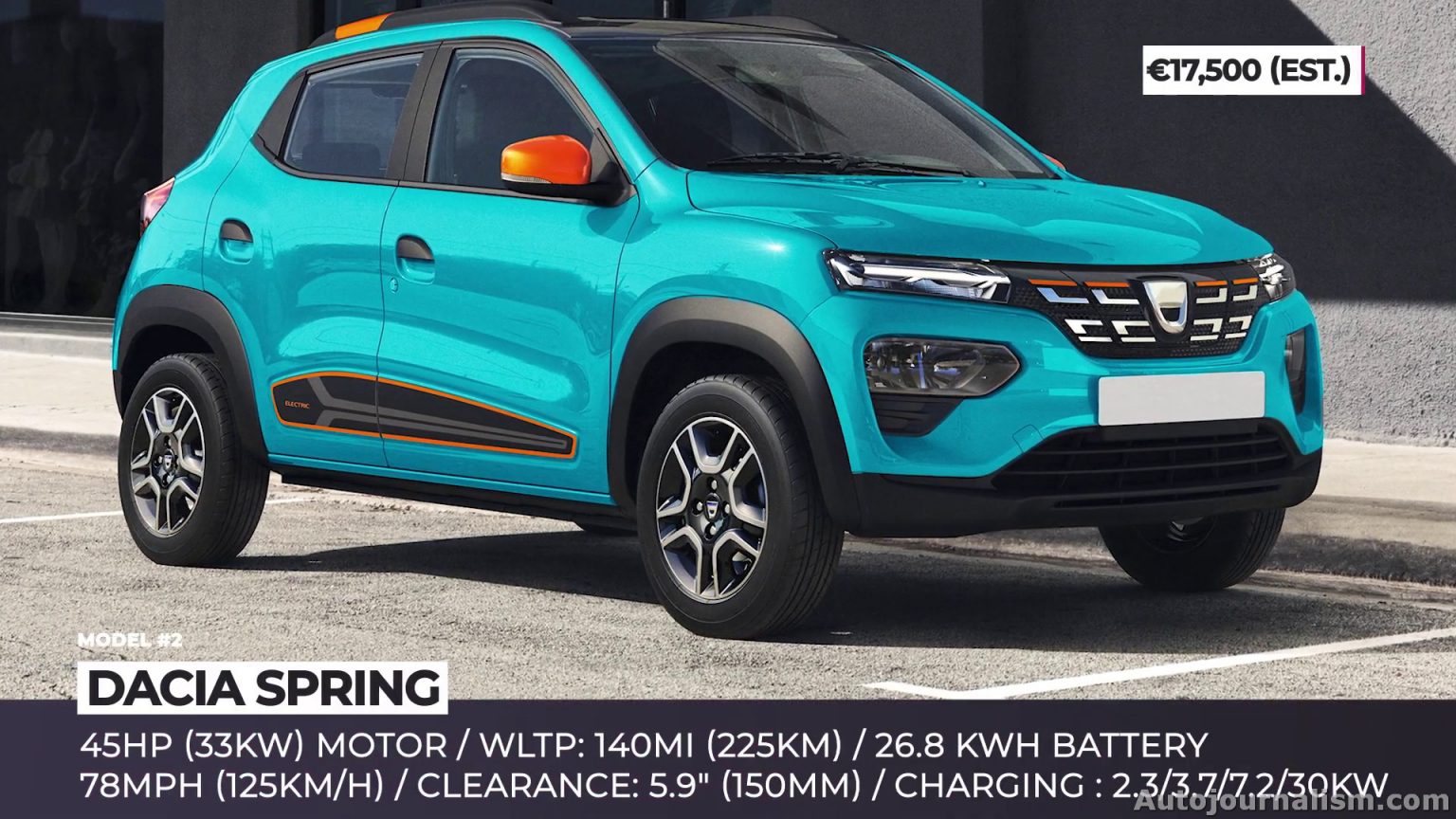 The Romanian Dacia and its parent company Renault have a history of democratizing the European car market.
first, they released the logan then came the fan-favorite duster and now the time has come for the dutch's first all-electric vehicle labels of the spring the new crossover shares the center pinnings with the Chinese Renault kc but both reinforced chassis bolter exterior design plus plenty of safety features, the propulsion system is rather lethargic comprised of a 45 hp motor and a 26.8-kilowatt-hour battery pack that at 30 kilowatts can be fully recharged and under one hour the setup produces 78 mph maximum speeds and offers 140 miles of wltp range the car is launched in three versions for customer purchase
car sharing and urban deliveries the former promises decent 300 liters of boot space
and gets a touch infotainment smartphone integration and a digital dash's options.
3. MINI ELECTRIC HARDTOP 2 DOOR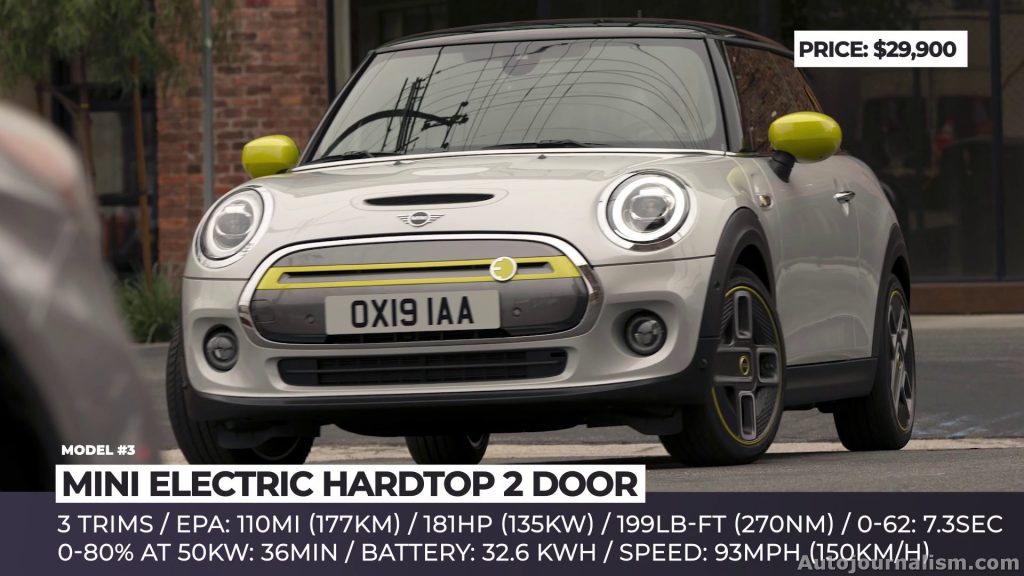 Mini electric rocking a classic mini look, this all-electric version of the two-door took BMW more than a decade to develop and launched to the market named the minise or mini electric the hatchback sports a new fascia a rear bumper with no exhaust and either 16 or 17-inch alloy wheels the model adopts the drivetrain from the BMW i3 featuring a 181 horsepower electric motor and a 32.6-kilowatt-hour battery the latter promises just 110 EPA miles the car accommodates for people while its cargo capacity varies from 8.7 to 34 cubic feet when the rear seats are folded the model is offered in three trim levels and that is virtually equipped even in the base one you're looking at led lighting heated seats keyless entry apple car play and active driving assistant
4. OPEL CORSA-E & PEUGETON E208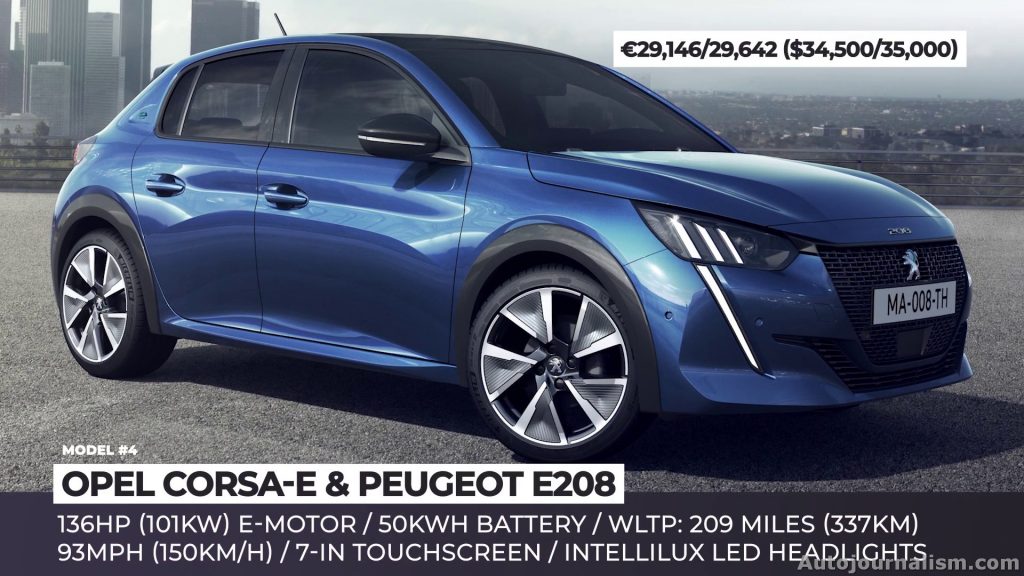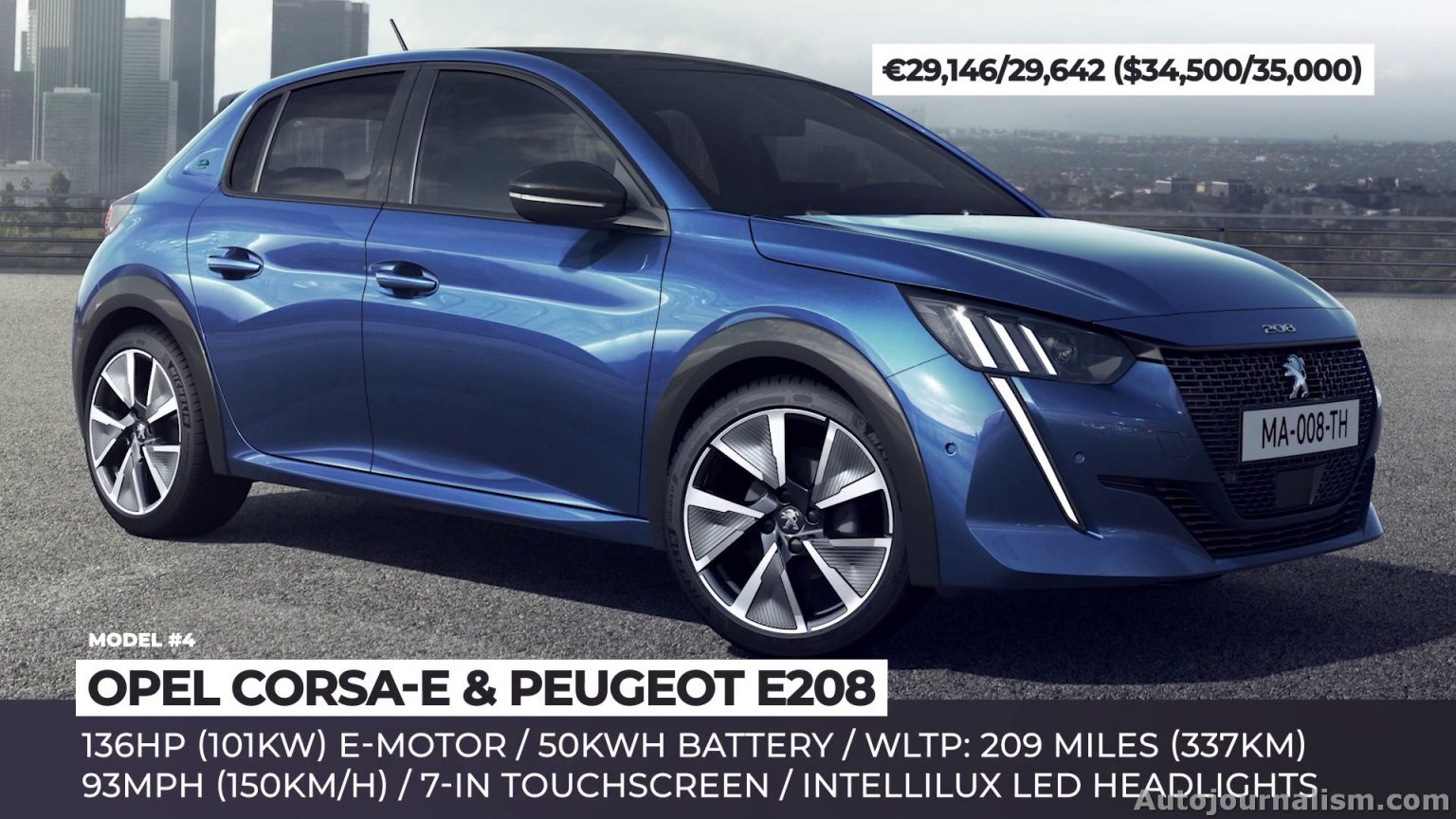 OPEL CORSA-E & PEUGETON E208 in the new entry-level electrics from Opel and peshaw arrive sharing the same underpinnings and as a result drive train setups the cars are propelled by the combination of a 136 hp electric motor and a 50-kilowatt hour battery
with an estimated a range of 209 miles for the OPEL CORSA-E & PEUGETON E208, the german sticks to the reserved and traditional styling while the french looks more emotional sporting expressive yellow paint and the brand's characteristic sabretooth front fascia
the standard equipment includes automatic headlights with led Drls while higher trims yet full LEDs with optional Intelli lux stack both models get three driving modes cruise control and rear parking sensors on the Inside the all-electric hatches affect more equipment
than their ic contour parts and the same trends.
There is automatic climate control a joystick instead of a traditional gear knob lever
a digital driver's info screen and standard 7-inch infotainment.
5. NISSAN LEAF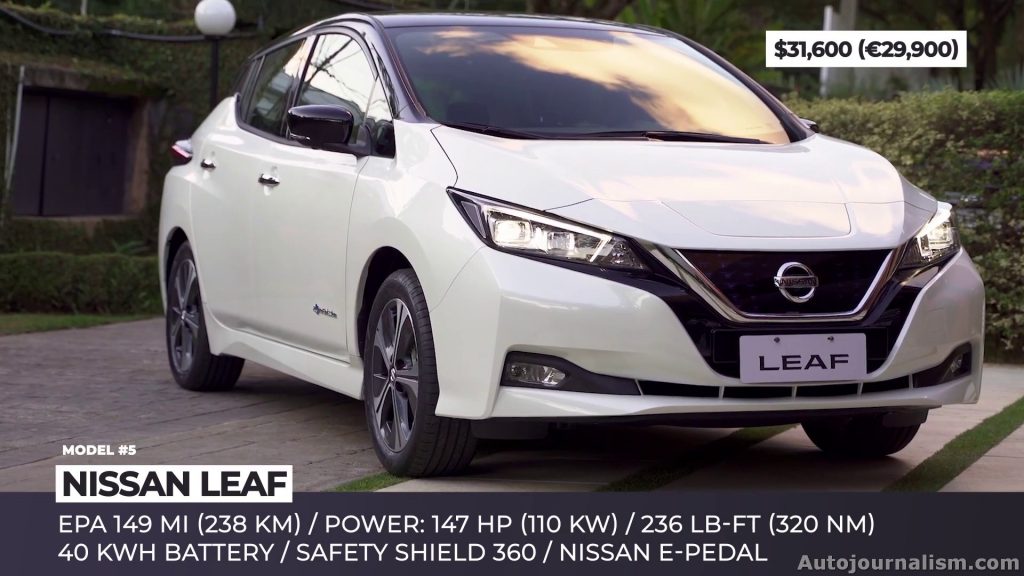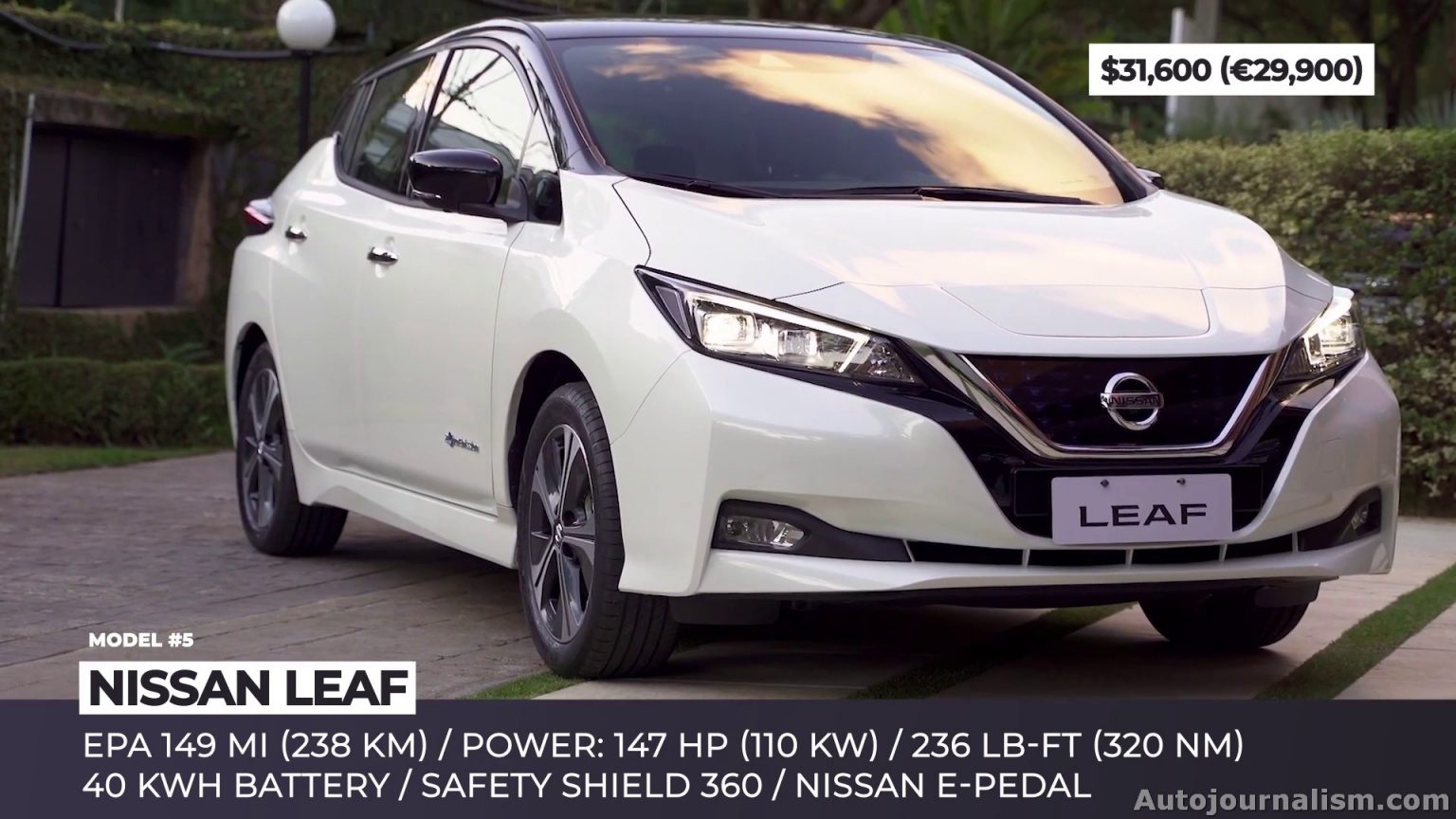 Nissan leaf the second generation of Nissan's technological flagship has been on the market since 2017 but it still keeps up with the anchor competitors on all fronts the 40-kilowatt hour battery and the 147 horsepower motor remains the standard for the entry trim this will give you 150 miles of driving with convenient one pedal operation and a 7.4 second zero to 60 time among the latest updates for the cv we should highlight the now standard safety shield 360 suite with automated emergency braking with pedestrian detection there was 8-inch infotainment with apple and android integration and a new low-speed motor sound in 2020 the Japanese also made a bold move of slashing the prices for the leaf in Europe by around 4,000 euros and this aligned them with us.
6. RENAULT TWINGO ELECTRIC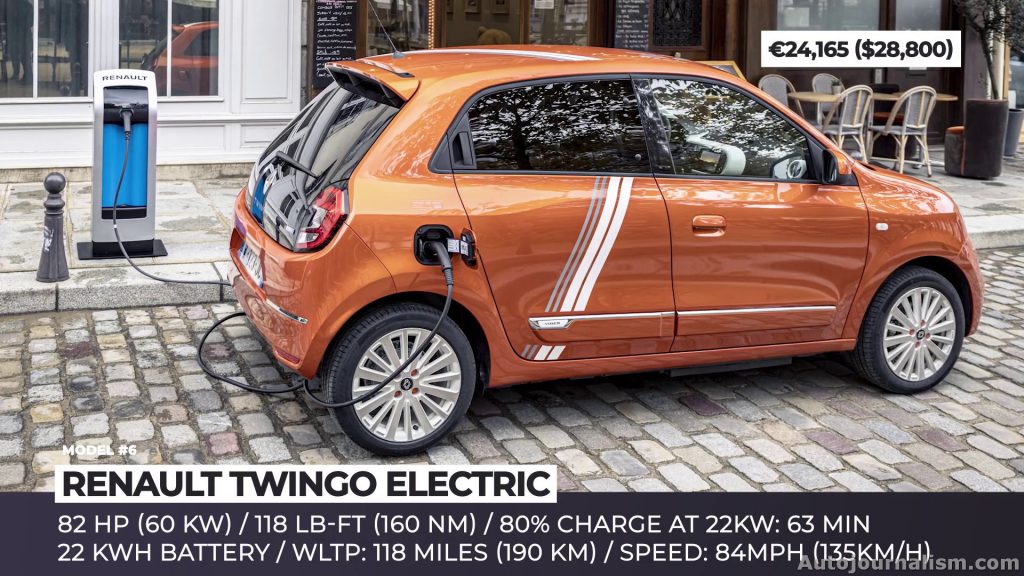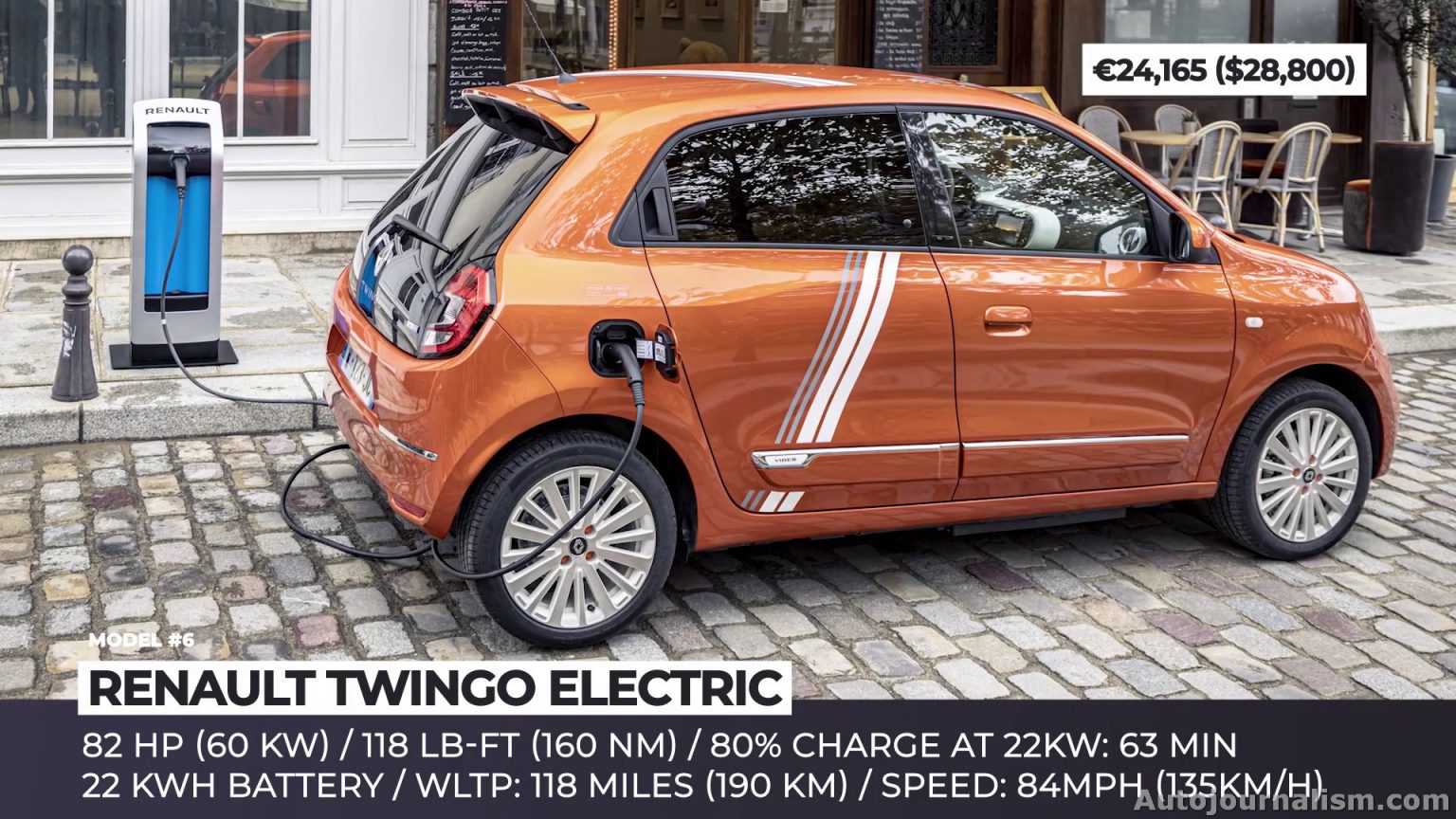 Renault tango electric in early 2020 quite unexpectedly Renault revealed its second all-electric passenger automobile based on the already existing twin go city car
the model sits on the same platform as the smart eq which means that the CE also gets a rear-mounted electric motor with a single-speed gearbox delivering 82 horsepower and 118 pound-feet of torque.
However, Renault installed a bigger 22-kilowatt hour battery which translates to the approximate WLPT range of 118 miles the company also says that there is a special eco-mode that allows extending driving to 140 miles.
Unlike the Zoe, the Twingo features liquid cooling for the pack which ensures battery protection and its improved performance at peak power demand the car gets 3 trim levels
plus the vipes limited edition features three regenerative braking levels and offers an optional 22-kilowatt charging capability.
7. HYUNDAI IONIQ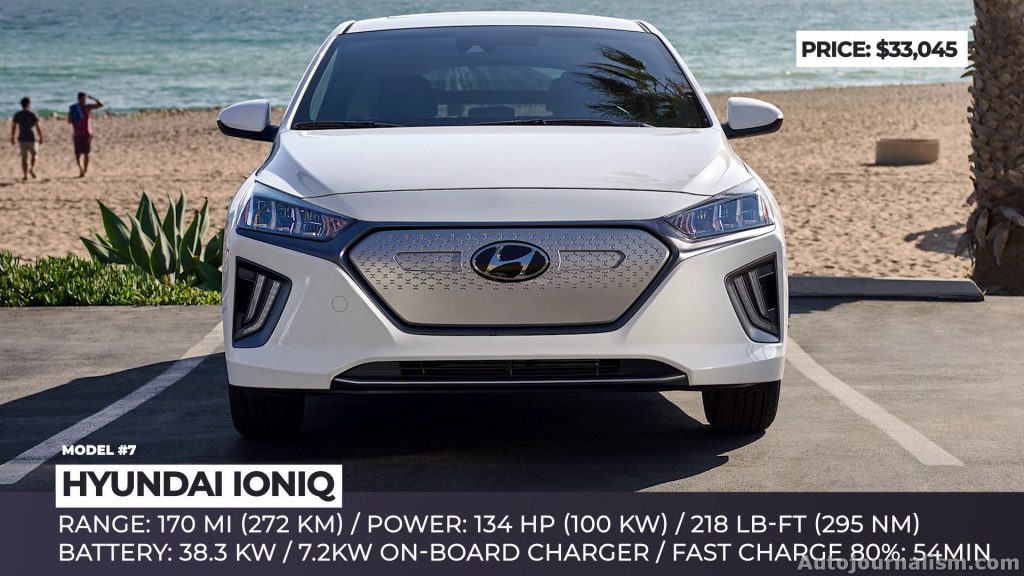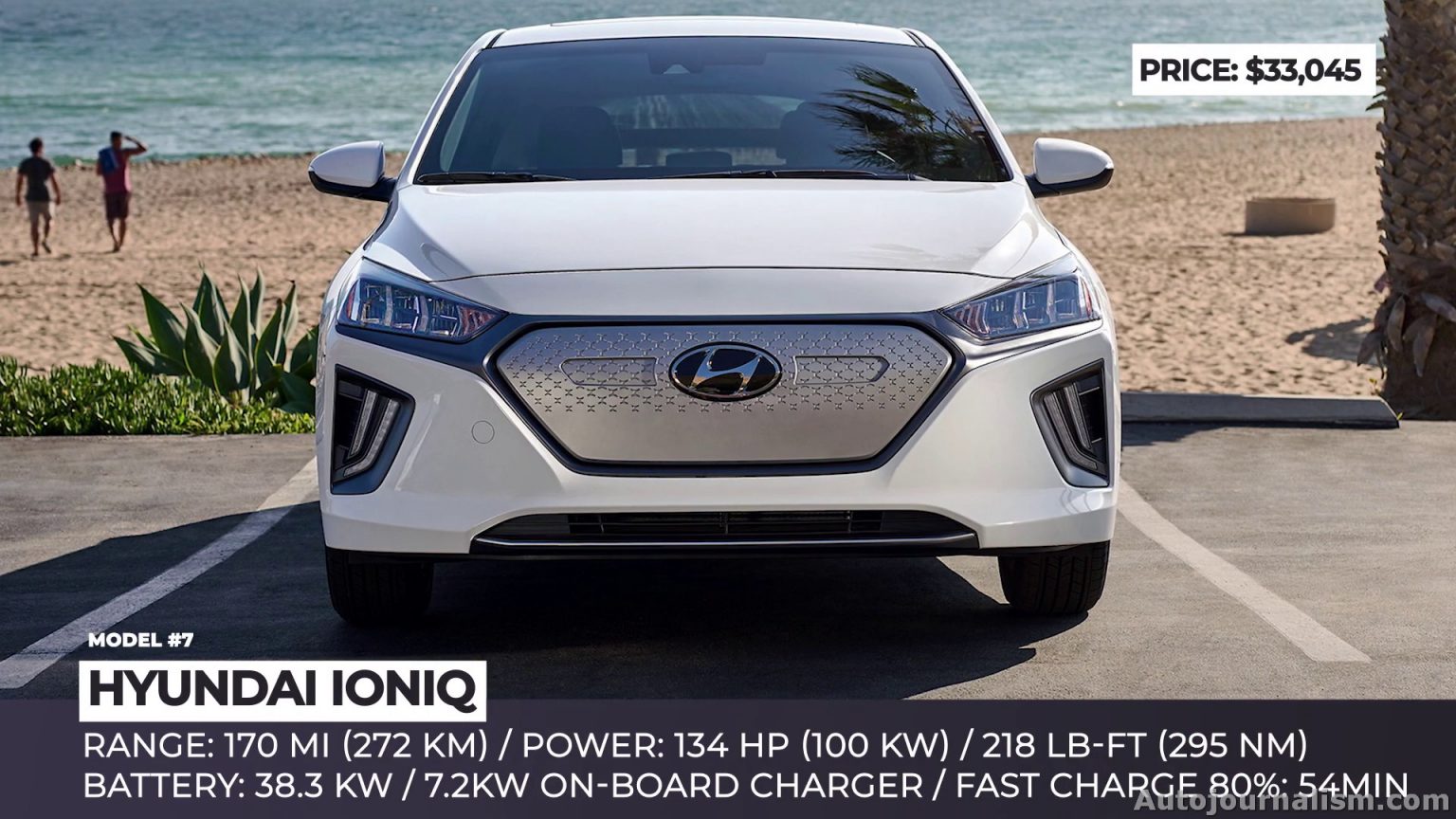 HYUNDAI IONIQ even though Hyundai is rethinking its electric cars approach by introducing an entirely new family of ionic EVs, the original compliance ionic electric is still on sale
the 2020 motorcycle facelift introduced refreshed front and rear bumpers a redesigned grille and new 16 inch alloys instead of the all 28-kilowatt hour battery, it features a 38-kilowatt hour pack which should offer around 170 miles of epa range, the standard 6.6-kilowatt on-board charger was replaced with a 7.2-kilowatt one ensuring the 80 charge time for the new battery of 6 hours the motor makes 136 horses and a half the amount of torque 218 pound-feet to be exact on the inside the styling revisions are rather subtle unless you go for the optional 10.25-inch touchscreen with audio-video navigation
by the way, the sales in us have expanded beyond California and now includes 10 more states.
8. MG5 EV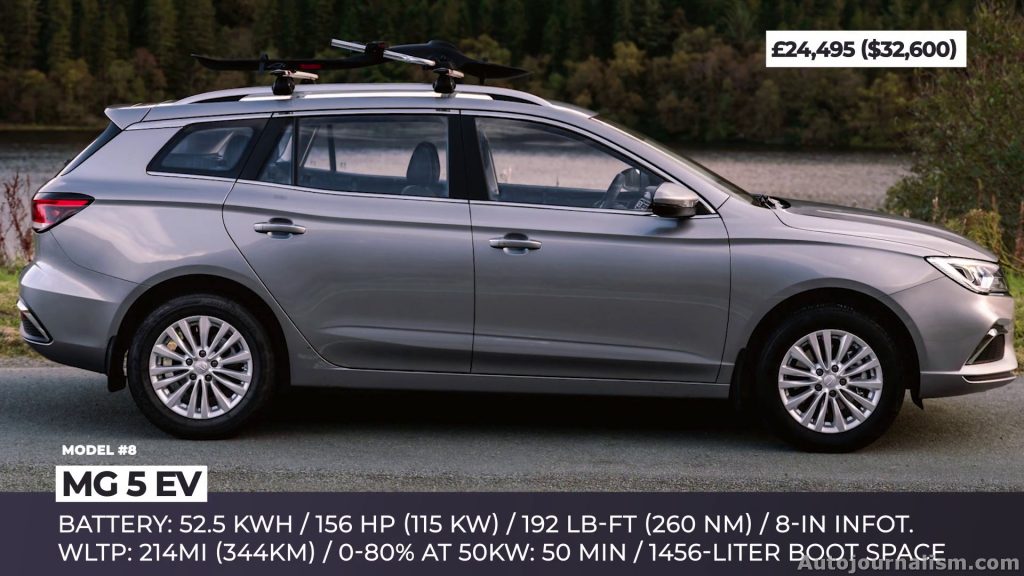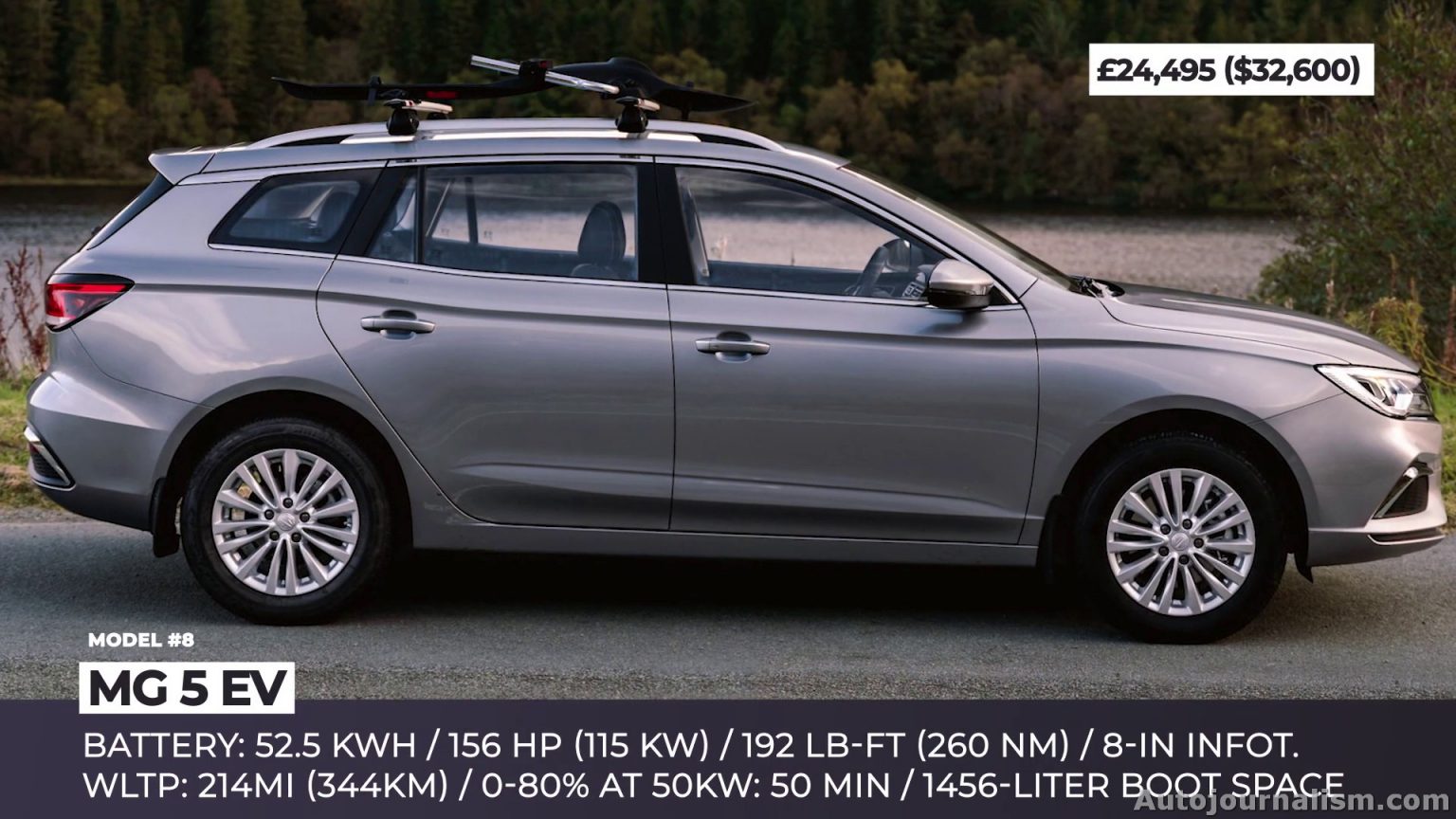 MG5 EV once an iconic British sports car manufacturer MG is clawing its way back up to the European market with the help of the money and production facilities of its parent company
the Chinese saic motor corp the brand's newest contender is the MG5 EV estate car based on the rove Ei5.
The car offers quite a decent wltp range of 214 miles courtesy of a standard 52.5-kilowatt-hour battery pack the ladder supports a 50-kilowatt rapid charging and will recover from zero to eighty percent in approximately 50 minutes the electric motor with 156 hp and 182 pound-feet of torque can propel the mg5ev from 0 to 60 in 7.7 seconds with the rear seats folded, this family car boasts 1456 liters of boot space it also offers plenty of standard goodies including 8-inch infotainment with full smartphone connectivity, 7-inch drivers info display 3 driving modes cruise control and automatic headlights with led Drls.
9. SMART EQ FORT TWO / FOR FOUR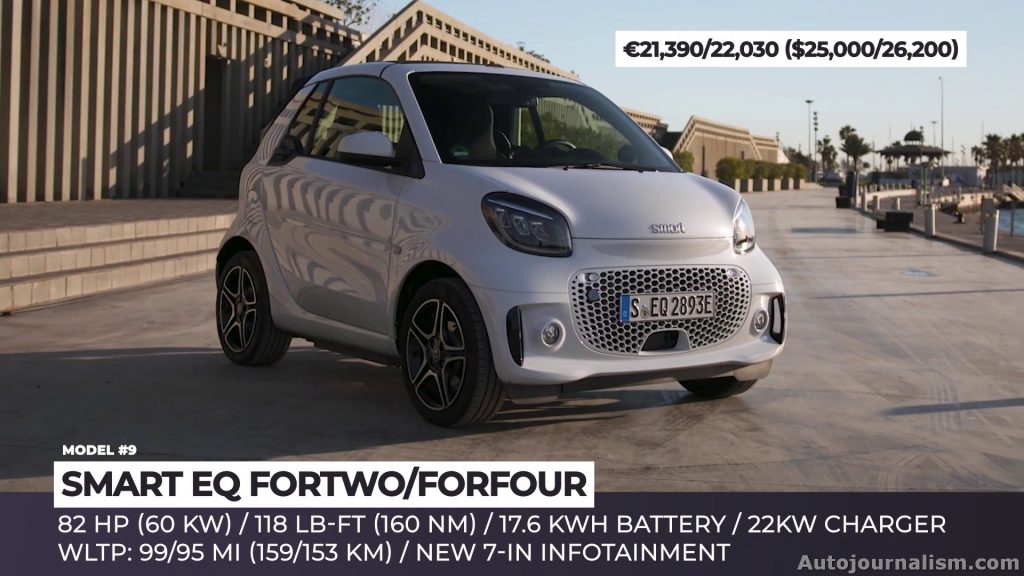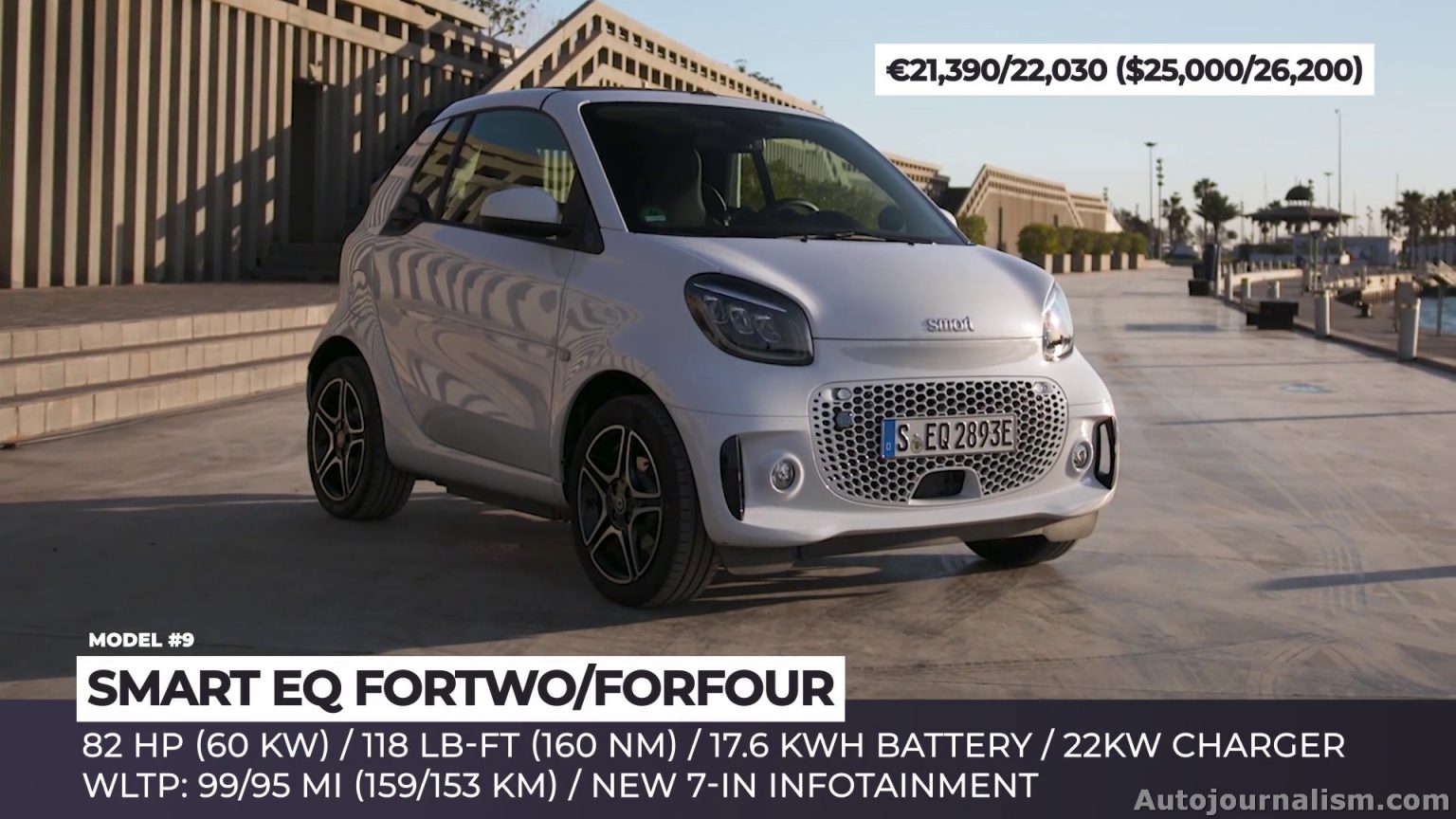 SMART EQ FORT TWO / FOR FOUR starting from the 2020 model here,
The entire roster of smarts goes through a minor exterior facelift and offers an all-electric drivetrain is the only propulsion option the lineup includes three models eq42 and its Caprio version plus a larger eq4 both of the two and four-seat models feature revised head and taillights which are full led in the higher trims and there is a revamped honeycomb radiator grille with updated air intakes the city cars are powered by a single electric motor that nets 80 horsepower and 118 pound-feet of torque, it is a fat-based 17.6-kilowatt-hour battery
that is good for up to 99 and 95 miles of range respectively with the optional 22-kilowatt onboard charger the smart needs 40 minutes to recharge from 10 to 80 percent the standard equipment includes 15-inch alloy wheels and Best in Class new 7-inch infotainment / Stereo System with Bluetooth android auto and mirror link ( All Basic Features Available ).
10. RENAULT ZOE
Renault Zoe this quirky looking EV is a true veteran within the class but it is still recognized as one of the best affordable buys especially if you choose to lease the battery and save up to 8,000 euros the starter pack for the Zoe is represented in the form of the life r110 CE-40 tram, this name incorporates the technical specs of the model a 110 horsepower motor and a 41-kilowatt hour battery good for 190 wltp miles, the standard equipment package incorporates an air conditioning cruise pilot with speed limiter esp with traction control
easy link 7-inch multimedia and a digital dashboard, if your pockets are a couple of thousand euros deeper, The Zoe is also sold with a stronger 135 horsepower motor
and a larger 55-kilowatt hour battery with ccs charging capability these specs would give you 245 wltp miles and 8.5 seconds zero to 60.
11. VW EUP + SKODA CITIGO E – IV + SEAT MII ELECTRIC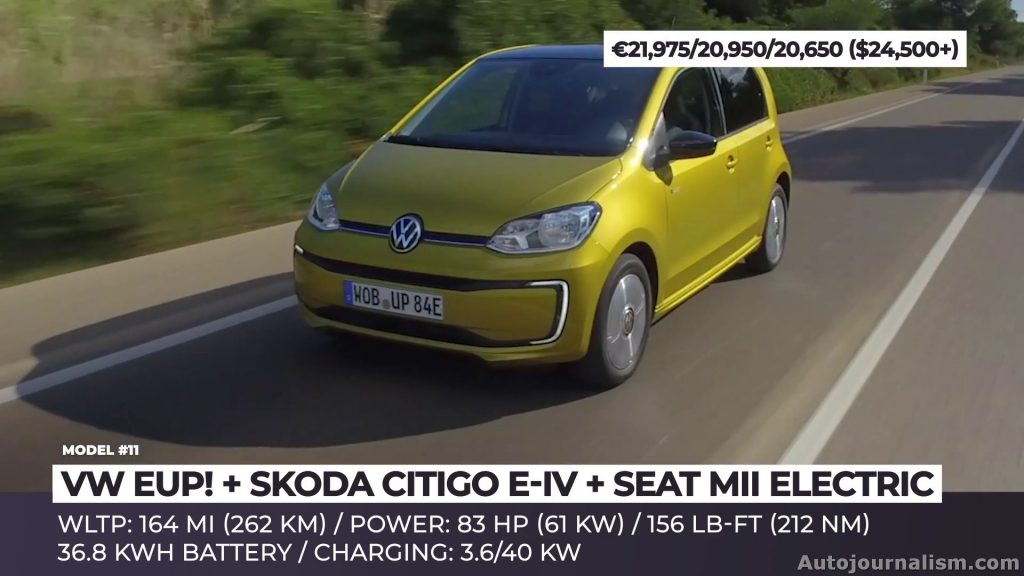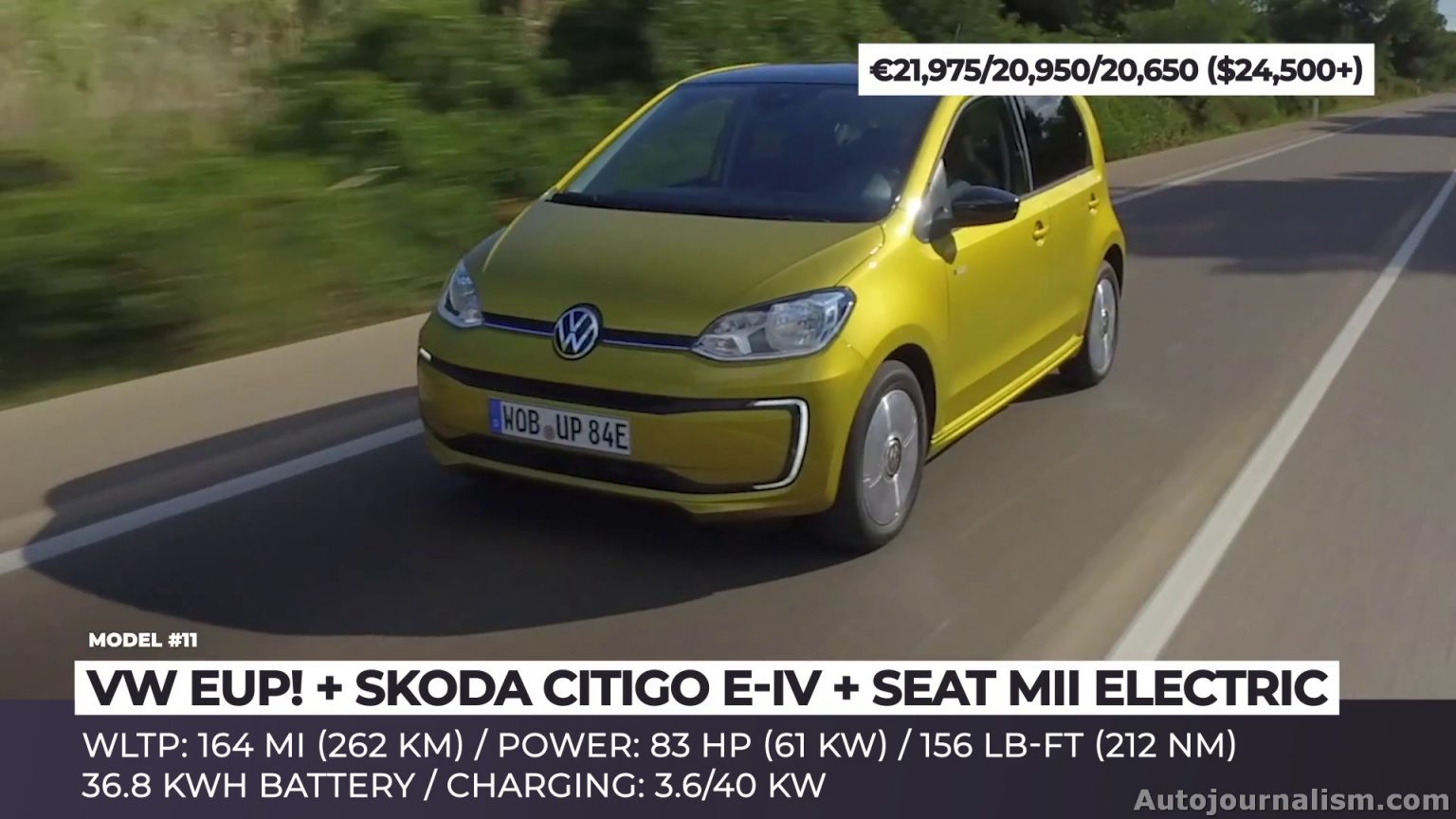 The second generation of the electric supermini VW EUP arrived alongside two more market entries by the Volkswagen auto group, the trio by the german VW chuck Skoda and Spanish sat follows the already proven formula of appealing to different and all buyers at once these are optimized for efficiency so the shared 83 horsepower motor does not provide the usual right briskness with 156-pound feet of torque 0 to 60 dynamics or 12 seconds the battery has a 36.8-kilowatt-hour capacity out of those 32.3 kilowatt-hours are usable for around 164 miles and the wltp cycle and can be recharged at 7 and 40 kilowatt
the trimming of the VW EUP SKODA CITIGO E-IV and MII models is determined by the exact set each company independently but in general, a bare minimum is expected
like air conditioning and a docking station that turns your smartphone into the infotainment display.
12. FIAT 500 ELECTRIC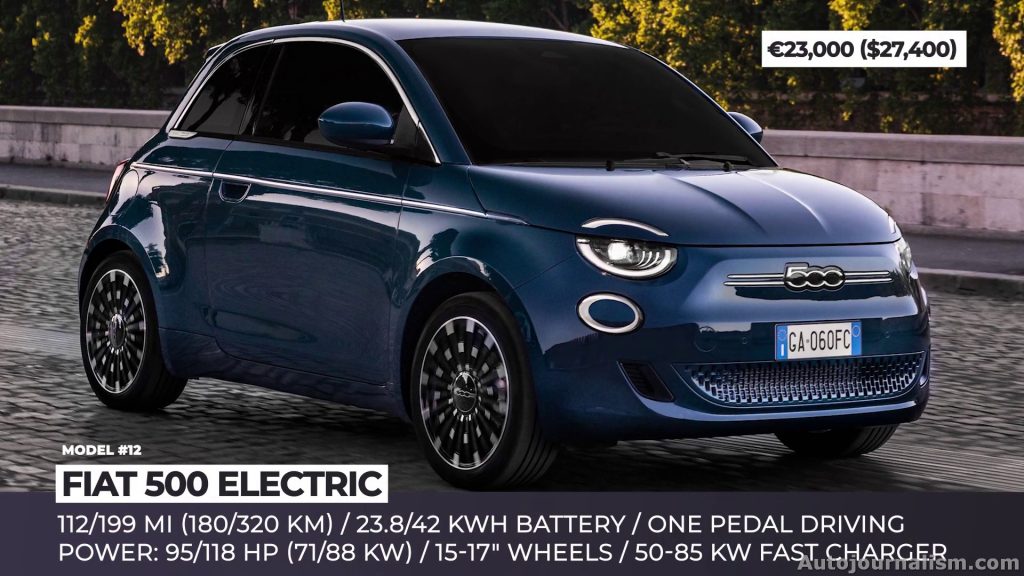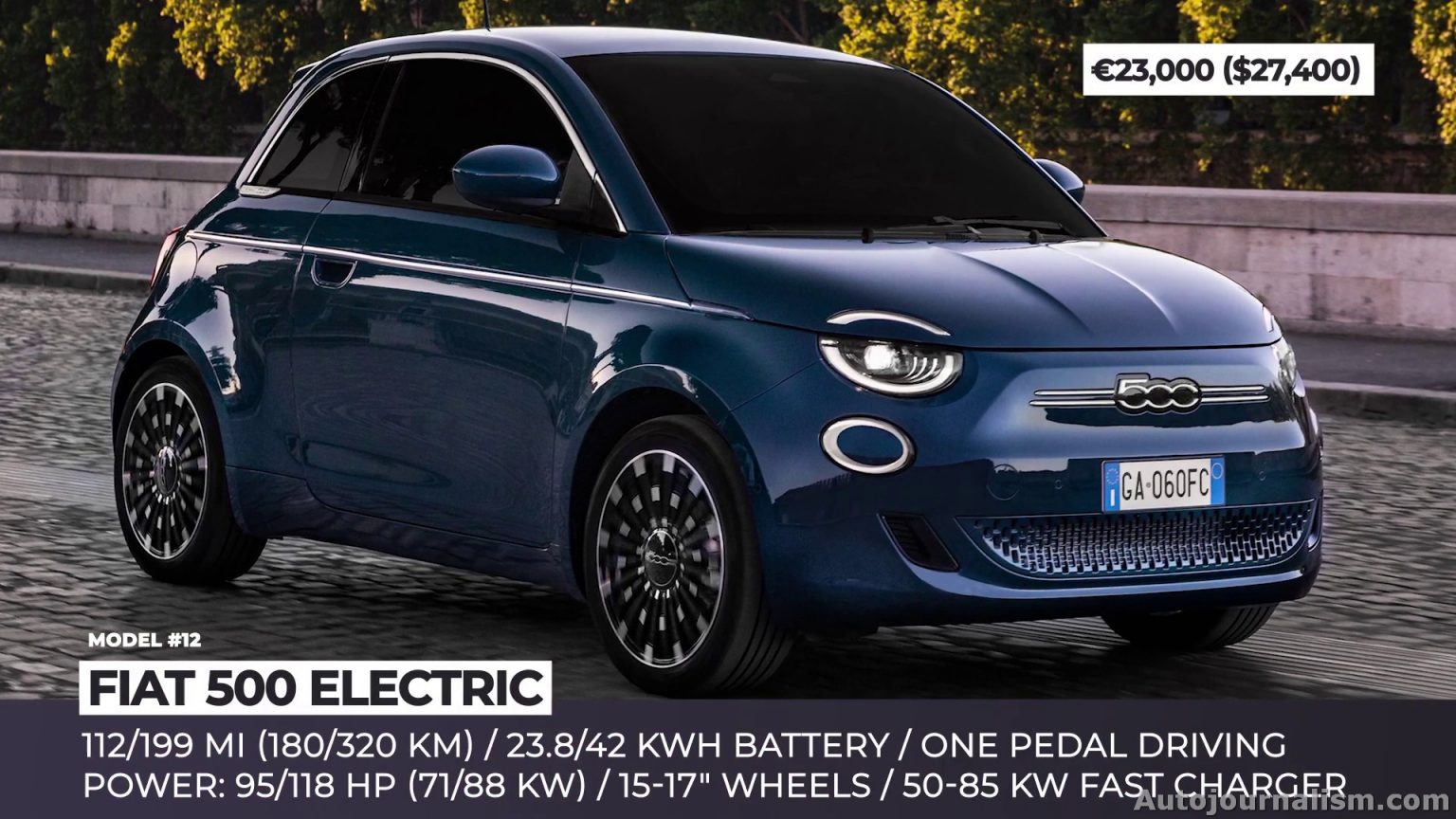 FIAT 500 ELECTRIC the compliance version of the 500 electric had very mediocre sales numbers and according to the late fiat Chrysler ceo sergio Marchionne was losing the conglomerate twenty thousand dollars per unit the situation is expected to be reversed with the arrival of the all-new 500 ev built over a bespoke all-electric platform, the major emphasis is made on the Italian retro flare of the model with interesting design easter eggs gorgeous front fascia compact to the door body style and distinctive fiat seats, the tiny hatchback is offered in four trumps action passion icon and la prima the basic package translates to a 95 hp motor and a 23.8-kilowatt-hour battery with 110 miles of range rechargeable at 50 kilowatts.
The entry-level model gets a standard 7-inch digital dash and active safety features but will have you use your phone as an infotainment cluster do not forget that nearly all the presented models still qualify for plug-in incentives so you can expect the presented prices to be lower by another seven thousand dollars or euros plus I have to acknowledge the emission of some cheaper Chinese and Indian models but those are not available on the international markets and had to be left out as always.
Subscribe to Autojournalism.com and LIKE this Post