Top 10 Chinese Electric SUV
Here is the list of Top 10 Chinese Electric SUV, Chinese companies are expected to dominate the v segment in the near future, just as Japanese car makers did in the 1980s, thanks to generous government subsidies, a readiness for fast-paced innovation, and the absence of stale Oems unwilling to accept the inevitability of the electric future. All of these factors are fueling rapid domestic and international growth.
In this post, we'll look at some of China's newest electric crossover SUVs, which provide a competitive range of advanced self-driving technology and high-quality interior and exterior finishes.
List of Top 10 Chinese Electric SUV
1. XPeng G9 ( Best Chinese Electric SUV )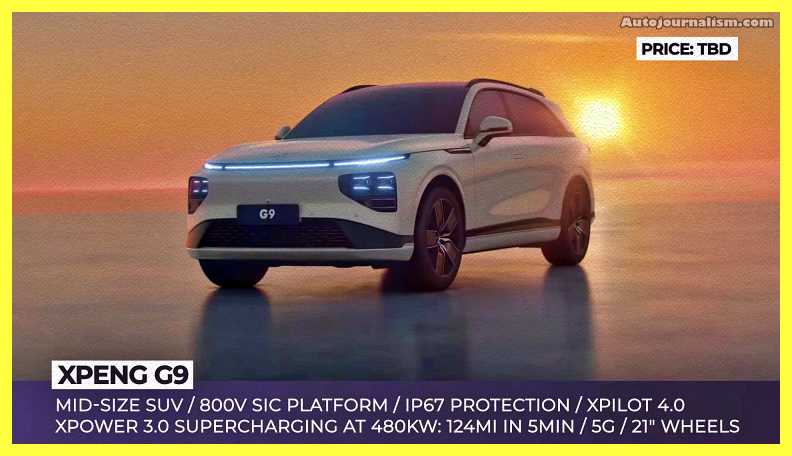 This newcomer is Xpeng's largest SUV to yet, and it debuts the brand's new axe EEA 3.0 electrical architecture. It is 800 volts compatible, which means the SUV will be able to recharge 124 miles of range in just five minutes using company-developed dc chargers up to 480 kilowatts. This model was created to be marketed not just in China, but also around the world, but at the present, it is only available in China.
The specifications are unknown to us. The g9 has the familiar robot face front fascia, two lighters built into the headlights assembly, and 21-inch wheels. It also has the x pilot 4.0 adas, which uses two Nvidia drive oren autonomous driving processors, front and side view cameras, and the previously mentioned lidars to allow for full autonomy in a variety of driving situations.
2. Human Horizons HiPhi X ( Best Chinese Electric SUV )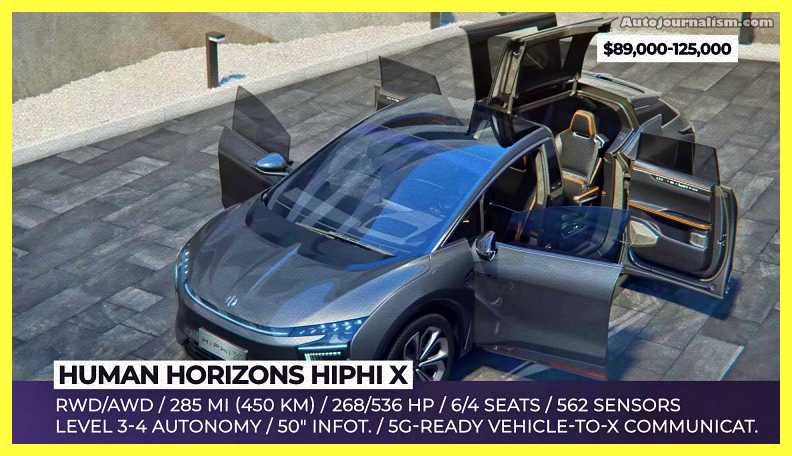 The new reality for the emerging attack lock segment in China is the human horizons hi-fi acts, an electric suv with suicide doors, elevating roof sections, 5g ready vehicle, 2x communication system, and 562 sensors ensuring level 4 autonomous driving. Founded in 2017, human Horizon has already completed the entire development process and is delivering 3 000 founders edition hifi access to the early buyers.
The cv is powered by a Bosch-powered 96-kilowatt-hour battery with a range of 285 miles and a single rear or dual-motor all-wheel-drive powertrain. The hi-fi features front-axle double wishbones and multiple rear-axle links, as well as four-wheel steering and a matrix lighting system that can be customized. This full-size model measures 205 by 78 inches and accommodates four executive or six regular-style chairs. Three massive displays are installed in the cabin. a reclining front passenger seat, as well as clever voice command and indoor cabin controls for the back row
3. MG ZS EV ( Best Chinese Electric SUV )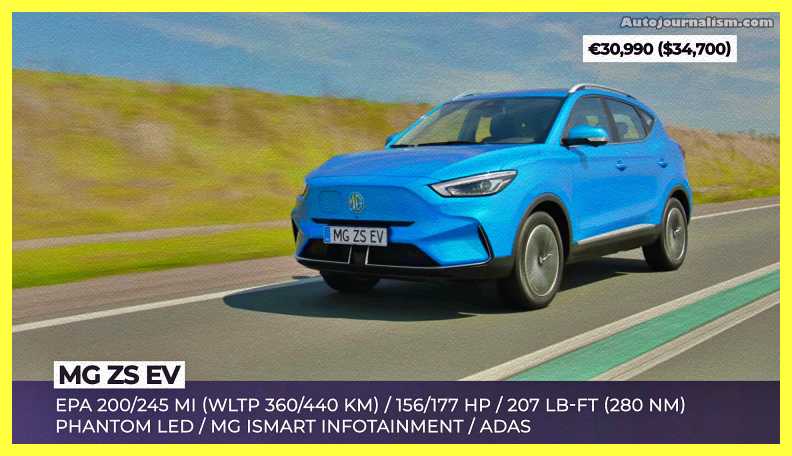 The scv could not be recognized from its gasoline-powered sister before to the facelift, but it is now one of the UK's best-selling inexpensive electric crossovers. Silverstone 21 led units are a recognized closed-off grill with a charging port. phantom led taillights and headlights The availability of two trims and two battery options is a significant improvement over the previous model. The standard range version now has a 50.3-kilowatt hour battery and a range of 200 EPA miles, while the long-range version has a seven-kilohertz energy reserve and a range of 500 epa miles.
this number to 245 The new mgcs cv gets dmg pilot, which contains 11 sophisticated drive resistance systems, including adaptive cruise control, and is compatible for rapid charging at 92 kilowatts. Opting for a larger battery also delivers 177 hp, which is a 21-pound boost. The premium-grade adds features including a 6-way adjustable driver's seat, a 360-degree parking camera, leather interior, and a 3D sound effect audio system.
4. Aiways U5 ( Best Chinese Electric SUV )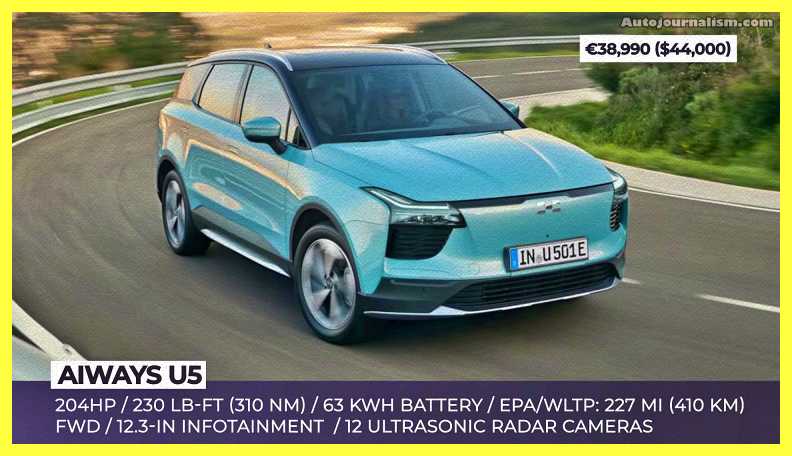 The a-waste crossover's European expansion began in 2020, and this year the model is being supplied to customers with a minor exterior redesign. The u5 receives a sportier body package with contrasting actual colors, as well as new exterior paint schemes in blue glacier white, and upper denim.
The drive train system is unchanged, so the u5 is powered by a single electric motor that sends 204 horses and 230-pound feet to the front axle as usual. The 63-kilowatt hour battery promises up to 227 miles of range charging takes 35 minutes at a public dc station and around 10 hours at home at 6.6-kilowatt ac. This model now includes full LED lighting, a large panoramic roof, and a 12.3-inch touchscreen infotainment system. The redesign also includes new electric boots with sensor wireless smartphone charging and keyless entry.
5. Hongqi E-HS9 ( Best Chinese Electric SUV )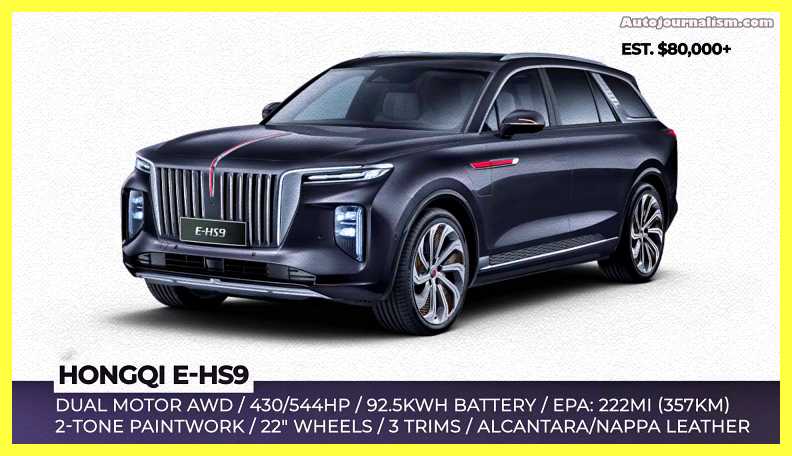 The media has already dubbed it "the Rolls-Royce of electric cars." The new ehs-9 and d-drugs have a culinary-inspired front end and a two-tone bodywork designed by chills Taylor of the British company. The vehicle is similar in size to the BMW x7 and features genesis-inspired boomerang rear lights and 22-inch wheels. There are three trim levels available with this UV.
There are two drivetrain combinations, as well as different interior choices and exterior features. The base model features two electric motors with 215 horsepower each, while the top variant gets a more powerful 330 hp unit in place of the rear motor. Both get a 92.5-kilohertz battery with up to 220 miles of driving range, bringing the entire system to 544 horsepower. The ehs9's cabin can include five to seven seats, a panoramic sunroof, privacy glass, and Alcantara or Nappa leather upholstery.
6. BYD Tang ( Best Chinese Electric SUV )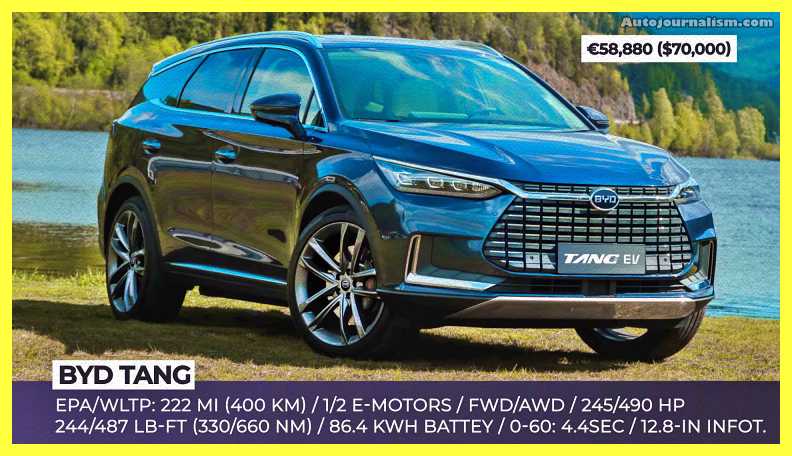 The second generation of the smith-sized SUV byway is designed by former Audi design director Wolfgang Edgar and targets international markets such as Europe and South America. It features a spectacular dragon mouth grille with chrome details, sharp LED headlamps, and 20-inch wheels. The crossover comes with one or two electric motors with a combined output of 245 horsepower, as well as the trademark blade battery with a base capacity of 86.4-kilowatt-hours.
The latter will travel about 222 miles on wheels. The interior comfort has been adjusted to European standards, so the 7c tank comes fully equipped with brown leather upholstery, ventilated and heated front seats, and a massive rotatable 12.8-inch touchscreen in 2022 byds is rumored to launch the tank with more electric range and enhanced camping tank featuring an even larger infotainment system.
7. MG Marvel R ( Best Chinese Electric SUV )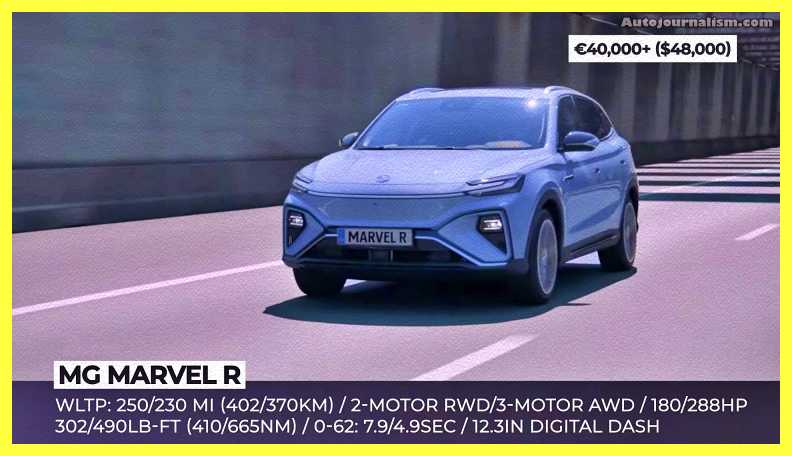 while the facelifted mgcs cv remains a retrofit of an internal combustion vehicle the marvel r is a model of the new generation built on a dedicated electric platform it debuts mg's new design language with head and taillights spanning across the entire width of the car and gets a solid equipment package to compete with the market leaders competitively priced it is offered in three trends and two drivetrain configurations the entry-level one gets the rear-wheel-drive system where two motors power the rear axle and produce 180 horses the all-wheel-drive model adds the third motor to the front axle raising the output to 288 hp and 490-pound feet both are used by 70-kilowatt hour battery pack with 230 to 250 miles the cabin is minimalistic and packs the standards to zone climate control eight-speaker audio 12.3-inch digital cluster and a 19.4-inch touch.
8. NIO ES8 ( Best Chinese Electric SUV )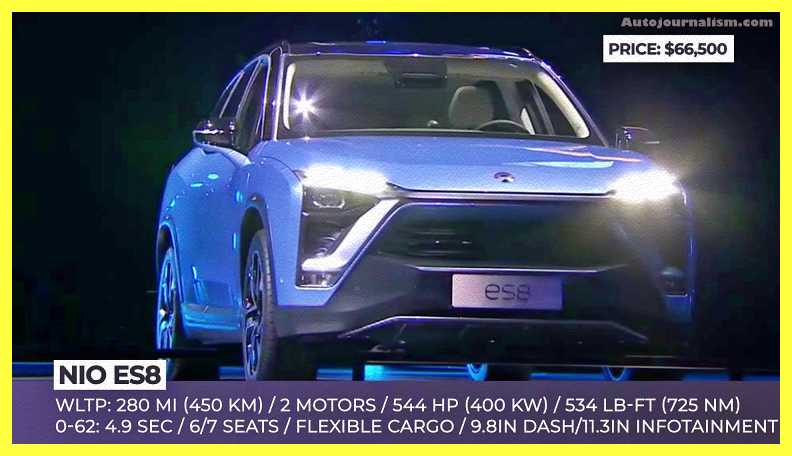 This is the first Neo model to leave China, and it will be marketed in Germany, the Netherlands, Sweden, and Denmark after arriving in late 2021. With an innovative front fascia, super-thin drls, and huge 21-inch wheels, the es-8 is the brand's largest full-size SUV. The drivetrain system is represented by a permanent magnet and induction magnet motors linked with one of three battery options, and the three-row sits in a redesigned chassis made of 96 aluminum. 100-kilowatt hour (7084)
The system produces 544 horsepower and 534 pound-feet of torque, with a maximum range of 280 miles. However, where this neo really shines is in the comfort department, with seating for up to seven passengers, reclining and massaging seats, a panoramic sunroof, 25 standard safety features, a fully digital cabin, and the second generation nominated ai assistant that handles entertainment navigation and climate control.
9. Geometry EX3 ( Best Chinese Electric SUV )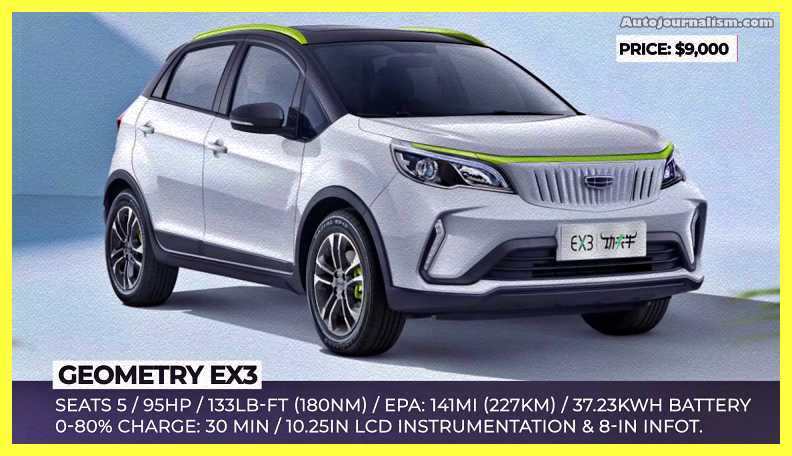 This new Geely subcompact expands the segment of super affordable electric crossovers. The model measures just 157 inches in length, seats five people, and still has almost 17.7 cubic feet of boot space. Its drivetrain system combines every single motor rated for 95 horses and 133-pound feet, and it packs a rather small 37-kilowatt-hour battery with 140 miles of range by current television standards.
These figures aren't particularly impressive, but keep in mind that the geometry ex3 is only $9000. It's also compatible with dc chargers and has regenerative braking. Finally, it has a comprehensive safety system with backup sensors and cameras, as well as a dual-screen cockpit with a 10.25-inch driver's cluster and an 8-inch infotainment screen.
10. Li One ( Best Chinese Electric SUV )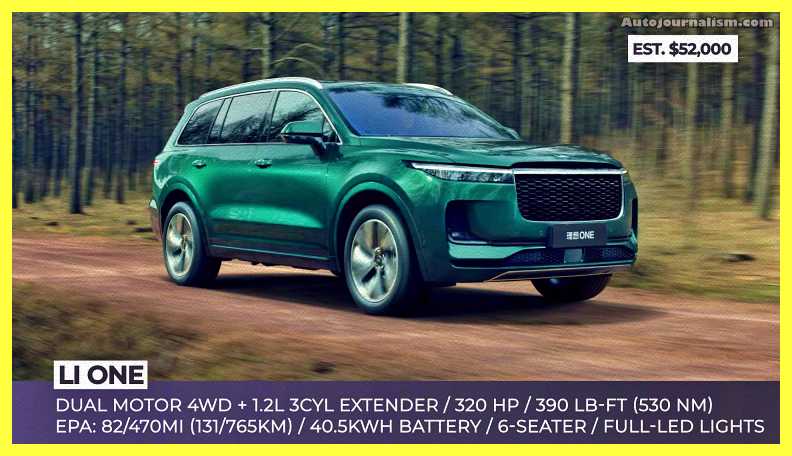 Since its launch in 2019, Lee Auto's first production model has been China's best-selling full-size SUV, outselling both domestic and foreign electric vehicles. Now, it has been improved across the board, with a longer range, improved interior design, and advanced driver assistance as standard. Instead of employing a larger battery, the one is driven by a pair of permanent magnet motors that send 320 horsepower to all four wheels. These are equipped with a 40.5-kilowatt-hour pack good for 80 miles.
The company chooses a 1.2-liter three-cylinder gasoline range extender that is not attached to the wheels and has access to the battery recharger, bringing the overall range to 470 miles. upholstery made of Nepal rather a driver's display that is digital On the dash, there are two big infotainment displays and a fourth tablet screen right below them. Standard features include full LED lighting, self-developed drivers, and a 360-degree panoramic camera.
11. GAC Aion LX Plus ( Best Chinese Electric SUV )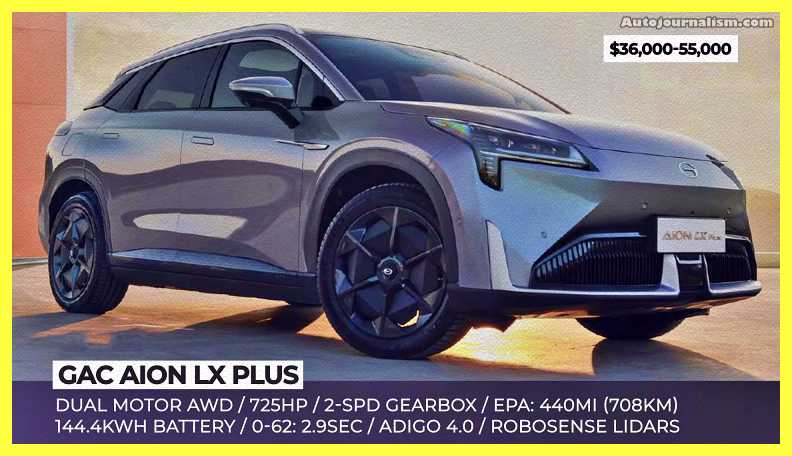 The Chinese gc motors owns Aion, an all-electric luxury market. The company already has five electric vehicles in its lineup, including the mid-sized lx SUV, which debuted in 2019. The next Lexus lx plus is an upgrade of the vehicle, with faster-charging capabilities, more battery capacity, and greater interior attack. Powered by a dual-motor all-wheel-drive system, it offers 725 horsepower and a top speed of 106 mph.
The system is powered by a massive 144-kilowatt-hour battery that should last for roughly 440 kilometers. On the inside, the lx plus comes with white leather upholstery, a 15.6-inch touchscreen system, and a 10-speaker audio system from LPN. Additionally, 35 various sensors and cameras, as well as three new lidars from Robo sense, ensure your safety on the road.
credit
NEXT
Top 10 Cheapest Pickup Trucks 2022