Top 10 Honda Cars 2022
Here is the list of Top 10 Honda Cars 2022, According to recent announcements, honda will challenge Toyota as the brand most hesitant to transition to fully electric cars. In fact, China is the only market where hand EVs and large numbers should be expected before 2030. But can we blame this Japanese automaker for being hesitant? After all, their engines and hybrid systems are quite good, efficient, and reliable.
Today, we'll look at the new Hondas for 2022 to see if the brand has enough innovations to avoid sinking into obscurity in this fast-paced ERA of electrification and high technology.
List of Top 10 Honda Cars 2022
1. 2022 Honda Civic Si & Type R ( Honda Cars 2022 )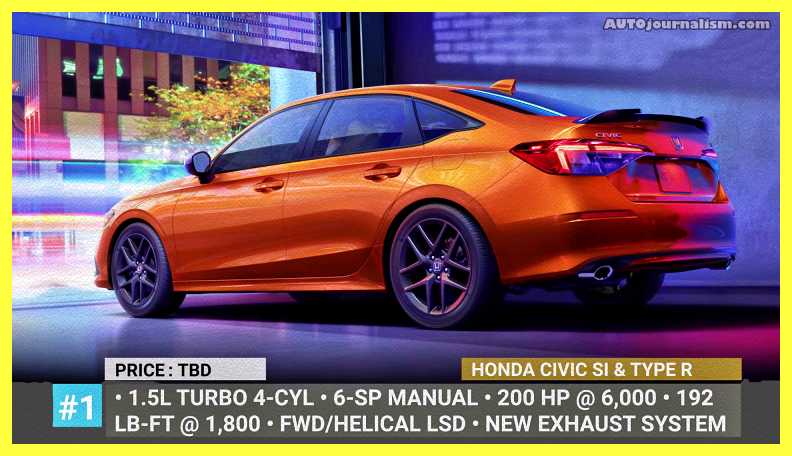 The honda civic 2022 type r's flagship model is now undergoing testing at the Nurburgring, however, it is not slated to arrive until the first half of 2022. As a result, the all-new side variant will have a few months to establish itself as the sportiest model in the 11th generation range. The name drops the group version this time and just launches the sc4 door sedan with a slightly lower and wider profile aggressive front bumper and a tiny spoiler. The 1.5 liters 4 cylinder engine remains unchanged.
The engine now produces 200 horsepower at 6000 rpm and 182 point foot of torque at 1800 rpm, thanks to a 26 percent smaller single mass flywheel and the sacrifice of a few of horses. The 2022 Civic Si is one of the few recent automobile models featuring a 6-speed manual transmission as standard. The 20 boasts a better shift feel, with 10% shorter throws and a rough matching mode, as well as a 27 percent enhanced exhaust flow.
2. 2022 Honda Passport TrailSport ( Honda Cars 2022 )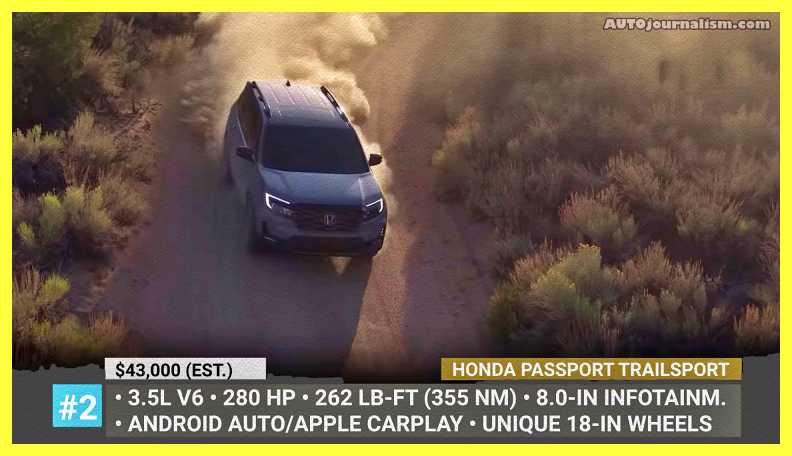 The passport, Honda's mid-size offspring, was relaunched in 2019 as a more rugged alternative to a conventional family suv. For 2022, the passport gets a redesign that includes a more aggressive grille, a new bulgy hood, reshaped bumpers, and more standard safety features. The most significant development is the addition of a new off-road trail sport vehicle, which will be utilized by Honda to launch its future sub-brand.
The all-wheel-drive passport trail sports has unique 18-inch wheels wrapped in special sidewall threaded tires, and both front and rear track widths have been widened by 0.4 inches for increased stability inside the cabin. The difference is marked by orange contrast stitching and amber ambient lighting, just like the rest of the range. The 3.5-liter V6 engine in this passport produces 280 horsepower and 262 pound-feet of torque.
3. 2022 Honda HR-V ( Honda Cars 2022 )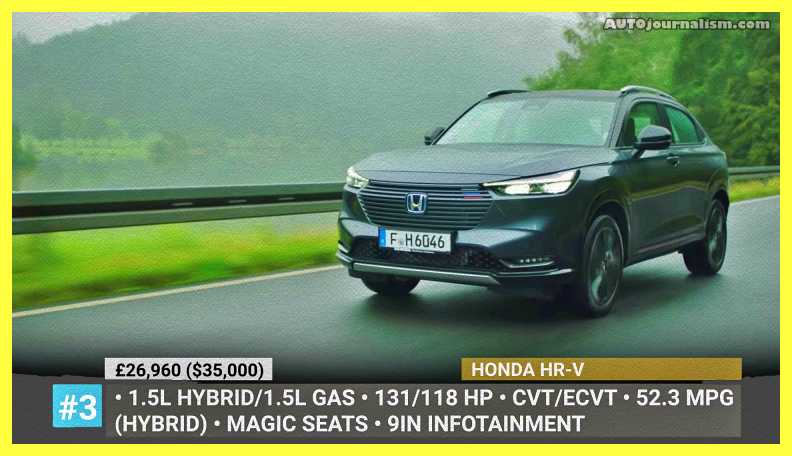 The 2022 model here marks the commencement of sales of the third generation hrv crossover in Japan and Europe, and it becomes much more appealing with a body colored grille, slim led headlights, and a sloping roofline with a tiny rear spoiler. On European coasts, the crossover is available with a 1.5 liter four-cylinder gasoline engine or a hybrid branded eagv, however only the latter is available.
This drivetrain combines 1.5-liter Atkinson cycle efforts with two electric motors and a small battery to produce 131 horsepower and 187-pound feet of torque. On the inside, the model retains the usual roomy layout with a 9-inch infotainment system with wireless Carplay and 7-inch digital instrumentation. This HR-V will not be available in the United States because Honda intends to manufacture a different market-exclusive version of the crossover to fulfill the needs of American buyers.
4. 2022 Honda CR-V e:HEV ( Honda Cars 2022 )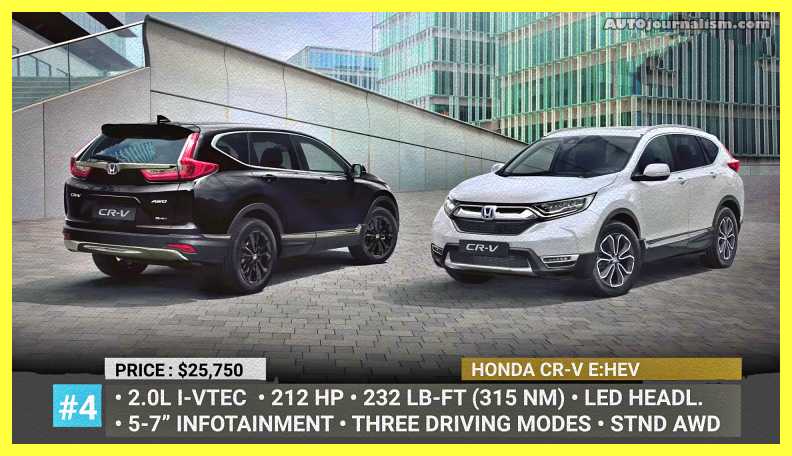 The crv with hybrid technology becomes the only model available for the entire European market as hyundai keeps its promise to electrify at least all the vehicles presented on this consonant. The model is distinguished by a new EHV blue outlined badge, which means a hybridized 2.0-liter gas power plant resides under its hood.
It works together with two electric motors to provide 212 horsepower and 232 pound-feet of torque, adding to the CR-V's attractiveness. Honda has introduced a new sporting trim level that will be available throughout the whole lineup. Exclusive 18-inch wheels, silver highlights on the central console, and privacy glass are included in the special styling package, albeit the latter is only available on the se and elegance trims.
5. 2022 Honda Civic Hatchback ( Honda Cars 2022 )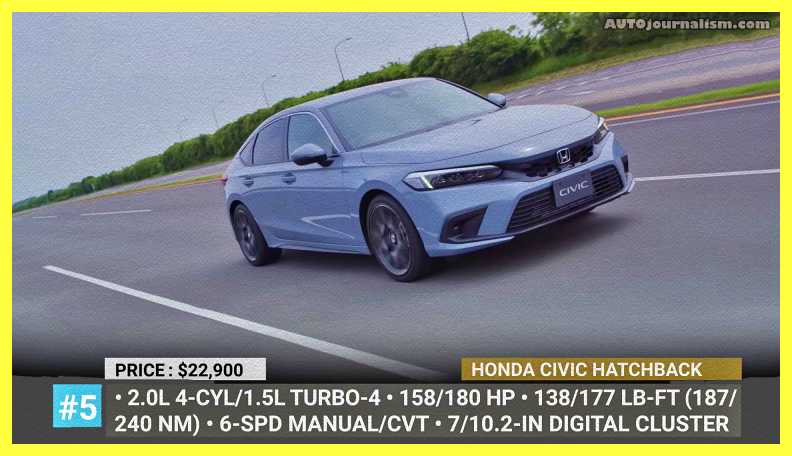 During its 50 years on the market, the 2022 honda civic has gone by numerous names, been available in a variety of sizes and body designs, and gone through ten generations. The model will enter the 11th generation in 2022, which reinterprets the car's design in a modern manner while also increasing its stack and safety. The hatchback has grown in size, has a firmer chassis, and a more streamlined design with revised led lighting. The base lx and sport models come with a 2-liter four-cylinder engine that produces 158 horsepower.
While the top ex-l and sport-touring models feature a more powerful 1.5-liter turbo with 180 horsepower, all models come with a standard CVT transmission, but all sport-oriented 2022 honda civic also come with a 6-speed manual transmission as a no-cost alternative. The driver's dashboard and infotainment screens are both 7 inches in diagonal body stabilizing seats, and the detecting safety suite has a single camera.
6. 2022 Honda Ridgeline ( Honda Cars 2022 )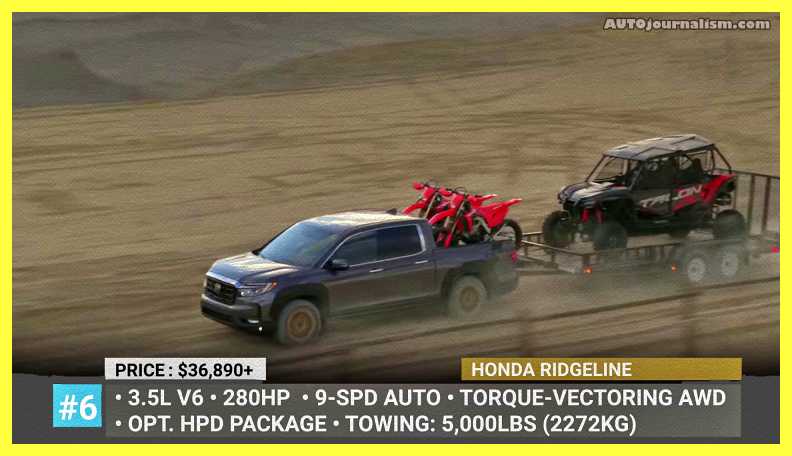 The 2022 ridgeline is the same model as last year, with a minor price rise, but this facelifted pickup is new enough to warrant another mention on our channel. The second generation now features a stronger front grille, a square bumper, and new side air vents. twin exhaust tips and upgraded led headlights The vehicle is available in four trim levels: sport, rtl, rtle, and black edition, each of which may be customized with five different manufacturer and accessory packages.
The most striking is the new honda performance development kit, which adds a sharper grille, new fender flares, distinctive graphics, and bronze wheels to the truck. There are no changes under the hood, so it still has the same 3.5-liter V6 engine that produces 280 horsepower and 262 pound-feet of torque. The engine is paired with a 9-speed automatic transmission and optional torque vectoring all-wheel drive, allowing for a tonnage capacity of 5000 pounds. An expanded trunk, a dual action tailgate, and a full honda sensing package are among the other smart features of the new reg line.
7. 2021 Honda Amaze ( Honda Cars 2022 )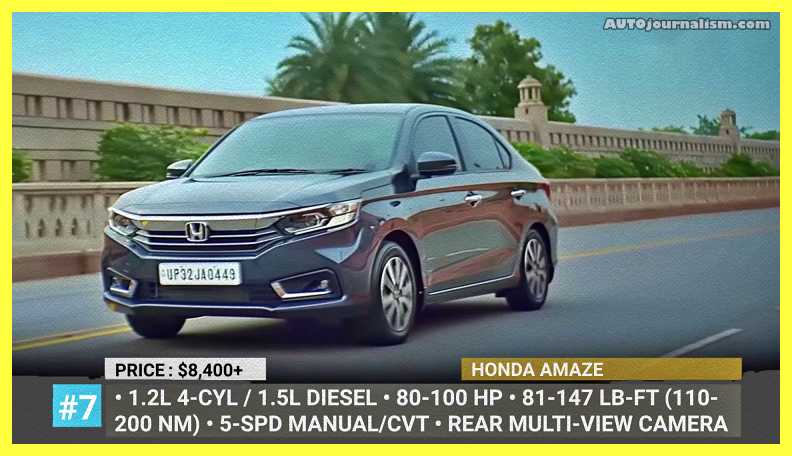 On the ntn market, the company's main pillar Hyundai's second-generation maze gets a mid-cycle revamp, which should boost sales to levels seen before 2020. The new headlamps are a visible sign of the cosmetic alterations. All versions of the wonder ride on 15-inch wheels and have dual airbags, with a redesigned grille, reworked bumper, and loads of chrome detailing. a multi-view camera in the back and light-sensing automatic headlight control
The top-of-the-line vx gets standard LED headlights and daytime running lights, as well as automatic climate control and a 7-inch infotainment system with android auto and apple carplay. Under the hood, the facelifted mace comes with a 1.2-liter four-cylinder engine that produces 90 horsepower or a 1.5-liter diesel engine that produces 80 to 100 horsepower.
8. 2022 Honda Civic Sedan ( Honda Cars 2022 )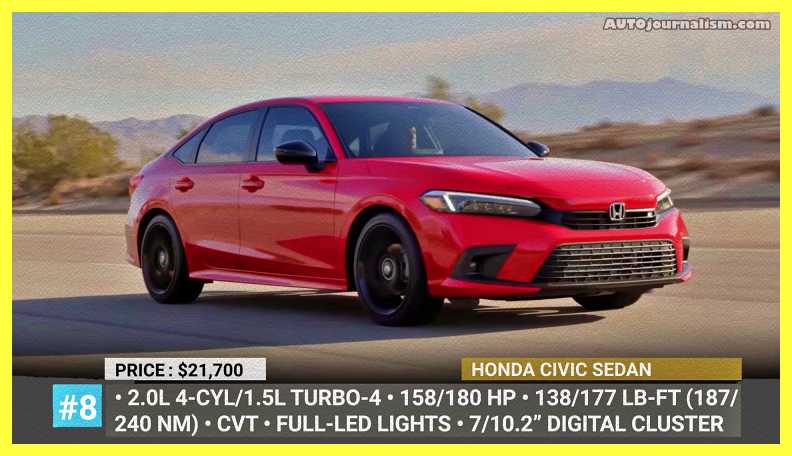 In 2022, the honda civic 2022, the Santa sedan will continue to follow the idea of a man maximum machine minimum, which implies that the outward and interior design will be focused on the passenger and driver. The wheelbase has been lengthened by 1.4 inches, the track has been widened by half an inch, and new distinctive all-led lighting has been added. Customers can select from four configurations powered by either a 2-liter normally aspirated 4-cylinder with 158 horsepower or a 1.5-liter turbocharged 4-cylinder with 180 horsepower.
Both engines are mated to a CVT transmission, and each trim has its own set of wheels ranging from 16 to 18 inches in diameter. The interior layout is simplified, and the seats are designed for optimal support and comfort. The top Touring model also includes a 7 or 10.2-inch instrument cluster, as well as a 7 or 9-inch infotainment system. The latches include wireless smartphone integration, navigation, and wireless charging, as well as audio components.
9. 2022 Honda Odyssey ( Honda Cars 2022 )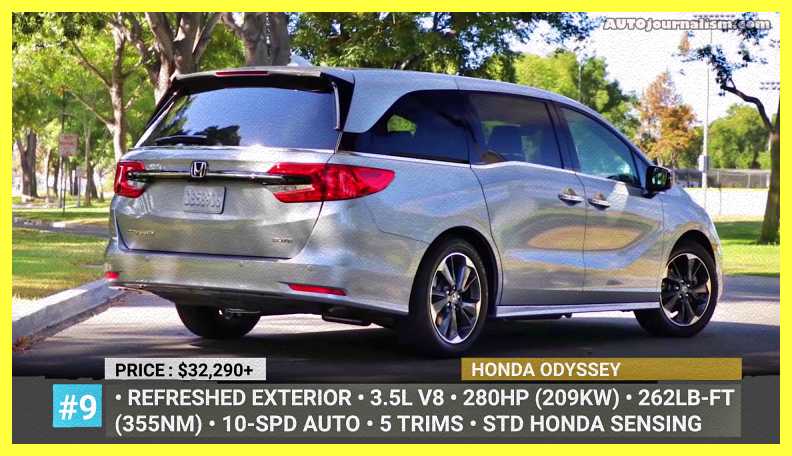 Unlike many van models from competitors, the Odyssey stays true to its mpv routes because the model prioritizes comfortable and safe people hauling it consistently earns a place among the best-selling cars in its class starting in 2021 the Odyssey wants hearts and wallets with a more chiseled face powerful led headlights and URLs plus new design 18 or 19 inch wheels
The minivan is available in five trim versions that range in price from 32 to nearly 50 grand. All of them are powered by a 3.5 liter V6 engine mated to a 10-speed automatic transmission that produces 280 horsepower and 262 pound feet of torque to the front wheels. Seating for 7 to 8 individuals is available. Touchscreen infotainment is a standard attack. Hunter can stay competitive without going all-in on electric cars like the European, Korean, and American car makers have done. 5 or 8 inches in diagonal 7 or 11 speaker audio plus honda sensing safety tech package with a rear seat reminder and an optional cabin watch system can help hunter stay competitive.
10. 2022 Honda Pilot ( Honda Cars 2022 )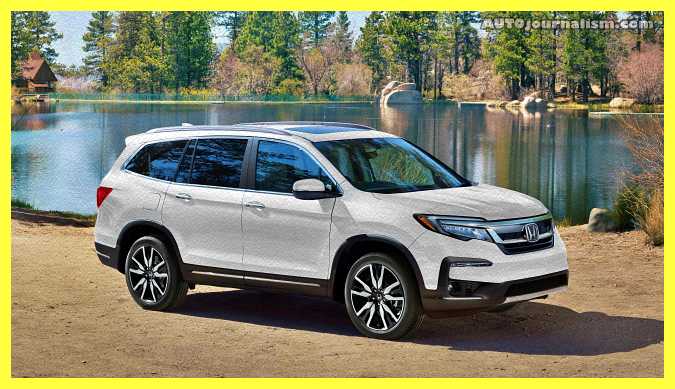 The Honda Pilot is a three-row SUV that can seat up to eight passengers or seven if the second-row captain's chairs are added. The Pilot is available with front- or all-wheel drive and is powered by a 280-horsepower 3.5-liter V-6 engine mated to a nine-speed automated transmission. The Chevrolet Traverse, Ford Explorer, and Kia Telluride are all competitors.
The LX and EX model levels have been discontinued, and this year's selection includes new Sport and TrailSport trims. The Sport trim is the Pilot's new entry-level model, with LED headlights, tri-zone automatic air conditioning, an 8-inch touchscreen multimedia system, and smartphone compatibility for Apple CarPlay and Android Auto.
Standard all-wheel drive, black 18-inch wheels, black fender flares and decor, an extra 0.6 inch of ground clearance, leather upholstery with orange stitching, a power moonroof, navigation, and a wireless device charger are all available on the TrailSport variant.
credit
Thanks for reading, Share it with your friends.
NEXT