Top 10 Largest Warship in the World
Here is the list of Top 10 Largest Warship in the World, ⭐⭐⭐⭐⭐ The dimensions of warships play an important role in their combat utility after all the amount of military equipment and weapons that can be placed onboard is dependent on this today we want to show you the 10 largest warships of various types.
Ships have been a vital asset in warfare since the dawn of time. A warship is more than just a ship; it's a symbol of power and prestige. As a result, countries have been vying, albeit in a veiled manner, to see who can build the largest and most powerful Navy ship. As a result, the seas have carried all types of monsters into battle zones. Every vessel functions as a mobile military base.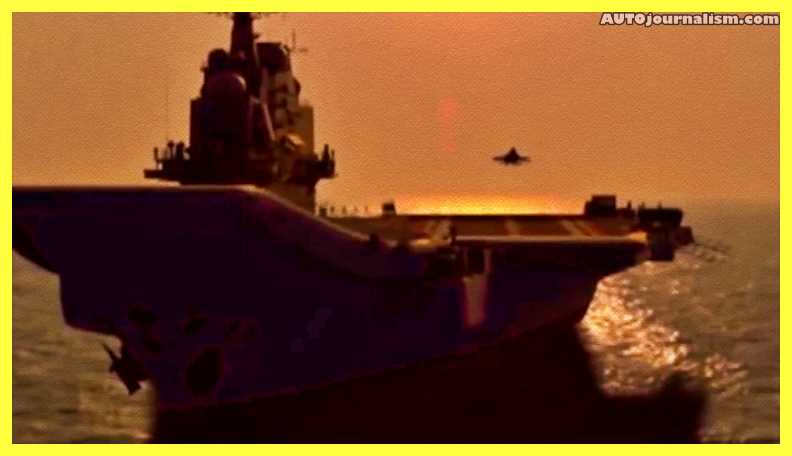 Long-range ballistic missiles, military jets, cruise missiles, tanks, personnel, and almost all sorts of armor may all be transported across seas and oceans in a matter of days by a single vessel.
Seagoing airbases are colossal aircraft carriers. They are often equipped with infinite firepower and full-length flight decks, as well as facilities for arming, deploying, recovering, and transferring aircraft, the world of warships.
For ages, these ships have governed the world of battle, and they have only become more important. Countries have continued to build larger and more powerful warships, but there are eleven that stand out as the world's all-time behemoths.
Here is the list of Top 10 Largest Warship in the World
10. POHANG ( Largest Warship )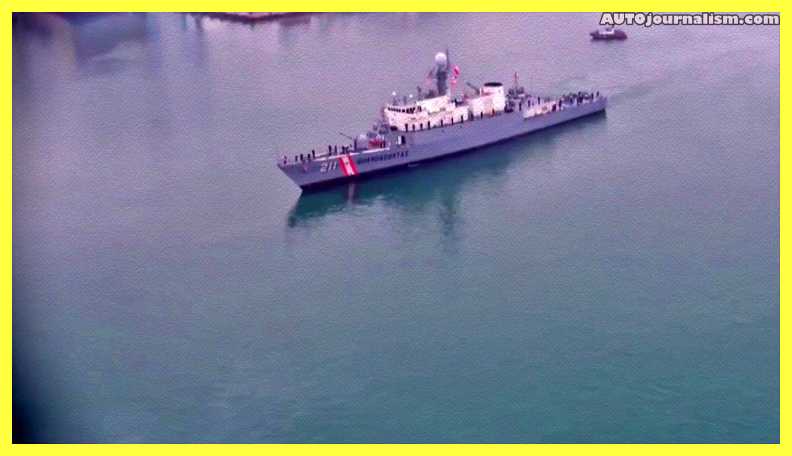 The Pohang is a patrol combat corvette of the Republic of Korea Navy, with a total of 24 ships built by the Korea Shipbuilding Corporation. The primary mission of the corvette is coastal line patrolling, and the Pohang class is deployed as the main force to monitor defense along the south Korean coast. These ships are equipped to perform anti-submarine, anti-ship, and anti-aircraft warfare operations in the literal environment.
According to the weapon systems installed onboard, the Pohang class ships are classified into two types: asuw anti-surface warfare and asw anti-submarine warfare. The asuw type contains four ships and the asw type includes 20 ships. rokn presently operates 22 corvettes of the Pohang class. The largest in their class, the Pohang corvettes have a length of 289 feet 88.3 metres, a breadth of 32 feet 10 metres, and a displacement of 1200 tonnes.
9. IVAN GREN ( Largest Warship )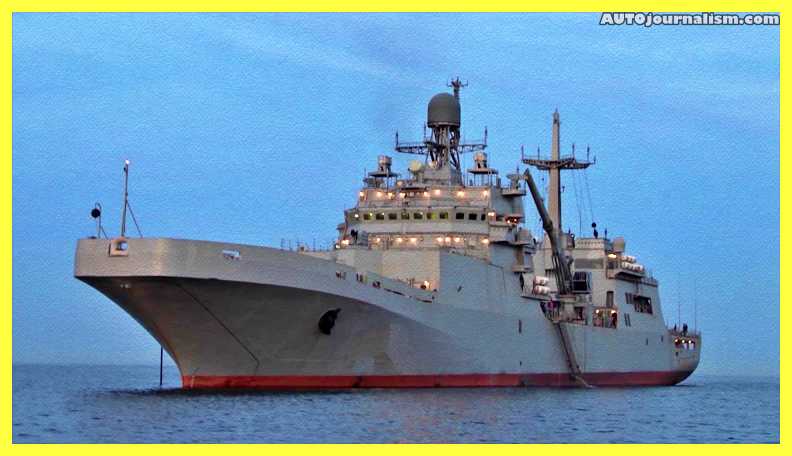 The Ivan Gren class landing ships are being built for the Russian navy by yantar shipyard, a subsidiary of United Shipbuilding Corporation. The ships are designed to convey military supplies and equipment as well as land troops. Ivan gren is equipped with several artillery rocket systems, a 76 millimetre ak-176 naval cannon, and a 30 millimetre ak-630m2 close-in armament system, as well as the igla man portable service-to-air missile system.
The huge landing ship can handle 300 troops as well as up to 13 main battle tanks, 20 medium vehicles such as armoured personnel carriers and fighting vehicles, and up to 30 trucks. The Ivan Gren is 442 feet 120 metres long, 54 feet 16 and a half metres wide, and has a full load displacement of 6600 tonnes.
8. SACHSEN ( Largest Warship )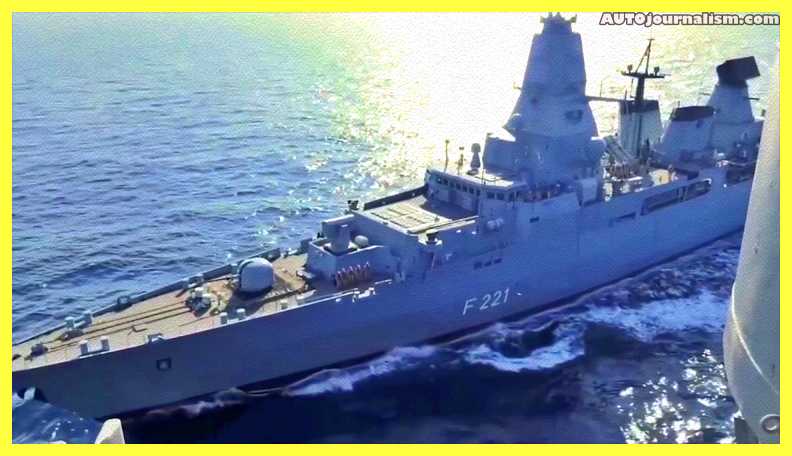 Germany's air defense frigate, the SACHSEN class, was manufactured by arge. The ship's medium and long-range anti-air missiles are the Raytheon-evolved sea sparrow missile and the standard missile sm-211a, which were built under the trilateral frigate agreement signed by the Netherlands, Germany, and Spain, which provides cooperation and national construction of the frigates in each country.
The SACHSEN also possesses two 4-cell harpoon missile launchers and two rolling airframe missiles. The ship is equipped with two triple mark 32 torpedo launchers with Eurotorp mu-90 lightweight torpedoes, as well as long-range lightweight torpedoes carried by helicopter. Two NH-90 helicopters may be accommodated on the flight deck and hanger. The Saxon is 469 feet 143 metres long and 57 feet 17.44 metres wide. 5690 tonnes of displacement
7. ZUMWALT ( Largest Warship )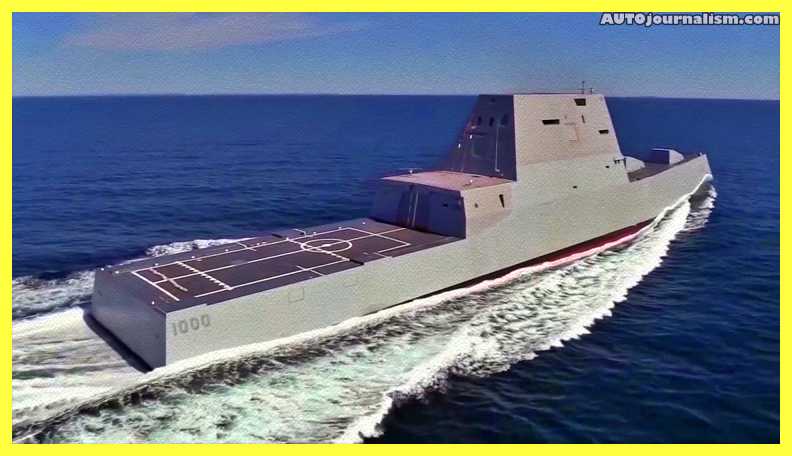 The Zumwalt class destroyer is a class of three US Navy guided-missile destroyers designed as multi-mission stealth ships with a focus on land attack. It is a multi-role class that was originally designed with a primary role of naval gunfire support and was designed for secondary roles of surface warfare and anti-aircraft warfare. Zumwalt has a sensor and weapon suite that is tailored for both traditional and network-centric combat. Northrop Grumman has presented a solution based on missile systems with a peripheral vertical launch system.
For air defence, include the tactical tomahawk standard missile sm-3 and the upgraded sea sparrow missile. Zumwalt is the world's largest destroyer, measuring 600 feet 183 metres in length and 80 feet 24.6 metres in breadth. The ship's total displacement is 14 797 tonnes.
6. PYOTR VELIKIY ( Largest Warship )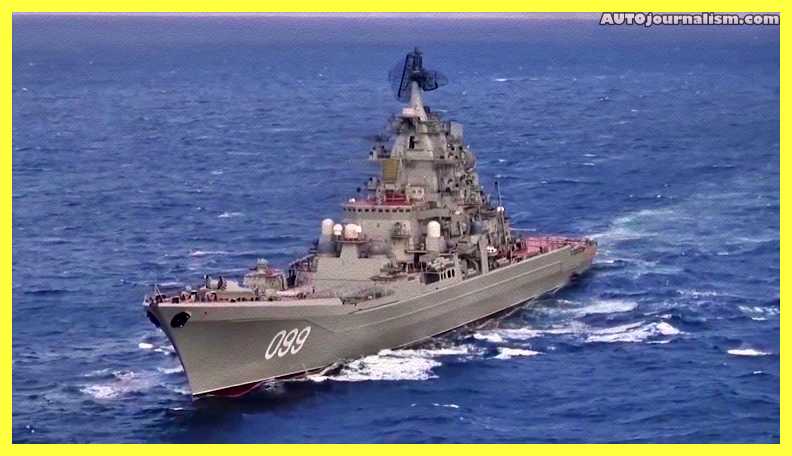 The baltic shipyard in Saint Petersburg developed the russian heavy missile cruise ship Pyoter Veliky. The ship can battle large surface ships as well as defend the fleet from air and submarine threats. The ship is equipped with a long-range anti-ship missile system called Granite. A s-300f air defence missile complex with 12 launchers and 96 vertical launch air defence missiles is deployed on the ship with 20 granite missiles mounted at a 60 degree elevation under the upper deck. The ship is also outfitted with a tula Instrument Design Bureau-supplied continuous air defence missile cannon system.
The system defends against a variety of precise weapons, including as anti-ship and anti-radar missiles, air bombs, and small naval ships. The Pyotr Veliky is the world's largest cruiser, measuring 820 feet 250 metres in length and 82 feet 25 metres in width. It has a total displacement of 25 860 tonnes.
5. AMERICA ( Largest Warship )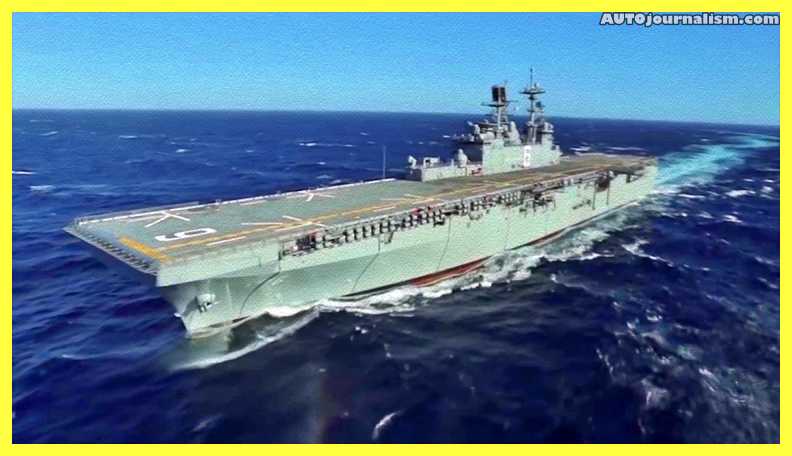 Northrop Grumman shipbuilding is producing the America class amphibious assault ships for the US Navy, formerly known as the lha class. In April 2014, the first ship, the USS America, was delivered and commissioned. The America class has 12 mv 22b osprey tilt rotor aircraft and six stavel f-35b lightning fighter jets. two fighter jets for joint strike A total of four AH1Z attack helicopters have been deployed. three uh-1y utility helicopters and four ch-53k utility helicopters
Two mobile airframe missile launchers and two upgraded sea sparrow missile launchers are mounted on the America-class amphibious assault ships. essm launchers are used to defend against incoming missiles, planes, and other dangers on the ground. The American class comprises the world's largest amphibious assault ships, measuring 844 feet (257.3 metres) in length and 105 feet (32.3 metres) in width. It has a total displacement of 45 700 tonnes.
4. QUEEN ELIZABETH ( Largest Warship )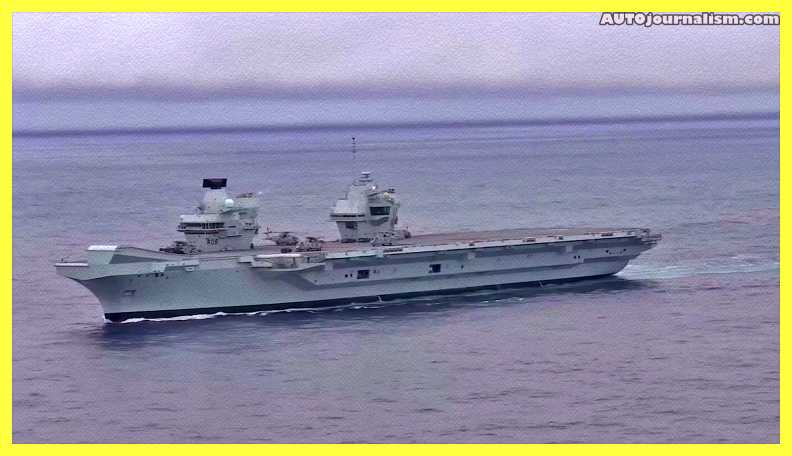 The queen Elizabeth class is a pair of aircraft carriers in the Royal Navy of the United Kingdom. The lead ship, hms queen elizabeth, was named on July 4, 2014 in honour of Elizabeth the First, not Elizabeth II. Each ship in the queen elizabeth class can carry 40 aircraft, including 36 F-35s and four helicopters. The phalanx close-in weapon system for anti-aircraft and anti-missile defense, as well as 30 millimetre automated small calibre guns and miniguns for use against rapid attack craft hms aircraft carrier, are examples of defensive weapons.
Queen Elizabeth is the royal navy's largest ship, measuring 931 feet 284 metres in length and 239 feet 73 metres in breadth. 70 600 tonnes of displacement
3. LIAONING ( Largest Warship )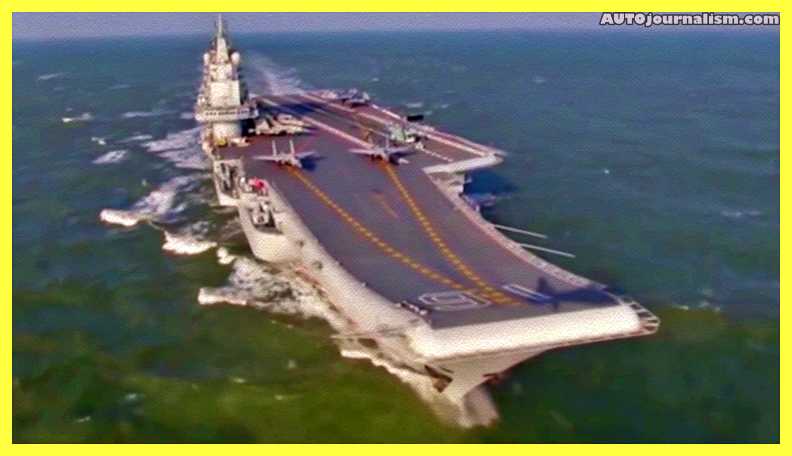 The Chinese aircraft carrier LIAONING entered service with the People's Liberation Army Navy in 2012. The flight deck is designed to accommodate roughly 50 fighters, including helicopters and fixed-wing aircraft. Originally, Liaoning had a ski jump flight deck for launching aeroplanes. J-15 aircraft, j-10 carrier-based aircraft, z8 ka-31 and ka-27 helicopters are scheduled to be used by Liaoning.
Each installation has 18 cells and is armed with three or four HHQ-10 air defence missile launchers. There are also three short-range weapon systems with a range of 30 millimetres and two anti-submarine missile launchers. The aircraft carrier Liaoning is 999 feet 304 and a half metres long and 124 feet 38 metres wide. seventy-five hundred tonnes of displacement in total
2. NIMITZ ( Largest Warship )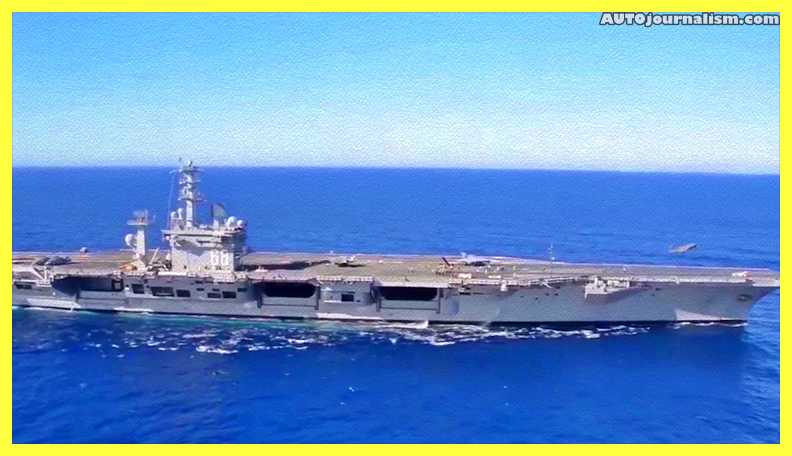 With approximately 6000 troops, crew, and aircraft, the NIMITZ class aircraft carriers were the largest warships ever built until 2017. The carrier has a displacement of 102 000 tonnes, a flight deck of 1092 feet 332.9 meters, and a breadth of 255 feet 78 metres. The 50 tak air wing can include up to 82 planes, with 12 fa-18e f hornets being the most common. 36 hornets fa-18 Fixed-wing aircraft include four e2c hawkeyes and four ea-6b prowlers, as well as four SH-60f and two hh-60h seahawk helicopters.
Three Raytheon GMLS mark 29 8-cell launchers for nato sea sparrow surface-to-air missiles are mounted on the ships. The sea sparrow has a range of 14.5 kilometers and is guided by a semi-active radar terminal.
1. GERALD R. FORD ( Largest Warship )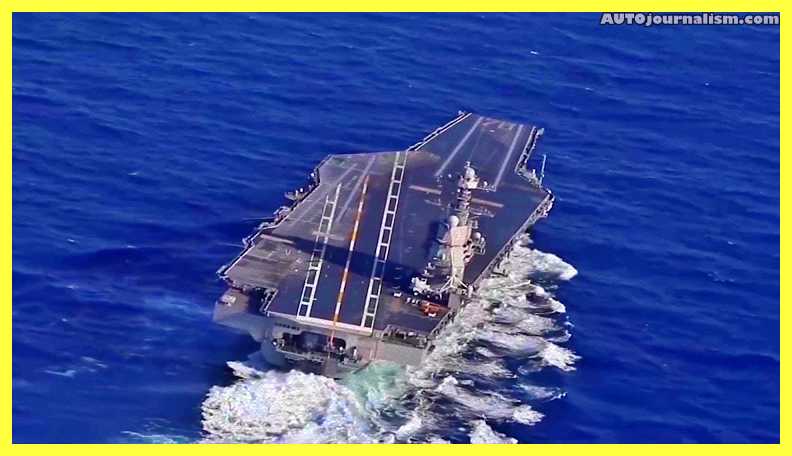 The Ford-class is a successor to the Nimitz-class aircraft carriers, which are the largest and most powerful warships ever built. The carrier is capable of carrying up to 90 aircraft, including the f-35 joint strike fighter, fa 18 ef super hornet e2d advanced hawkeyes ea-18g growler electronic attack aircraft, and MH-60r helicopters, as well as unmanned air and combat vehicles.
the Gerald r ford class is armed with the Raytheon, evolved sea sparrow missile which defends against high-speed highly maneuverable anti-ship missiles the close-in weapon system is the rolling airframe missile from Raytheon and Ramses the aircraft carrier Gerald r ford is the largest warship in the world its length is 1105 ft 337 meters with a width of 255 feet 78 meters the full displacement of the vessel is 98 425 tons.
Thanks for Reading.
NEXT