Top 10 most affordable sports cars for Family 2021
Today we will tell you the Top 10 most affordable sports cars for Family 2021 – We will never get tired of saying that anyone who wants to experience sport driving thrills without the sacrifice of spacious cabins everyday practicality and added clearance should be looking in the direction of performance-oriented crossovers in 2021 the segment becomes even more crowded.
so let's dive into the newest lineup explore the prices for spawner and torque parameters speeds and acceleration times subscribe to Autojournalism.com and you will never miss the upcoming lineup reviews.
Top 10 most affordable sports cars for Family 2021
PORSCHE MACAN GTS
CUPRA FORMENTOR
INFINITI QX55
BMW IX
FORD PUMA ST
VW TIGUAN R
FORD MUSTANG MACH-E GT
JAGUAR E-PACE PHEV
CUPRA ATECA
AUDI SQ2 and AUDI SQ5 SPORTBACK
CARLEX URBAN EDITION HYUNDAI SANTA FE
1. PORSCHE MACAN GTS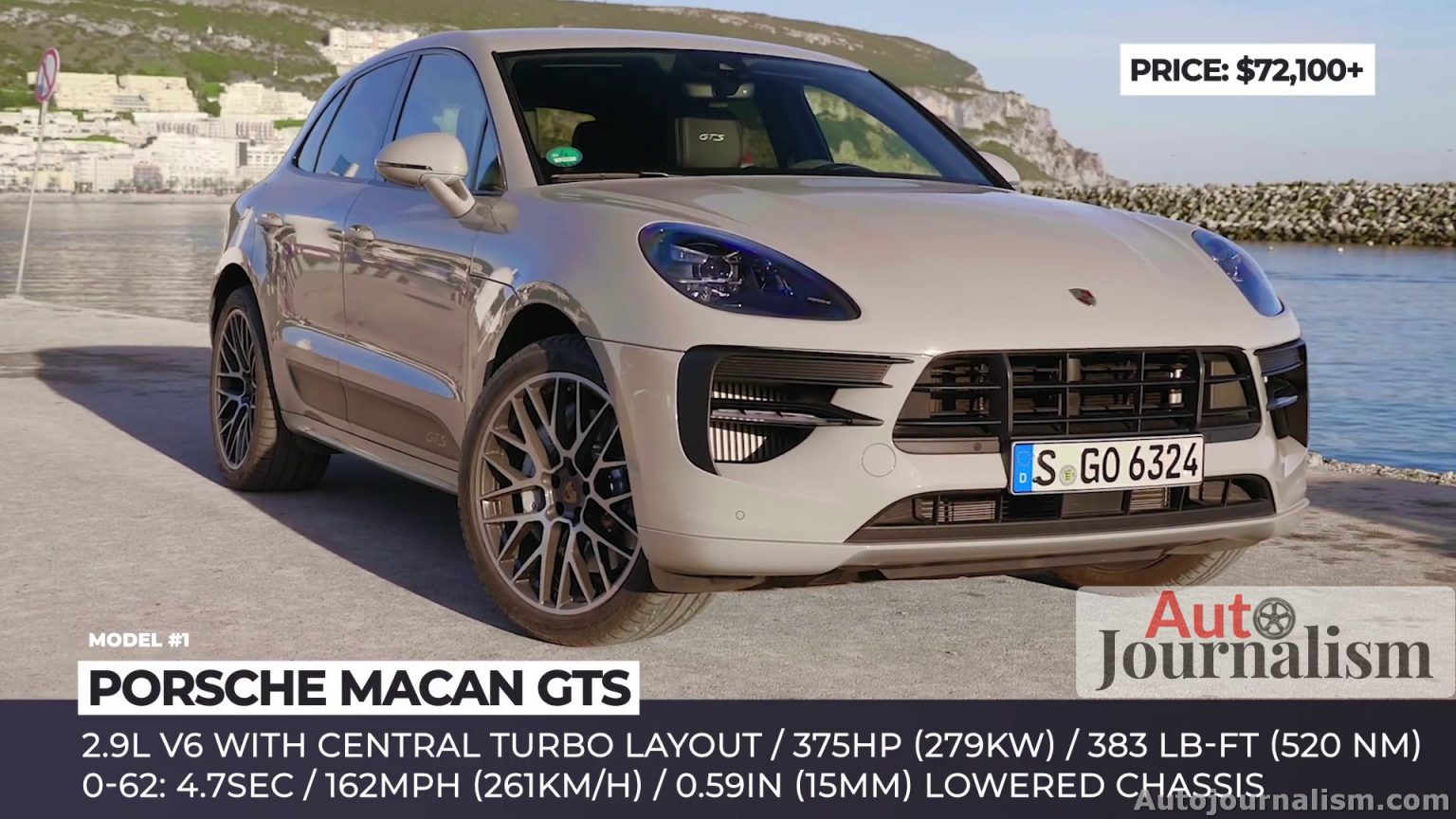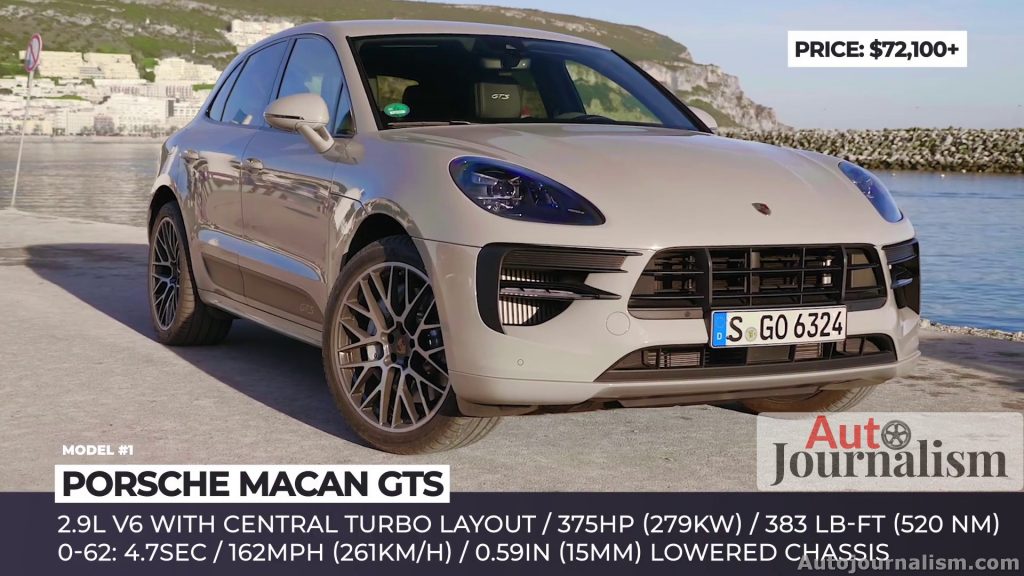 This year the macon midlife update reaches the most driver-oriented trim and the Porsche roster positioned between the s and tupo models the GTS arrives with the new drivetrain combination at heart the previous 3-liter engine is replaced by the 2.9 liter v6 that works in pair with a recalibrated PDK dual-clutch gearbox and features two centrally located superchargers, the mill delivers 375 horses and 383 pound-feet of torque which translates to speedier 0-60 at 4.7 seconds and the maximum velocity of 162 mph the crossover sets on the overhaul chassis setup that is lowered by 0.59 inches
and is equipped with Porsche active suspension management there is also an optional air suspension that additionally lowers the chassis by 0.4 inches the standard features include 20-inch rasp spider design wheels Alcantara and leather interior exclusive sports seats and a multi-function steering wheel with shift paddles.
2. CUPRA FORMENTOR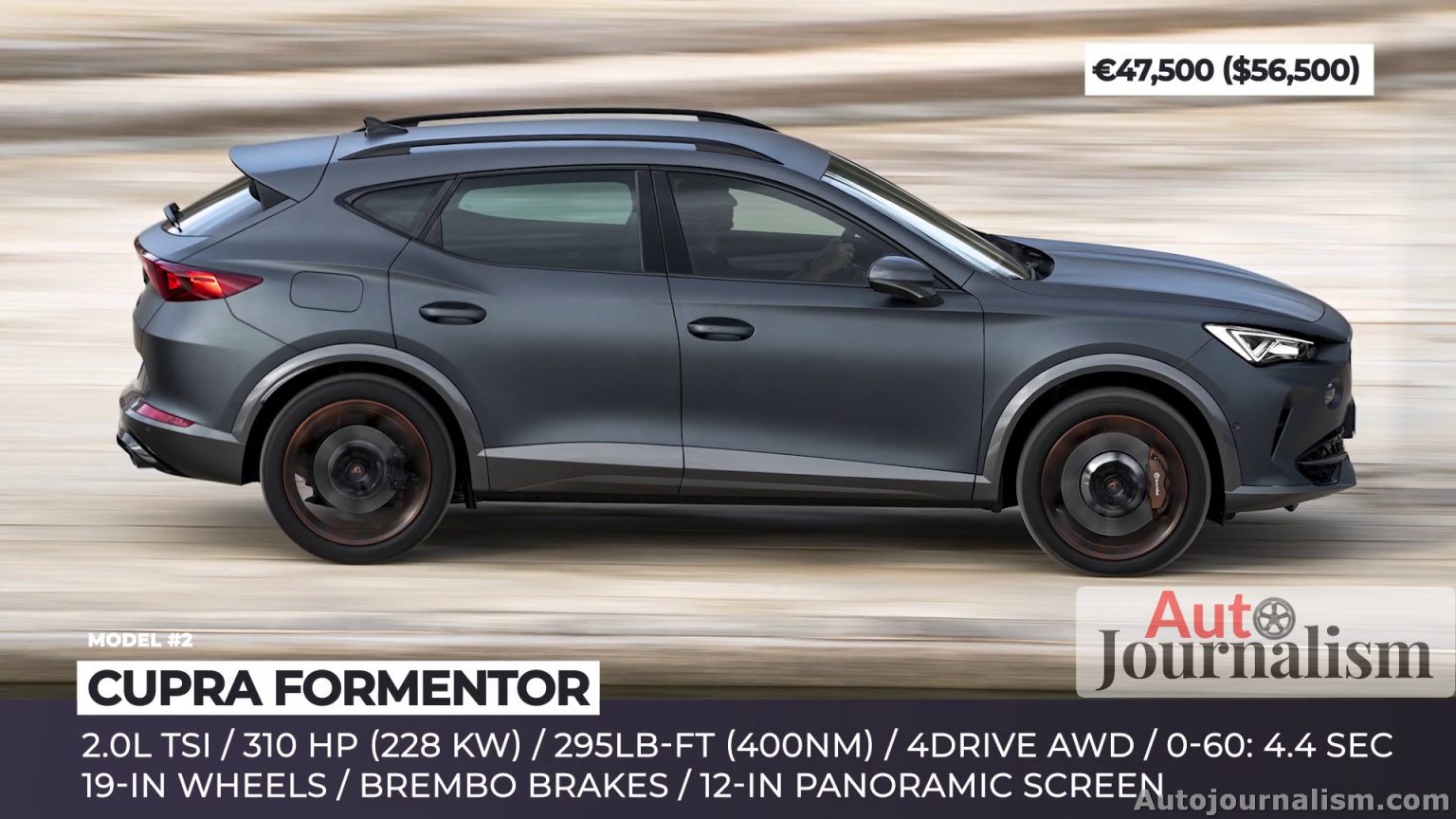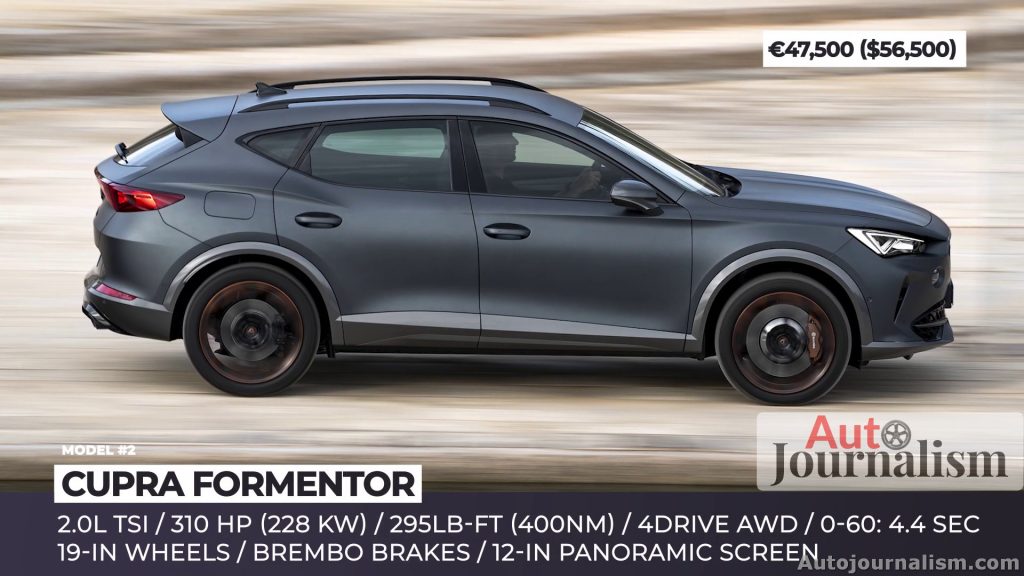 The 70 Percent growth of cooper sales in 2019 indicates that
executives at VW group made the right bet on letting the team fly under its own banners the Formentor is the first exclusive model developed without an analog within the stats tables it rides on the MQB Evo architecture
has low stance sculpted lines and a powerful CUPRA SUV profile in the upper trunks its sportiness is further highlighted with a two-tone exterior and 19-inch machined wheels with copper-colored Brembo brakes the looks are matched with an appropriately powerful engine the 2-liter turbo mill makes from 245 to 310 horsepower has a special cooper driving mode and a 4 drive all-wheel-drive system the interior of the fermenter crossover offers bucket seats available in both petrol blue and black lather a new steering wheel with hidden buttons a 12-inch floating touchscreen and a digital dash
3. INFINITI QX55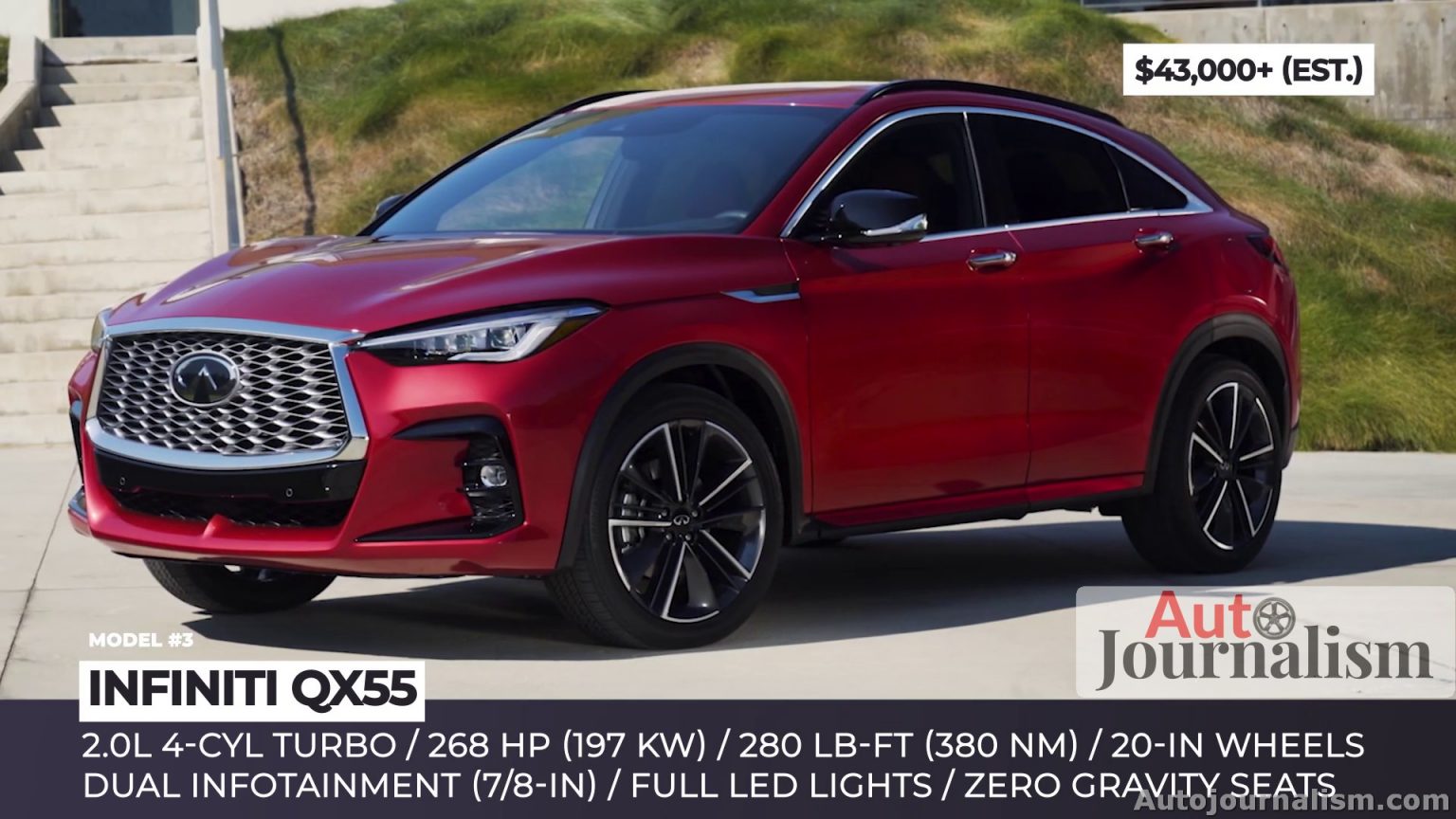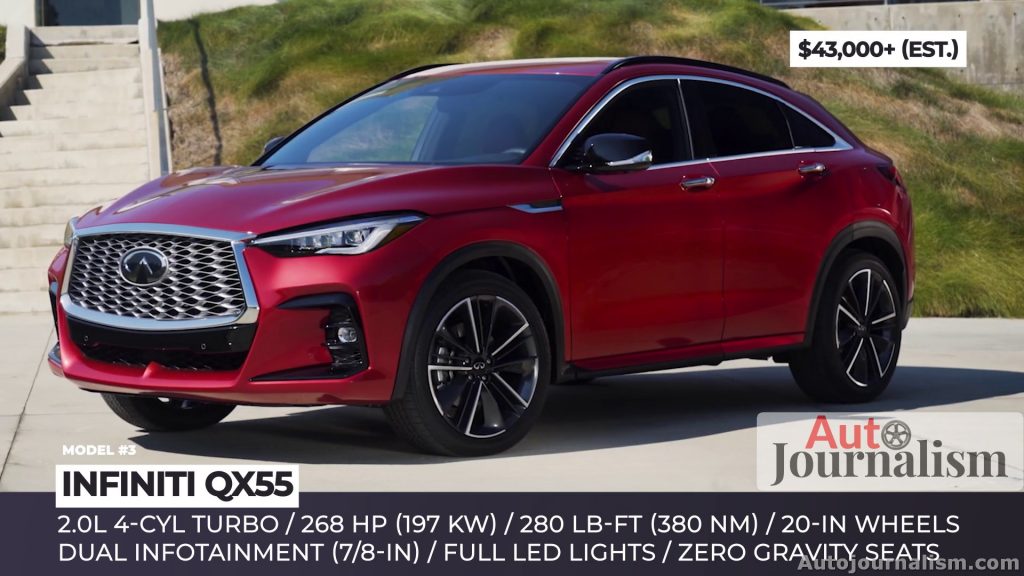 Almost four years after saying goodbye to the iconic Infiniti FX Nissan's premium arm has finally presented its error the new qx55 borrows the effects of styling cues but shares its underpinnings with the current qx50
the massive front end both the company's signature double-arch mesh grille human eye led headlights and huge air inlets beneath them standard 20-inch wheels sit on all four corners, while the sharp liftgate gets unique piano key led tail lights the qx55 is powered by the Infiniti supercharged Best in class 2.0-liter four-cylinder with variable compression this unit outputs at 268 horsepower and 280 pound-feet of torque sending the power to all four wheels as standard the cabin surely features a leather or semi-analyzed leather upholstery and a dual infotainment system consisting of upper 8 inches and lower 7-inch screens, there is plenty of USB ports wireless apple carplay connectivity and optional bose audio with 16 speakers
4. BMW IX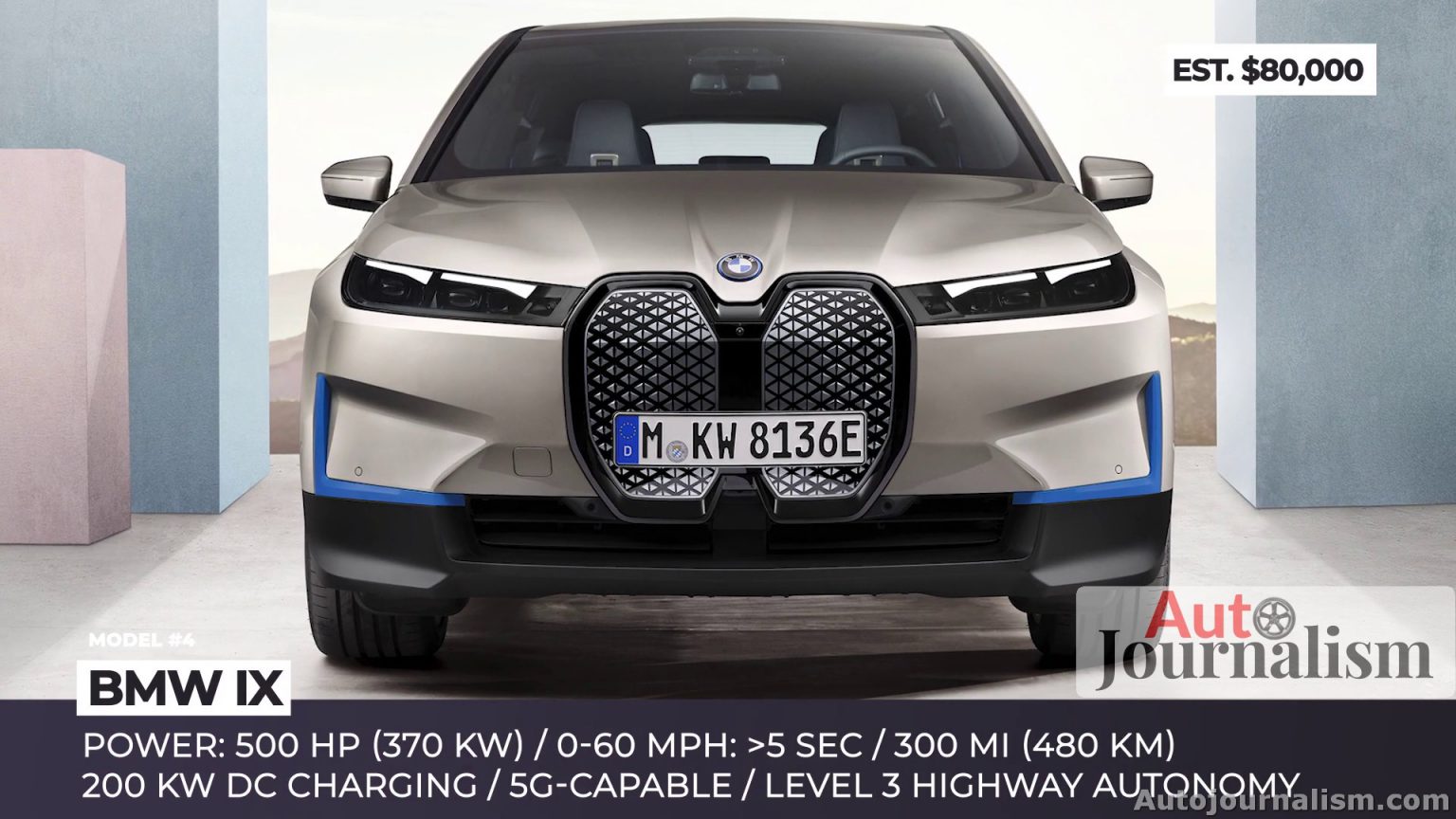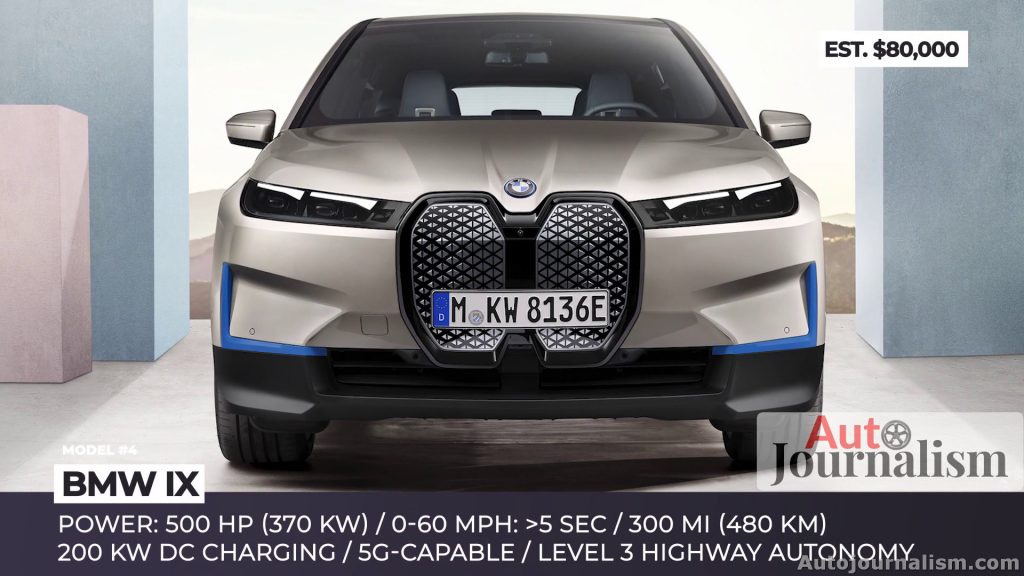 We do know that BMW will be putting an amp badge on their future electric cars but the recently unveiled ax model does not seem to need one to qualify as a performance SUV,
its scalable future toolkit platform incorporates the fifth-generation BMW e drive e-drive dual-motor all-wheel-drive powertrain that makes 500 horsepower, this is enough to propel the crossover to 60 miles per hour
in under 5 seconds, the Bavarians are promising to use
the minimum amount of rare earth materials in the 113-kilowatt hour battery of the i – Axis CV.
This capacity comforts 300 miles range and the pack can recuperate at 200 kilowatts, this BMW has a rather controversial exterior design
but its cabin makes up for the first impression with the appropriate use of sustainable materials full panoramic roof and 20 times faster onboard computer that synergizes a 12.3-inch dashboard and a 14.9-inch infotainment screen.
5. FORD PUMA ST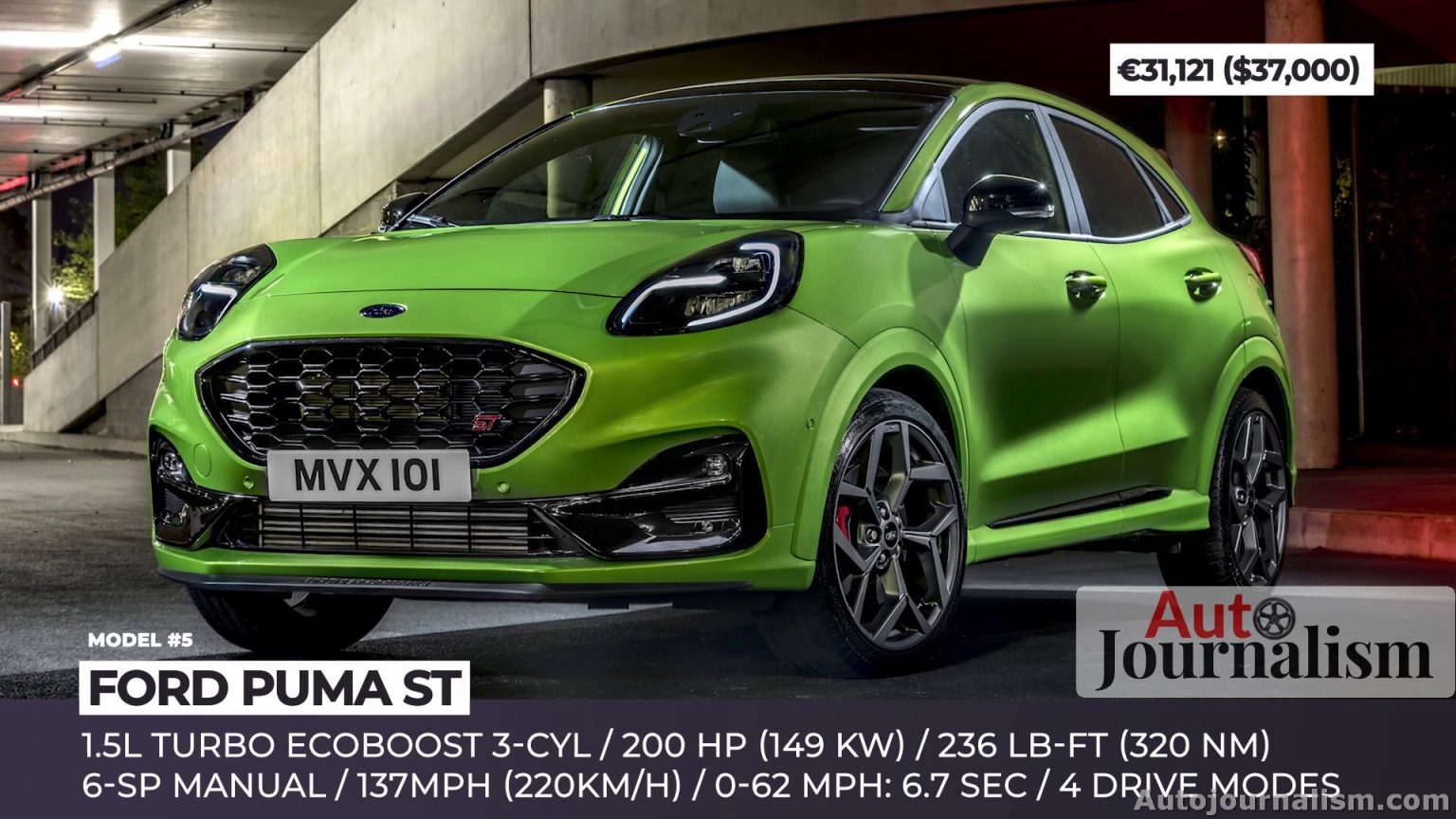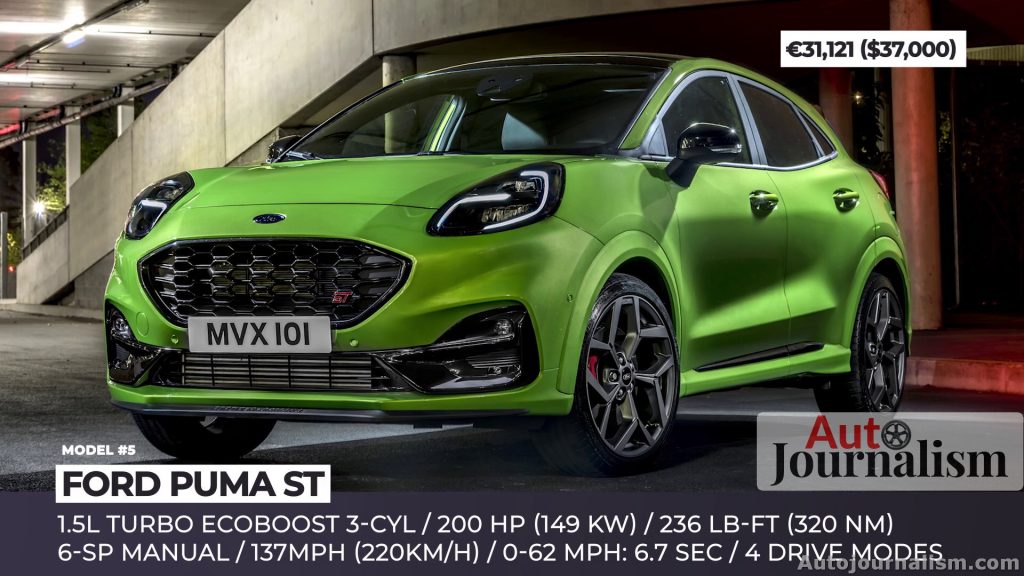 Riding the subcompact crossover's popularity wave for thus introducing a new puma sd version that no longer just mimics the sporty looks but actually adds something to the model's performance.
it borrows the 3-cylinder 1.5-liter turbocharged echo boost from the fiesta st
and pairs it with a six-speed manual this duo yields 200 horsepower and 236-pound feet or in the velocity terms 137 miles per hour and 6.7 seconds zero to 62.
The sd sets lower to the ground gets a stiffer suspension setup
and offers wave mechanical limited-slip differential as an option the ride does feel sportier especially when you shift from normal to sport or track driving modes inside the car looks more charismatic there are heated bolstered Recaro sports seats with st logo, A flat-bottom steering wheel, and an st shift knob the infotainment is represented by the 8-inch sync 3 while the digital instrument cluster is a 12.3 inch diagonal.
6. VW TIGUAN R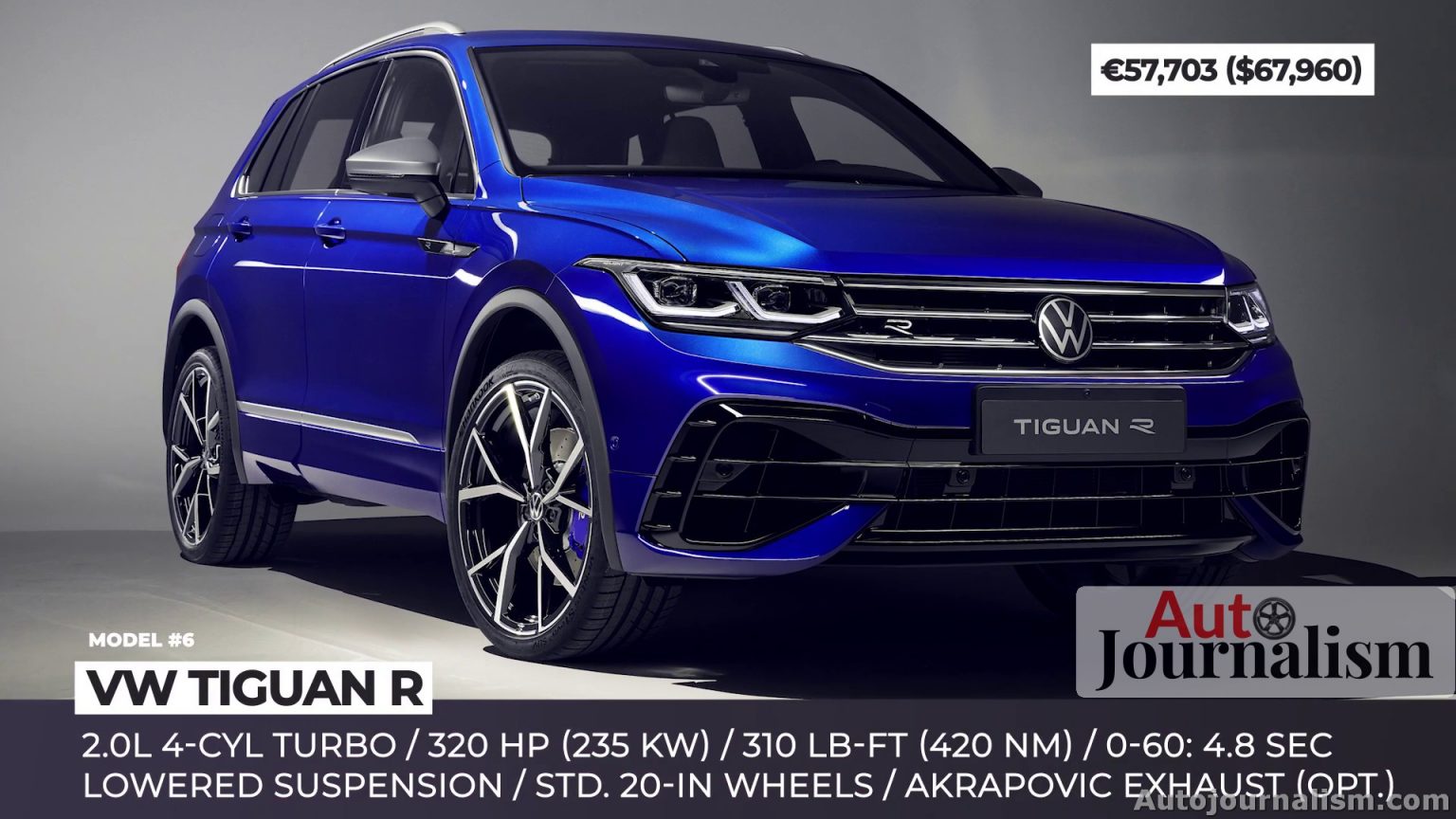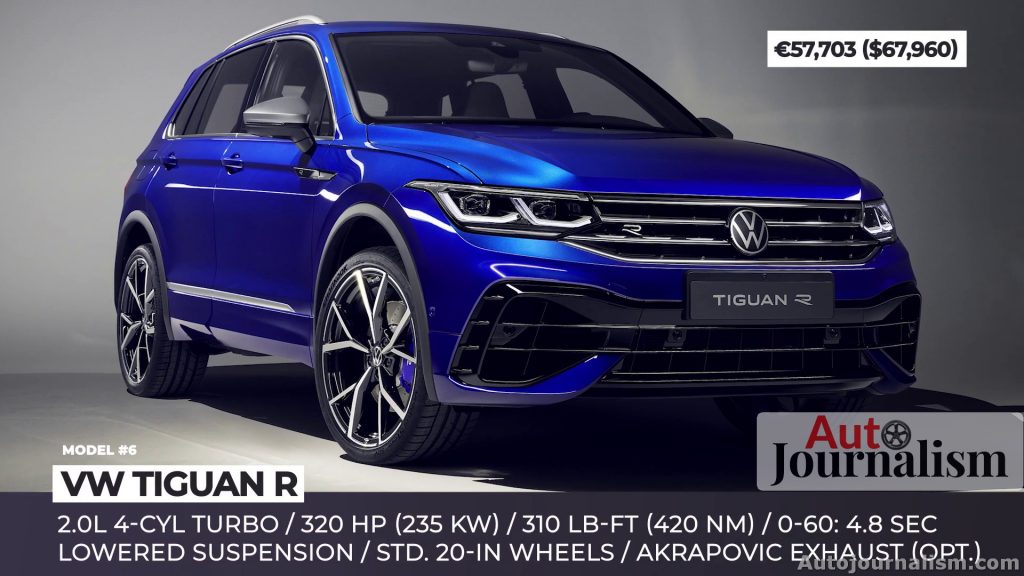 VW TIGUAN R are released as a part of the Tiguan's 2021 update this is the first-ever performance-focused version of the model on the outside it boasts a refreshed front fascia with a wider grille featuring three horizontal chrome slots and massive side air intakes the r treatment also adds standard 20-inch wheels upgraded brakes with painted calipers and an optional corporate exhaust the flagship gets the latest generation VW 2-liter TSA.
the engine as well as the updated Formotion all-wheel drive with variable torque factoring with 316 horsepower and 310 pound-feet of torque under the hood.
This UV can sprint from 0 to 60 in 4.8 seconds another highlight of the model is its active suspension setup that lowers the car by 10 millimeters the
our cabin is set apart by the exclusive sports seats with head restraints new r logos customized digital cockpit and a multi-function steering wheel equipped with paddle shifters and a special r mode button.
7. FORD MUSTANG MACH-E GT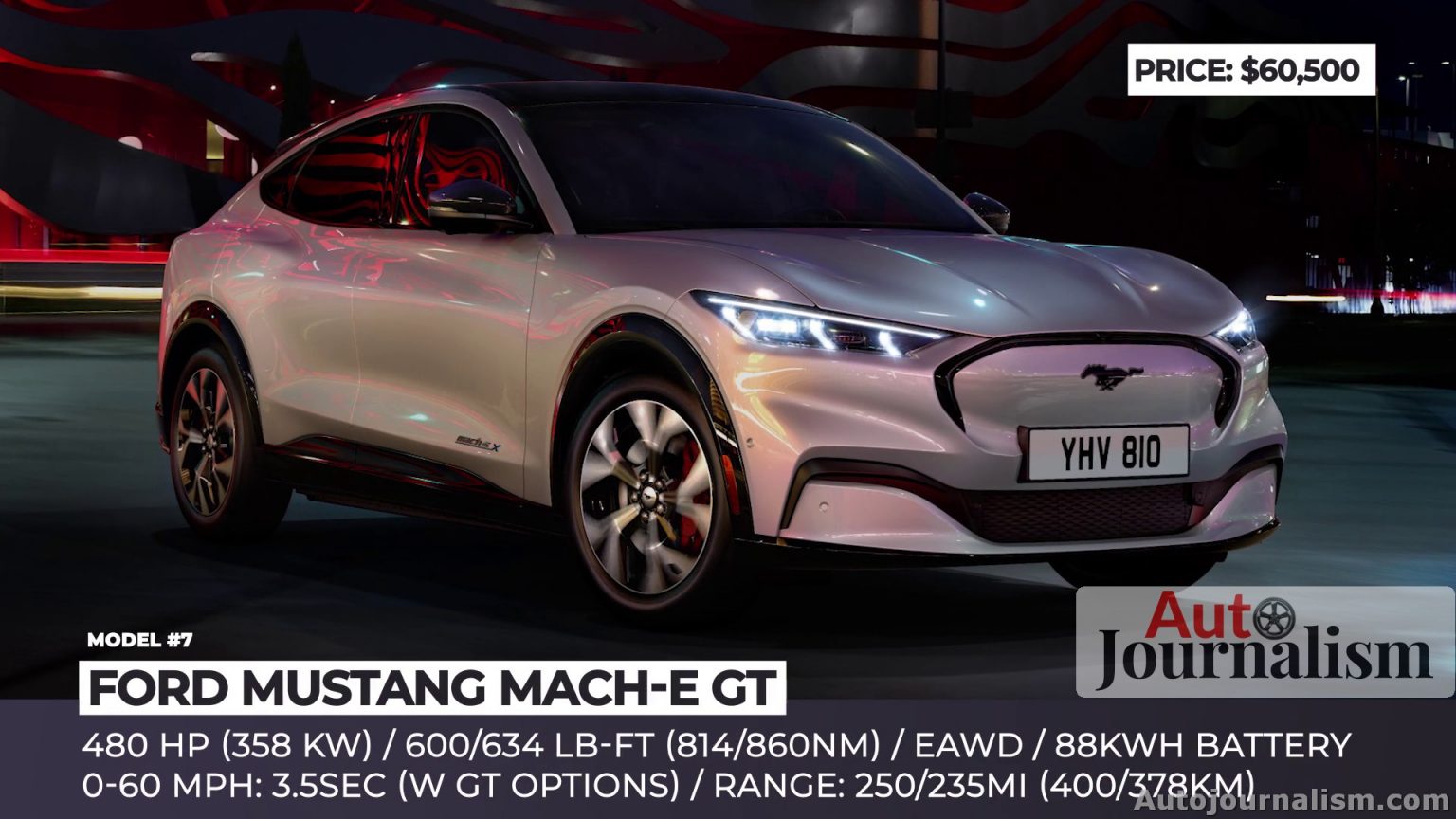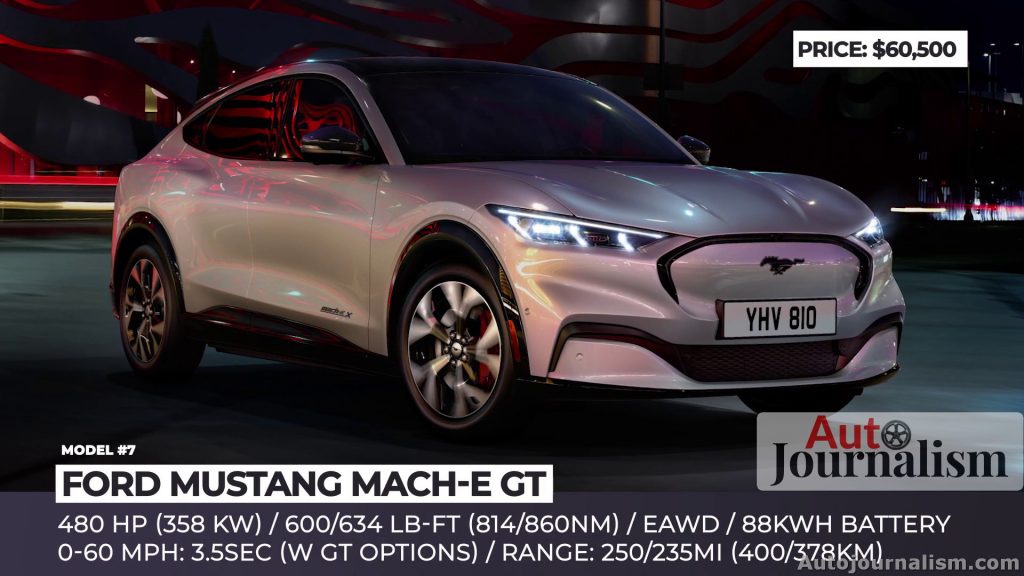 Carrying the iconic badge in the middle of its face the new mustang crossover has to live up to its muscle car heritage and performance standards for this reason ford has developed the MACH-E GT trim that will not let you go unnoticed on the roads offered in the base and performance edition versions
the gt promises e0 wheel drive with 480 horses and 600 or 634 pound-feet of torque respectively, the crossover 0-60 acceleration is targeted
at 3.8 seconds for the gt and 3.5 seconds for the gt performance, both modifications are used by the mustang's extended range 88-kilowatt hour battery pack that is compatible with 150-kilowatt charging here it promises from 235 to 250 miles of driving other worthwhile features of the gt siblings include larger 20-inch wheels bucket seats with heating unique interior design and an all-new vertical 15.5-inch sync 4a infotainment.
8. JAGUAR E-PACE PHEV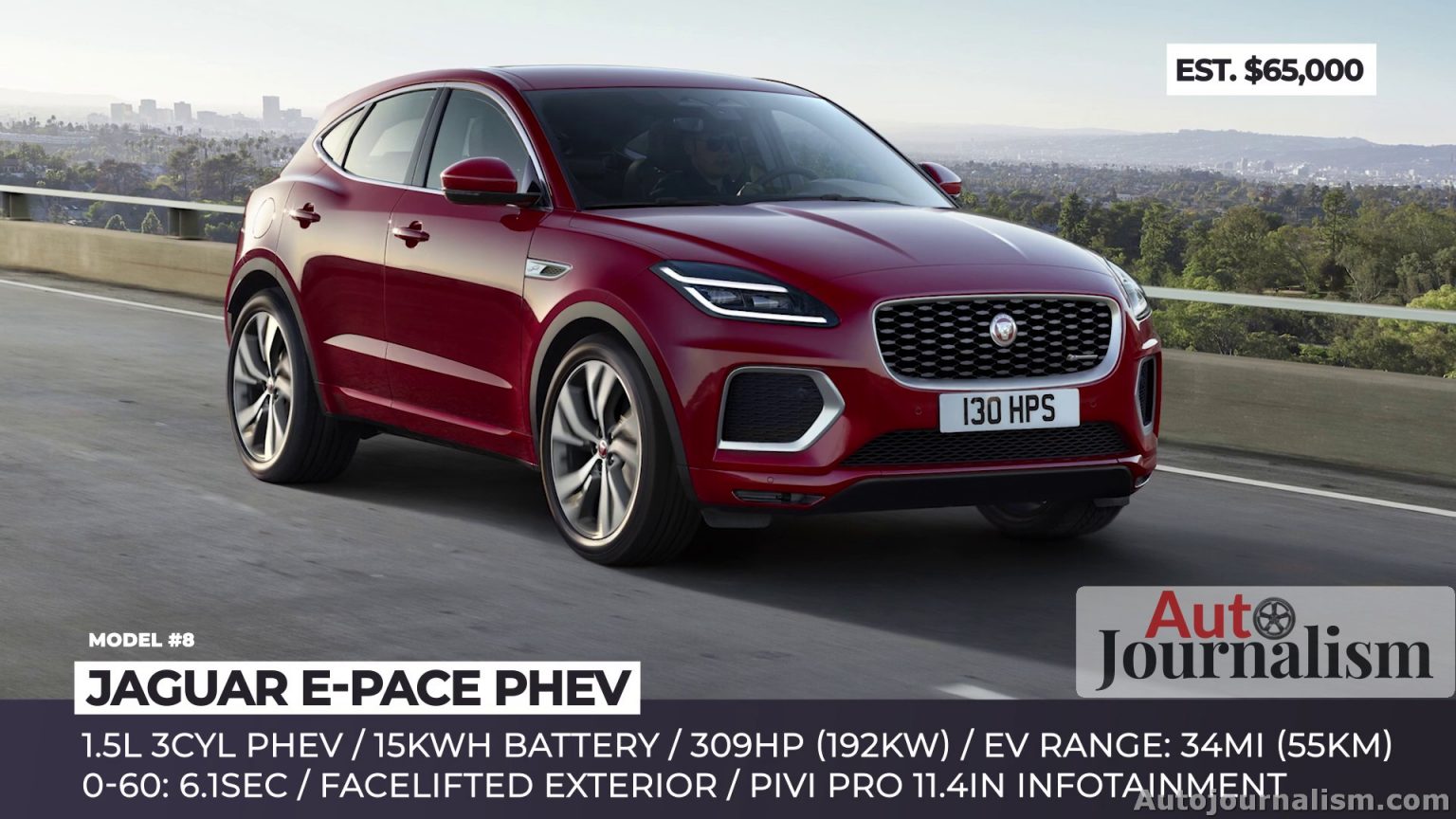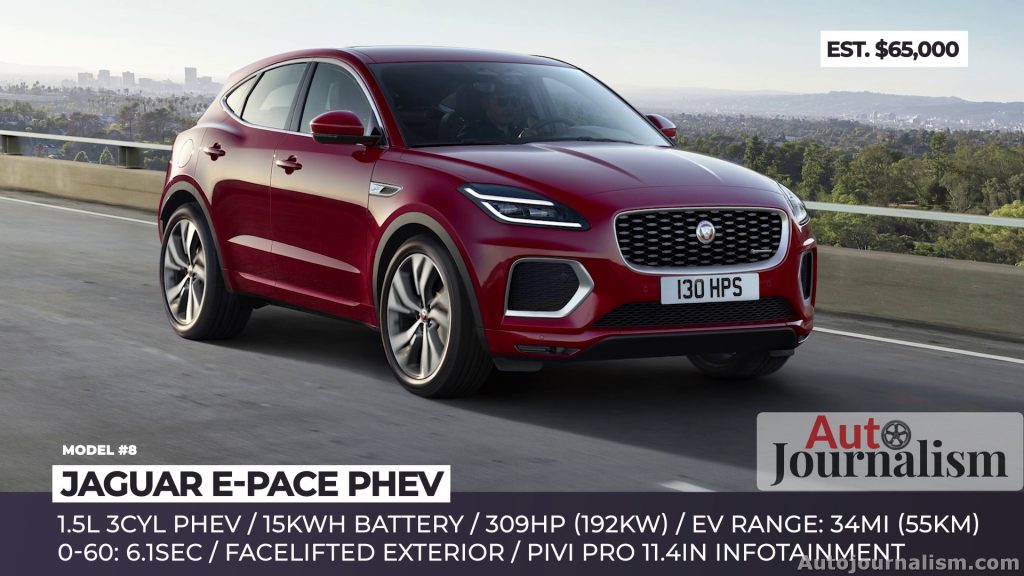 JAGUAR E-PACE PHEV Plug-in hybrid, this compact luxury crossover is getting new underpinnings a fresher face, and a more connected cabin this year
but on this release, we're mostly interested in the arrival of the all-new plug-in hybrid model that will occupy the top of the e-pace food chain both in pricing and performance, the PHV is based on the 1.5-liter three-cylinder engine assisted by a rear axle electric motor with 109 horses the total system output is measured at 309 hp while the 15-kilowatt hour battery pack that drives the motor promises 34 miles of juice the top speed of the model
remains undisclosed but 0 to 60 acceleration is quite brisk taking 6.1 seconds, unfortunately, jaguar does not seem to have plans to bring the epay speed tv to us.
so here the top performer has the 300 sport model with mild hyper-tech 300 ponies and 0-60 of 6.6 seconds.
9. CUPRA ATECA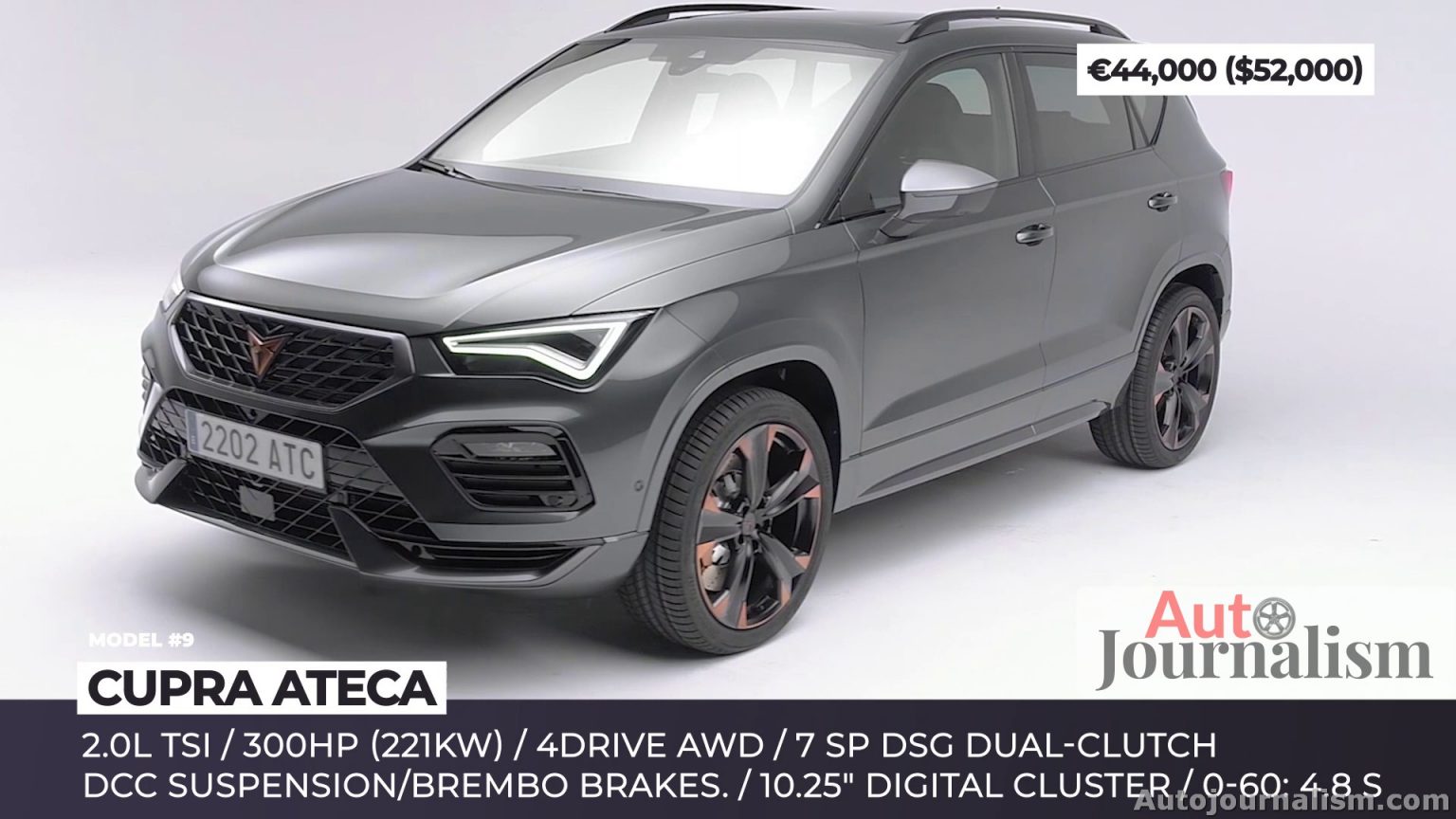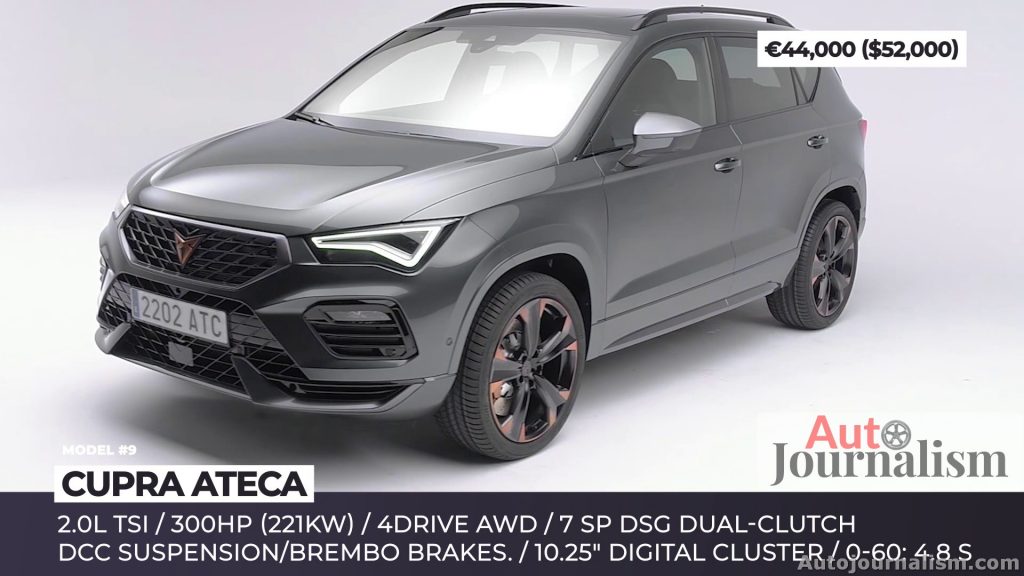 This model will forever remain monumental within cooper's lineup since its immediate success solidified the independence of the brand the 2021 facelift does not disturb the already winning formula, so one will only notice a slightly reworked grille with sharper led headlights inspired by the latest Leon
new bumpers rear lights and a set of alloy wheels with copper touches the cooper attacker keeps its heart punching supercharged 300 horsepower 2 liters 4 cylinders and a 7-speed dual-clutch it does, however, reconfigure the 4 drive system steering and throttle response to cut the 0 to 60 time under 5 seconds the 17-inch brakes are not standard but you can opt for the Brembo 18-inches and also improve the engine sounds with the Akrapovic exhaust finally, the cabin gets a 9-inch infotainment a 10-inch digital dashboard and the car occupants are more thoroughly protected with a higher level of driver assistance.
10. AUDI SQ2 and AUDI SQ5 SPORTBACK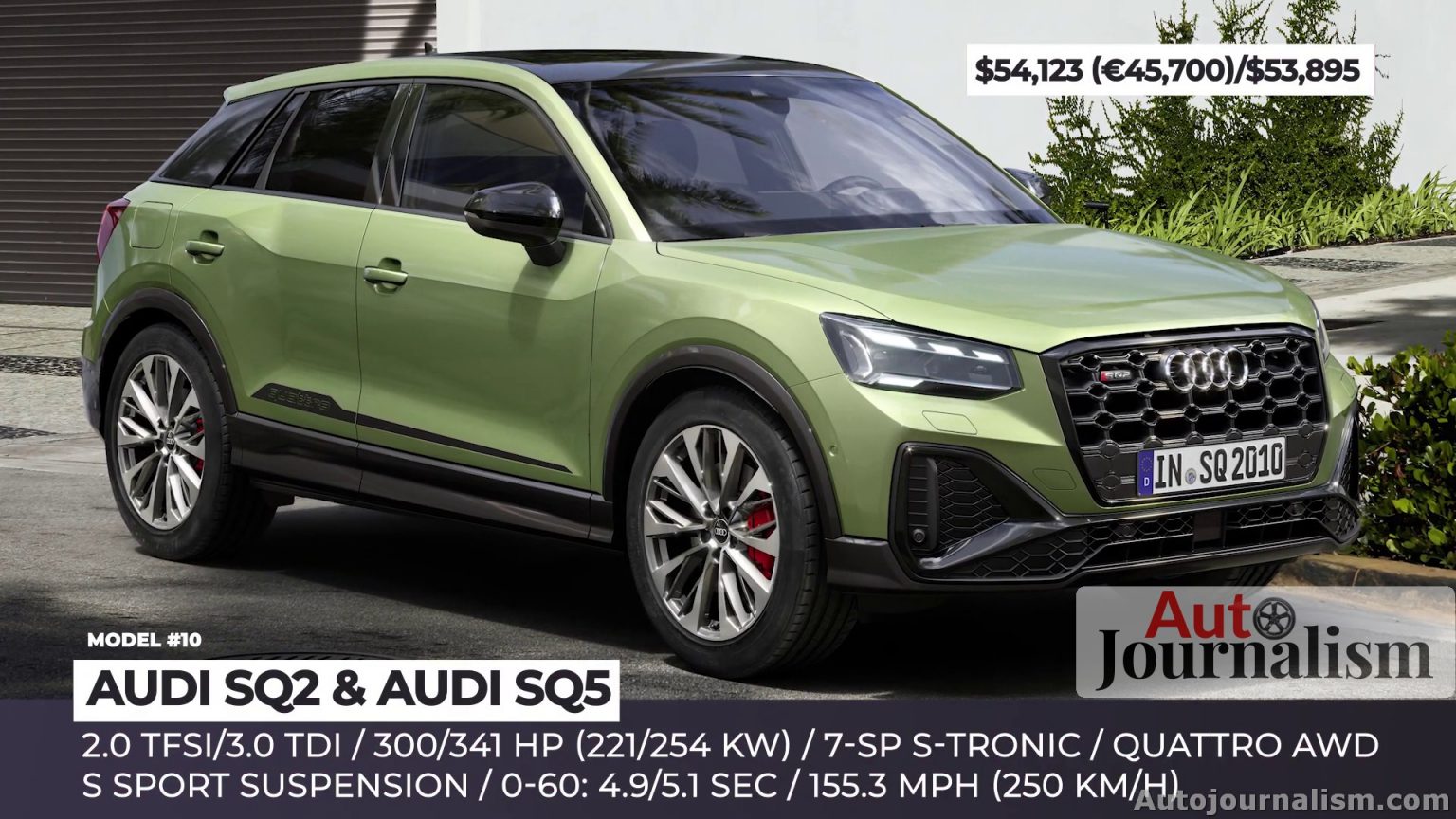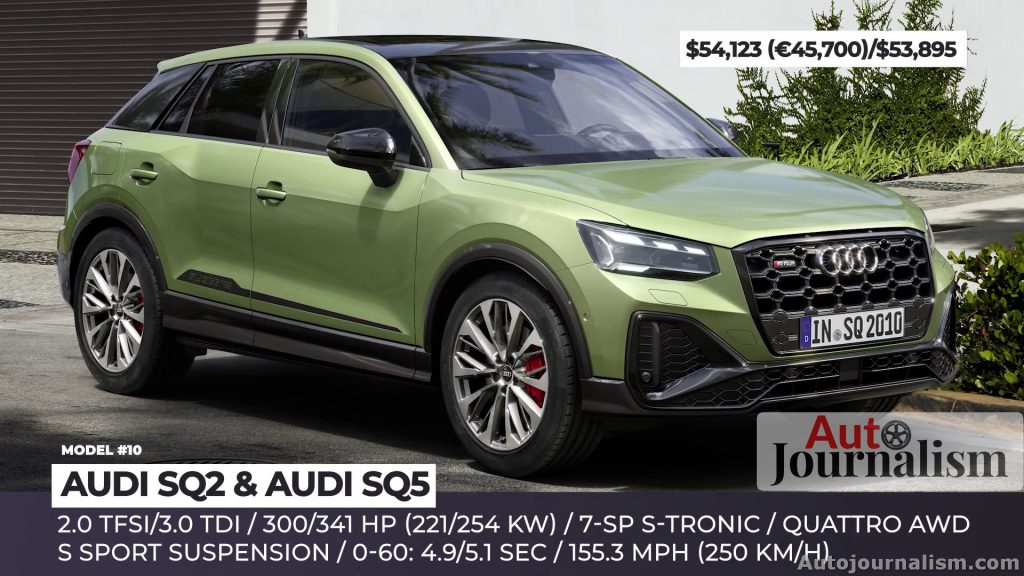 Among the 2021 additions to the smaller tier of the Audi sq family are the facelifted subcompact crossover sq-2 and the all-new compact sq5 Sportback the former gets an even sportier appearance thanks to the revised bumpers and headlights, it adds new Audi connect services and ss systems while keeping the strong performance of a 300 Horsepower 2.0-liter TFSI Quattro with all-wheel drive and s-sport suspension.
In turn, the new version of the sq5 activates with its coupe SUV profile optional front matrix led technology and digital OLED rear lights its line is stopped by the mighty 3-liter TDI that offers concentrated power of 341 hp and 516-pound feet this model could be equipped with a standard S-port suspension or an alternative adaptive best in class air suspension with total controlled dampers.
11. CARLEX URBAN EDITION HYUNDAI SANTA FE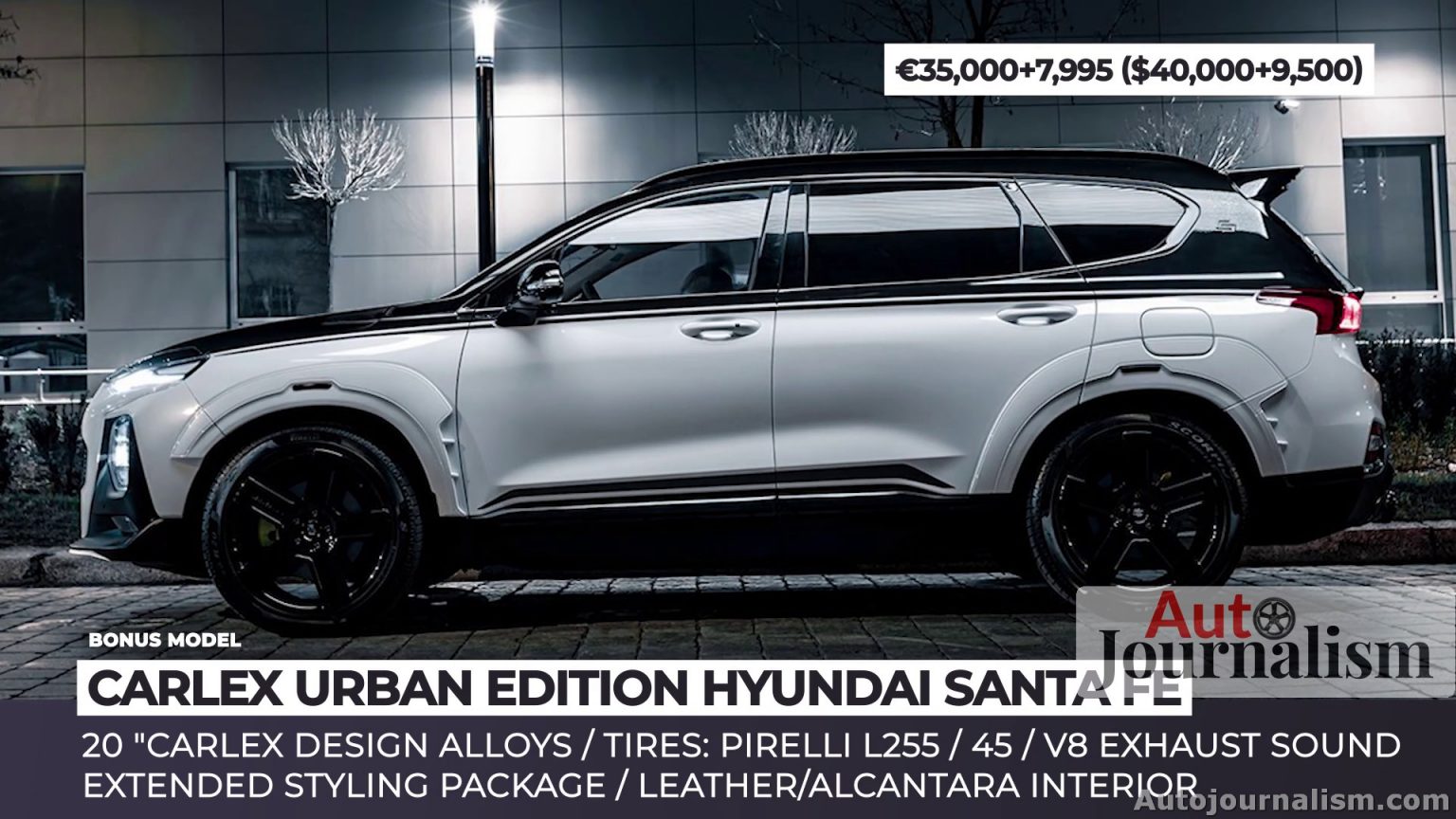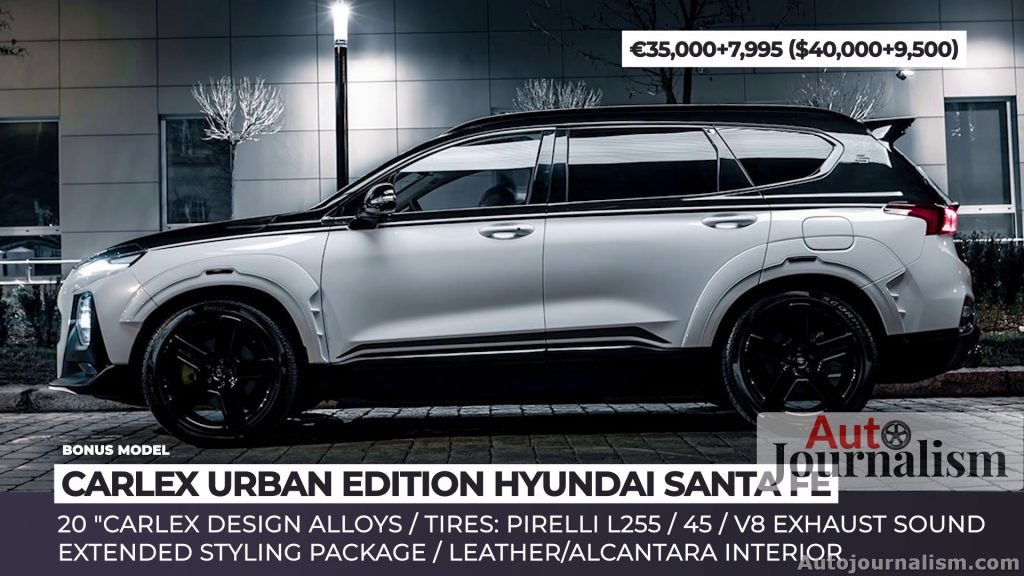 ( Bonous )
let's say your family requires a spacious yet still affordable family SUV but you would still prefer driving a sporty looking performance model well consider this compromise offered by carlex. who've created a beastly looking body kit for the humble Hyundai Santa Fe the urban edition adds aggressive body panels all around a small rear spoiler and a diffuser it puts the family holder on the black tiled 20-inch carlex design alloy wheels wearing Pirelli l-255 tires even more magic is taking place inside the cabin where the interior was reworked and lather and Alcantara bucket seats were installed and the steering wheel has a new shape and Alcantara upholstery.
Mention your favorite models in the comment box and let us know what you think about this crossover class make sure to subscribe to Autojournalism.com not to miss the upcoming reviews of sports SUVs of 2021.
Link:-