TOP 10 Pickup Trucks For Family Use and Adventure
Today We will tell you The TOP 10 Pickup Trucks For Family Use and Adventure In a world where many people would be more than happy to live outside of suffocating cities, there can not be too many pickup trucks so today we're delivering to you yet another round down of the newest models, this batch is even more capable than before and includes offerings from a variety of international markets it is time to explore the newcomers so subscribe to Autojournalism.com and enjoy the ride.
FORD F-150 POWER BOOST PICKUP TRUCK

GMC HUMMER EV PICKUP TRUCK

HONDA RIDGELINE PICKUP TRUCK

NISSAN NAVARA PICKUP TRUCK

TOYOTA HILUX PICKUP TRUCK

REZVANI HERCULES 6X6 PICKUP TRUCK

MAZDA BT-50 PICKUP TRUCK

RAM 1500 TRX PICKUP TRUCK

LORDSTOWN ENDURANCE PICKUP TRUCK

ISUZU D MAX PICKUP TRUCK

BRABUS 800 XPL ADVENTURE PICKUP TRUCK
1. FORD F-150 POWER BOOST PICKUP TRUCK ( Pickup Trucks For Family Use )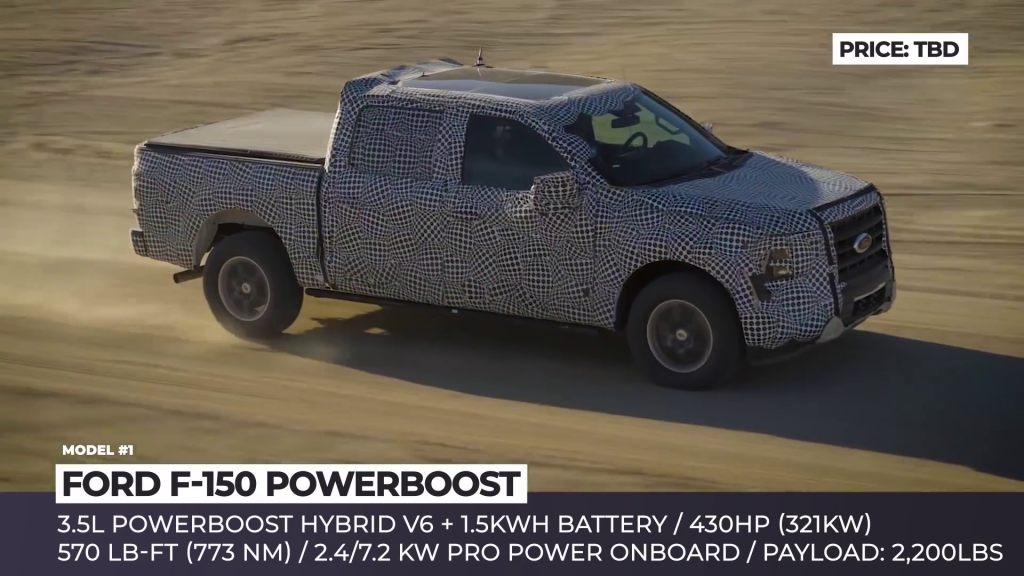 The latest example of ford's built-up philosophy comes in the form of the first-ever hybrid version of the iconic F -150 pickup this model belongs to the new 14th generation of the truck. So, it keeps the proven high strength steel frame but gets 92 percent of all components redesigned the new power bus hybrid system consists of a New 3.5 liter EcoBoost V6A 47 (HP) horsepower electric motor and a 1.5 – kilowatt-hour battery pack the system nets a healthy 430 horses and 570-pound feet making the power bust the torquiest F -150 out there, this output is transferred to the rear or all four wheels via 10-speed automatic, we should also highlight the longevity of the truck's battery.
Since according to ford it did withstand hardcore testing made equivalent to 10 years of wear and tear, the pickup is rated for 2200 pounds of payloads can tow 12,700 pounds, and has up to 7.2 kilowatts of New exportable power for work tools.
2. GMC HUMMER EV PICKUP TRUCK ( Pickup Trucks For Family Use )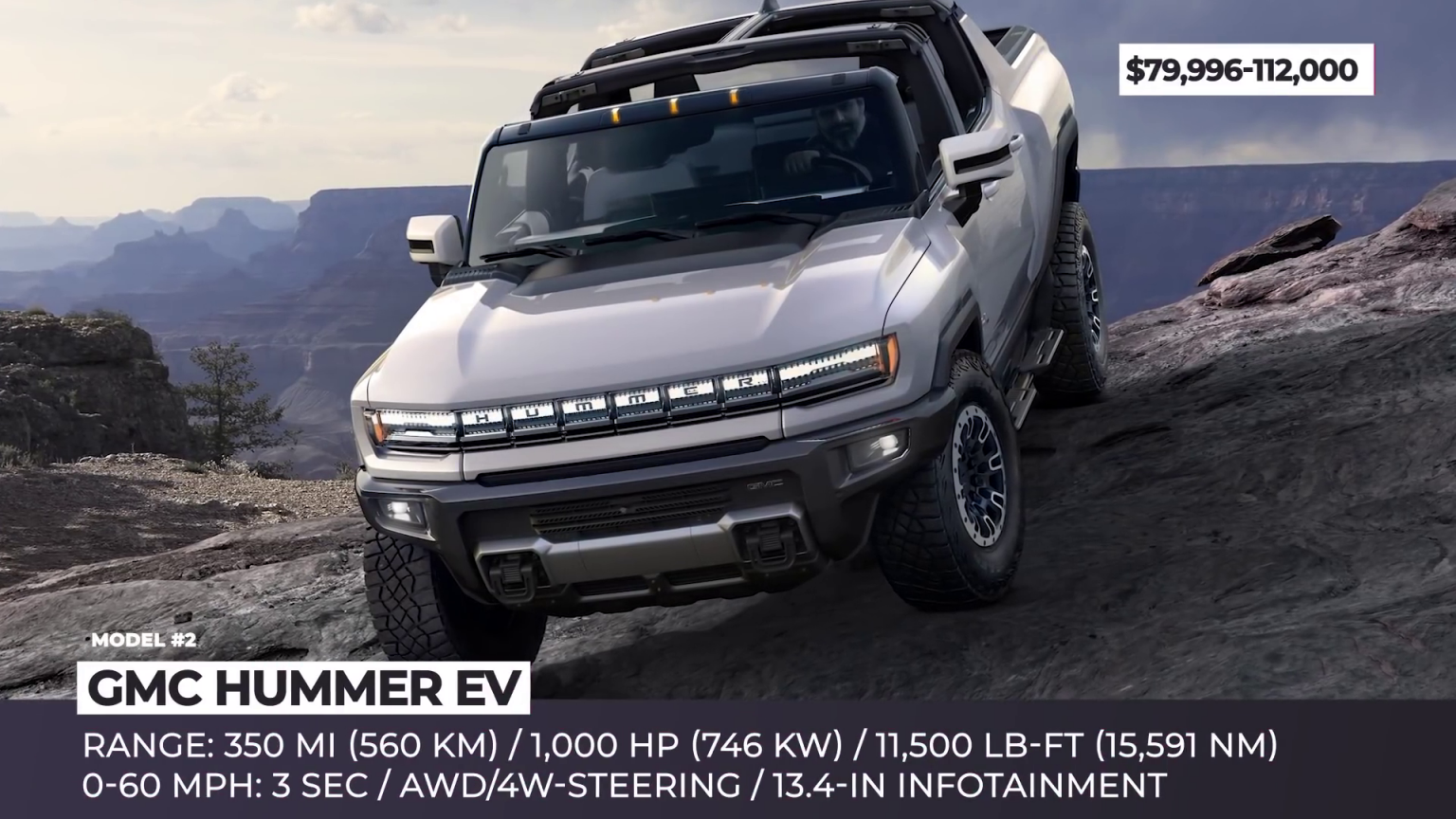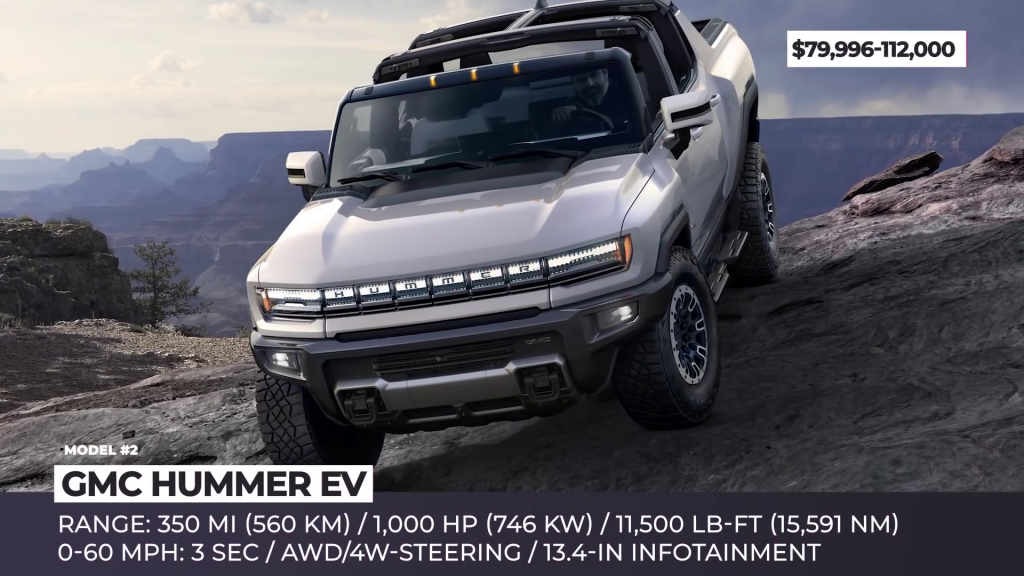 Once discontinued as a wasteful gas guzzler in 2021 the almighty hummer returns as an all-electric super-truck of tomorrow its powertrain are comprised of jam's proprietary LTM battery pack and three motors with standard all-wheel-drive capability, We are looking at 350 miles range recharging at 350 kilowatts 1000 horsepower and around 1100 pound-feet of torque though GMC prefers to quote white misleading 11,500 pound-feet of wheel torque on the open road the hammer review drives like a supercar with three seconds 0 – 60 in the wild, it utilizes adaptive air ride suspension to lift the clearance by six inches rides on 35 – 37 inches tires and has 4 wheel steering with the revolutionary grab walk mode the cabin combines luxury with legit high tech featuring a massive 13.4-inch infotainment
digital dashboard and infinity roof with modular sky panels to give you an unbeatable open-air experience.
3. HONDA RIDGELINE PICKUP TRUCK ( Pickup Trucks For Family Use )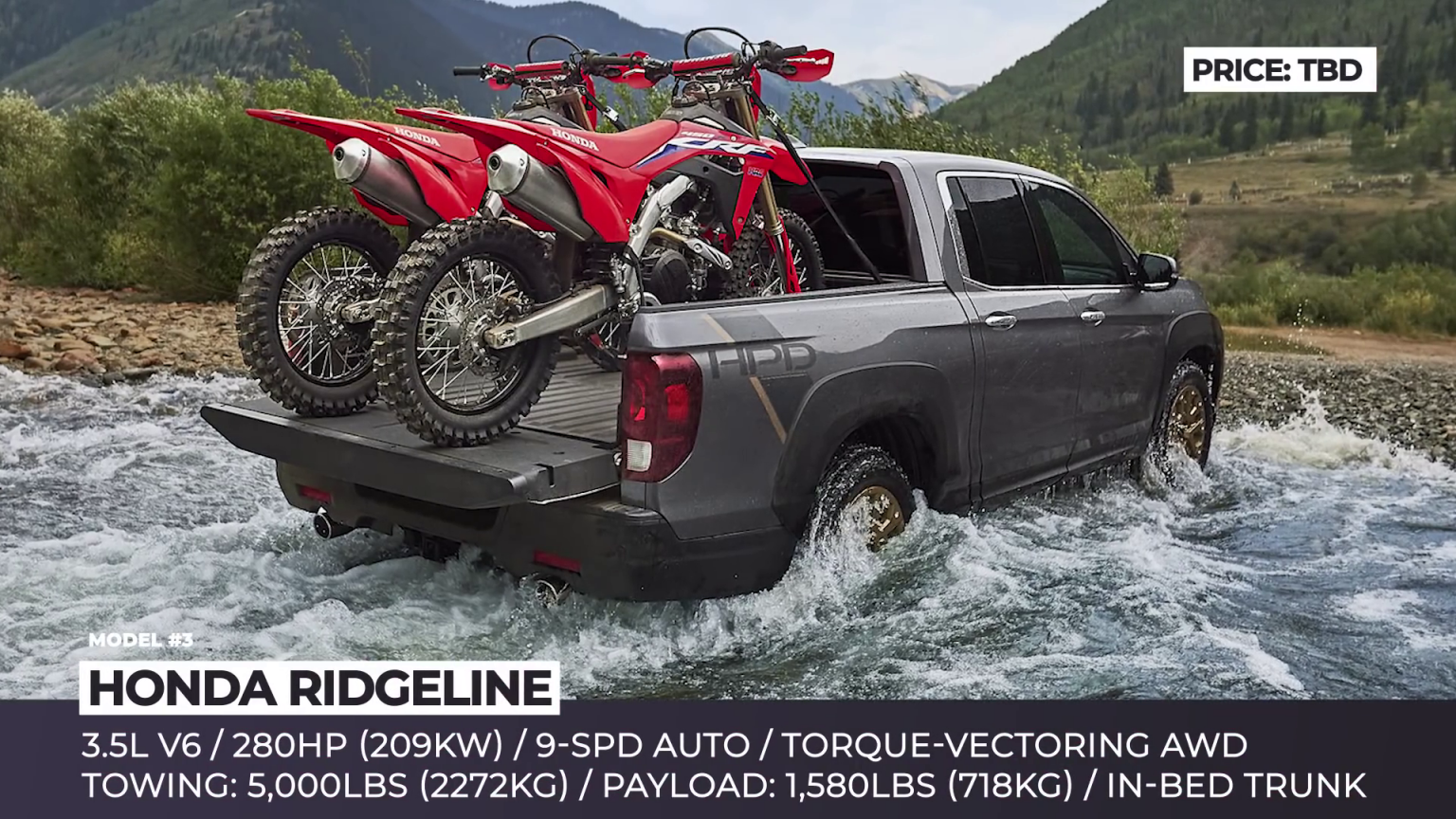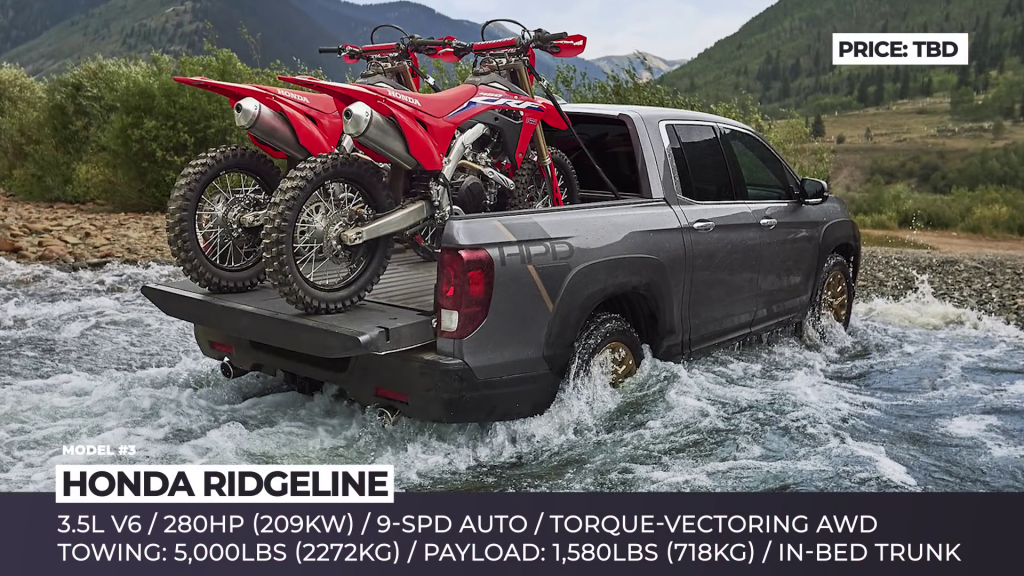 Honda's one and only pickup debuted as a second-generation model back in 2017
but each subsequent year the Japanese brand has been quite generous with the updates
2021 is not an exception and it brings a midlife facelift for the model the truck wears all-new sheet metal upfront and gets redesigned food new front fenders and a more upright grille, the new led headlights are responsible for the battery illumination while the beefier 18-inch wheels with all-season tires are here to overcome challenging road conditions no updates come for The ridgeline Pickup Truck's 3.5-liter v6 engine and it still peaks at 280 horses and 262 pound-feet of torque, the mill is mated to the 9-speed automatic introduced last year and it can be optioned with a honda's torque-vectoring all-wheel-drive the cabin of the truck offers several new styles for different trim levels it comes equipped with an updated audio system and has an improved infotainment interface.
4. NISSAN NAVARA PICKUP TRUCK ( Pickup Trucks For Family Use )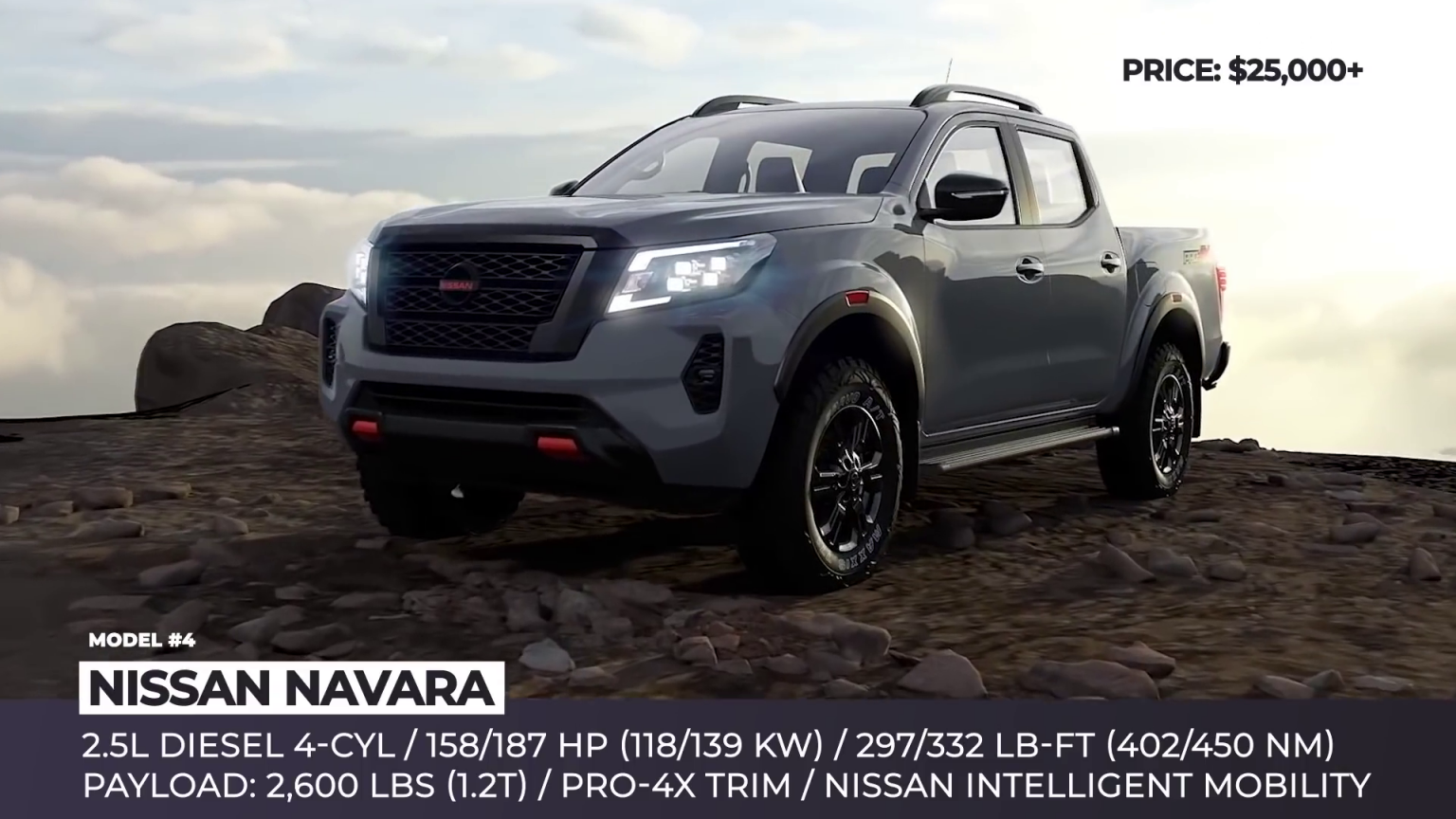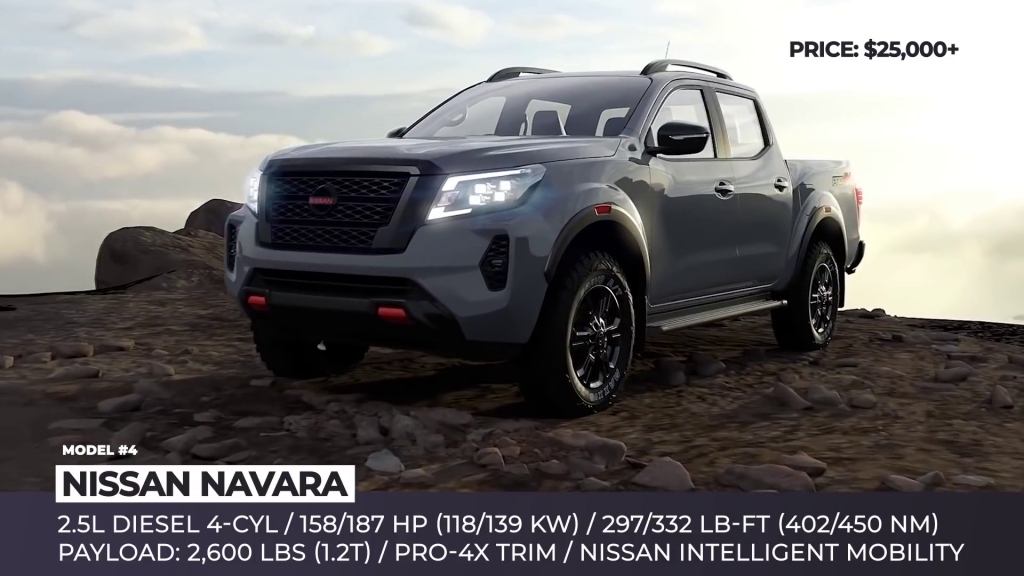 Despite its proven reliability records and affordable pricing, The Navara AK frontier pickup has been in dire need of an upgrade to be considered a decent buy the 2021 facelift finally resolves this issue but for now, it only covers models sold on the European and South American markets the new milestone and the Nissan next transformation plan brings unbreakable design language introduces a strengthened rear axle increases payload capacity and provides additional truck bed volume the rocketized exterior incorporates an interlocking frame grille and high squared led headlamps with c-shaped URLs
for the first time, the model is additionally offered in the pro 4x trim with orange accented front bumper black tiled exterior elements roof racks, and 17 inches all-terrain tires, the occupants of the new Nevara are thoroughly protected by the Nissan intelligent mobility safety suite while at its heart remains the good old 2.5-liter four-cylinder diesel and two states of tune 158 and 187 horsepower.
5. TOYOTA HILUX PICKUP TRUCK ( Pickup Trucks For Family Use )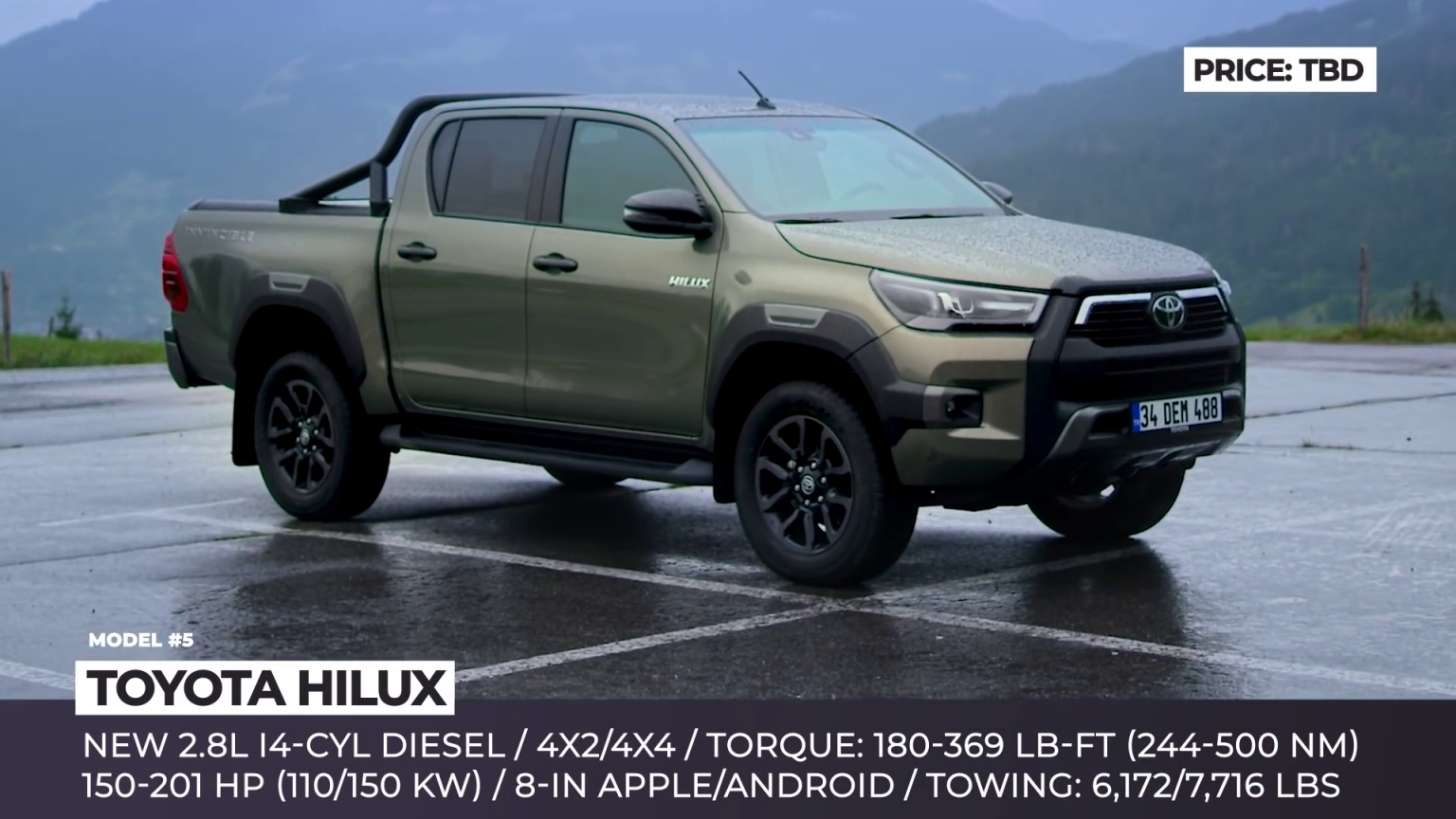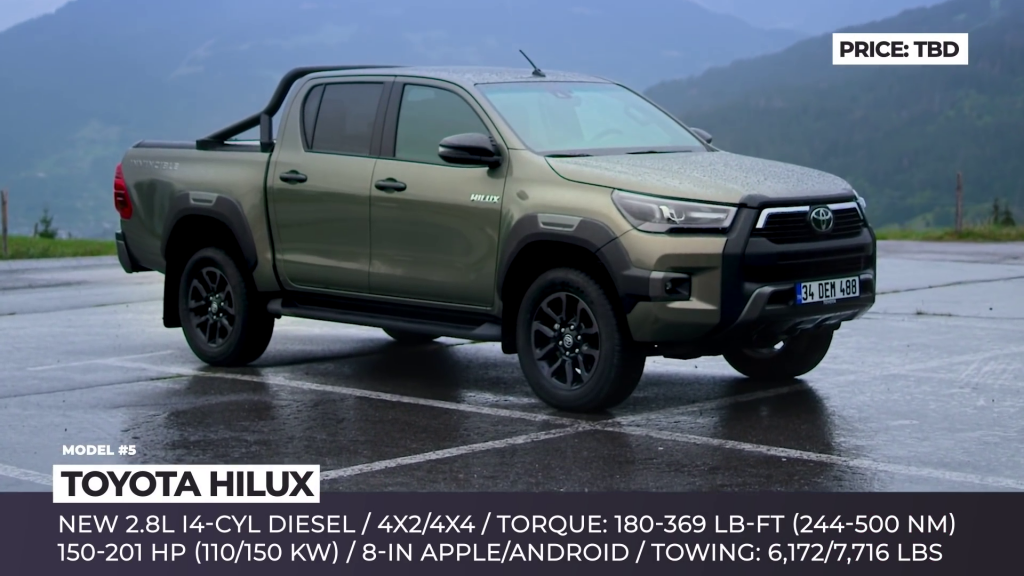 While Tacoma absolutely dominates the small truck segment on the North American market, the rest of the world gets to enjoy its mechanically similar sibling the invincible Hilux the fan base of the latter is about to expand even further since the latest facelift brings new bald and powerful grilles, led lights could be optioned to decorate both front and rear plus there are new machines finish alloys the truck's performance has improved the new 201 horsepower 2.8 liters inline four-cylinder tubule diesel generating 369 pound-feet of torque through the last belts and four cylinders 2.4-liter tuber diesel and 2.7-liter tube gasoline is still enough for lastly, the indestructible machine gets new interior finishings updated 8-inch infotainment with android and apple connectivity and improved safety systems.
6. REZVANI HERCULES 6X6 PICKUP TRUCK ( Pickup Trucks For Family Use )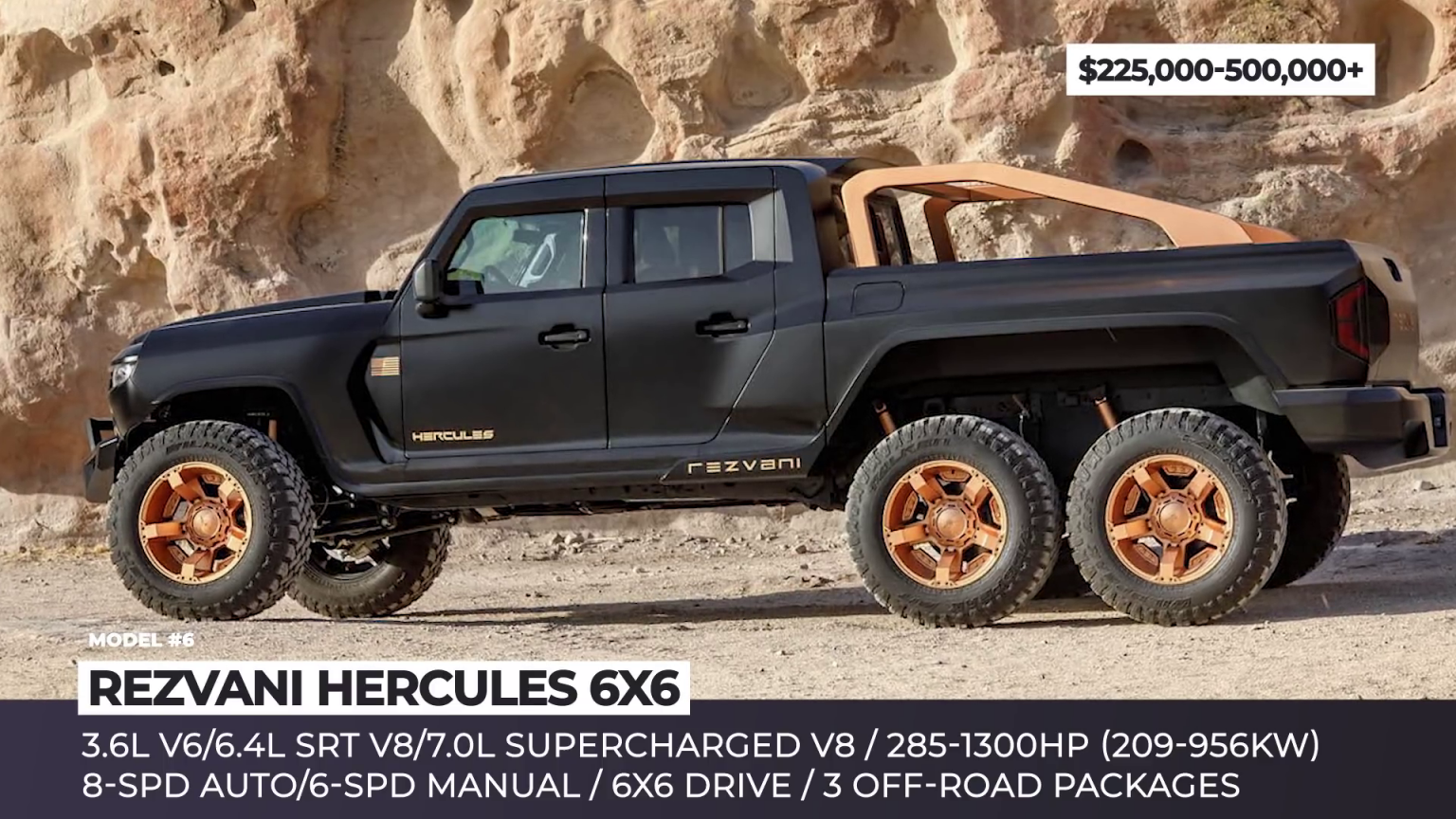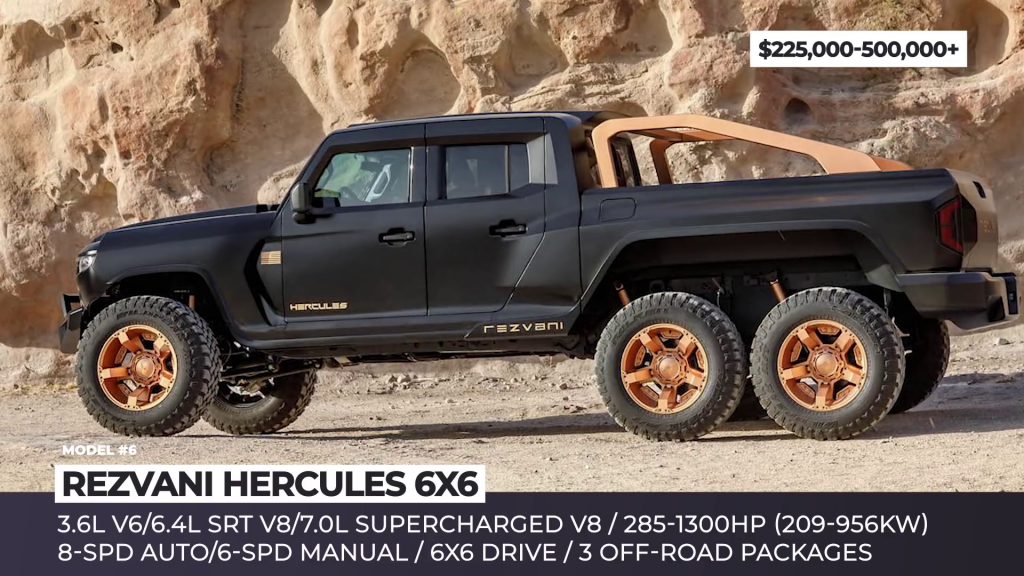 Even crazier than the brand's previous tank model this New Rezvani sits on a 3 axle chassis that allows for an on-demand 6-wheel drive to conquer any obstacles out there the model comes with a 4-inch lift kit fox 2.0 shocks and powerful 16-inch brakes but you can optionally enhance it with one of two off-road packages with even larger brakes and more hardcore bodywork.
The base engine of the Hercules is a 3.6 liter v6 with 285 hp but the company also offers a 40 grand upgrade for a 6.4-liter SRT with 500 horses or a supercharged v8 that makes 1300 hp and costs a whopping 250 000 the truck gets a custom interior with specially developed seats thermal and night vision as well as an emp device.
finally, Rezvani Truck also offers a military-grade version of the Hercules that wears bulletproof body armor features a self-sealing fuel tank and as standard gets multiple security and diversion technologies
7. MAZDA BT-50 PICKUP TRUCK ( Pickup Trucks For Family Use )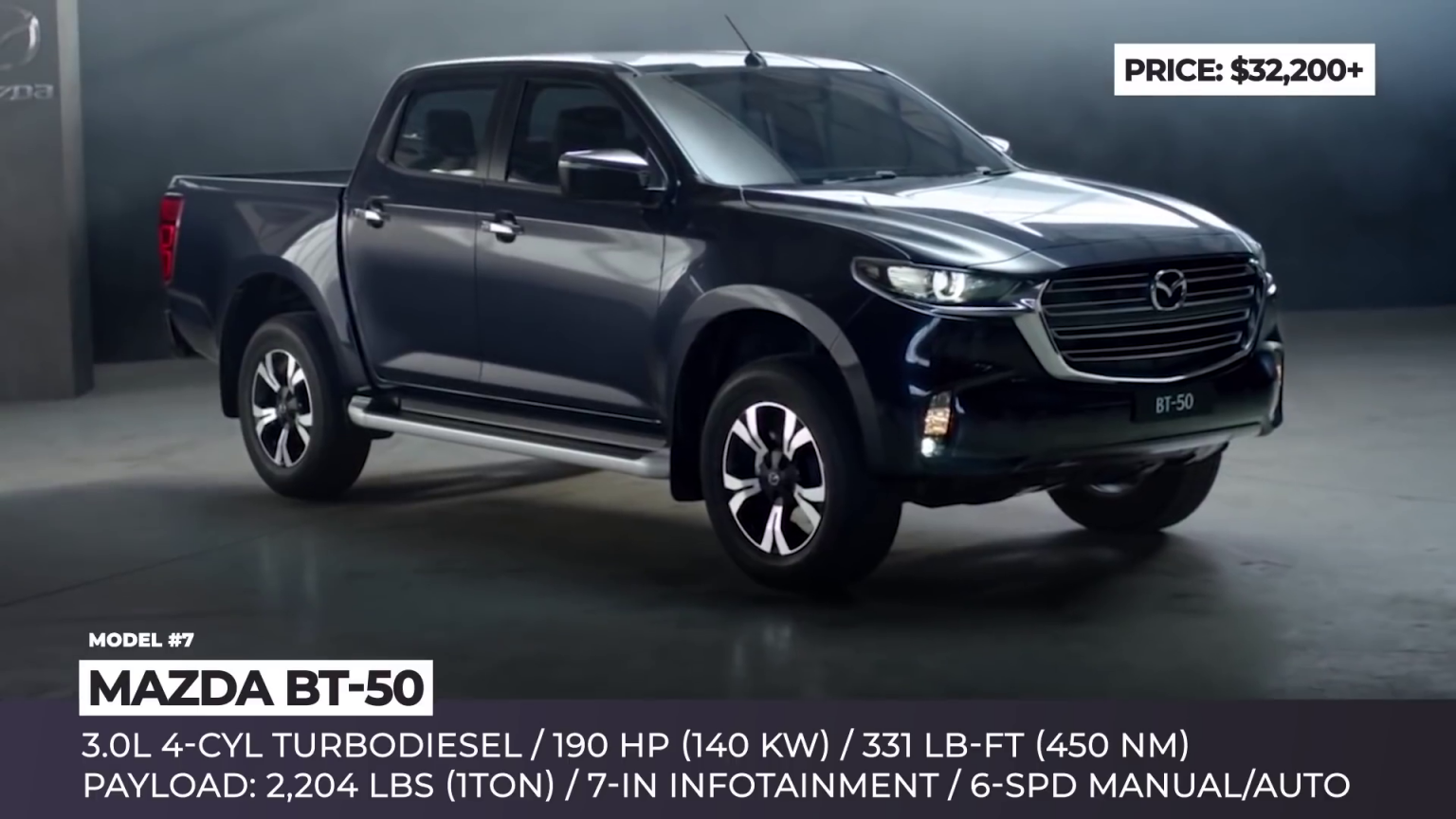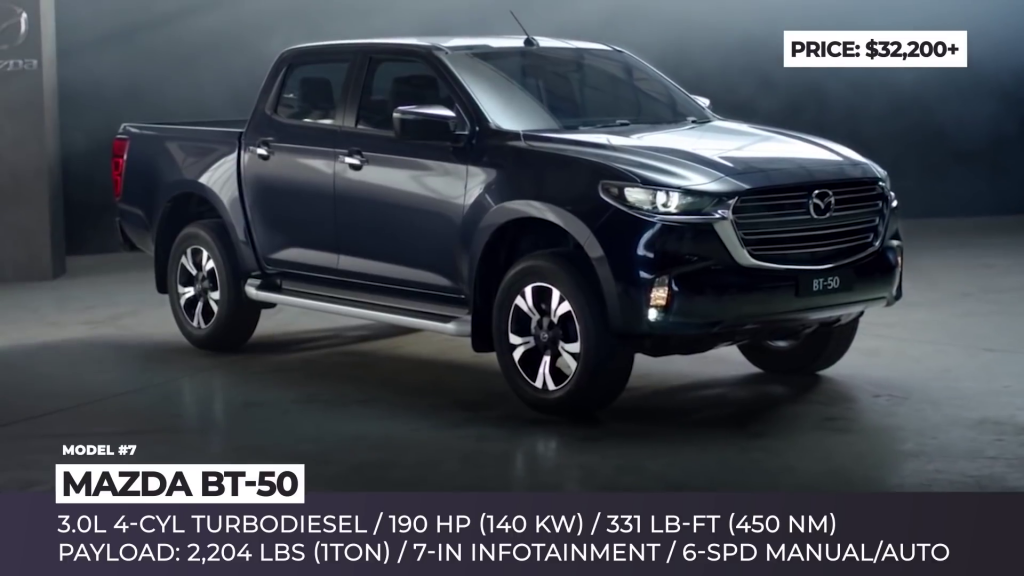 Fully redesigned for the first time in almost a decade 2021 BT50 has been literally rebuilt from the ground up since the pickup switched the outgoing models' ford ranger platform for the new one borrowed from the ISUZU D – MAX PICKUP TRUCK.
The updated underpinnings shrink the truck across all dimensions while the new body language brings it closer to the current master models the biggest update is the front fascia which gets a broad grille a familiar peak nose and sleek horizontal led headlights though the market-specific variations may appear in the future the only powertrain available for now is a three-liter turbocharged four-cylinder that produces 190 horsepower and 331 pound-feet of torque the power is sent to the rear or four wheels through a 6 -speed manual or automatic transmissions the truck is offered with a 7.0-inch infotainment apple car play and android auto connectivity air conditioning and power-adjustable exterior mirrors
8. RAM 1500 TRX PICKUP TRUCK ( Pickup Trucks For Family Use )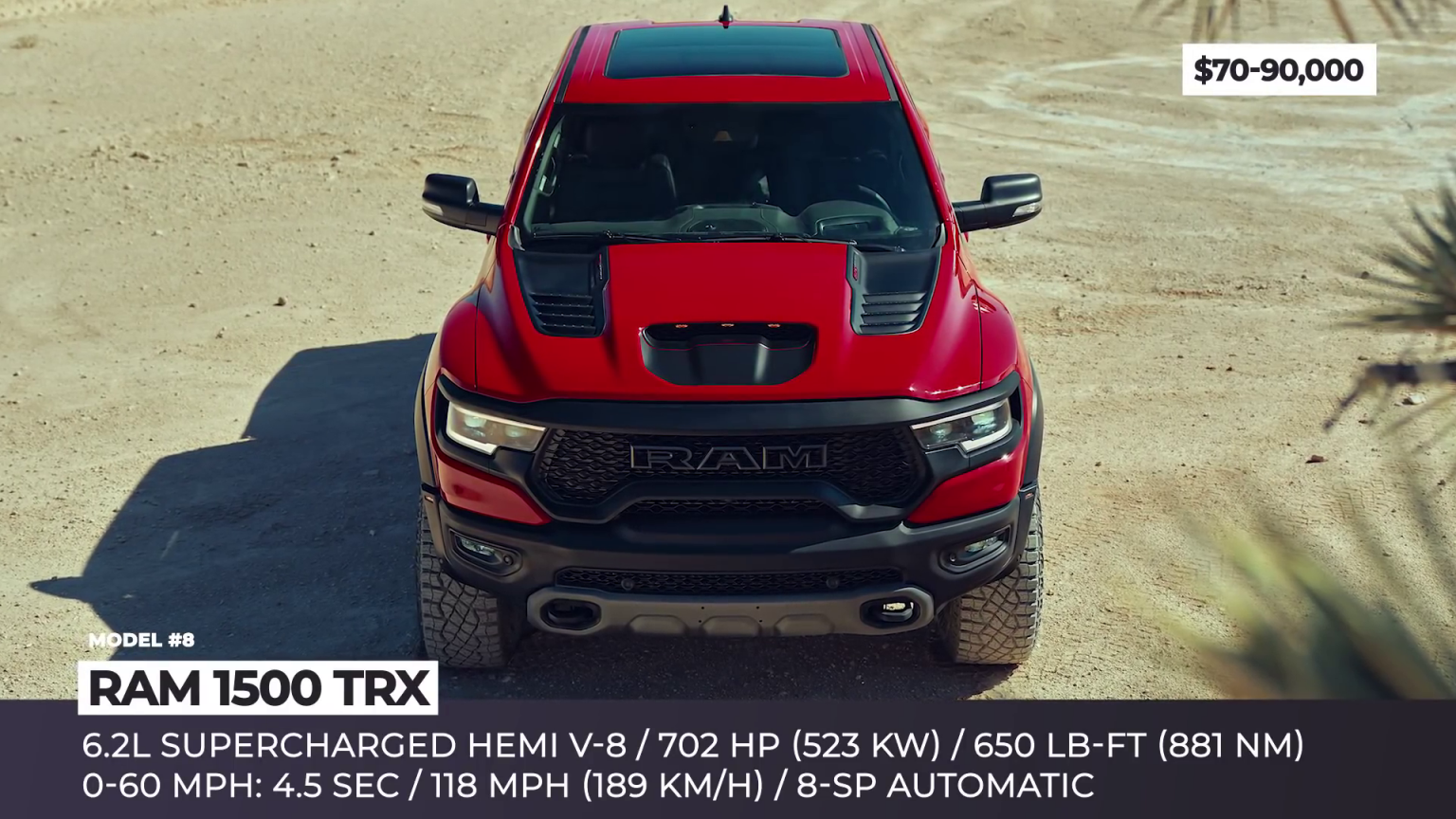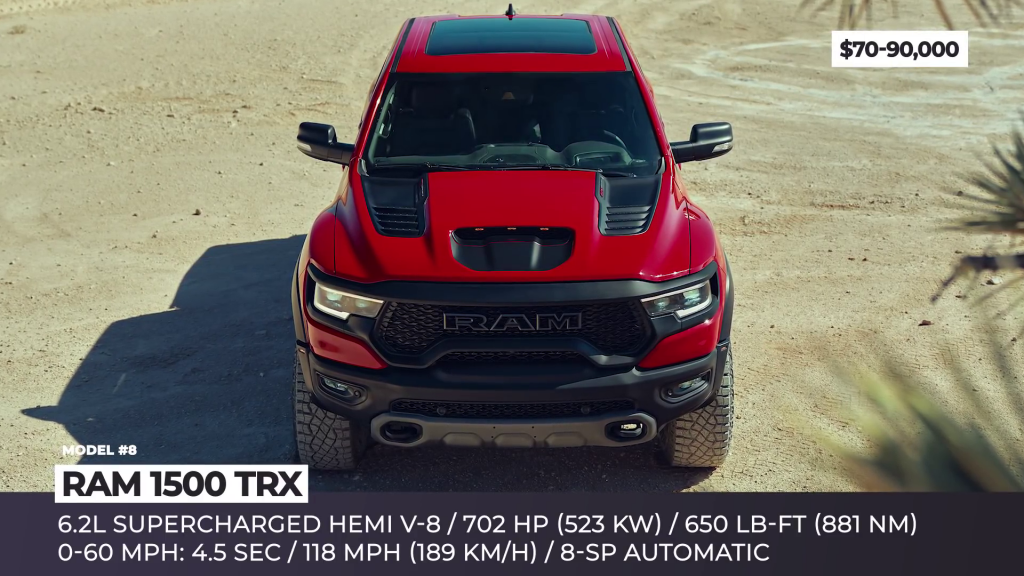 The Rebel TRX concept that surfaced for the first time back in 2016 is an obvious retaliation to the returning ford f-150 raptor however, the development of an actual production version of the menacing off-roader took 5 long years of excessive r d the ram 1500 TRX was definitely worth the wait it arrives as the world's most powerful production mass-market truck at its heart sits 6.2 liters supercharged me v8 that raises the concept's measly 575 horsepower to 702 and keeps the torque high at 650-pound feet the new apex predator rides on a fully reworked high strength steel frame it gets a full-time active transfer case a dana 6d solid rear axle and uses a unique active damping suspension system with 2.5-inch Bilstein Blackhawk E2 shocks and 13 inches of wheel travel on the drag strap,
The ram tracks as a true muscle pickup it can hit 60 and 4.5 seconds and will cover a quarter-mile ( 0.40 km approx ) in ( 12.9 )
9. LORDSTOWN ENDURANCE PICKUP TRUCK ( Pickup Trucks For Family Use )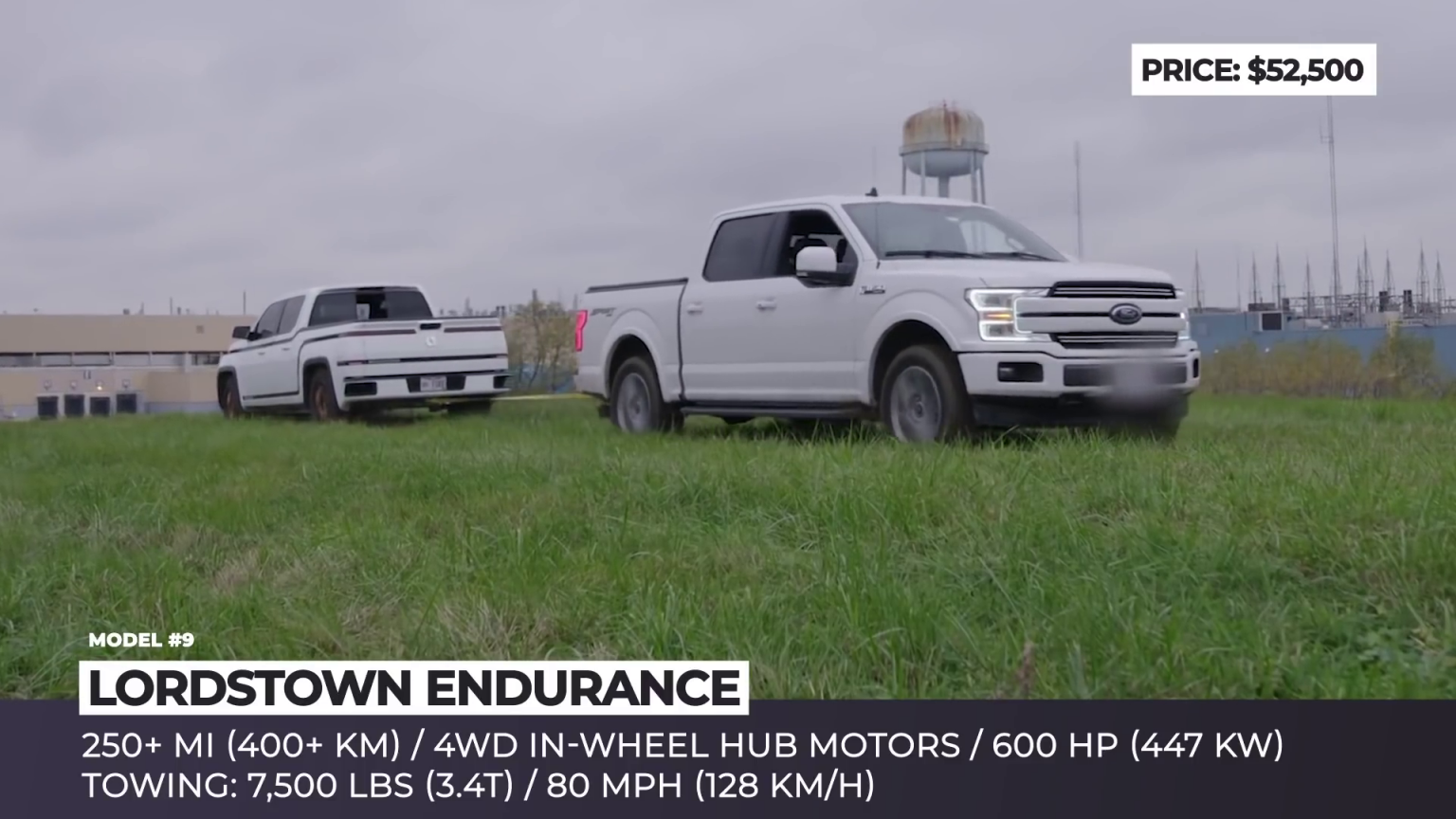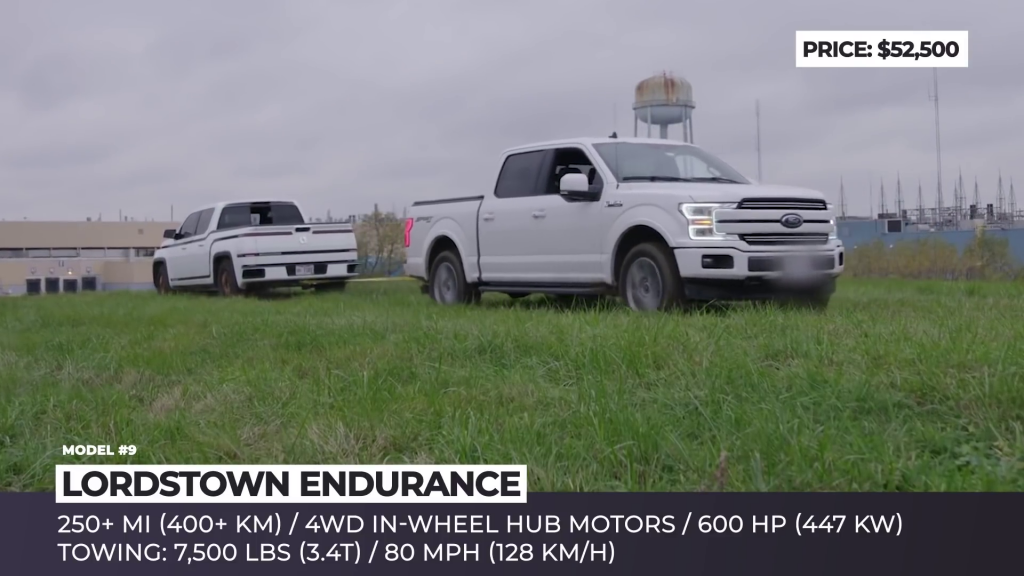 When the endurance pickup was unveiled or Launched in 2020 ( mid of the Year ) this truck was slowly rolling through the warehouse and much like a conceptual prop rather than a hardcore machine pitched by the ( % ) percentage,
however, Since then the LORDSTOWN ENDURANCE startup formerly known as workhorse has released the footage of the truck aggressively hitting the dirt and defeating a ford f-150 and a tug-of-war challenge, the endurance keeps the looks of its w15 predecessor but completely rethinks its plug-in hybrid powertrain in favor of the all-electric one all the Electric motors are placed inside the wheels (it's amazing )  to reduce the number of moving parts in Vehicle and provide the best and true four-wheel-drive capability combined they make 600 horsepower which translates to 7,500 pounds of towing capacity, the battery of undisclosed size is covered by 8 years of warranty it ensures 250 miles of range and supports off-board power for tools and All accessories.
10. ISUZU D MAX PICKUP TRUCK ( Pickup Trucks For Family Use )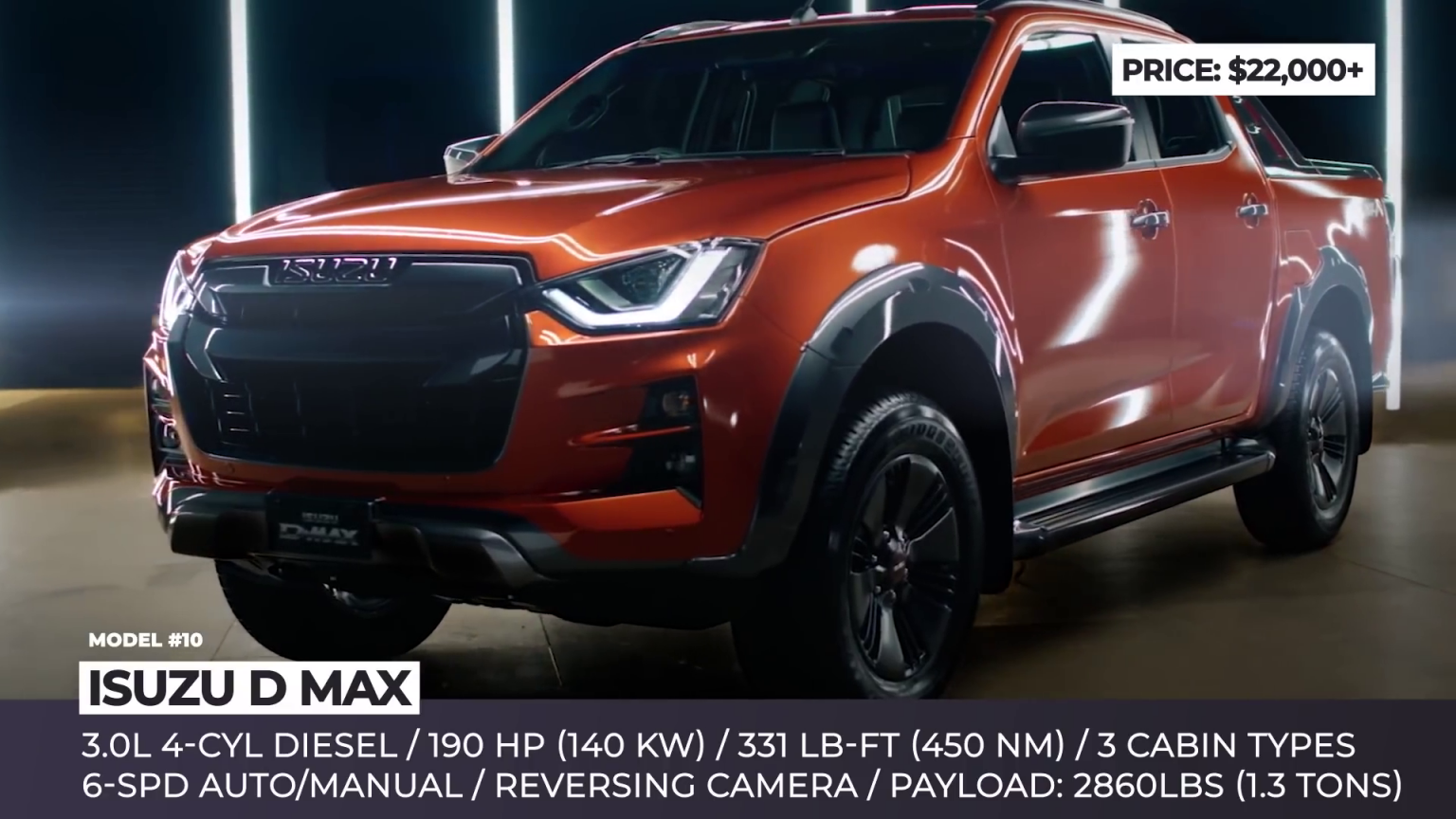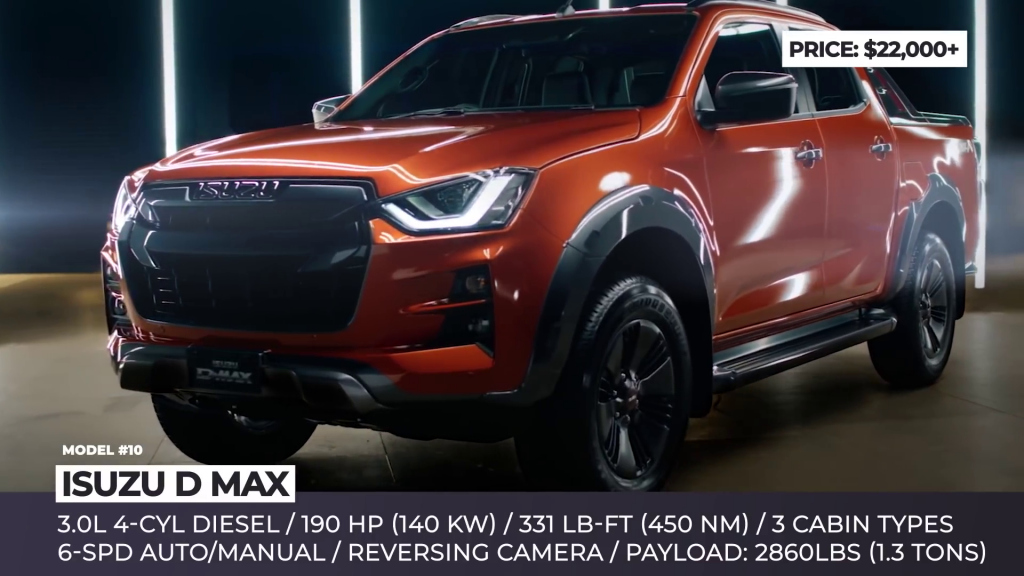 With the new powertrain chassis, suspension, and interior the new generation d-max is ready to compete with the ford ranger and Nissan Navara especially in the fast-growing markets, the distinctive u-shaped led headlights a more aggressive grille, and new body panels make the D – max look fresher and more up-to-date, the truck is claimed to boast battery handling and dynamics due to the reworked chassis that now boasts 20 percent more rigidity a three and a half-ton towing capacity this occurred to the sea of Asus 3 liter turbo diesel that delivers 140 horsepower and 331 pound-feet of torque on the tech front there is an all-new infotainment standard 7 inches and 9 inches on the higher trims full smartphone connectivity voice recognition and 4 speaker sound system even the cheapest drum in the trucks 20 model range gets forward-collision warning lane-keeping assist 8 airbags and autonomous emergency braking.
11. BRABUS 800 XPL ADVENTURE PICKUP TRUCK ( Pickup Trucks For Family Use )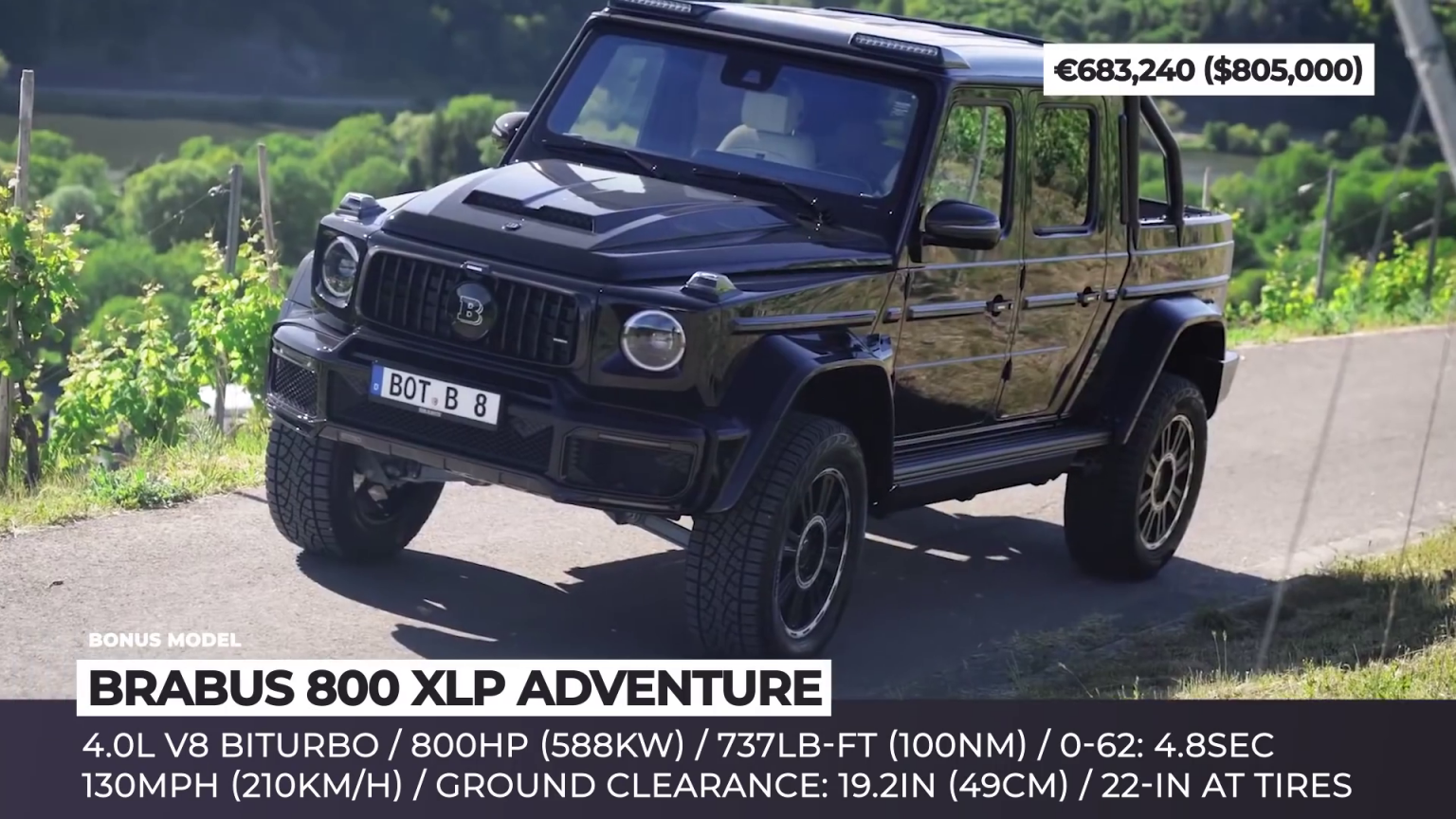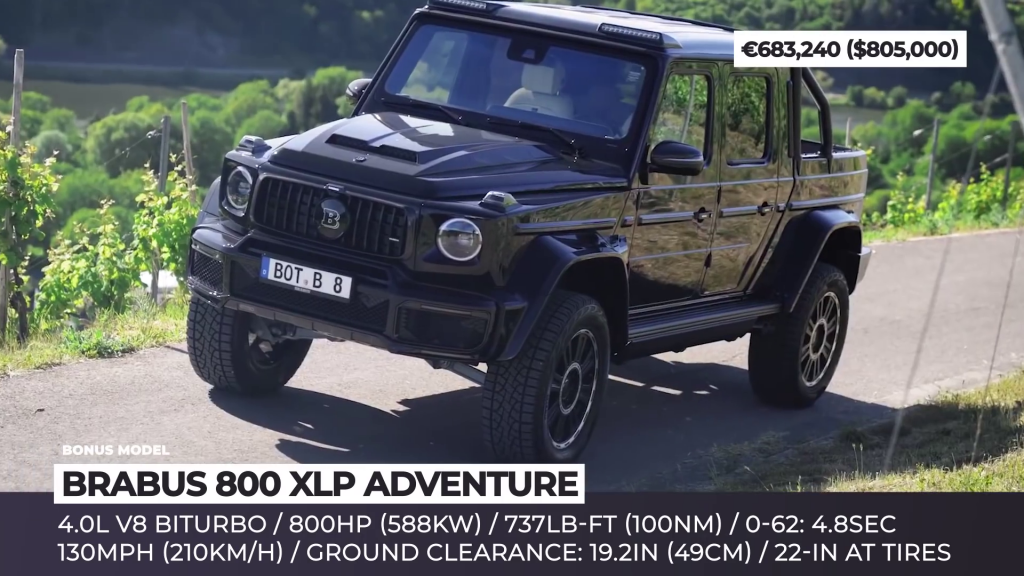 While you cannot get a pickup truck version of the world-famous Galant wagon directly from Mercedes fortunately, Brabus is here to offer a helping hand based on the top of the line AMG G63 model their new 800 xlp adventure introduces serious modifications to the SUV making it tougher more capable and larger across all dimensions the pickup measure is 27 inches longer and 4.6 inches wider than the production car it has a higher ( New level ) center of gravity and boasts an unseen ground clearance of 19.2 inches, in addition, it gets the Brabus developed suspension with portal axles and wears a modified white star body kit, the Stuck wheels are replaced by the brand's 22-inch monoblock HD units wrapped in Pirelli scorpion all-terrain tires Brabus also worked on the models by turbo v8 that is now good for 800 horses and 737 pound-feet of torque finally the interior of the truck is custom designed sporting new burnt oak leather upholstery carbon fiber trim and aluminum elements.
IF YOU HAVE ANY QUESTIONS JUST ASK IN THE COMMENT BOX OR EMAIL US, THANKS FOR READING THIS HOPE YOU LIKE IT, FEEL FREE TO PRESS THE LIKE BUTTON.
NEXT