Top 10 Plug in Hybrids 2022
Here is the list of Top 10 Plug in Hybrids 2022, PHEV Cars 2022, All of your favorite models will either be retired or get a plug-in hybrid conversion, which is one of the finest ways to manage a gas-guzzling internal combustion machine, until we eventually migrate to totally electric cars. We've already covered the new PHEV vehicles for 2022, and today we'll look at the next SUVs in this class. You'll learn about estimated price tags, EV ranges, and technical packages.
List of Top 10 Plug in Hybrids 2022
1. Kia Sportage ( PHEV 2022 )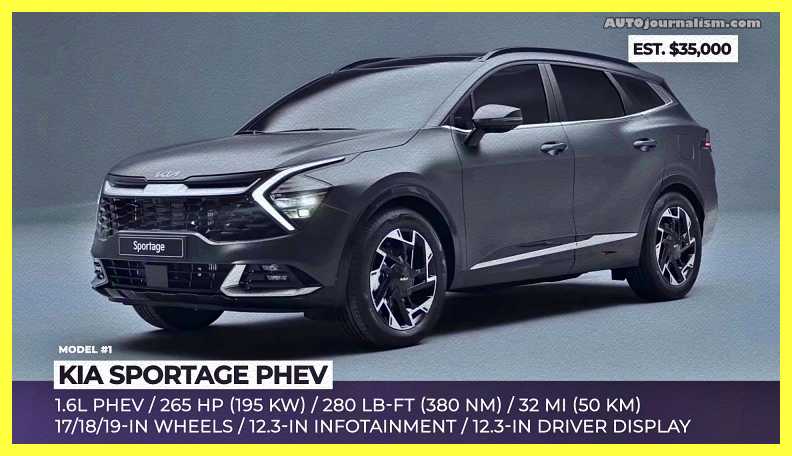 Both the global and European versions, which are slightly shorter, share the same striking front end with the brand's modernized tiger-nose grille sharply curved daytime running lights and angular side skirts for the first time the earthbound Sportage will also have the option of a contrasting black roof depending on the trim hierarchy buyers will choose between 17, 18 or 19 inch wheels.
While higher-end features such as matrix led lights, a 360-degree camera, and remote park assist will be available as extras. The plug-in variants use a 1.6-liter supercharged four-cylinder engine with a 90-horsepower electric motor to create 265 horsepower and 280 pound-feet of torque, with a range of roughly 30 miles. The interior has a pair of 12.3-inch screens for entertainment and the driver's display.
2. Lexus NX 450h+ ( PHEV 2022 )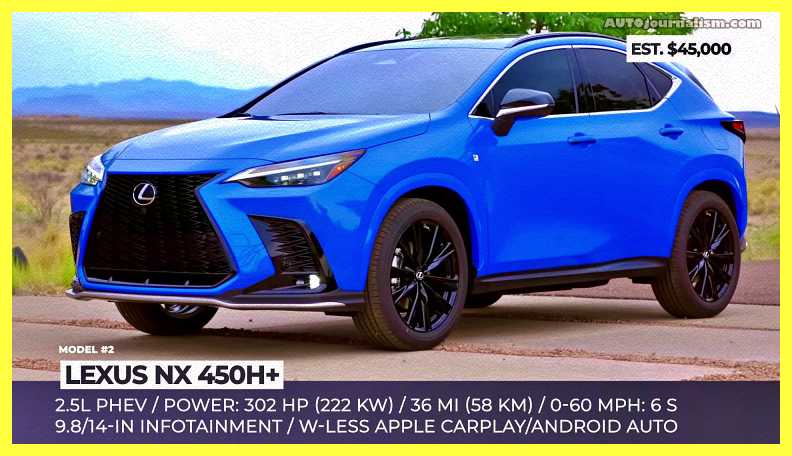 The Lexus NX's entirely remodeled exterior isn't its only benefit; in 2022, this all-new compact crossover will be the first from the Japanese brand to be offered as a plug-in hybrid, and it will sit at the top of the future model lineup with standard all-wheel drive. The 450h + powertrain combines a 2.5-liter four-cylinder engine with yet-to-be-released hybrid components to produce 302 horsepower.
Lexus also claims that the nx battery is more efficient than competitors, claiming up to 36 miles of pure electric driving range. Another significant update is the new infotainment system, which is not only driver-friendly but also nearly four times faster than before. Every plugin nx will begin with a 9.8-inch touchscreen, which can be expanded to a 14-inch display with further virtual assistant functionality.
3. Mazda MX-30 ( PHEV 2022 )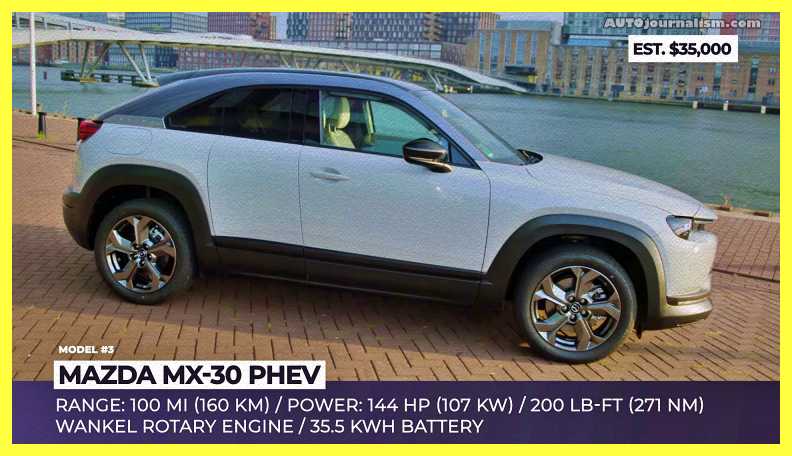 The subcompact crossover the chair center pending with the Mazda 3 and cx30 will be Mazda's initial steps on the electrification path. This vehicle was first released in entirely electric form, with a 144 horsepower motor and a range of only 100 miles. For anyone wanting to stray from the daily commute, these stats are somewhat disappointing.
As a result, Mazda is developing a series plug-in hybrid version of the Amax 30. Unlike most pgv systems, the ice units will not be connected to the wheels; instead, the Japanese will bring back their legendary Wankel rotary engine to power a c generator. We can expect the model to retain its 35.5-kilowatt hour battery and 100-mile cv range reserve, making it one of the industry's longest travel hybrids.
4. Hyundai Tucson ( PHEV 2022 )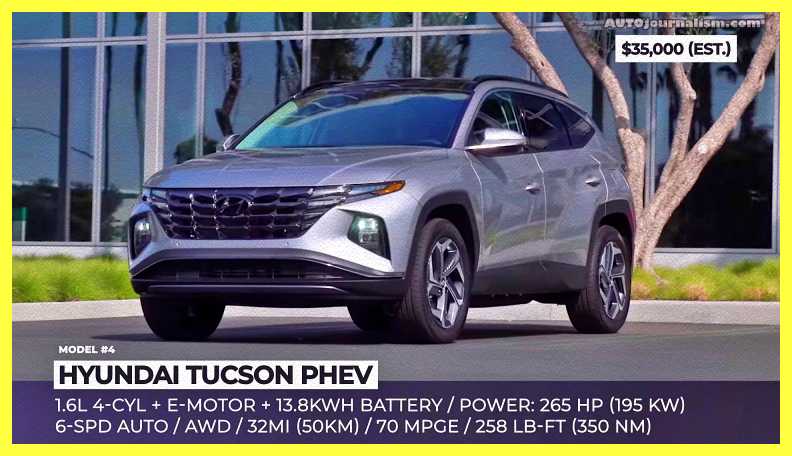 The plug-in version of the new generation Tucson will be arriving in the United States for the 2022 model year, according to PHEV. It will be available in upper-level trumps scl and limited trim levels, both with the new to sun front end with integrated drls dual-like surface detailing and rectangular wheel arches. It will be distinguished from non-hybrid models by PHEV batching and a charging port. The drivetrain system is based on a 1.6 zero turbo engine.
The only transmission choice is a 6-speed automatic transmission that outputs 265 hp and 258 pound-feet to all four wheels as standard, which is helped by a single motor and a 13.8-kilowatt hour battery. The crossover comes standard with dry versus heated and power-adjustable front seats, as well as an 8-inch touchscreen infotainment system. The limited-edition adds a larger 10.25-inch display with navigation, smart parking, and heated seats and steering wheel.
5. Jeep Grand Cherokee PHEV (4xe) ( PHEV 2022 )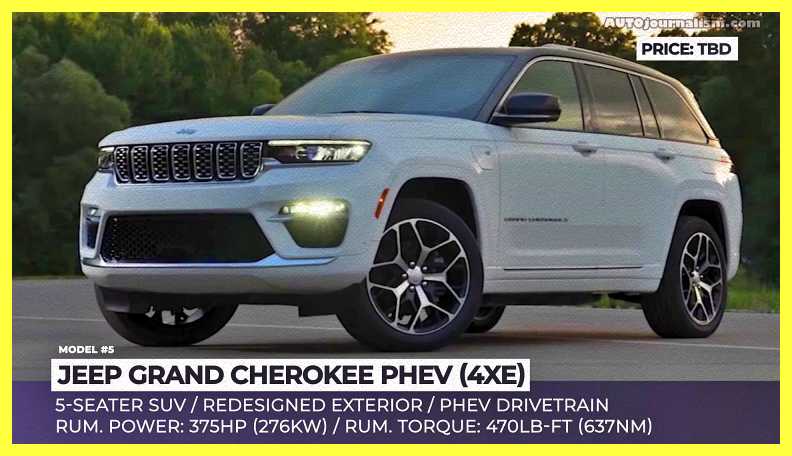 Each model shall acquire a 4xz electrophile alteration in favor of the Atlantis electrification program for the inexpensive brand by the year 2025. The freshly updated mid-sized grand Cherokee in the normal 5-zero configuration is the second SUV to get a plug after the wrangler 4xz, however, the 3-row grand Cherokee l is expected to get electrified as well if no changes are made to the drivetrain.
This PHEV will have a power output of 375 horsepower and a torque output of 470 pound-feet. The electric range of the 17.3-kilowatt-hour battery is roughly 20 miles, and the mpg rating is expected to be in the 40s. Three 4×4 systems are likely to be available with the resurrected legend. You connect 5 with the optional 10.1-inch touchscreen head-up display and a new available Macintosh MX-950 entertainment system, which has a competitive towing capability and quality led lighting.
6. Opel Grandland ( PHEV 2022 )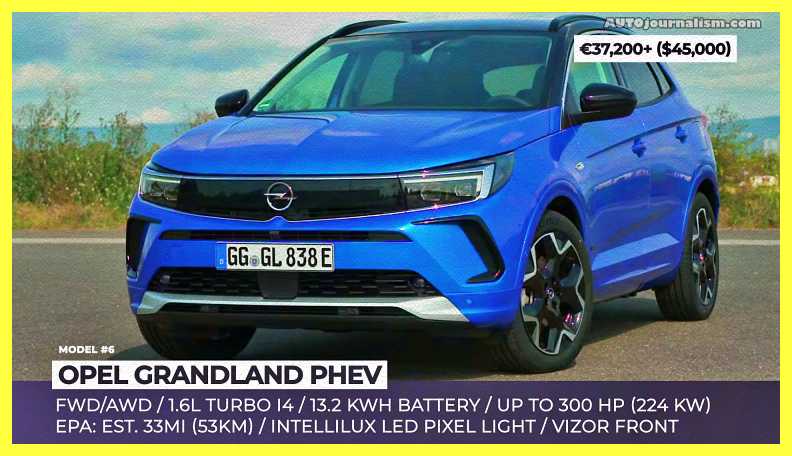 Aside from a name change, the facelifted Grandland gets a corporate visor front fascia and a modernized interior. It has a closed black grille and standard led headlights that can be upgraded to the new intellilux pixel units with 84 LEDs apiece. According to the output of the previous Grendel and x hybrid 4, the powertrain portfolio now offers two plug-in alternatives with front-wheel drive or electric all-wheel drive. Both are powered by a 1.6-liter turbo engine and a 13.2-kilowatt-hour battery that feeds an undefined number of motors.
At least 300 horses should be available in the flagship. The model's interior gets a significant makeover, with new pure panel dashboards that include a 12-inch driver's cluster and a 10-inch infotainment system with built-in navigation and assistance. Apple CarPlay and Android Auto are two of the most popular mobile operating systems.
7. Kia Sorento ( PHEV 2022 )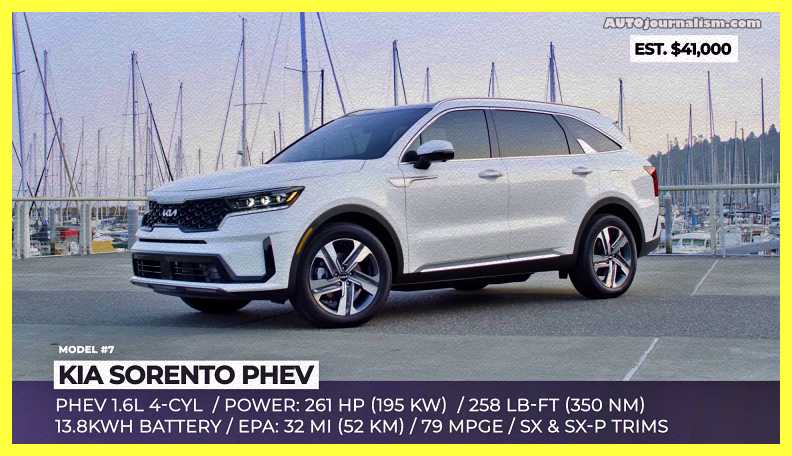 In addition to pure ice and hybrid versions, the fourth generation Soronto introduces a new plug-in modification based on a 1.6-liter turbo engine and a single 89-horsepower electric motor. Together, they produce 261 horsepower and 258 pound-feet of torque, and the onboard 13.8-kilowatt hour battery is good for 31 electric miles. The cosmetic differences between the normal and plug-in Sorrentos are negligible. This vehicle is also rated for 79 mpg and 460 kilometers on a single trip.
Full LED lights, second-row captain's chairs with synthetic or real leather upholstery, and 10.25-inch infotainment tuned to display EV functions are also standard. This run to PHEV Cars 2022 is already on sale in the United Kingdom and across Europe, with a North American market debut set for late 2021. It will be available in two variants: trumps SX and SXP.
8. MG EHS Plug-in Hybrid ( PHEV 2022 )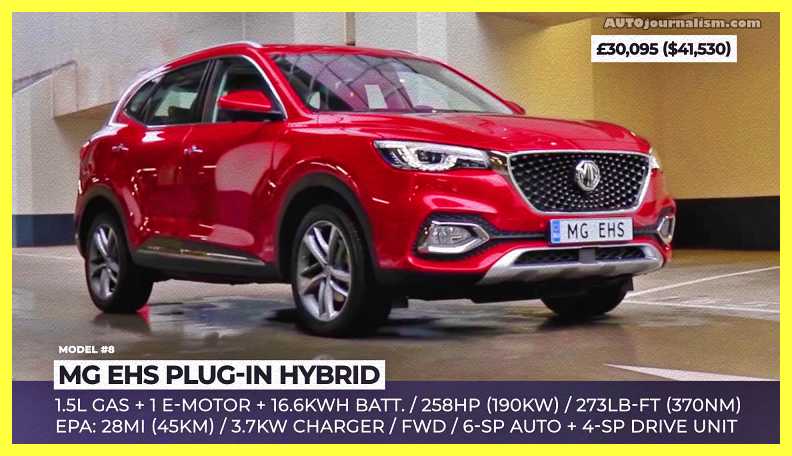 This year, the plug-in hybrid version of the hs crossover, which was released in 2020, is making its way across the UK and Europe. The vehicle features an appealing external appearance with EMG's trademark dotted pattern and standard led daytime running lights as well as optional led headlights. In Europe, the system is limited to 258 horses and 273 pound-feet of torque thanks to a 1.5-liter turbo gasoline engine, an electric motor, and a 16.6-kilowatt hour battery. The latter offers roughly 28 EPA miles.
In China, it reaches 291 horsepower and 354 pound-feet of torque. The crossover also gets an interesting 10-speed gearbox, which consists of a 6-speed automatic for the ice and a four-gear electronic drive unit. The cabin of the ehs is spacious, with real leather upholstery and a fully digital cluster, and a 10.1-inch infotainment system. By the way, this crossover will most likely get a noticeable facelift in 2022 and will change its name to mg pilot, as it has already done in China.
9. Land Rover Defender P400e ( PHEV 2022 )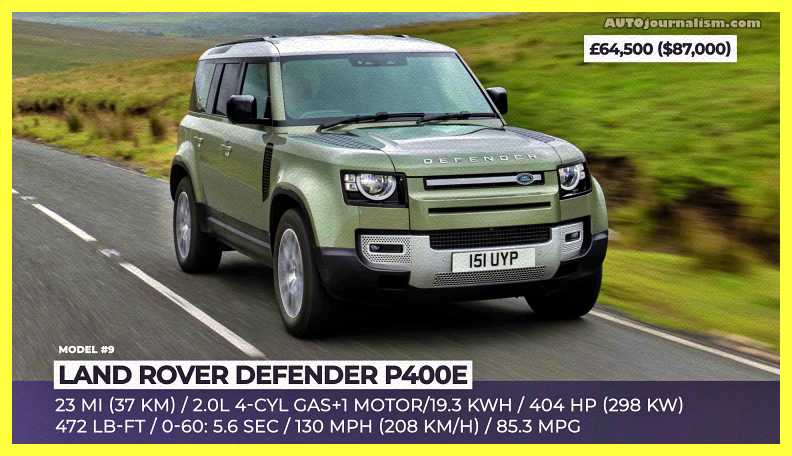 After some pushback from old-school defender fans, the all-new unibody version has rapidly gained its own fan base. It also becomes the first electrolyte and the second most powerful Land Rover defender ever made, trailing only the supercharged v8 version. For the time being, the p400e is only available in the extended wheelbase 110 model and is powered by the same engine as the PHEV range rover and range rover sport, a 300 horsepower 2 liter 4 cylinder and a 140 horsepower motor.
The 472 pound-feet of torque boosts towing and off-roading capability while also cutting 0-60 acceleration time to 5.6 seconds. The 19.2-kilowatt-hour battery provides enough power for a 23-mile range and enables a 50-kilowatt mode. This adventure vehicle features 20-inch wheels and can be recharged in half an hour. Electronic locking differentials and innovative tank systems are available as options for the standard adjustable electronic air suspension.
10. Hyundai Santa Fe ( PHEV 2022 )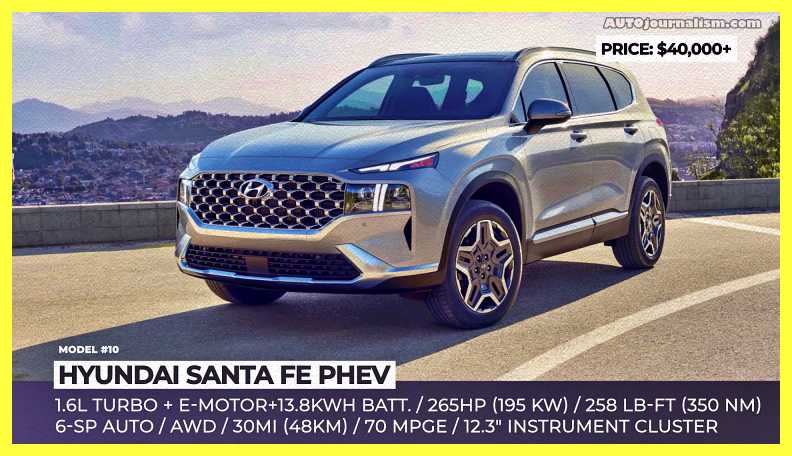 Despite being only two years old, the new generation Santa Fe received a significant facelift for 2022, which included a wider grille, t-shaped led headlights, and updated rear lights. However, these are not the only changes coming in 2022, as Santa Fe debuts its plug-in hybrid drivetrain for the first time, according to Hyundai. The massive 5-seater should receive the same setup as the Tucson.
It means a 1.6-liter GDI with 265 horsepower total output, standard all-wheel drive, and a 13.8-kilowatt-hour battery with enough juice for 30 miles of emission-free driving. Expect 12.3-inch digital instrumentation, an 8- or 10-inch infotainment system with wireless smartphone integration, as well as a sunroof and ventilated leather seats with stitching.
11. Seat Tarraco eHybrid ( PHEV 2022 )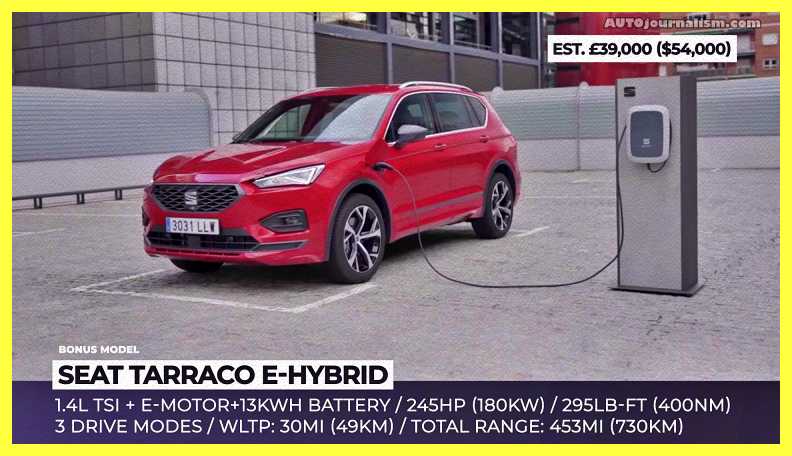 Seat's largest SUV foregoes mild and strong hybrid powertrains in favor of a plug-in hybrid system. The seven-seater shares internals with the Volkswagen Tiguan e hybrid and Skoda Kodiak iv, with 30 miles of all-electric range and 453 miles of combined range. The Terraco is equipped with a 13-kilowatt-hour battery pack and a 2.3 or 3.6 kilowatt home charger.
The drivetrain combines the efforts of a single 1.4-liter TSA engine with 150 horsepower, a single 115-horsepower electric motor, and a 6p DSG. With fast access controls, the system can function in three distinct drive modes and nets 245 horses. For the time being, the e-hybrid toracco is only available as a five-seat vehicle, with two trim levels to select from: excellence and fr. These packages include 19-inch unique wheels, automated headlamps, a 10.25-inch digital cockpit, three-zone climate control, and adaptive cruise control.
Thanks for reading, Share it with your friends.
NEXT
Top 10 Electric Pickup Trucks