Battle Between RR 310 VS RC 390 BS6: Who will Win?
Here is the Genuine( My Personal experience with these two bikes) Comparison between TVS Apache RR310 BS6 vs KTM RC390 BS6 2020.
Which bike should you buy in 2020? These two bikes Compete with each other in their Price Segment and Features. Out of these bikes, you get more power in one bike and the other, you will get more features.
There is not to much difference in the prices of both motorcycles: TVS Apache RR310 Comes with a price of 2.40 lakh Ex-showroom Delhi, while the KTM RC390 BS6 Price at 2.45 lakh Ex-showroom Delhi. Apache RR310 is in our Sports-Tourer category, and KTM RC 390 is more of a track-oriented machine. So let's start with the comparison of RR310 vs RC390
1.Looks, Design, and Style:
So in terms of visual appearance, both bikes are just amazing. It is a personal choice, but We like the Apache RR 310 the most. Because it comes with fresher design than the RC 390. Every Angle of RR310 you loved the way it looks whenever You will go on a ride and its Similar to look like Mini Ducati Panigale in Red Colour. The design of the KTM RC 390 is old now and not updated since its launch.
The TVS RR 310 comes with two colours option, the Evergreen Racing red colour which we used to see in the BS4 model and another one is fresher Dual-Tone Black and Grey combination colour. While the KTM RC 390 comes with only one white colour.
RR 310 comes with beautiful twin LED Projectors headlights while the KTM RC 390 comes with aggressive twin halogen Projector lights. The Apache RR 310 resembles the litre-class beast the Ducati Panigale.
The KTM RC 390 has a more aerodynamic design. It has more committed riding postures towards the track. The sharp model of the bike supports the brutal characteristics of the bike.
HEART OF BIKE ( ENGINE ):
The Engine is the heart of every Motorcycle. If the Engine is not reliable, then there is no point in taking the bike. When it comes to acceleration, no Motorcycle will come even close to the KTM Duke/RC 390. But the brutal acceleration is not everything, also If Ride RR310 You don't feel less power compared to its segment. 0-100kmph both bikes provide equal performance.
You don't need that much power every time. So this is where the TVS Apache RR 310 just nails it. Important note: ( KTM Engine More Reliable and Refine Than RR310 Engine.) Every time You need Service Support for Maintainance. Here KTM Wins With Huge Margin Not only for power also for Engine Reliability. ( Keep this in mind). Let's compare RR310 vs RC390 in-terms of power.
ENGINE:
The KTM RC 390 doesn't come with any riding modes feature like RR310. All it has is raw power. So the KTM RC 390 is powered by 373.2 cc liquid-cooled, single-cylinder Engine which packs up 42.3 bhp of maximum power and 35 nm of maximum torque. Being light and powerful machine the KTM RC 390 is more potent than the TVS Apache RR 310.
Technically the TVS Apache RR 310 comes 312.2 cc SI, four strokes, four valves, Single cylinder, Liquid-cooled, Reverse inclined Engine.
In track and sports mode RR310 produces its maximum power which is 34 ps of maximum Power @9,700 rpm and 27.3 nm of torque @7,700 rpm. In Urban and Rain mode, the Power of the Bike becomes more linear, unlike the track and sports mode.
In rain and urban mode, it produces 25.8 ps of Power @7,600 rpm and 25 nm of torque @6,700 rpm.
Both of these bikes come with the slipper clutch and ride-by-wire as standard for smooth, crisp, and perfect shifts.
FEATURES:
Here, that's the TVS Apache RR 310 is the most well-equipped bike in this comparison. The TVS Apache RR 310 comes with some fantastic features like TFT display with smartphone connectivity. So you can connect your smartphone with your smartphone. And the TVS Apache RR 310 also comes with various riding modes! These are not just gimmicked, and It works very well.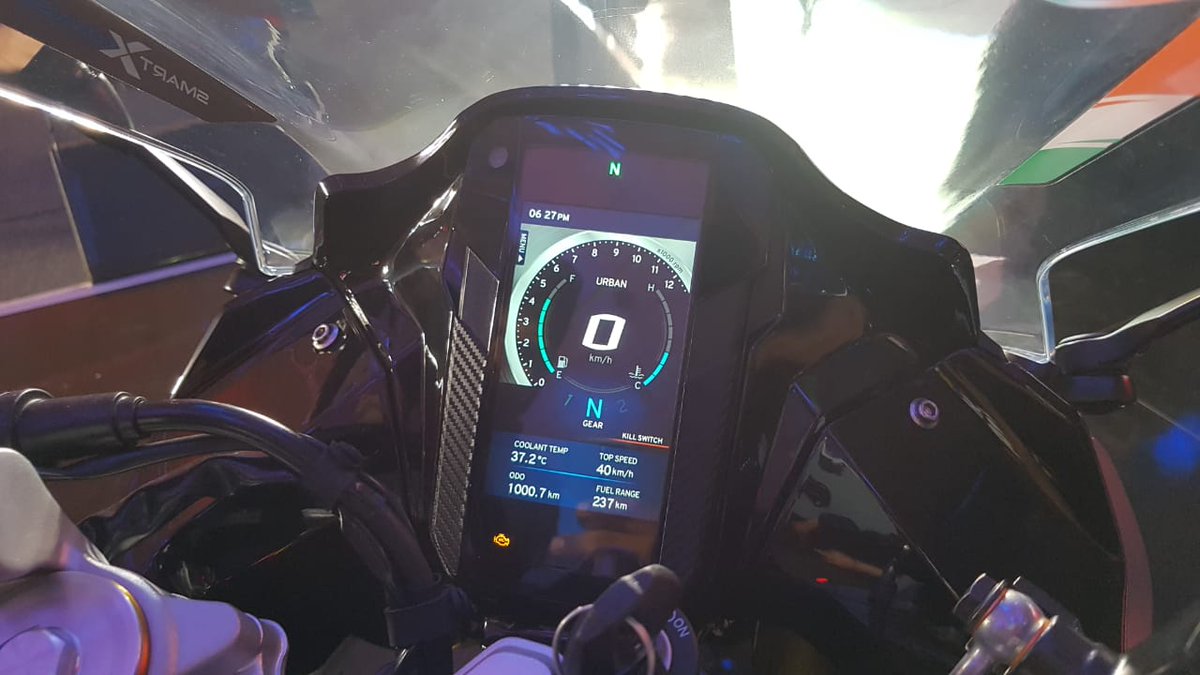 You'll have four riding modes to play with RR310 – Sports mode, Track mode, Urban mode, and the Rain mode. The Sports and Track mode is where the Bike wakes-up.
Necessary Features That not Comes in KTM RC390 and Present at RR310: Engine Heatup Tempretaure in Units Digit on Console, Hazard Lights, Fuel Range, Lap timer, TopSpeed Recorder.
COMFORTABILITY FOR LONG RIDES:
If you have a passion for long riding, then Apache RR310 is excellent for you. You can comfortably ride 500km continuously without the back pain because the riding posture of apache rr310 is not too aggressive as KTM rc390, it's more comfortable and suitable for long rides. On KTM RC390 Short Rides are possible approx maximum 100km distance at one time, after that, you will feel body pain.
Both the bike uses Clip-on high-quality Handlebars. The bike comes with 11litre fuel tank capacity and covers 370+km distance after full tank, 170 kg of bike provide Better Stability and Aerodynamics – No Wobbling At highspeed after 160+kmph. Better Build Quality Which Will Last at Least For 5year Because the company Gives 5 – year warranty.
MILEAGE:
Along with excellent performance, RR310 also gives better mileage. Despite having a 310cc engine, the bike provides 30kmpl in the average city conditions and 35-38kmpl on the highway( long tour). If we talk about Ktm RC390, then bike gives 25km/l in the city and 30+ km/l on the road because the bike engine is bigger then RR310.
AVAILABILITY:
Both these bikes are available in the Indian market, but Apache RR310 is Available at Price 2.40lakh( Ex-showroom ) on exclusive Dealerships in 23 states. KTM RC390 is available at Price 2.45lakh ( ex-showroom ) almost every district in the country. That was our comparison of BS6 rr310 vs rc390. Choose your bike wisely!