The toyota innova it's been the defending champion of the Indian SUV segment for over two decades and now with the switch over to BS-6 emissions regulations Toyota has rejected the model lineup of the existing Innova Crysta just a little bit. This change sees the innova crysta do away with the earlier 2.8 liter diesel engine that was only available in the automatic model.
Toyota has decided to stick with the mainstay powertrain for the innova which is the 2.4 liter turbo diesel engine so with this automatic model the 2.4 engine now gains the 6-speed torque converter automatic gearbox which was earlier available only with the 2.8 liter model.
This change to the engine aside for the automatic model, all diesel models of the innova now come with an SCR emissions control system which includes a DPF. Other than these there is no change under the hood. And there are no changes to the aesthetic appeal to the car. It feels the same it has the same features and the same seats everything is exactly the same as earlier.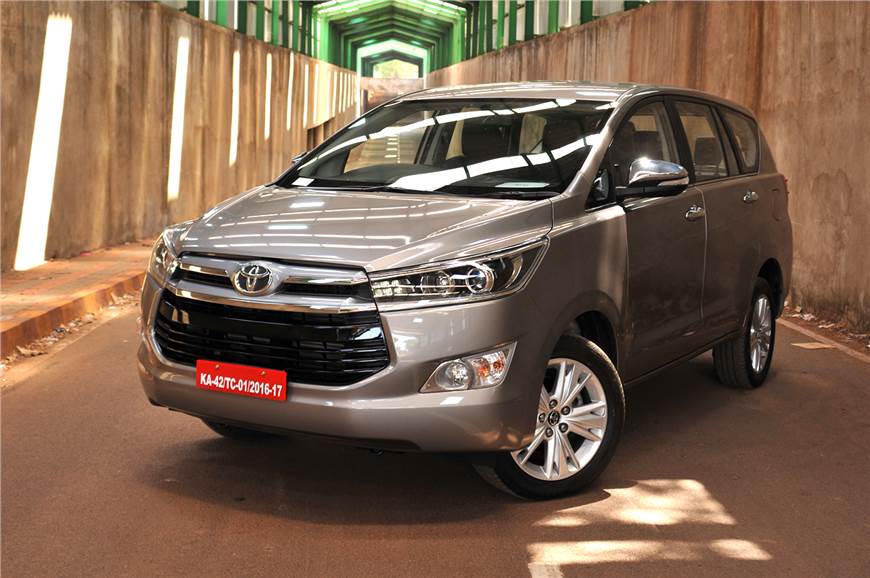 But there are a couple of changes to the driver's side of the cabin. So let me explain you  the SCR emissions regulation system or selective catalytic reduction system. Well it includes a DPA or a diesel particulate filter. So this DPF without getting too technical essentially what it does is, it's a filtration process. Filter in a sense of it now the DPF filter however can get clogged with all of the emissions coming out from the engine so once it begins to get clogged there is a warning light that comes on the dashboard. The light comes on when you're supposed to park the car in a safe location away from anything flammable.
So do not park over dried leaves dry grass etc. So make sure you park at a safe location away from everything and then you're supposed to press this button. When you press the DPF button for two seconds or longer, that's when the driver information display will indicate that the dpf burn function has been activated. When that happens the DPF reaches very high temperature and all of the suit and other materials that are essentially clogging the filter are then burned at that very high temperature. Now this function can take anything from five minutes to a little over an hour depending on how clogged the dpf filter is.
But once this DPF burn function is done, well the driver instrument cluster will indicate that you're free to drive off again. But if your DPF filter is a little too cloud, you should be driving around with an ideal amount of fuel. Because if you're going to be idling the car for half an hour or more it's going to consume a little bit of fuel. Now this function of a manual DPF burn is not available in all cars and especially abroad because what happens in countries with higher average speeds is that a DPF burn happens on its own automatically.
While you're driving at speeds anywhere between 100 and 120 kilometres an hour, now that of course is not possible in a country like India where our average speeds are
much lower and even our highway journeys may be impacted by slow moving traffic congestion on highways etc. So this is why the Toyota innova diesel now comes with a manual DPF burn option.
So drive it and see how different it feels from the 2.8 automatic mode. On paper this 2.4 liter automatic model develops 147 bhp at 3400 rpm that is 25 horsepower less than the 172 bhp at 3400 rpm 2.8 liter engine from the early automatic model. In terms of peak torque output well it remains an identical 360 newton meters for both engines however over here, the peak torque output is developed between 1400 rpm and 2600 rpm whereas earlier in the 2.8 that 360 nm was spread out over a much wider ref band of 1200 rpm to 3600 rpm. That change aside the good old 6-speed torque converter, new automatic gearbox is exactly the same as earlier as i mentioned and you continue to get eco normal and power driving mode with this engine as well.
So what does this translate do on the road, well i have to say that right from the
get-go, I can just feel how much quieter this 2.4 liter model is. The engine in the 2.8 was an absolutely loud old-school brew it used to howl and basically it was a very very loud power-train. So with the departure of that engine the drive experience in this 2.4 liter model is much quieter. But that doesn't mean there's a complete absence of engine noise and of course this is an Innova diesel, so you do get that typical diesel engine note inside the cabin as well and it gets louder as the revs go higher on the whole the drive experience.
Now as I mentioned there is much quieter engine now. This change side i can also feel the difference in the power output. It is actually a night and day difference that 2.8 model was extremely powerful and it was very trigger happy on the throttle. It used to just catapult you into the horizon but now that's no longer the case. You still get quick acceleration but that outright punch of the 2.8 is no longer. So while i do miss that 2.8 diesel engine but in the real world this car should be more efficient than the earlier model.
Now in eco mode of course throttle response is damped and you get a more comfortable driving experience but hitting power mode now does not result in that instant punch in your back acceleration instead there is a quick response but it is a more linear one what power mode continues to do like earlier is speed up gear changes under kick down acceleration and it also tends to hold gears longer at higher revs.
so that you have better throttle response at higher speeds or when you want to drive a little bit quicker so this difference in the drive experience between the discontinued 2.8
and this 2.4 model is the biggest differentiating factor between the two. Otherwise there is no difference everything is exactly the same the steering feels the same the gearbox response feels the same as earlier and all of the other inherent goodness of the innova continues to remain the same whether in terms of the cabin space or seating comfort.
So the 2.4 liter diesel automatic Toyota innova, well it carries forward all those strong credentials from the earlier automatic model of course it's lacking the 2.8 liter punch but you'll probably get better fuel efficiency in the longer run but what you do gain is far lower nvh levels which will make those long distance commutes a little bit more comfortable and easier on your ears the automatic gear lever well it's still clunky and old school but you know what it's bulletproof and faultless so i'm sure owners of the automatic innova will continue to enjoy lacks and lacks of stress-free and reliable motoring it's still very comfortable right comfort is the same as earlier handling is the same as earlier and in essence Toyota hasn't altered the winning recipe of the innova but as a bs6 diesel model do keep in mind that the dpf burn function will need to be performed from time to time for more details on kilometre intervals etc for the dpf burn
refer to the ownership manual of the innova that's all from me for now.
but don't forget to Read Next Post and exhaustive review of the Top Super Cars , Hyper Cars , SUV's  and Electric Vehicles.