Top 10 Best Custom Bikes
Here is the list of Top 10 Best Custom Bikes in the world, A factory-built motorcycle is a blank canvas waiting for an artist to transform it into a true masterpiece. This video is part of a series about the world's newest custom bikes, so join us in admiring these magnificent machines and getting inspired for your own motorbike builds in 2022.
List of Top 10 Best Custom Bikes
1. Thunderbike Jay Jay's Classic ( Best Custom Motorcycle in World )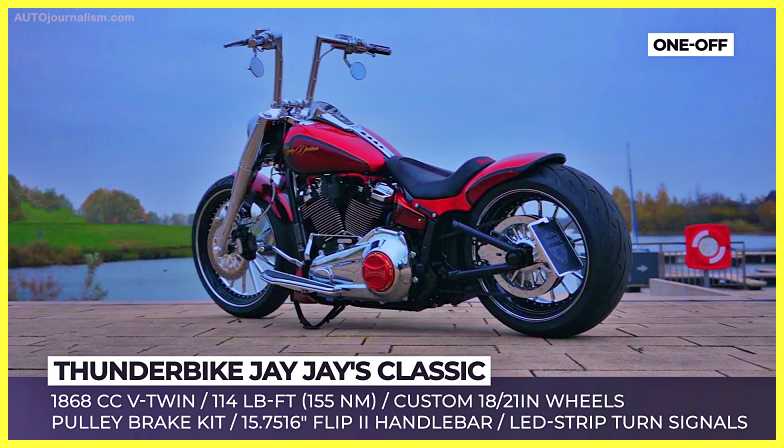 inspired by the cult design featured in the 1969 film Easy Rider This project was created for Thunderbike's loyal customer jj, who already owns four custom Harleys from the brand. In the case of the soft tail cruiser, it remains faithful to its original design and commanding appearance, which is dominated by fat tires a square dub headlamp and a torque monster engine for a typical easy rider look this fat boy gets a new 16-inch flip to handlebar for a typical easy rider look this fat boy gets a new 16-inch flip to the handlebar.
Furthermore, there is a new set of 16 spoked wheels measuring 18 and 21 inches, respectively, as well as a steel rear fender with integrated lighting and a massive fork. Overall, the standard bike had nearly 30 parts from their own and Harley-Davidson catalogs, and it was then given to Cruise Design for a proper classic paint job.
2. Bad Winners DIY Royal Enfield 650 ( Best Custom Motorcycle in World )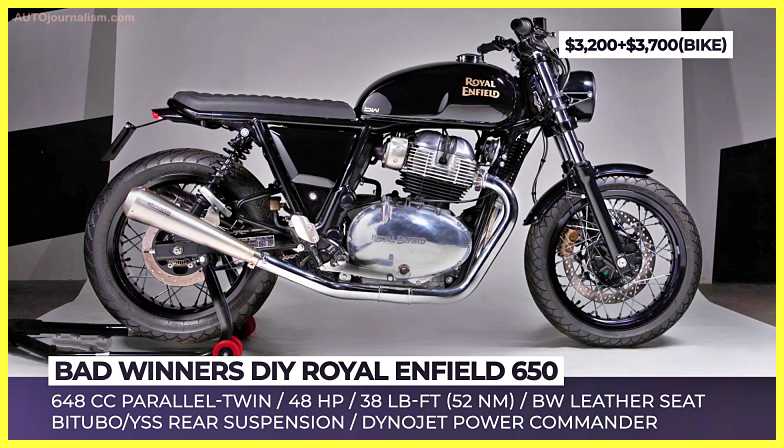 The French bed winners specialize in producing series production custom motorcycles as well as do-it-yourself conversion kits. This time, they deliver a full upgrade kit for the current pair of genuine Anfield 650s. It consists of four packages that can be purchased together or separately: front end, seat suspension, and performance. The front kit allows you to customize the bike's appearance by adding a Koso thunderbolt headlight.
a motorcycle gadget, a tiny speedometer, a new handlebar, black grips, and three pushbuttons The seat kit is available in either pure or lather form, and it also includes a custom fender and new led turn signals with improved visibility. Finally, performance and suspension kits improve the bike's handling and riding experience with a revised suspension, two exhaust options, and a dyno jet power commander with a pre-configured map.
3. Ares Modena Bullet BMW R nineT ( Best Custom Motorcycle in World )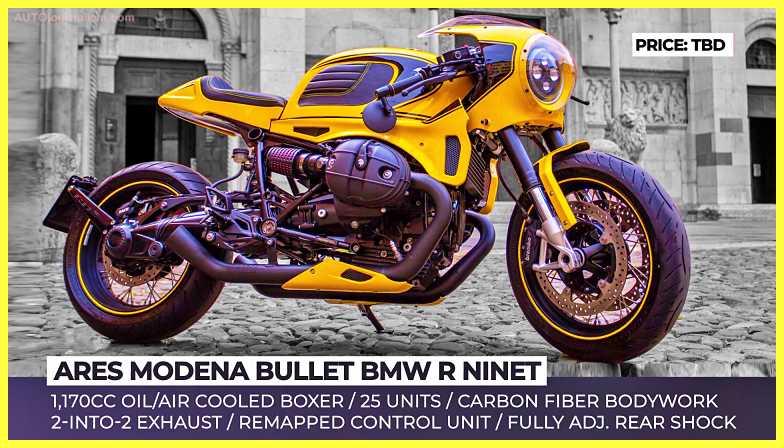 rare supercars Custom restorations of premium SUVs and retro cars, as well as handcrafted motorcycle builds, are all capabilities of the Modena-based aries design, and one of their most recent projects is a gaffer racer based on the stock r90. This build is intended to fill the void left by the discontinuation of the factory r90 tracer. The bullet will be limited to 25 units and will feature classic design elements such as a bubble fairing, reshaped tank, and a sharp tail with a short seat.
the rear shock for a fully adjustable unit, install clip-ons and replace the airbox and intake with two conical air filters attached to each cylinder head. the usual air and oil-cooled 1170cc boxer are now mated to a custom two and two two exhaust system, and the control unit is remapped The calf racer styling is completed with custom mirrors, pegs, a tank strap, and a one-of-a-kind liftery.
4. Purpose Built Moto XS650 Cafe Racer ( Best Custom Motorcycle in World )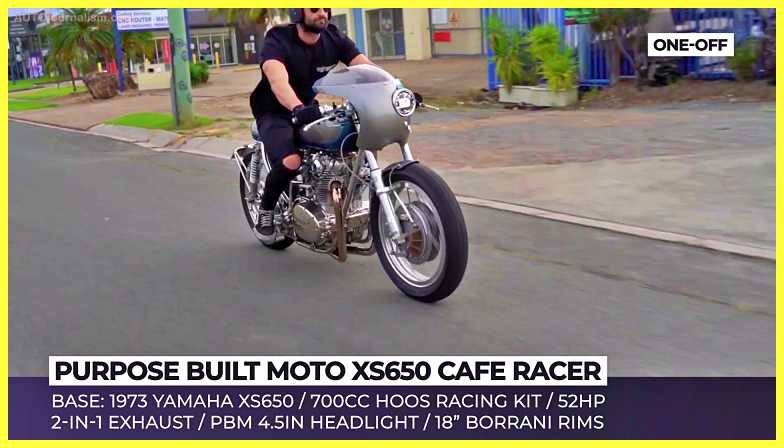 Moto is built with purpose. This one-of-a-kind project is part of the Australian company's signature series, which imagines vintage bikes with a modern twist. This model begins with a 1973 Yamaha xs650. To make the repurposed build client received from his grandfather road and track-worthy, the company stripped, blasted, and cleaned the original Murasaki piggyback shocks upfront.
They used Siriani forks with 38-millimeter tubes and custom triple clamps. The wheels were rebuilt with 18-inch burner rims, but the rear brake was replaced with a 230 millimeter Robinson drum unit, the custom bikini fairing houses a four and a half-inch led headlight, there is a new two Antoine stainless steel exhaust, and the engine was treated with a 700cc hose racing kit and Mikuni vm34 carbs, producing 52 horsepower.
5. Nmoto Golden Age ( Best Custom Motorcycle in World )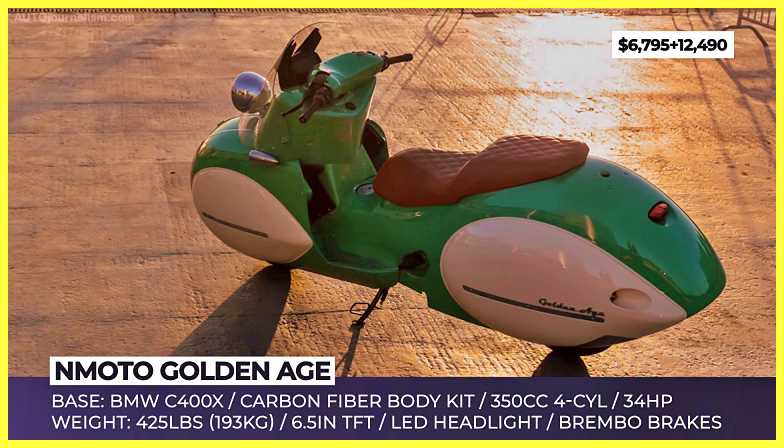 The golden age project's wild bodywork conceals a modest BMW c400x scooter. The Miami-based and moto makes the model unrecognizable by fitting it with a nine-piece carbon fiber kit new kidney grilles and flash headlights and turn signal housings. This design is based on the 1936 Henderson Courtney custom bike and the 1934 BMW r7 prototype.
Furthermore, the model has new front and rear subframes, high-quality mountings, and a new exhaust kit. However, underneath the skin, this BMW machine remains unchanged. The 350cc four-cylinder engine generates 34 horsepower. The wheels feature modern Brembo brakes, and an electronics package includes a six-and-a-half-inch TFT screen, Bluetooth connectivity, and keyless ignition. Finally, in cold weather, heated seats and grips are available.
6. Debolex DB25 ( Best Custom Motorcycle in World )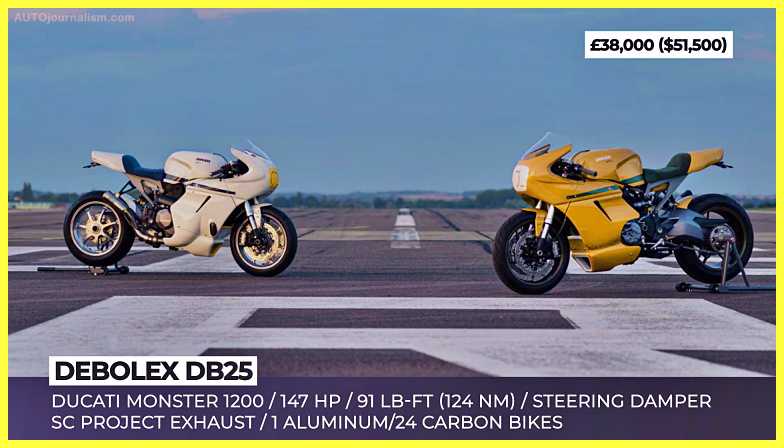 Back in the 1990s, Miguel Galluzzi created the Ducati Monster by removing the 888 superbike fairing and exposing the beautiful 900s engine; this time, however, the world's original naked motorcycle is being dressed up once more, and its powerful tester strata v20 is covered with a unique carbon fiber bodywork the UK custom workshop d Bolex engineering first developed atb-25a prototype
The team created moulds and replicated 100 parts after shaping new aluminum bodywork onto the 2021 monster chassis. 21 as well as a fancy composite For even more weight savings, 25 were CNC machined and 60 were laser cut from sheet metal. The crew even fabricated a single-piece aluminum subframe. Scaff eraser looks, Maxton suspension, dynamic wheels, and an sc project exhaust round out the final product.
7. Badland Kumu-Kumu No. 134 Super Trike ( Best Custom Motorcycle in World )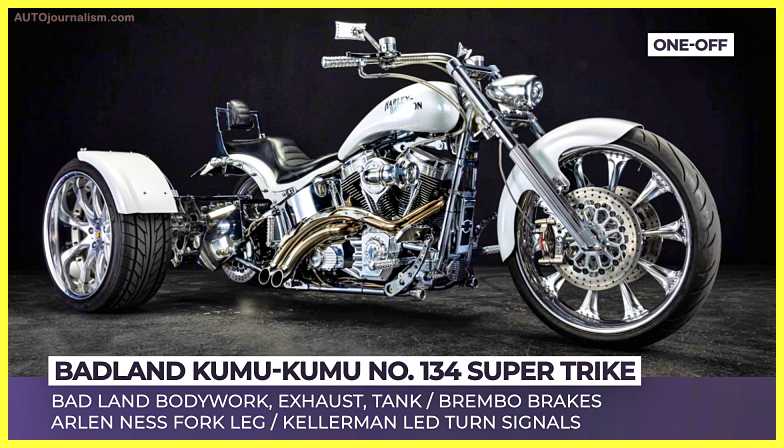 arriving from Japan This crazy three-wheeler from Badland is based on a hardly soft tail trike from the early 2000s. The model gains custom design bodywork, a new fuel tank, and different handlebars, all designed by Badland. The company is also in charge of the headlights, while Kellerman is in charge of the rear turn signals. The frame is chrome-plated, and the front fork has been updated with Arlen nesslag. There is no information available about the rear wheel duo.
However, the front one is the performance machine hooligan 23 inches, which has bramble brakes. Finally, the kumkum number 134 comes with cans, factory mirrors, grips, and foot packs, as well as a duff 4c custom exhaust system built in house vagabond v15 titman. This is the 15 project by the Austrian vagabonds' paul brow art and Philip robel. As inspiration, they took one of their previous builds, the whale, which was based on the r100r, but this time the conversion would be based on 2016.
8. Vagabund BMW R nineT V15 Tintman ( Best Custom Motorcycle in World )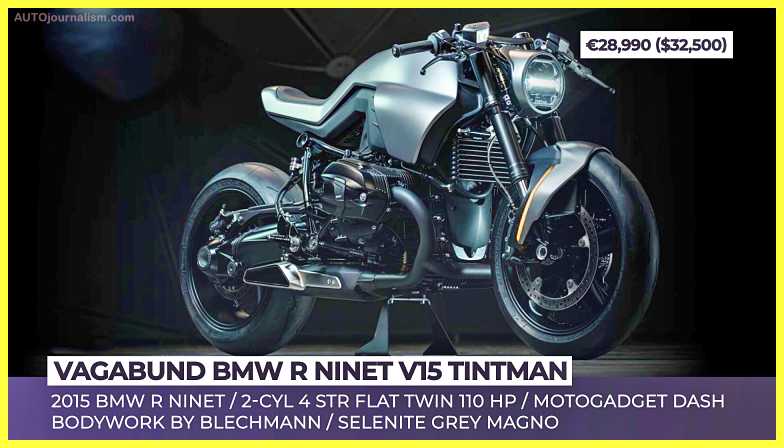 To deal with the challenging metalwork, the new body kit has two layers: a full aluminum body with a fuel tank and a second mono body over it. The Austrians collaborated with the legendary bernard Naumann, a key Blackman. The upper monocoque section can be slid back on hydraulic shocks controlled by a custom-built remote, and underneath is a moto gadget dash visible through an acrylic window.
a leatherman pouch and a built-in credit card wallet Verkdorf leather elements, a Koso thunderbolt led headlight, a custom ceramic quilted exhaust system, and rotobox wheels wrapped in Pirelli diablo super Corsa sps are among the final touches.
9. Earth Moto Budzogan ( Best Custom Motorcycle in World )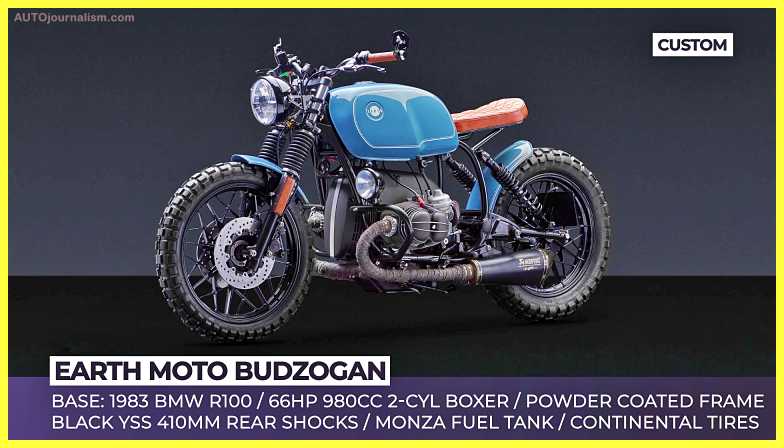 founded about three years ago The Slovakian earth moto is a two-man custom building team who are already well known in the segment for a couple of their one-of-a-kind bikes their latest project is based on the 1983 BMW r100 that has been put on a diet for a weight loss of nearly 70 pounds the model gets a specially designed subframe a six-inch thick under-seat pan and a new quilted leather seat that can accommodate two passengers
The suspension consists of extremely shortened forks and new black YSS 410-millimeter shocks, while the stock wheels have been painted black and are wrapped in new Continental tires. The bike retains its 66 horsepower 980 cc to cylinder boxer engine, but it has been completely overhauled. Custom exhaust with custom headers and a tatem Akrapovic muffler are also included.
10. Thirteen and Company's Amber II Custom ( Best Custom Motorcycle in World )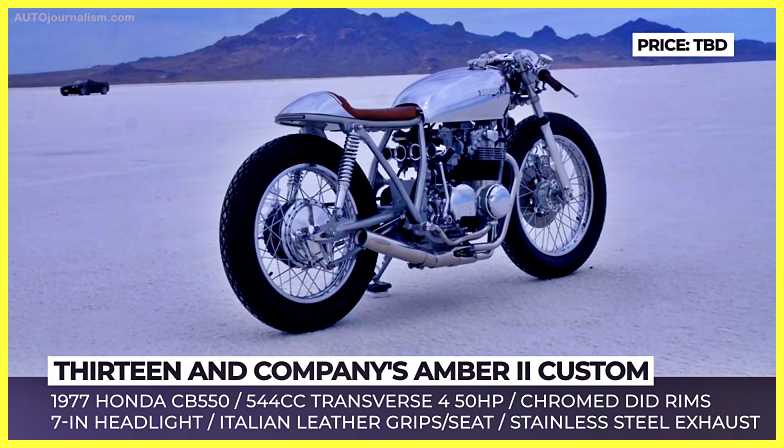 Great things may happen if your hobby becomes an obsession. Kyle vara of 13 and company has released the second edition of the emperor, which is based on the 1977 Honda cb550. The engine was fully refitted and reassembled with the stock piston kit, new camshaft bearings, seals, and gaskets.
The chassis was rebuilt, and a new stainless steel exhaust was installed. The original fuel tank was lengthened, and it now flows smoothly into the bobber seat, which is upholstered in the finest Italian leather. The Amber 2 has a 7-inch custom headlight and imported Italian grips. controls and motor gadget electronics that have been refurbished Finally, the entire body was chromed and rides on d80 ramps with spokes.
11. R nineT Chopper by ETS ( Best Custom Motorcycle in World )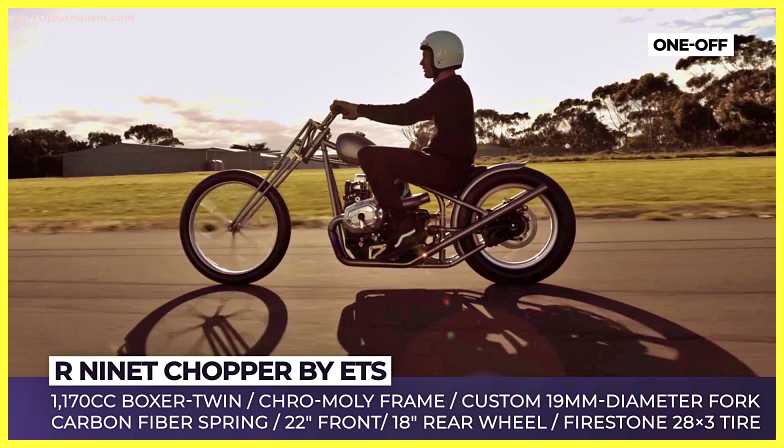 The tuning favorite BMW r90 has been reimagined in many styles over its years on the market, but turning it into a chopper has always been a task not for the faint of heart. This build, however, is an entirely new level of ambitions conceived by Nigel pantry of the Australian engineer to slide. The project retains only the original engine, drivetrain, and rear brake; everything else was designed from the ground up. There is an all-new Chromoly frame fitted with an in-house developed suspension that includes 19-millimeter forks and carbon fiber springs.
The rear wheel is 18 inches in diameter, while the front unit is 22 inches in diameter, and it was designed specifically to fit the 100-year-old Ford Model T firestone tire. Both wheels have snowflake-style spokes that were created using the CED software Petri. We also updated the engine, installed a new titanium exhaust, and hired low-brow customs to build the bodywork. We hope you were impressed by these two-wheeled masterpieces.
credit group
NEXT
Top 10 Best Snowmobiles in the World
Top 10 Fastest Electric Bikes 2022