Top 10 Best Electric Supercars
Here is the list of Top 10 Best Electric Supercars, Internal combustion engines are still on the verge of being phased out by quickly growing electric powertrains, as seen by the dreaded run from their fate. We'll show you a new lineup of supercars with electric souls that are hell-bent on writing a new chapter in the history of high-performance luxury vehicles.
List of All Top 10 Best Electric Supercars
1. Mercedes Vision AMG (Electric Supercar)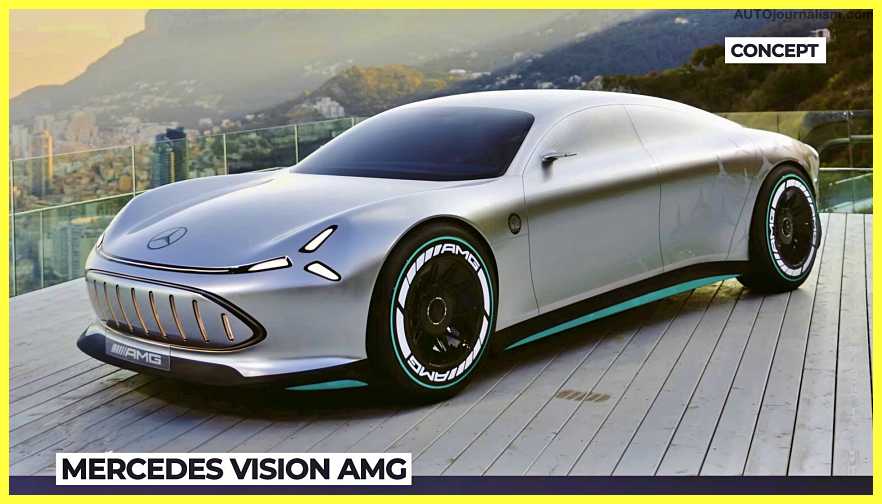 The new Amg concept offers a glimpse into the brand's future and foreshadows the arrival of the first ever electrified Amg in 2025. This model develops on the range-focused vision eqxx by providing the same to your drop body shape while focusing on performance and interior luxury from the exterior to the vision amg captivates with its striking proportions. a redesigned front fascia and massive 22-inch wheels A redesigned Panamericana grille with vertical slats and three-dimensional Mercedes star headlamps are featured on the latcher. Triple tube taillights may be found in the back.
While the exterior color and graphics are inspired by the Mercedes-Amg Petronas formula one car, the vision amg also features carbon fiber body elements and an active rear spoiler. What makes the vision amg truly remarkable is its dedicated EV platform, which features a new high-voltage performance battery and axial flux motors developed by the company's new yasa subsidiary.
2. Сhevrolet Corvette Electrified (Electric Supercar)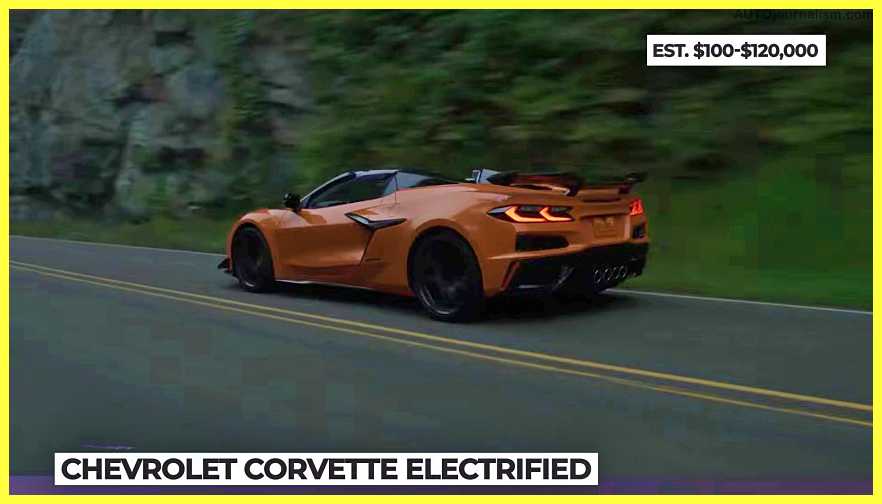 The mid-ancient c8 stingray is a new edition of America's famous sports vehicle, but it's aiming for EV dominance. The electrified version for the 2024 model has already been declared by Chevrolet. Rumor has it that the gigantic newcomer will be named irae and will cost more than $100,000. With the 800-volt LTM battery design, the electric vet is expected to acquire a three or four motor all-wheel drive powertrain.
We can expect 1000 horsepower and the premiere of the revolutionary energy recovery system, which uses the heat generated by electric vehicle batteries to warm the cabin, improve charging conditions, and even increase vehicle acceleration.
3. Porsche Mission R and 718 Cayman GT4 ePerformance (Electric Supercar)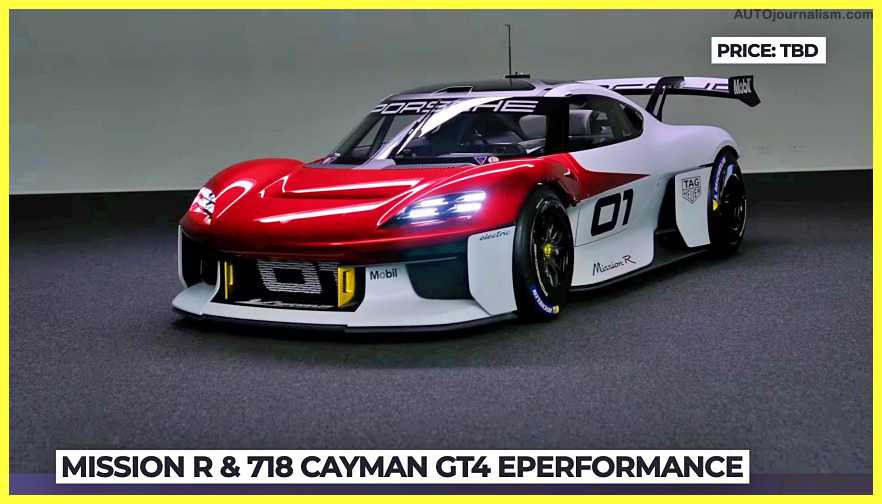 Two new models have been added to Porsche's pool of test platforms for the 2025 track-focused electric sports vehicles. The gt4e performance, which is based on the chassis of the 718 cayman gt4 club sport, has joined the original fully functional prototype mission r. These track pieces have an integrated carbon fiber composite gauge, natural fiber composite body panels, active aerodynamics, and adjustable rear wings. The same materials were utilized inside the cabins, and 3d printed foam elements were used. In qualifying mode, the electric track power comes from a two motor all-wheel drive system powered by a band 80-kilowatt hour battery with a 900-volt design.
The setup has a top speed of 1088 horses and can consistently produce 681 horsepower in racing mode. The Germans claim that their future racers will be able to compete for up to 45 minutes; they reach 62 mph in 2.5 seconds and top out at 186 mph.
4. Lotus Eletre (Electric Supercar)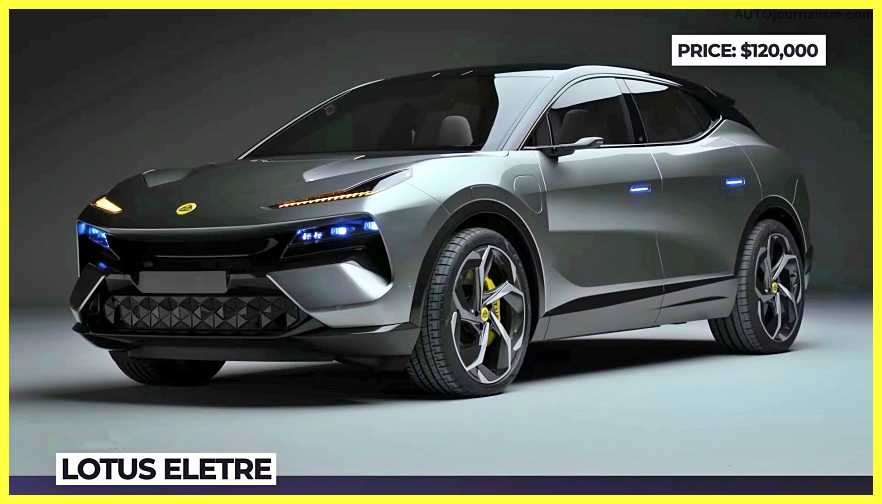 Lotus is ending its internal combustion engine program, as previously stated, and all future models will be purely electric. The world's first electric hyper SUV, which capitalizes on the company's 70 years of sports car production history, features an aerodynamically improved exterior with a closed staff grill, a rear spoiler, and 22 or 23-inch wheels. The Lotus Electra is powered by a dual or tri-motor all-wheel drive powertrain that produces 600 or 900 horsepower and is based on the same 800-volt electric architecture as the Eva hypercar.
It has a range of 370 miles. In its fully outfitted form, the Electra gets ceramic composite brakes with 10 piston calipers, air suspension, and adaptive dampers, and accelerates from 0 to 60 in 2.9 seconds. Aside from the sporting vibe, the inside screams luxury, with wool bland and man-made linens, genuine leather, and durable microfiber wrapping the seats and surfaces.
5. Maserati GranTurismo Folgore (Electric Supercar)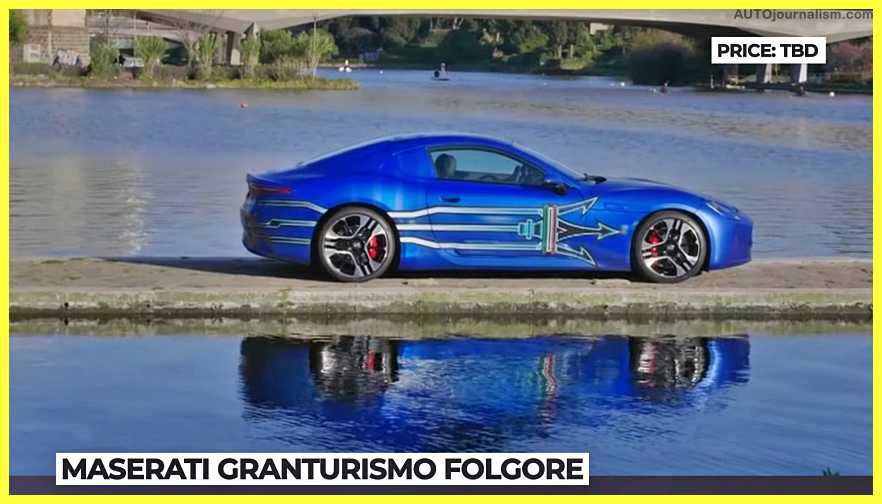 Despite Maserati's recent unveiling of a ground-breaking in-house-built new Juno engine, the Italian brand is sticking to its electric approach. The production version of the Gran Turismo Folgore nicknamed lightning will arrive in 2023, but it has already been spotted testing in camo. The outside appearance of the coupe is similar to that of the recently released Grecale SUV.
The brand's trademark grille, extended headlights, and redesigned wheels are all present. The GT4 Gore is supposed to be built on an entirely new platform that employs formula etac and can charge at 800-volts. According to speculations, the car will have at least 600 horsepower and up to 1200 horsepower, as well as best-in-class handling and extreme performance metrics, such as a top speed of 186 miles per hour and a 0-60 time of under 3 seconds.
6. Subaru E-Ra and Lexus EV Supercar (Electric Supercar)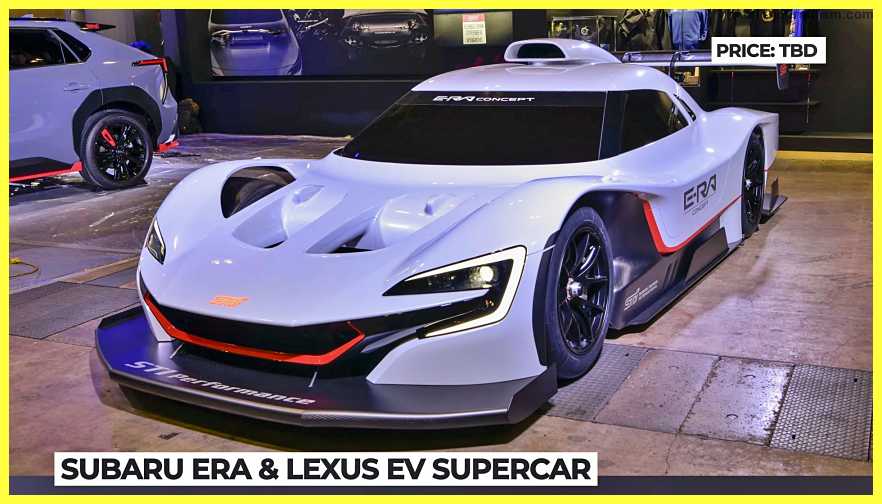 Beyond the already released crossovers, tiora and Subaru are eager to continue their collaboration in the EV segment with the rpc4x super soltera and Lexus rce the future capabilities of the code developed an electric platform of these Japanese brands are being demonstrated by the hypercar concepts developed by super technical international, more commonly known as sti the era challenge project was launched two years ago with the goal of gaining expertise in the new carbon neutral world
The Lexus cv is more of a grand tourer, with a 60-kilowatt hour battery and a 1088 horsepower powertrain with the newly adapted proprietary for motor for wheel torque vectoring technology. the attempt at setting a new world record A true racer, ak era is on track to beat Nurbuck Ring in under 400 seconds, or 6 minutes and 40 seconds.
7. DEUS Vayanne (Electric Supercar)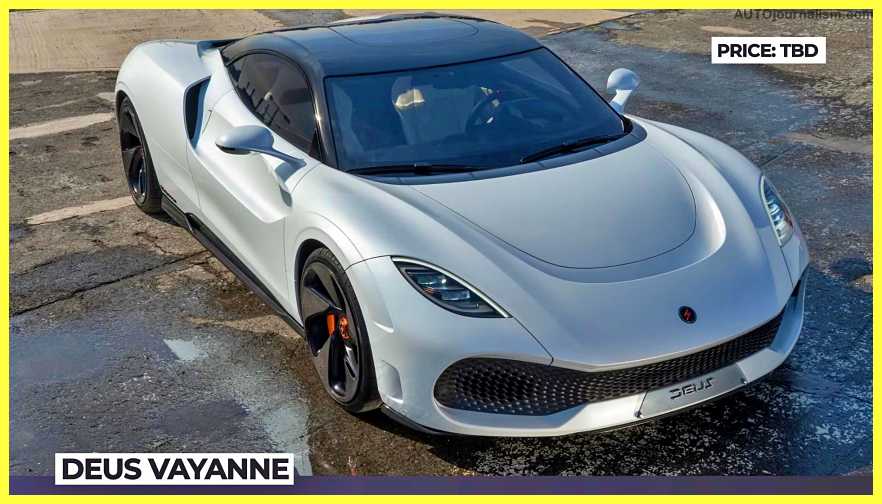 Gunning for the title of most powerful electric supercar Deus' first electric vehicle, Deus Vayanne, will be released in 2025 as a 99-unit limited edition production model. Its drivetrain technology is being developed by industry leaders such as Intel Design and Williams Advanced Engineering. Although the latter is a closely guarded secret, Deus claims that the system will produce at least 2200 horsepower and 1475 pound-feet of torque. The model is expected to spread from 0 to 100 kmph in under two seconds, according to the business.
While its top speed will exceed 248 mph ( 400 kmph ), the Vayanne's exterior will not be the most exotic in its sector, it will have several unique characteristics. The infinite loop-inspired front and rear grilles, as well as the futuristic led tail light stripe, are the most prominent features. The inside has been nicknamed the oasis of luxury, implying a high-end cabin with the most up-to-date technology.
8. Automobili Estrema Fulminea (Electric Supercar)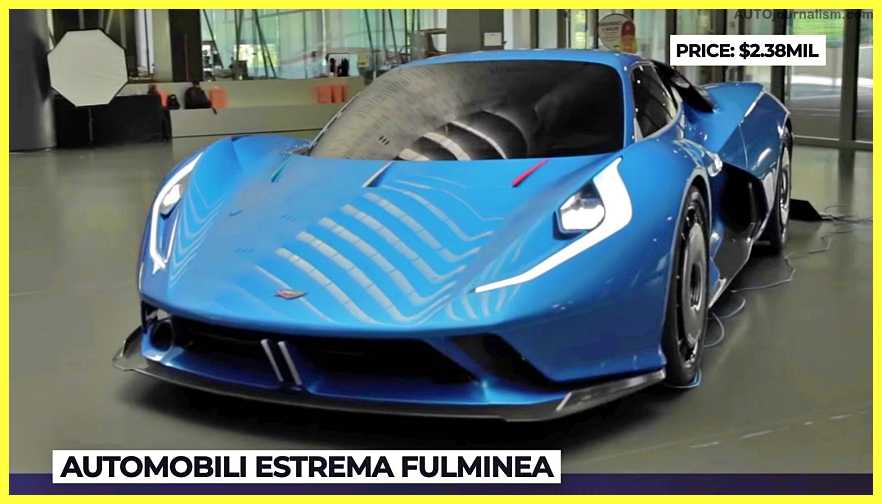 The name of this newly established Italian manufacturer translates to "extreme automobiles," while the moniker of the brand's first creation means "lightning fast." The upcoming hypercar promises blistering acceleration in less than 10 seconds from a standstill, thanks to a 240-horsepower all-wheel drive system with quad electric motors and a revolutionary hybrid battery with a capacity of 100-kilowatt hours.
The battery pack combines avast battery energy engineering solid-state cells with ultracapacitors, resulting in an exceptional energy density of 450-watt hours per 2.2 pounds of battery weight, which should be enough for 323 wltp miles. The 660-pound battery pack also has an 850-volt design and offers 15-minute quick charging. Only 61 complete maniac units will be built, all of which will be manufactured in Montana.
9. Matador MH2 (Electric Supercar)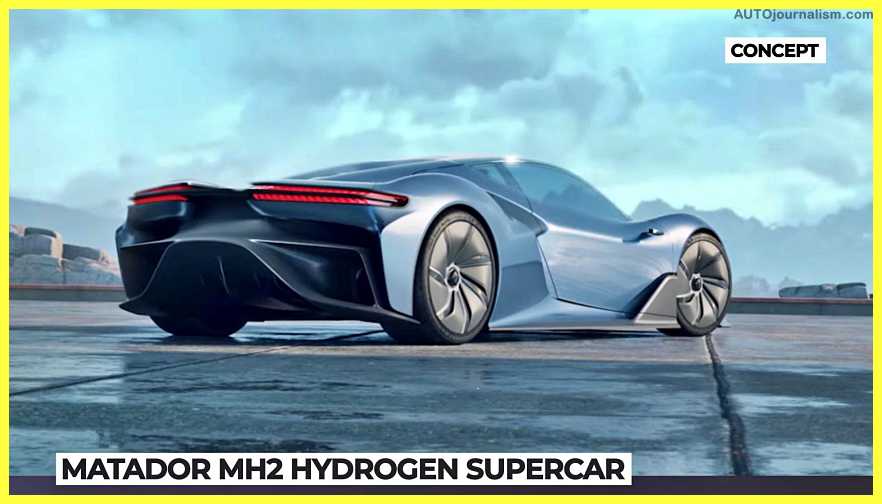 The matador group, which began as a tire manufacturer in 1905 and is now a well-known automotive parts supplier, is expanding to become an automaker in 2022. Their first project, the mh2, is a hydrogen-powered supercar developed in collaboration with the Slavic technical university of Casita. Instead of using existing fuel cell technology, the model relies on a new propulsion system that minimizes the space needed to store hydrogen, which is kept at a lower pressure.
The business also claims impressive performance figures for the mh2 600 horsepower output, 155 miles per hour top speed, and 0 to 60 acceleration in 3.9 seconds. Another appealing feature of this car is its look. The low-profile sporty body has a single-piece glass canopy that spans the entire front, and the massive wheels are completely encased with slats to increase airflow, keeping with the futuristic motif. Everything you might require is shown on a big portrait-oriented infotainment screen in the mh2 cockpit, which is free of buttons and levers.
10. Alpine A4810 (Electric Supercar)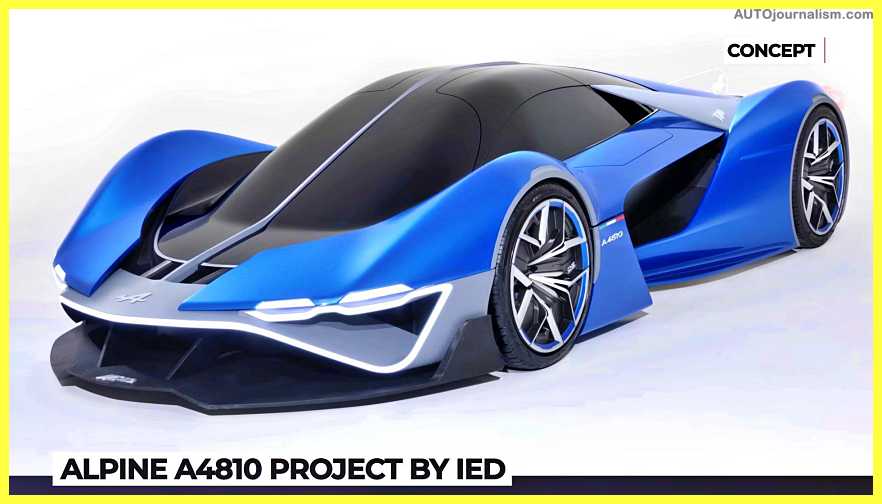 The two-seater boasts formula one-inspired bodywork composed of carbon fiber and renewable materials, thanks to a tight partnership between the European design institute in Turin and the French alpine. On the front end, there is a big splitter, ultra thin strip of led lights, and massive wheel arches. On the back end, there are futuristic transparent led tail lights formed like light blades. A matte black glass canopy that runs the length of the body is another highlight of the concept's exterior.
The cabin has a couple of low-slung bucket seats with a fixed backrest angle, a formula one-derived steering wheel with the dashboard panel and the middle, and red ambient lighting. At this time, no information on the powertrain has been disclosed other than the fact that it runs on hydrogen. What are your opinions on the new generation of electric supercars? Tell us in Comment Box.
Read also: