Top 10 Best Upcoming Electric Aircrafts In The World
In this article, we are going to cover the Top 10 Best Upcoming Electric Aircrafts In The World and you can download this page as a pdf in just 1 click, go to the end of this article So Let's start.
Electric aircraft or E-aircraft are aircraft that use electricity instead of petroleum fuel to power their propulsion system electric aircraft has been existing since the 1970s however it has not been seriously examined and developed until recent years due to climate change and global warming they have a number of benefits over conventional plants they are quieter more environmentally friendly and energy efficient electric cars such as tesla have already stormed the automotive industry and electric aircraft is going to be the next big thing to the aviation industry.
List of Top 10 Best Upcoming Electric Aircrafts In The World
10. Bye Aerospace eFlyer 2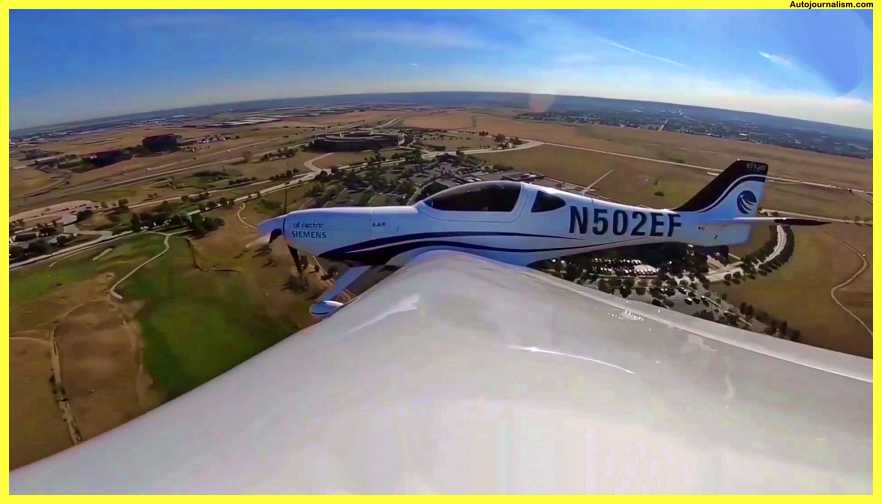 Formerly known as the sun flyer 2. it is a twin-seat light electric aircraft designed and under development by the aerospace of Denver colorado the aircraft was first publicly introduced on 11 May 2016 and the first flight occurred on 10 April 2018. this aircraft is designed specifically for pilot training missions the e-flyer 2 incorporates a cantilever load wing design it features a two-seated side-by-side configuration enclosed cockpit under a bubble canopy fixed tricycle landing gear and a single electric motor and tractor configuration powered by up to six lithium-ion battery packs it has a maximum speed of 135 knots the aircraft has a flight endurance of three and a half hours.
9. Elektra One Single-Seat Solar Aircraft, PC-Aero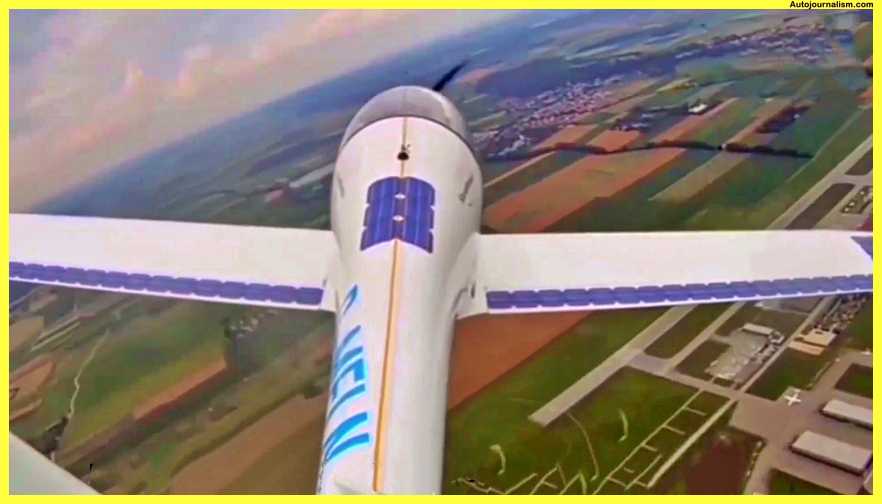 Which is a single-seat electric-powered composite aircraft it took its first flight on 21 march 2011. the Electra one has lithium batteries and solar panels it has a solar system with solar panels installed on the top surface of the aircraft providing solar energy directly to the motor and the batteries for charging a tricycle gear variant were displayed in 2014. it has a top speed of 75 knots with a maximum range of 270 nautical miles the endurance of the aircraft is around three hours.
8. Airbus Vahana Flying Taxi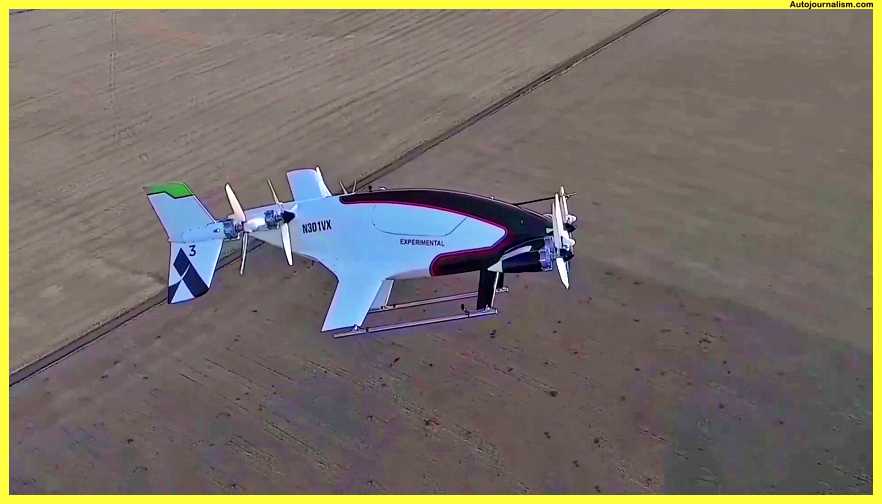 It is an electric-powered propeller VTOL personal air vehicle prototype financed by cubed by airbus this electrical aircraft is intended to move a passenger or small cargo within the confines of a city its appearance is straight out of a science fiction movie the passenger module nestles between two parallel wings one above and one below each holding four engines its vertical takeoff and landing capabilities make it possible to fly from building to building which may turn into an alternative to land-based urban transportation the honda likewise incorporates technology that allows it to avoid obstacles and navigate the complexities of the urban environment the size of the aircraft is 18 feet with a wingspan of 20 feet the top speed of the aircraft is 120 knots while the range is around 27 nautical miles in November 2017 the team announced that it's ready to begin flight testing and it took its first flight on 31 January 2018. unfortunately, the aircraft retired in December 2019 in favor of city airbus only two aircraft were ever built.
7. CityAirbus NextGen (Urban Air Mobility)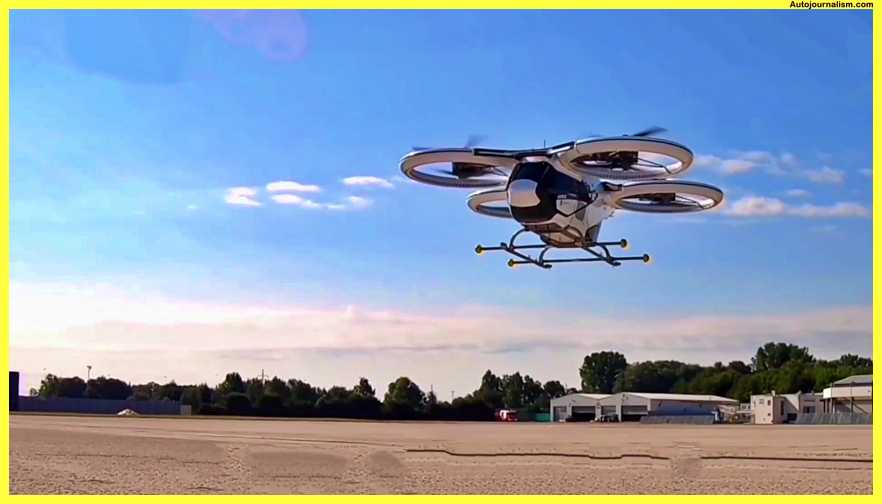 It is a multinational project by airbus helicopters to produce an electrically powered VTOL personal air vehicle demonstrator it is intended for the air taxi roll to avoid ground traffic congestion the first flight of the aircraft occurred on 3 may 2019 the aircraft can carry one pilot and three passengers and it also has self-piloted features in addition to zero emissions and low noise levels the operating costs will make this aircraft competitive with traditional taxis the project was updated in September 2021 a new configuration boasts a fixed-wing v-tail and eight electric propellers without moving surfaces or tilting parts it has a range of 43 nautical miles and a maximum speed of 65 knots the size of the aircraft is 26 feet and has a wingspan of 26 feet the endurance of aircraft is 15 minutes first flight is planned for 2023 and certification is expected around 2025.
6. Lilium Jet eVTOL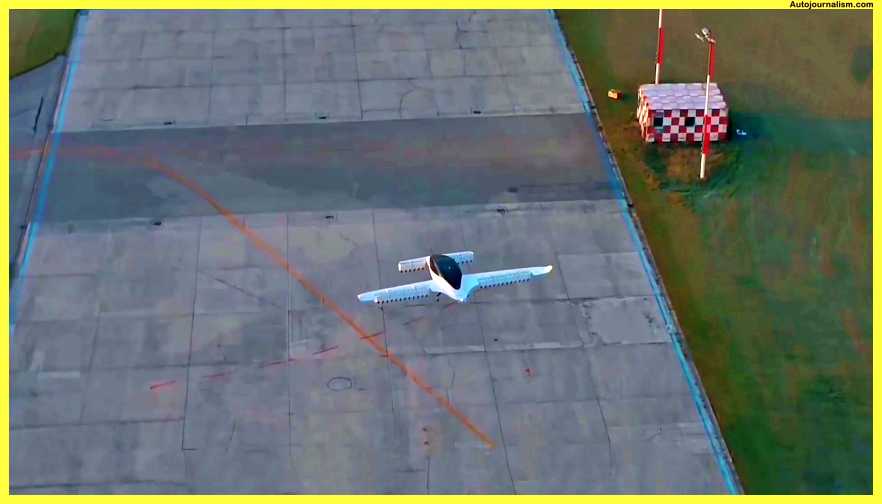 It is an electric jet aircraft developed by german startup company Lilium it successfully completed its maiden flight in May 2019 this five-seater jet is a full-scale full-weight prototype that is powered by 36 all-electric jet engines allowing it to take off and land vertically while achieving remarkably efficient horizontal or cruise flight with a top speed of 160 knots and a range of 160 nautical miles it is capable of completing much longer journeys than the majority of its competitors this is due to the fixed wing design of the aircraft the jet expects to be fully operational in various cities around the world by 2025. however, trial services will start earlier in several yet-to-be-revealed locations.
5. Opener's Blackfly Electric Aircraft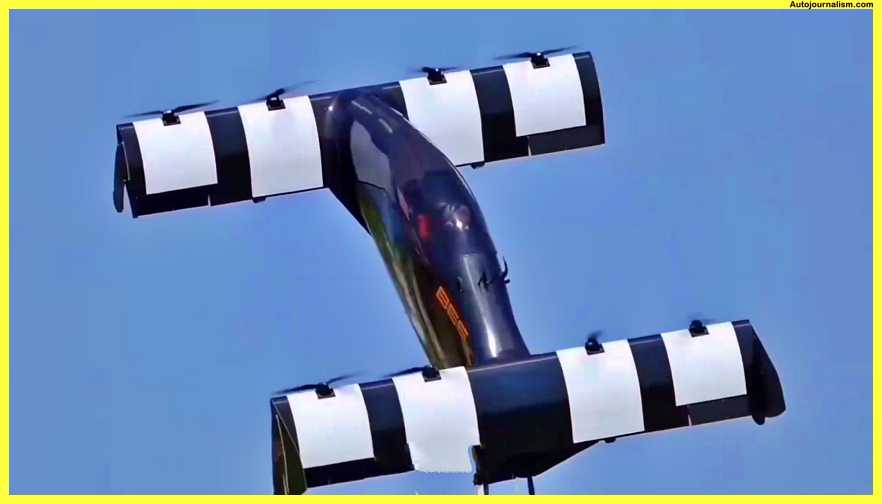 It is an American electric powered VTOL personal air vehicle designed by Canadian Marcus lang and in production by his company opener incorporation apollo alto California it was publicly introduced on 12 July 2018 after nine years of development it has a size of 13 feet with a wingspan of 13 feet the aircraft has a maximum speed of 70 knots and a range of 35 nautical miles its design is world's first ultralight fixed-wing all-electric vertical takeoff and landing aircraft investors in the company include google co-founder larry page it is made from carbon fiber reinforced epoxy with all-electric battery-powered propulsion the fuselage has a single seated cockpit under a bubble canopy the forward wing is low and the rear wing high giving the cockpit good forward visibility each wing has four tractor configuration counter-rotating propellers powered by electric motors the aircraft is not a tilt wing or tilt-rotor design instead the entire aircraft changes pitch when the aircraft is parked both wings and their motors are canted up at about 45 degrees.
4. Eviation Alice Aircraft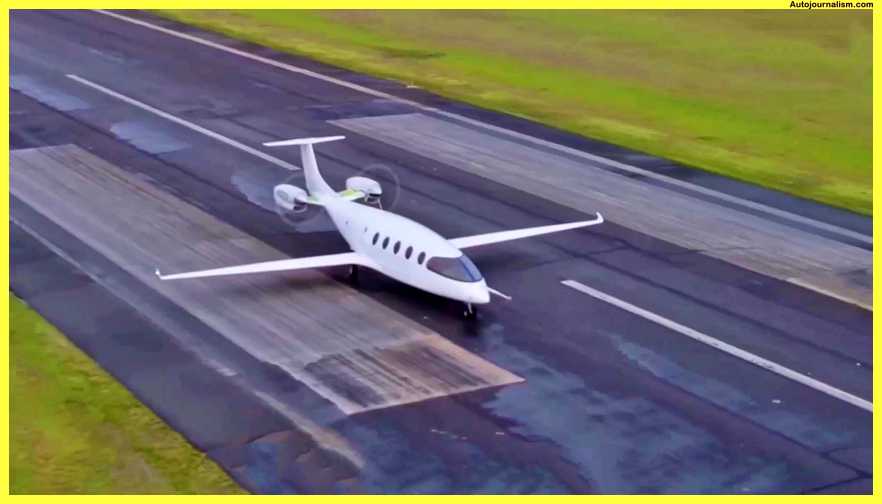 Which is an Israeli sleek all-electric aircraft designed to accommodate nine passengers and two crew members currently under development its construction incorporates 95 composite materials is powered by two electric motors and has a detail the project started in 2015 at the June 2019 Paris air show a full-size static Alice was exhibited but unfortunately on 22 January 2020 a fire broke out and the prototype was destroyed in July 2021 aviation unveiled the updated configuration with the t-tail the aircraft is expected to take the first flight in summer 2022 and will be introduced in 2023 it focuses on the short-range regional market the length of the aircraft is 56 feet with a wing span of 59 feet it is expected to cruise on a speed of 250 knots and will have a maximum range of 440 nautical miles the endurance of aviation Alice will be around three hours.
3. NASA X-57 Maxwell Aircraft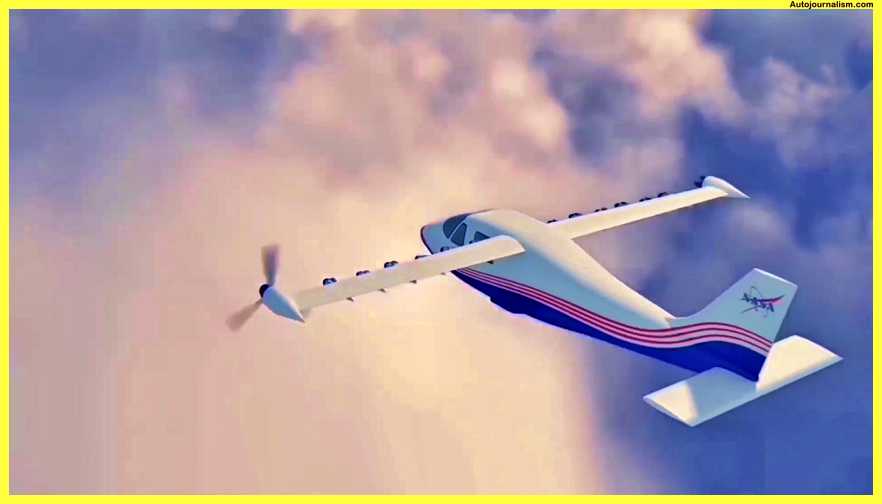 It is an experimental aircraft being developed by NASA not only does it have low emissions but it also has the potential to reduce noise pollution the first flight of the x-57 is scheduled to take place in July 2022 this aircraft is an example of out-of-the-box thinking when it comes to electrical aircraft design this awkward-looking experimental plane uses the distributed propulsion provided by 14 electrical motors all of them integrated into a specially designed higher wing this unusual configuration where the two larger motors at the wingtips reduce drag associated with wingtip vortices is designed to bring about a 500 efficiency increase when cruising at higher speeds according to NASA the x-57 will have a range of about 86 nautical miles and a cruise speed of 150 knots meaning it will be able to fly for roughly 40 minutes at a time.
2. Pipistrel Velis Electro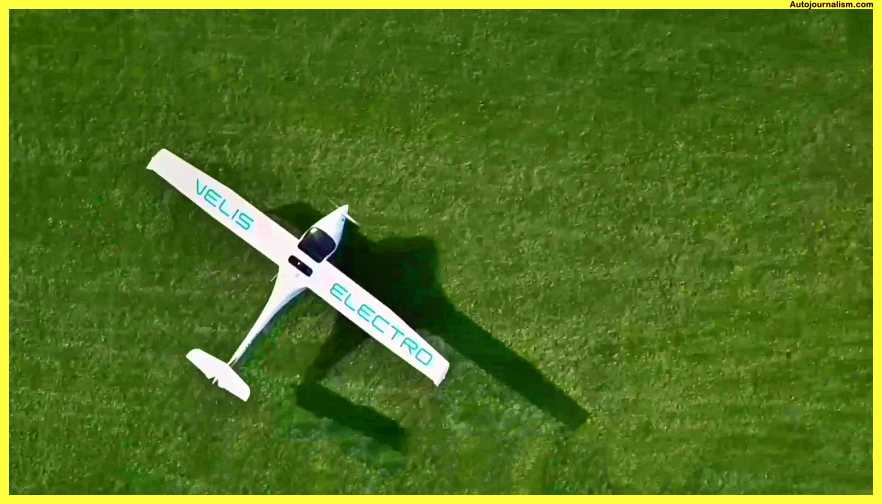 On the second spot is pipistrel valley's electro which is a Slovenian light aircraft designed and produced by pipistrel of adjacent the aircraft was fully electric type certified in June 2020 and it is intended primarily for the training aircraft role particularly multiple successive takeoff and landings at the airfield the aircraft is based on the Pipistrel Velis Electro airframe and features a cantilever high wing a two-seated side by side configuration in an enclosed cabin accessed via doors it has a stick shaker and fixed tricycle landing gear and a single electric motor and tractor configuration the overall length of the aircraft is 21 feet while its wing spin measures 35 feet it has a top speed of 108 knots and has an endurance of 50 minutes royal danish air force and Slovenian air force are the military operators of this aircraft.
1. Wright 1 electric aircraft (Best Upcoming Electric Aircraft)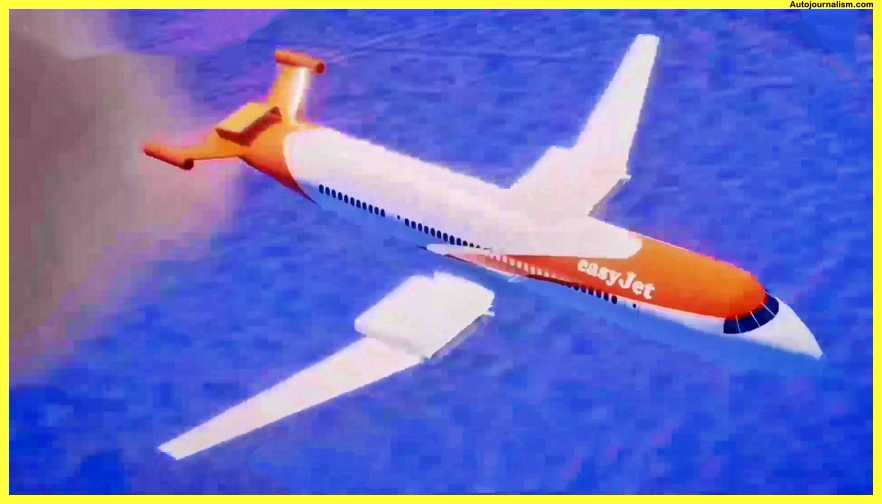 Number one is none other than right one aircraft in September 2017 u.s startup ride electric announced that it had partnered with European low-cost airline EasyJet in order to develop an all-electric airliner they are developing an all-electric 186 commercial passenger jet with 800 nautical mile range that's targeted to enter service around 2030. the aircraft is to run on batteries it will feature high aspect ratio wings for energy efficient flight distributed electric propulsion and swappable battery packs with advanced cell chemistry write electric additionally announced plans for an electric 100 seater the right spirit due out in 2026 that will have 300 nautical miles range although this isn't a particularly long range it would be enough to cover many busy short-haul routes such as London to Paris or new york to Boston the expectation for range and capacity is to be increased progressively as technology improves and that a whole family of aircraft will eventually be produced.
These are the top 10 upcoming electric aircraft in the world. Hope you like this article, thanks for reading it.
Read also:-
Top 10 Best 4×4 Trucks In The World 2023
Top 10 Upcoming Air Defense Systems in the World ( Update )
Top 10 Fastest Military Drones In The World (UCAV)
Top 10 Best Hydrogen Cars in the World 2023 (Pdf)