Top 10 Convertible SUV in the world
A convertible SUV may sound like a platypus on wheels, but this form factor was once very popular among consumers. Today, we'll aim to resurrect the off-roadie open-top car niche by reviewing the greatest models now on the market. The world's top ten convertible SUVs or Top 10 Convertible SUVs in the world.
Furthermore, we'll go at the historical history of this class via the lens of the most fascinating bespoke restoration projects. Before we get to the article, press the bell icon ( on your right side – below ) to always be updated about our exotic vehicle reviews.
#1: Ford bronco ( Convertible SUV )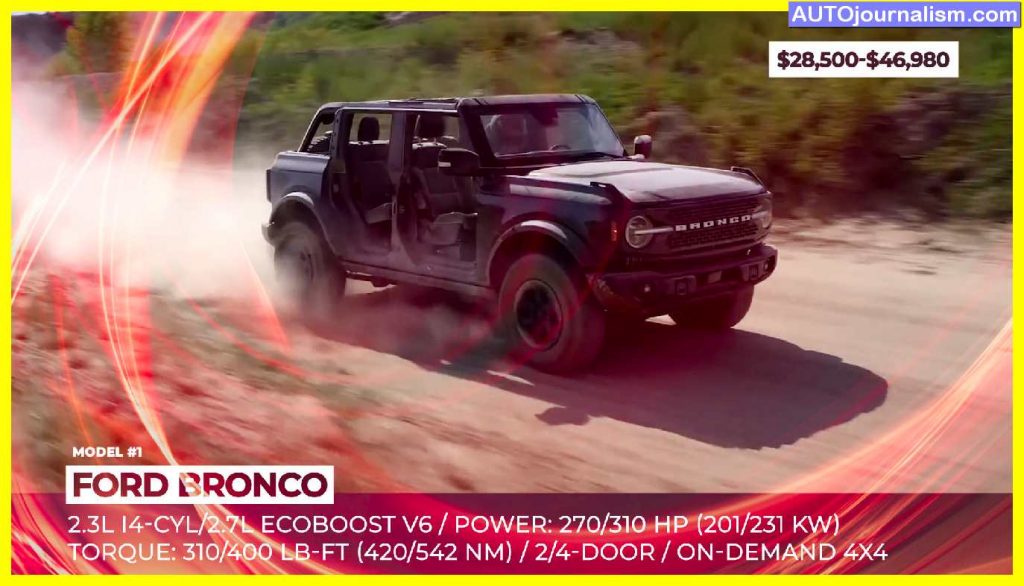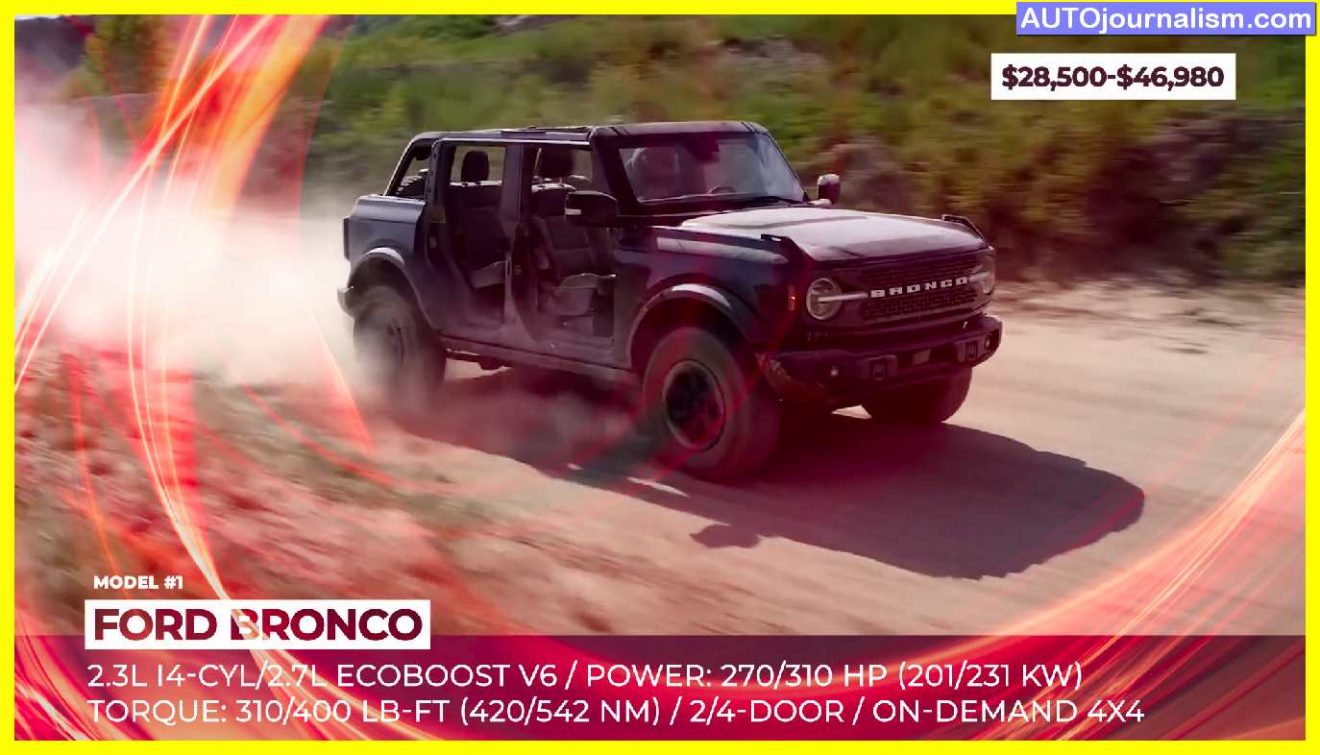 Since the first edition was sold out, the lineup includes six trims ranging from the base to the fully equipped while the track is reserved for high-speed off-roading. The bronco nameplate returns after a 25-year hiatus to disrupt the dominance of the Jeep Wrangler. It gets a legit body on frame construction, standard 4×4 drive, and adventure-ready two or four-door designs. The basic 2.3-liter EcoBoost inline four-cylinder engine produces 270 horsepower, while the optional 2.7-liter EcoBoost v6 engine is expected to generate the best in class 310 horses and 400 pound-feet of torque.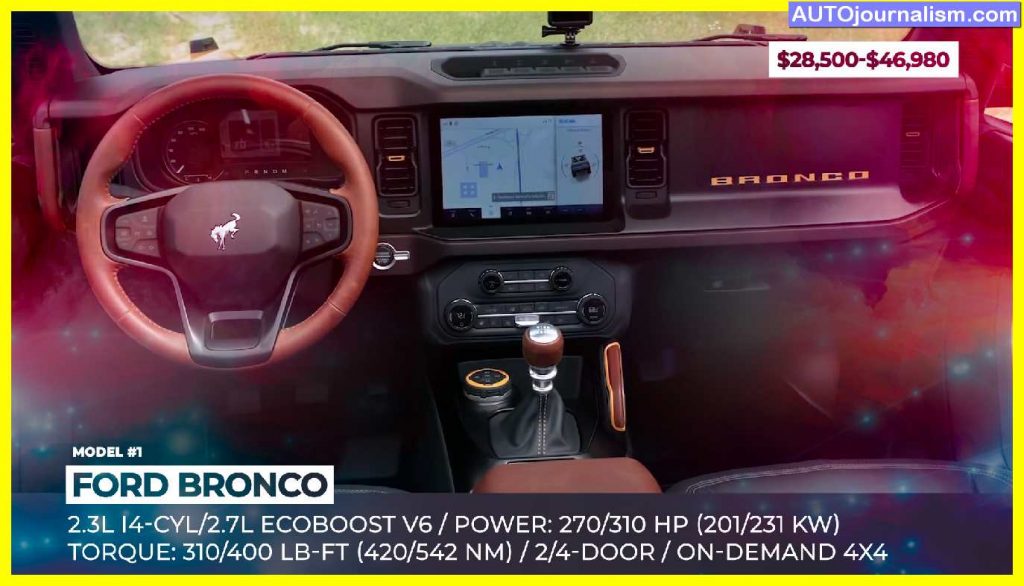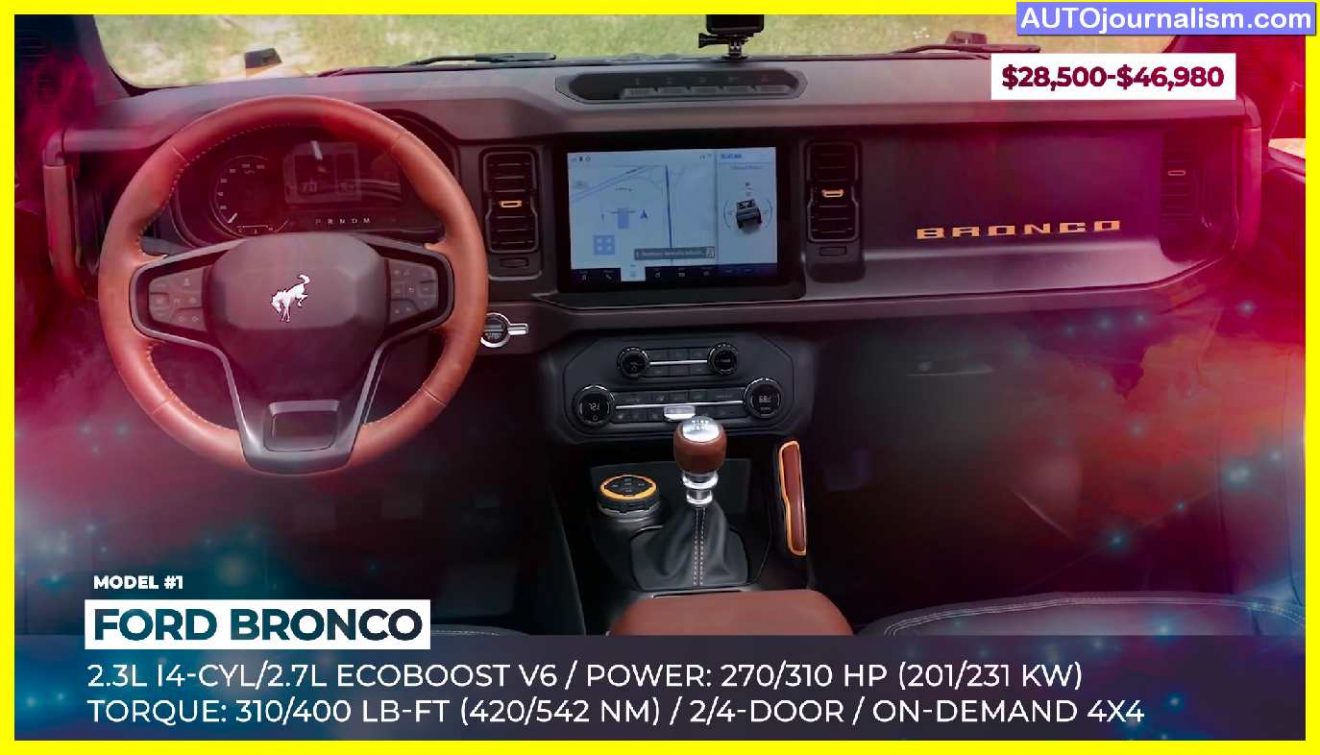 The model comes with a seven-speed manual transmission or a 10-speed automatic transmission with unique crawl gears, which is the first in the sector. Two 4×4 systems with a unique terrain management system with goat modes, heavy-duty suspension wheels, and rocket 30 through 33-inch tires are among the broncos' highlights.
#2: Hummer EV SUV ( Convertible SUV )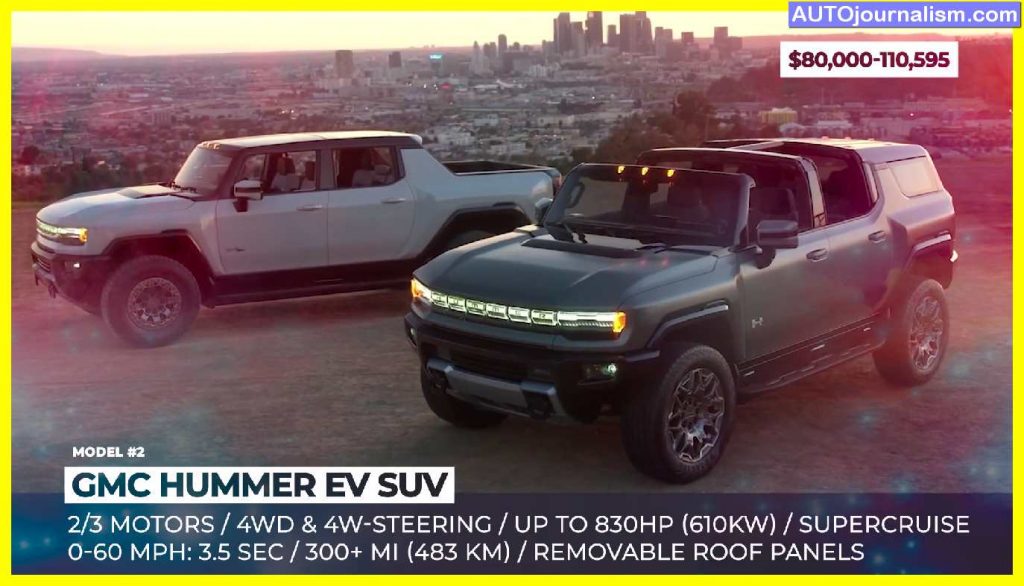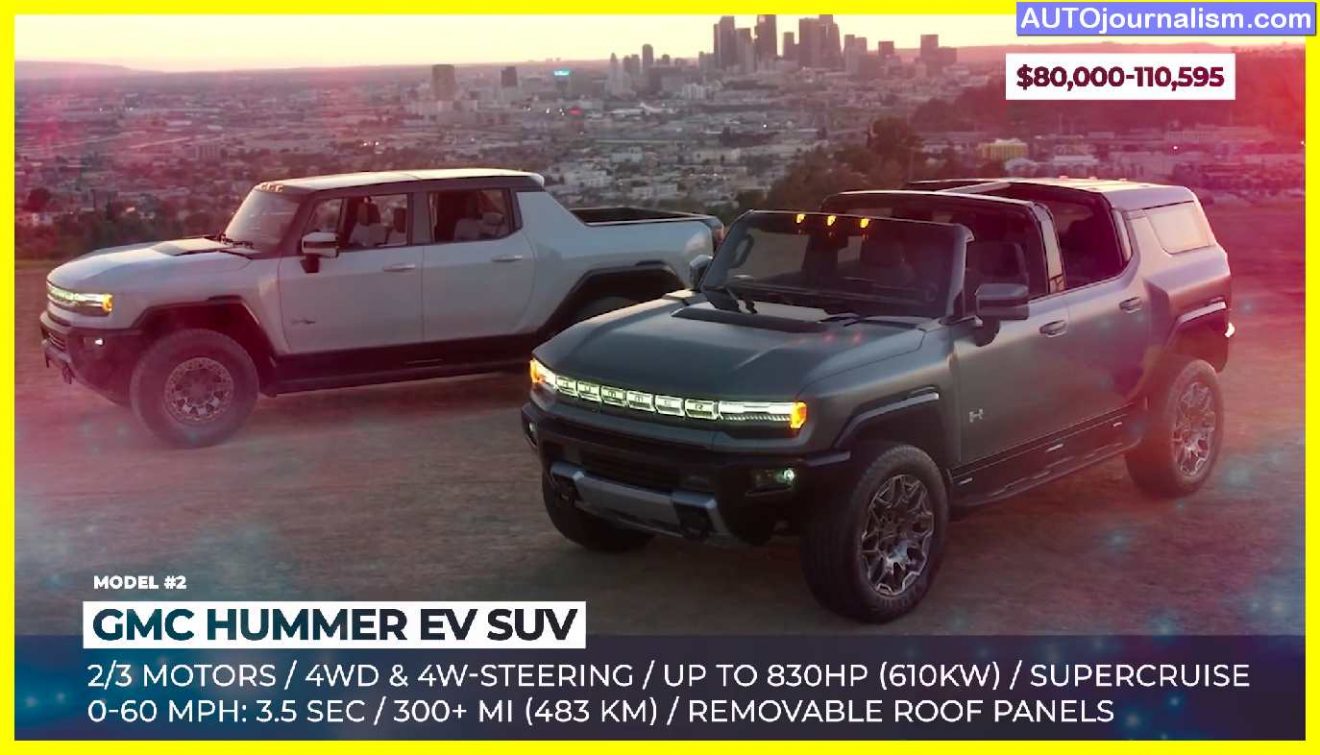 The new hammer's modular framework allows it to expand the variety of body designs available beyond the pickup truck that was initially shown. The SUV will be available in 2024 with a 9-inch shorter wheelbase to better off-road mobility and allow you to drive in the open air. A retractable infinity roof is included with the model. It is conveniently carried in the front trunk and consists of four transparent panels and an eye bar over the front passengers. The power system is represented by two or three electric motors. There is a big Altium battery with a capacity of 200-kilowatt hours and four-wheel drive, with an output of 625 or 830 horses depending on the model.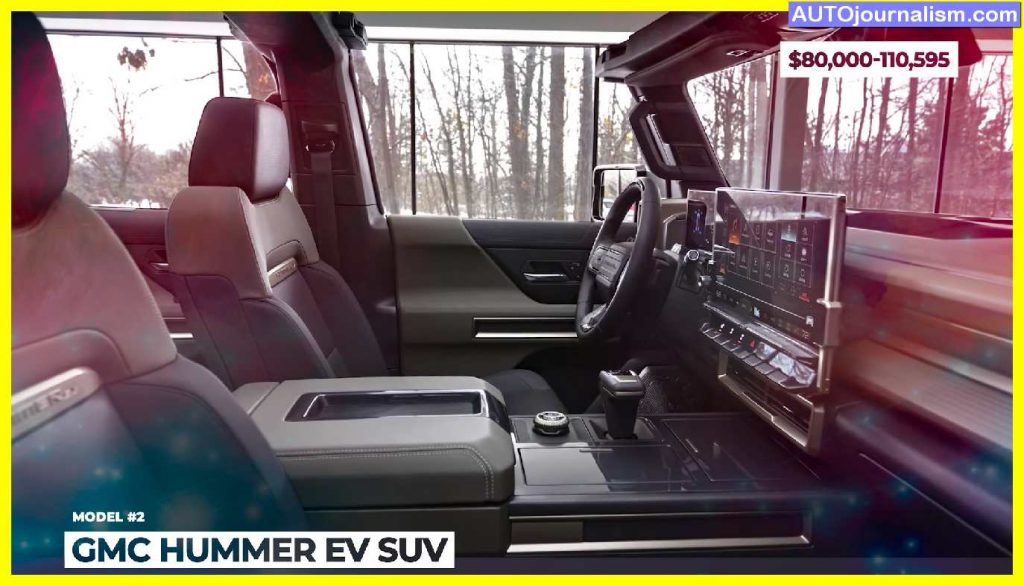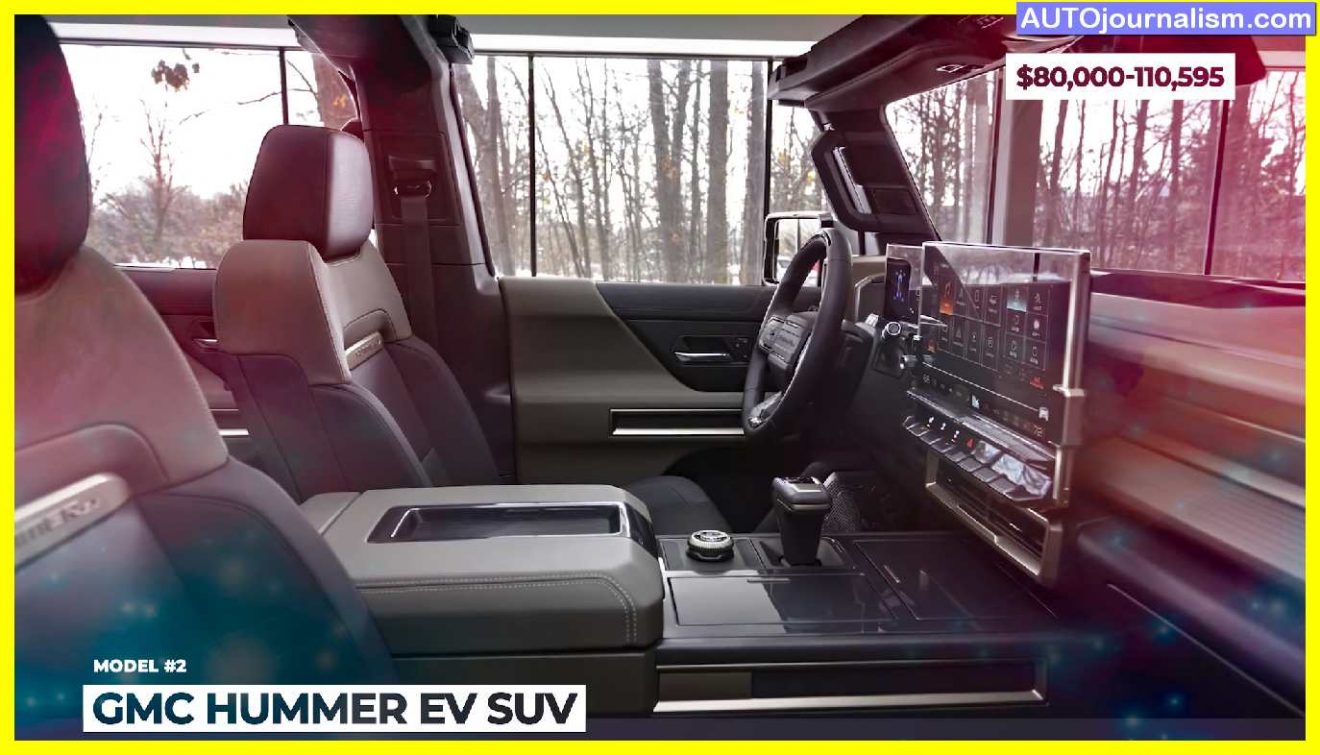 There's also four-wheel steering, as well as crab walk adjustable air suspension that can lift the SUV by 6 inches and a supercruise jack. The premium cabin features a 12.3-inch driver's display and a 13.4-inch infotainment system.
#3: Volkswagen T-Roc Cabriolet ( Convertible SUV )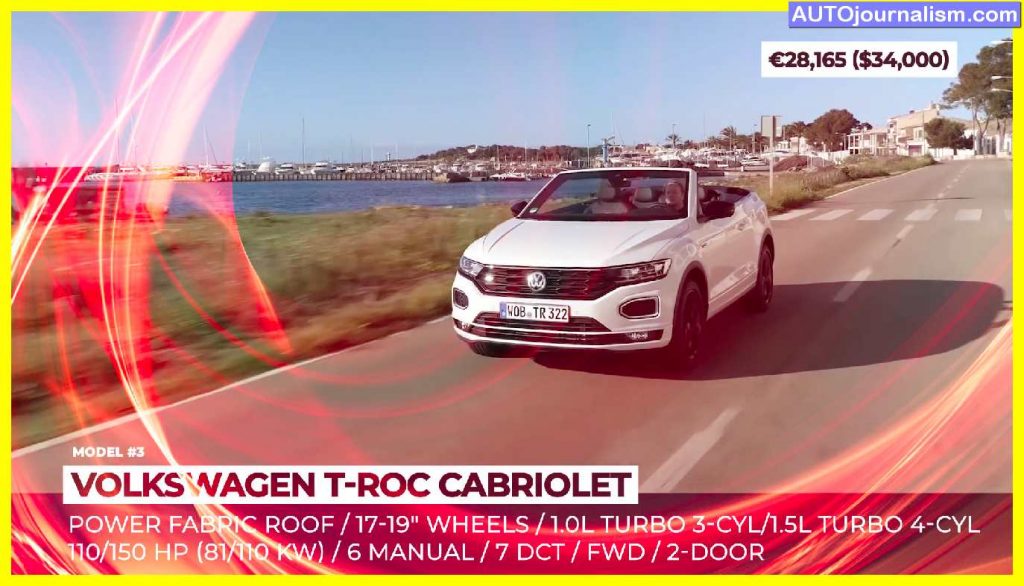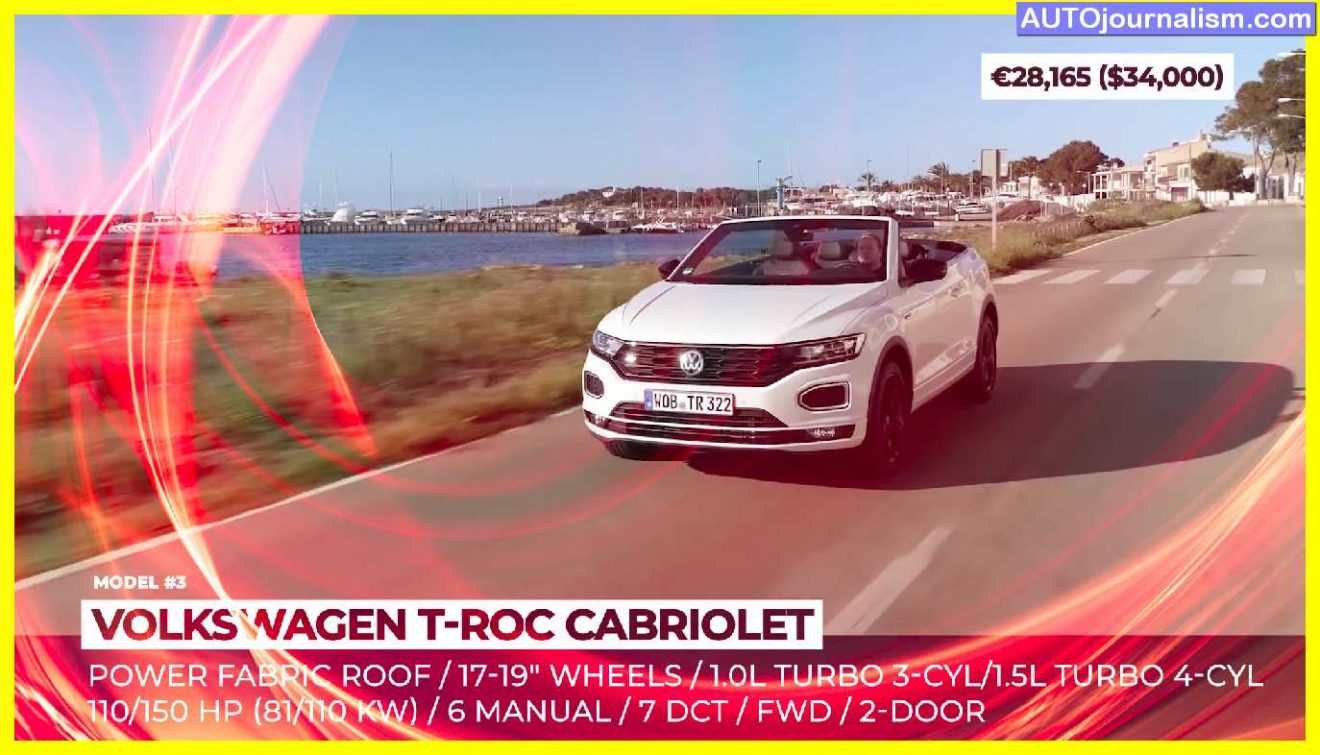 With the majority of its competitors have gone out of business, this Volkswagen model now holds the honor of being the only mass-produced cabriolet SUV with a full power top for a true open-air experience. The crossover ditched the rear pillars in favor of a two-door design with a retractable fabric roof that takes just nine seconds to fully retract. The two engine options are a one-liter two-row three-cylinder and a 1.5-liter turbo-four with 110 and 150 horsepower, respectively. With the larger engine, the t-roc accelerates to 60 in 9.2 seconds and has a top speed of 127 miles per hour. This SUV's suspension has been retuned to provide a livelier feel and improved handling, particularly in bends.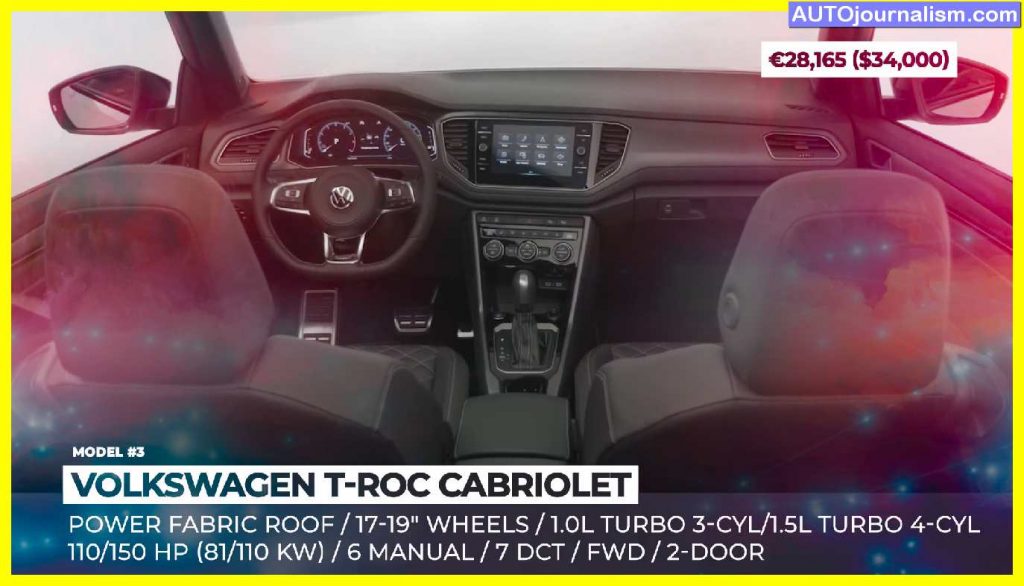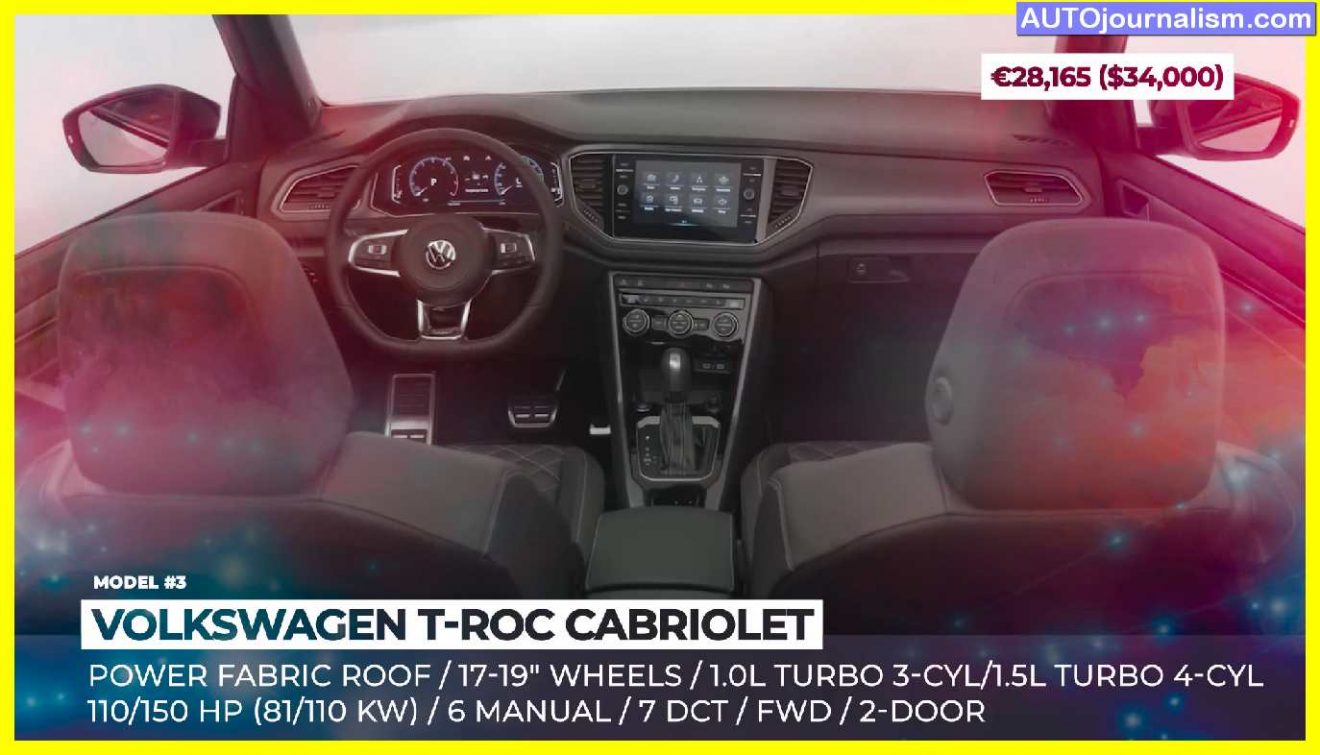 The t-youthfulness rocs are mirrored in its current 10.25-inch high-definition digital dashboard, which includes an optional 400-watt six-speaker Beats audio system and two-zone automatic air conditioning.
#4: Land Rover Defender 110 projects Prevail by ECD ( Convertible SUV )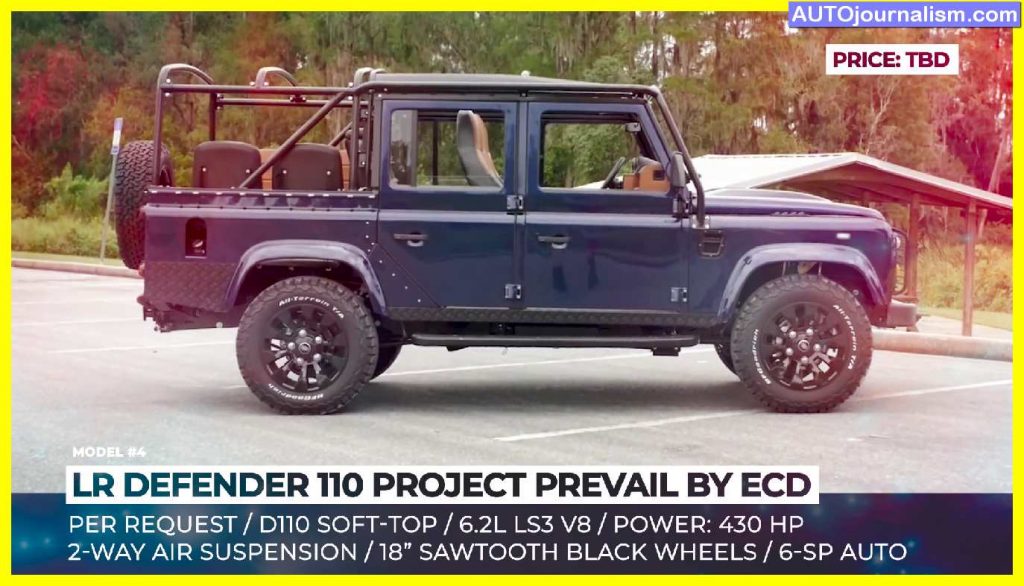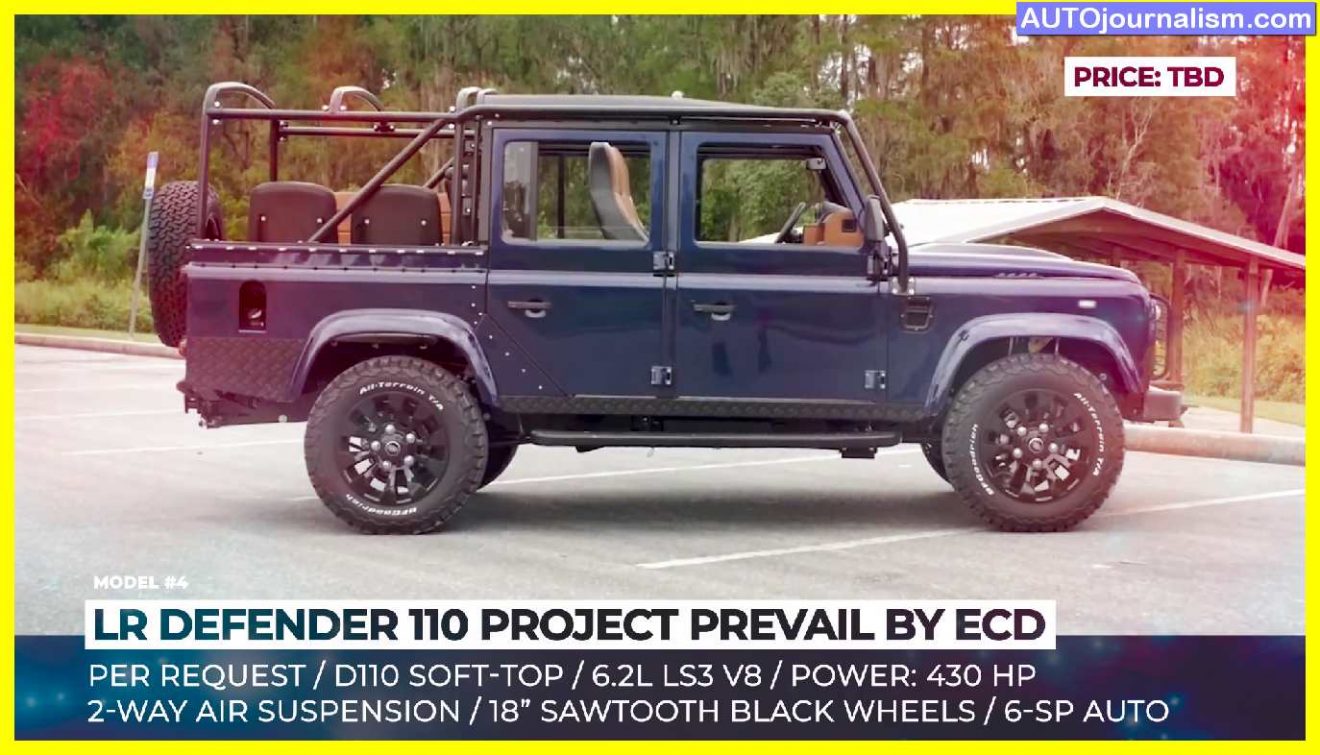 Defender 110 initiatives come out on top. ECD auto design is based in the United States, but they are still passionate about the vehicles that originated in the homeland of their British founders. This workshop specializes in restoring 1990s Defenders in both short 90 and long 110 bodies, and among those, the project prevails to catch our attention with its custom soft top and bespoke interior.3 rockets are exhaled Borla performance exhaust and are regulated by a six-speed automatic The improved ride comforts are attributed to the custom ECD two-way air suspension.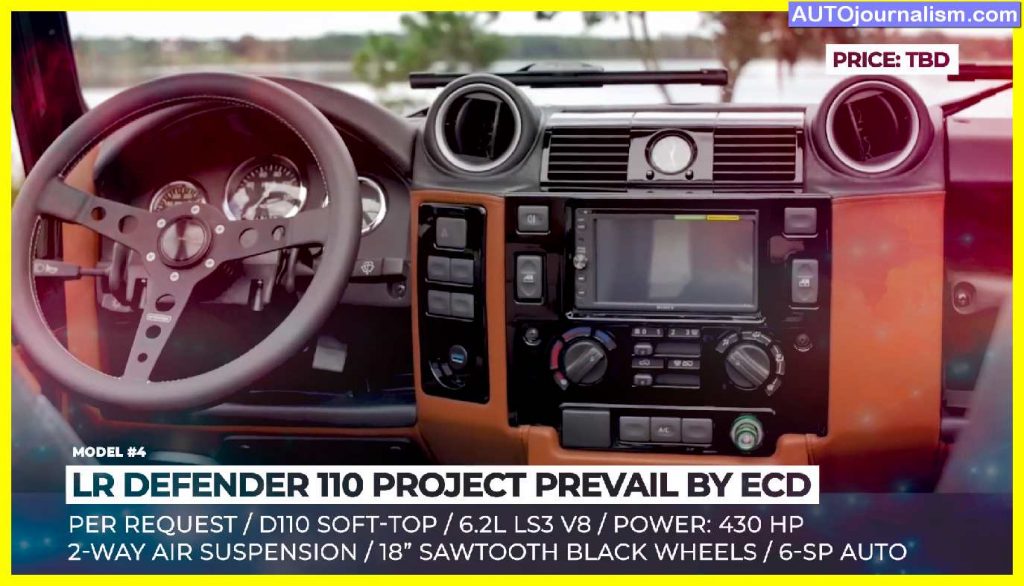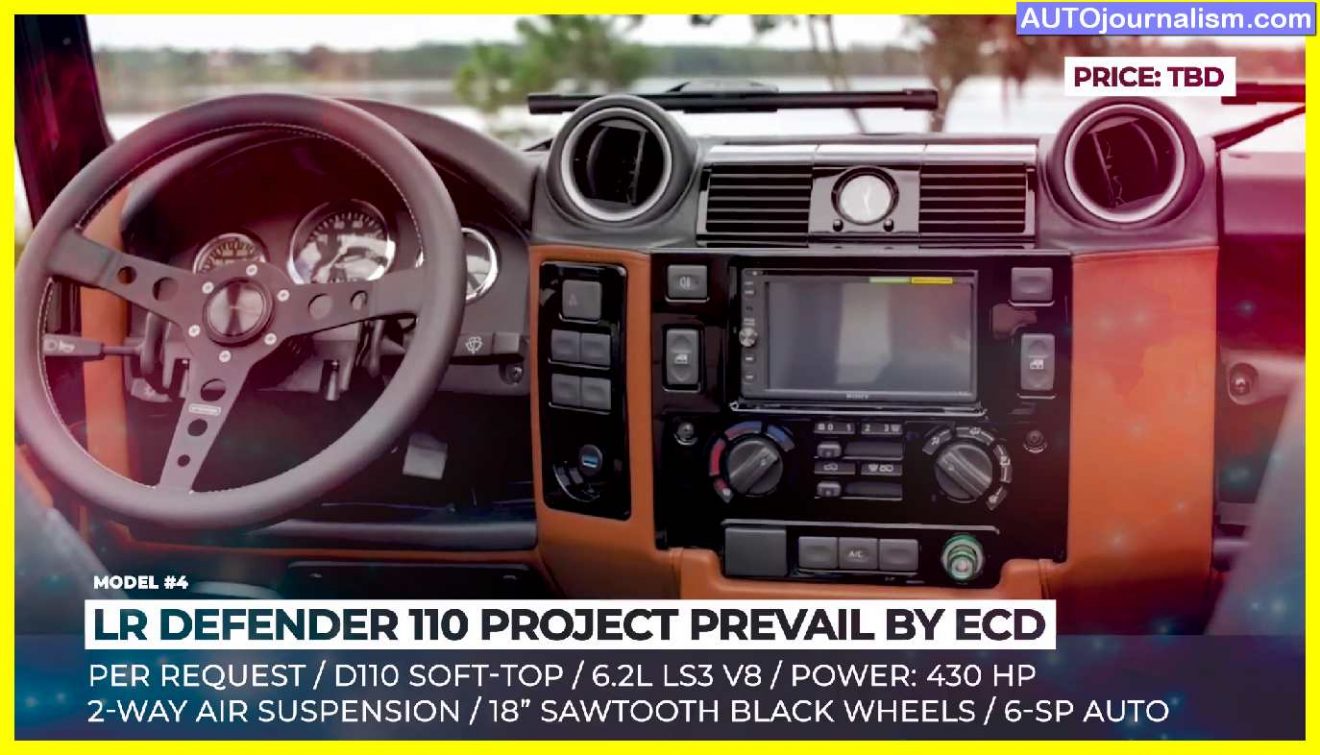 while rougher road patches can be conquered with the help of 18-inch sawtooth black wheels wrapped in BFGoodrich all-terrain tires. The Defender Prevail can seat up to nine people and features leather upholstery, premium JBL audio, and full smartphone connectivity.
#5:
Jeep Wrangler 4xe ( Convertible SUV )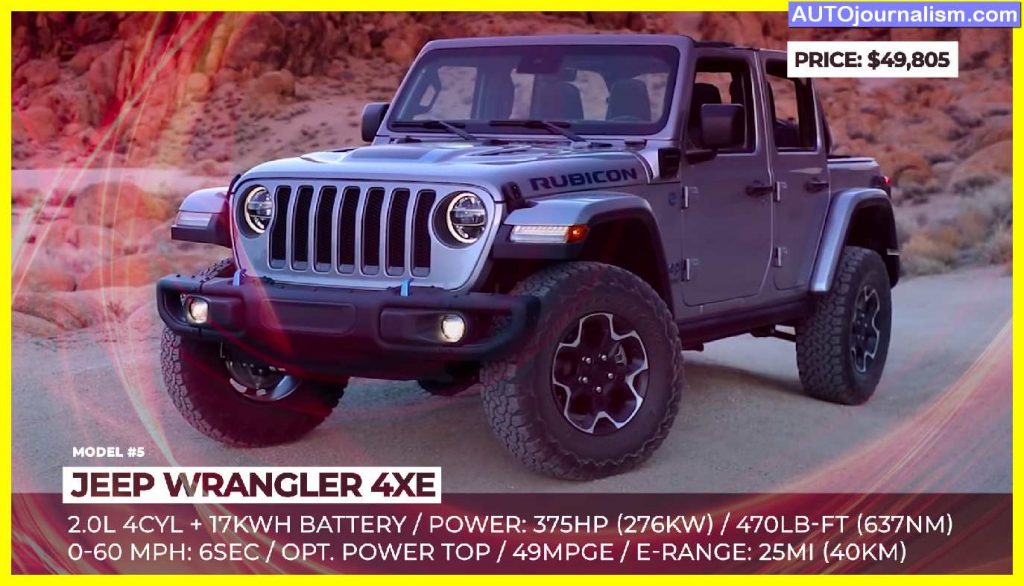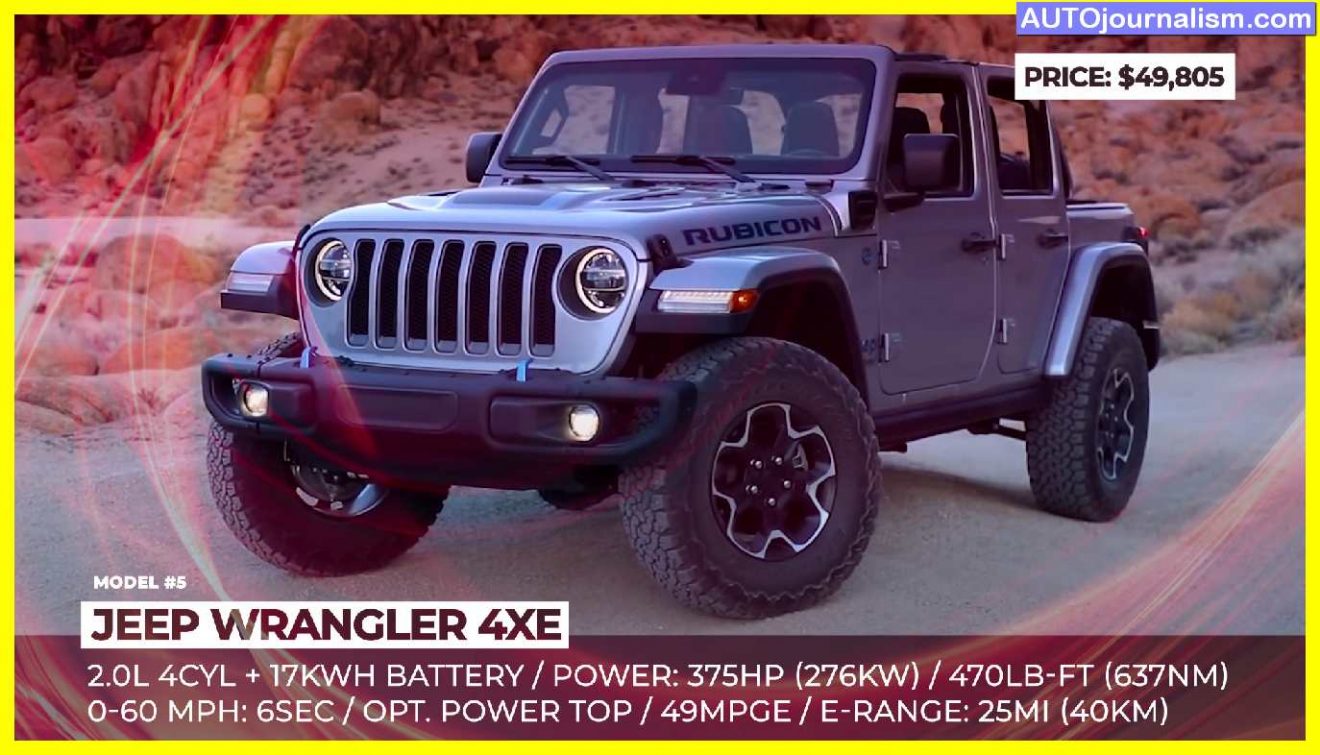 This jeep is one of the fewest SUVs that is immediately associated with the soft top and has been continuously offered in this modification for 70 years the most technological wrangler of today is a plug-in hybrid 4xc that puts to work a 375 horsepower powertrain that consists of a 2-liter gasoline engine a 17-kilowatt hour battery with 25 miles potential and two electric motors The SUV comes with regenerative braking and three driving modes: hybrid, electric, and e-safe, which stresses safety. The forks e can be equipped with a variety of roof options including a soft top a three-piece hardtop or a power-operated sky one-touch roof just like the regular wrangler the forks e can be equipped with a variety of roof options including a soft top a three-piece hardtop.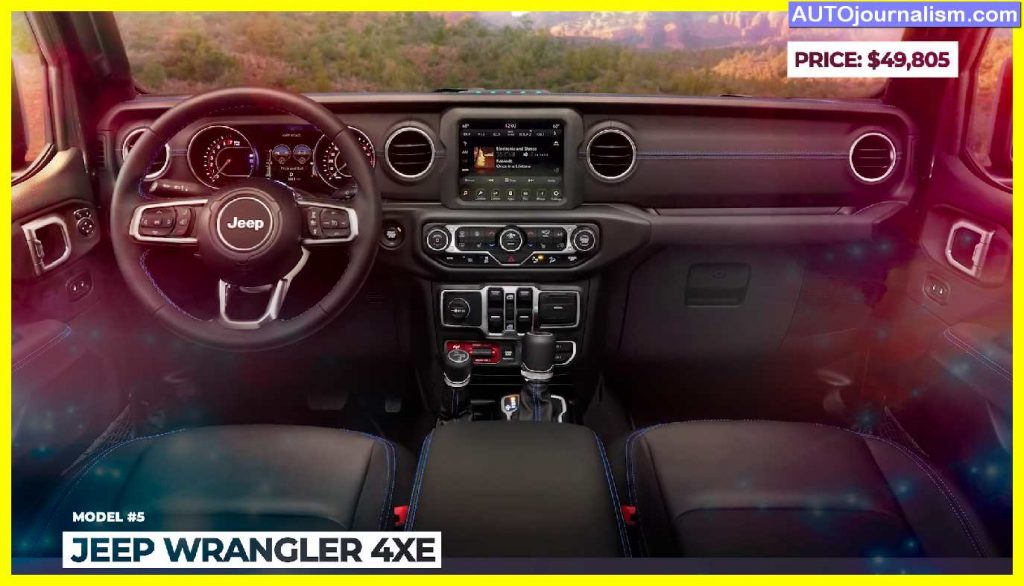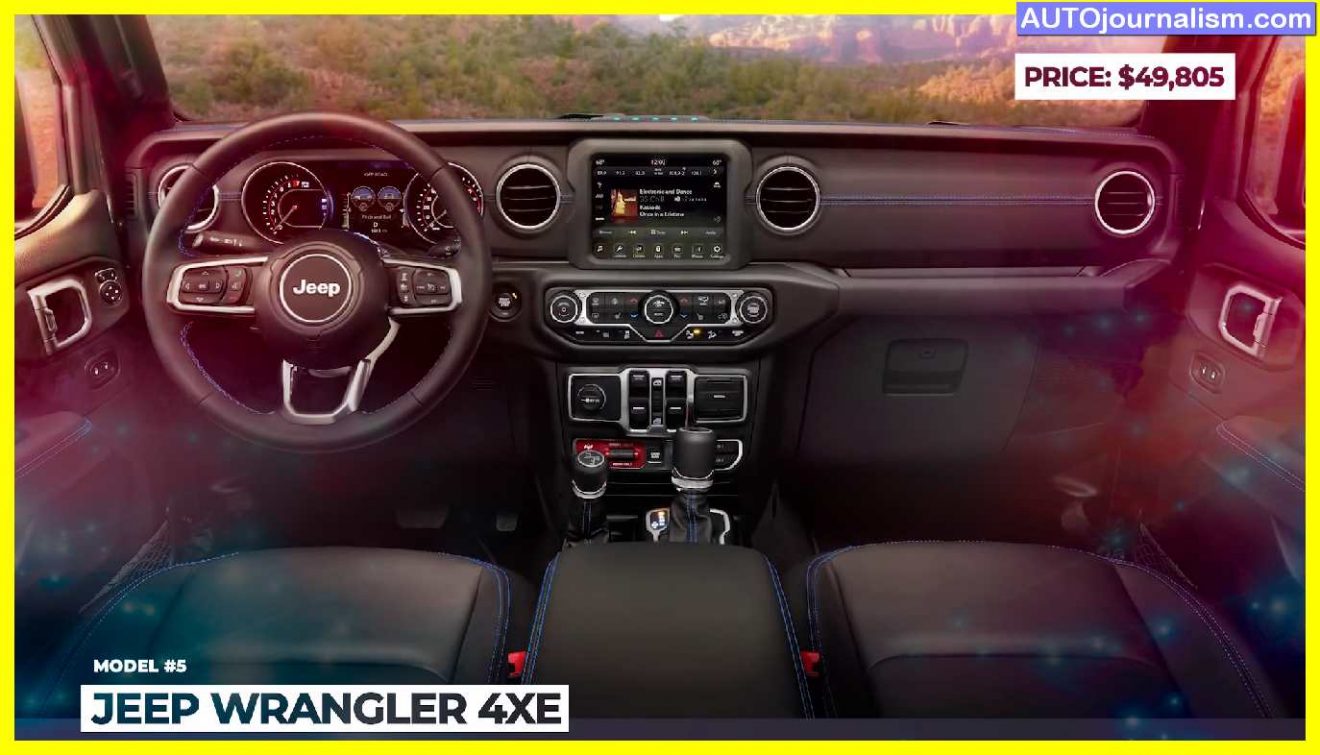 or a power-operated sky one-touch roof just like the regular wrangler the forks e can be equipped with a variety of roof options including
#6: Ford Bronco by Velocity Restorations ( Convertible SUV )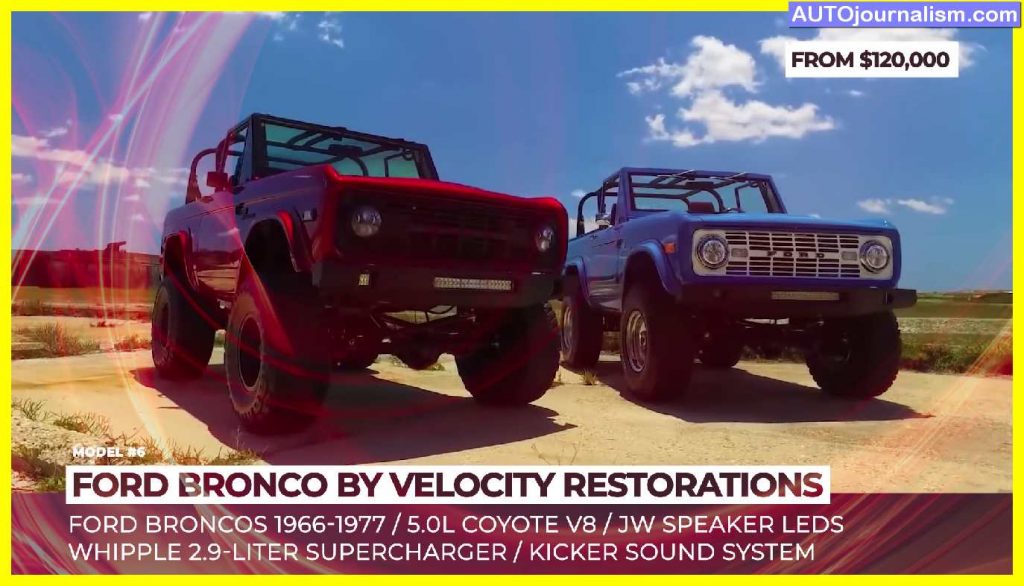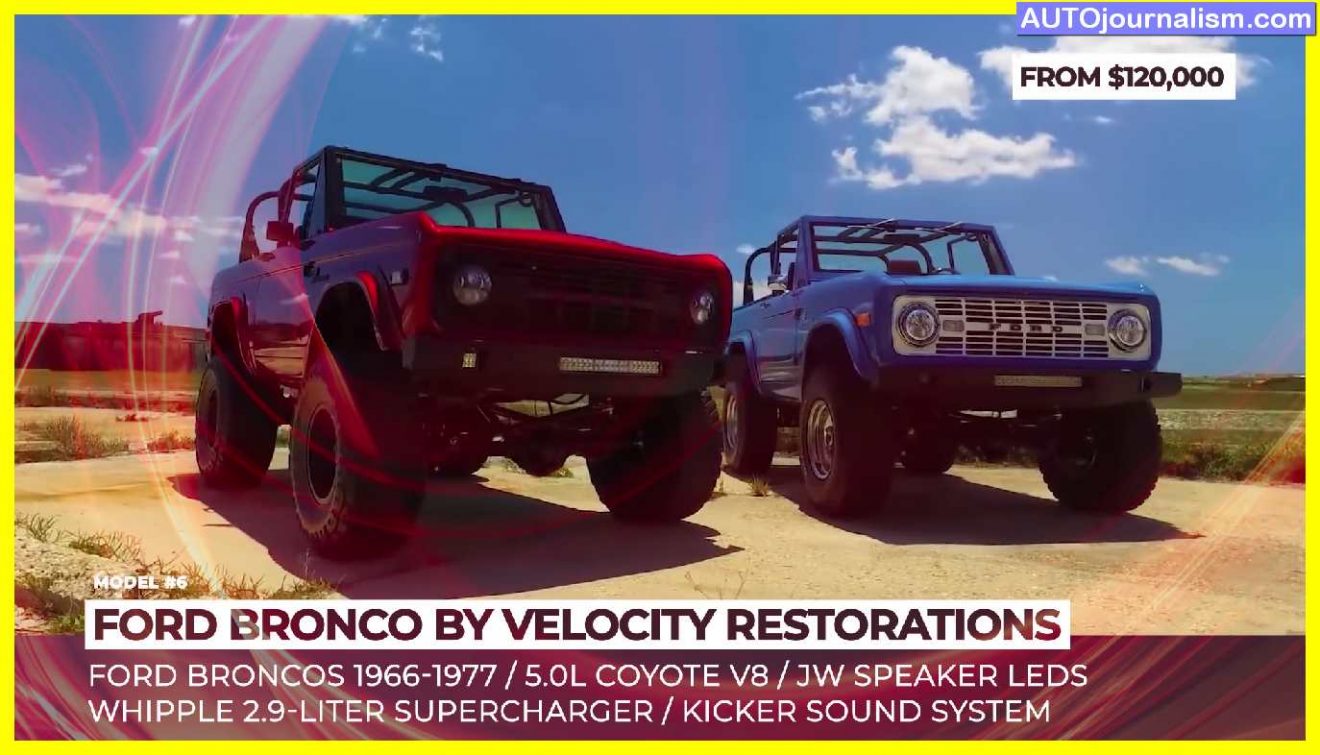 An all-new bronco is a good option for those looking for a fun ride, but anyone looking to invest in a true collector's item should check out the inventory at Florida-based velocity restorations. The biggest Ford bronco fans in America are selling refurbished historic vehicles from 1966 to 1977 that have been optionally modified with modern conveniences and supercharged engines. vigor The installation of a 5.0-liter coyote v8 crate engine, which can be forced-fed by a WHIPPLE 2.9-liter supercharger, is one of the most stunning upgrades. Other additions include but are not limited to JW speaker-led headlamps. new bumpers for race suspension The entirely reinvented interior boasts high-grade Italian leathers.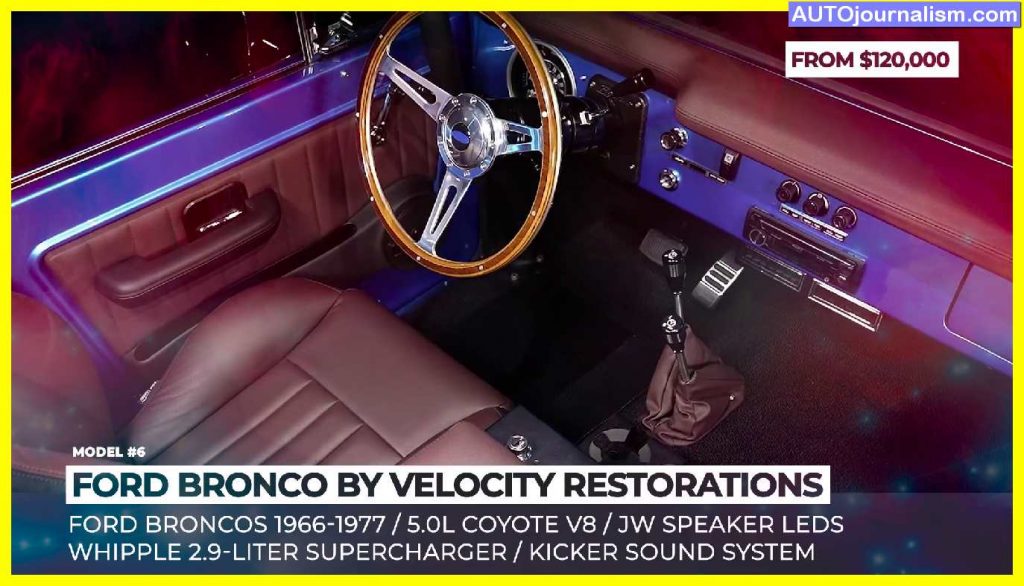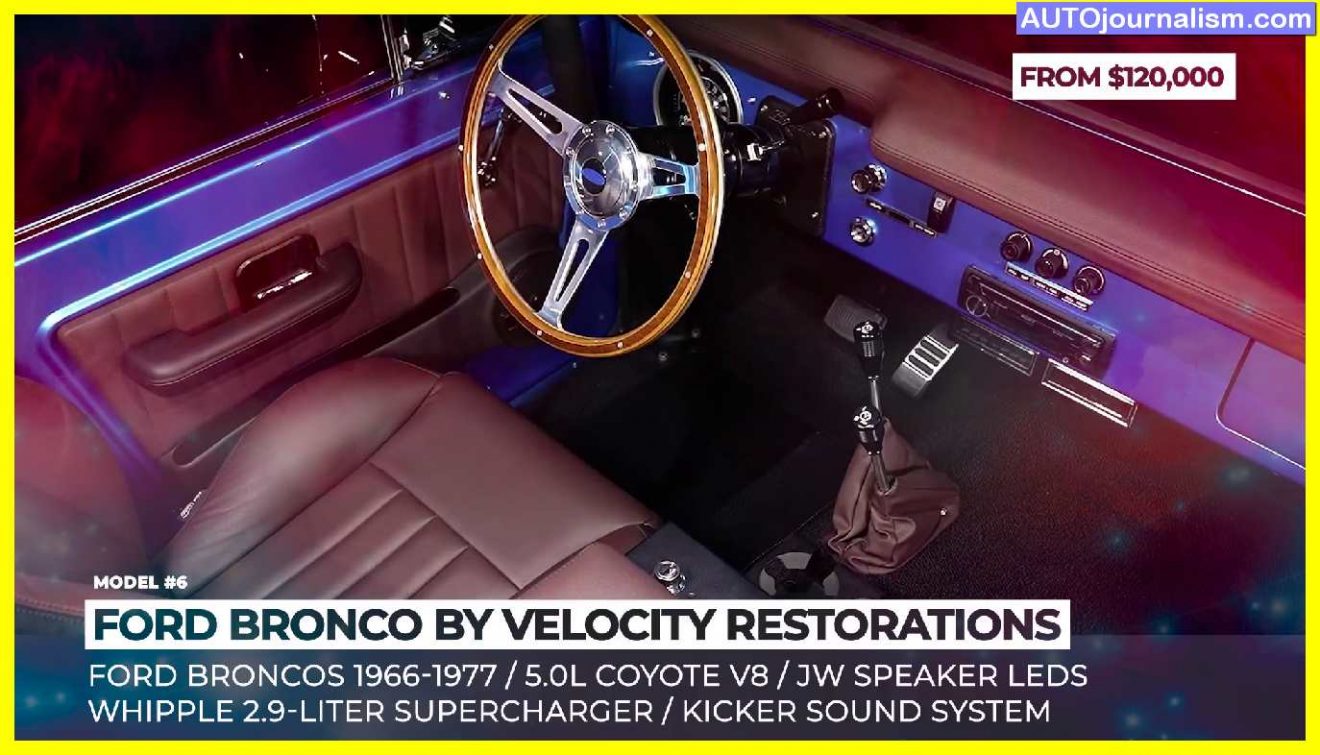 a Kicker sound system, vintage air conditioning system, and digital instrumentation, as well as new axles, front, and rear performance exhaust, and bespoke paint.
#7: Land Rover Range Rover Evoque Convertible ( Convertible SUV )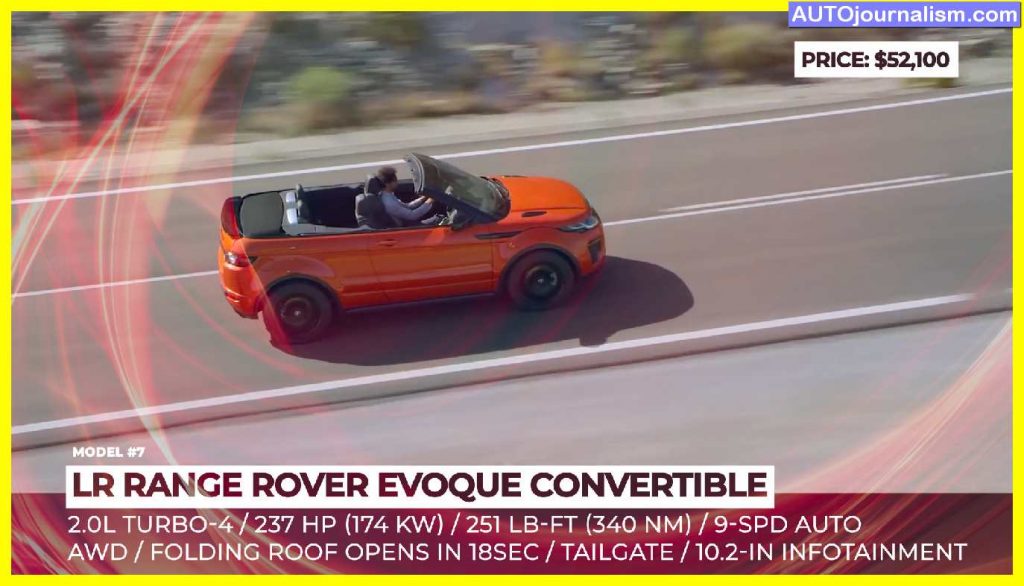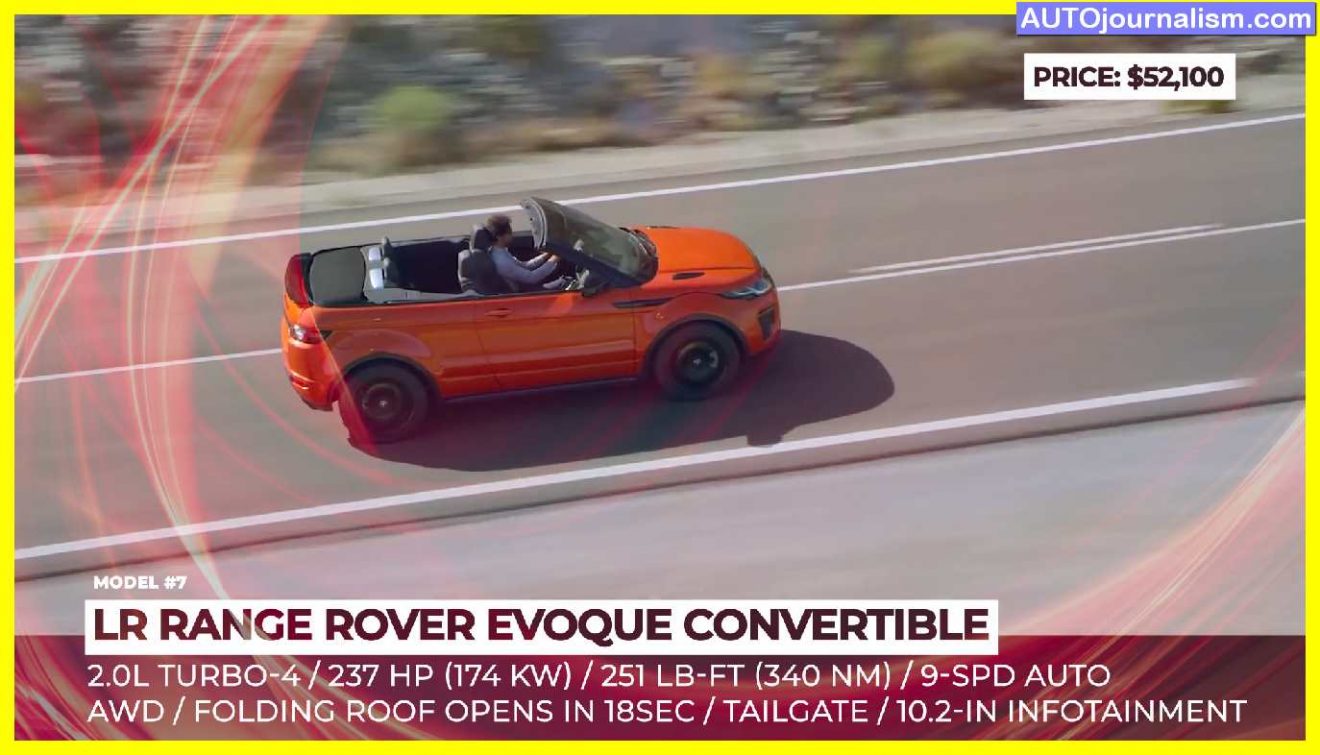 In addition to replacing the roof with a power-operated soft top that drops in 18 seconds at speeds up to 30 miles per hour, the ruthless version of the subcompact crossover was designed to further capture the attention of young carefree buyers who would otherwise overlook train show for its traditional executive SUVs.
The vehicle was given a traditional two-door style that was typically offered in higher trams, therefore each model had 18-inch wheels. Under the hood, the Vocabrio has a stock 2.0-liter turbocharged in line 4 engine and a huge 10.2-inch infotainment system with preloaded navigation, wi-fi hotspot, and Meridian sound system.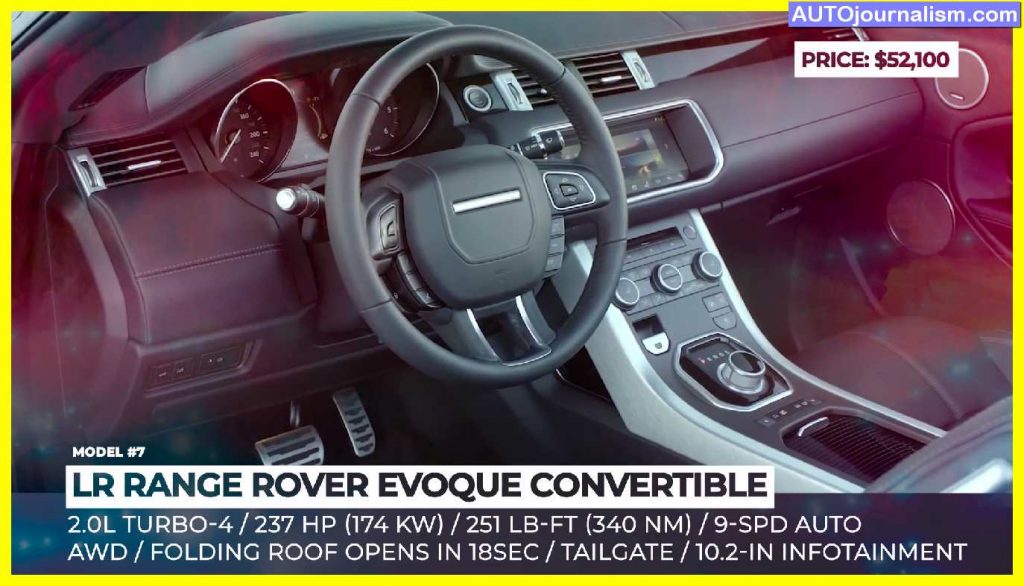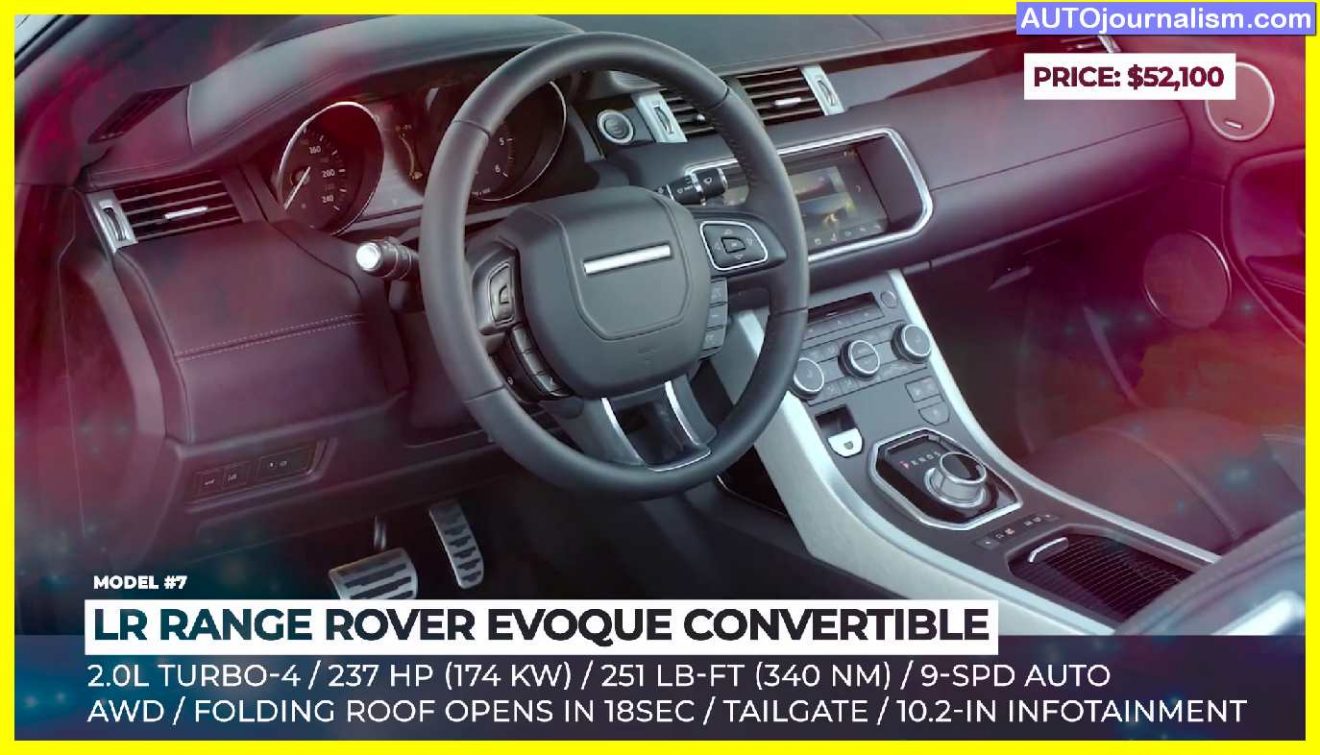 The 9-speed cf automated transmission delivers 237 horsepower and 251 pound-feet of torque to all four wheels. Unfortunately, after only two years in production, the Scaprio was relegated to a 19 after failing to produce significant sales quantities.
#8: Mercedes-Benz G650 Landaulet ( Convertible SUV )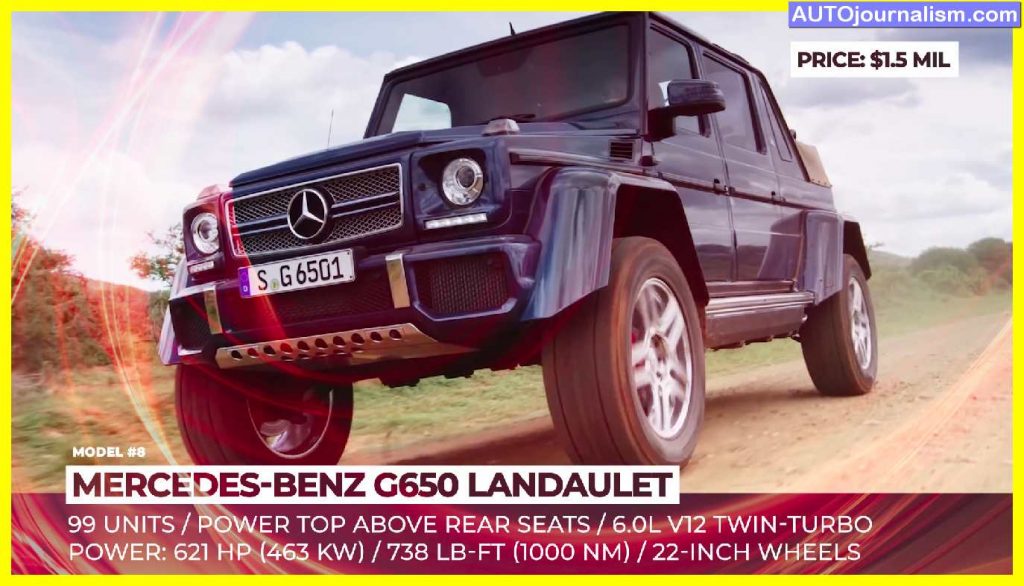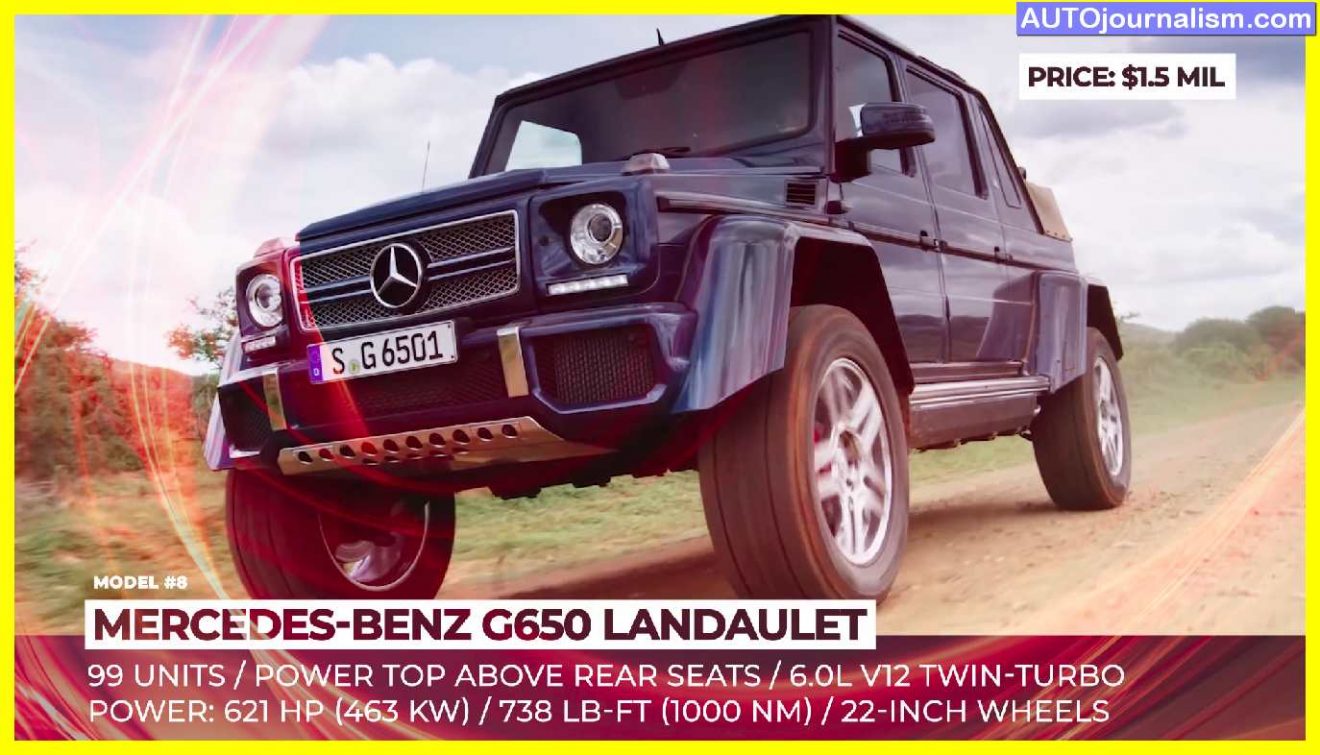 There was a long pause. The g650 alan delay has become as confident as the Bugatti Veyron just four years after its introduction, and its price has nearly tripled. The 99-unit SUV is built on a chee wagon that has been extended by over 23 inches. The driver and front passenger have a regular closed roof, while the rear passengers have a convertible soft top that can be retracted at the touch of a button. The interior features a full my back treatment, including first-class seats with massage functions and individual 10-inch monitors for each rear passenger. Finally, the Mercedes AMG v12 turbo engine produces 621 horsepower and 738 pound-feet of torque and has temperature-controlled cup holders. The rear seats can be divided from the front row by a retractable electrically operated glass wall.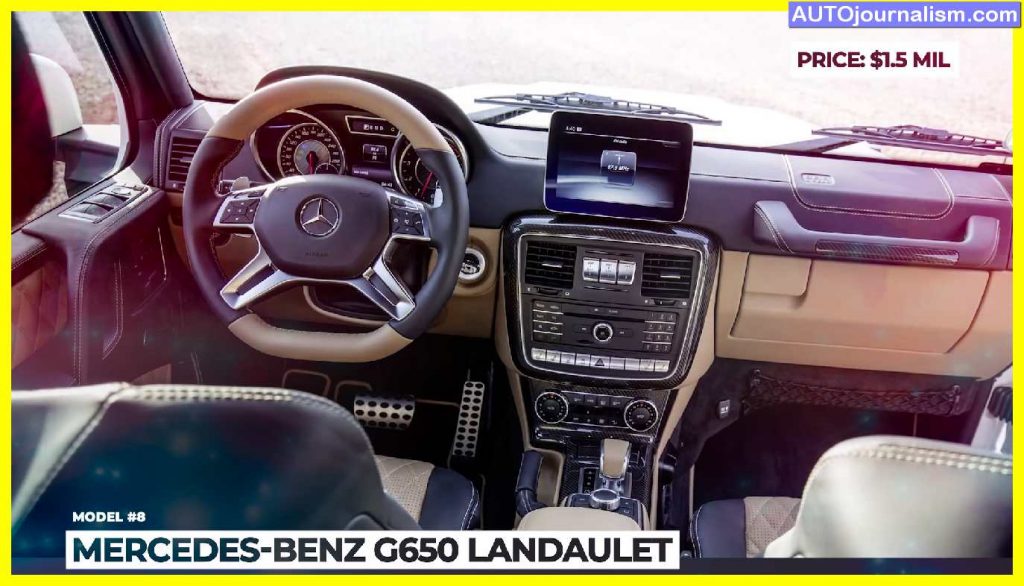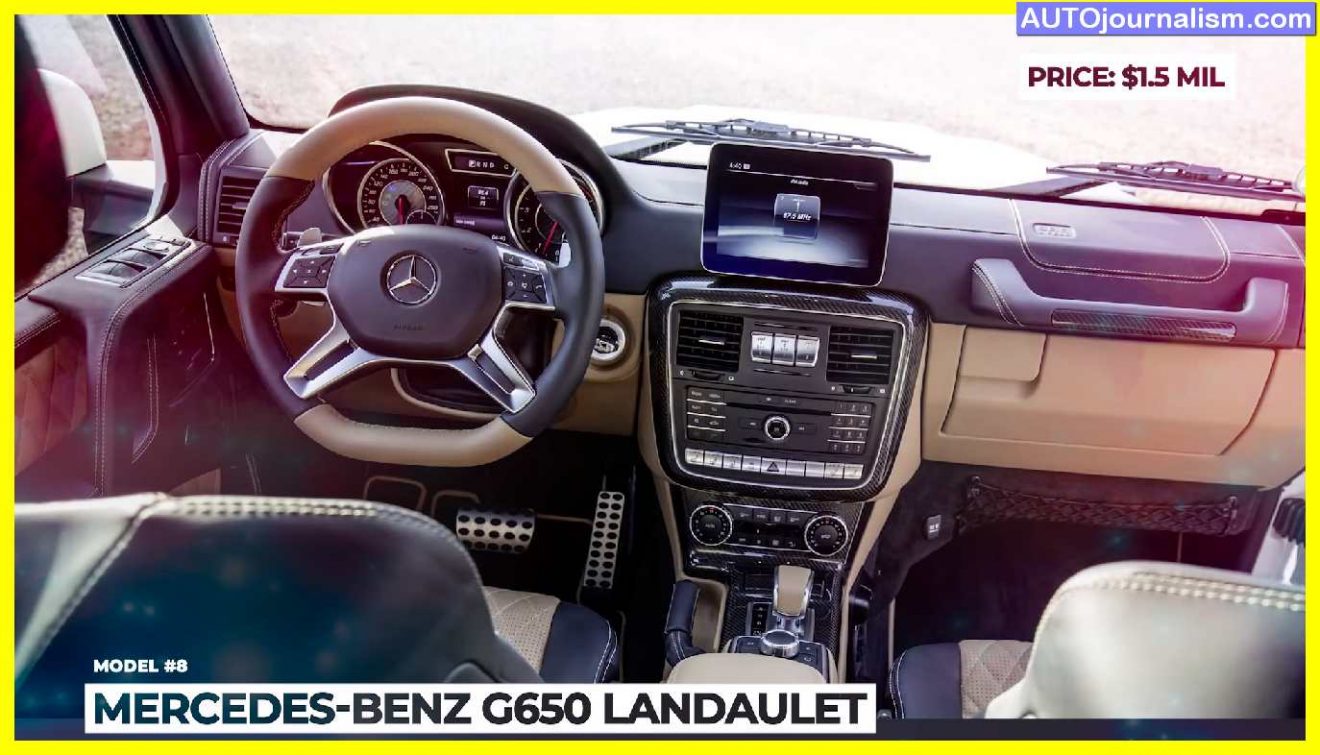 #9: Toyota Land Cruiser ICON FJ40 Roadster ( Convertible SUV )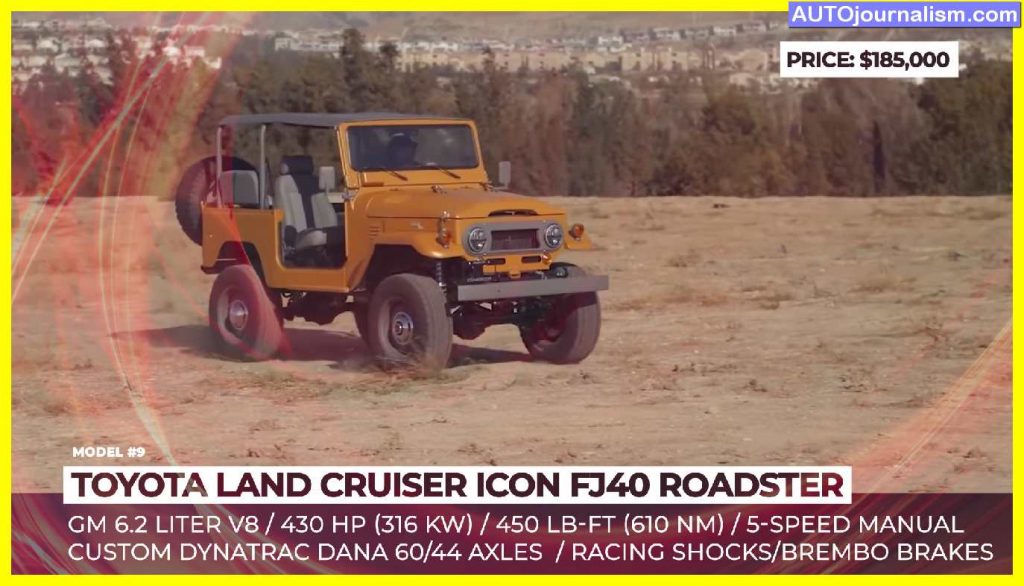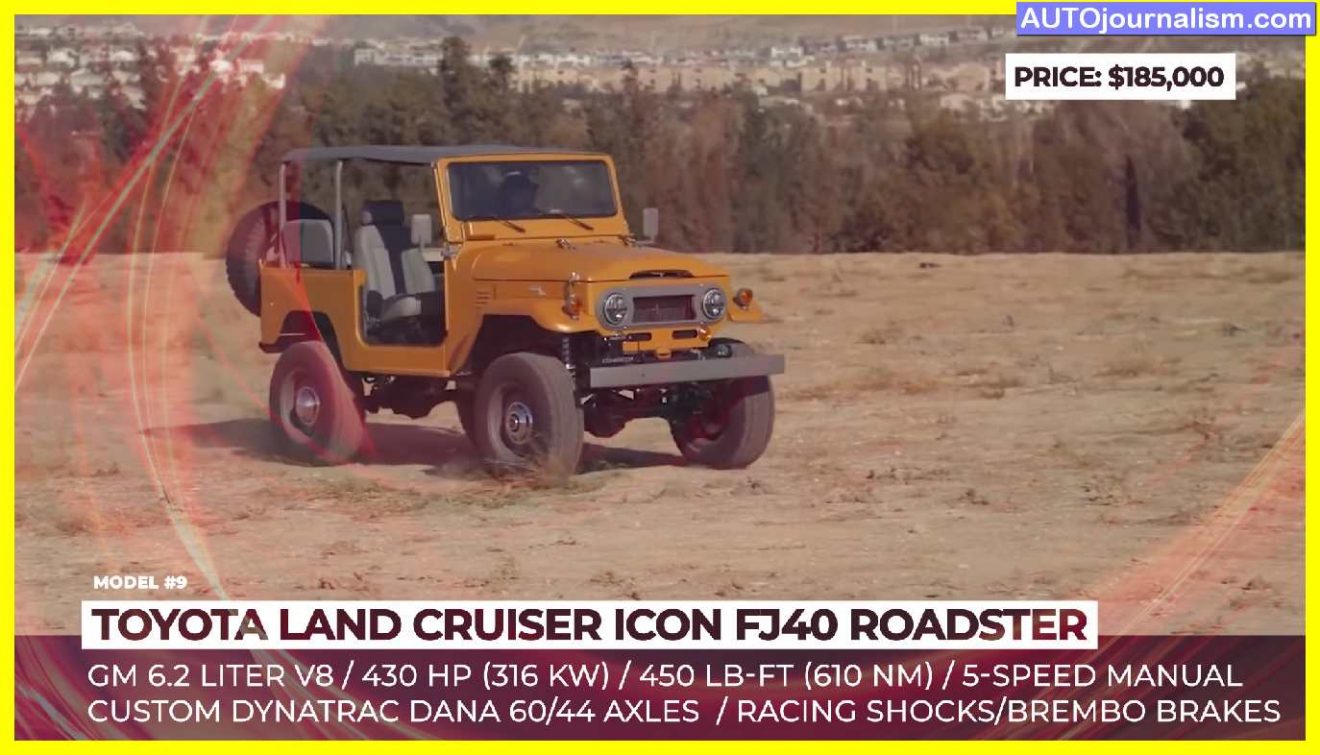 This build by the Los Angeles shop icon is based on the beloved fg40 generation Toyota land cruiser that was produced in the 1960s and is still as rugged as the original. The truck loses all doors and windows and its metal roof is replaced by a piece of fabric that can be removed when needed under the skin.
It also conceals a number of well-considered treatments. Morrison's state-of-the-art chassis has front and rear curry anti-rock sway bars, as well as fox racing shocks and Brembo brakes. The roadster is equipped with custom-built Dana 60 rear and Dana 44 front axles, as well as optional aero locking differentials.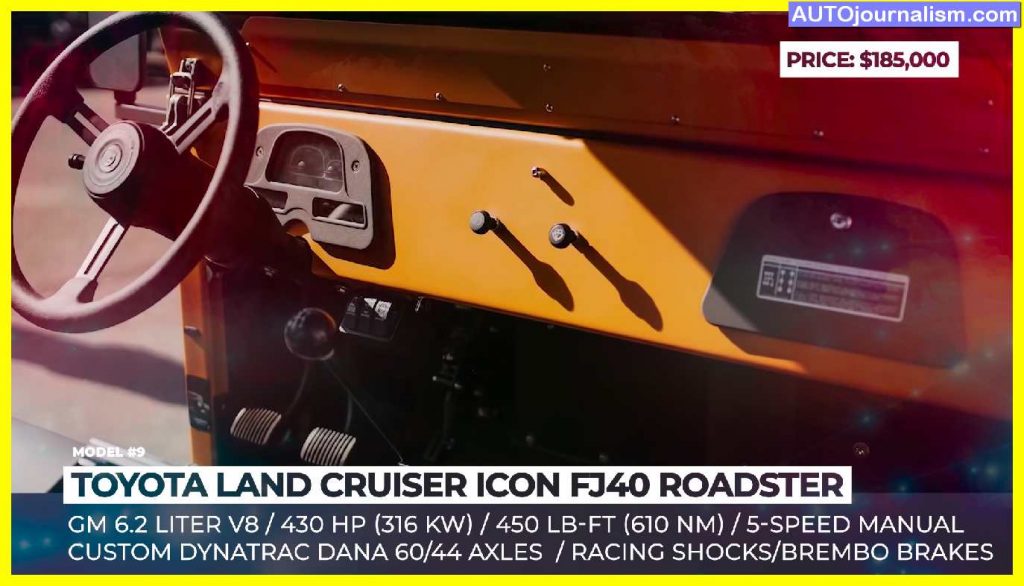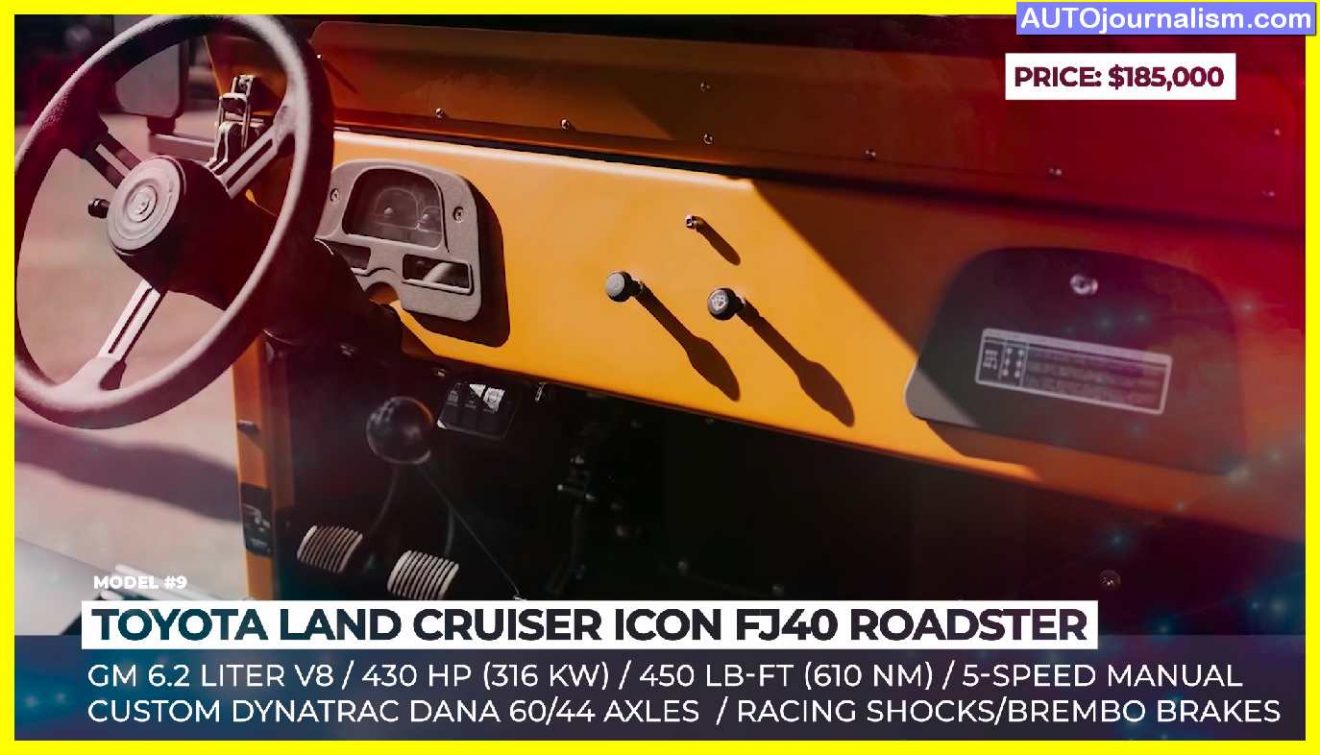 The roadster lacks heating and air conditioning, but it does come with heated seats and smartphone connectivity. Finally, this 4×4 truck replaces the original engine with a 6.2-liter GM V8 that delivers 430 horsepower and 450 pound-feet of torque.
#10: Mitsubishi Mi-Tech ( Convertible SUV )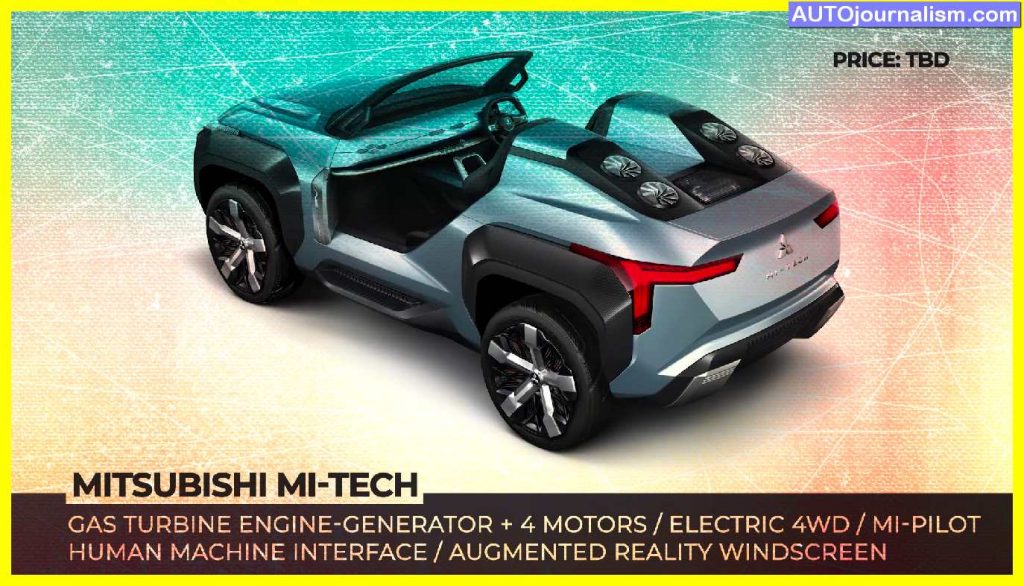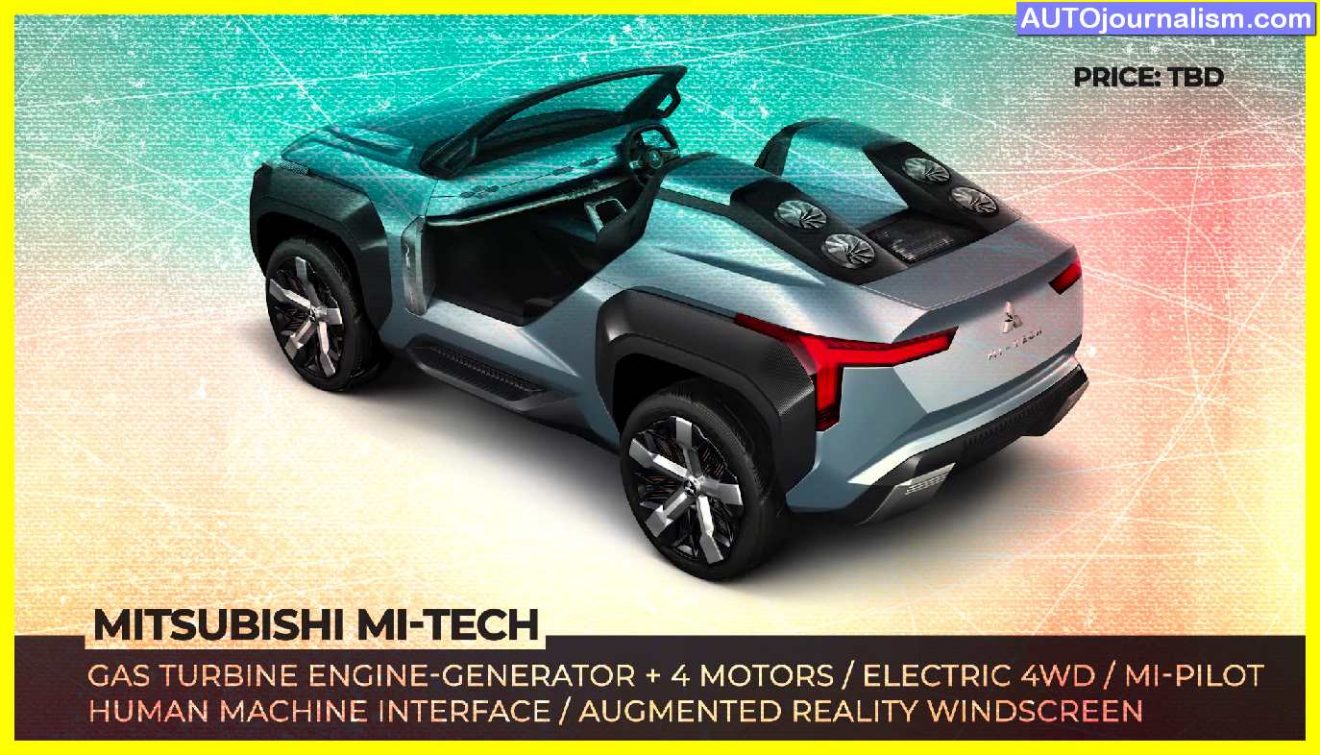 Mitsubishi's production models rarely manage to impress with spectacular aesthetics and unexpected features, but its concepts are a different story. Back in the day, the Mi-Tech 2-seat roadster SUV was one of the show's highlights, as it foreshadowed the next generation of Mitsubishi's iconic dynamic shield design.
This car has an electric engine that experiments with the idea of an onboard generator. The tiny gas turbine engine generator, which can run on diesel, kerosene, and alcohol, is linked with a lithium-ion battery housed under the floor.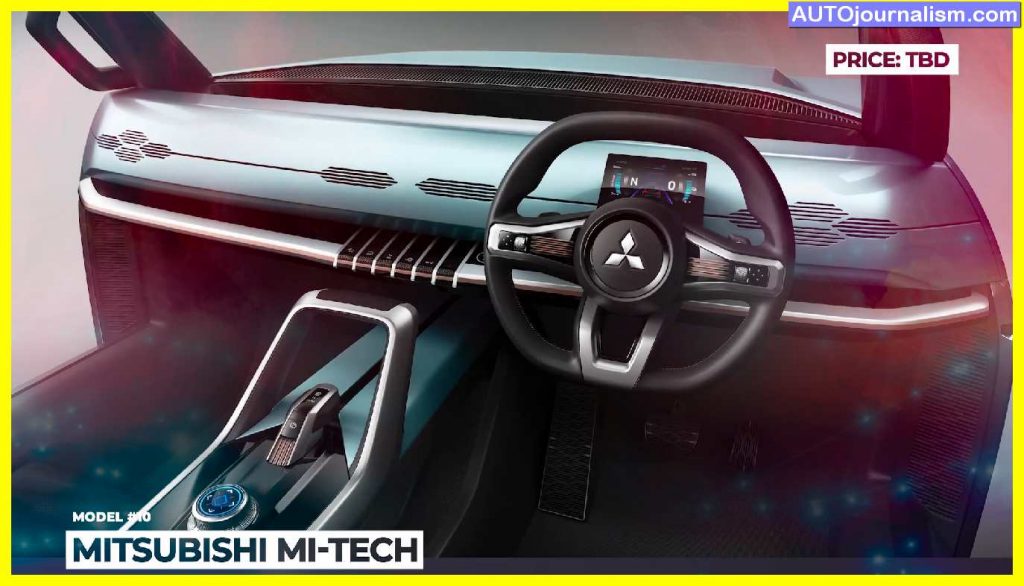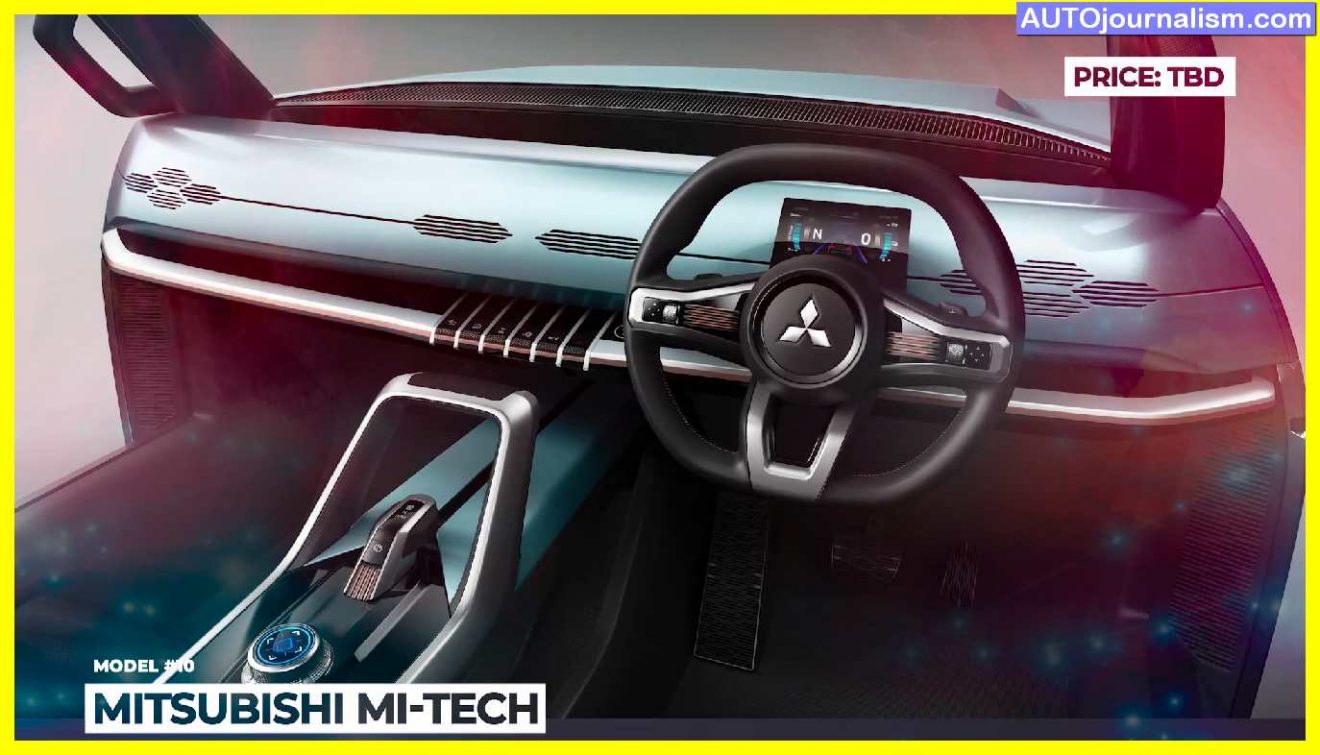 Each wheel has its own electric motor, giving the car real 4×4 capability and the ability to turn 180 degrees. The Mi-Tech driver's aid system with offroad mode and an augmented reality windshield display, similar to those found on current jet fighters, was demonstrated to me.
#11: Mercedes-Benz G250D Wolf by Legacy Overland ( Convertible SUV )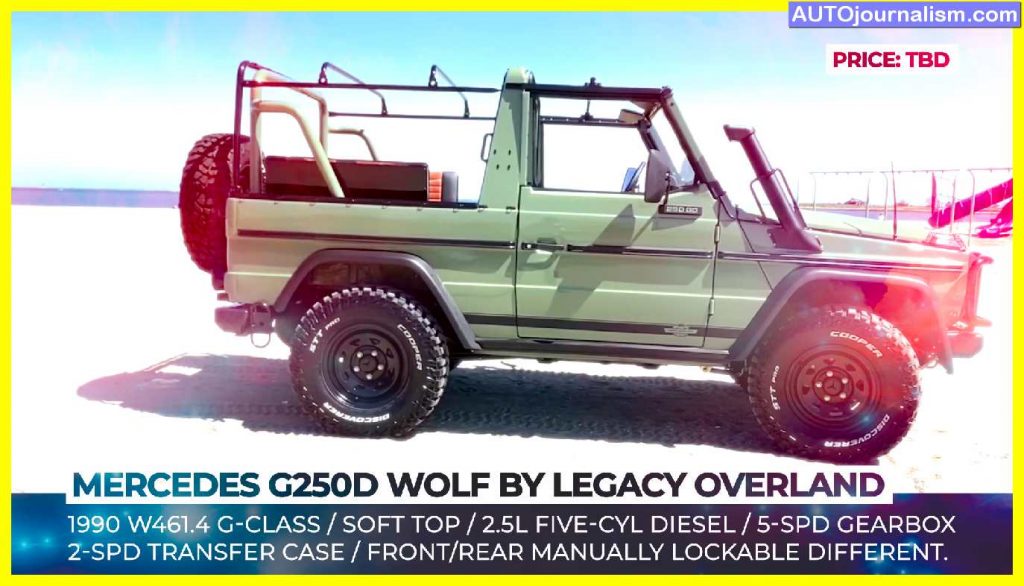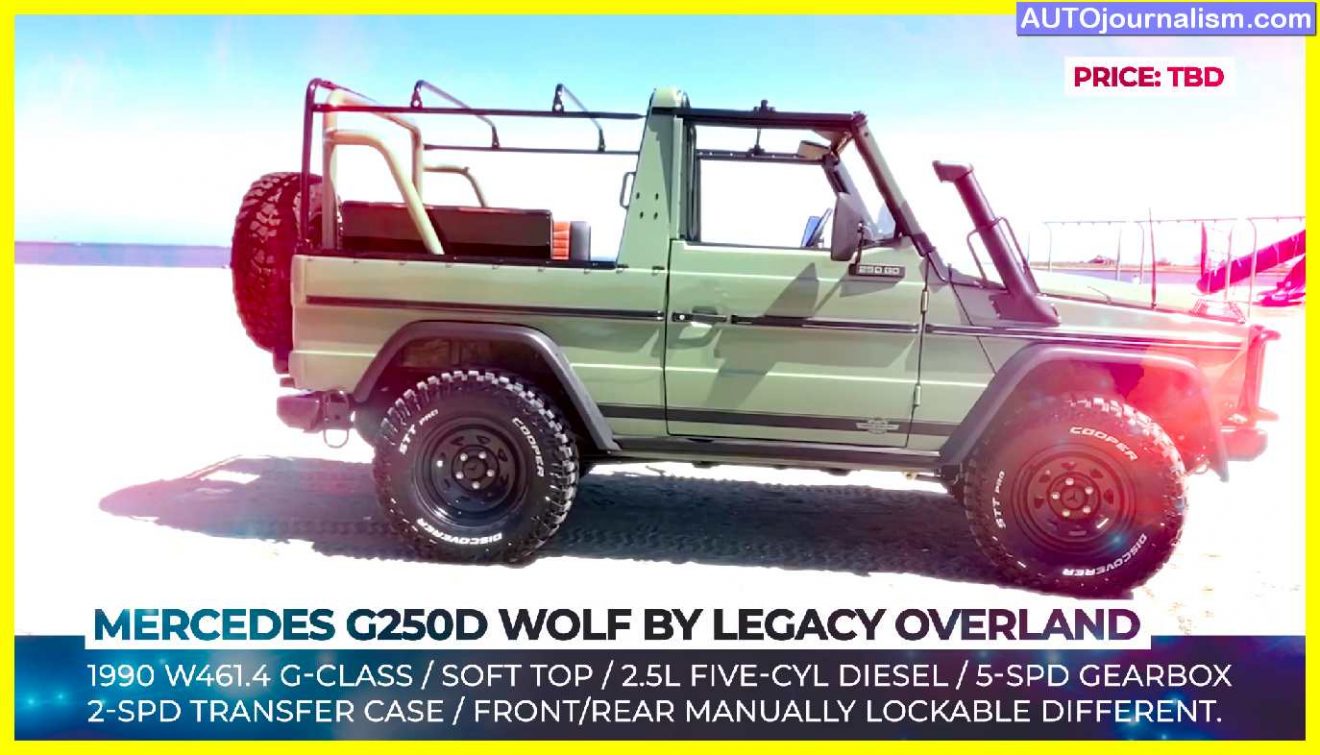 Despite the fact that the current g-class looks very similar to its predecessors, true fans of rugged four-by-fours still prefer its unbeatable military-grade versions. Among such enthusiasts is Connecticut-based legacy overland, which created this comprehensive frustration of the 1990 w461.4, also known as the g-wagon wolf rebuilt from the ground up. This SUV retains it's stock 2.5 liters 5 cylinders diesel engine with a 2-5 speed gearbox, as well as the original 2-speed transfer case and manual locking differentials. The suspension system retains many of the OEM parts but is aided by new Bilstein shocks to make this shoe wagon more suitable for civilian use. New LED lights were also installed by Legacy Overland. The dash was rebuilt, special air conditioning was installed, and the interior was reupholstered in full crane leather.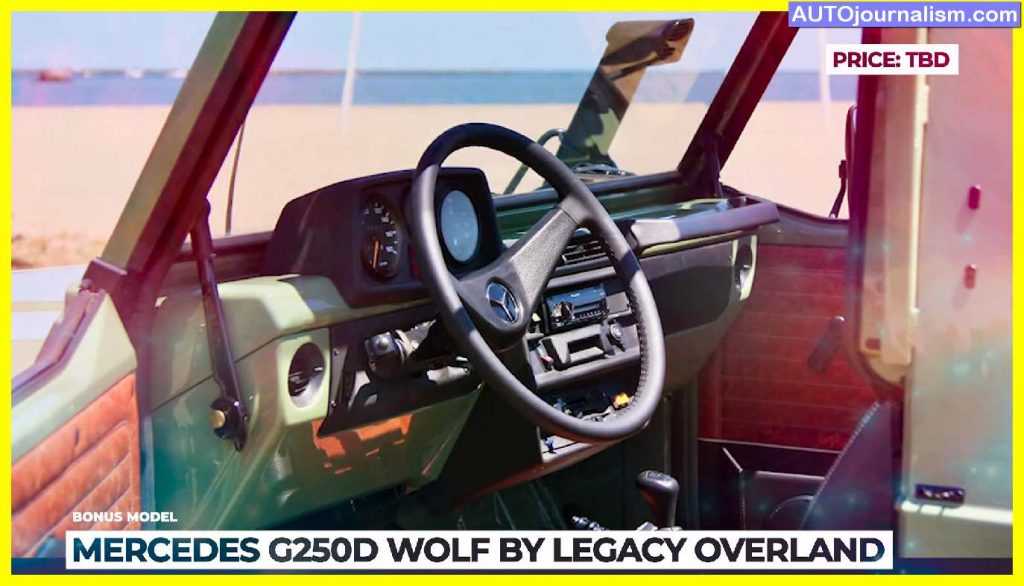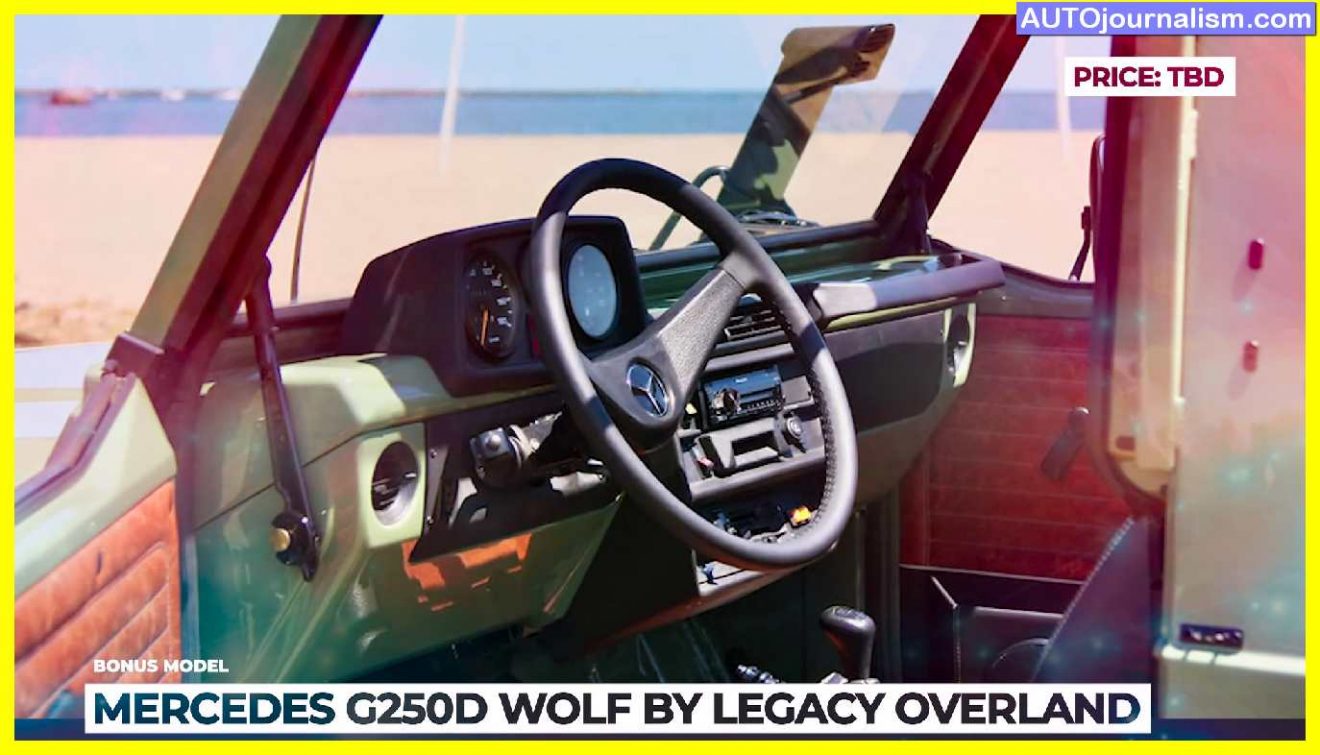 Top 10 Convertible SUV in the world – Website Links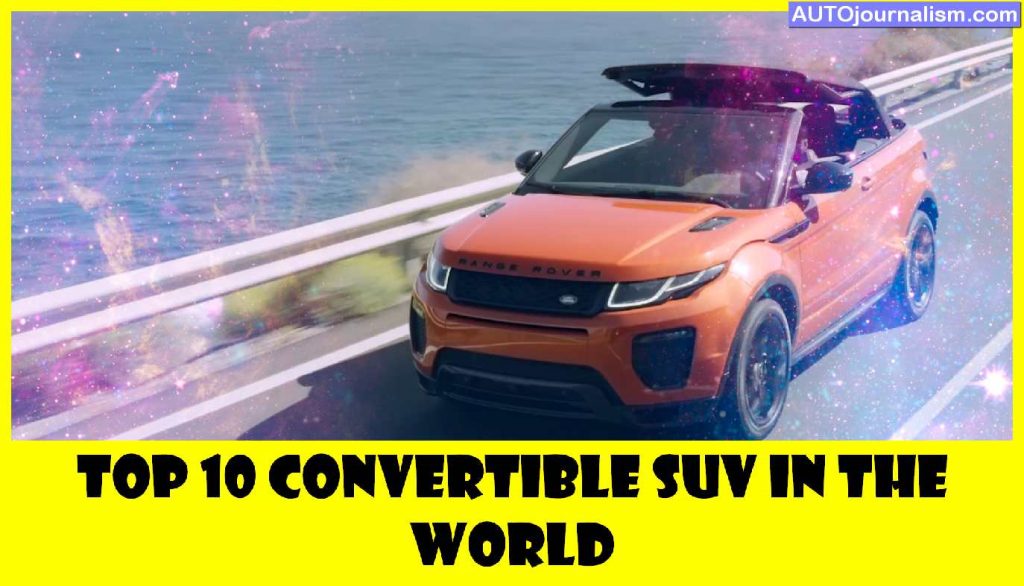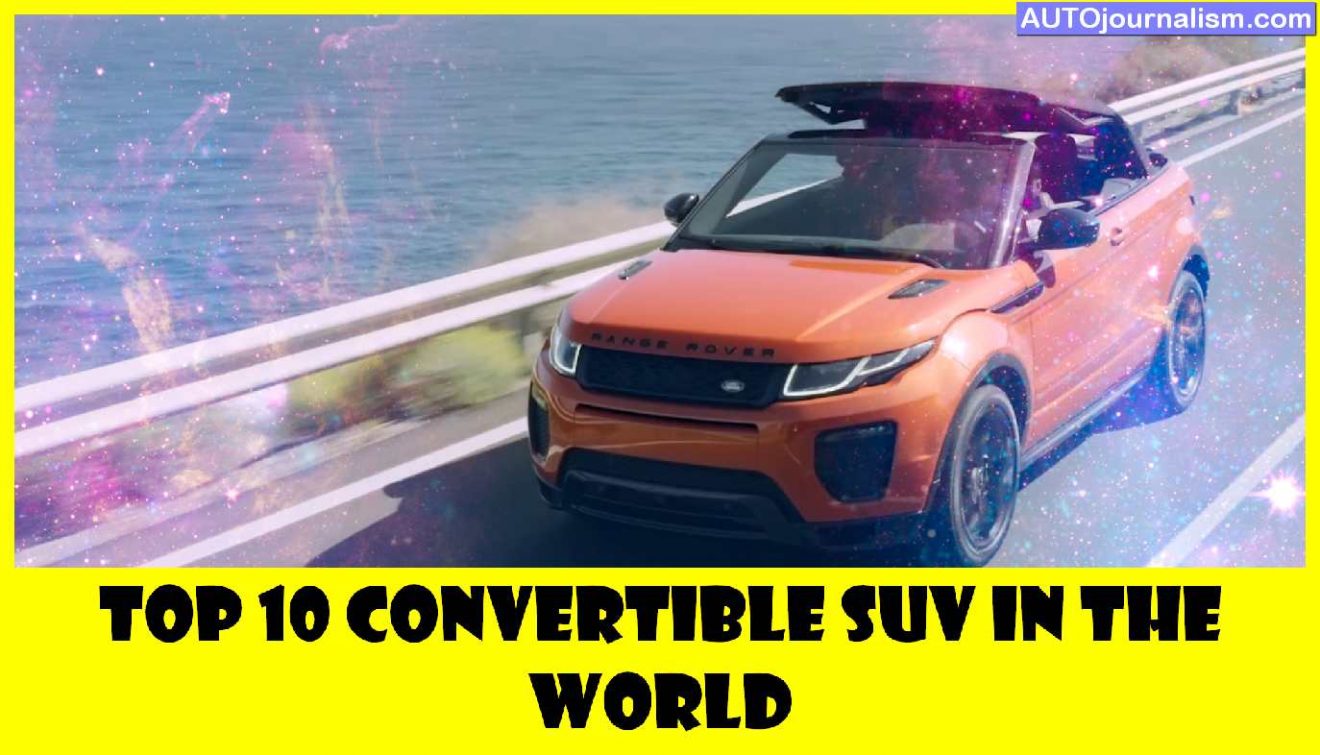 Ford Bronco
Hummer EV SUV
gmc.com/electric/hummer-ev The new Hummer's modular base allows it to offer more body designs than the pickup truck it was introduced with. In 2024, the Hummer SUV will be available with a 9-inch shorter wheelbase to increase off-road mobility.
Volkswagen T-Roc Cabriolet
volkswagen.de/de/modelle/t-roc-cabriolet.html Not deterred by the failures of the convertible Nissan Murano and Range Rover Evoque, VW opted to give the category another shot with a new 2-door, soft-top version of their subcompact T-Roc crossover.
Land Rover Defender 110 Project Prevail by ECD
ecdautodesign.com/portfolio-item/project-prevail The ECD workshop specializes in restoring 1990s Defenders in both short 90 and long 110 bodies; among them, the Project Prevail caught our eye with its custom soft top and customized interior.
Jeep Wrangler 4xe
media.stellantisnorthamerica.com/newsrelease.do?id=22016 Wrangler is the latest Jeep to try out a new plug-in hybrid drivetrain, which will be available in early 2021. A 2-liter gasoline engine, a 17kWh battery with a range of 25 miles, and two electric motors combine to produce 375 horsepower.
Ford Bronco by Velocity Restorations
Land Rover Range Rover Evoque Convertible
Mercedes-Benz G650 Landaulet
mercedes-benz.com/en/vehicles/passenger-cars/g-class/  The Mercedes-Benz G650 Landaulet has become as uncommon as the Bugatti Veyron in just four years, and its price has nearly tripled. There are various reasons for this, in addition to the SUV's restricted manufacturing of 99 units.
Toyota Land Cruiser ICON FJ40 Roadster
icon4x4.com/fj The ICON FJ40 Roadster was unveiled at the 2017 SEMA exhibition and is based on the popular FJ40 generation Toyota Land Cruiser from the 1960s. Still as tough as the original, the vehicle is stripped of all doors and windows, and its metal roof is replaced with a removable piece of fabric.
Mitsubishi Mi-Tech
Mercedes-Benz G250D Wolf by Legacy Overland
legacyoverland.com/1990-mercedes-benz-gwagen-wolf-boxwood-green Despite the fact that the new G-Class looks very similar to its predecessors, true aficionados of rugged 4x4s continue to appreciate its unmatched, military-grade versions. Legacy Overland, based in Connecticut, is one of these enthusiasts, having completed a major restoration of the 1990 W461.4, also known as the G-Wagen Wolf.
( BBC )
NEXT