Top 10 Coolest Police Cars in the World
Hearing and seeing those flashing police sirens in the rearview while you're driving might give you that dreadful feeling but sometimes there are police cars that can make the stop a little sweeter imagine being pulled over by a tesla model x police car or even better seeing a Lamborghini hurricane police chase with a criminal down the highway, nowadays there are many expensive vehicles ranging from sports cars to supercars that have been brought into police fleets from Porsche 911s to Bugatti all these cars are incredibly powerful fast and elegant these cool police cars are meant to help keep police forces a step ahead of the rule breakers or criminals improve public image and even work as marketing tools, let's drive into the Top 10 Coolest Police Cars in the World.
No.10 Lykan HyperSport – Abu Dubai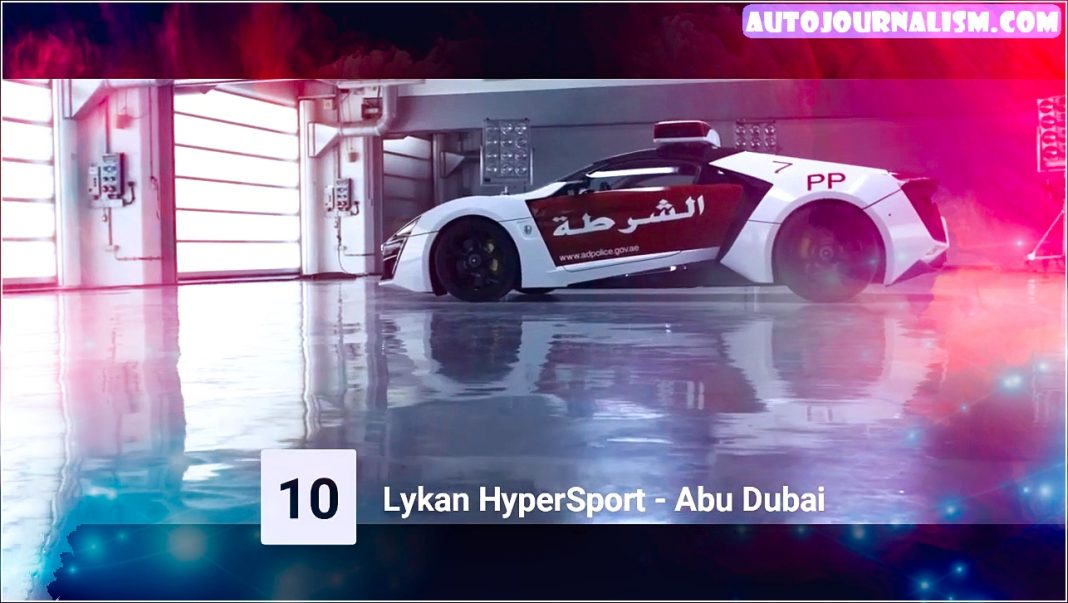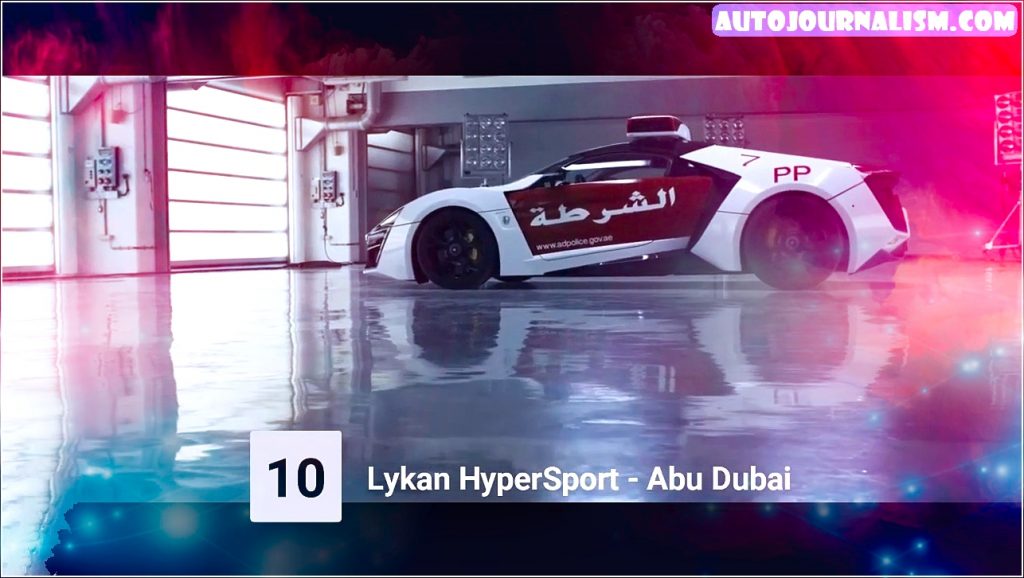 Did you know there are only seven of these hypercars Abu Dhabi upgraded their police fleet with one of these shocking 4.5 million dollar hypercars you might recognize this car from the seventh installment of the fast and furious franchise when it jumped through multiple skyscrapers the hyper sport features a police livery and emergency lights in addition to the 740 horsepower 3.7-liter twin-turbo it can go from zero to 60 in 2.8 seconds with speeds up to 245 miles per hour contrary to popular belief the hypercars with the Abu Dhabi police force are not just for show with average speed limits on highways being 140 to 160 kilometers per hour fast cars are required to catch any speeding offenders the exclusive hypercar is in good company on the Dubai freeway with their fleet of squad cars some of which are included in this list if you're planning on outrunning this police car good luck.
No.9 Lexus LC500 – Japan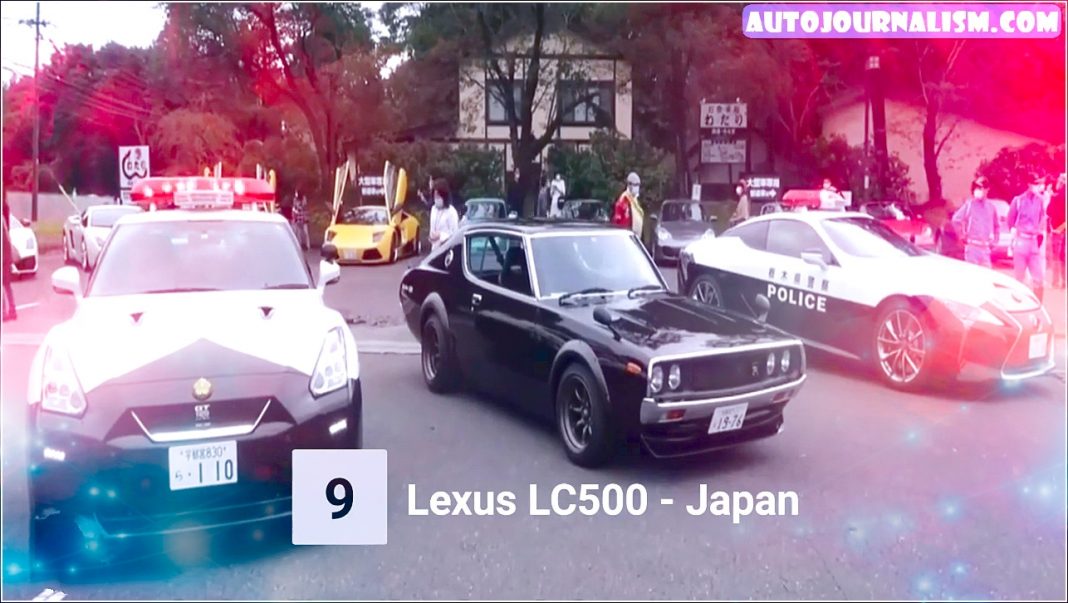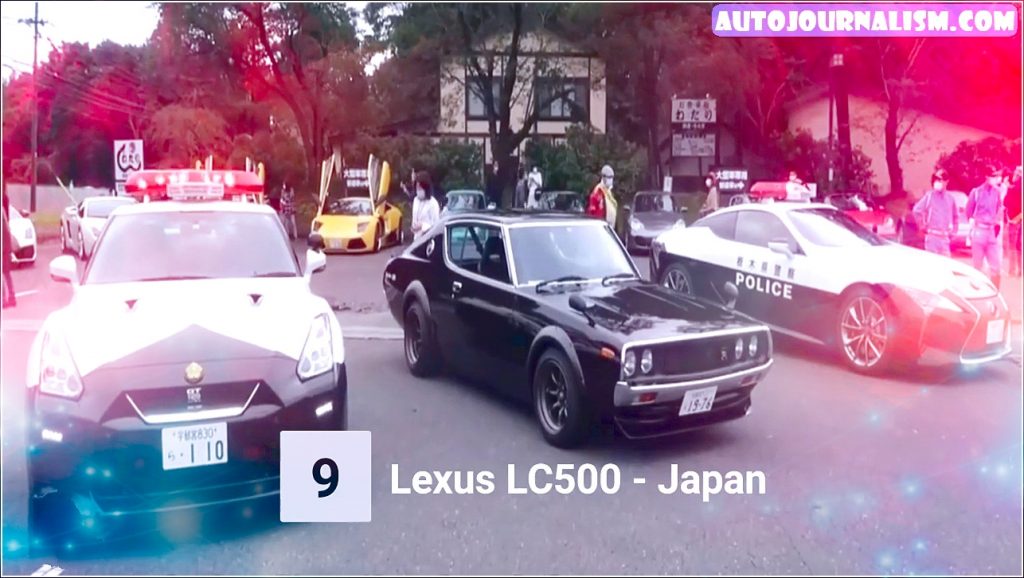 With the Toshiko prefectural police already owning a Nissan gt-r in their fleet they expanded to include a Lexus LC 500 coupes it was given us a donation to serve in the mobile traffic unit to prevent traffic accidents upgraded with a black and white two-tone color scheme with red emergency lights the lc 500 will get the job done with its v8 engine putting out 471 horsepower is the purpose to chase down japan's modified street racers or does it look good at the front of a parade probably a bit of both but either way it seems like japan likes its police cars with a little extra push to the getaway drivers of northern japan you've been warned.
NO.8 BMW i8 – Germany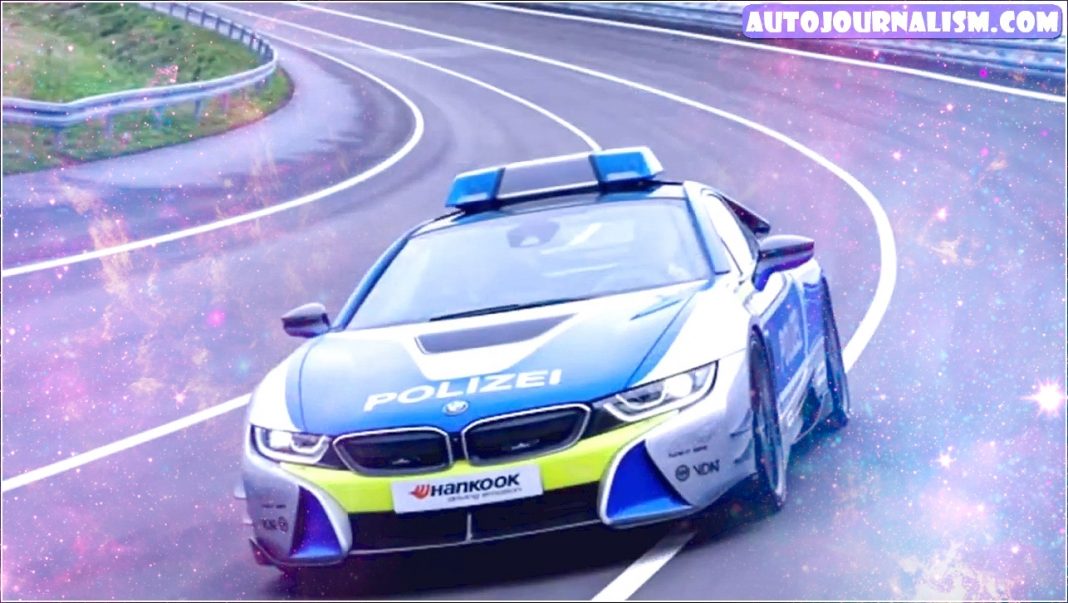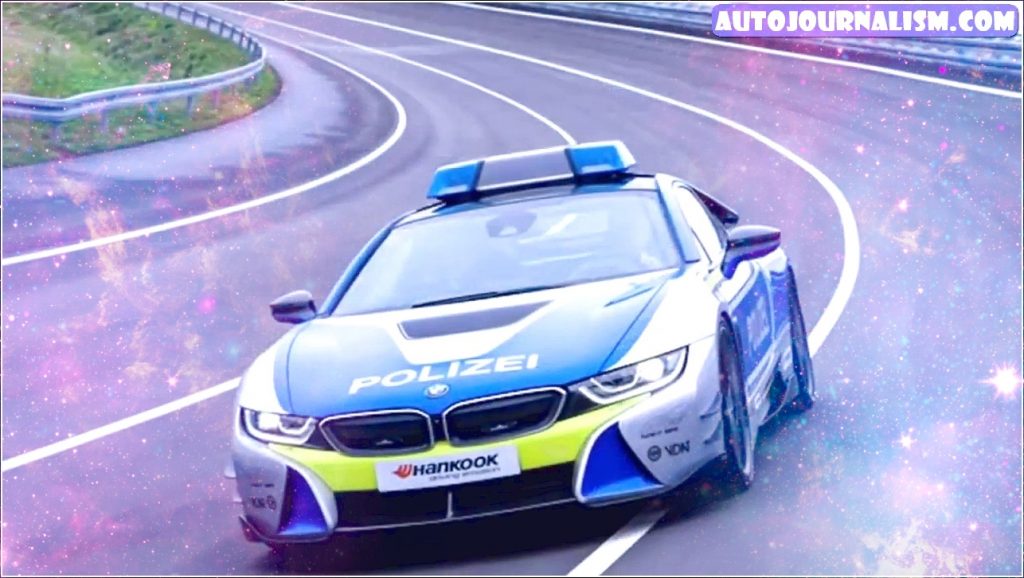 Could it get any more German than this, a BMW i8 german police car patrolling the main streets of Munich ac Schnitzer a tuning company in Germany donated the Munich police force this panda liveried i8 as a part of the tune it safe campaign the modifications extended far beyond the bright blue and yellow livery with the hybrid made lighter and more aerodynamic lowered by 20 millimeters for better handling it has a set of 21 inch ac-1 lightweight staggered wheels and its extensive carbon-fiber package includes the front spoiler grille air outlets side skirts a racing rear wing and a three-part rear diffuser if there are any criminals on the road this will be the police car to catch them.
NO.7 Tesla Model X – Australia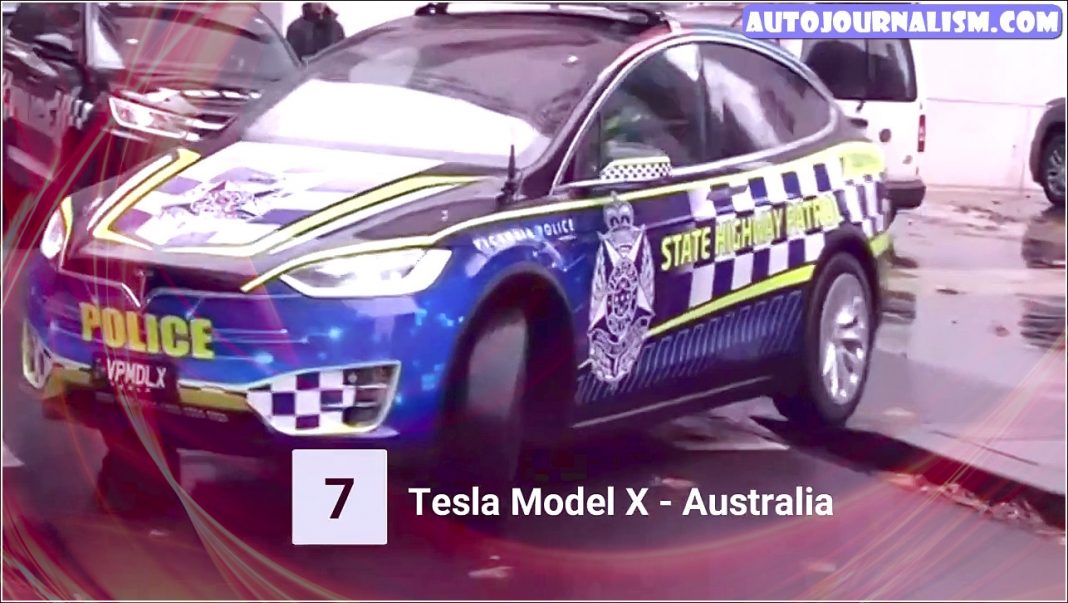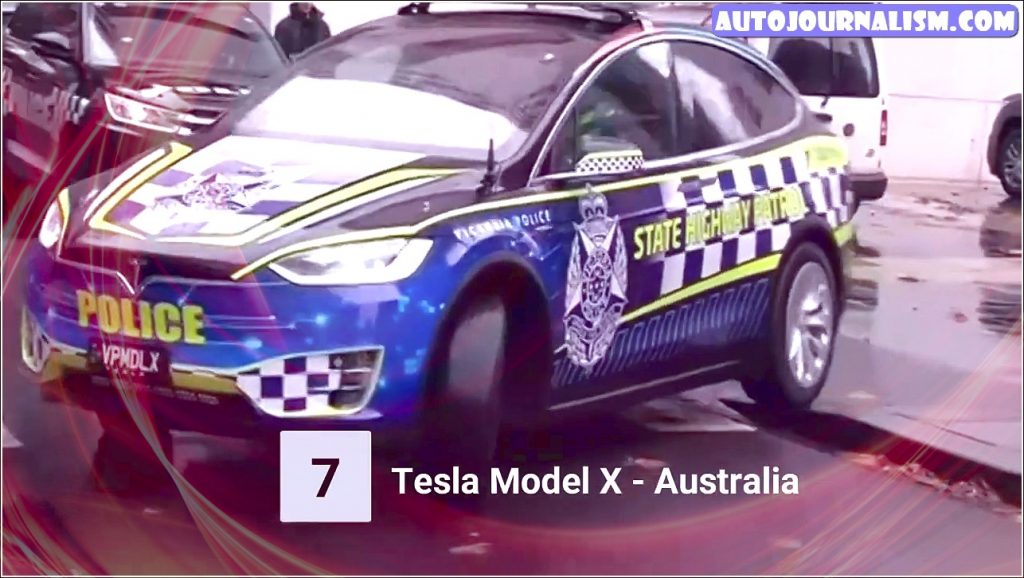 Tesla is the king of electric cars the Australian police force have purchased a tesla model x as a part of a feasibility study into developing fully integrated electric i.t based police cars for fleet use it has a great environmental benefit as police cars travel thousands of kilometers on the road yearly and are looking for ways to lessen the impact on the environment covered with typical highway patrol colors the model x looks intimidating it features a light bar on the hood and red and blue lights hidden in the grille it has ample space to fit police equipment perps and police the model x just like its other tesla counterparts is fast and nimble the car accelerates from 0 to 60 in 3 seconds and has a top speed of 118 miles per hour.
NO.6 Ford Ranger Raptor – United Kingdom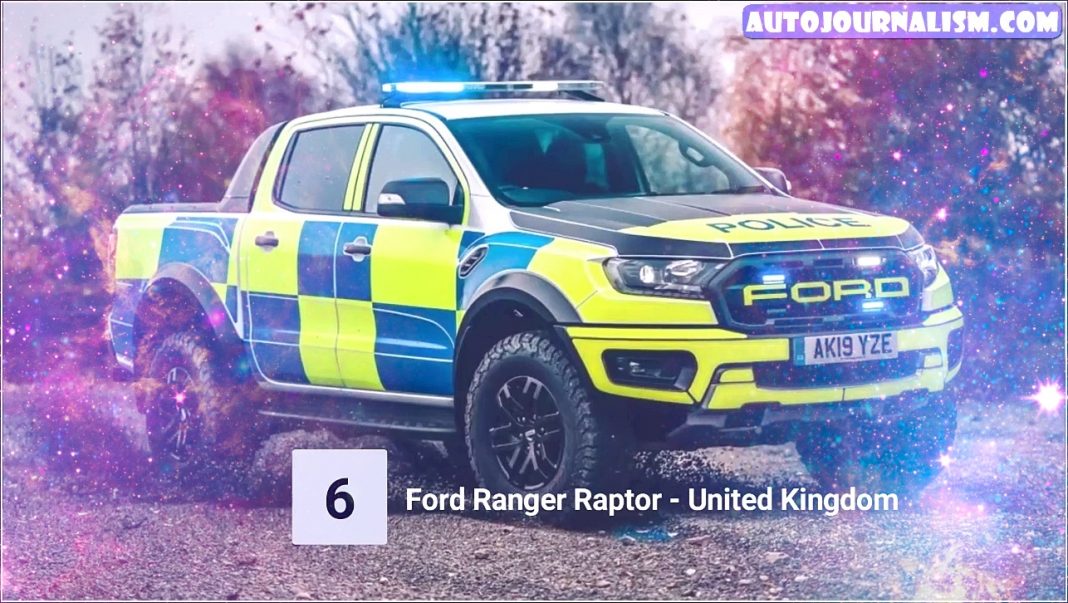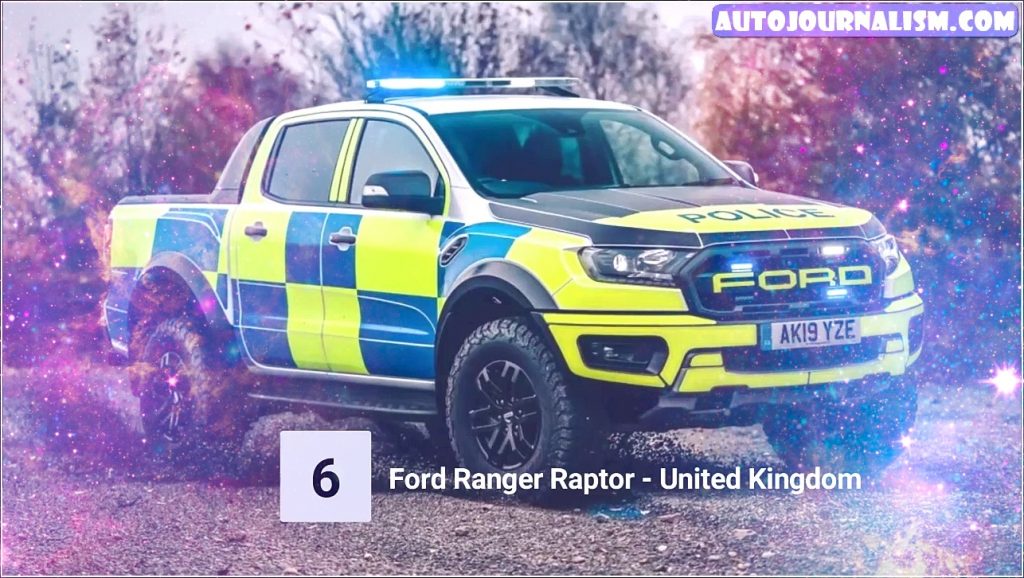 South wales are known for its rugged coastline and countryside including lakes glacial landforms and mountains this is the perfect place to have a ford ranger raptor as a police vehicle it was put together by ford's special vehicle preparation unit based in Essex which is a flat county in England after undergoing modifications which includes full police livery with all-around emergency lights and sirens and operational police equipment the police ranger raptor weighs around 5,000 pounds and has a 2.0-liter diesel engine that produces 210 horsepower it's not the fastest vehicle for chasing criminals but it will be absolutely relentless
NO.5 Brabus Mercedes CLS Rocket – Germany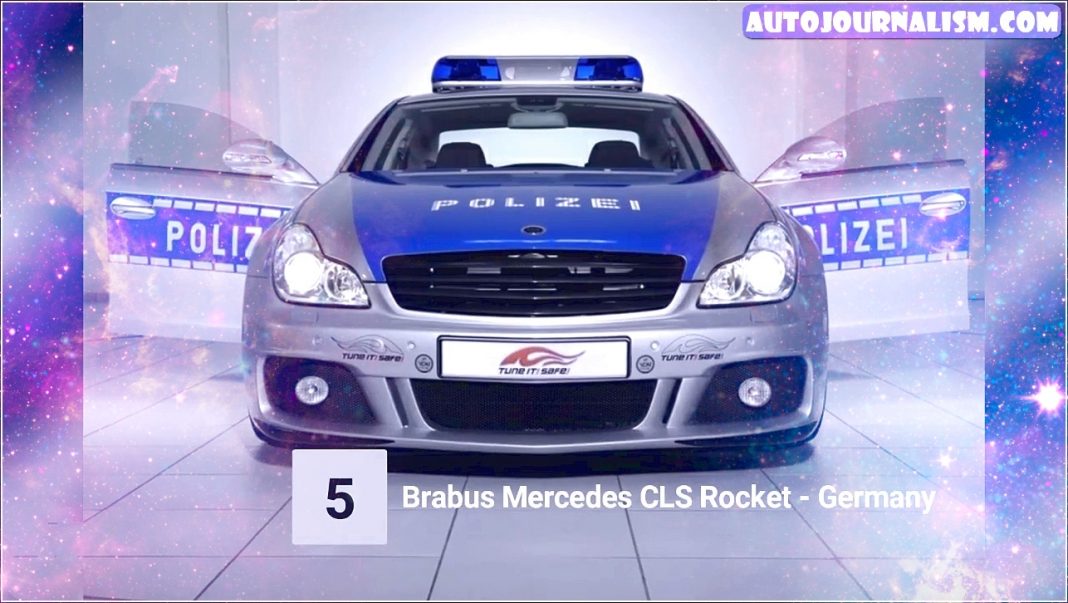 The German police fleet has a bravos Mercedes CLS rocket which costs 580 000 well worth the money as the rocket is equipped with a 6.3-liter v12 engine producing 730 horsepower with a top speed of 228 miles per hour the car can accelerate to 60 miles per hour in 3.5 seconds and has an automatic height-adjusting coil-over Bilstein setup which allows for a smooth high-speed drive this ordinary Mercedes has been modified to stand out as a police car the upgrades include a light bar and custom paint job in addition to patrolling the autobahn the bravos police cruiser has also been seen on the racetrack.
NO.4 Porsche 911 Carrera – Austria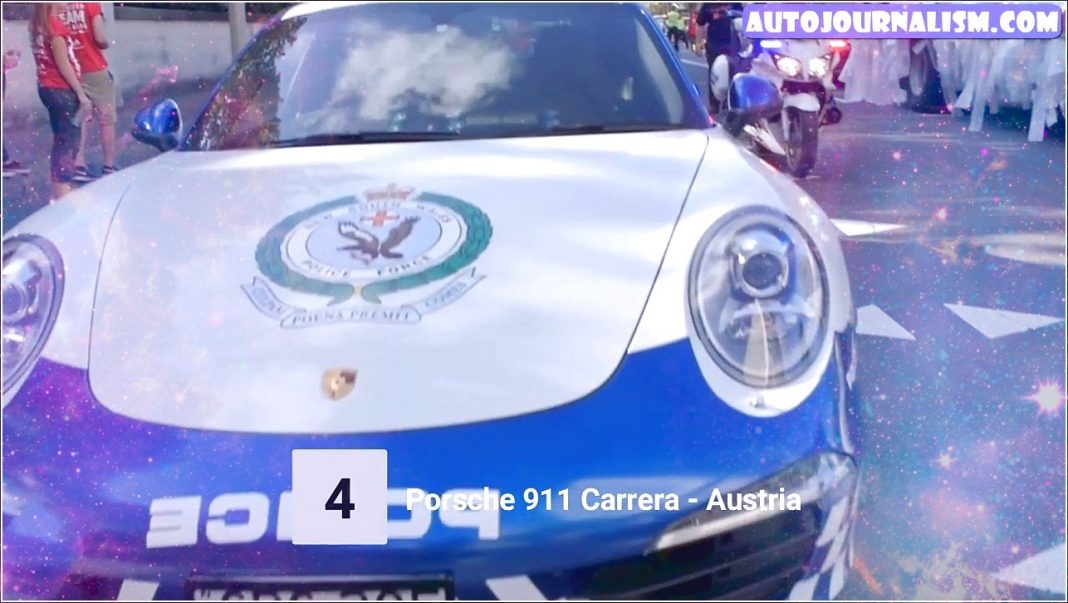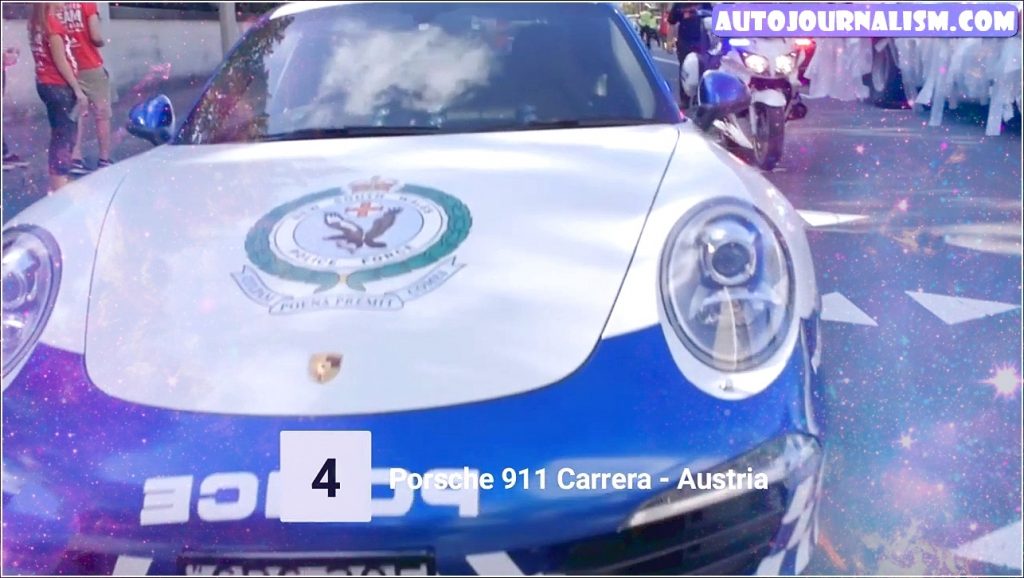 The Austrian police department received a Porsche 911 Carrera sporting dark blue red and silver as part of a continued partnership with the brand it aims to benefit from the free publicity gained by the patrol car in exchange the Austrians get a powerful sports car patrolling their streets which has been upgraded to include an onboard radio system a light bar on the roof and can go from zero to 62 miles per hour in 4.2 seconds reaching a top speed of 180 miles per hour the goal of this campaign is to prove that people can drive responsibly when behind the wheel of a powerful car such as the Porsche 911 Carrera it's not every day that you see such a stylish police car like this
NO.3 Lamborghini Huracan – Italy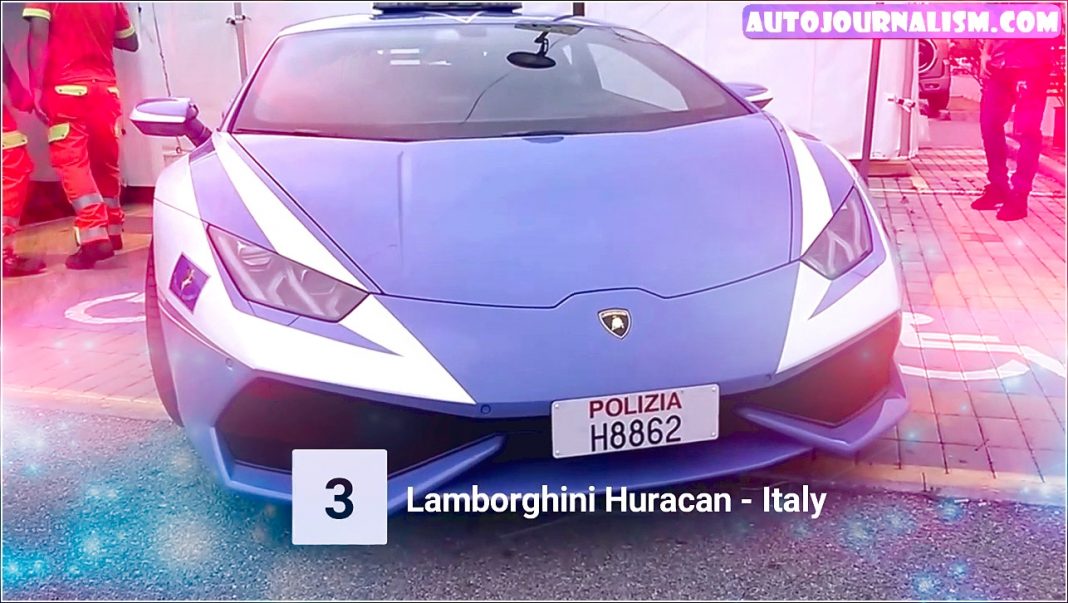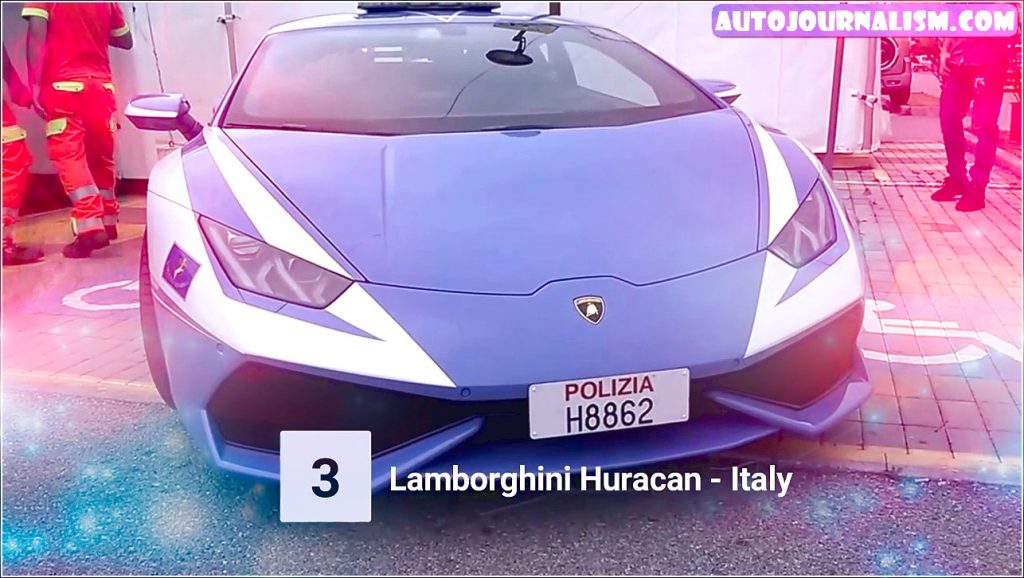 Lamborghini delivered a specially equipped hurricane to the Italian highway police painted in the official light blue Italian police colors it is not a standard hurricane it does have the same 610 horsepower v10 engine but upgrades include police sirens radios a gun holster a portable extinguisher police radio on-board tablet and other equipment the hurricane police car should be able to outrun any bad guy as it can hit 60 miles per hour in 2.8 seconds when it's not patrolling the highways the hurricane will act as an emergency medical vehicle as it has been equipped to transport blood and organs to provide first aid the luggage compartment has a refrigeration system and the vehicle comes with the defibrillator
NO.2 Ferrari250 GTE – Italy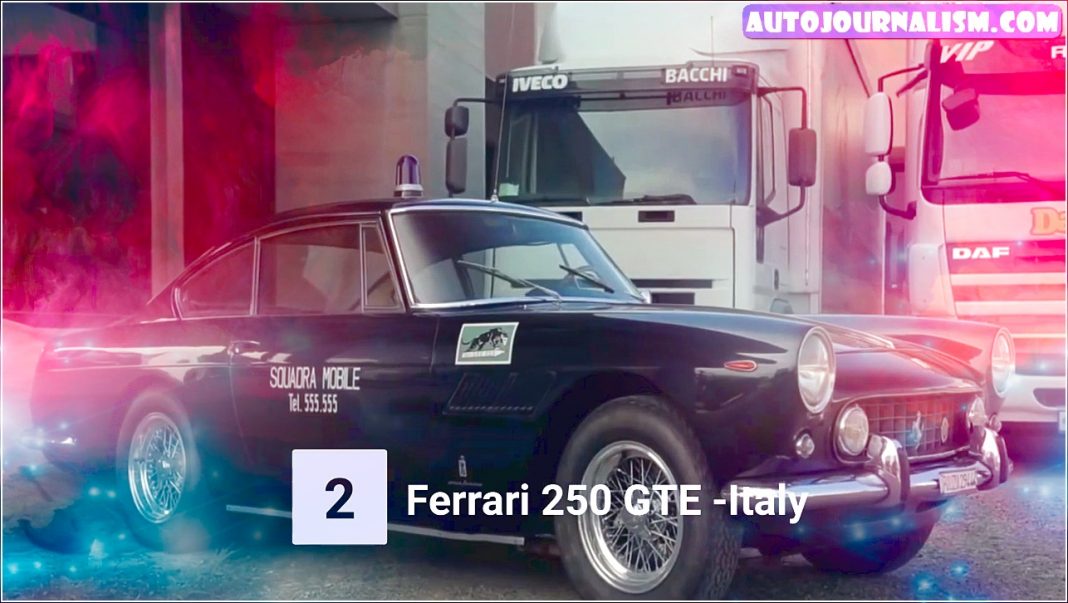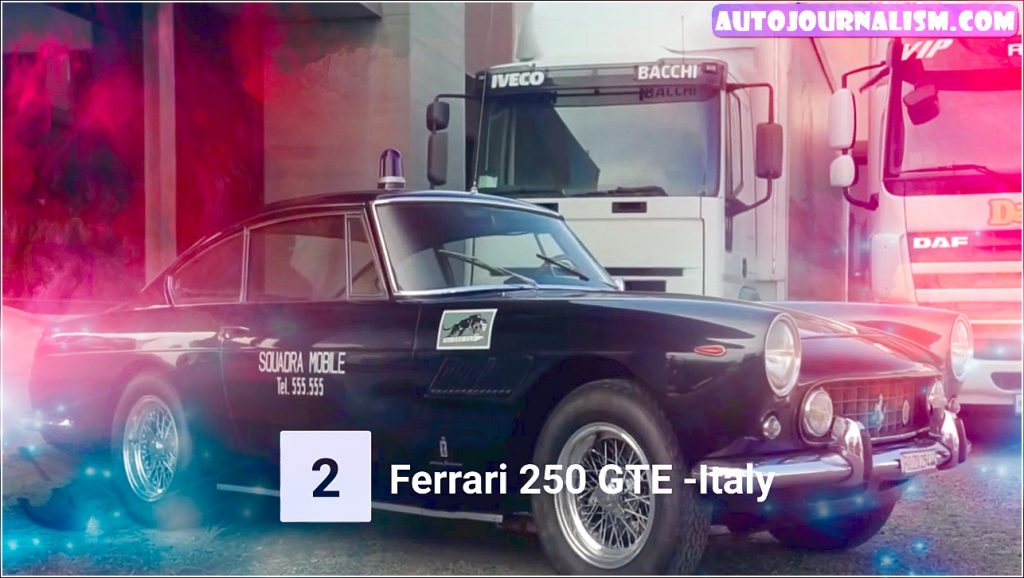 The rare Ferrari 250 GTE two plus two Polizzia once struck fear into the hearts of the Italian mafia in late 1962 two of these classics joined the Rome police forces fleet as a solution to criminals ability to outrace the traditional alpha Romeo the 1900s and 2600s police cars the Ferrari produced 240 horsepower with a 3.0 liter naturally aspired v12 engine and a top speed of 140 miles per hour with this speed and a roomy four-seat cabin it was the perfect police car while one model was retired by the force within weeks of its first day the second chassis 3999 gt was driven for six years by the world's fastest policeman Armando Spatafora the police car is for sale at an auction with a price tag so high that it is only revealed to those who could prove they could afford it it is estimated to be around six hundred and ten thousand dollars this is definitely a one-of-a-kind police car
NO.1 Bugatti Veyron – Dubai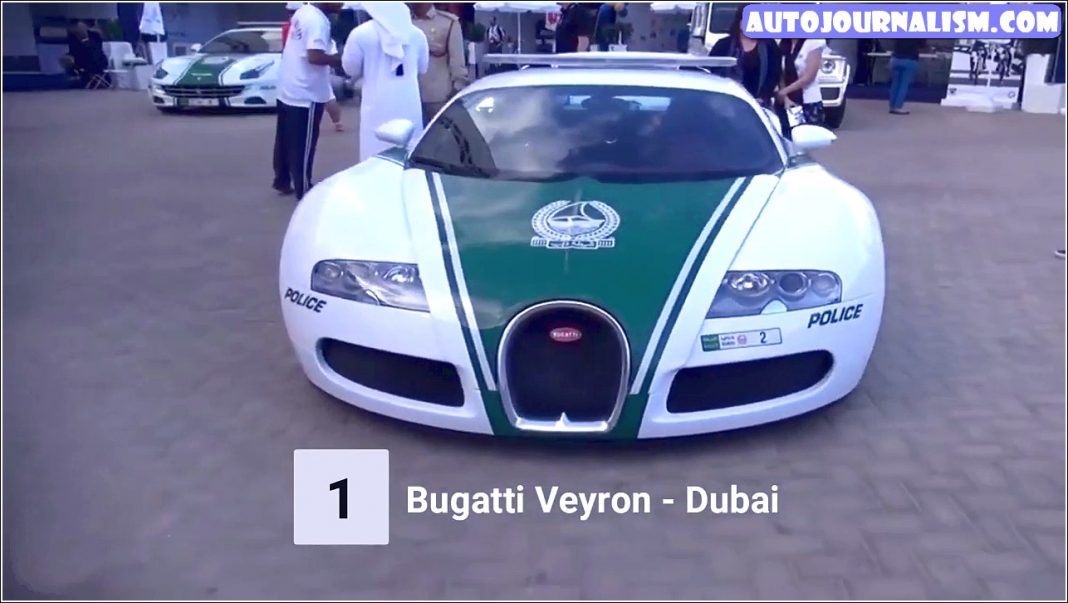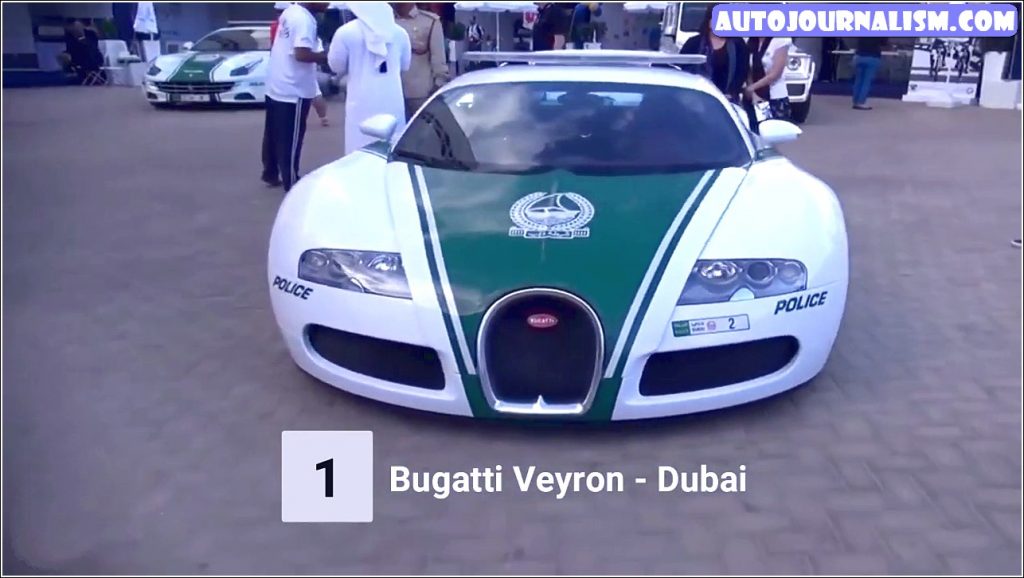 The most expensive and badass police car in the world belongs to Dubai's police fleet with a price tag of 2.5 million dollars it's no surprise that the supercar puts out 1,000 horsepower and can hit 60 miles per hour in 2.5 seconds with a top speed of 253 miles per hour Dubai has one of the most well-funded traffic police fleets as it includes the Ferrari ff Lamborghini Aventador and Bentley's the shocking part none of Dubai's police cars are meant to be involved in high-speed chases they are more of a marketing tool they want to show tourists how friendly the police are they can be seen patrolling shopping centers where tourists can snap a selfie with them in addition to promoting tourism the Veyron also promotes gender equality as female officers oversee driving Dubai's most expensive police cars thanks for Reading the top 10 world's coolest police cars.
Previous Post:-
2021 BS6 TVS Apache RTR 200 price