Top 10 Japanese Electric Vehicles
Here is the list of Top 10 Japanese Electric Vehicles, Top 10 Japanese Electric Sports Cars, Top 10 Japanese Electric Trucks, Top 10 Japanese Electric Cars, Top 10 Japanese Electric SUV, etc. For a long time, it appeared that the majority of Japanese automakers regarded battery-electric transportation as a passing fad, focusing instead on the development of hybrids and hydrogen fuel cell vehicles. However, today, Japanese automakers appear to be warming to the zero-emission movement, with plans to go all-electric within the next decade.
1. Honda eNS1 and eNP1 ( Best Japanese Electric Vehicles )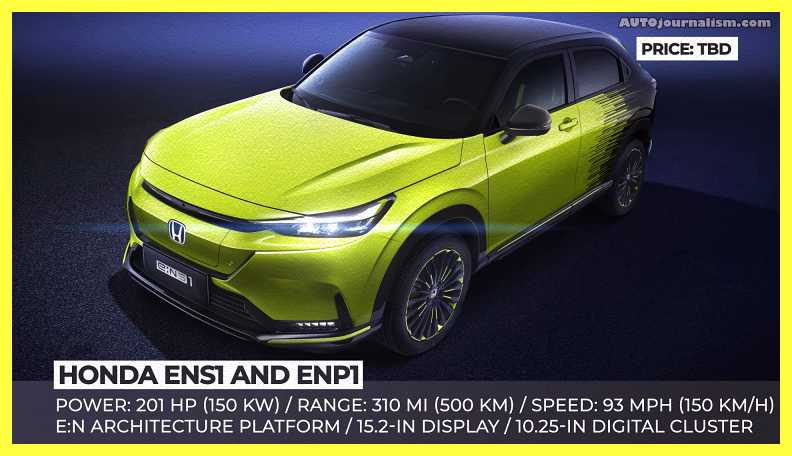 Beyond 2022, the most recent additions to Honda's electrified range include a next-generation HRV crossover with a hybrid powertrain. For the 2022 model year, the vehicle received a new exterior with a body-colored grille, thin led headlights, and a sloping roofline with a small rear spoiler. The powertrain of the SUV is comprised of a 1.5-liter Atkinson cycle i4 engine that works in unison with two electric motors.
The powertrain's combined output is 131 horsepower and 187 pound-feet of torque, but the European market will only get a hybrid variant. The Honda eNS1 and eNP1 electric crossovers, which will be developed with two Chinese manufacturing partners, are among the brand's more interesting aspirations for the Chinese market.
With the exception of a closed-off radiator grille and the presence of the charging port, these models are identical to the new hr-v on the outside. On the inside, the ens-1 and ENP-1 are distinguished by a larger 10.25-inch digital cluster and 15.2-inch center display installed for easier access to numerous multimedia and driver safety features. Both versions will be based on the brand's brand-new EV architecture.
They'll have a front-mounted electric motor with 201 horsepower and a 68.8-kilowatt-hour battery cell. According to reports, this engine combination will deliver up to 310 miles of riding range with a top speed of 93 miles per hour. Over the next five years, the en portfolio is projected to be updated with at least three new models. These cars may resemble incredibly futuristic concepts such as the en coupe, en SUV, and en GT.
2. Toyota BZ4X ( Best Japanese Electric Vehicles )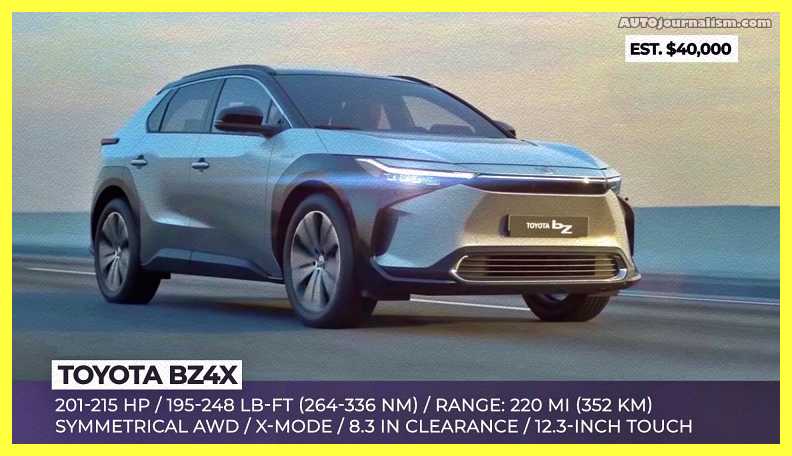 The bz4x crossover will be the first vehicle under Toyota's new electric beyond the Xero sub-brand. It will be available in front-wheel drive or all-wheel drive, with the former featuring a 201 horsepower electric motor. This arrangement produces 195 pound-feet of torque, can accelerate from zero to sixty in 8.4 seconds and can reach a top speed of 100 miles per hour. The all-wheel-drive system will have a dual-motor system, with a separate electric motor for each axle, resulting in a slightly higher output of 215 horsepower and 247 pound-feet of torque.
Both models are equipped with a 71.4-kilowatt hour battery pack that is buried beneath the vehicle's floor. The highest speed for this configuration stays unaltered, however, the 0-60 acceleration is reduced to 7.7 seconds.
It will have a range of about 220 miles and will support regenerative braking and ccs2 fast charging. The innovations in this model will go far beyond the powertrain; the bz4x will have a variety of safety and driver assistance systems, as well as next-generation multimedia connectivity features that can be accessed via the 12-inch touchscreen.
3. Toyota 2030 EV Strategy ( Best Japanese Electric Vehicles )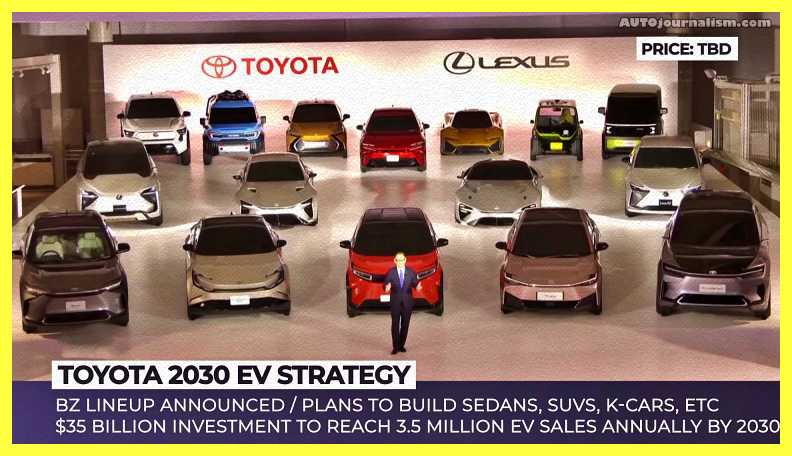 On the 12th of December, the president of Toyota Motor Corporation held a media briefing with the goal of presenting the company's future Ev development strategy. The new strategy calls for the introduction of 30 fully electric cars and SUVs under the Lexus and Toyota brands by 2030, as well as a 2 trillion yen increase in investments in battery development and production. The forthcoming representatives of the Beyond Zero lineup were among the vehicles on display on the show floor. SUV that is small in size A tiny crossover, a midsize sedan, and a huge SUV with three rows of seating are all options.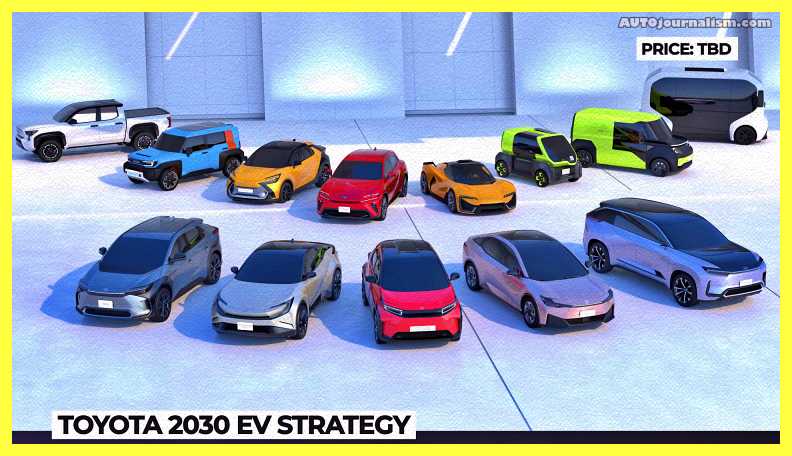 The showroom floor also found enough room to preview a number of concept vehicles that appear to be electrified versions of the brand's current vehicles, including a Tacoma-sized truck with a two-tone white and black paint job and no radiator grille, as well as an electric FJ Cruiser, according to the company's president. Toyota will pay close attention to power efficiency in their compact vehicles, aiming for a power consumption of 200 watt-hours per mile traveled, according to the company's president
4. Nissan Ambition 2030 ( Best Japanese Electric Vehicles )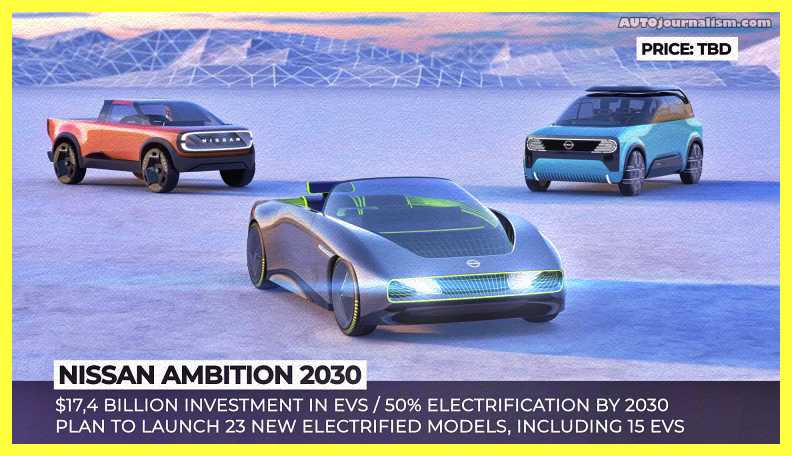 Nissan's goals in the electric vehicle category go far beyond the introduction of the Ariya SUV. The Nissan Ambition 2030 program was recently launched by the corporation. This development strategy calls for a 17.7 billion dollar investment in the electrification of the brand's range, with 50 new all-electric vehicles expected to be available by 2030. Nissan's future electric vehicles will be based on the cmf EV platform, which employs a novel method to the integration of body parts, chassis, and battery modules. The platform will feature a skateboard-like structure and will be able to house solid-state batteries, as well as be utilized to manufacture a variety of vehicles.
The adaptability of this platform was demonstrated by displaying four conceptual automobiles from various classes. a tiny SUV or a crossover vehicle a two-seater sports car and a compact pickup truck All models have a low center of gravity, modern e-force, and pro pilot technologies, and futuristic interiors with technology intended at keeping passengers safe and amused, however, production models may not retain all of the ideas' remarkable characteristics. Nissan's plans to release new models with solid-state batteries and additional safety features should thrill any fan of Japanese automobiles about the future of electric vehicles.
5. Subaru Solterra ( Best Japanese Electric Vehicles )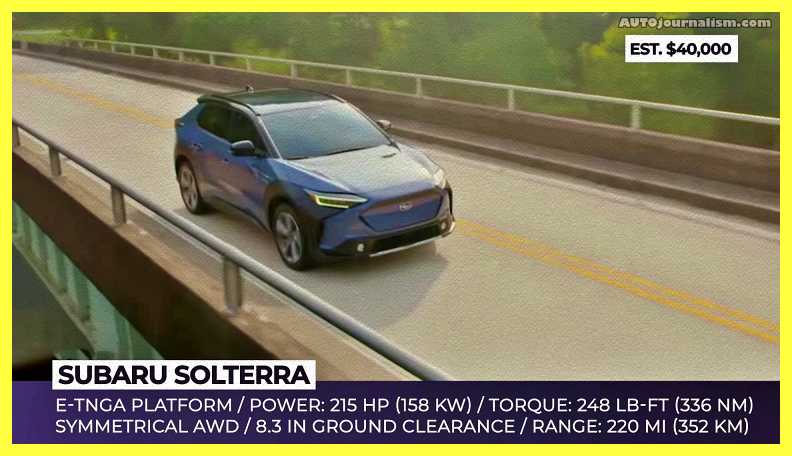 Since Toyota currently owns roughly 20 of Subaru's vehicles, the official launch of the Subaru Soltera signified the start of yet another collaboration between the two companies. It was only a matter of time after their collaborative manufacture of the Subaru Brz and Toyota Gr86 vehicles that the brand's first all-electric SUV would be developed on the E-TNGA platform, which will be shared with a variety of upcoming Toyota products. The powertrain of the Solterra comprises of two electric motors with a combined output of 215 horsepower and a torque indicator of 248 pound-feet. The powertrain has been fine-tuned to produce more power in both city and off-road situations.
This Subaru SUV would benefit immensely from 8.3 inches of ground clearance, as well as the brand's hallmark symmetrical all-wheel-drive system and hill ascent and descent assist capabilities when traversing less trafficked roads. A 71.4-kilowatt-hour battery pack powers the motor, allowing it to go up to 220 miles while absorbing some of the energy through a variety of regenerative braking modes. The cabin has 126 cubic feet of passenger area with seating for five people and plenty of legroom thanks to the virtually level floor. The vehicle's luggage carrying capacity is 30 cubic feet.
6. Lexus RZ 450e ( Best Japanese Electric Vehicles )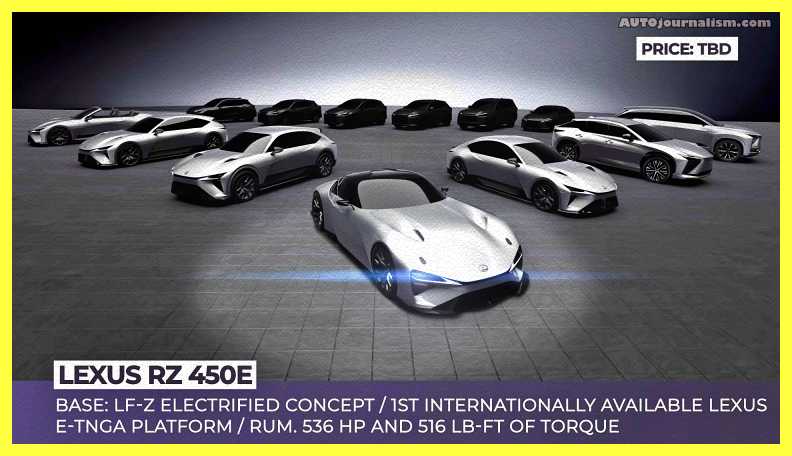 Because Lexus intends to sell only electric vehicles starting in 2035, Toyota's press conference was utilized to show off a variety of concept vehicles from Lexus 2. The portfolio included an electrified sedan, an electrified SUV, and the electrified sports vehicle, which drew the most interest. The Lexus LFA served as a major inspiration for this supercar. Unlike its ice forerunner, the brand's renowned two-seat supercar will be entirely electric and powered by solid-state batteries. Even though we would like to see the LFA successor as soon as feasible, the vehicle's powertrain is said to offer zero to sixty mile per hour sprints in the low two-second range while keeping range estimates of 400 miles.
The RZ-450e will be the world's first all-electric Lexus. This electric crossover has been formally reviewed by the manufacturer, and its official presentation is scheduled for the coming months. While details on the rz450e are limited, we do know that it will be based on the lfz electrified concept that was unveiled earlier this year. The concept used a dual-motor powertrain with an innovative direct-4 all-wheel-drive system with a system output of 536 horsepower and 516 pound-feet of torque. Because the model could be built on the Etnga platform, a 90-kilowatt-hour battery could be installed underneath the vehicle, allowing for more legroom for passengers and up to 373 miles of non-stop driving.
7. Sony Vision-S ( Best Japanese Electric Vehicles )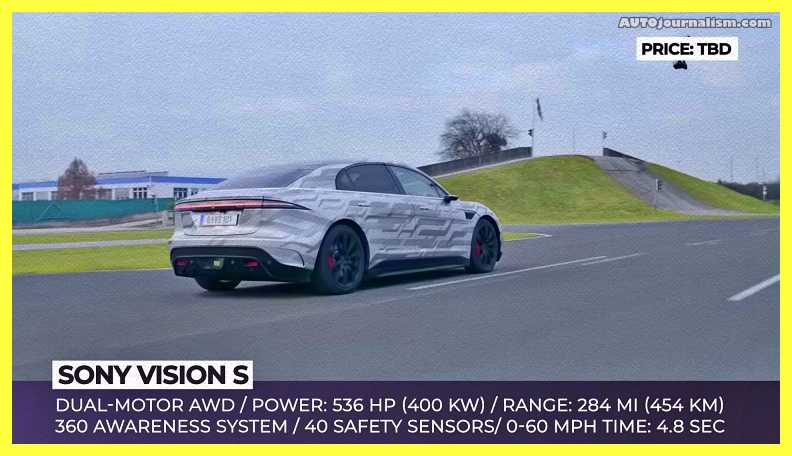 Because modern vehicles are so reliant on information technology, it's no surprise that IT behemoths like Sony are considering developing automotive products. Sony Vision S is an electric sedan idea that was developed in collaboration with Magnestaya, an Austrian automaker. Magna provides the car's powertrain, which consists of two electric motors with a combined output of 536 horsepower. The dual-motor powertrain can accelerate this vehicle from zero to 60 miles per hour in just 4.8 seconds and reach a top speed of 150 miles per hour. The sedan's battery capacity is unknown at this moment, although range estimates are said to be around 280 miles. Sony provides the luxurious technology bundle. Currently, the company is putting a safety system to the test that uses 40 sensors to continuously monitor the situation.
The autonomous driving features with 5g connectivity support are also being tested on the road at a distance of over 1000 feet. Inside, there will be a large panoramic screen as well as infotainment screens for passengers in the back seats. The vehicle will use 360 reality audio and cloud technologies to deliver the best quality media playback. The company stated during the official unveiling at CES 2020 that the visions would not go into serial production and would only be used as a canvas for testing various types of automotive tech infotainment systems and autonomous driving technologies. However, multiple press releases suggest that the company is continuing to develop and road test this vehicle, so could it be that Sony may soften its stance and end up selling this vehicle to the public?
8. Nissan Ariya ( Best Japanese Electric Vehicles )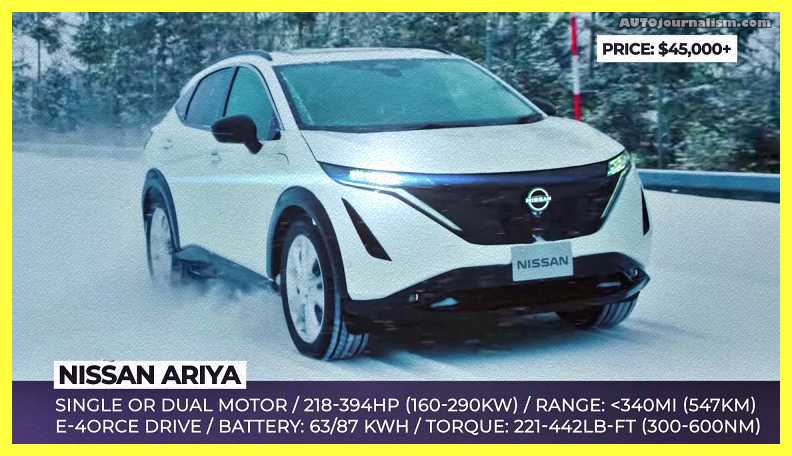 Nissan ariya deliveries have been confirmed for the summer of 2022, following a series of delays. The crossover will arrive with the bold design styling that was first previewed by the ariya concept at the 2019 Tokyo Motor Show. The design language developed for this model is referred to by the manufacturer as "timeless Japanese Futurism." The ariya crossover will be available in four basic configurations. Two of them will be equipped with a two-wheel drive, while the other two will be equipped with an all-wheel drive. The key difference between the two-wheel-drive variants is the battery capacity; you may select between a 63 and 87-kilowatt hour battery pack with 188 and 277 miles of range, respectively. Both battery packs will be combined with a single 218 horsepower electric motor.
The all-wheel-drive variants will be equipped with a performance-oriented dual electric motor powertrain rather than a longer operating range. Its output has been increased to 306 horsepower, allowing it to sprint from zero to sixty miles per hour in just 5.1 seconds, with a top speed of 124 miles per hour. Inside, the Ariya offers a cabin with minimalist styling, plenty of passenger space, and great technological equipment, including a pair of 12.3-inch screens that stretch across the vehicle's dashboard. Finally, unlike the majority of Japanese automakers, who took a more cautious approach to electrification, choosing to develop hybrid and fuel cell vehicles as their first step toward a zero-emission future, the brand's latest infotainment system with built-in Alexa new pro pilot 2.0 driver assists deserves mention.
9. Mazda MX-30 ( Best Japanese Electric Vehicles )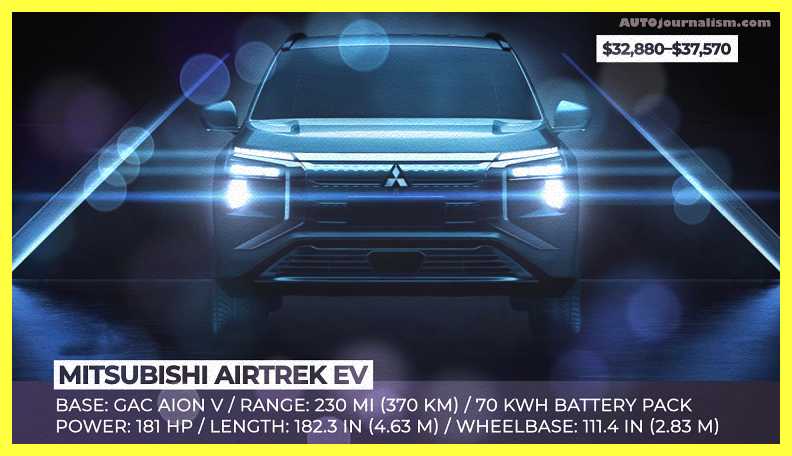 took the plunge into battery electric vehicle development almost away. The MX-30 is the brand's first battery-electric vehicle, and it was built like a subcompact crossover with a coupe body design. Mazda's original concept was to build a city commuting vehicle, therefore the features given by this crossover are nothing short of modest. The engine produces 144 horsepower and 200 pound-feet of torque, allowing it to go from 0 to 60 miles per hour in 9.7 seconds and reach a top speed of 87 miles per hour.
Furthermore, because this motor is paired with a 35.5-kilowatt-hour battery pack, real-world range estimates are set at just 100 miles, as the range is the most concerning aspect of owning an EV for the majority of drivers. Starting with the 2022 model year, the MX-30 will receive a supplementary Wankel rotary engine that will serve as a gasoline range extender.
10. Mitsubishi Airtrek EV ( Best Japanese Electric Vehicles )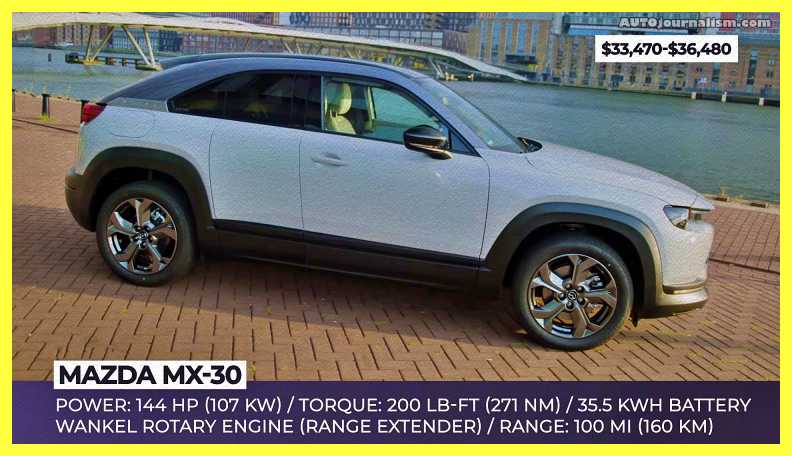 Mitsubishi's foray into the all-electric market was unavoidable as a result of its production of one of the world's most popular plug-in hybrid SUVs. For this initiative, the company enlisted the assistance of gac, their joint venture partner from China. A 181 horsepower electric motor will power Mitsubishi's front-wheel-drive crossover, which will be paired with a 70-kilowatt-hour battery pack. The battery pack was placed in the center of the floor to provide good weight distribution and a low center of gravity.
The SUV's large wheelbase will provide adequate space for five people, and the expected range on a charge will be close to 230 miles. The horizontal infotainment system will be one of the most prominent high-tech aspects on the inside, while the seats will have soft padding and two-tone fabric with detailed stitching. Ev will be available only in China, with no plans for international availability at this moment. Which legendary Japanese vehicles will be available?
FAQ
Q: Japanese electric cars 2022
Ans: In this article, we provide the list of Japanese electric cars 2022
Q: best Japanese electric car
Ans: all cars are best but according to my Choice, the best Japanese electric car is Toyota BZ4X
Q: Japanese electric car brands
Ans: Lexus, Honda, Isuzu, Mitsubishi, etc. 
Q: new japanese electric car
Ans: new Japanese electric car list is already mentioned in this article.
NEXT