Top 10 Kia Cars 2022
Here is the list of Top 10 Kia Cars 2022, When a vehicle business dares to change its name, logo, and major slogan all at once, you know something is up. Kia Motors becomes known simply as Kia and focuses on the new objective of inspiring the movement. From now on, all new models will wear a fresh edgy insignia as well as Adopt the new tagline. the next-generation technology that keeps pouring out of Korean research and development departments and we'll look at the brunt's newest models and see if the phrase "keeping it inexpensive" still applies to Kia in 2022.
List of Top 10 Kia Cars 2022
1. Kia Sportage ( Kia Cars 2022 )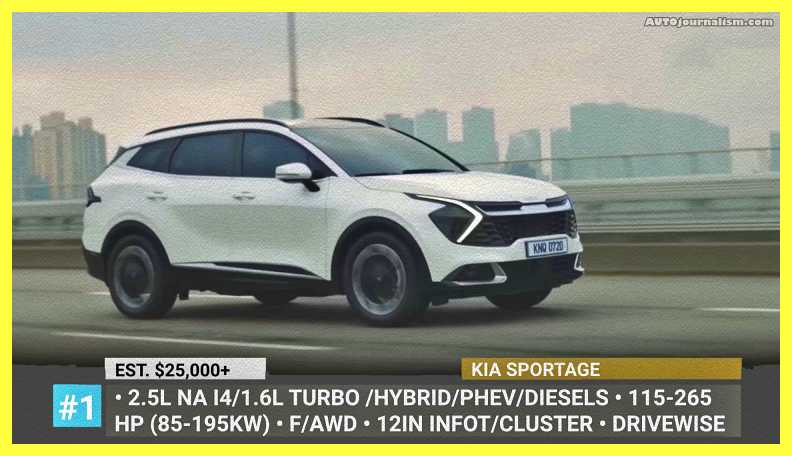 The all-new Sportage will be available worldwide in 2022, but just in the United States next year. The wheelbase and total lengths officially announced for Europe are the key differences between the American and foreign market models. Overall, the Sportage is 5.3 inches shorter, coming in at roughly 178 inches. There are no visual differences in the front end, as both models get a reworked tiger-nose grille and new boomerang-shaped led bulbs at the back.
Inside, the shorter crossover loses the third side window and acquires chunkier proportions, with the exception of Kia's latest 12-inch infotainment system, which is paired with a 12-inch digital instrument cluster. Their new Sportage will come with a 2.5-liter naturally aspirated inline-four, a 1.6-liter turbo, and a hybrid ap tv plus miles powertrain. Europe needs hybrids and types of diesel.
2. 2022 Kia EV6 ( Kia Cars 2022 )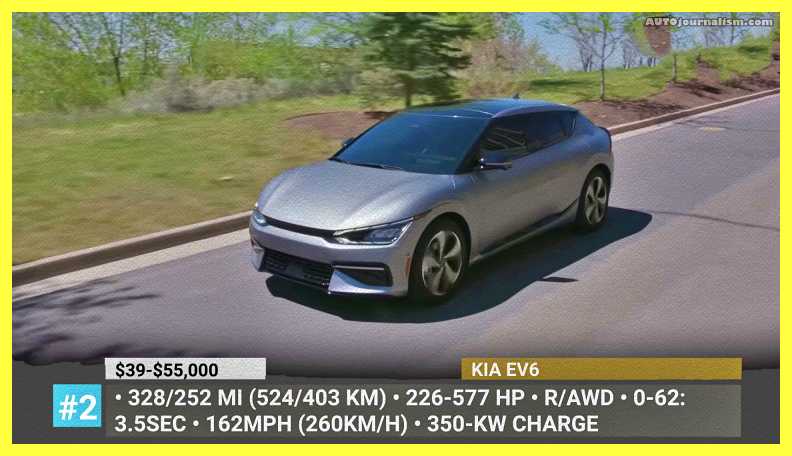 This is the first Kia to use the EGMP platform, which is specialized in electric vehicles. The Kia EV6 has a digital tiger face with narrowly led headlamps and a fashionable Koopa sleek profile in the back with a sporty full-width light bar. The first model range includes three options with a 77.4-kilowatt-hour battery and either rear or dual-motor all-wheel drive.
The flagship gt model is Kia's most powerful vehicle ever, with 577 horsepower and a 0-60 time of 3.5 seconds. The Kia EV6 is constructed on an 800-volt architecture, which means incredibly rapid charging periods and a range of up to 328 miles, which already exceeds typical commuting requirements. Finally, this crossover features a 12.3-inch dual-screen cockpit with an augmented reality display, a sustainable interior with recycled plastics and vegan leather materials, and a Meridian premium sound system with 12 speakers.
3. 2022 Kia Telluride ( Kia Cars 2022 )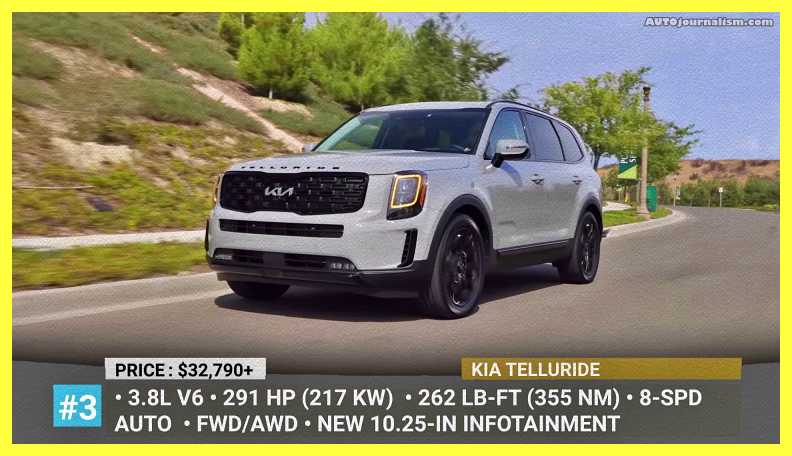 Kia's recipe for a perfectly balanced midsize SUV is simple: a powerful engine, a roomy third-row seat, available all-wheel drive, and unrivaled value for the money. On the outside, the 2022 Telluride's most distinguishing features include the company's rebranded badge and unrivaled value for the money. The drivetrain front TELE right relies only on a 3.8-liter v6 engine with 291 horsepower and 262 pound-feet of torque, paired with a super-smooth 8-speed automated transmission starting from the base version.
The 2022 SUV comes standard with a 10.3-inch touchscreen and dual-zone automated temperature control, which were previously options. The list of standard safety features has been expanded to include adaptive cruise control, automated emergency braking, lane-centering with departure warning, and blind-spot monitoring.
4. 2022 Kia Stinger ( Kia Cars 2022 )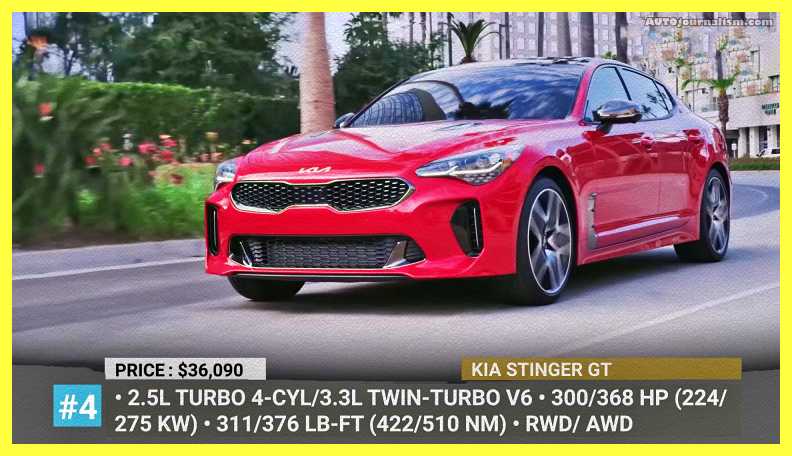 The 2022 stinger elevates the game with its distinctive led lighting, updated 18 and 19-inch geometric alloy wheels, and more aggressive quad exhaust design, in addition to a new logo. In the latter case, a muscular 2.5-liter turbo 4 cylinder replaces the 2-liter mill without sacrificing fuel economy, delivering 300 horsepower flat and 311 pound-feet of torque. The Kia Stinger GT's 3.3-liter twin-turbo is still at the top.
The interior changes are reflected in the Glosson chrome cockpit parts standard 10.25-inch touchscreen ambient lit mode, but it now makes 368 hp and sounds more believable with an electronic variable exhaust. innovative designs for leather chairs and lighting, which features new car models from multinational automakers. To learn more, watch till the end and click on the links provided on the screen.
5. 2022 Kia K8 and K9 ( Kia Cars 2022 )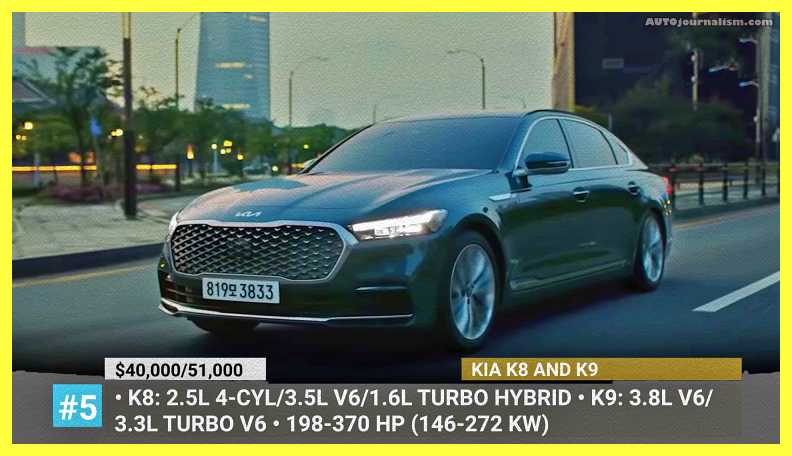 While purchasers in the United States will no longer be able to test drive the cadenza Akk-7 and k900 sedans, the rest of the globe will have new options. The KIA k7 has been replaced by the all-new KIA k8, while the KIA k9 has received a significant redesign. Both cars have revised Kia emblems, but the k8's design is completely different because it was created from the ground up. Another significant difference between the two premium sedans is their age.
The k9 will have a naturally aspirated 3.8-liter V8 with 315 horsepower and a 3.3-liter turbocharged V6 with 375 horsepower. The k8 gets a 2.5-liter four-cylinder, a 3.5-liter V6, and a hybrid based on a 1.6-liter turbocharged engine. Both vehicles have driver-focused cabins with large infotainment screens, digital dashboards, and optional configuration displays.
6. 2022 Kia Carnival ( Kia Cars 2022 )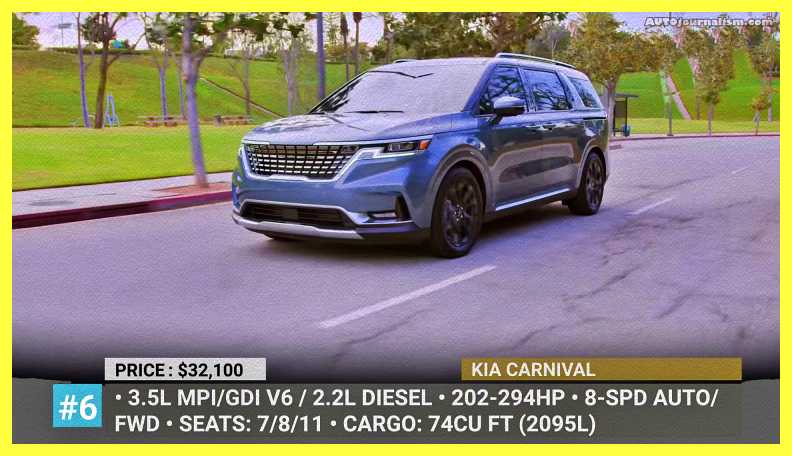 This appealing family MPV goes by a variety of names. Depending on the market where you're buying, you can get a Kia Carnival 2022, a Grand Carnival, or a Sedona. The fourth generation is a major departure from the basic minivan shape, riding on an all-new chassis and sporting a more rugged SUV-like look with a bigger tiger snout grille with integrated DRLs and a full width led light strip in the back.
The Kia Carnival 2022 has a new fully independent suspension and three engine options: a 3.5-liter MPI, a 3.5-liter GDI, or a 2.2-liter diesel, all of which are linked to an 8-speed automatic transmission. On the inside, the model can be configured with three or four rows, seating seven to eleven people in the top trumps. Two 12.3-inch monitors with a blind spot view monitor, wireless smartphone connection, voice recognition, and second-row entertainment displays are also included in this MPV.
7. 2022 Kia Soul EV + Boardmasters Edition ( Kia Cars 2022 )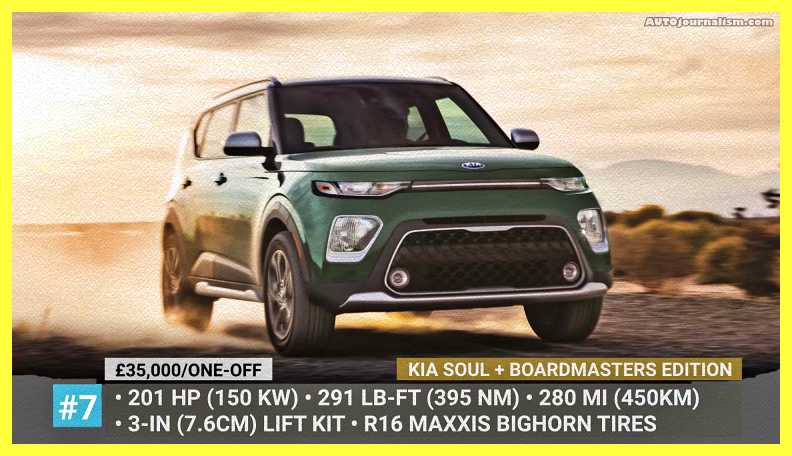 The second-generation Kia Soul EV is alive and well in Europe, where it is the only available version of the subcompact crossover. It is powered by a 64-kilohertz battery pack feeding a single electric motor, which produces 201 horsepower and 281-pound feet and promises 280 miles on a charge according to the WLTP cycle in 2022.
The one-of-a-kind sports masters edition, named after the British music answer festival, piqued interest in the soul. The model has a three-inch lift kit, upgraded suspension, and wider tracks. On the inside, the sole is a two-seater that also accommodates a new fold-out bench and a swing-out arm for wetsuits. The wheels are 16 inches in white with r16 max's buckhorn tires, and the roof holds a custom rack.
8. 2022 Kia Sorento PHEV ( Kia Cars 2022 )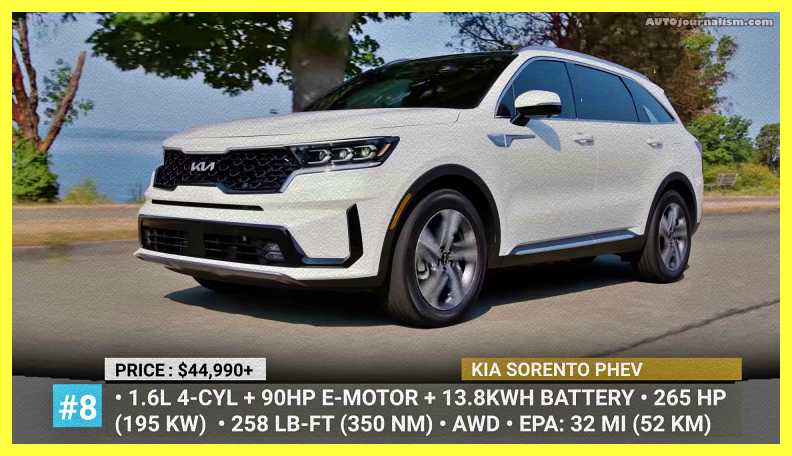 The trooper-charged hybrid Sorento is finally available in American dealerships, with all of its specifications and features revealed. Aside from a redesigned emblem that now shines across the grill, the battery-equipped Sorrento looks identical to the conventional ones. PHEVs aren't very prevalent in the three-row SUV class, so the 2022 plug-in Sorrento is very interesting, especially when you consider its characteristics, which include an EPA projected fuel economy of 30 miles per gallon.
The Sorento's heart is a 1.6-liter turbocharged four-cylinder engine complemented by an electric motor powered by a 13.8-kilowatt-hour battery. The Stanton delivers a combined 265 horsepower and 258 pound-feet of torque and is only available in the high-end SX or SX prestige trims. The run is also vulnerable to a slew of driver assistance and safety devices. A 12.3-inch digital dashboard and a 10.25-inch touchscreen are included.
9. 2022 Kia Ceed ( Kia Cars 2022 )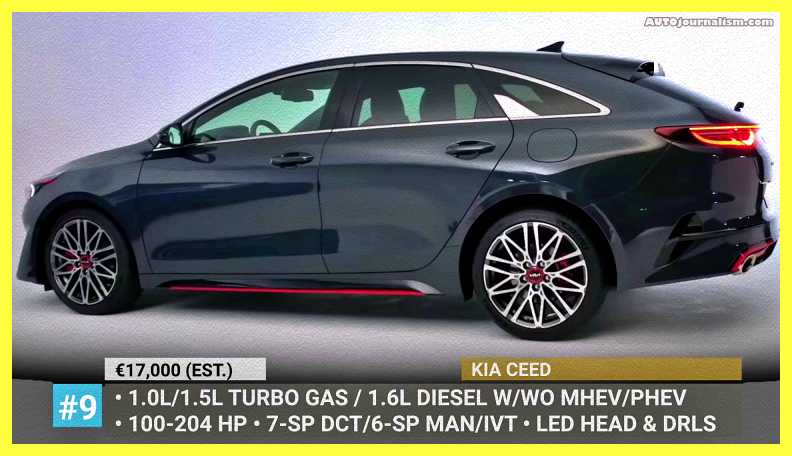 Despite the fact that it has a Korean badge, it is essentially a European car that was created and engineered exclusively for the buyer and the old world and was even manufactured in Slovakia. this bestselling novel Kia offers three body choices this year: a conventional five-door hatchback, a station wagon, and a pro seat shooting brake. The external attractiveness has been improved with new logo standard led headlights and gloss black tiger-nose grilles, and the previous 1.6-liter TGDI has been replaced with a new generation smart stream 1.5-liter TGI.
The range-topping Kia Ceed of 2022 comes on the gt trim and puts to work a 1.6-liter mill with 204 hp, while the remaining engines are supplemented with mild and plug-in hyper technologies. The redesigned interior welcomes the driver with sleek decor. There are nine different upholstery options, as well as a big 12.3-inch instrument cluster, 10.25-inch infotainment, and wireless smartphone connectivity.
10. 2022 Kia K5 ( Kia Cars 2022 )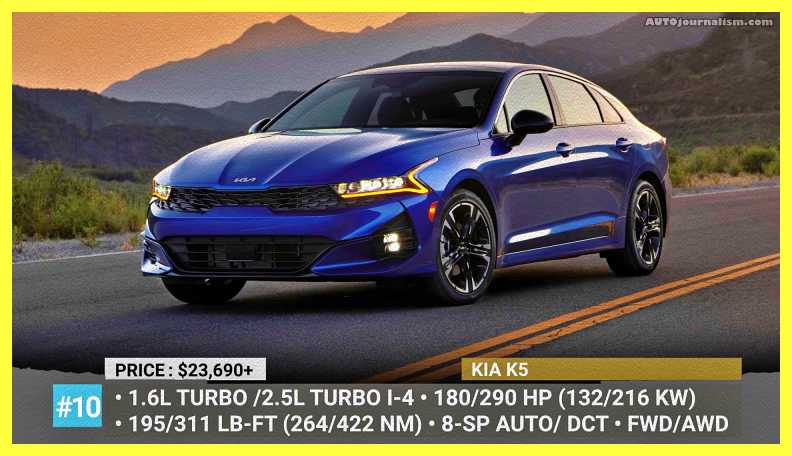 The Kia K5, formerly known as the Optima sedan, was completely revamped just a year ago and now comes with a new gear logo and a few new tech features. In the United States, the vehicle is based on the Hyundai-Kia M3 chassis and features distinctive aesthetics such as a reworked tiger snout grille, hypnotic DRLs, and an Audi-like tail light. The engine line-up comprises a 180-horsepower 1.6-liter turbo and a 290-horsepower 2.5-liter triple four-cylinder engine that comes standard on the top-of-the-line gt tram.
This is a front-wheel-drive sedan, although depending on the trim level, all-wheel drive is available. New 2022 improvements include standard wireless charging for your phone. Do you still have any reservations about gear cars because of their 10.25-inch infotainment system with navigation and a surround-view monitor, or have they managed to overcome the poor quality stigma from the past?
CREDIT-
Thanks for reading, Share it with your friends.
NEXT