Top 10 Volkswagen Cars 2022
Here is the list of Top 10 Volkswagen Cars 2022, A Volkswagen is unmistakably German, good-looking but not overly expressive, dependable but not overly so, and finally, electronics-packed with possibly the greatest infotainment among heritage automakers. Top 10 upcoming Volkswagen Cars,
If this combination of characteristics appeals to you, we've put up a list of the most recent 2022 Volkswagens, including all powertrain options and body types.
List of Top 10 Volkswagen Cars 2022
1. 2022 Volkswagen Jetta & Jetta GLI ( Volkswagen 2022 )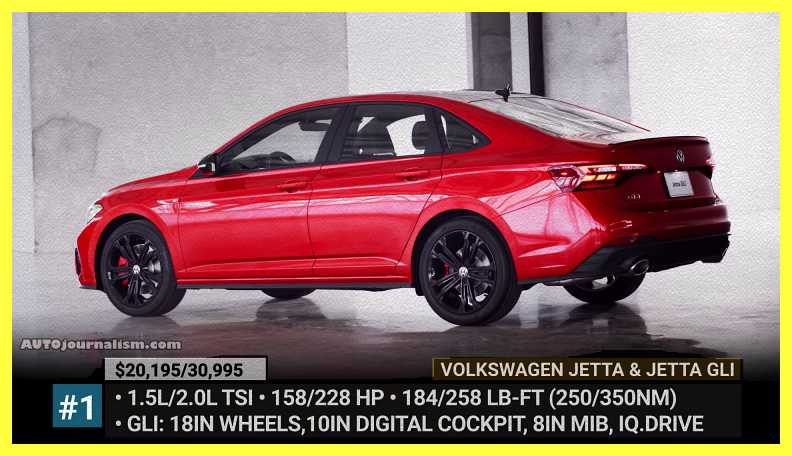 the company's most popular product The sedan is getting a mid-life update that includes a few design tweaks. For the base model, a new 1.5-liter engine is available, as well as a more refined interior style for the performance-oriented Jetta gli. A redesigned front bumper and grille with honeycomb detailing, a new diffuser, and bigger twin exhaust pipes are among the changes. It boasts a multi-link rear suspension with a DCC adaptive damping system, as well as 18-inch wheels with larger brake discs than the previous model golf r.
The gli is powered by a two-liter turbocharged four-cylinder engine that produces 228 horsepower and 258 pound-feet of torque. Transmission options include a six-speed manual or a seven-speed DSG with an electronic xds cross-differential system. The gli's interior includes perforated leather support seats, 10 colors of ambient lighting, a 10-inch digital cockpit, and an 8-inch screen for the mib-3 infotainment system.
2. 2022 Volkswagen ID.5 and ID.5 GTX ( Volkswagen 2022 )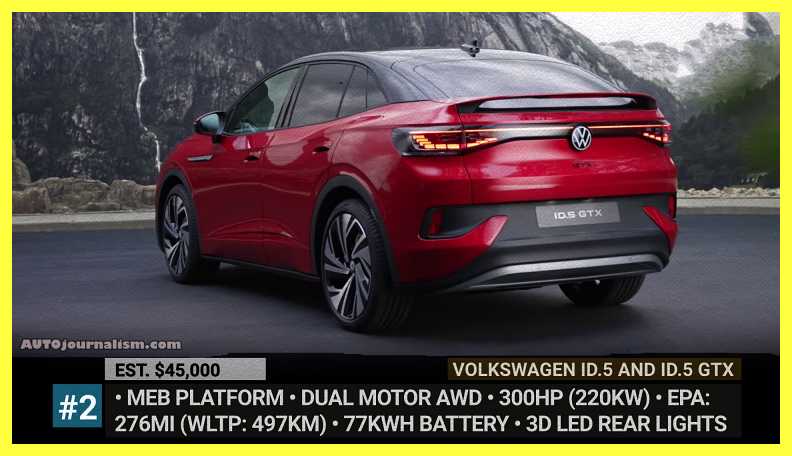 In addition to a sloping roofline, the model adds a small rear spoiler available iq lite led matrix satellites 3d design taillights and a light strip accentuating the width of the rear gtx in the name of this crossover denotes the flagship performance variant that you derive for the dual-motor all-wheel-drive drivetrain making around 300 hp gtx in the name of this crossover denotes the flagship performance variant that you derive for the dual motor all
This variant will also come with the largest available battery pack, with a capacity of 77-kilowatt hours, allowing owners to go up to 275 miles on a single charge. This model is driven by generation 3.0 software, which includes over-the-air updates, vehicle dynamics manager, travel assist with car 2x technology, and the new optional Parkinson's plus with memory function, as well as an all-digital interior with new 30 shade ambient lighting.
3. 2022 Volkswagen T-Roc ( Volkswagen 2022 )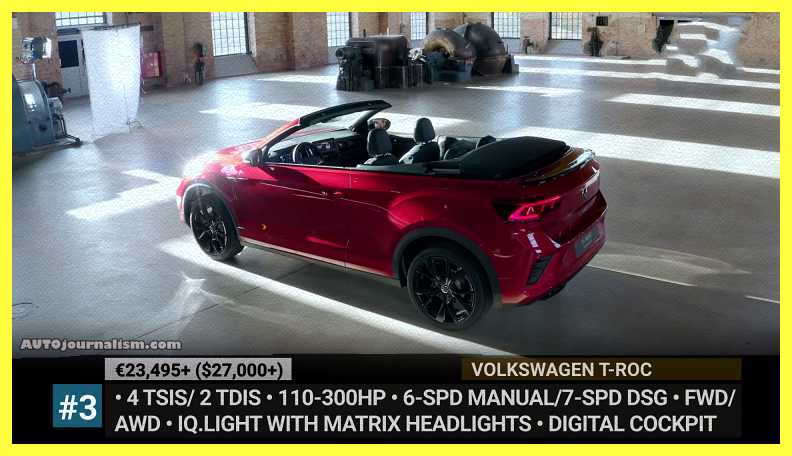 The lineup has a new look, improved interior design, and more modern technology. The bumpers are sportier, there are new wheel designs, and the lighting is all LED on the top trumps you get intelligent IQ light with matrix-led headlamps and a light bar that runs across the grille. Despite being a subcompact crossover, all-wheel drive is still available. The drivetrain range includes three tsi and two TDI engines with outputs ranging from 110 to 190 horsepower.
As before, they're only available in premium gasoline and diesel mills. The r is powered by a 2-liter turbo 4 cylinder with 300 horsepower. The t-cabin roc's is upholstered in lathrat or leather and features an all-digital driver's display. The crossover can be equipped with the latest iq driving assist with predictive cruise control, as well as an 8 or 9.2-inch diagonal infotainment display.
4. 2022 Volkswagen Atlas Cross Sport GT ( Volkswagen 2022 )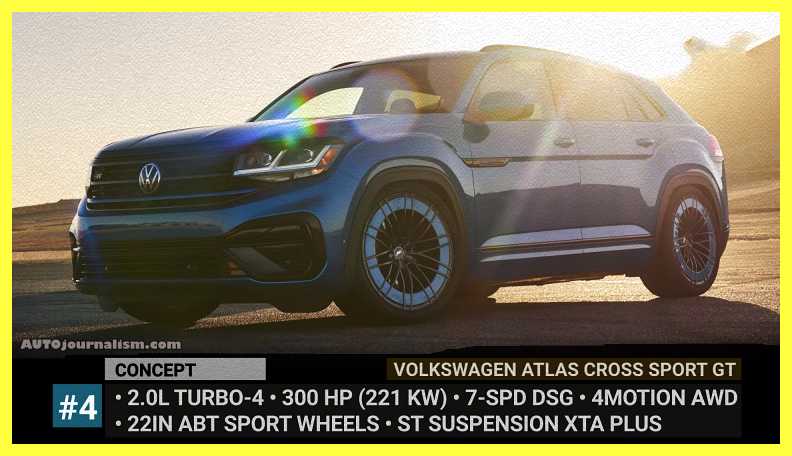 early in the year 2020, The atlas cross sport is a shorter and lighter variant of the conventional 7-seater atlas that is now serving as the foundation for the performance-oriented idea developed by VW's US Ambassador Jamie Orr. The model's aggressive nature is reinforced with a lower suspension and bigger 22-inch ab sport wheels instead of the standard v6.
On the inside the SUV gets color match detailing on the Recaro front buckets steering wheel and stitching as well as a spare to the 7-speed DSG and 4motion all-wheel drive. The biggest update is the absence of the rear bench which is replaced by two more Recaro seats with a central console for the rear passengers.
5. 2022 Volkswagen Polo ( Volkswagen 2022 )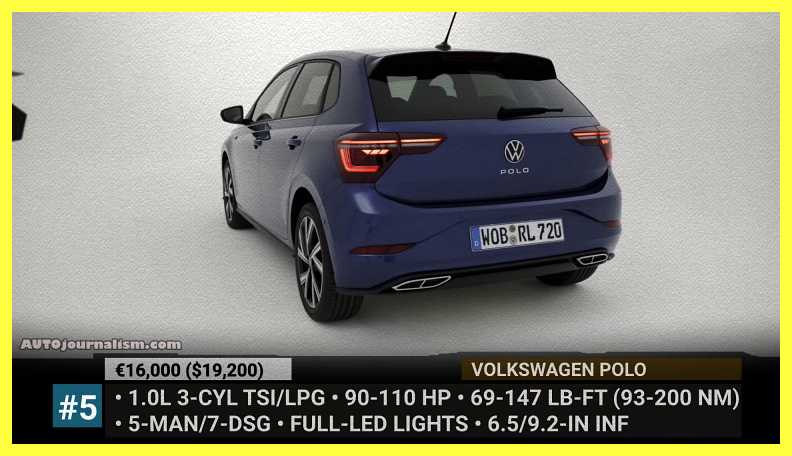 Remember that despite being discontinued in many areas, VW's favorite p category supermini is still a significant seller in Europe, thus the 2022 facelift was necessary this time. The front fascia is almost indistinguishable from the gulf 8 with its specific grill design. Sharp led headlamps with optional matrix units, a full-width mono brow drl, and 15-inch wheels are standard. Four vivid new colors are available, including a startling purple from the back.
A pair of false exhaust pipes and boomerang-shaped taillights are seen. The 2022 Volkswagen Polo is equipped with a single one-liter three-cylinder turbo engine with three outputs of 80, 90, and 110 horsepower, as well as an LPG option. The apollo has been facelifted and now comes standard with an 8-inch digital cockpit that merges smoothly with a 6.5-inch and 14-minute touch screen on higher trims, respectively.
6. 2022 Volkswagen Polo GTI ( Volkswagen 2022 )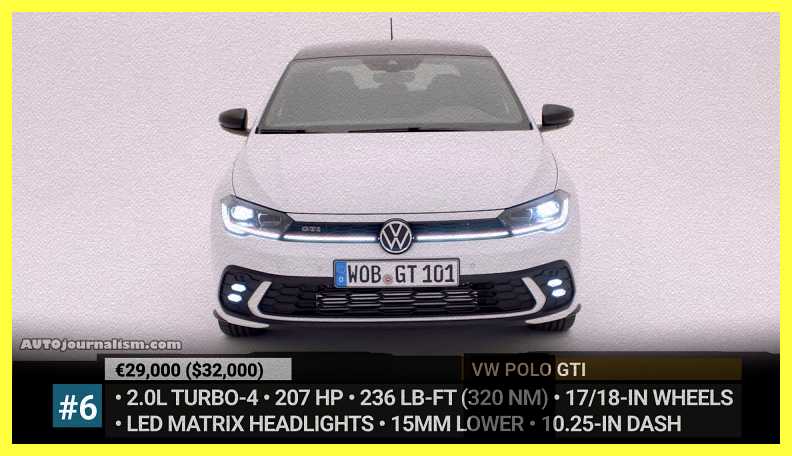 The apollo gti, which returns in 2022, is the only type of supermini to get a four-cylinder engine this time, with 207 horsepower and 236 pound-feet of torque supplied at low RPMs, helping the polo gti to accomplish a decent 6.5 seconds from 0 to 60.
The model is based on the new Golf GTI and features the iq light matrix satellites, which are aligned by a thin led bar that runs over the grill at all four corners. You can choose between basic 17-inch ramps and optional 18-inch ramps. The gti also features a larger 10.25-inch driver display, a performance-tuned chassis, and Volkswagen's travel aid technology.
7. 2022 Volkswagen ID.4 GTX ( Volkswagen 2022 )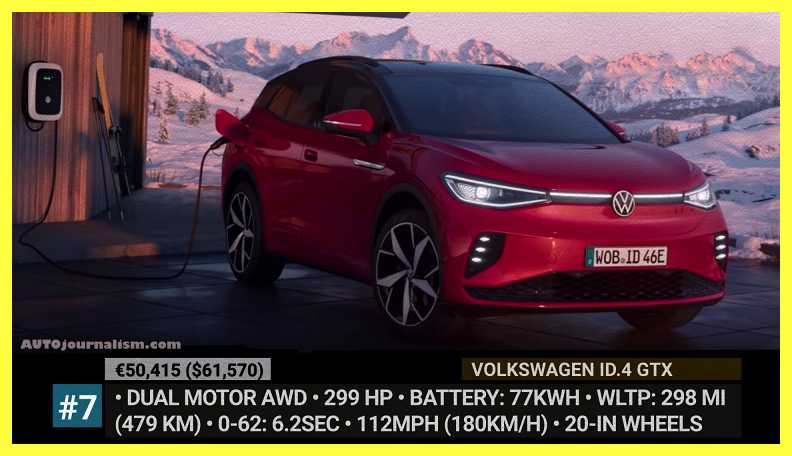 The sporty GTX is the first version of VW's electric mab crossover to emerge with twin motor all-wheel drive. From the outside, it's difficult to tell the difference between a conventional and a performance version. id4 refers to the larger 20-inch alloy wheels with restyled bumpers. Daytime running lights have been upgraded, as well as the x-shaped taillight profile. The system's aggregate output is 299 horsepower, allowing the car to go from 0 to 62 mph in just 6.2 seconds.
The 77-kilowatt-hour battery pack can give nearly 300 miles of range and enables 125-kilowatt recharge. The interior of the id4 gtx has a 12-inch touchscreen a dutch tilt driver's display red trim on the seats and a big led strip stretching the width of the dashboard.
8. 2022 Volkswagen Golf R Estate ( Volkswagen 2022 )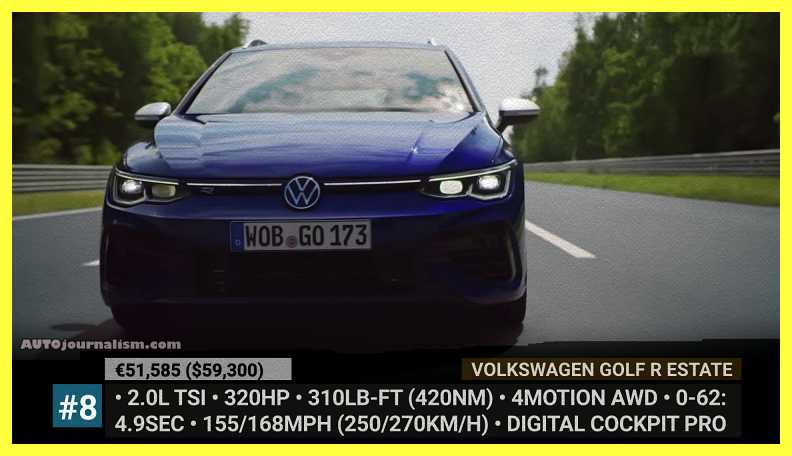 revealed in the year 2019 VW is releasing a premium golf estate vehicle powered by a 2-liter turbocharged 4-cylinder with 320 horsepower and 310 pound-feet of torque for 2022. The mill includes a 7-speed dual-clutch transmission for motion all-wheel drive and our performance torque factoring from the outside.
Exclusive exterior colors, unique bumpers, and a sports exhaust with dual tailpipes define the design. Just like the normal estate, the model boasts a 2.6-inch longer wheelbase, which implies more slack room and 21.6 cubic feet of cargo space behind the back seats. There's also a new interior style, driver controls that have been modified, and a new digital cockpit pro.
9. 2022 Volskwagen Tiguan Allspace ( Volkswagen 2022 )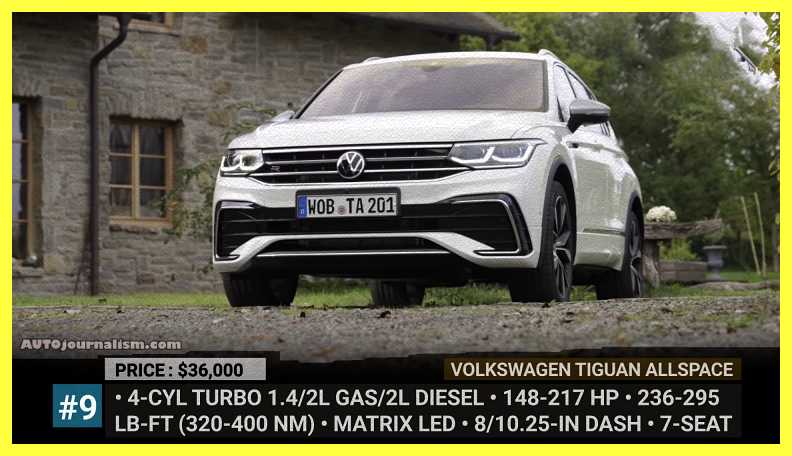 Since the VW Atlas is a North American-only model, some markets are also getting the all-space version of the tiny Tiguan. Its 2022 facelift reflects the modified aesthetics of the 2022-5 suiter, so welcome the headlights with the golf-inspired eyebrows, a reworked front bumper, and new alloys. 24 led matrix lighting and special supercharged turbocharged 1.4 and 2-liter four-cylinder petrol engines will be available on the flagship models.
with all the seats faulted the stretched all-space offers 1920 liters of storage and your family will be safer with a comprehensive set of driver aids the 8-inch digital instrument panel is a standard feature while the 10.25-inch cluster and Harman Kardon audio are among the optional extras with all the seats faulted the stretched all-space offers 1920 liters of storage and your family will be safer with a comprehensive set of driver aids
10. 2022 Volkswagen Taigo ( Volkswagen 2022 )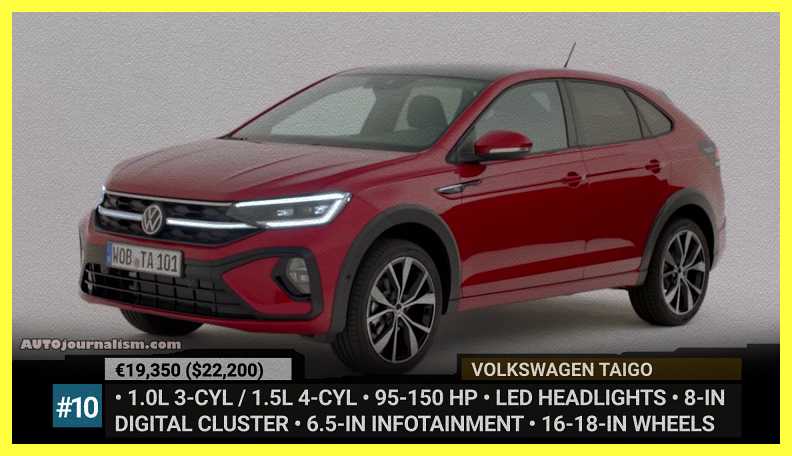 The VW Nivis subcompact crossover, which was previously only available in South America, is now available in Europe under the name TAIGO. The model is based on the same platform as the Volkswagen Paulo and T-cross, but it is longer, more aggressive, and sportier. A roofline is one of the vehicle's primary stylistic features.
that slopes down to a subtle rear spoiler a new front end with the optional matrix led headlights contrasting black cladding around the wheel arches and a longer rear overhang at this time the drivetrain portfolio includes only two gasoline mills a one-liter turbo three-cylinder with 95 or horsepower and a 1.5-liter turbo-four with 150 hp at this time the drivetrain portfolio includes only two gasoline mills a one-liter turbo three-cylinder with 95 or horsepower and a 1.5 The model comes in four trim levels, the first of which includes an 8-inch digital cluster, a 6.5-inch touchscreen, and a long list of standard features.
11. 2022 Volkswagen Multivan ( Volkswagen 2022 )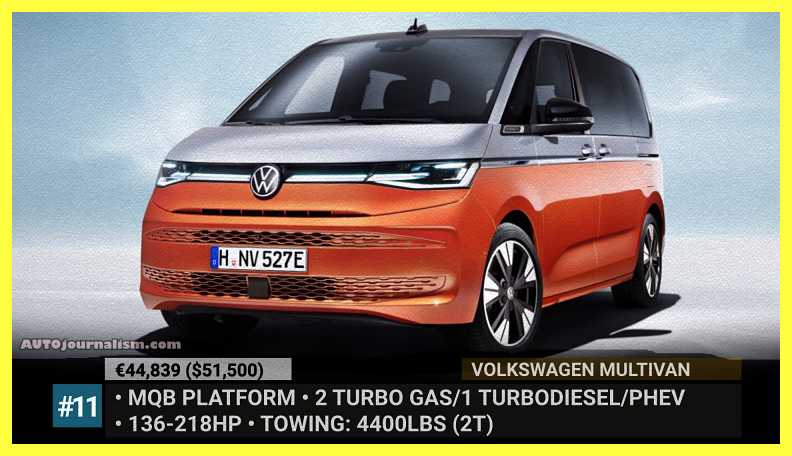 The sixth-generation transporter was introduced in 2016, and while it is still relatively new, VW believes it is lagging behind the industry's leaders when it comes to people hauling. As a result, the company will be replacing it with a new passenger-only t7 model called the Multivan, which will move to the mqb platform and feature new retro-modern styling inspired by the 1980s t3 as well as the latest matrix led headlights. The MPV has a maximum towing capacity of 4 400 pounds, seats up to 7 people, and has a diverse and reliable engine lineup.
Customers will have the option of a 1.5 liter or 2.0-liter turbo gasoline engine, as well as a turbo-diesel and the model's first plug-in hybrid with 218 horsepower. New 25 lighter seats have been installed in the cabin. a track-mounted multi-function table A 10.25-inch driver's display and a 10-inch infotainment screen are included. We'd like to hear your thoughts on VW's future portfolio. Do you think they're still the people's car brand, with good value for money and minimal depreciation? In the comments section, there will be a conversation.
Thanks for reading, Share it with your friends.
NEXT