Military transport aircraft are essential for warfighting operations, performing a wide variety of mission-critical tasks from transporting soldiers, arms, and other military equipment to temporary runways in hazardous areas to performing multirole duties such as aerial refueling intelligence collection, and rescue missions. Hello and welcome back to Autojournalism.com.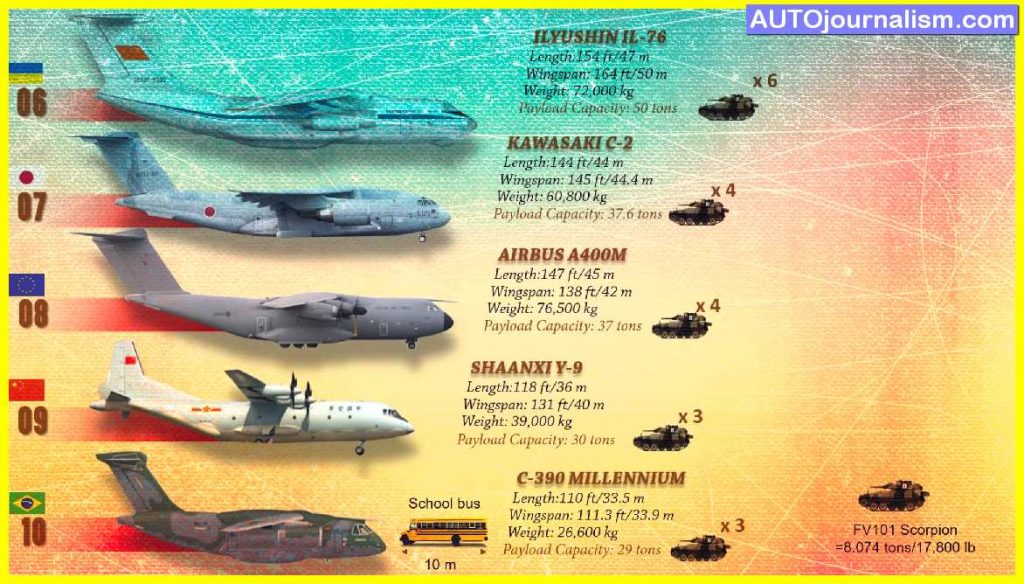 We'll provide you with a current list of the top ten largest active military transport aircraft in the world. OR the world's top ten largest military transport aircraft. Our emphasis will be on payload capability, but aircraft that have been decommissioned or are still in production will be excluded from this list, so stay tuned and don't miss out.
If Product Deliver or Travel through Air then we call – Shipment
If Product Deliver or Travel through Sea then we call – Cargo
Top 10 Largest Military Transport Aircraft in the world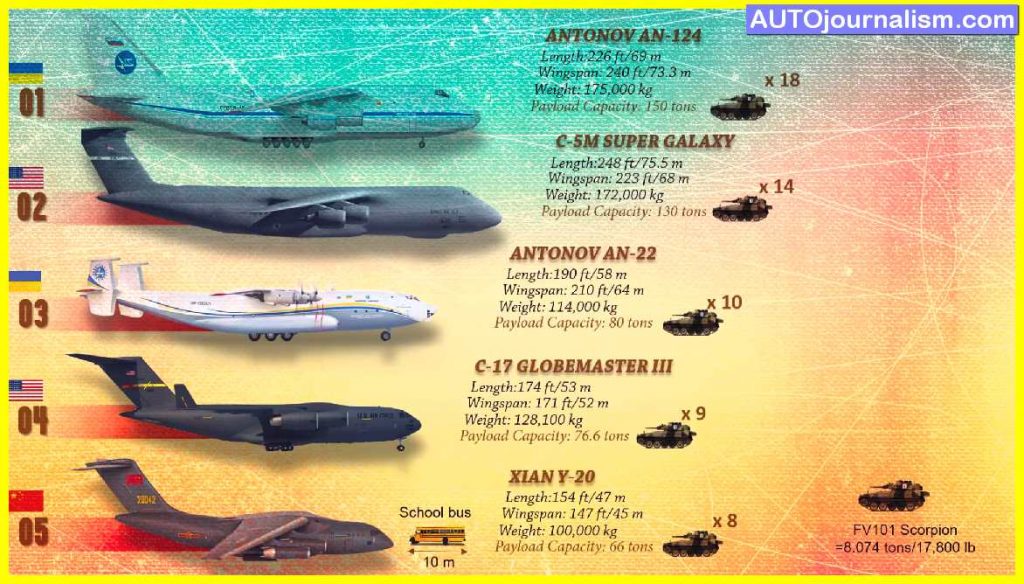 #10: C-390 MILLENNIUM ( Military Transport Aircraft )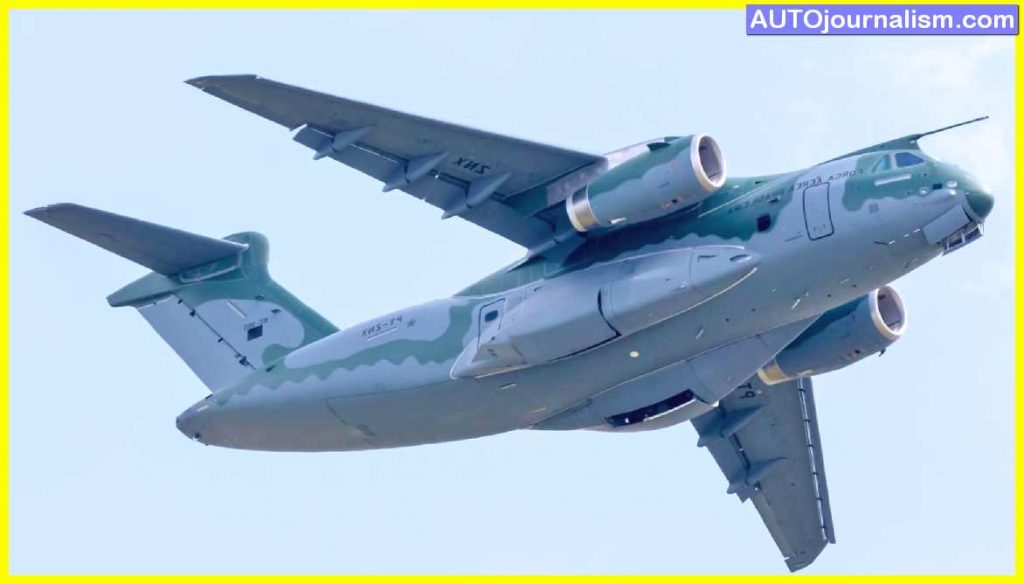 The Embraer C-390 MILLENNIUM, ranked 10th, is a medium-sized twin-engine jet-powered military transport aircraft built by the Brazilian aerospace manufacturer Embraer. It is the company's heaviest aircraft to date. The FV-101 scorpion is approximately eight tonnes in weight. Three of these reconnaissance vehicles with a payload capacity of 29 tonnes are assisted by the Embraer. The aircraft can be designed to carry out a variety of traditional missions, including troop, VIP, and cargo transportation. Two fully tracked mw13 armored personal carriers can be carried by aircraft. A Koski h-60 helicopter will airdrop 74 litters with life-supporting supplies, up to 80 soldiers or 66 paratroopers with full gear, and loads up to 19 tonnes in one boxer wheeled armored vehicle.
#9: SHAANXI Y-9 ( Military Transport Aircraft )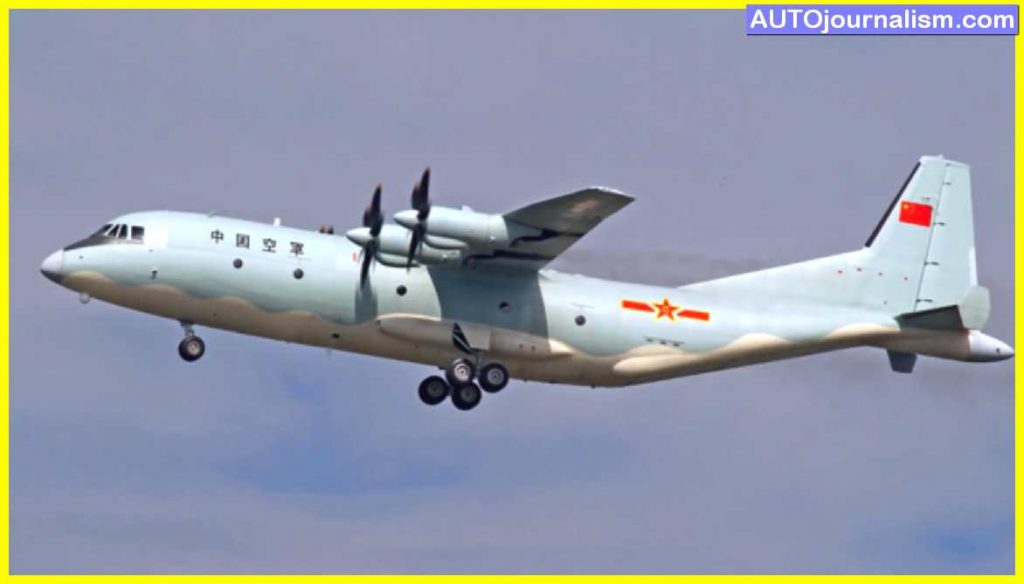 The SHAANXI Y-9, which is a medium military transport aircraft manufactured by Chansey aircraft company in China, is number nine on the list of the top ten biggest and largest active military transports in the world. This aircraft has a length of 36 meters, a wingspan of 40 meters, and a weight of 39,000 kilograms. The y9 is intended to hold 25 tonnes of freight, but it can reportedly carry up to 30 tonnes. It can also accommodate 106 passengers. It can hold 132 paratroopers or 72 stretchers, or two zbd03 airborne fighting vehicles that can be para dropped. The y9 is capable of transporting a wide range of military equipment, including light trucks, freight containers, and pallets.
#8: AIRBUS A400M ( Military Transport Aircraft )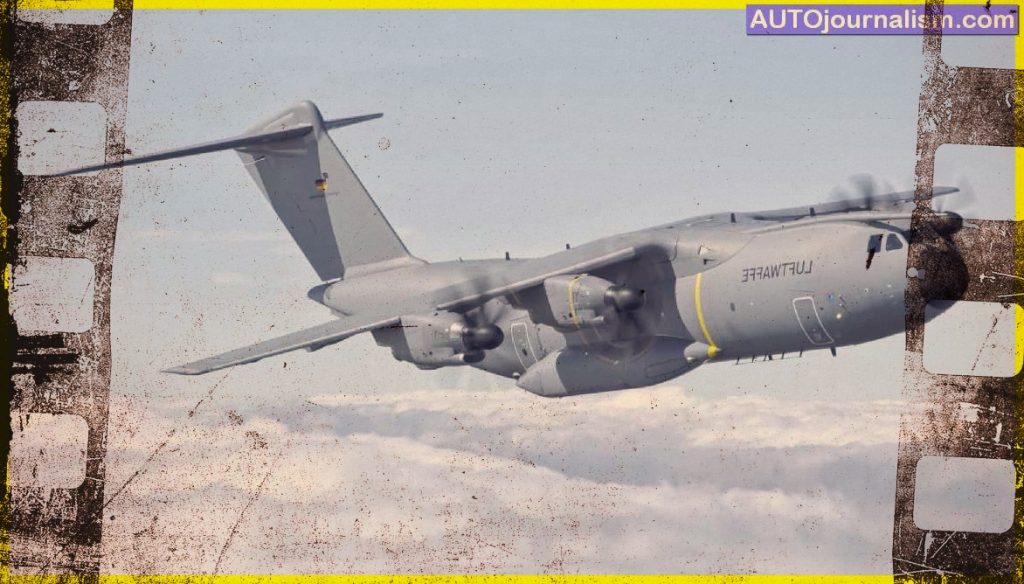 The AIRBUS A400M is the world's eighth-largest military transport aircraft. The AIRBUS A400M is a four-engine turboprop military transport plane developed by Airbus Military as a tactical Airlifter with strategic capabilities. Over 2,000 nautical miles, a maximum weight of 37 metric tonnes can be carried. The a400m can transport 6 land rovers and trailers, 2 light armored vehicles, a dump truck and excavator, a repatriate missile system, a puma or cougar helicopter, or a truck and 25-ton trailer along the transport route. When equipped with sufficient equipment, the a-400 can conduct aerial refueling and medical evacuation.
#7: KAWASAKI C-2 ( Military Transport Aircraft )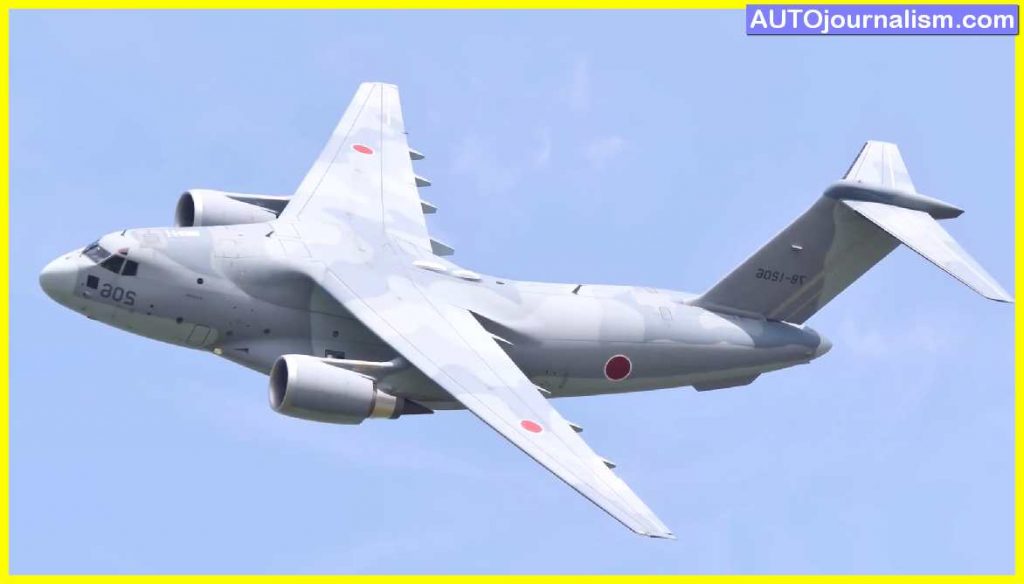 The KAWASAKI C-2, a mid-sized twin turbofan engine long-range high-speed military transport aircraft built and produced by Kawasaki aerospace company, comes in at number seven. It measures 44 meters in length, 44.4 meters in wingspan, and weighs 60 800 kilograms. It can carry a maximum payload of 37.6 tonnes. It has a rare loading ramp that can open in flight, compared to the older c1 that it replaces. It has enough space for 120 people, eight standard air cargo pallets, and one uh-60j helicopter. The c2 has a six-fold increase in range and can carry payloads up to four times heavier, such as Mim-104 Patriot missile batteries and Mitsubishi h-60 helicopters.
#6: ILYUSHIN IL-76 ( Military Transport Aircraft )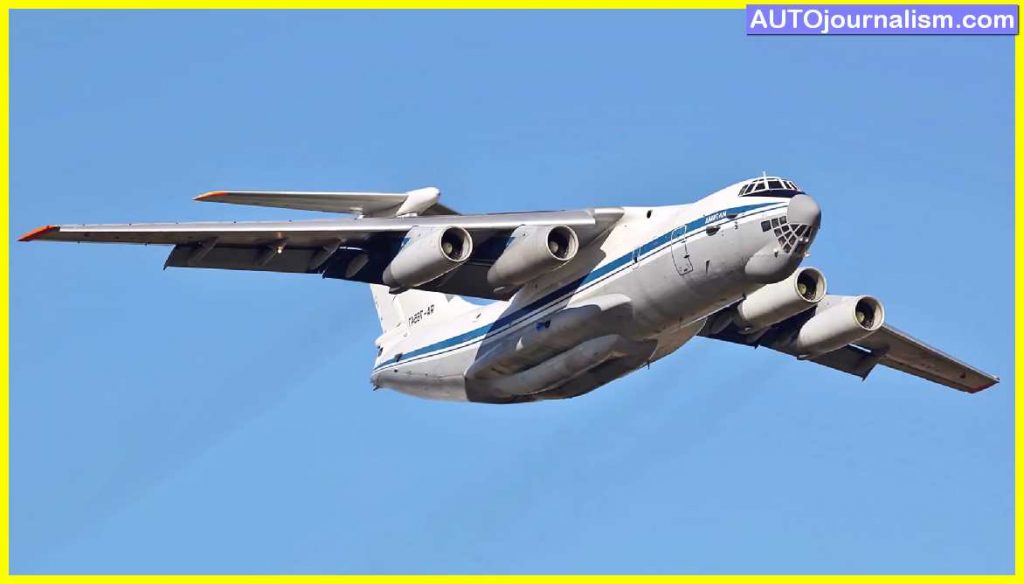 The ILYUSHIN IL-76 or candid, a multi-purpose four-engine turbofan transport aircraft developed by the Soviet Union's illusion design bureau, comes in at number six. It has a maximum payload capacity of 50 tonnes and more than 50 tonnes for example – Armors, Tanks, Defend tankers, Food Supplies, or other Resources. It was designed to transport heavy vehicles and equipment to remote, poorly serviced airfields. It's also been used as an Extreme Serious Condition or an emergency response vehicle Especially for civilian evacuations, humanitarian aid, Resque Mission and disaster relief Management missions all over the world. It's been used as a Special aerial refueling Best in Class tanker with other Features and command centers throughout Europe, Asia- Almost Cover All Areas and Africa.
#5: XIAN Y-20 ( Military Transport Aircraft )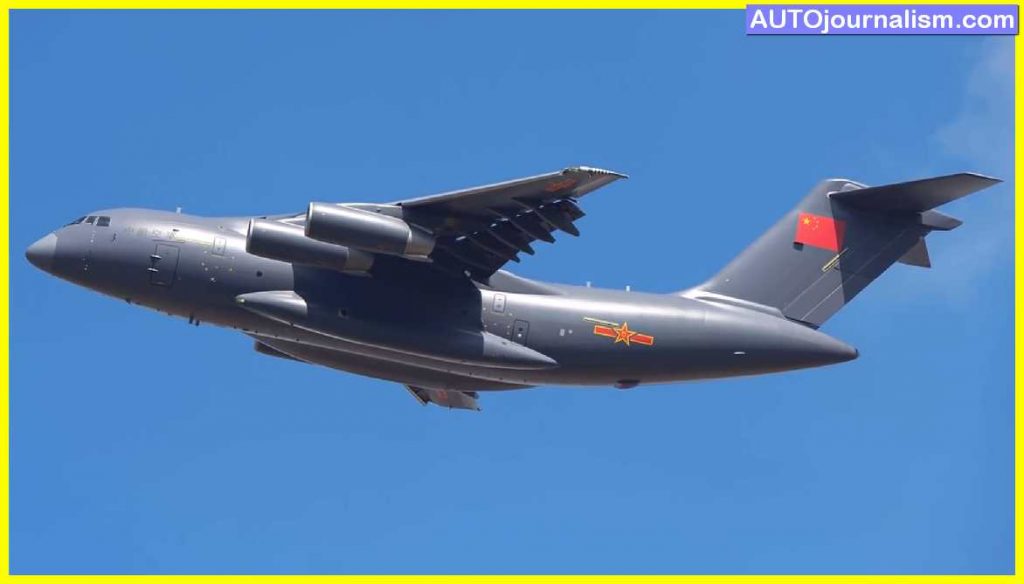 The XIAN Y-20 is the world's fifth-largest military transport, built and produced primarily in China by the xian aircraft industrial corporation. Its payload capacity is 66 tonnes, and it can accommodate the world's largest combat and support vehicles, including type 99 series tanks, in addition to cargo. and automobiles The Y20 can carry about 300 soldiers, 200 liters of ammunition, or 110 paratroopers. It has enough range to cover much of Europe, Africa, Australia, and Alaska, and it can also be considered a strategic air lifter.
#4: C-17 GLOBEMASTER III ( Military Transport Aircraft )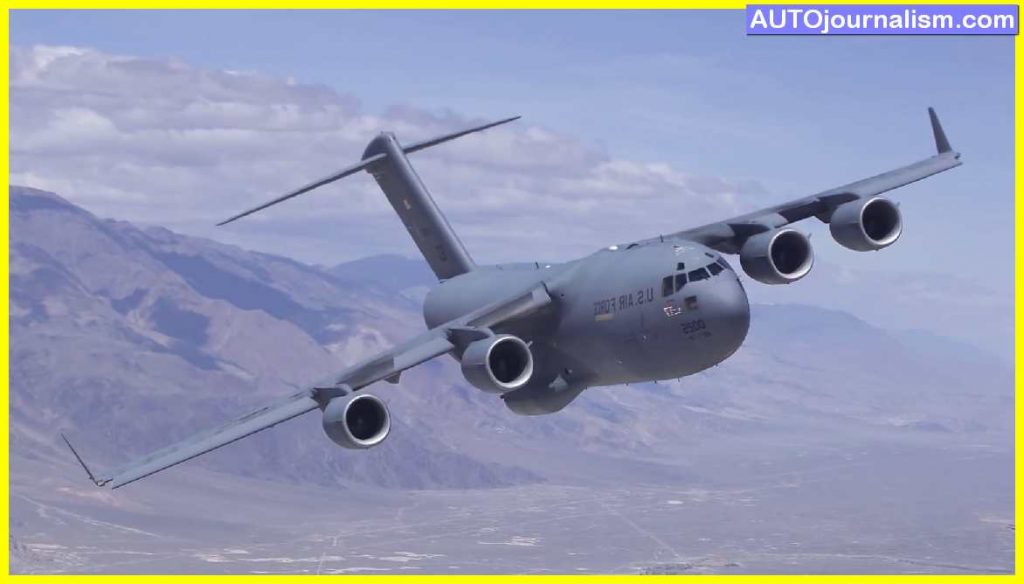 The fourth-placed McDonnell Douglas Boeing C-17 GLOBEMASTER 3 or Mark III AIRCRAFT is Big military transport aircraft of the highest quality, built for the Special ( USA AIRFORCE ARMY ) United States Special Air Force by McDonnell Douglas. It measures 53 meters in length, 52 meters in wingspan, and weighs 128 kilograms. With a payload capacity of 76.6 tonnes, the C-17 is 9 times heavier than the Aircraft FV-101 scorpion. It is used for tactical and strategic airlift missions around the world, carrying troops and cargo. Medical evacuation and airdrop duties are among the additional responsibilities. It can transport three AH-64 Apache helicopters, three M1A1 Abrams tanks, or three striker armored vehicles.
#3: ANTONOV AN-22 ( Military Transport Aircraft )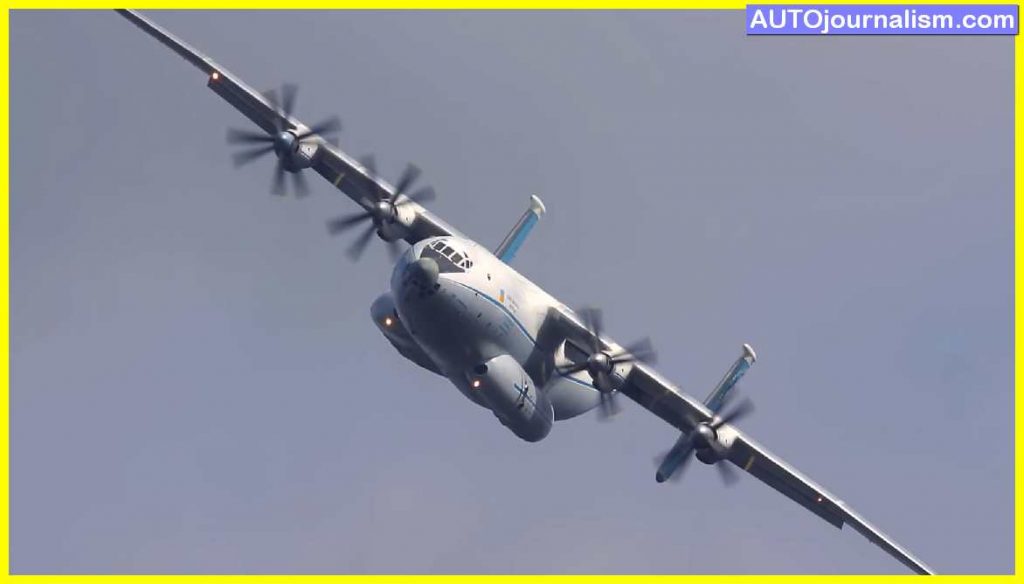 The ANTONOV AN-22 ante, The third-largest turboprop aircraft in the world. It's a heavy and Best military transport plane with four turboprop engines driving two contra-rotating propellers each, designed by the Special Antonov design bureau in the Soviet Union. The concept became the world's first wide-body transport aircraft, and it remains the world's largest turboprop-powered plane to this day. It can transport 4b md2 airborne combat vehicles and has an 80-ton payload capacity. The Antonov 22 was widely used in Afghanistan, as well as other military conflicts, to transport troops, combat arms, and supplies.
#2: C-5M SUPER GALAXY ( Military Transport Aircraft )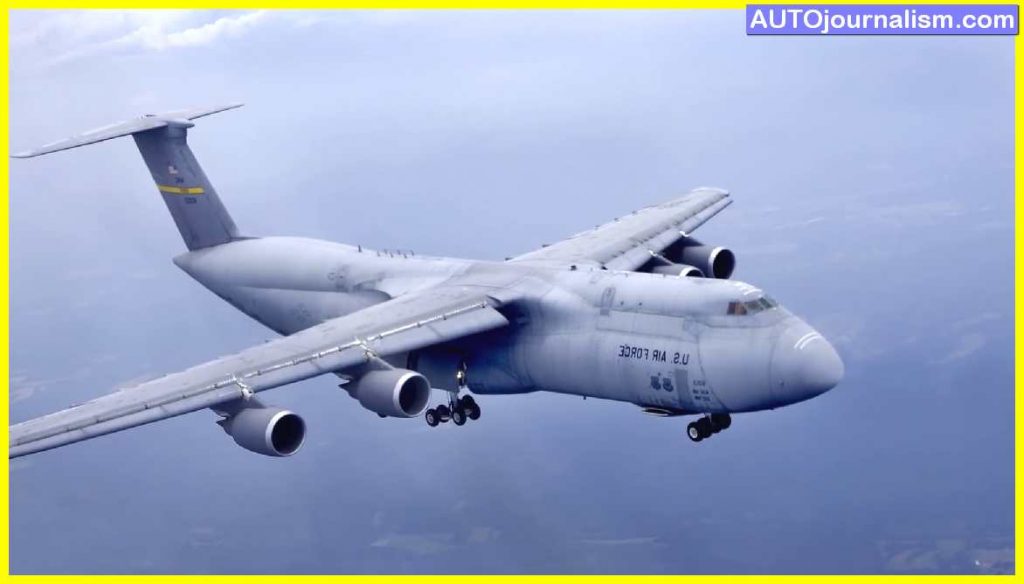 The Lockheed C-5M SUPER GALAXY is ranked second. This is a BEST and large military transport aircraft that was designed and developed by Lockheed and is now operated and modified by its BEST successor Lockheed Martin.It provides the US Air Force with a long-range strategic airlift capability that can transport outsized and oversized cargo as well as all air certifiable cargo. It has a maximum weight capacity of 130 tonnes. The c5 galaxy is capable of transporting nearly any form of military battle equipment, including the army armored vehicle launched bridge, which weighs 74 short tonnes and can transport up to six Boeing AH-64 Apache helicopters or five Bradley fighting vehicles from the United States to any place on the globe.
#1: ANTONOV AN-124 ( Military Transport Aircraft )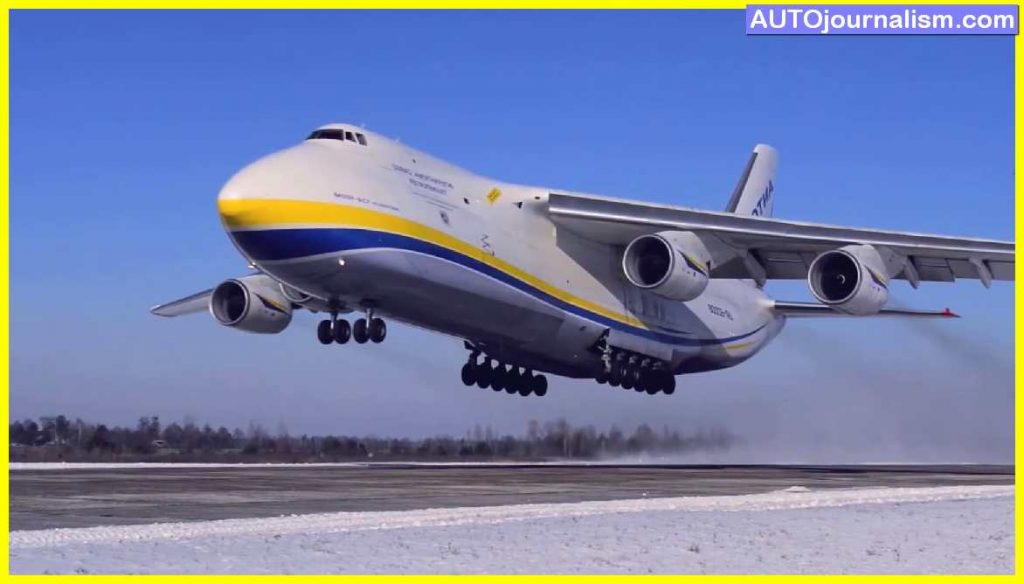 The Antonov An124 was once the largest military aircraft in the world.  ANTONOV AN-124 Ruslan, also known as the Condor, The Antonov design bureau in Ukraine, which was then part of the Soviet Union, produced the AN-124 large military transport plane in the 1980s. The plane bears the name of a legendary giant. It can carry the weight of 18 FV-101 scorpions and has a maximum payload capacity of 150 tonnes. The cargo hold of this strategic lifter can hold almost any load, including Russian armored fighting vehicles, helicopters, and other large cargo.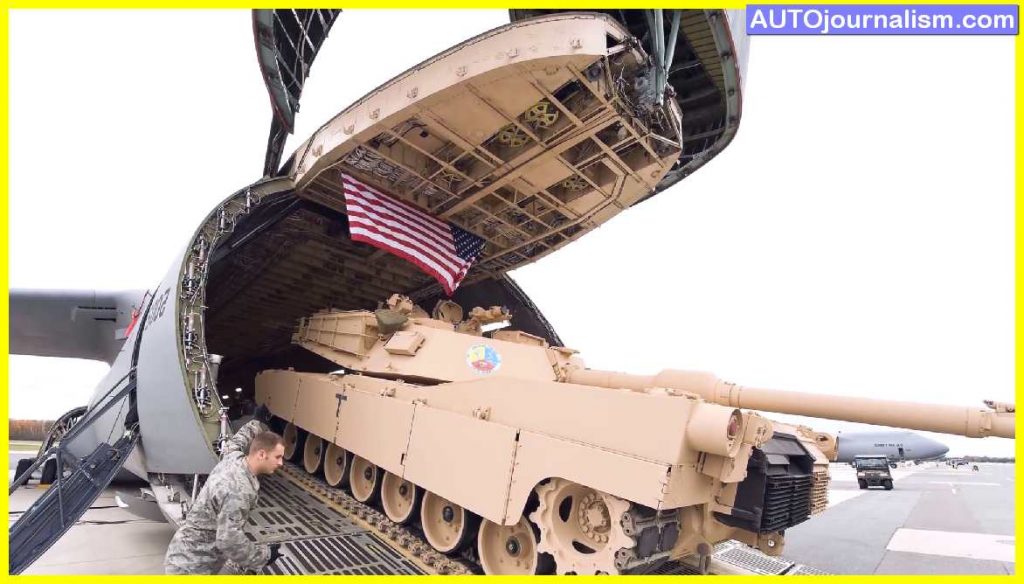 If you Like this Post Share this with your Friends, Thanks For Reading ( BBC )
NEXT