List of Top 10 Royal Enfield Bikes in 2023
Here is the list of Upcoming Top 10 Royal Enfield Bikes in 2023 or Top 10 Royal Enfield Motorcycles in 2023 with Price and Images and you can Download Pdf in 1 Click (the Download Link Button is available at the end of this article).
Royal Enfield is the oldest Global motorcycle brand in continuous production since 1893. despite its Rich English Heritage today it is an Indian multinational manufacturing company with a solid lineup of bikes and all major markets, In this article and we'll briefly review all the Contemporary models from the brands that might be available at dealerships around you these motorcycles have attractive classic designs at incredibly affordable prices and in the near future are expected to reach a Hallmark Milestone of selling 1 million units per year.
List of Top 10 Royal Enfield Motorcycles in 2023
1. Royal Enfield Hunter 350 2023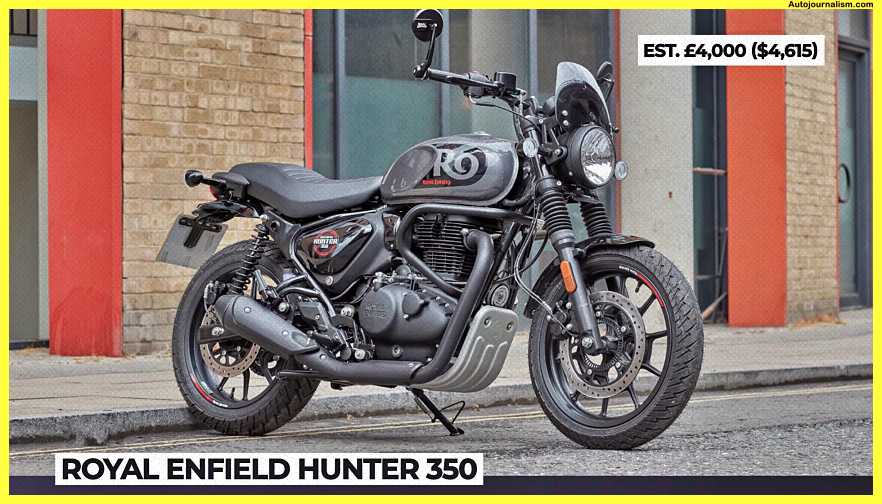 The latest member of the Enfield's 350 families is an economical City commuter that was made for maneuvering tight streets the hunter 350 is built on the all-new sportier frame fitted with light 17 inch Alloys tubeless tires and each one shock rear suspension there are disc brakes on both ends load the front one those seem more sophisticated setup with the 300-millimeter disc and a two-piston floating caliper the engine is the familiar 350cc single with air and oil Cooling and it is paired to the 5-speed gearbox the mill delivers 20.2 horses at 6 to 100 RPM has a peak torque of 27-newton meters and produces 115 kilometers per hour speeds that can be reached in the fourth gear, the hunter 350 has no riding modes or electronic assists but it does come with a digital LCD screen turn-by-turn Tripper navigation and dual Channel abs.
PRICE
$4,599 (₹ 1,79,312/E4,000)
SEAT HEIGHT
790mm (31.lin)
ENGINE FUEL EFFICIENCY
350cc Air/Oil Cooled Single 102 MPG
WHEELS
17in Alloy Wheels

& Tubeless Tires

POWER TORQUE
20.2 hp (14.85 kW) @ 6100rpm 19.9 Nm

(14.7lb-ft) @ 4000rpm

BRAKES (F/R)
Dual Channel ABS 300/270mm

(11.8/10.6in) Discs

TRANSMISSION
5-Speed Gearbox
ELECTRONICS
Analog Gauges +

Digital LCD Screen +

Tripper Navigation

TOP SPEED
115km/h (71mph)
WET WEIGHT
181kg (398lbs)
2. Royal Enfield Scram 411 2023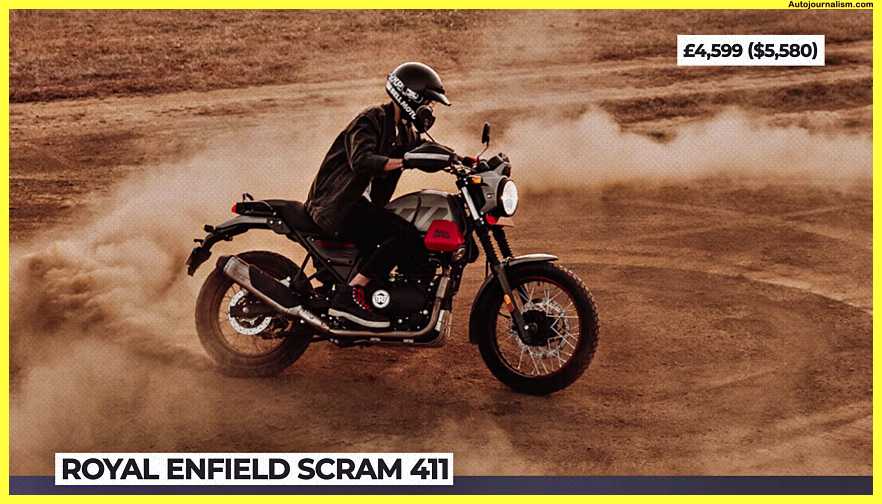 The fan-favorite adventure platform of the Himalayan gives life to a dual sport model with the Scrambler styling it should appeal to the younger riders with more on-the-road riding Ambitions desires for a Tamer riding experience and a more stylish design the scrum 411 has a stroke down look blackout treatment and mismatched wire wheels with dual-purpose tires this Royal Enfield is brought into motion by 411 CC air-cooled single cylinder the Trad lines at 6500 RPM with 24.3 horsepower output and makes close to 32-newton meters of twist the basic package for the engine is electronic ignition and fuel injection and it is connected to the 5-speed constant mesh transmission with what multi-plates the scram 411 has a very relaxed riding position of a standard bike with 785-millimeter seat height its suspension is also rather tall with 41 millimeter conventional non-adjustable Forks upfront any model shock in the rear with 178 millimeters of travel.
PRICE
$5,100
SEAT HEIGHT
795 mm (31.3 inches)
ENGINE
4llcc 2-Valve Air-Cooled SOHC Single
SUSPENSION (F/R)
41mm, Conventional Forks,

Non-adjustable/ Monoshock,

Adjustable Preload

POWER TORQUE
24.3 hp (18 kw) 32 Nm (23.6 lb-ft)
BRAKES (F/R)
300/240mm (11.8/9.45in) Disc With

Two-Piston ByBre/ Single-Pison Caliper ABS

TRANSM.

COMPRESSION

5-speed Constant Mesh,

Wet Multi plates 9.5:1

WHEELS
21 inch Front
TOP SPEED
128 km/h (80 mph)
WEIGHT
200 kg (440 lbs)
3. Royal Enfield Himalayan 2023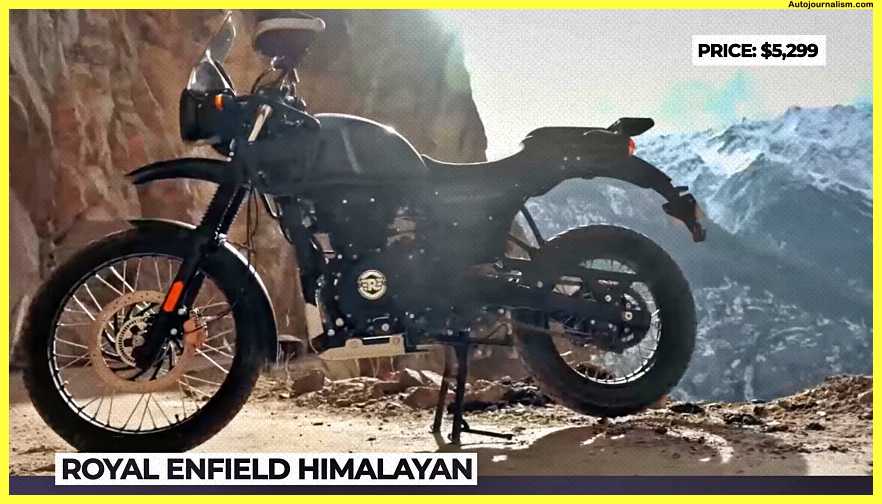 Launched back in 2016 the company's small Adventure tour is getting the first significant Revision in 2022 the bike keeps its reinforced to have duplex split cradle frame and offers 8.6 inches of ground clearance the suspension system gets software settings but it still consists of a 41 millimeter front fork with 200 millimeters of travel and a spring preload-adjustable model shock with 180 millimeters the usual wire poke Wheels swap for rallies for the new seat crib XL off-road tires that measure 21 inches front and 17 rear Royal Enfield's also reworks the bike's ergonomics and makes it more comfortable during long-distance rides the windscreen is new and offers better protection the seat gets improved padding and the rear and front tracks are updated on the drivetrain front the Himalayan continues and changed its 411 CC Arrow cold single cylinder is rated for 25 horsepower and 32 newton meters of torque finally this motorcycle benefits from standards navigation assist and a small LCD display by the way in 2023 the Indian company plans to bring to the market an all-new 450 CC version of the Himalayan.
PRICE
$5,299 (₹ 4.00.000/64,700
SEAT HEIGHT
800 mm (31.5 inches)
ENGINE
4ficc Single Cyl Air-Cooled
BRAKES (F/R)
300/260mm Disc With

Two/Single-Pison Caliper

Switchable ABS

POWER TORQUE
25 hp (18 kW) @ 6,500rpm 32Nm

(23.41b-ft) 4,000rpm

TIRES
Coat Gripp XL Tires (21in Front)
TRANSMISSION
5-Speed Gearbox
ELECTRONICS
Analog Gauges, LCD Dash

with Tripper Navigation

TOP SPEED
113 km/h (70 mph)
WEIGHT
199.5 kg (439 lbs)
4. Royal Enfield classic 350 2023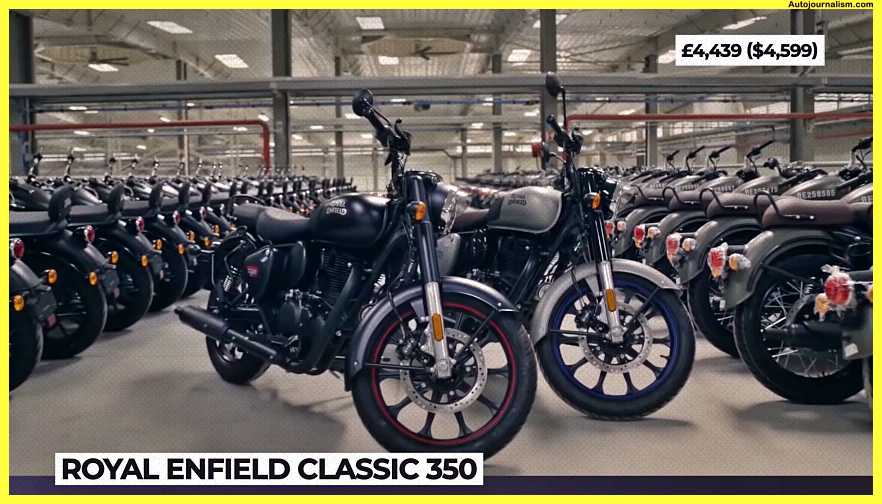 The Brand's Classic series of bikes has been on sale for two decades establishing itself as a fantastic choice for beginner writers who want a reliable forgiving and of course, affordable ticket to the motorcycling World in 2022 the new generation model sticks to Royal Enfield's simple and proven recipe it retains The Familiar Silhouettes that dates back all the way to the post for years and blends it with new tech and powertrain the New Classic has a distinctive teardrop fuel tank Hallmark casket headlamp and a white saddle the bike sits on a new torn down tube chassis that holds a 41-millimeter non-adjustable fork and twin shocks adjustable for spring preloads on the power fronts the reborn 350 gets an all-new air and oil cooled 349 CC J series engine rated at 20 horsepower and 27-newton meters of twist the model gets standard dual Channel abs and disc brakes the headlamp is halogen and the analog speedometer a spiritually small LCD with basic info.
Royal Enfield classic 350 2023 in Different Colours (Bullet 2023 Model)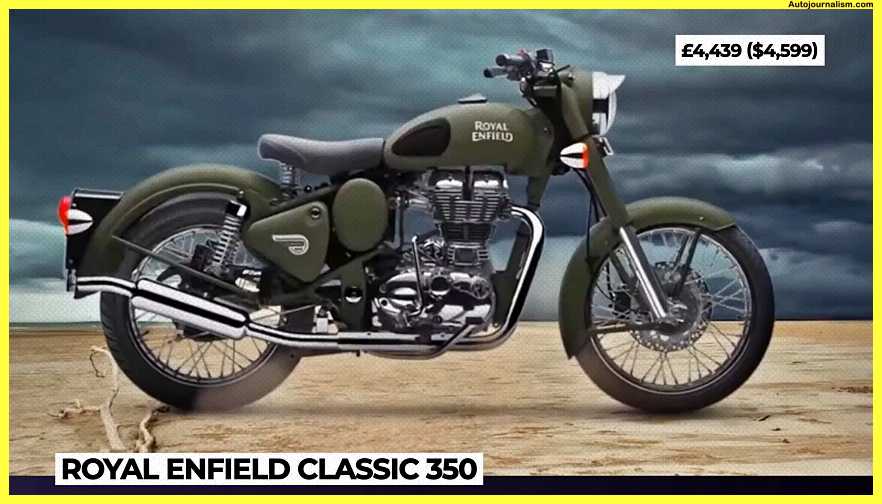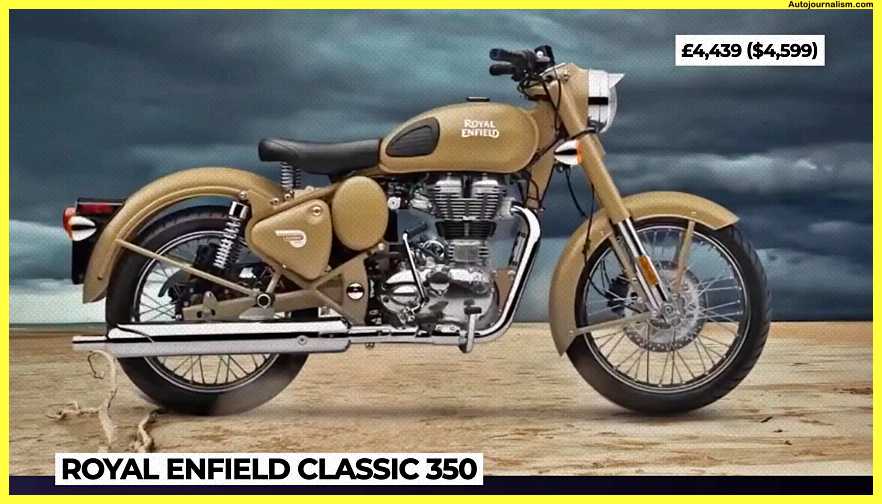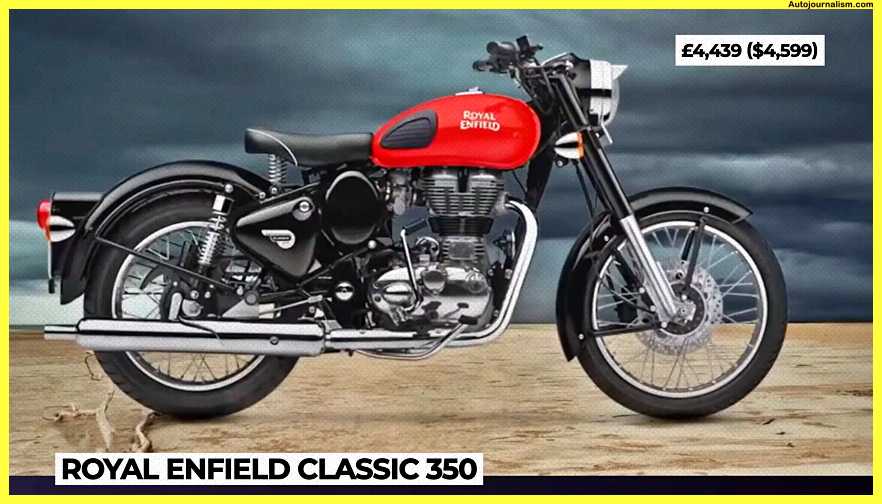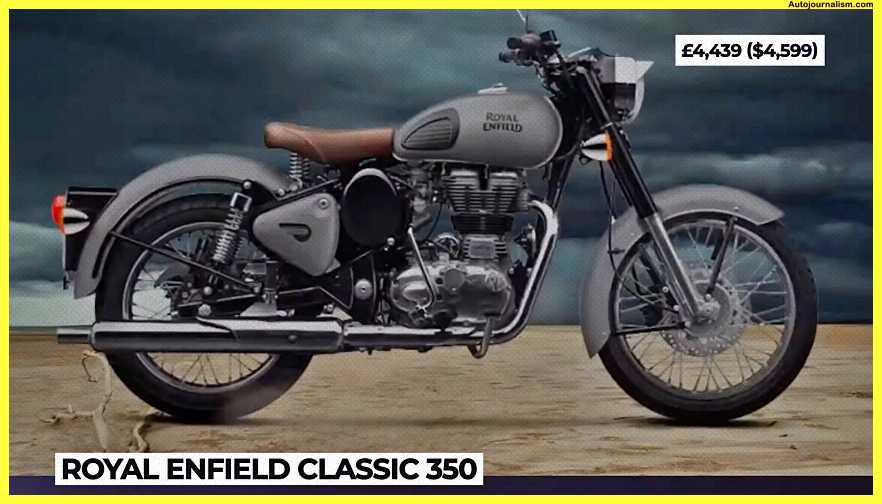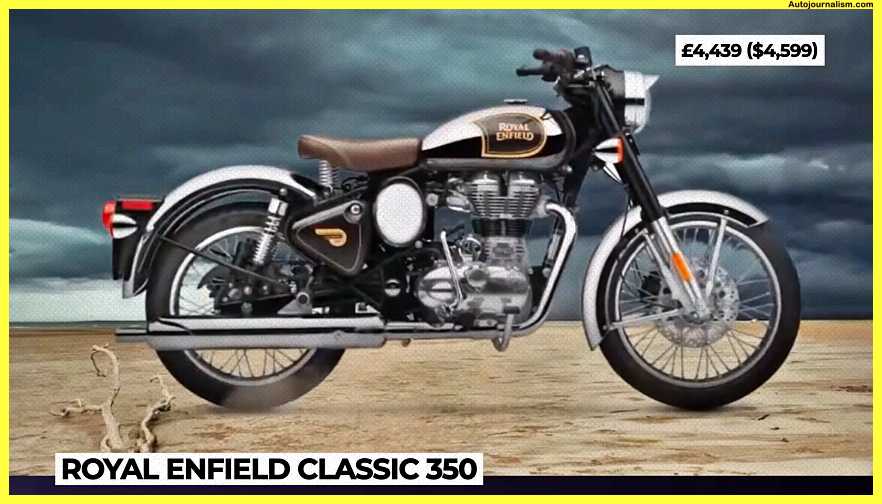 PRICE
64,439 ($4,599)
CHASSIS SUSPENSION
New Chassis 4mm

Non-Adjustable Fork

ENGINE
349cc Air/oil-Cooled

Single Cylinder

CLEARANCE
170 mm (6.7 in)
POWER TORQUE
20 hp (15 kw)

27 Nm (19.9 lb-ft)

BRAKES
Disc Brakes,

Standard Dual ABS

TRANSMISSION
5-Speed Gearbox
WHEELS
19in Front/is Rear Wheels
5. Royal Enfield Continental GT650 Twin 2023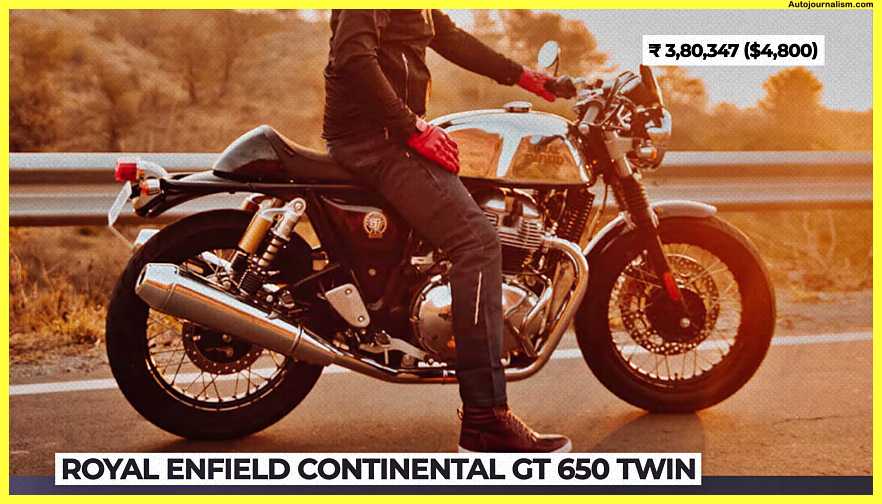 This is Royal Enfield's sportiest bike offering that sticks to the Classic Cafe Racer single seat design of the 1960s and 70s and recaptures the spirits of the iconic Continental gt250 it is a sculpted 12.5-liter tank durable frame developed alongside the legendary Harris performance and a finely tuned suspension comprising of twin coil-over shocks and a 41-millimeter front fork classic Aesthetics offer the reflected and the 18-inch 36 spoke alloy wheels top 10 riding position and clip-on handlebars this mid-weight is powered by the Royal Enfield's most potent 648 CC parallel to an engine allowing it to Rifle a Triumph Bonville and motor good cb7 the smell is your 5 compliant both air and oil Cults and makes 47 BHP at 7150 RPM and 52-newton meters at 5250. the stopping power work comes from the Rambo-derived twin-piston calipers on 320 and 240-millimeter discs that will be bashed to channel abs.
PRICE
$6,200 (₹ 3,80,347 / £6,239)
SEAT HEIGHT
804 mm (31.65 in)
ENGINE
648cc Parallel-twin, 4-stroke

air/oil-cooled

SUSPENSION (F/R)
F: 41 mm front fork,

110 mm travel

R: Twin coil-over shocks,

88 mm travel

POWER TORQUE
47 bhp (35 kW)

@ 7150 RPM 52 Nm

(38 lb-ft) @ 5250 RPM

BRAKES (F/R)
320/240 mm discs

Bosch dual-channel ABS

TRANSM. COMPRESSION
S-speed constant mesh
WHEELS
36-spoke Aluminum

Alloy Coat Zoomeruz tires

FUEL CAPACITY
13.7L (2.86 gals)
DRY WEIGHT
202 kg (444 lbs)
6. Royal Enfield meteor 350 2023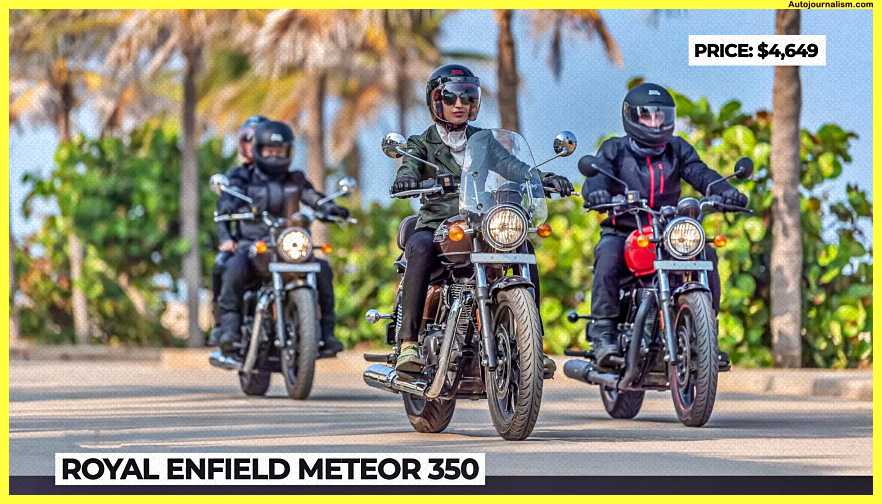 This is Royal Enfield's new entry-level Cruiser which arrives as a successor to the Thunderbird 350X rebuilt in 2021 the meteor 350 was the company's first bike to get the all-new air and all-cooled 349cc single cylinder which is now mated across the entire Enfield's 350 lineups the G Series sanction produces 20 horsepower and comes mated with a 5-speed transmission suspension wise the meteor gets a non-adjustable front fork and Twin Tube shocks with soft settings it also gets a dual Channel ABS with Vipre brakes with a 300-millimeter disc on the front wheel and a 270 millimeter one at the rear at the same time the Royal Enfield meteor has a huge for its class 15 liter fuel tank and a standard fit navigation display from Trooper on the accessories front touring enthusiasts can boost their meteor 350 with a touring seat tinted fly screen and specially forged aluminum foot packs.
PRICE
$4,649
CHASSIS SUSPENSION
Twin Downtube Spine Frame

4mm Non-Adjustable Fork

ENGINE
349cc Air/Oll-Cooled

Single Cylinder

FUEL TANK
15L (4gal)
POWER TORQUE
20hp (15 kW)
BRAKES
Bybre 300/270mm Discs,

Twin/Single Piston Calipers, Dual ABS

TRANSMISSION
5-Speed Gearbox
ELECTRONICS
Tripper Navigation
TOP SPEED
120km/h (75mph)
WET WEIGHT
191kg (420lbs)
7. Royal Enfield Continental GTR 650 2023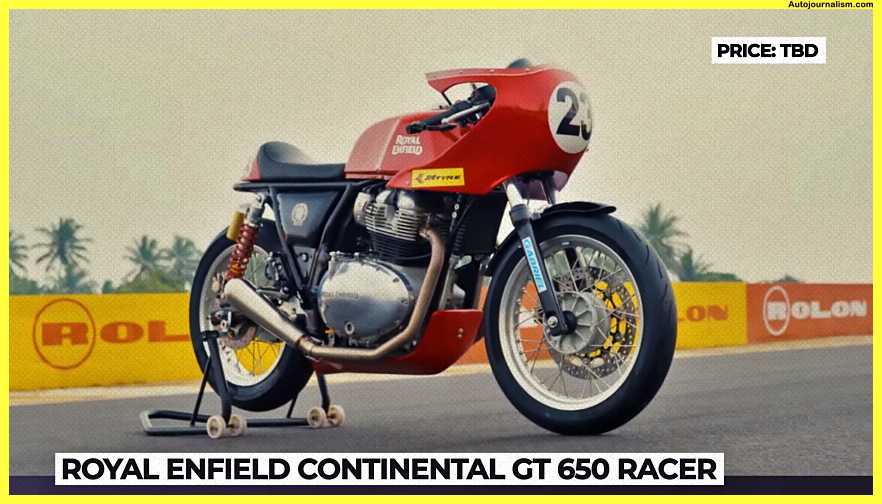 As of today Royal Enfield does not yet have a bike platform that will be able to compete on equal terms at the International Motorcycle championships therefore for now the Indian manufacturer has established its own single makeup which comprises a credit of 25 race-prepared Continental GTR 650 motorcycles to provide a Level Playing Fields or the rider's skill makes the final difference to turn the GT into a proper racer Royal Enfield installed a free flow race pack exhaust system which ensured a nearly 25 kilos weight loss and an addition a few horses the 648cc Pearl twin now makes something closer to 50 BHP furthermore the Royal Enfield GTR 650 got a shorter seat new fairing stickier race stack K1 tires and a stiffer suspension from the tin rear the races are run as a pro-M format which consists of two categories 10 professional Riders and 15 amateurs who race only common crit.
PRICE
NA
SEAT HEIGHT
804 mm (31.65 in)
ENGINE
648cc Parallel-twin,

4-stroke air/oil-cooled

SUSPENSION
F: 41 mm front fork,

110 mm travel

R: Twin coll-over shocks,

88 mm travel

POWER TORQUE
47 bhp (35 kW)

@ 7150 RPM 52 Nm

(38 lb-ft) @ 5250 RPM

BRAKES (F/R)
F: 320 mm disc

R: 240 mm

disc Bosch dual-channel ABS

TRANSMISSION
6-speed constant mesh
TIRES
Front: 100/90-18 Rear: 130/70-1
FUEL CAPACITY
13.7L (2.86 gals)
DRY WEIGHT
202 kg (444 lbs)
8. Royal Enfield classic "Divine" 2023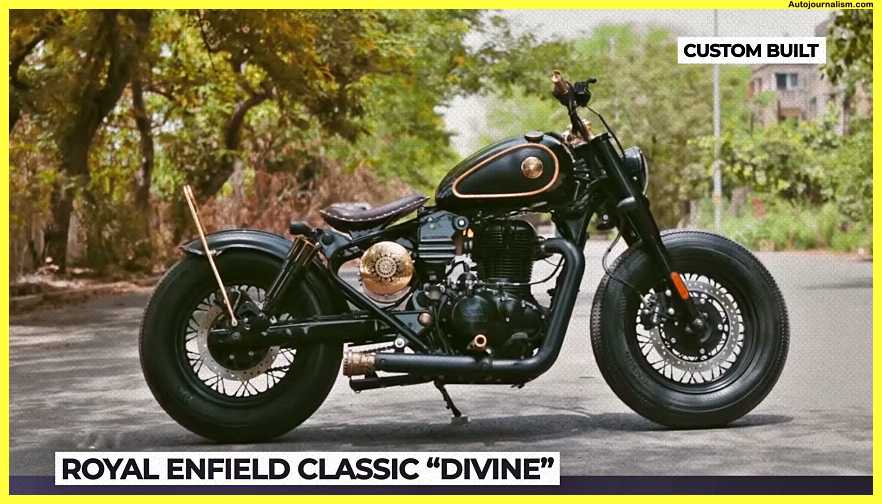 To celebrate their custom worlds initiative Royal Enfield asked India's renowned custom Builders to deliver a couple of projects based on the New Classic 350. among them is the Divine built by Neve motorcycles the company's founder wanted to style the bike as a bopper while keeping the exterior loud but classy the project started with chopping off all the unnecessary details and extending the 350 classic wheelbases then all the parts of the bike including the custom swingarm and venters were hands-built at the Neve promises the tank itself took seven full days of work to complete as it features three deep curves on top and gets dual gas caps for their custom built bobber Nev chose a matte black color scheme which they contrasted with gold leaf work and Pen stripes on the tank handlebar grips foot packs and air box covers finally Ultra thick 16-inch balloon tires finish the overall design.
PRICE
TBA
CHASSIS
Custom Swingarm/Fenders
ENGINE
349cc

Air/Oll-Cooled Single Cylinder

EXTERIOR
Custom Tank,

Engraved Brass Elements

POWER TORQUE
20 hp (15 kW) 27 Nm

(19.9 lb-ft)

SEAT
Hand-Stitched Leather Seat
TRANSMISSION
S-Speed Gearbox
TIRES
16-Inch Balloon Tires
9. Royal Enfield Bullet 350 2023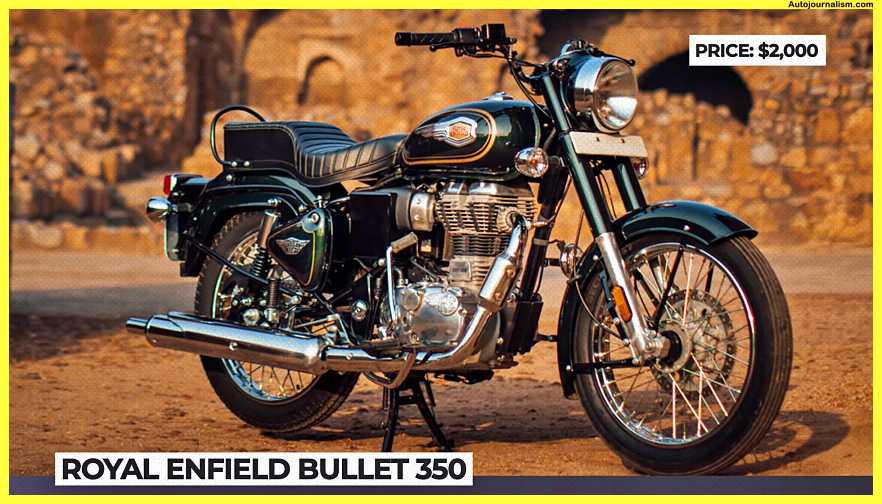 PRICE
$4,599 ( 1,79,312 / €4,000)
SUSPENSION
35mm Front Telescopic Forks/ Twin Shocks
ENGINE
346cc, Single Cylinder, Air- Cooled
BRAKES (F/R)
280mm (Twin) Disc,

2-Piston Caliper,

ABS /153mm (6in) Drum

POWER TORQUE
19.1hp (14.25kW) @ 5250rpm 28 Nm

(21.71b-ft) @4000 rpm

TIRES
19in Tires
TRANSMISSION
5-Speed Constant Mesh,

Wet Multiplate Clutch

INFORMATION
3 Analogue Gauges
VERSIONS
Base ES
DRY WEIGHT
186/191 kg (409/420 lbs)
Classic 350 / Bullet 2023 Indian Rupees – 1,79,312 (1.7 Lakh) (approx)
Considered to be a quintessential Royal Enfield bike the bullet is the longest-running model in motorcycle history its routes go 90 years back to 1932 when it was produced by the original UK company today the bullet is offered exclusively as a 350cc model that gets two guyses base and EOS the latter is distinguished by The Brighter exterior color options electric start and a larger 8-ampere hour battery will be phase 3 electrical system both bikes rely on a 346 CC single that makes 19 horses and nearly 28-newton meters per to the 5-speed constant mesh gearbox fully white clutch the model has the iconic design writes on 19-inch tires and comes equipped exclusively with analog gauges rumors also suggest that a refreshed version of the bullet is already in the works and it should introduce a larger 350cc engine as well as see more modern LCD instrumentation.
10. Royal Enfield Interceptor 650 2023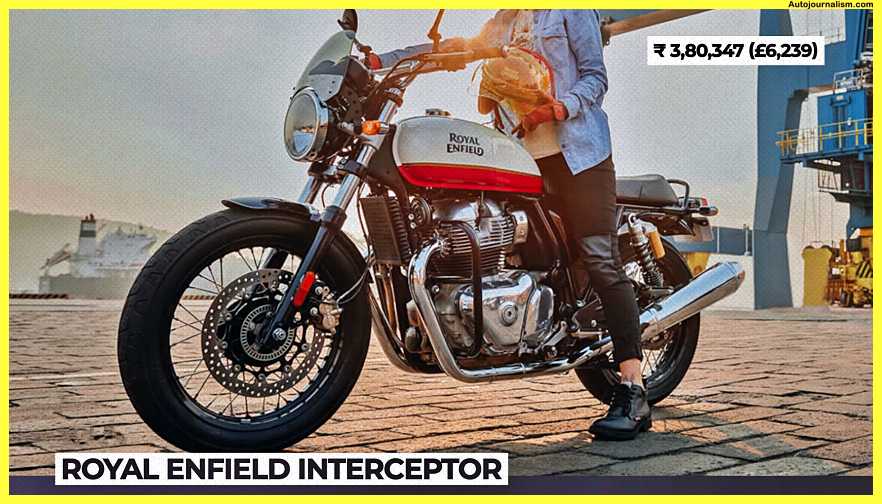 In essence, this is the last radical version of the Continental GT650 with a standard design and a black premium touring dual seat the Contemporary model draws inspiration from the 1960s Interceptor so basically embodies the brightest Roadster with the Ukraine of California's desert Tracer the spec sheet is identical to the already discussed GT, therefore, you get a 648cc pearl 24 strokes with a 6-speed constant mesh transmission and 47 horsepower this engine upright trading position and a finely tuned suspension delivers Superior balance and handling both in the city and on the highway twisties the Royal Enfield Interceptor is available in seven body colors and can be equipped with a fly screen and a pair of soft panniers for added utility what is your opinion about Royal Enfield's it is true that by the time they get exported from India prices do go up a significant amount but on the Home Market they're unbeatable.
PRICE
$6,199 (₹ 3,80,347 / £6,239)
SEAT HEIGHT
804 mm (31.65 in)
ENGINE
648cc Parallel-twin,

4-stroke air/oil-cooled

SUSPENSION
F: 41 mm front fork,

no mm travel

R: Twin coll-over shocks,

88 mm travel

POWER TORQUE
47 bhp (35 kW)

7150 RPM 52 Nm (38 5250 RPM

BRAKES (F/R)
F: 320 mm disc Rs: 240 mm disc

Bosch dual-channel ABS

TRANSMISSION
6-speed constant mesh
TIRES
Front:100/90-18 Rear: 130/70-1
FUEL CAPACITY
13.7L (2.86 gals)
DRY WEIGHT
202 kg (444 lbs)
credit
Read also: