Top 10 Upcoming Electric Cars in 2022
Here is the list of Top 10 Upcoming Electric Cars in 2022, Many international car shows are resuming operations in 2022, ⭐⭐⭐⭐⭐ albeit with certain restrictions, resulting in an avalanche of all-new vehicles, many of which are undoubtedly electric.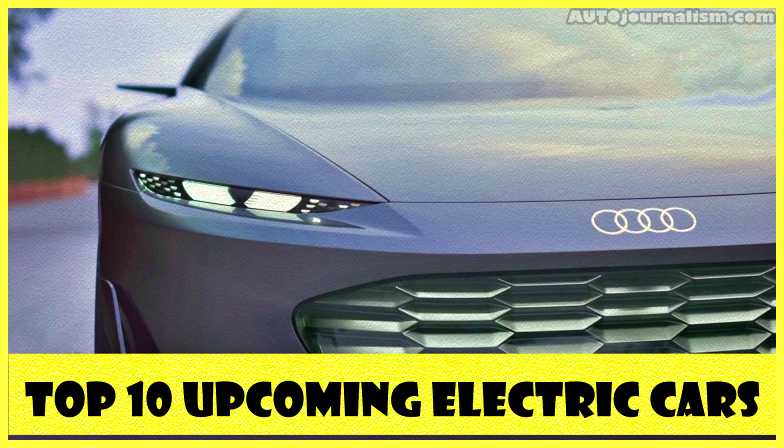 Top 10 Upcoming Electric Cars
10: Mercedes EQE (Upcoming Electric Car)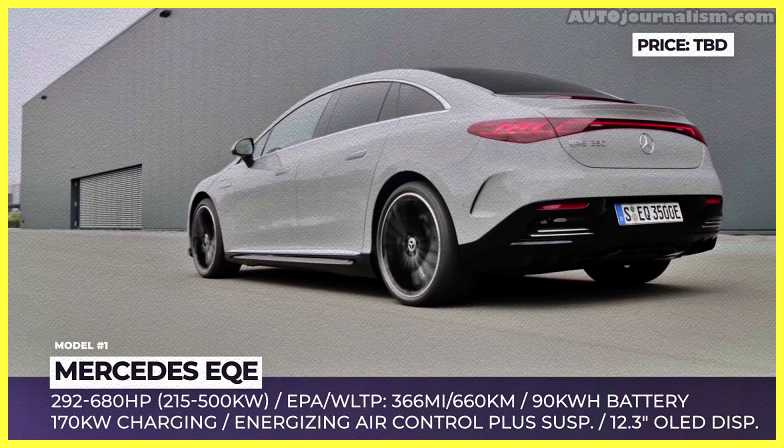 media.daimler.com/marsMediaSite/en/instance/ko.xhtml?oid=51155187
Its design is comparable to that of its bigger and posture EQs siblings. The new Mercedes-Benz EQE features a closed-off grille with slightly more angular DRLS, as well as its own set of 19- to 21-inch alloy wheels. This executive car is built on a specific electric vehicle architecture that supports a variety of drivetrain configurations and battery sizes. For the time being, the only model that has been confirmed is the eqe350.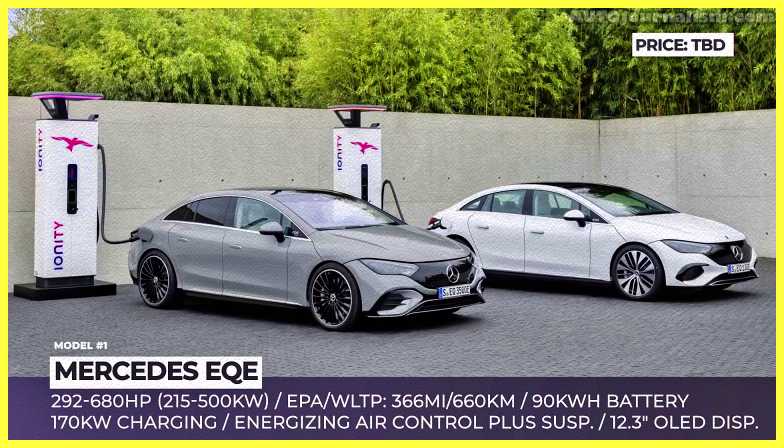 It is propelled by a rear-mounted electric motor with 292 horsepower and 391 pound-feet of torque. This EQe is said to account for 660 WFTP kilometers or 366 EPA miles, based on the usual battery pack's capacity of 90-kilowatt hours. The car can recharge at 170 kilowatts, which means 140 kilometers can be recovered in 15 minutes. Technology-wise, the entry-level EQe comes with a 12.3-inch driver's display and a 13-inch infotainment system, however, the flagship hyper screen with three built-in screens is available as an option.
9: Cupra Urbanrebel Concept (Upcoming Electric Car)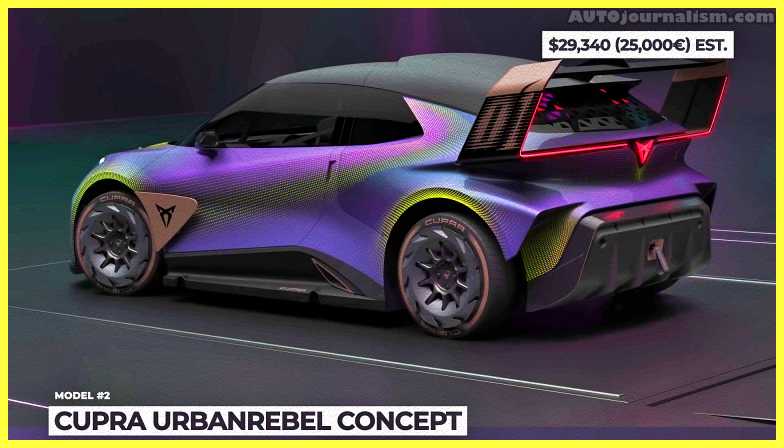 seat-mediacenter.com/smc/cupra-brand/cupra-news/2021/World-Premiere-of-the-CUPRA-UrbanRebel-Concept-CUPRAs-most-rebellious-interpretation-of-an-urban-electric-car.html
urban rebel cupra In a sea of ultra-efficient yet dreary city views of the future, sad's high-performance section hit the bullseye when calling their latest idea as an urban rebel. The sporty electric hot hatch with a wild-looking exterior would undoubtedly stick out about the same size as a Volkswagen polo. The urban EV from Cupra has bold design lines. a shark-inspired nose, and triangular headlamp grass.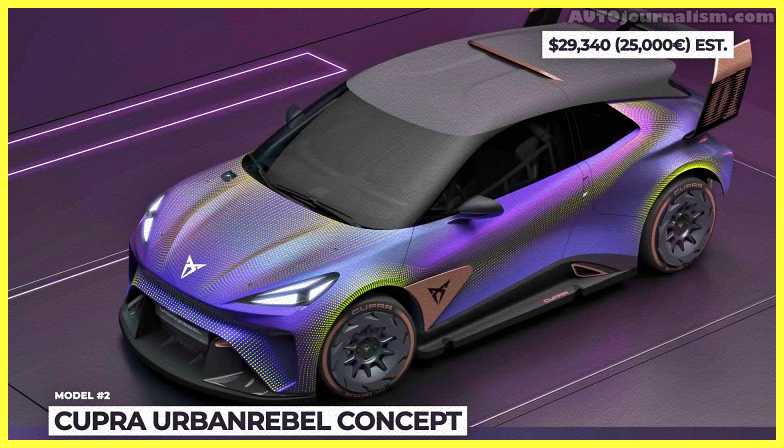 The concept's current enormous rear wing with an integrated full-width rear light bar is something we shouldn't expect from the road-going version. The entry-level EV's powertrain will be capable of 340 horsepower with short surges up to 435 ponies, according to Cupra. Among the items confirmed is the usage of the VW group's current MEB short platform, which indicates that the price tag for the production model may start from $30,000.
8: VW ID.5 GTX (Upcoming Electric Car)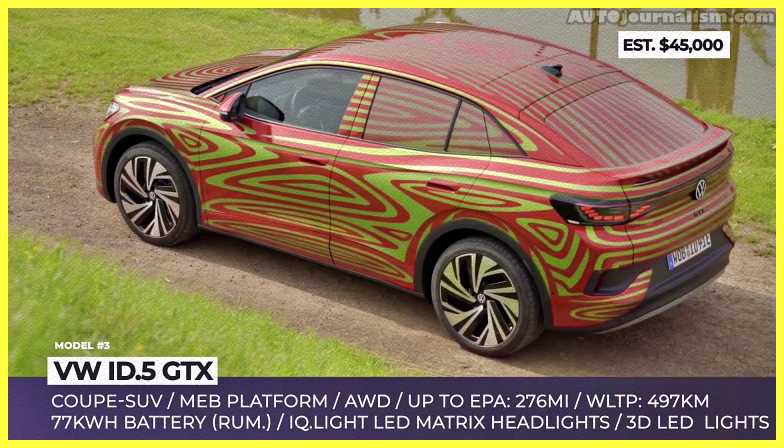 GTX VW id5 Every SUV from the German Volkswagen Group is expected to get a real Koopa cv equivalent currently, and the upcoming id5 model, which is just a slanted roofline version of the id4 built on MBB underpinnings, will follow this guideline. The performance-oriented GTX version of the crossover is revealed, with a 77-kilohertz battery and two electric motors. The system should be capable of producing roughly 300 horses, four-wheel drive, and up to 276 GPA miles (497 WLTP kilometers).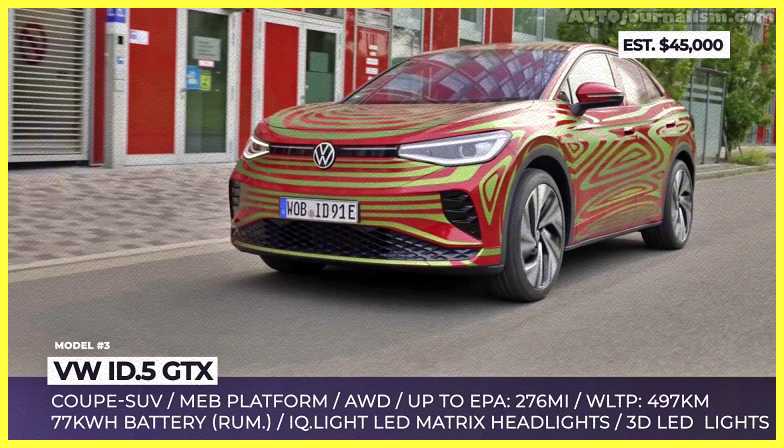 It will also include IQ light-led matrix satellites with intelligent high beam help, an integrated rear spoiler, a sloping roof, and 3D-designed led tail lights. With a digital instrument display and a 12-inch touchscreen, it adopts the ADforce cabin layout.
7: Renault Mégane E-tech (Upcoming Electric Car)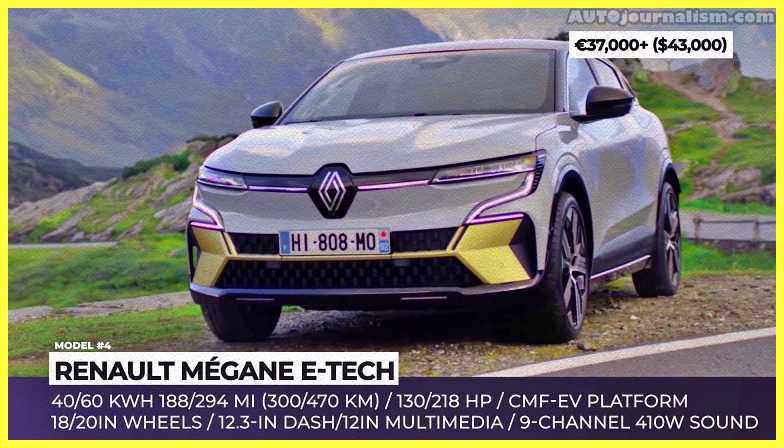 en.media.renault.com/news/cp-megane-82d0-989c5.html
attack on the Renault Megane The next dedicated all-electric model from Renault is one of the most awaited EVs in the old world. Back in 2010, tesla was making enormous ripples on the North American market, but it was a little city hatchback Zoe that was steadily igniting Europe. Unlike previous Megan generations, the CV foregoes traditional sedan and hatchback body shapes in favor of the popular crosshatch design factor. The e-tack is substantially identical to the 2020 Mega efficient concept.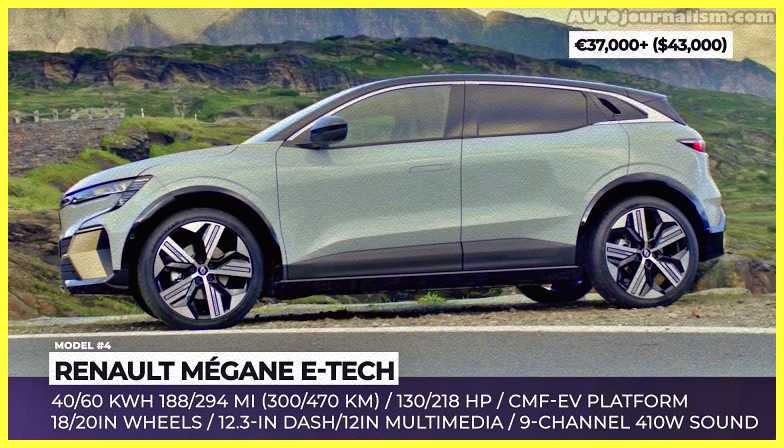 So it keeps the new style headlights, zigzag daytime running lights, contrasting roof, full-width brake lights, and 18 to 20-inch wheels. There are two powertrain options available. 130 horsepower with a 40-kilowatt-hour battery and a range of 188 miles, or 218 horsepower with a 60-kilowatt-hour battery and a range of 284 miles. This Renault's interior features recycled textiles and textures. Support the electric revolution by supporting us. There includes a 12.3-inch digital dashboard and 12-inch infotainment with an android operating system.
6: BMW I Vision Circular (Upcoming Electric Car)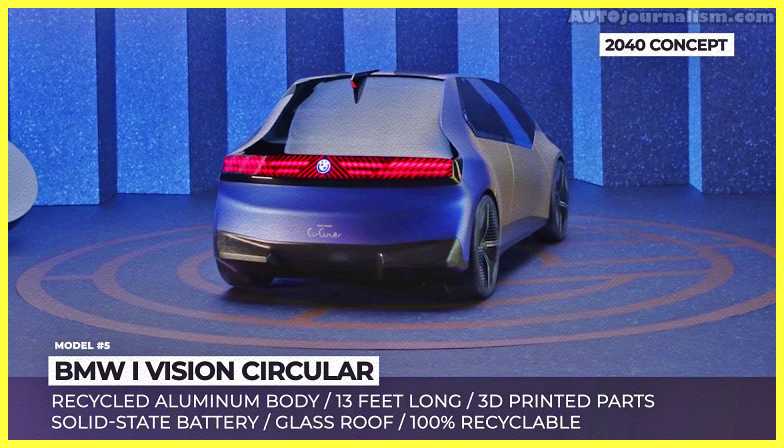 www.press.bmwgroup.com/global/article/detail/T0341253EN/the-bmw-i-vision-circular
circular BMW The electric city car of the future, according to BMW, cannot simply have a zero-emission propulsion system; its body parts must also be recyclable and made from sustainable materials. Take the BMW i-vision circular, for example, which is a 13-foot long hatchback-style compact car from the 2040s that is made of nearly 100 recycled materials and is 100 recyclable to further reduce waste.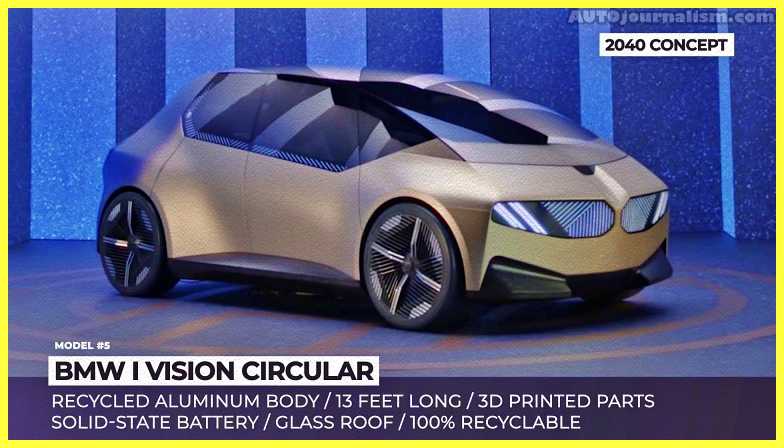 The battery pack is said to be made of solid-state modules, and many interior parts were 3d printed, but the most futuristic aspect of the I vision circular is said to be the car score, which is said to be free of any bonded connections and composite materials, allowing it to be disassembled with a single tool.
5: Mercedes-AMG GT 63 S E Performance (Upcoming Electric Car)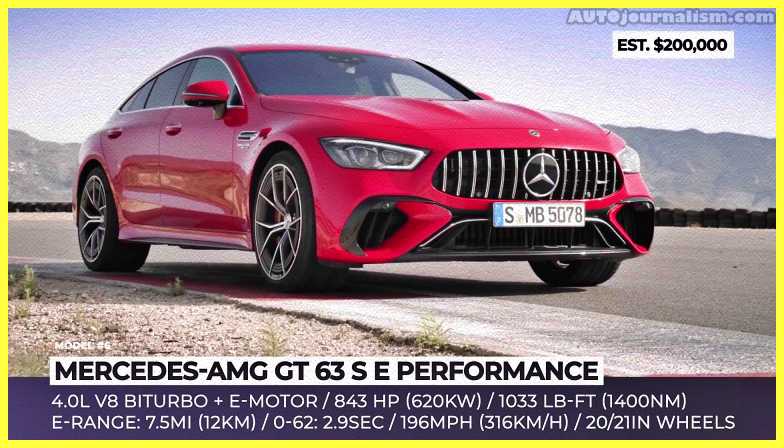 media.daimler.com/marsMediaSite/en/instance/ko.xhtml?oid=51134836
e-performance Mercedes mg gt63s The most powerful members of the Mercedes-AMG lineup will wear the new e-performance label, and all of them will be electric, as is the case with the new gt63s four-door coupe. It introduces a new plug-in hybrid drivetrain based on a 4 liter turbocharged V8 supplemented by an electric motor. The engine produces 843 horsepower and 1033 pound-feet of torque, and it is mated to a 9-speed AMG speed shift gearbox.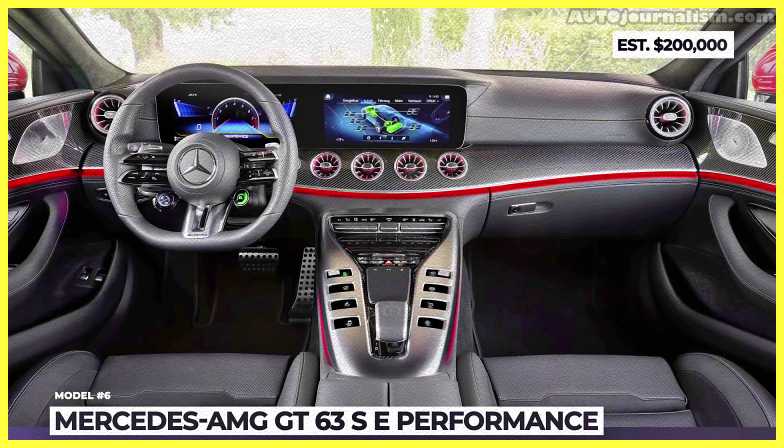 The 6.1-kilowatt hour battery pack is uniquely built for quick power delivery, while the motor is coupled with a 2-speed gearbox and an electronically restricted slip differential. It still has a range of seven and a half miles. The e-performance is comparable to the normal 63s in terms of design, but it is characterized by new trapezoid Deltoin exhaust pipes, exclusive paint treatments, unique 20 or 21-inch wheels, and more personalized interior styling.
4: Audi Grandsphere Concept (Upcoming Electric Car)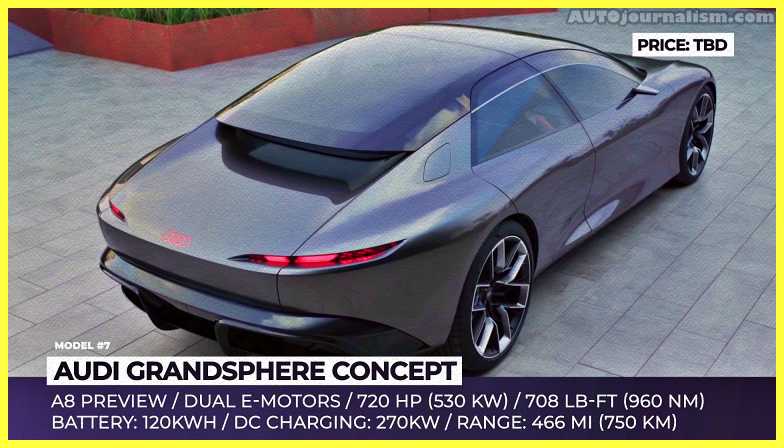 audi-mediacenter.com/en/presskits/audi-grandsphere-concept-14169
Audi allows for fewer concepts. If half of the grand sphere concept's innovative features make it into the production model for years later, it will be nearly impossible to compete with Audi in the executive sedan segment. The investment a8 from 2025 has an extremely low and long sloping shape with a distinctive teardrop rear end. The fog grille has been revised as a graphic pattern hiding a bunch of driving sensors.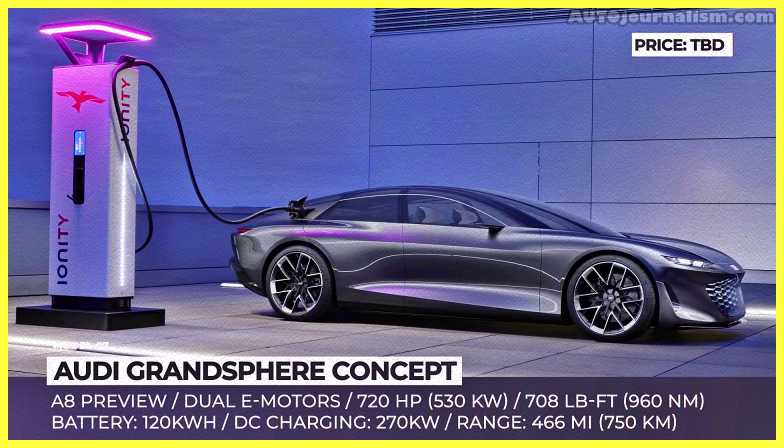 The electric powertrain consists of two electric motors with a combined 720 horsepower, and the standard 120-kilowatt hour battery pack is good for nearly 470 miles of range. Inside the cabin, there is no steering wheel or paddles because the car has a level for autonomous driving, which means it is completely hands-off and eyes-off. However, the autonomy modes can be turned off when needed.
3: Mercedes-Maybach EQS Concept (Upcoming Electric Car)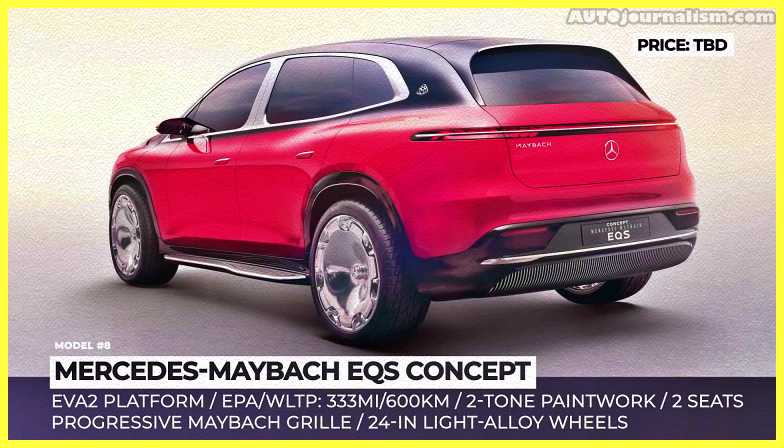 media.daimler.com/marsMediaSite/en/instance/ko.xhtml?oid=51166803&relId=1001&resultInfoTypeId=173
Mercedes Maybach EQS despite being spotted in camo, the upcoming Mercedes EQs SUV has yet to be officially revealed, and instead, we're getting to see its Maybach branded offspring the concept of cv. The concept of cv features the brand's signature two-tone paint scheme with chrome accents unique lighting and large 24-inch wheels in my bucket bowl design. The model is created using the eva2 platform, which is dedicated to this purpose.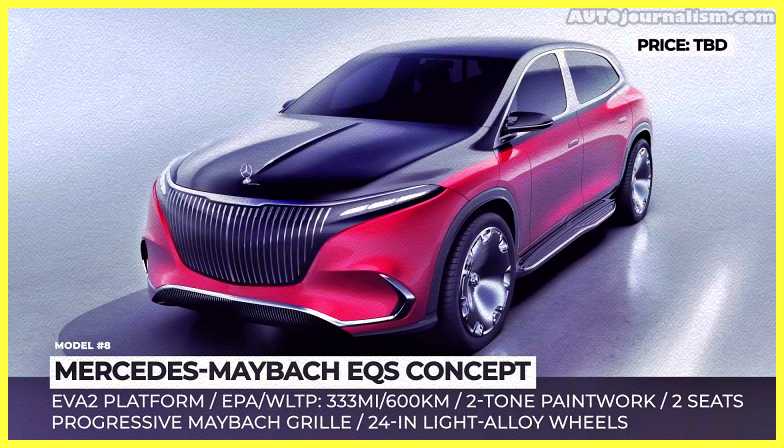 However, unlike its lower-spec EQs brothers, it will only be available in all-wheel drive. The number of motors and battery capacity are yet to be revealed, although the Germans claim up to 600 WLTP kilometers (about 330 EPA miles). With my back's characteristic interior richness, the concept's insights astonish me. There are white leather upholstered seats with dark blue rose gold trim and a massive 56-inch floating center console with the words "box hyper screen" written on it.
2: Volkswagen ID. LIFE (Upcoming Electric Car)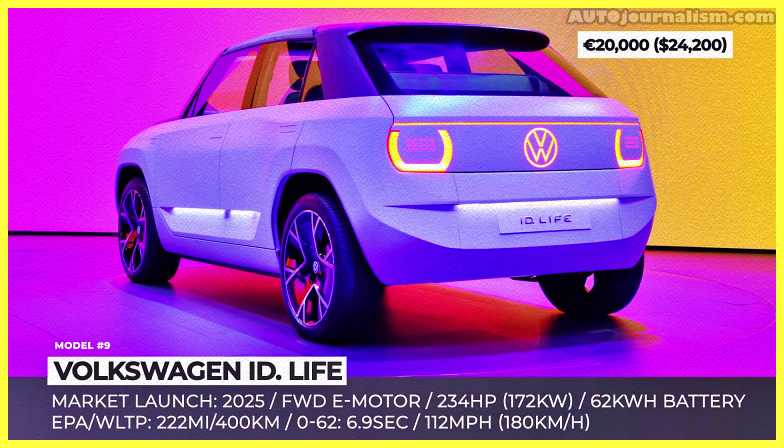 volkswagen-newsroom.com/en/press-releases/a-look-ahead-to-entry-level-electric-mobility-world-premiere-of-the-id-life-7490
The free market debut of the Volkswagen id life is scheduled for 2025. The idealistic concept foreshadows a new generation of city automobiles geared towards younger buyers and car-sharing businesses. Its design is a combination between a minicar and an SUV. Muscular proportions are combined with a basic design that is enhanced by lighting characteristics. A single front-wheel-drive motor with 234 horsepower and a 62-kilowatt-hour battery with 222 kilometers of range make up the powertrain system.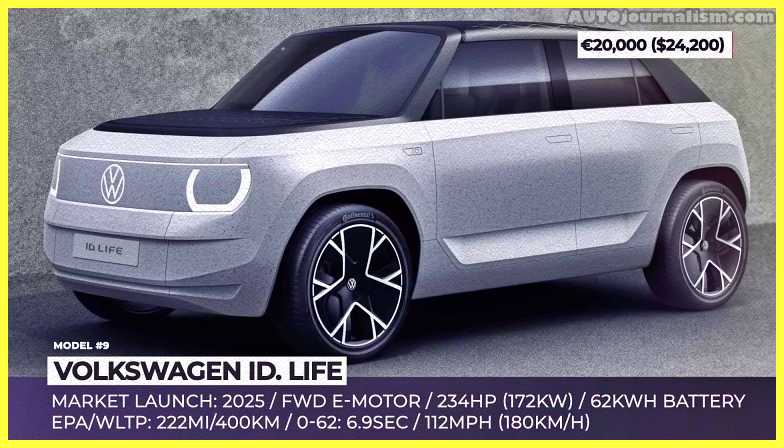 The concept places a premium on the passengers' journey experience, with a flexible interior that can be turned into a movie. The automobile depends on cameras instead of interior and exterior mirrors, has a removable roof, and your smartphone serves as the primary infotainment screen.
1: Renault Hippie Caviar Hotel (Upcoming Electric Car)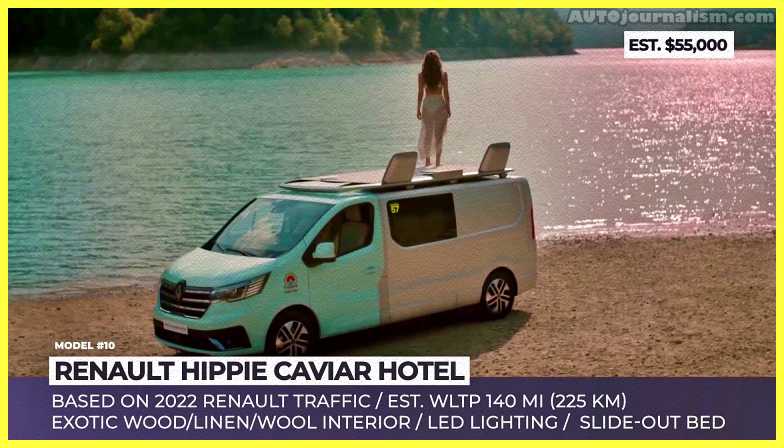 en.media.renault.com/news/hippie-caviar-hotel-renaults-vision-of-the-5-star-escape-5e8d-989c5.html
caviar renault hippy Renault The introduction of the all-electric Renault traffic in 2022 has already been announced, and our first opportunity to see the model was at the 2021 Dusseldorf Motor Show, where the van was previewed as part of a campground setup that offers a five-star experience in an extremely compact size. The joyful caviar hotel was inspired by the 1960s, and its design pays homage to the legendary Renault Estefat camper fan. The studio unhappy camper features distinctive roofs on the bathing area, as well as a coffee table and retractable backrests.
The stairwell also serves as a landing strip for delivery drones. To create an open view experience, the bed slides out of the back doors. The technical specifications for the traffic Etac are unknown at this time, but the van should have a range of at least 140 miles to compete with other European versions. What are your thoughts on the new EVs? We'll talk about it in the comments area below.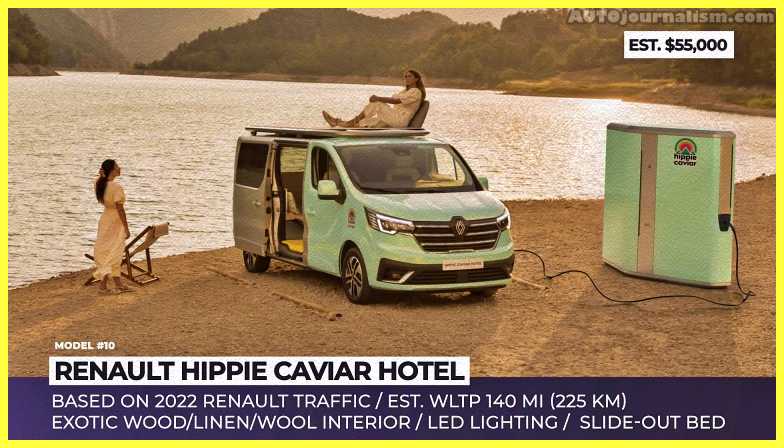 NEXT