Top 10 Upcoming Scooters In The World 2023
We live during the times when the efficiency of personal transportation feels incredibly urgent in a situation when one must decide between paddling a bicycle for hours or wasting a lot of energy driving solo and a gas-guzzling automobile there seems to be no right choice however today I would like to suggest a perfect alternative for economic and frugal city transportation that is on the rise across the oil deprived globe so let's explore the latest scooters of 2023 and beyond that open up a new dimension of affordable commuting for all.
#1. Yamaha NEO's (Upcoming Scooter in 2023)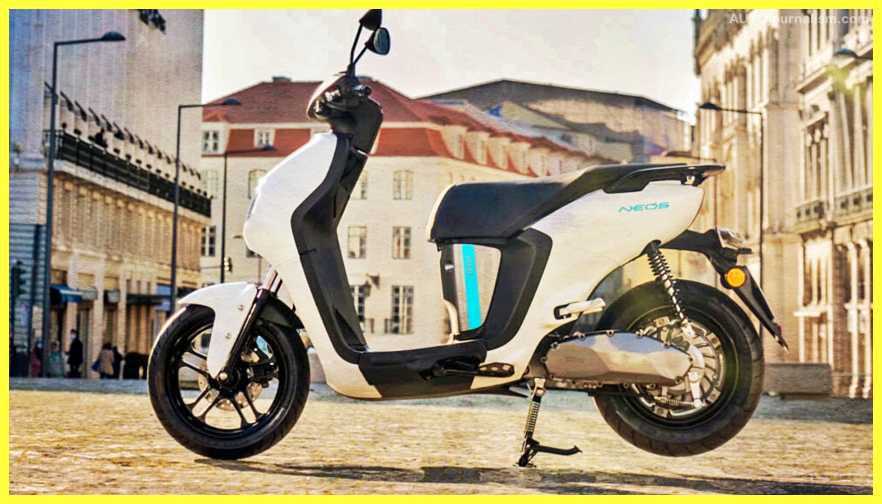 the era of electric mobility for Yamaha starts with this tiny e-scooter that performs like an e50cc model and suits riders of ages 16 and above the neos is comfortable it is agile and is quite good looking the body panels join together seamlessly the twin headlight features led elements and the seat hides a large storage compartment that will fit a jet helmet this two-wheeler also benefits from an upright universal riding position that should fit most people regardless of their size and experience on the drivetrain front the neos relies on the latest Yamaha integrated power unit which means a brushless motor with air cooling that is mounted inside the rear wheel hub as standard the model is supplied with a single battery good for 23 miles but you can add a second pack to double the available range the neos is also equipped with a black and white LCD screen smartphone compatibility and a smart key
#2. Honda ADV350 (Upcoming Scooter in 2023)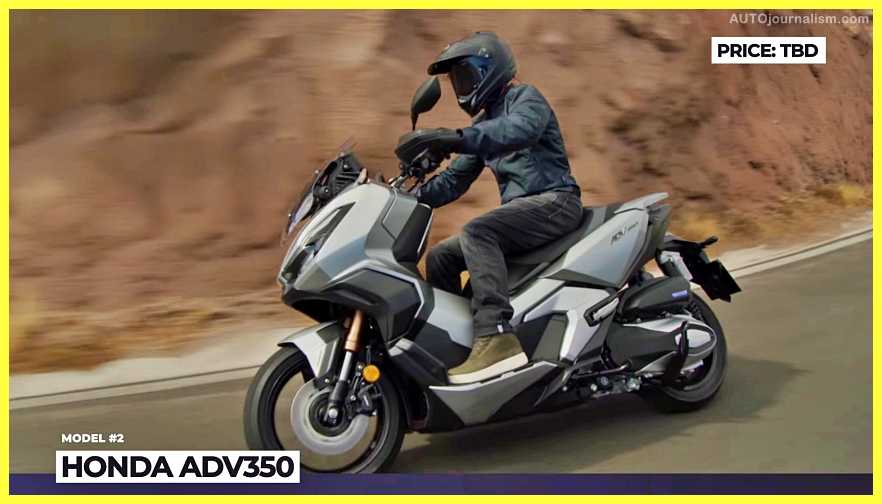 inspired by the success of the x-adv honda expands its lineup of so-called adventure scooters with a smaller displacement urban style maxi the ATV 350 sits on a rugged chassis with a non-adjustable 37-millimeter USD fork dual remote reservoir shocks with spring preload adjustability and 5.7 inches of ground clearance the mismatched wheels measure 15 inches front and 14 at the rear and come wrapped in afro tidy wrapper the scoot is powered by 330cc single cylinder with the enhanced smart power plus technology and honda selectable torque control with two modes this engine delivers 29 horses and 23-pound feet while paired to the 5-liter fuel tank it should offer over 200 miles of riding the honda adv 350 also gets led head and tail lights and LCD dashboards with voice control and a smart key finally the under seat compartment has enough space to store two full face helmets and there is a USB-C port in the glove box
#3. BMW CE 04 (Upcoming Scooter in 2023)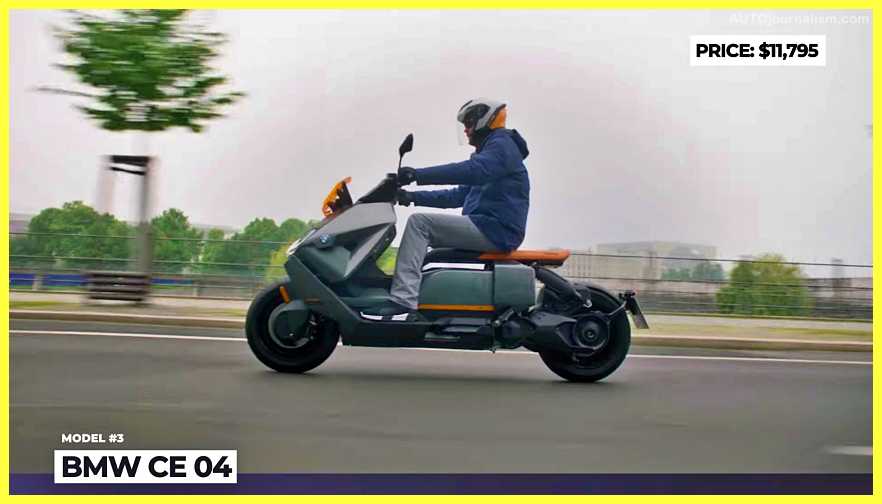 on sale, since early 2022 the retro futuristic ce-04 maxi scooter is a successor to the sea evolution but unlike the latter, it departs from the looks of a classical internal combustion model the seat floats over the frame the bodywork has a striking angular design and optionally the weight can be lit with an adaptive headlight the low center of gravity and a roomy storage compartment are possible due to the low battery placement this 8.9-kilowatt hour flat pack stores 81 miles worth of juice and supports level 2 recharging the c042 horsepower belt drive electric motor generates speeds up to 75 miles per hour and has brisk 0 to 30 mph acceleration of 2.6 seconds the 10.25-inch full HD dashboard with navigation traction control and abs are standard equipment bot stability control and lean sensitivity for the paid options
#4. Yamaha Tricity 125 (Upcoming Scooter in 2023)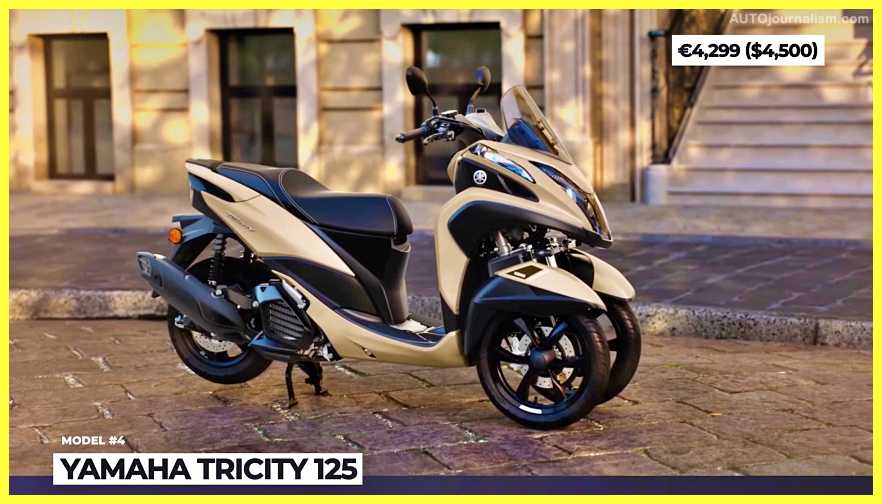 the smallest model of the company's tri-city range is being updated for 2022 bringing buyers a comfier chassis year five compliant drivetrain and new tech scheduled to go on sale across select European markets in august 2022 the scoot has a well-balanced three-wheeler design with a 2.4 inch longer wheelbase refined leaning front wheels layout and a new twin shock rear suspension when braking the tri-city 125 employs a unified braking system that distributes force between the front and rear wheels the disc brakes themselves are 8.6 and 9 inches in size the model's 125 cc single cylinder blue core engine is revised with a durable forged piston new cylinder head and larger intake valve so now it delivers 12 horses and 8.6-pound feet the intelligent start and stops system is also standard equipment lastly the tri-city 125 benefits from a broader beam led headlights larger floor port area improved storage and an LCD screen with smartphone connectivity.
#5. SYM Joyride 300 (Upcoming Scooter in 2023)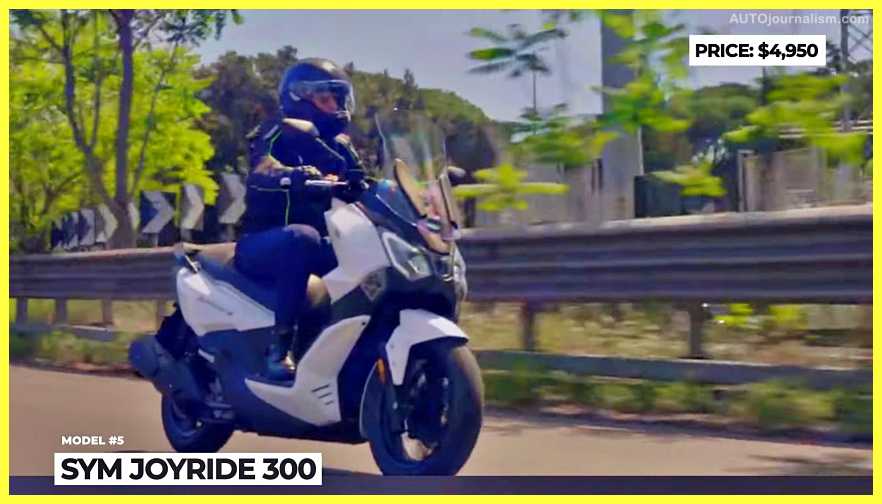 safety comfort practicality and not to mention a competitive starting price are the root reasons behind the growing popularity of the joyride 300 in the sims portfolio the new scooter is offered in two versions the regular one with 15-inch front and 14-inch rear wheels and the more expensive one those things 16 inches wheels on both sides suspension duties are performed by a telescopic fork and two rear adjustable shock absorbers as the name implies the joyride 300 is powered by 278 cc single cylinder unit rated for 26 horsepower and 19-pound feet of peak torque the model is also equipped with various touring ready amenities including a large under seat storage allowing to carry two helmets a front compartment with a USB 2.0 socket a full led lighting system and a two position adjustable windshield, in addition, there is an LCD instrument screen and an updated keyless system with the emergency ignition mode which comes in handy when the keeper battery is low
#6. Suzuki Avenis (Upcoming Scooter in 2023)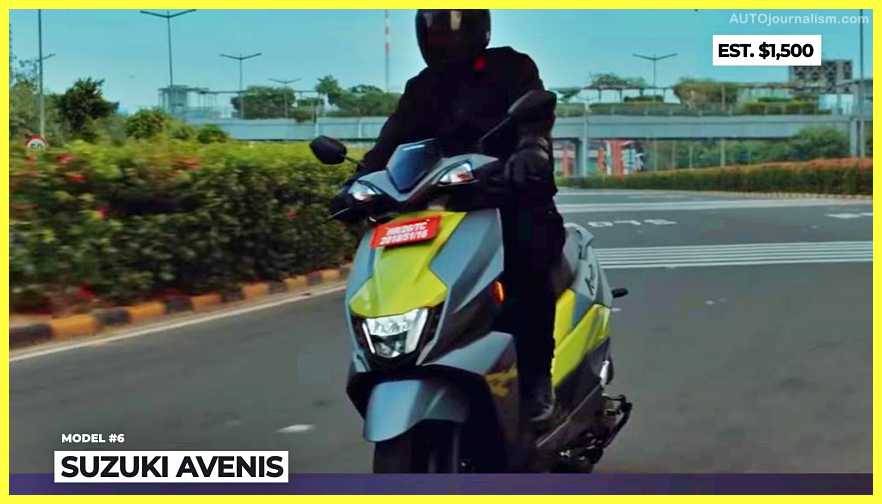 this new Suzuki scoot was developed specifically for the Indian market to rival the likes of TVS and torque and honda dio with its sporty exterior styling and affordable pricing the model targets the younger generation of riders its 125 cc single cylinder makes just 8.7 horses and 7.4-pound feet so it is rather a beginner friendly transmission duties are performed by cvt while the fuel tank measures 5.2 liters in volume this two-wheeler offers five exterior colors yet a special race edition with Suzuki competition graphics and comes equipped with standard led heads and taillights however the main advantage of the model is its rich technological package the latter includes a USB port Bluetooth and an all digital screen with turn by turn navigation and right connect tab that can display your phone alerts incoming calls and messages
#7. Aprilia SR GT (Upcoming Scooter in 2023)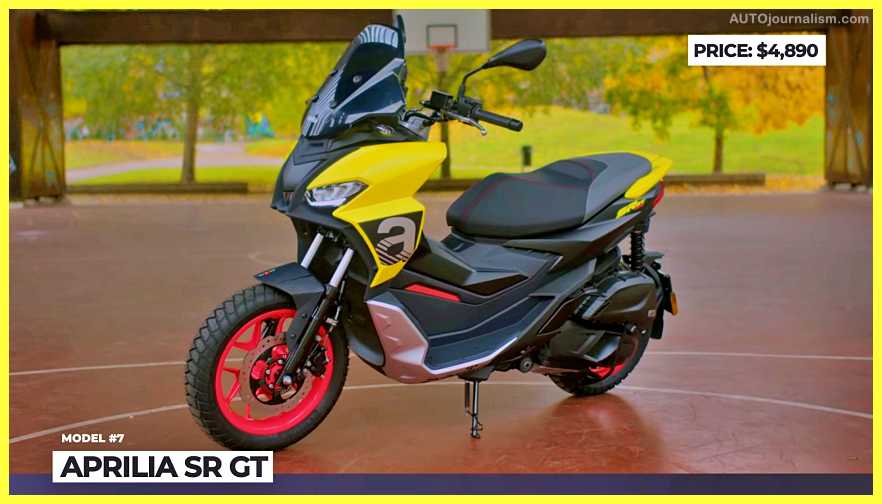 well known for their bunker superbikes the Italian Aprilia is actually a no stranger to the scooter market this year they add a new urban adventure model that is labeled the srgt easily recognizable as an Aprilia the scoot boasts the brand's signature design and borrows various elements from its elder siblings you will notice a familiar dry led headlight up front heavily fared body panels with sharp lines and a smoked suspended one screen customers can also choose between three exterior colors for the standard model and another three for the srgt sport the latter is also distinguished by the race graphics and red painted drums regardless of the exterior look the bike gets a long travel suspension from chauva on both ends there are two shock absorbers with five preload positions and a conventional fork with four point inches of travel in terms of power this compact scooter makes use of a 125 cc or 175 cc single cylinder engine rated for 15 or 17 and a half ponies and the peak torque of 9 and 12 pound feet
#8. SYM Maxsym TL 508 TCS (Upcoming Scooter in 2023)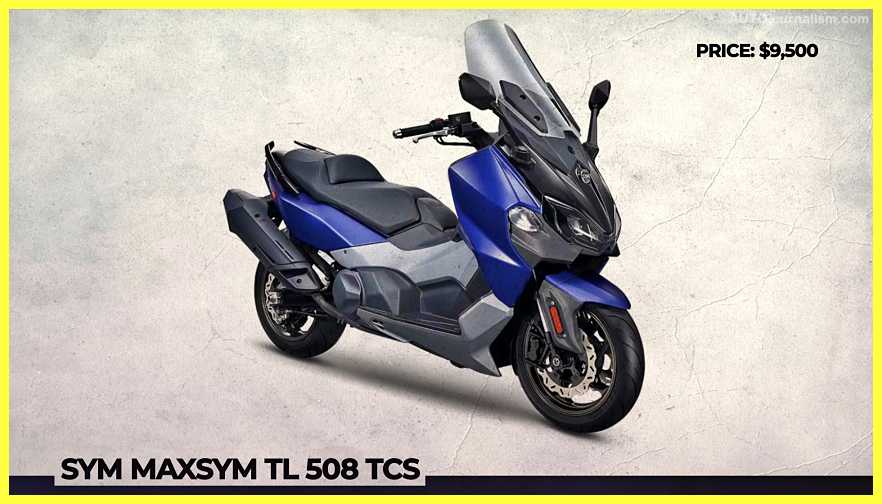 introduced at the 2021 Milan motorbike show last November the maxim tl508 already adds crucial upgrades for the 2022 model here this maxi scooter is now equipped with the traction control system which is a must-have safety function when riding on wet and muddy surfaces the new tss version also benefits from the tl 508's excellent weight distribution to channel abs and exclusively designed supermax s3 tires absorbing the impact from uneven roads is a 41 millimeter inverted fork in the front and a single sided motor shock with the multi-link at the rear the tl508 tss gets standard's full led lighting system keyless control four and a half inches TFT instrument panel and a two position adjustable windshield under the saddle the driver has 37 liters of storage space that is also illuminated and opened hydraulically the push of a button finally the sims aggressive sporty look is not just for show since the model is motivated by an adequate 46 horsepower twin cylinder
#9. Yamaha E01 (Upcoming Scooter in 2023)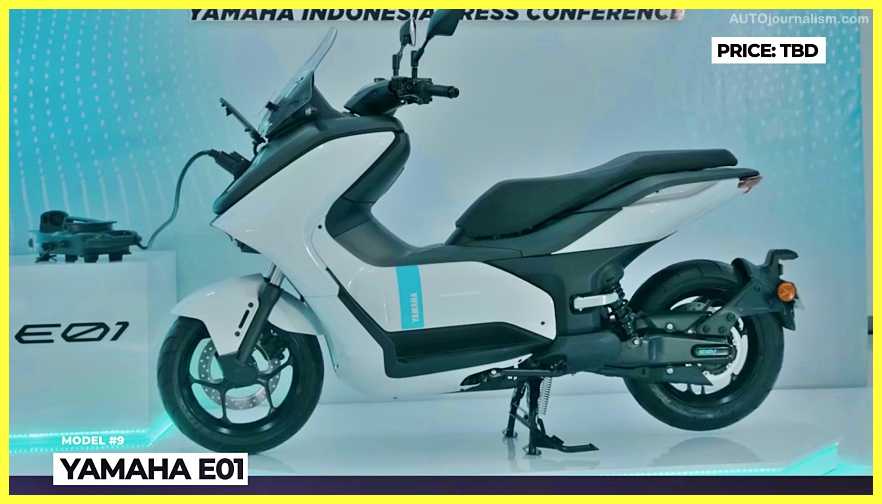 if you closely follow the electric scooter segment you might remember the e01 as the 2019 concept model from Yamaha three years after its debut in Tokyo the company is launching it as a demonstration test model in various markets across Asia and Europe larger than the recently launched neo scooter this model has a similar exterior styling in white and blue and features a fixed non-removable battery design according to Yamaha the e01 should perform like its 125cc ic siblings and should be perfect for urban environments in practice this means 11 horses and 22-pound feet plus the maximum range of 65 miles the model is promised to offer three types of charging quickly at a public station normal for home charging and portable for traveling with these your time at the socket will vary from as little as 1 and up to 14 hours
#10. Lambretta X300 (Upcoming Scooter in 2023)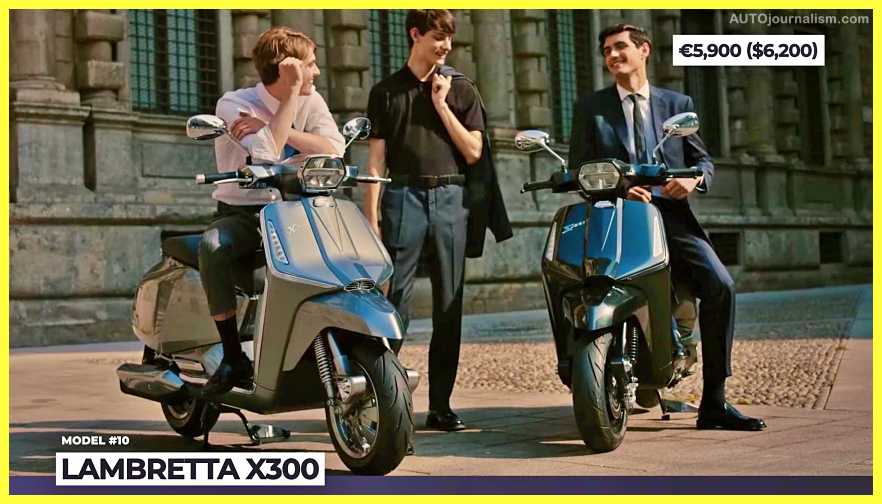 Lambretta is a historic Italian brand that was founded 75 years ago in the modern era however it is operated only for half a decade after being resurrected by the swiss consortium and the Chanti sa their new flagship act series brings heritage to the future to promote a new century of innovation I like the rest of the lineup the x300 appeals to the younger generation with its angular shape Lambretta horn cast futuristic air vents and a full led lighting system with a built-in logo the steel monocoque frame here we see combines floorboards like shields side units and a 275 cc single cylinder four-stroke engine this is the liquid cooled unit controlled via acvt to deliver 25 horsepower and 24.5-newton meters 18-pound feet of torque the lami x300 gets standard disc brakes with abs smart keyless entry engine start and a semi-digital meter that combines analog and LCD displays would you agree that scooters are an ideal transportation solution for this period of time.
Read also: