Top 10 Cheapest Electric Cars In The World
Here is the list of Top 10 Cheapest Electric Cars In The World, after the dream of a 35-grand tesla collapsed we were left with a dire prospect either all the upcoming EVs would be thousands of dollars away from being affordable or would have ridiculously underwhelming specifications however the latest arrivals within the segment of electric cars prove that a frugal buyer might still have quite a lot of viable options if you're interested what these models are there is no need to waste your time on research in this episode we have already gathered all the cheapest new electric cars that arrive in 2022 and beyond.
#1. Nissan leaf (Cheapest Electric Car)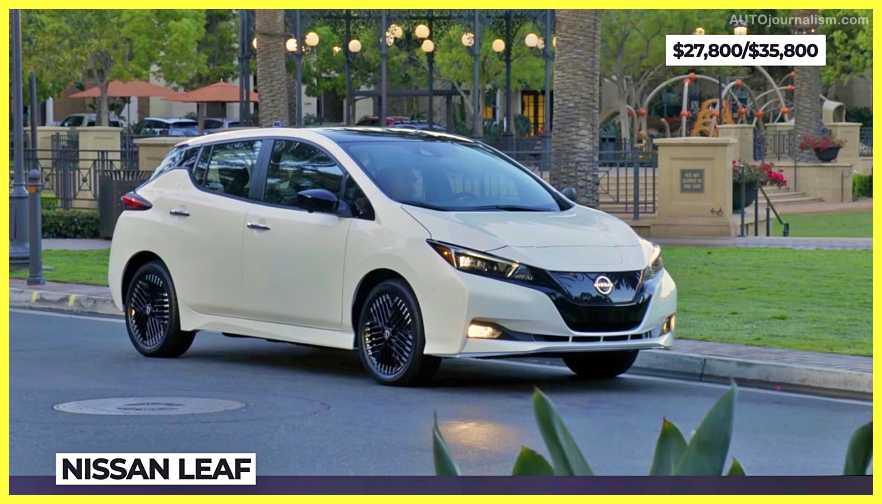 once a decade facelift that barely introduces any changes is the usual thing for Nissan and their electric bestseller the 2023 leaf slightly refreshes the exterior adds new alloy wheel designs and streamlines the model lineup to quote deliver maximum value for the EV customers the appearance upgrades include a refreshed grille new bumper molding headlights with a black inner finisher and an illuminated logo for better aerodynamics the new leaf gets modified 17 inch 5-spoke aluminum alloy wheels 3-shaped tire deflectors rear diffuser and spoiler the model range will be represented by the Leafs and leaf SV plus the former get a 147 horsepower motor and a 40-kilowatt hour battery with 149 miles of range the ladder makes 214 hp and its 60-kilowatt hour battery increases the range to 226 miles black cloth interior Nissan connect 8-inch infotainment and a 6-way manually adjustable seats are standard while the must-have technology package with a pro pilot safety assist is optional
#2. Chevrolet Bolt EV (Cheapest Electric Car)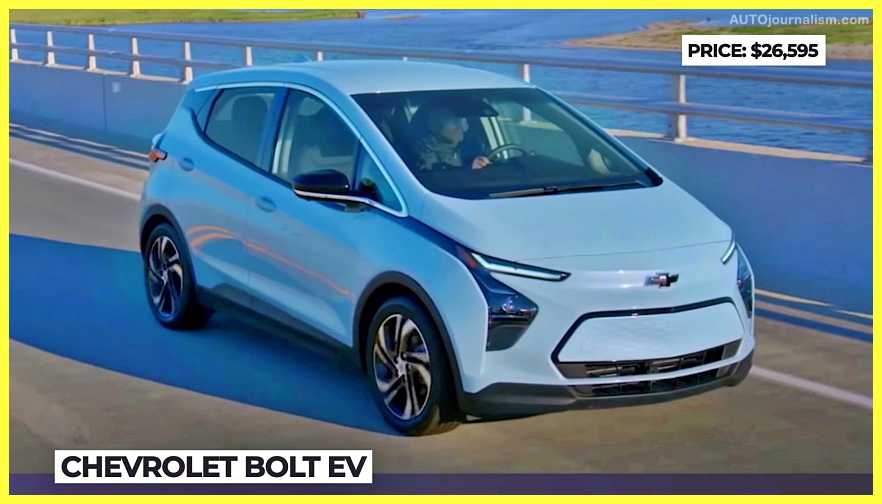 after suffering a considerable battery fire scandal that caused the company to recall all of the previously produced bolts and even hold the production of the new ones chevy has restarted manufacturing this April now the company is trying to attract new buyers by offering a significant price drop for the bulk tv hatch that should offset the federal plug-in hybrid grant that is no longer available for the brand the 2023 model gets a 6 grand discount compared to the previous year but does offer the same performance and technology characteristics its front mounted electric motor delivers 200 horsepower and 266 pound feet while the 65 kilohertz battery packs 259 miles and can recharge 100 miles in 30 minutes at a dc station the model is capable of regenerative braking and it features one pedal driving activated with the push of v button the hatch offers two trim levels labeled one lt and 2lt standard equipment list includes cloth upholstery a new 8-inch digital cluster a 10.2 inch infotainment with wireless smartphone compatibility and the chevy safety assist suite
#3. Kia Niro EV (Cheapest Electric Car)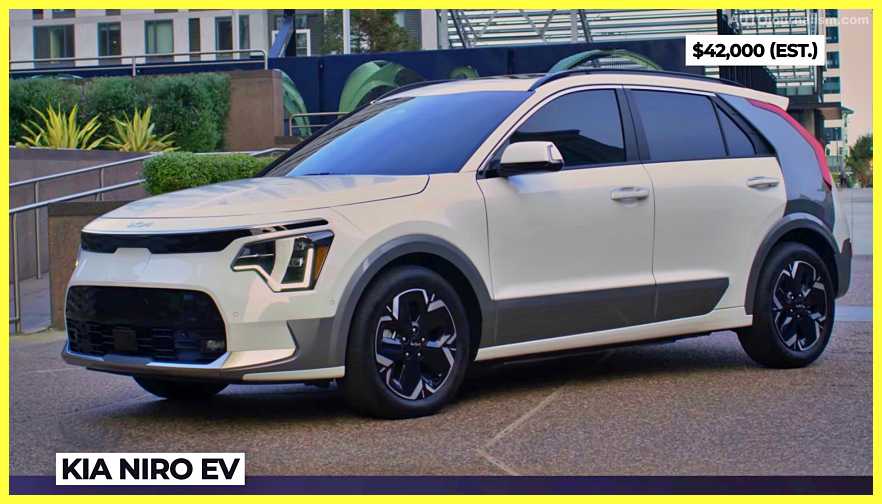 the new Nero grows across all dimensions adding 2 inches in length and 0.8 inches in width and basically it is the mass production embodiment of the habanero concept the futuristic styling adds new angular headlights with sharp led DRLS revised grille and a repositioned charging port the 2023 neural EV looks more rugged thanks to the fresh black cladding while its rear gets vertical boomerang style tail lights and dark painted c-pillars despite an inside-out overhaul the next-gen model continues to ride on the old modular platform, therefore, the EV powertrain components were unaltered the single front-wheel drive motor makes 201 horsepower and 281 pound-feet though the 64.8-kilowatt hour battery somehow yields 14 extra miles of range 253 in total inside the cabin you can expect a 2 spoke steering wheel recycled upholstery materials and dual 10.3-inch screens for the dashboards and infotainment.
#4. Kandi Off-Road EV K32 (Cheapest Electric Car)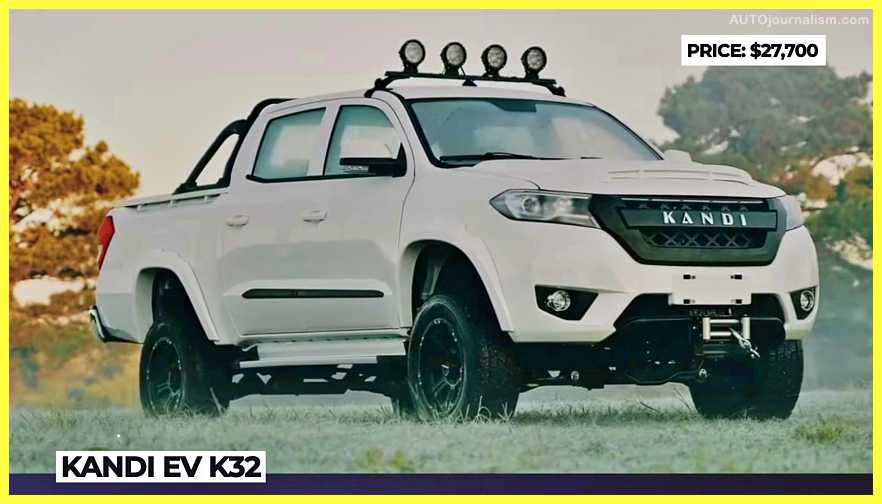 the Chinese manufacturer candy has been trying to break the malt of America's affordable electric car segment by selling two sub-compact city cars in 2022 they also added to the lineup nav with the most desirable property for the US a pickup truck body style this model should perform everyday workhorse duties on your rancho farm plus it is also able to serve as a weakened recreational vehicle, unfortunately, the scar not road legal and its specifications are quite underwhelming standard dual motor all-wheel drive producing combined 28 horsepower and a 21-kilowatt hour battery the latter delivers just 60 miles of range which might be enough for daily UTV duties but still the smarter choice would be opting for a larger 50-kilowatt hour pack with 150 miles of range justifying the starting price are some automotive great features like a 10-inch center touchscreen digital gauge cluster backup camera Bluetooth hands-free and basic driver assist systems
#5. Cupra Born (Cheapest Electric Car)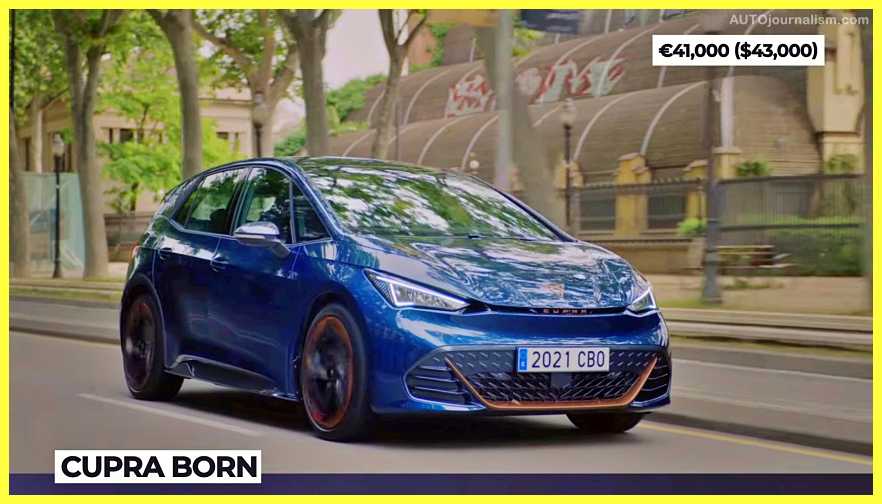 the Elborn electro hatchback that was originally planned to go into production under Seth's namesake Brandt eventually materialized as he performs oriented Cupra the newcomer is basically a better looking VW id3 with some hot hatch elements like coast to coast rear lights c-pillar three-dimensional moldings side skirts signature copper accents a selection of 19 through 20-inch wheels and three designs and dynamic chassis control the first units of the Cupraborn arrive in two versions a 58-kilowatt hour battery with 205 real life miles of range and a 201 hp motor and a 77-kilohertz unit with 275 miles and 231 horses later on we shall welcome the most affordable 45-kilowatt hour 148 hp model but its pricing is yet unknown like a true Cupra this hatch has a fierce inner spirit with the bucket seats three styles of sporty dynamic upholstery driver oriented cockpit and a 12-inch infotainment
#6. Chevrolet Bolt EUV (Cheapest Electric Car)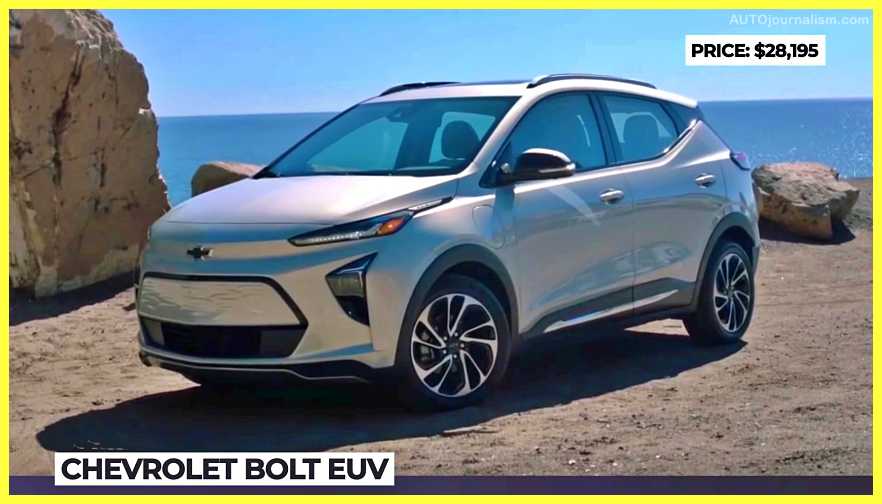 this many SUV version of the bolt also gets more attractive pricing this year though the model's lineup shrinks to just two trunks lt and premier both of which are discounted by 6 300 bucks also new for 2023 is the optional red line edition package that adds exclusive exterior colors red bolt batching 17-inch gloss black wheels with red accents and a fresh interior styling in the same colors regardless of the trim the EUV is motivated by the familiar front wheel drive motor with 200 hp and a 65-kilowatt hour battery but due to the slightly bulkier dimensions its range decreases to 247 miles an 11.5-kilowatt hour onboard charger as well as dc fast charging or standard equipment on the inside the occupants of this bolt benefit from increased to your seat like a room of 39.1 inches 16 cubic feet of cargo volume behind the seats and optional leather upholstery the tech package is the same as in the hatchback but the EUV also gets access to gm's supercruise
#7. Smart #1 SUV (Cheapest Electric Car)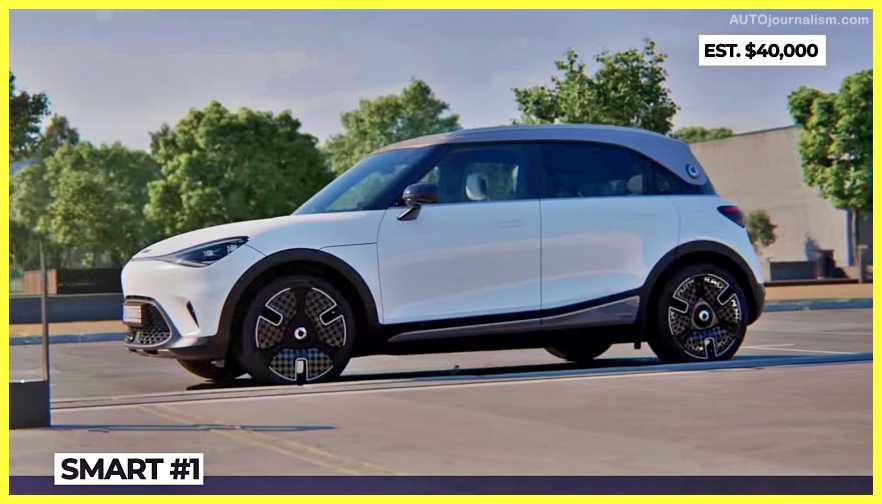 smart is one of the more struggling properties for Mercedes which in the recent years has gone through a slew of discontinuations and market contractions in 2023 this german brand solely manufactures all electric models and is seeking a new winning formula by cooperating with Gili the smart number one is the first crossover of the brand it makes an emphasis on the aerodynamic properties of the exterior and relies on a shortened version of Kili's c modular EV platform which means the support of dc fast charging and over-the-air updates the smart number one SUV is part based single 272 hp electric motor at the rear axle which is juiced by a 66-kilowatt hour battery good for 250 miles of range the number one scam pen is upholstered with sustainable materials and brightly lit through a panoramic roof it has a large 12.8-inch touchscreen infotainment a slim 9.2-inch digital instrument panel and a 10-inch head-up display
#8. MG ZS EV (Cheapest Electric Car)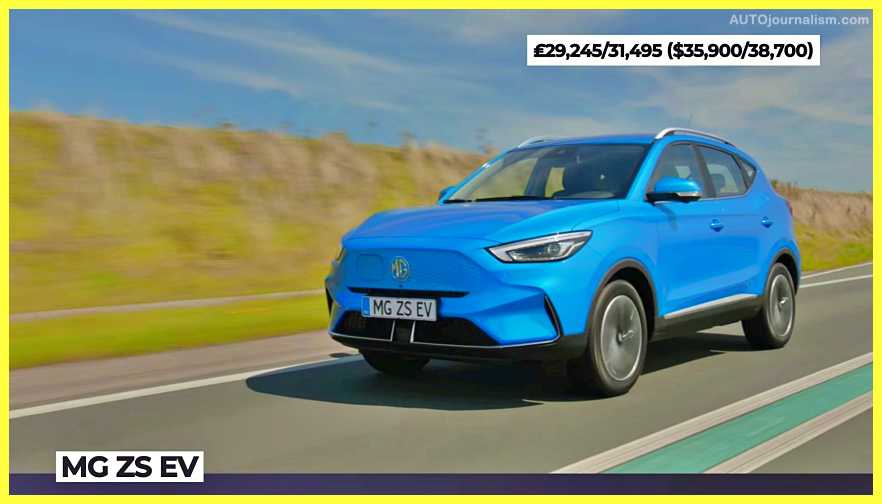 facelifted for 2022 the electric version of the MG moves away from the design of its internal combustion sibling and acquires a trademarked closed stuff grille new silver stone headlights and phantom led taillights the major improvement over the previous generation is the availability of three trams and two battery options the standard range version now comes with a 51-kilowatt hour pack and around 200 miles while the more expensive long range model relies on a 73-kilowatt hour battery with 273 miles in reserve both are brought into motion by a single electric motor powering the front wheels but surprisingly the entry-level CSV boasts a higher horsepower output of 176 horsepower compared to the 156 hp of the long range as standard the crossover features cloth upholstery upgradeable to fall leather a digital instrument cluster 10.1-inch infotainment and an mg pilot safety assist system with adaptive cruise control and active emergency braking
#9. Hyundai Kona Electric (Cheapest Electric Car)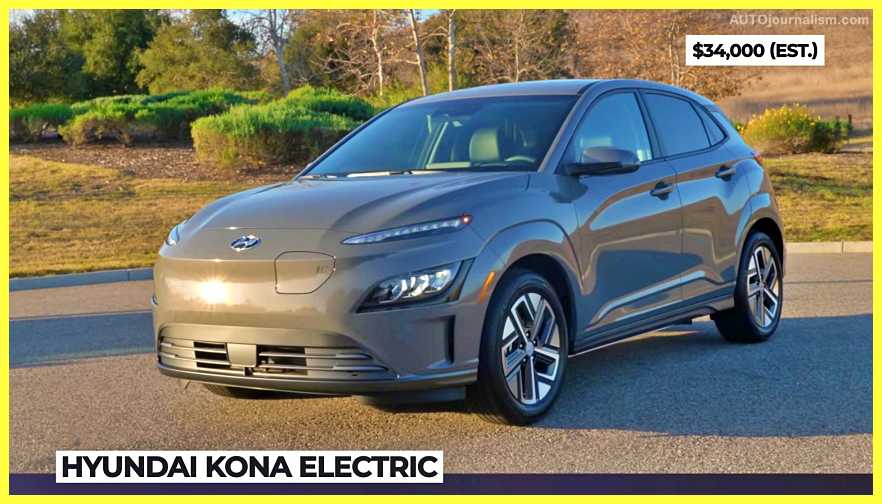 in line with the rest of Hyundai's lineup, Kona puts on a new squinting headlight signature completely smoothens the front grille, and repositions the batch other exterior changes include stretched rear lights new wheels, and a 1.6 inches growth in length as before the Kona is powered by a combo of a 204 hp motor and a 64 kilowatt hour battery with 258 EPA miles plus in Europe the last year capacity cone electric with a 40 kilowatt hour battery continues to be on sale enter the passenger quarters and you should notice an all-new 10.25 inch drivers instrument cluster and optional infotainment of the same size with the updated software blue link and Hyundai live services in case you go for standard 8-inch infotainment it is updated with wireless apple car play and android auto with an available convenience package the car offers wireless charging for your phone a sunroof and heated front seats
#10. Mazda MX-30 (Cheapest Electric Car)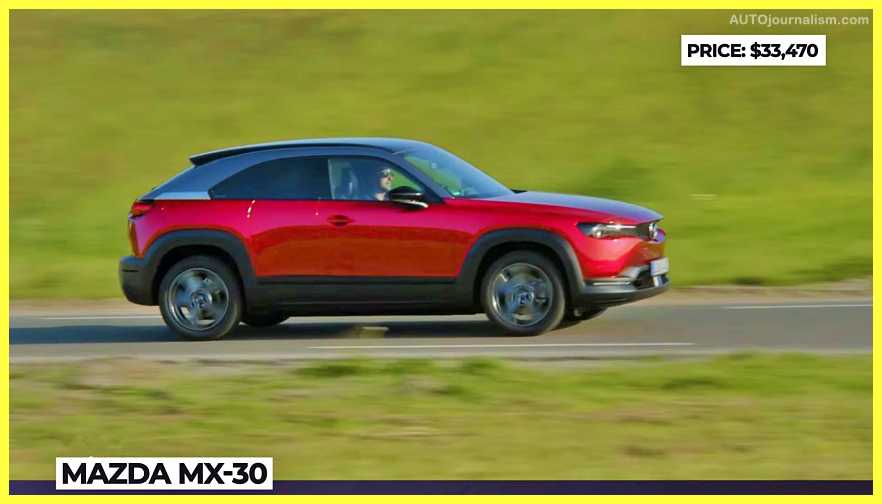 mazda's first fully electric crossover belongs to the subcompact class it has a unique front fascia design and offers easy cabin entry with its unorthodox freestyle doors this model shares underpinnings with the mazda3 and cx30 which means that it retrofits the regular ic platform with electric components the power comes from the e-sky active electric motor that produces 143 horses and 200-pound feet sent to the front wheels the battery is more than modest with a total capacity of a 35.5-kilowatt hour it promises just 100 miles of driving and recharges at 40 kilowatts in 36 minutes in some markets the MX-30 will come out with a range extender where a rotary Wankel engine serves as a generator its interior uses recycled environmentally safe materials such as heritage cork plus it has dual screen infotainment and a digital dashboard finally I active sense safety system installed on the AMX 30 is the best one offered by Mazda
#11. Chevrolet Equinox EV (Cheapest Electric Car)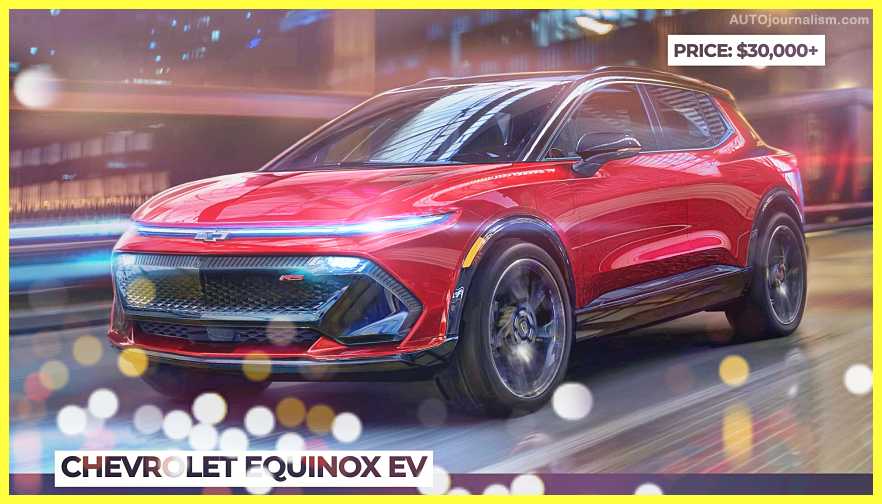 the latest chevy effort on the EV front is the electric equinox crossover that should start production in late 2023 this model sports the futuristic styling with the led light straps across the entire width of the car both front and rear just like the upcoming Silverado and hummer EV the crossover is confirmed to be based on the gm's 800-volt LTM platform here we expect to see its lower spec version that still offers extra fast charging around 300 miles of range and possibly all-wheel drive configurations the company plans to first launch the model and to drum levels the flagship rs and the entry level ls the latter is announced to have a starting price of thirty thousand dollars and to feature a fully digital cabin with a freestanding infotainment a large cluster and ambient lighting would you agree that the future of affordable electric cars is not so full of doom and gloom which model from the upcoming selection would you choose or your wallet would permit.
Read also: