Top 10 Best Flagship Trucks In The World
Here is the list of Top 10 Best Flagship Trucks In The World, in 2022 we can confidently say that pickup trucks are no longer viewed solely as workhorses today they're spacious beds and towing capabilities are mostly being utilized for grocery shopping commuting trip hauling, and camping, therefore, the demand for upscale models with highly appointed interiors and premium features is higher than ever, in this article of Autojournalism, we'll be featuring the most luxurious backup trucks on the market the so-called flagships of work and play that can have price tags in the supercar territory.
#1. GMC Sierra 1500 Denali Ultimate (Best Flagship Truck)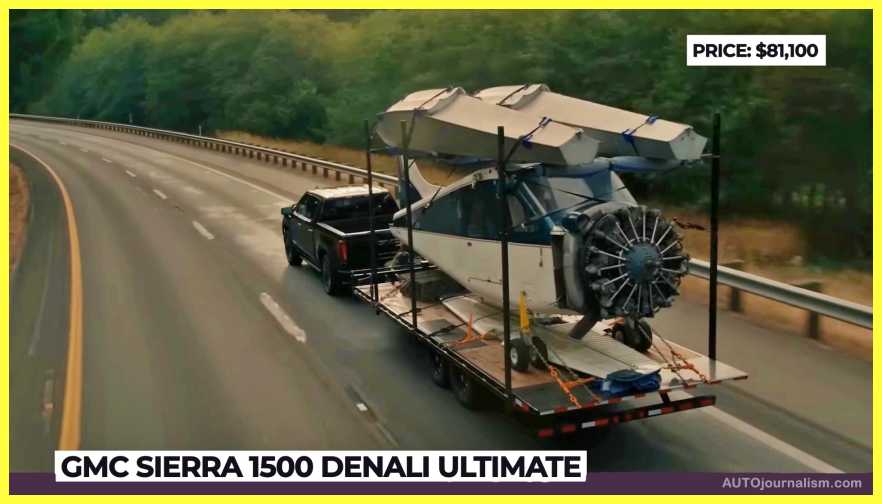 This luxury-focused version of the Chevy Silverado GMC Sierra adds a new flagship model that beats the rest of the range in terms of cabin appointments standard features and rides comforts named the Denali ultimate this version brings exclusive fascia tweaks dark Vader chrome drum on the grille and 22-inch wheels finished in low glass black the truck gets a premium suspension setup with a segment exclusive adaptive right control its bed features a six-way multi-pro tailgate and power systems are a part of the standard equipment package as you would expect the power comes from the range topping a 6.2 liter v8 with 420 horses or the optional 3.0-liter Duramax tube diesel with 277. both peak at 460 pound-feet and compared to the 10-speed automatic and all-wheel drive the cabin of the Denali ultimate captivates with the leather-wrapped surfaces open pour wood microsuede headliner and 16-way power adjustable and massaged front seats the tech package is beyond advanced as well so you'll get 13-inch infotainment powered by google 15-inch head-up display 12-inch digital dashboards and a supercruise autopilot.
#2. Ford F-150 Lightning Platinum (Best Flagship Truck)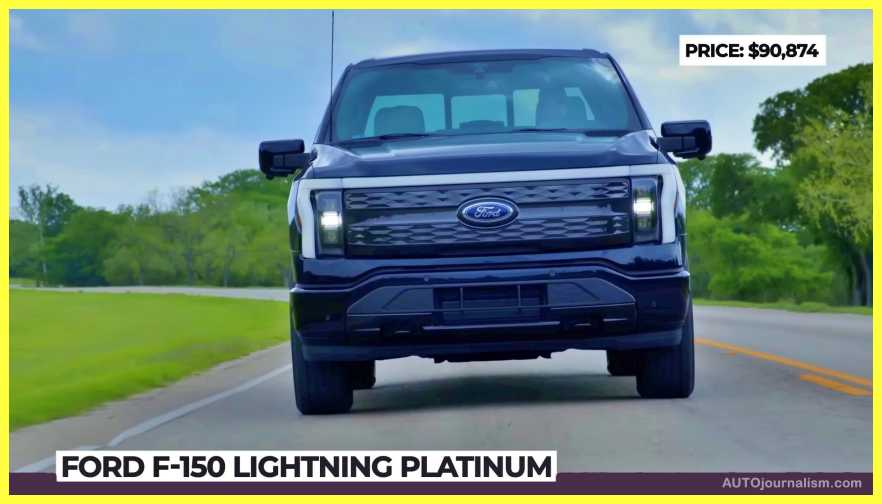 Signaling ford's shift towards electrification the electric version of the world's best-selling pickup truck expectedly becomes the new flagship appropriately named the lightning it uses a reconfigured platform with two electric motors standard four-wheel drive and two battery options 98 and 131 kilowatt hour depending on the chosen pack the pickup peaks at 426 or 563 horses the torque is set at 775 pound feet and the range equals to 230 and 320 miles with these numbers the flagship 4 targets 4.4 seconds 0 to sixty two thousand pounds payloads and ten thousand pounds tone capacity the top trim ford f-150 lightning platinum starts at a whopping 90 gram it brings a Vader black grille 22-inch bright machined aluminum wheels co-pilot 360 active 2.0 safety package with blue crews and a twin panel moonroof the cabin crew will enjoy heated and ventilated nirvana leather seats multi-contour front seats with active motion bank and Ellefson unleashed sound system and a 15.5 inch vertical touchscreen with async for technology.
#3. Mercedes-Benz X-Class Racing Green Edition by Carlex Design (Best Flagship Truck)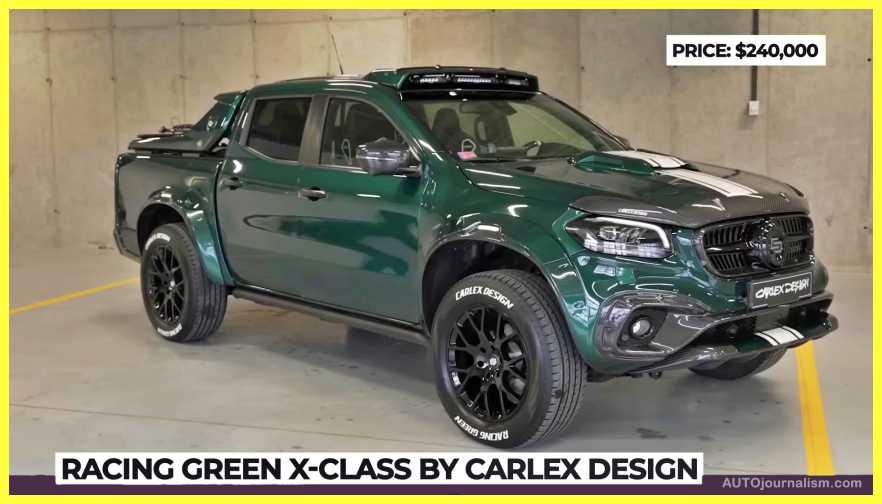 No matter the donor vehicle one can expect a lot of carbon work when the polish garlic's design gets to business for this project the now discontinued x-class gets a white body kit a hood scoop and auxiliary lights mounted on the roof the bespoke carbon treatment is used not only on the front end arch extensions and side sills but also on the custom-made truck bed bar the truck wears deep emerald exterior shade that is carefully contrasted by blackout parts such as a one deflector bottom spoiler mirror caps and far exhaust steps the racing inspired exterior is finished by three white stripes stretching across the center of the body and similarly styled white lettering on the 20-inch wheels Carlex also adds Eibach suspension kit but keeps this x-class unchanged under the hood this means that the pickup is powered by 3-liter turbo diesel engine delivering 255 horsepower the prices for pickup trucks are relentlessly inflating this is a big downer.
#4. Hummer EV (Best Flagship Truck)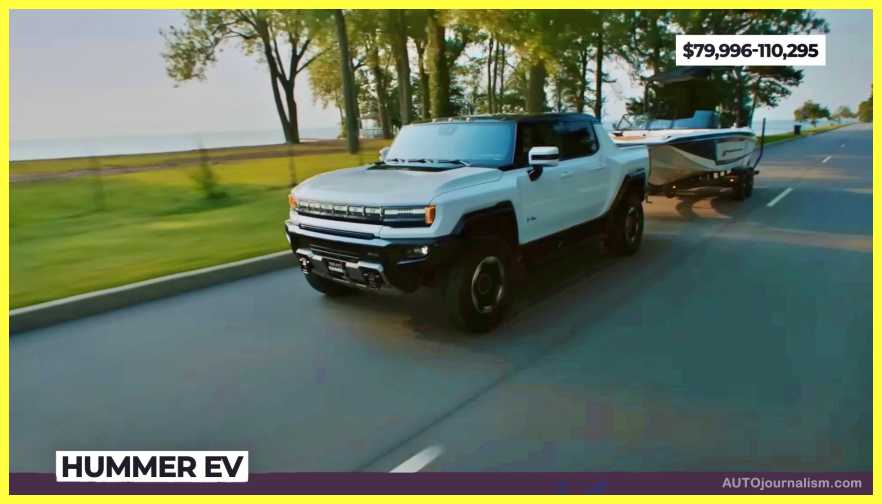 The hummer is one of gm's poorly placed gas gusting bats from the 2000s but name recognition allows the moniker to make a comeback as an all-electric super truck production and first deliveries of the edition one have already begun at the recently repurposed Detroit hemp track plant this newcomer is built in the flexible EV platform that incorporates a 200-kilowatt hour Ltm battery pack with 329 miles of range and 350-kilowatt recharging capability the hummers powertrain is a three motor all-wheel drive that yields 1 000 horsepower and estimated 1100 pound-feet of torque despite the racy 0-60 acceleration of 3 seconds its true habitat is off the roads it possesses an adaptive air right suspension 35-inch Goodyear tires has four-wheel steering with a revolutionary crop walk mode and an Ultravision with 18 cameras finally the cv will adopt the high-tech interior with lunar materials huge screens 14 speakers bose audio and gm's supercruise.
#5. Toyota Tundra Capstone (Best Flagship Truck)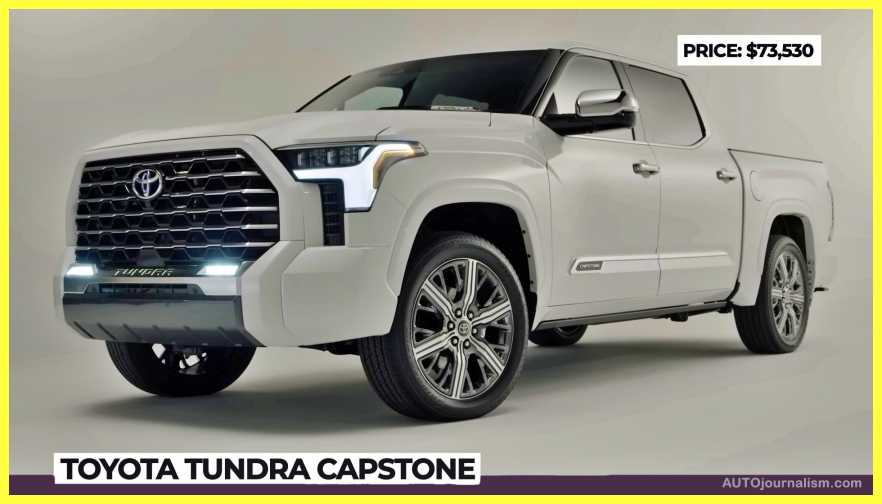 This new special edition tantra occupies the flagship position and Toyota's 2022 model lineup packing various upscale amenities and innovative tech as standard from the outside the capstone distances itself from the rest of the tundra range with a chrome grille with color matched outer frame that's 8 steps and 22 inch chrome wheels to perform heavy duty tasks when needed the luxury truck relies on a hybrid powertrain the ladder consists of a 3.5 liter twin turbocharged v6 engine wired to a 49 horsepower electric motor the tandem produces 437 horsepower and 583 pound-feet of torque which is enough to tow over 10 000 pounds or to sprint from 0 to 16 ph is around 6.5 seconds the cabin has everything that the model can offer there is a new 14-inch multimedia attached screen with wireless apple car play and android auto a 12.3 inch digital drivers display a 10 inch head up display and a 12 speaker JBL sound system lastly acoustic glass on the front doors is also added as a capstone exclusive feature.
#6. Rivian R1T (Best Flagship Truck)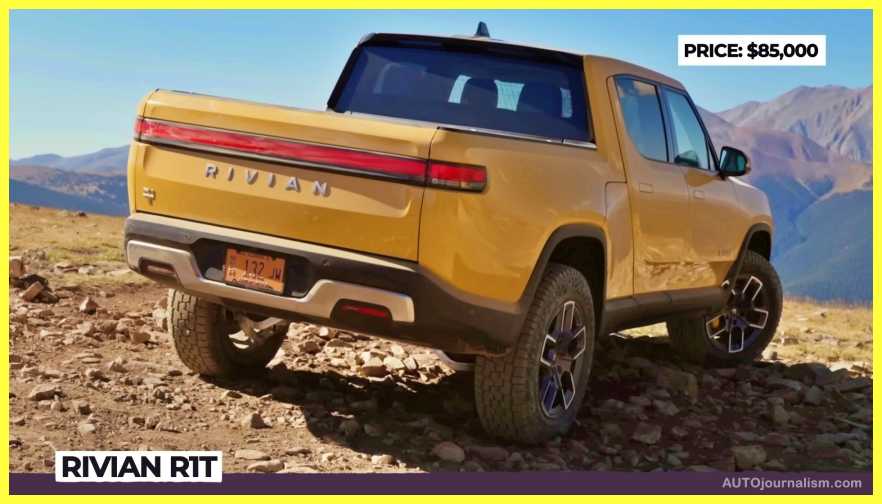 Despite the slow production rate and constant delays ravine's inaugural model remains an outstanding product that is priced way below its capabilities and quality the launch edition received the title of the 2022 truck of the year according to motor trend and it has a backlog of 50 000 pre-orders that are promised to be fulfilled by the end of 2023 this is the highest spec configuration with the 750 horsepower quad motor all-wheel drive a 135 kilowatt hour battery pack and 314 miles range this adventure truck has outstanding over landing potential with 11,000 pounds towing rating air suspension with 14.9 inches of clearance unique gear tunnel 3 feet weighing capability and a tank turn mode additionally the r1t is a new benchmark of technological luxury in the truck segment it has vegan leather interior heated and ventilated seats natural grained ash wood finishes and a full glass panoramic roof as for the tech package it consists of a 17-inch infotainment elevation audio system by meridian and the ravine driver plus with hands-free driving assistance.
#7. Chevrolet Silverado EV (Best Flagship Truck)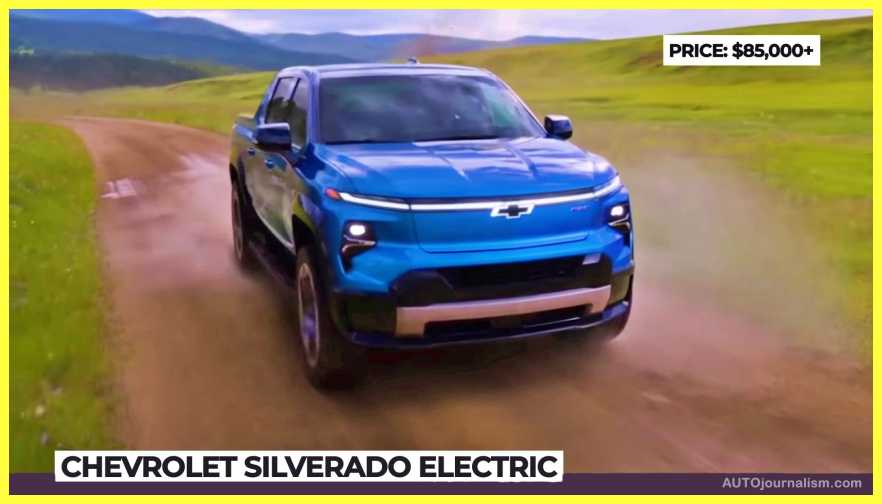 The Altium platform enables gm to re-imagine the Silverado franchise as the next generation pickup that runs on electricity we expect the truck to offer the usual selection of trim versions but at lunch, it should arrive in two variations the entry-level work truck wt and the luxury RSD first edition the latter boasts an aerodynamic design with a sporty front fascia and an led light strip running across it the truck rides on model specific wheels that can measure up to 24 inches in diameter in Silverado's case the LTM platform stores around 400 miles of range while the powertrain yields 664 horsepower and 780 pound-feet of torque the RSD is able to till up to 10 000 pounds and carry 1300 pounds of payloads additionally the model can be optioned with an automatic adaptive air suspension for wheel steering and multi-flex midgate the generous interior houses a 17-inch freeform infotainment 11-inch digital driver instrument panel and a 14-inch head-up display.
#8. RAM 1500 Limited (Best Flagship Truck)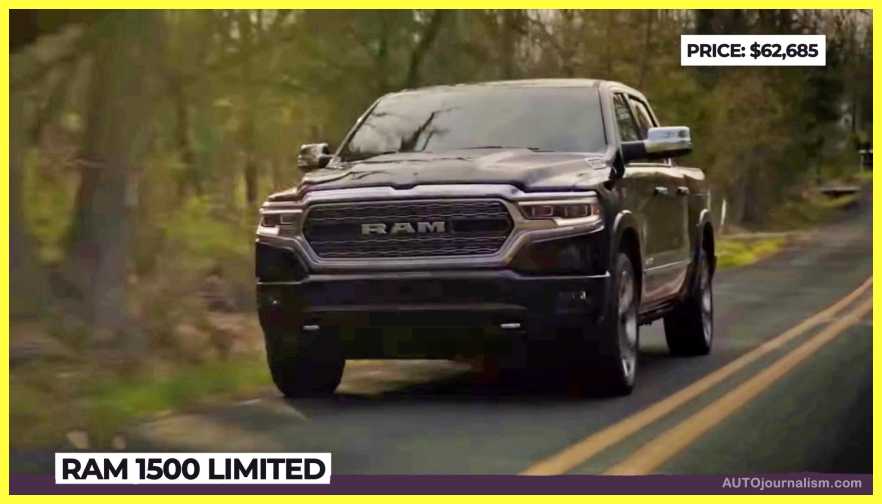 This is the flagship luxury version of the ram 1500 truck that is available exclusively in crew cab with two bad sizes with this model the potential buyers get a perfect combination of v8 power and a four corner auto leveling air suspension the 5.7 liters Hemi v8 is offered with or without mild hybrid assistance and it delivers 395 horsepower and 410 pound-feet of torque the torquey v6 diesel with 260 hp and 480-pound feet is a paid option the ram 1500 limited comes with such standard features as a specialty styled front grille power running boards 20-inch wheels and richer interior materials inside the cabin there is a large 12-inch vertical touchscreen with full smartphone integration while the infotainment system itself has been upgraded to operate faster and have more memory for 2022 the limited is also available in the 10th-anniversary edition that brings exclusive exterior styling special batching and a more refined cabin with a 19 speaker Harman Kardon audio.
#9. Ford F-150 Limited (Best Flagship Truck)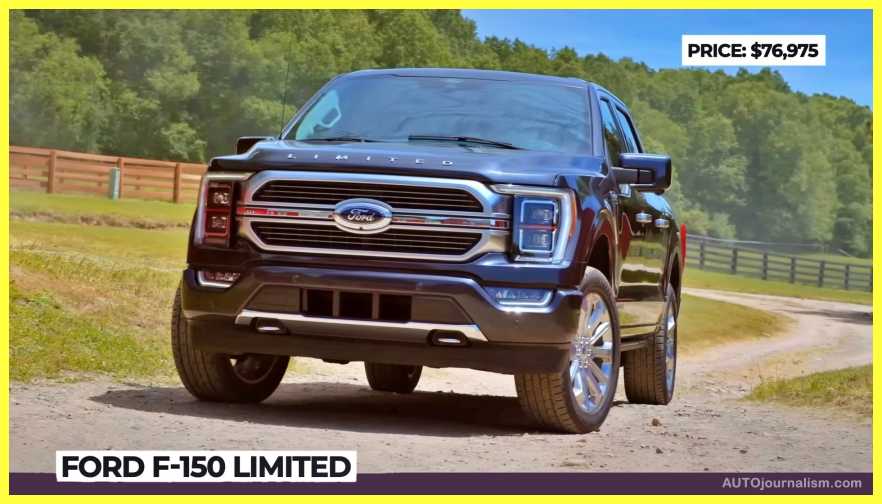 Year after year drivers vote for the f-150 as the market's best offering since the ballot is their hard-earned cash we can safely assume that 700 000 units sold yearly do possess the most balanced selection of features coupled with competitive reliability and adequate pricing the most expensive ford f-150 limited traditionally remains at the range-stopping trim towering on 22-inch polished aluminum wheels shining with chrome and offering a choice of capable engines as standards one will get a 3.5 liter EcoBoost v6 with auto start stop technology but for extra 200 ford offers a 3.5-liter power boost full hybrid v6 with 430 horsepower and 570 pound-feet of torque the cabin welcomes you with leather bucket seats admiral blue upholstery leather-wrapped steering wheel twin panel moon roof and a Bang Olufsen sound system the latest f-150s are equipped with the 12-inch sync 4 infotainment blue cruise and copilot 360 active 2.0.
#10. Chevrolet Silverado High Country (Best Flagship Truck)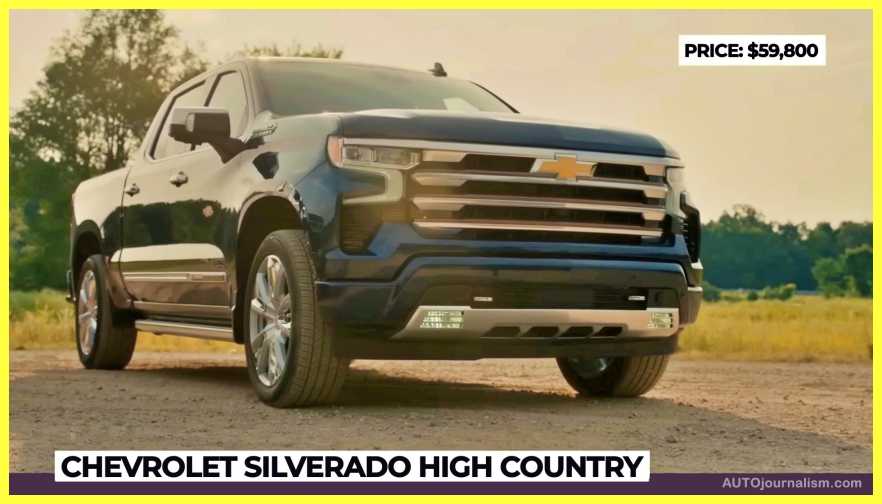 This chevy is the cheapest item on today's list but still many people consider it a capable machine with a premium feel and plenty of comfort features offered in rear and four-wheel drive the model comes powered by a 5.3 liter v8 with 355 horses and either an 8 or a 10-speed automatic a 3-liter turbo diesel is a 995 dollar option while the 6.2 liter v8 costs an extra two and a half grand but it is only available in the 4-wheel drive this truck rides on 20 or 22-inch wheels pack a full-size spare and features a power-operated tailgate and chrome assist steps on the inside every high country comes fitted with 10-way power heated and ventilated front seats dual zone climate control and a heated steering wheel wrapped in lather the model also offers leather upholstery while its technology package is represented by 8-inch infotainment with wireless android and apple navigation and a wi-fi hotspot are you one of those people who would prefer a luxury pickup truck to a supercar.
Read also: