Top 10 Electric SUV 2022
Here is the list of Top 10 Electric SUV 2022, Powerful engines, spacious cabins, deafening soundproofing, and high-quality materials inside and out have long been the main selling points for luxury SUVs. However, electric vehicles in the upper market segment easily meet and even outperform these criteria, as evidenced by the fact that we have prepared a lineup of the newest premium electric SUVs for 2022, which are very likely to be the final nail in the coffin of the internal combustion. let's start.
List of Top 10 Electric SUV 2022
1. Genesis GV70 2022 ( Electric SUV 2022 )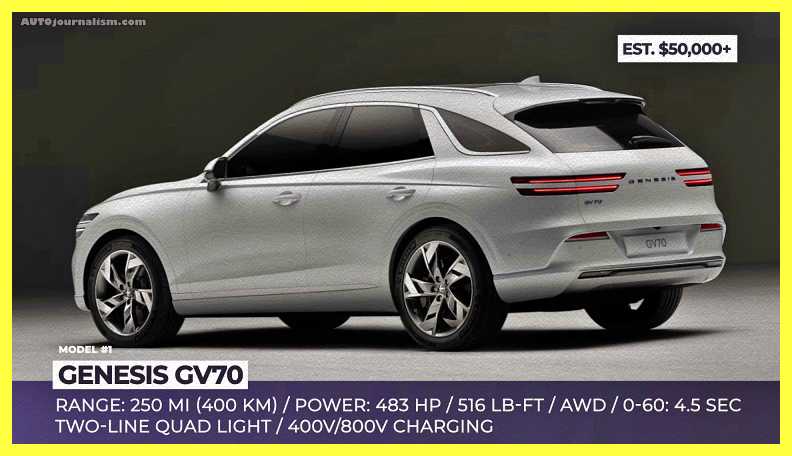 Unlike the genesis gb60, which was the first electric crossover, this compact luxury SUV is more of an electric retrofit; it retains the internal combustion platform rather than receiving a dedicated EGMp, though the battery modules do have the appropriate architecture to support the 800-volt charging and have the useful vehicle to load charging capability. As for the range, we only have preliminary data based on the vague test cycles of China and Korea, but the real world.
The modified grille with the iconic two-line quad lighting is the only cosmetic modification. Upfront, there's a charging port and a three-spoke steering wheel. The gv70 electrified has two independent electric motors for the front and rear axles, with a combined output of 483 horsepower and 516 feet. All-wheel drive is the only option, and the speedometer will read 16 mph in 4.5 seconds.
2. XPeng G9 ( Electric SUV 2022 )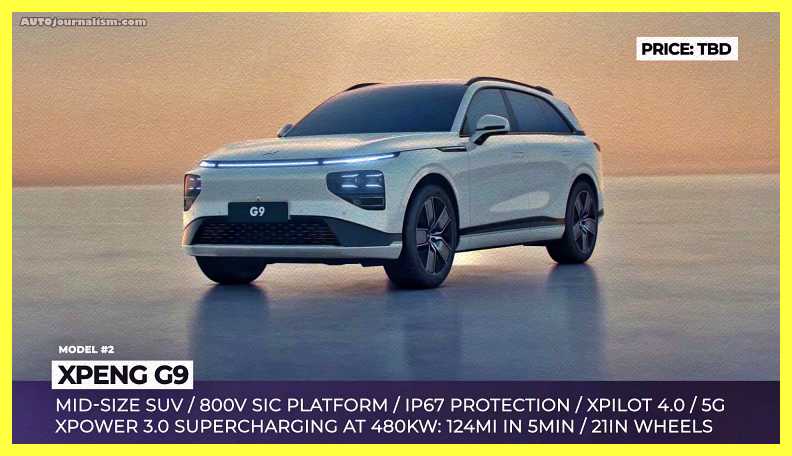 The vehicle debuts the x bank's new AXE EEA 3.0 electrical architecture and is the company's largest model to date. It is meant to be sold not only in China but also abroad.
It's 800 volts compatible, which means it can use the company's in-house manufactured dc chargers with up to 480 kilowatts to recharge 144 miles of range in just 5 minutes. Unfortunately, we don't know anything about the G9's drivetrain or maximum range design-wise beyond this comment.
This SUV has lighters incorporated into the headlights and rides on 21-inch wheels, keeping with the brand's robot face image. It also comes with the x-pilot 4.0 automated driving technology, which uses two Nvidia drive Oren autonomous driving processors, front and side vision cameras, and the previously mentioned sliders to provide full autonomy in a range of driving circumstances.
3. Mercedes-Benz EQG ( Electric SUV 2022 )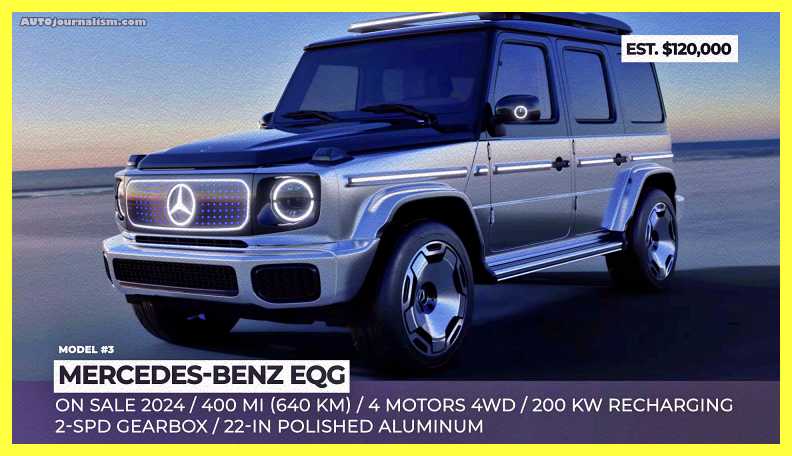 Mercedes-Benz will not be able to electrify its future without bringing along its most iconic vehicle from recent decades. The concept EQG previews the gallant wagon of the future, which sits on gigantic 22-inch wheels and ditches the front grille in favor of a backlit led screen with a giant emblem. The roof has an LED light strip that simulates high beams, and the spare wheel in the back has been replaced with a utility box for cables.
With the help of four separate motors, the electric G-class should maintain its exceptional four-wheel drive off-roading capability. Its battery offers 400 miles of range and 200-kilowatt recharge thanks to a reworked rear axle and a new two-speed transmission. Finally, because the latest interior finish for the ac model looks very modern, it maintains the typical m-Bux arrangement. If you believe that the electric future is the only conceivable pathway for humanity, please hit the like button.
4. Rivian R1S ( Electric SUV 2022 )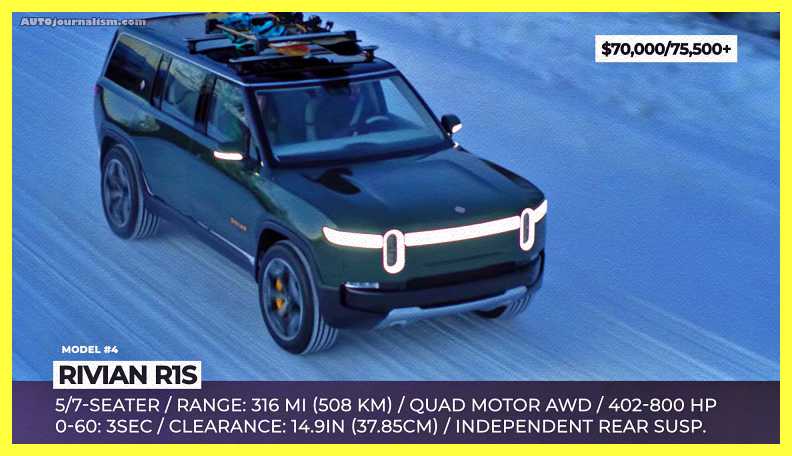 For the time being, the raven stock price keeps it as the second most valuable car manufacturer in the United States, but this does not help the new business keep up with delivery deadlines. For example, the long-awaited newcomer r1s have been postponed until early March 2022. The long-awaited newcomer will be available in three versions: a sold-out launch edition, a regular edition, and a special edition.
Pre-orders for the adventure and explore packages are still available in all three editions. Electric motors with up to 800 horsepower and a battery pack with a range of 316 miles are used in the patented powertrain. The r1s achieves the ideal blend of the adventurous vehicle and comfortable boat on wheels.
The carbon fiber and steel reinforced underbody, 14.9 inches of clearance, independent air suspension, hydraulic crawl control system, and up to 108 cubic feet of cargo capacity all reflect this utilitarian mentality. There's also a panoramic roof driver with a vegan leather interior, level 3 autopilot, and over-the-air updates.
5. Human Horizons HiPhi X ( Electric SUV 2022 )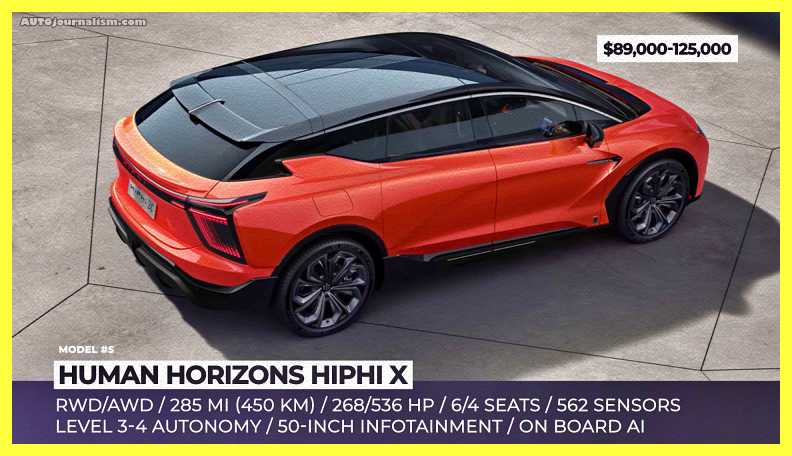 The futuristic Hifix has gone into major production in China, and the entire system unit is being given to the first 3000 owners of the special founder's edition provided as a 6 or 4 seater as we speak.
It uses a Bosch-powered 96-kilo hour battery with a range of 285 miles and a single rear or dual-motor all-wheel-drive powertrain. The HiFi sports a four-wheel steering system with a matrix lighting system that may be customized. The vehicle that is 5g ready In principle, the 2x communication system with 562 sensors may give level 4 autonomous driving. The inside is illuminated by massive displays. rear-seat door cabin controls and a reclining front passenger seat, as well as sophisticated voice command with artificial intelligence
6. Mercedes Maybach EQS ( Electric SUV 2022 )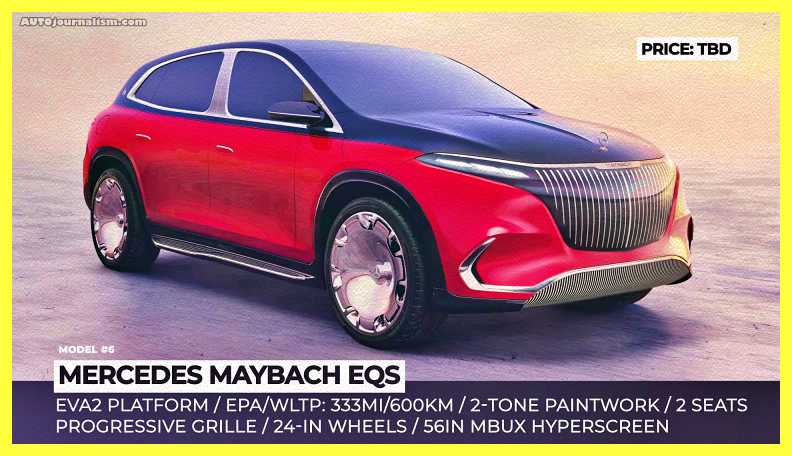 Mercedes-Benz may not be able to boast of any ground-breaking achievements in the field of electric vehicles, but we can still anticipate their future models to remain at the forefront of the automotive luxury segment. Under the my bug brand, the first harbinger of the impending EQS family of SUVs was presented. The building design features the brand's characteristic two-tone paint scheme with chrome elements, as well as unique lighting and massive 24-inch wheels.
The model is based on the dedicated eva2 platform, but unlike its lower-spec siblings, it will only be offered in all-wheel drive. Available specs include a range of 600 WLPT kilometers (about 330 EPA miles) and a 56-inch m-bux hyper screen cockpit. This idea dazzles with the Maybach's usual richness inside, but with the finest leather upholstered seats and white, dark blue, and rose gold decoration.
7. BMW iX ( Electric SUV 2022 )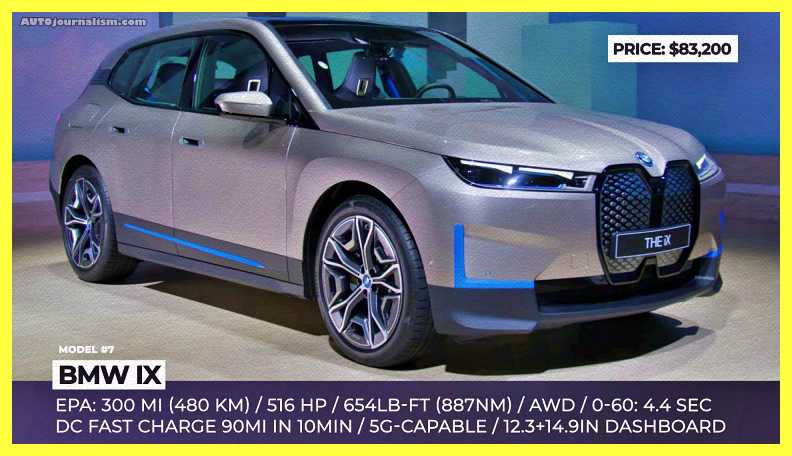 BMW's global electric flagship is the most controversially designed electric SUV of all time. Its dedicated EVA architecture features a 118-inch wheelbase and seats five people in a lounge-like environment. The BMW ix will be available in two configurations in the coming months: x-drive 40 and x-drive 50, both powered by a dual-motor arrangement with electric all-wheel drive. Their top outputs are 300 and 516 horses, respectively, with a 21-kilowatt hour per 62-mile energy efficiency.
The ix 100 kilo at our pack is enough for up to 300 EPA miles, plus it can add up to 90 miles of range every 10 minutes at the station, as usual. The cabin of this BMW is well-thought-out and quite comfortable, with high-end fittings. It has two 12.3 and 14.9-inch screens that are powered by the brand's latest i-drive 8 infotainment system, as well as a curved dashboard and dimmable panoramic moon roof.
8. Cadillac Lyriq ( Electric SUV 2022 )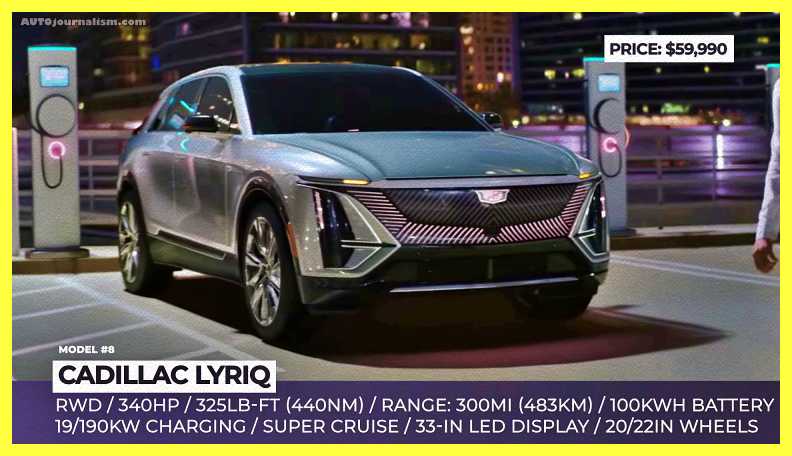 The lyric is reaching production as one of the most attractive electric SUVs of the future, with magnificent illuminated black crystal shields with three-dimensional texturing, totally vertical led head and tail lamps, and massive 22-inch dynamic split-spoke alloy wheels. the terrifying rides on a modified LTM platform with a single rear-wheel-drive motor The permanent magnet motor produce 340 horsepower and 325 pound-feet of torque. The battery has a capacity of 100-kilowatt hours and 300 miles, and it comes with a 19.2-kilowatt charging module for home use and 190-kilowatt quick charging.
According to Caddy, the cavernous cabin feels airy thanks to the sloping full glass roof Woolie power sunshade, while the seats follow the iconic furniture architecture. There is a 26 collar remote led lighting active noise cancellation through the AKG studio 19 speaker system and a massive 33-inch display.
9. GAC Aion LX Plus ( Electric SUV 2022 )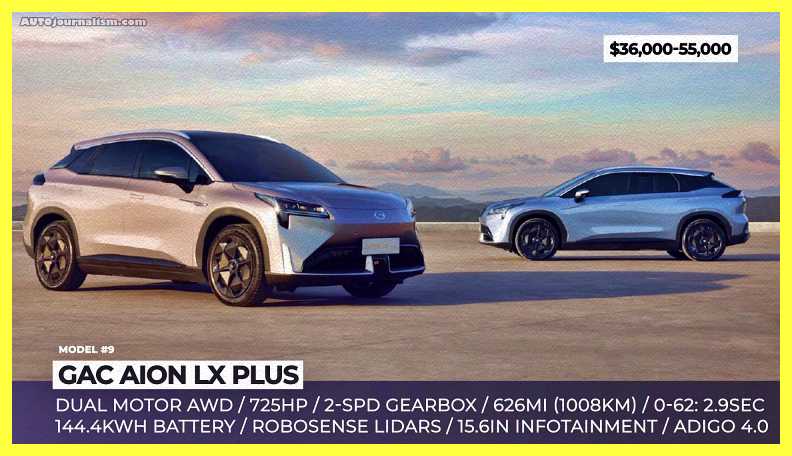 The Chinese gc motors company owns the Aion brand, which is an all-electric premium vehicle. The company already has five electric vehicles in its lineup, including the mid-size alexis uv, which debuted in 2019. the upcoming lx plus represents the evolution of the model offering faster charging higher battery capacity and improved interior attack powered by dual motor all-wheel drive promises 725 horses acceleration to 60 and 2.9 seconds and the top speed of 106 miles per hour the setup is paired with a huge 144 kilowatt hour battery that should pack enough juice to travel 400 miles
the lx plus is also capable of recharging at 480 kilowatt inside this uv gets white leather upholstery a 15.6 inch infotainment and adigo 4.0 driver assistance software enabled by 35 different sensors cameras and radars
10. Hummer EV SUV ( Electric SUV 2022 )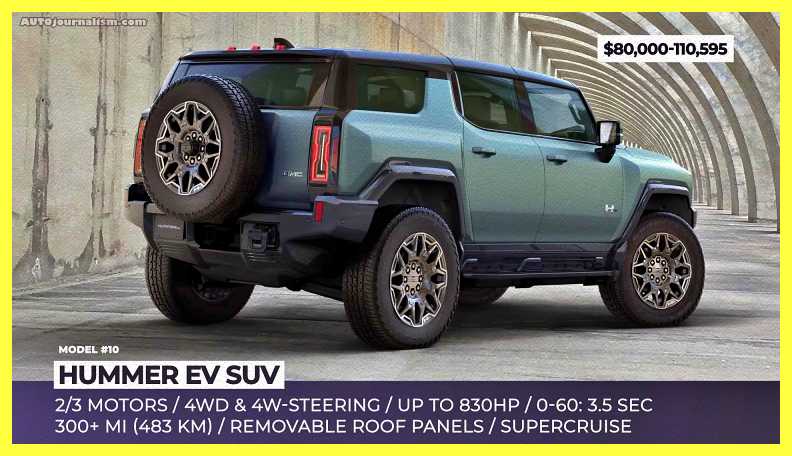 Leaving aside the questionable assertions that Detroit and GM in particular have electrified the whole auto industry, the hammer suv has a fair chance of becoming a decent full-size cv with uncommon off-roading capabilities. This GM behemoth will be built on the same platform as the mighty pickup, but with an 8-inch shorter wheelbase. Among the announced trends are the EV squared, EV squared x first edition, and EV to the Power of 3x. The former two will have a dual-motor powertrain with 625 horsepower, while the latter two will have a three-motor setup with 830 horsepower.
The hammer's ltm battery has a capacity of 200 kilowatt hours, giving it a range of over 300 miles and four-wheel drive capability. In addition, the soft rotor has a six-inch adjustable air suspension and innovative four-wheel steering with grab lock mode. The inside of the hammer evs uv features removable roof panels and embraces next-generation technical elegance with a 12-inch driver's display and a 13-inch multimedia system.
11. VinFast VFe-35 & VFe-36 ( Electric SUV 2022 )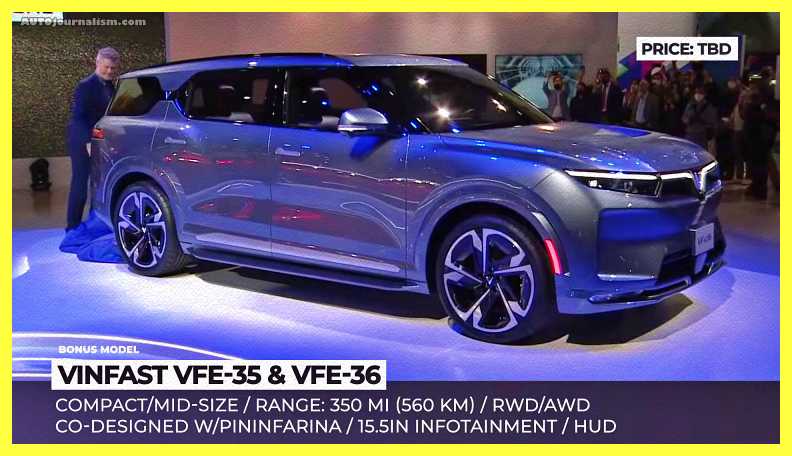 Femnet wong returned to Vietnam in 2009 after successfully selling his Ukrainian company that made instant noodles to Nestle. Today, the richest man in this Asian nation has a net worth of $9 billion dollars and is steadily conquering the automotive world as well. Benfast was founded in 2017 and is the first Vietnamese volume car maker. Their current lineup includes a couple of premium internal combustion models but wong's eyes are on the future.
Vanfast's rapid development into the electric vehicle market began with the unveiling of its first electric vehicles at the 2021 Los Angeles Auto Show, with the first deliveries scheduled for the end of 2022.
The venn fast vfe 35 is a small crossover, whereas the vav36 is a mid-size crossover. Both were code developed with an Italian pen for arena and directly on the skateboard platform, with rear or all-wheel drive versions and a range of up to 350 miles. What are your thoughts on the luxury that electric SUVs can provide?
Thanks for reading, Share it with your friends.
NEXT