Top 10 Kawasaki Bikes 2022
Here is the list of Top 10 Kawasaki Bikes 2022, In 2022, everything is about sports track dirt, Sports Bikes, and adventures, though all newcomers continue to raise the performance bar, becoming even more tech advanced and powerful today we'll acquaint you with all the Kawasaki upgrades in the upcoming model here covering motorbikes and other sport recreational vehicles from the Japanese brand.
List of Top 10 Kawasaki Bikes 2022
1. Kawasaki Ninja H2 SX SE ( Kawasaki 2022 )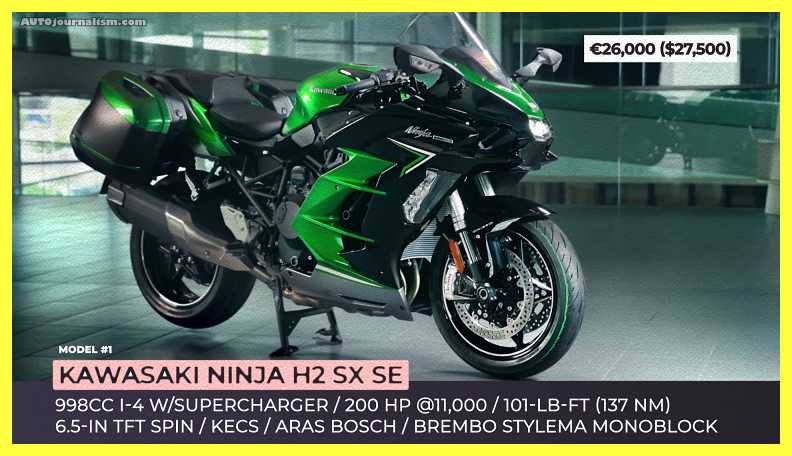 The sports tour was an undeniable highlight of Kawasaki's 2022 portfolio, which was unveiled at the Milan motorcycle show. Its powerful supercharged 998cc and line four-cylinder still produce 200 horsepower at 11,000 rpm and 101-pound feet of torque at 9500 RPM.
This year, however, it receives better cam timing and upgraded transmission, as well as minor visual changes to the headlight and exhausts. The Japanese have significantly increased their touring capabilities with high-tech electronics. The innovative Trideur assist system, developed in collaboration with Bosch, employs two radar sensors to allow active safety features such as forward collision warning, blind-spot recognition, and adaptive cruise control.
Kawa's latest semi-active Kecs electronic control suspension, which connects Showa skyhook software to a set of 43-millimeter inverted forks and a balance-free rear cushion, is featured on the new h2. Monoshock Finally, the ninja h2s Xsc comes with a 6.5-inch BlueTooth equipped spin infotainment system that gives you immediate access to the motorcycle's settings.
2. Kawasaki Versys 650 & 650 LT ( Kawasaki 2022 )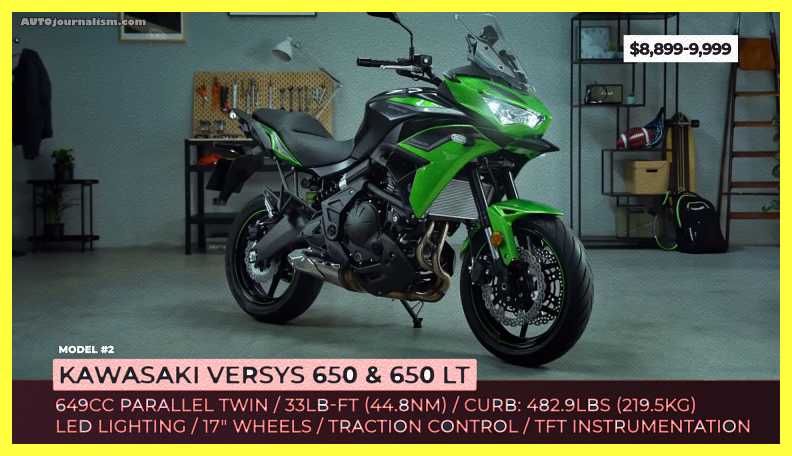 This revision in 2022 does not include any mechanical improvements, but it does include a slew of technology updates for the whole 650-family fleet. The adventure bikes get all-LED lighting, including new headlamps, and a 4.3-inch full-color TFT instrumentation with auto-brightness, Bluetooth smartphone connectivity, and dark and light color themes. Most importantly, the 650 offers Kawasaki's traction control system for the first time, which has two modes but can also be turned off entirely as before.
The 649cc pearl twin produces 33 pound-feet of torque, there's a long travel shove suspension, and Dunlop sport max d222 tires are mounted on 17-inch cast-aluminum wheels. The DLT adds hand guards and two 28-liter panniers with a one-key system to the base and lt versions, as well as a 4-way manually adjustable windscreen.
3. Kawasaki Z650RS ( Kawasaki 2022 )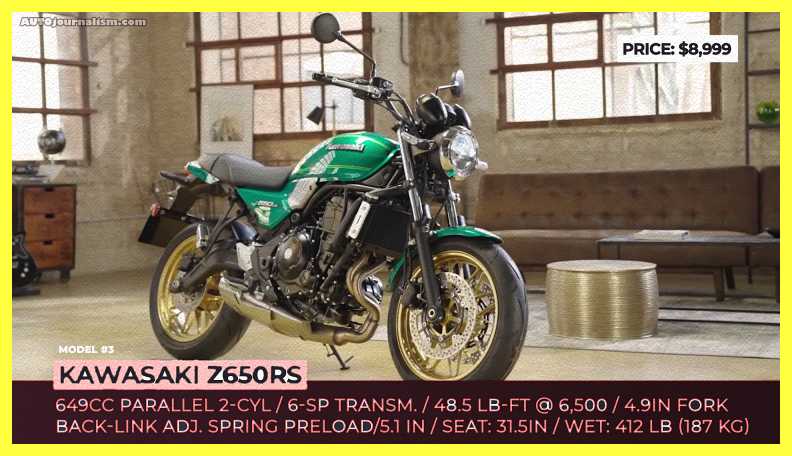 Kawasaki decided to expand the lineup with a metal weight model that shares the platform with the z615 a kit after the 2022 z900 RS and the c900 rs cafe became smashing heads in the near vintage class.
The frame is made of steel and features a 41-millimeter front fork, a backlink model shock with adjustable preloads, and 5.1 inches of travel. The 649 cc parallel to one cylinder engine has flexible power distribution and smooth torque up to 48.5 pound-feet at 6 500 rpm, thanks to 9.1 m abs and a 300-millimeter front disc brake.
The Kawasaki g650rs' iconic retro style is clearly influenced by the 1970s z1, and it stands out, even more, when the bike is dressed in the optional candy emerald green body color with teardrop tank, round led headlight, oval taillights, and cast wheels that seem like old school wires. Finally, there are two analog gauges and an LCD panel with minimal writing information on the dashboard.
4. Kawasaki Z900 SE ( Kawasaki 2022 )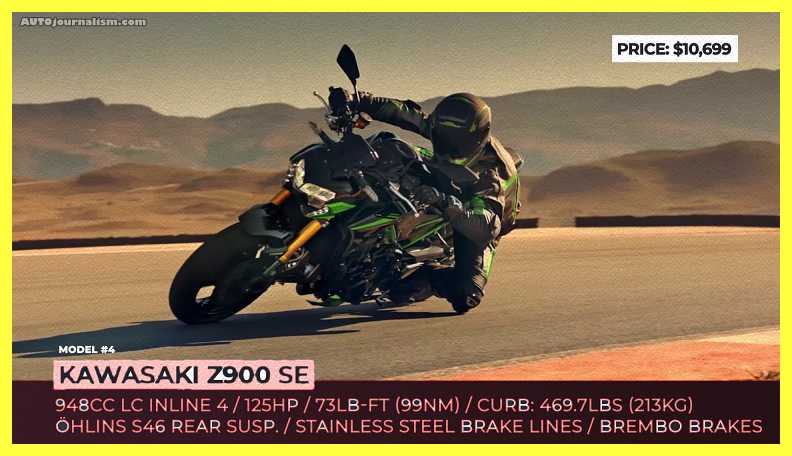 Based on the Kawasaki 2022 z900 SE superbike, the new SE is marketed as a performance version with all the accouterments to back it up. The model comes with the standard 41-millimeter inverted front fork, but it also has full adjustability. An aluminum body Allen's s46 shock with adjustable spring preload and rebound damping is housed in the back.
Brembo m4 brakes have also been added to the braking system. The 948 cc inline-four engine exhales through a redesigned aquaponics exhaust with 32 calipers and 300 millimeter Brembo disks upfront, yet its output numbers remain identical. When it comes to the exterior, the ac is inspired by Kawasaki's tsunami design concept, which includes sharper angular lines, harsher cowlings, and contrasting paint accents. The bike's lighting is now all led, and there's a 4.3-inch color TFT screen, as well as traction control and four riding modes.
5. Kawasaki KLX300 ( Kawasaki 2022 )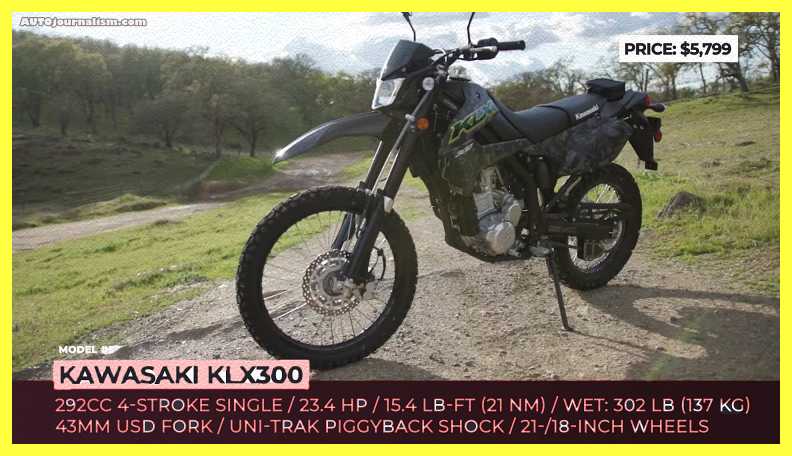 In 2021, the market leader in lightweight dual-sports refines its competitive advantages by offering the largest-in-class entrant displacement. The redesigned KLX 300 is powered by a 292cc single-cylinder engine with a six-millimeter wider bore than the previous model while keeping the same stroke. In real-world settings, this means more power and higher rpm, which propels you forward when off-roading. Another reason for the KLX's success is its full suspension setup, which is uncommon among rifles under $ Big Amount.
A 43-millimeter inverted fork with adjustable compression damping and a unique track piggyback shock with spring preload adjustment is available. All of the above features, combined with the rider-friendly ergonomics and 300 pounds wet weight, make the KLX 300 an economical all-arounder with exceptional trail prowess right out of the box.
6. Kawasaki KLR 650 ( Kawasaki 2022 )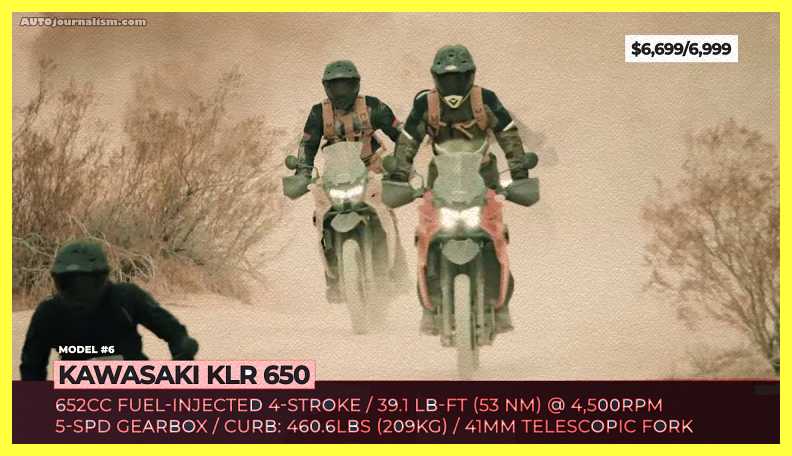 Despite being touted as all-new, the KLR 650 dual sport reappears as a third-generation model built on a new beef upper frame with a longer swingarm and a five clutch preload-adjustable rear shock. The 2022 motorcycle is still powered by the same powertrain that debuted in 1987. Fuel injection is used in the 652 CC liquid-cooled four-stroke engine, and the 5-speed gearbox has been fine-tuned for highway use.
Similarly, the KLR-650 receives new bodywork while outperforming predecessors in terms of ergonomics thanks to a more comfortable seat adjustable windscreen and the normally balanced handlebar seat foot pack posture. Finally, the bike boasts bigger brakes. With a modified abs system and a new led display with a fuel gauge
7. Kawasaki Limited Edition KX450SR ( Kawasaki 2022 )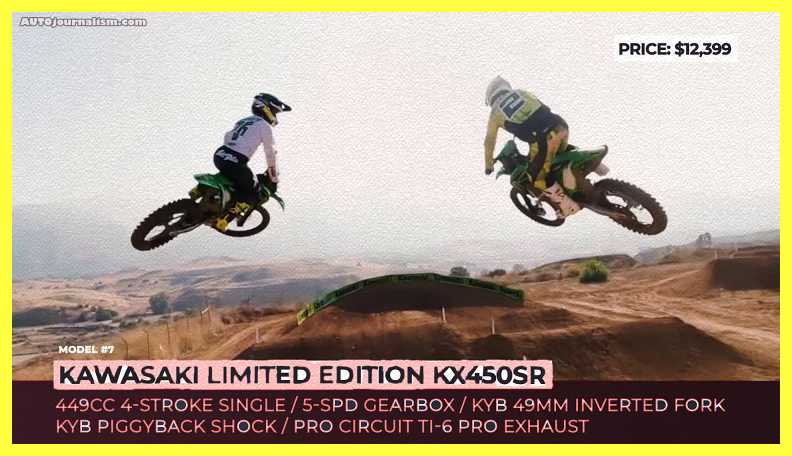 The sr designation on the kx450 denotes a thorough reworking of the powerplant, which includes a new cylinder head, polished antique ports, customized mapping, and a new pro circuit ti6 pro titanium exhaust system.
The standard chauffeur units are left for the regular model sd star, which benefits from all new kyb front and rear suspensions, as well as standard diamonds like carbon coating for increased surface hardness. This motocross warrior rides on the dirt star STX ramps, with Nissan's oversized semi-floating paddle discs providing stopping power.
8. Kawasaki ZX-10R and RR ( Kawasaki 2022 )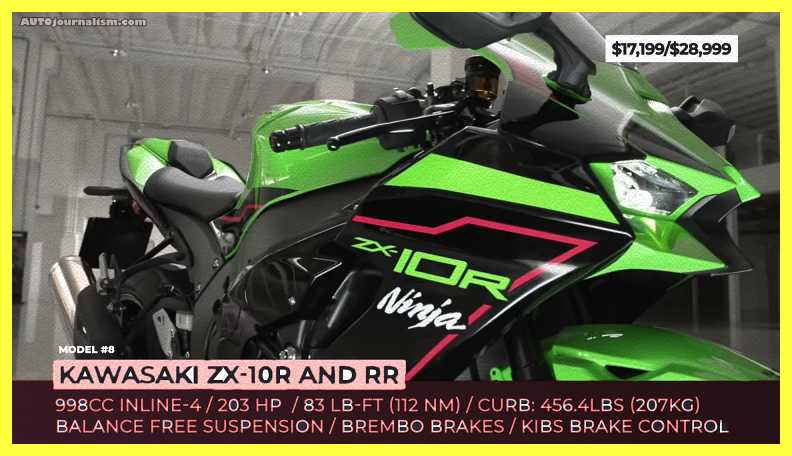 The two cx-10r superbikes have been completely redesigned for 2021, with updated bodywork, new electronics, and improved engine internals. The revised front end is the most noticeable exterior modification; it was especially meant to look more dramatic while simultaneously cutting drag by 7% and increasing downforce by 17. The windscreen is taller and the overall riding position is more aerodynamic now that the winglets are integrated into the front fairing.
The bike's powertrain is also getting a makeover, with a new engine oil cooler. a new throttle position sensor configuration For a 6-speed transmission, the exhaust system has been altered, and the gear ratios have been tuned. As with the 500-unit exclusive 10 RR, cruise control, a quick shifter, 5 mode traction, and launch control are standard. New camshafts, titanium rods, updated air intake, and exhaust, as well as forged more Cassini wheels, will be available in 2022, along with new color options and a KRT special edition.
9. Kawasaki KX112 ( Kawasaki 2022 )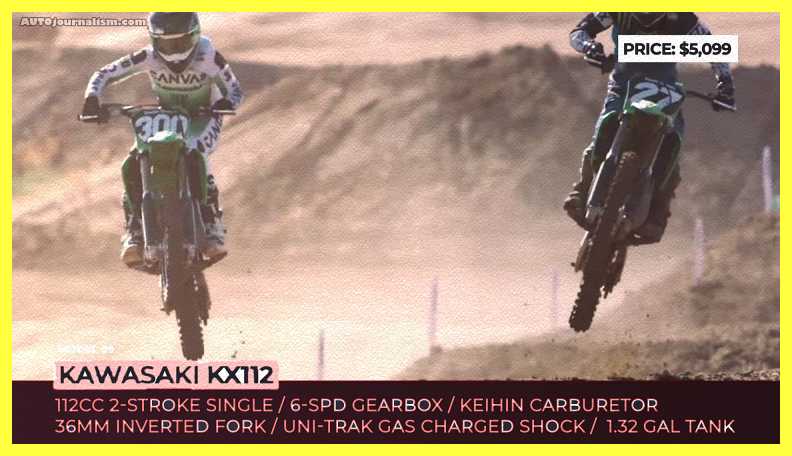 The successor to the KX 100 The new 112 models are Kawasaki's most affordable option for riders who want to upgrade from a variety of bikes but aren't quite ready for full-size motocross racing machines. As the name suggests, the 2022 model features a new 112 cc to stroke engine that provides increased torque and acceleration for starts and corner exits.
Strong Carlow and torque are further aided by a revised intake and exhaust system. The bike is equipped with a 36mm inverted fork and an adjustable uni-track gas charge shock, all of which have a maximum travel of 10.8 inches to accommodate riders of various sizes. The KX 112 has a six-position adjustable handlebar and a seat that can be raised to a maximum height of 34.3 inches.
10. Kawasaki KX250 & KX450 ( Kawasaki 2022 )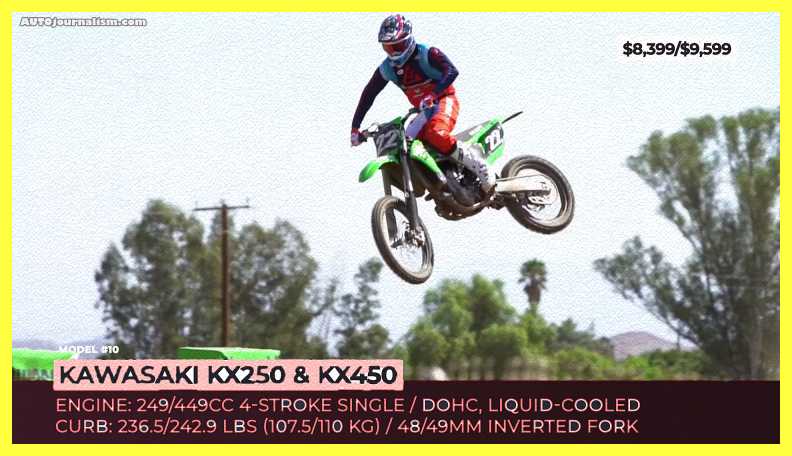 Kawasaki's KX series is the most popular line of motor crossers in their respective classes, therefore the kx250 model was completely revamped in 2021, taking the basic chassis structure from its larger 450 siblings to keep relevant. The bikes share a sleek aluminum perimeter frame, but each has its own suspension system. An all-new Belleville washer spring hydraulic clutch is featured on the KYB for the kx250 and the shove for the kx450, while an all-new Belleville washer spring hydraulic clutch is featured on the KYB for the kx450.
Exclusive upgrades to the kx450 focus on the engine, which receives new dry film lubrication coating on the piston skirt larger-diameter clutch plates, and updated friction material. It is also the first 250cc cover dirt bike to get an electric start.
Thanks for reading, Share it with your friends.
NEXT