Welcome back to this website Autojournalism.com guys, today we have for you guys the Top 10 Fastest Bullet Train in the World, of course, Trains can't fly over oceans like jets, but that doesn't mean they can't travel at the same speed. Thankfully, some trains in today's world can travel at the same speed as planes. In Europe, traveling by train is already quicker than flying.
Here are the world's fastest high-speed trains
Top 10 Fastest Bullet Train in the World and commercial service ranked by speed
#10: EuroStar E320 ( Fastest Bullet Train )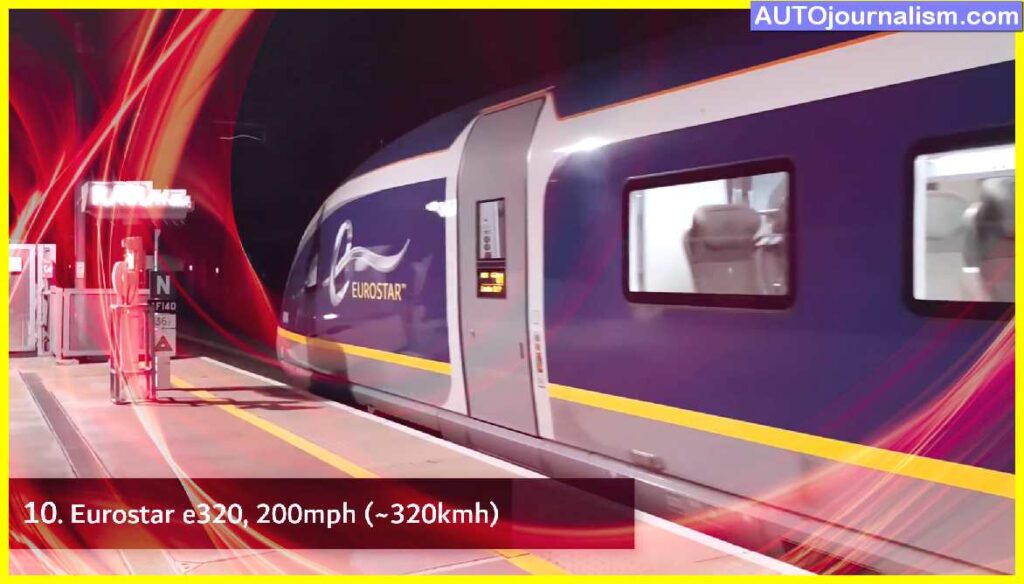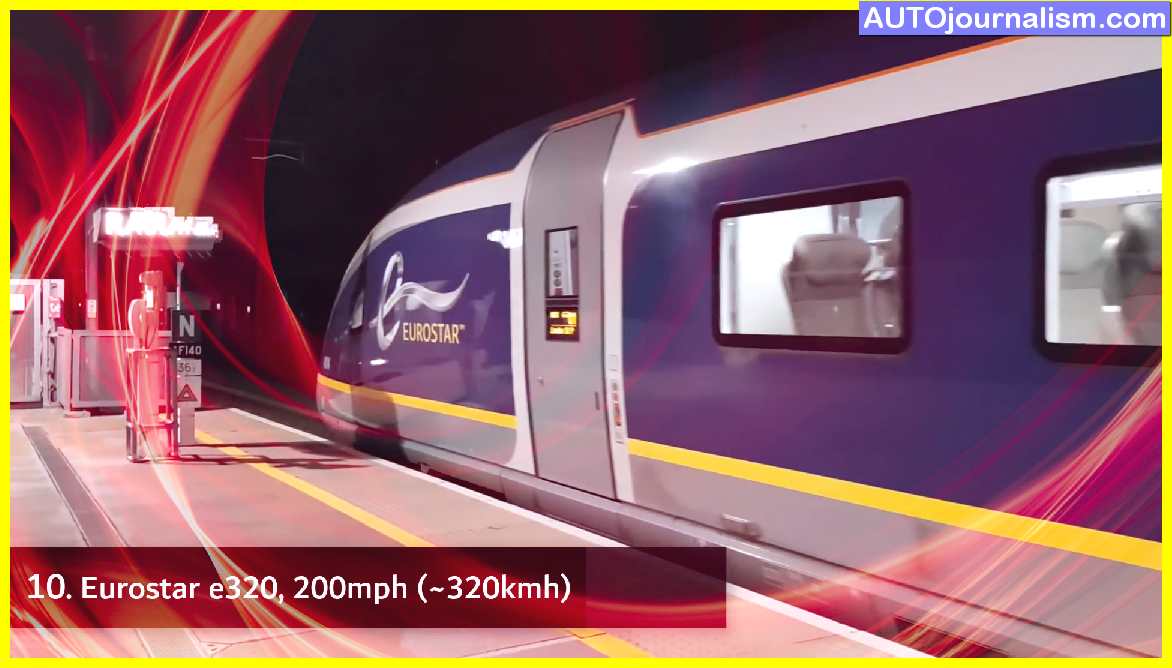 Speed: 200mph ( ~ 320kmh )
The EuroStar E320 series is the first tip-to-tail version of the Eurostar train in the company's 22-year history, with a top speed of 320 km/h. Eurostar is a high-speed train linking Great Britain to continental Europe, with a top speed of 320 km/h. Via the Channel Tunnel, the Eurostar connects London with Paris, Brussels, and Amsterdam in just a few hours. Lille and Disneyland are also accessible by Eurostar. Paris is a French capital. Since Eurostar delivers its passengers right to the middle of each city and fares are available with rail to erupt front $70 one-way, it's a wonder anyone still flies between the cities. Eurostar started passenger services in November 2015 and this train has a capacity of 900 seats with a length of around 400 meters.
#9: Korail KTX ( Fastest Bullet Train )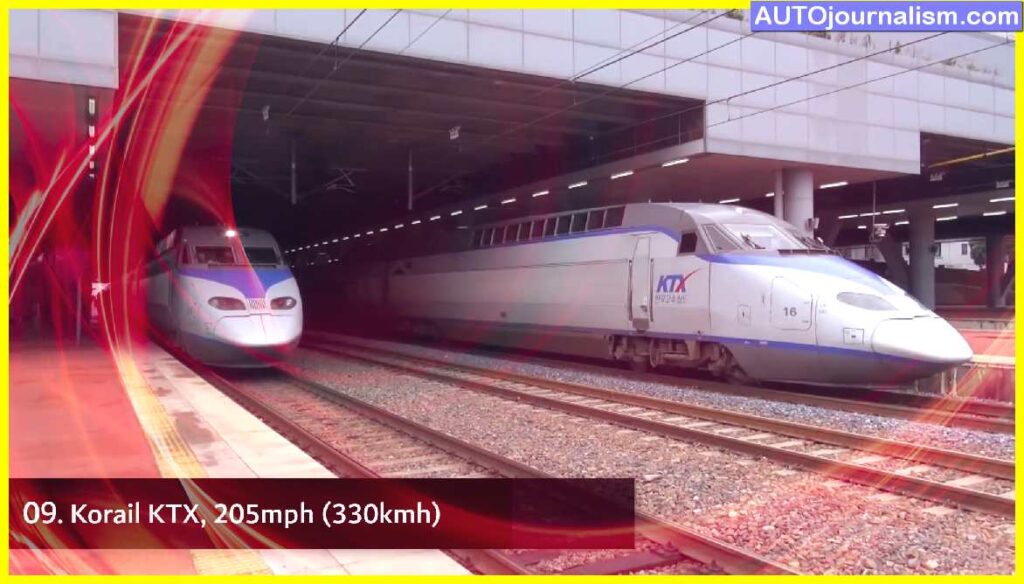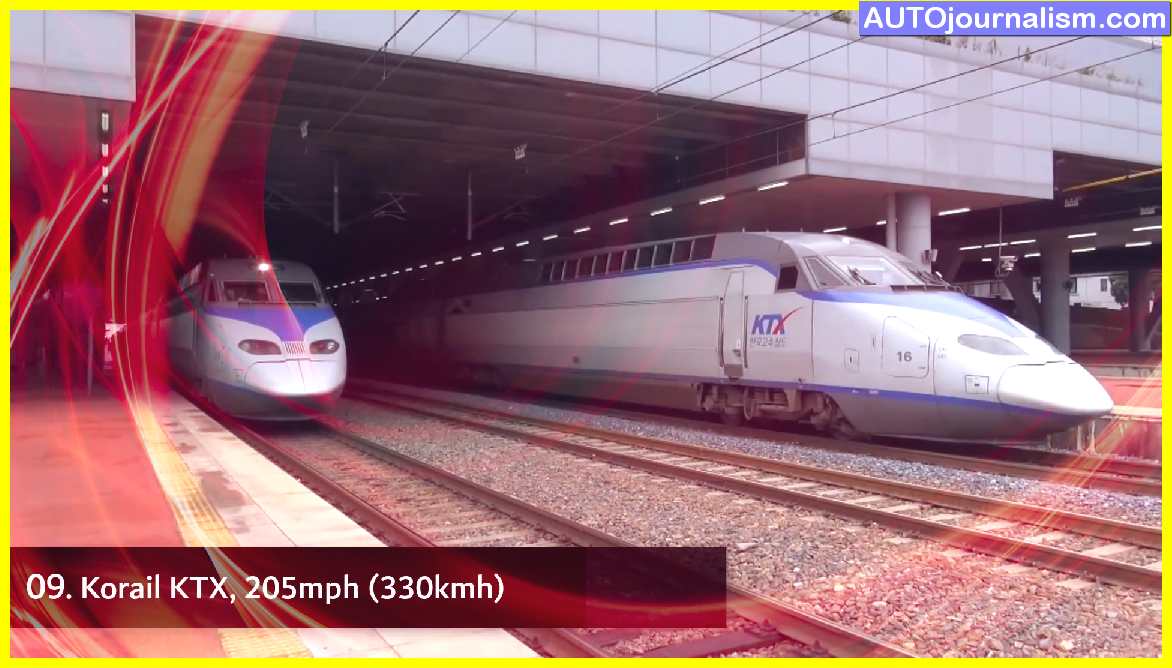 Speed: 205mph ( ~320kmh )
The Korail KTX is a Korean high-speed train that has a maximum speed of 205 miles per hour (330 kilometres per hour), but operates at 199 miles per hour. Incheon International Airport in the west and Conn-young, a coastal town in the east are linked by the KTX son John, one of the fastest trains in the world in 2019. It links Incheon International Airport in the west and Conn-young, a coastal town in the east. One train can hold 372 passengers at a time, and the train's length is 201 metres. The train travels from 0 to 186 miles per hour (or 0 to 300 kilometres per hour) in 5 minutes and 16 seconds, and it is operated by catenary.
#8: Deutsche Bahn ICE ( Fastest Bullet Train )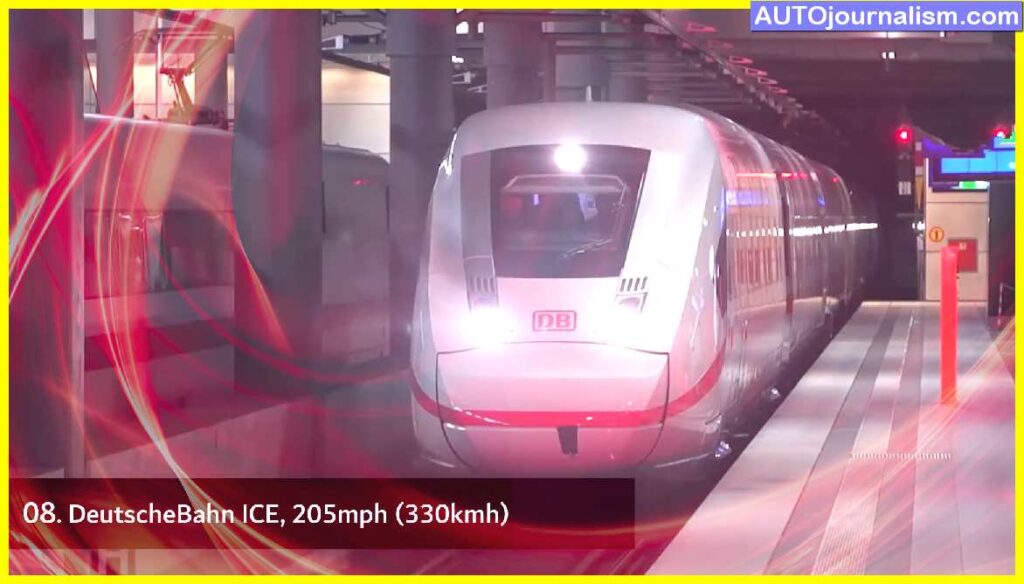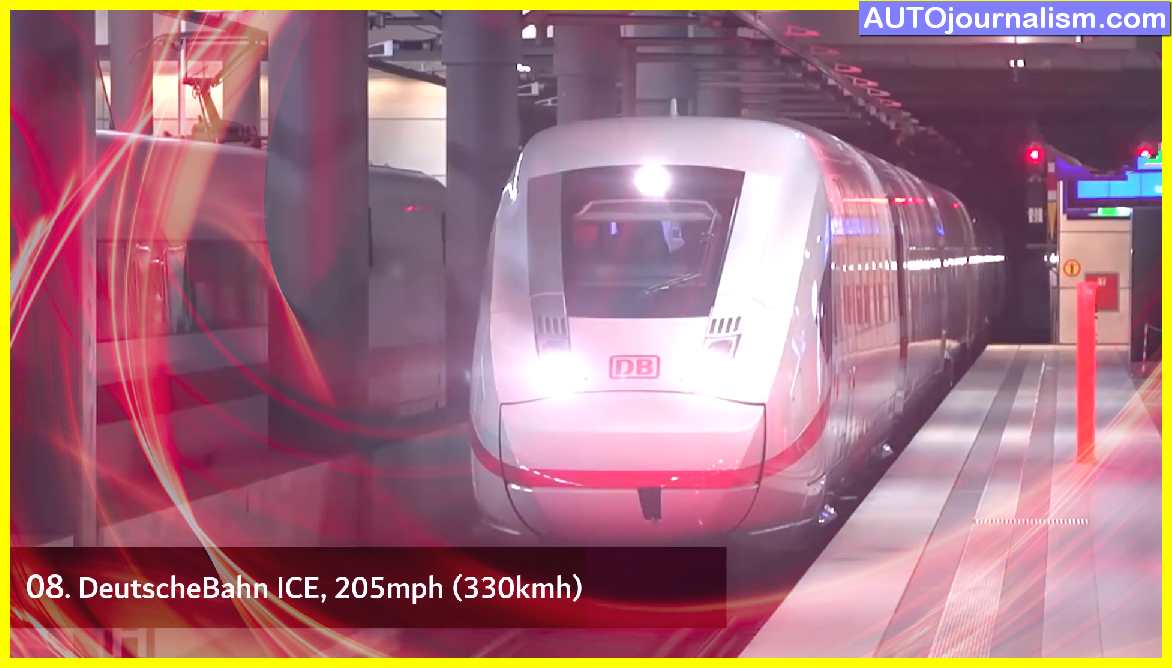 Speed: 205mph ( ~330kmh )
Deutsche Bahn is a German railway company. ICE is an acronym that stands for International Cooperation The inner city Express, or ICE, is a high-speed train system that primarily operates in Germany, Austria, Denmark, France, Belgium, Switzerland, and the Netherlands. It is Europe's top rail service category and the German state railway Deutsche Bahn's flagship train. ICE trains are the highest category trains in the Dutch bond's equal system; their fares are not measured on a fixed per kilometre table like other trains, but instead have fixed rates for station connections imposed on the grounds that the ICE trains are more comfortable. These trains, which run at speeds of up to 330 km/h and are advertised by Dutch bond as an alternative to flights, are designed for business travellers or long-distance commuters and have a total capacity of 500 to 830 seats.
#7: Talgo 350 ( Fastest Bullet Train )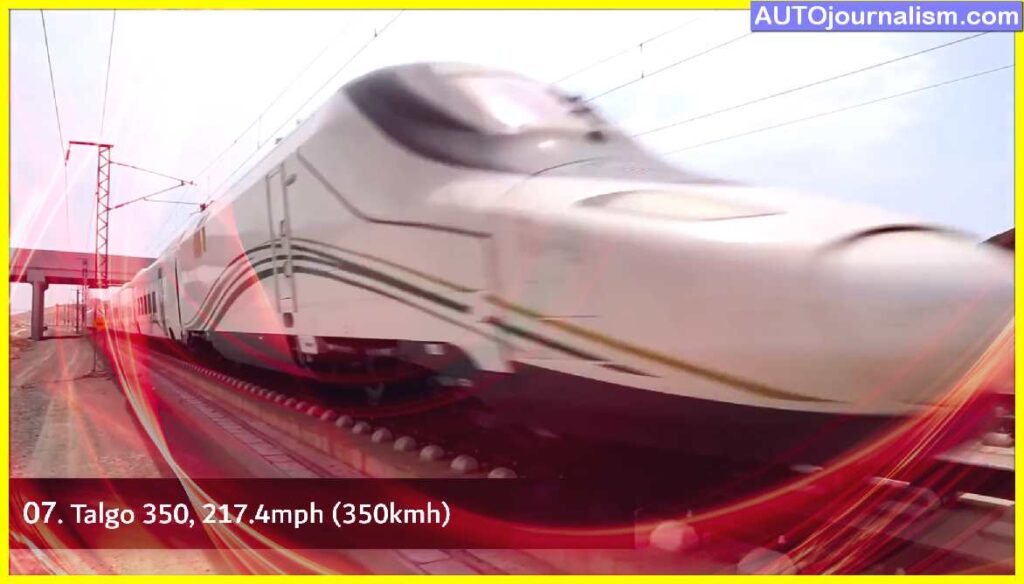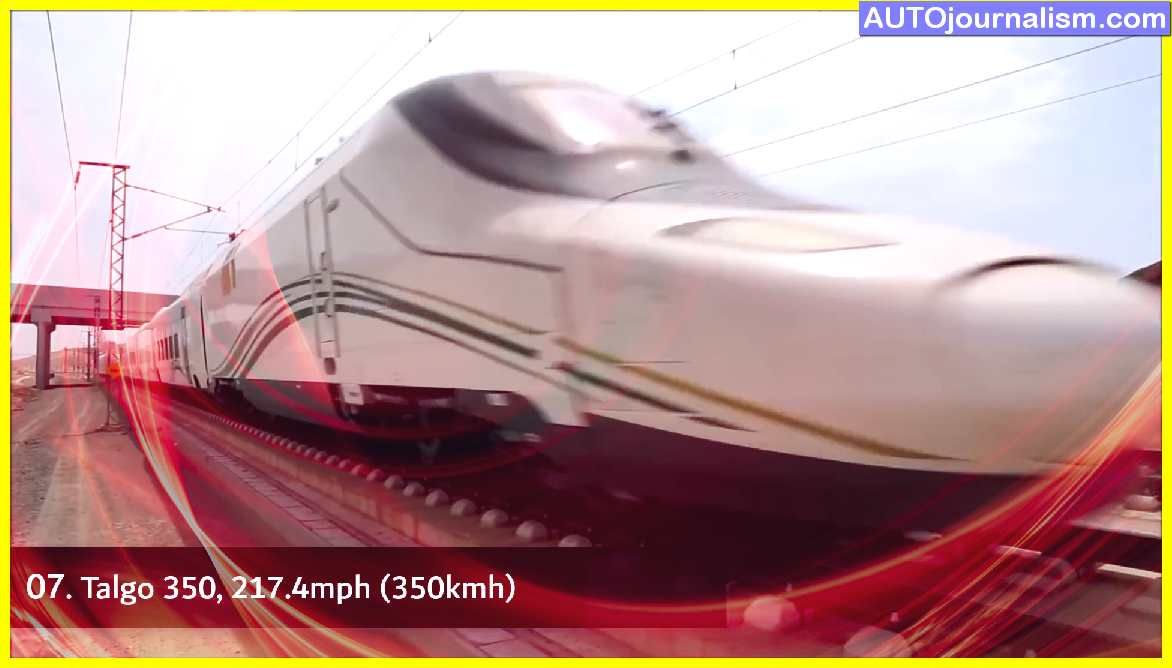 Speed: 217.4 mph ( ~350kmh )
The Talgo 350, named after its peak speed of 350 km/h, is a high-speed train operated by the state-run railway company. The Talgo 350 can reach a top speed of 350 km/h.Between Madrid and Barcelona, the Talgo 350 races. This train has two driving cars and 12 passenger cars. It is also known as Patou in Spain, named for the duck beak on the front car's nose. The Talgo 350's distinctive architecture is optimized to withstand pressure waves in the seating facilities.
Talgo 350 BULLET Trains are divided into four classes that are:
The club class
The first class
Bistro class
And coach class
All classes and the Talgo 350 have comfortable reclining seats with footrests, video audio systems at each seat, and real-time information panels on both the inside and outside of the car sets. The Talgo 350 has a length of 200 meters and a capacity of approximately 400 seats.
#6: Siemens Velaro E/AVS 103 ( Fastest Bullet Train )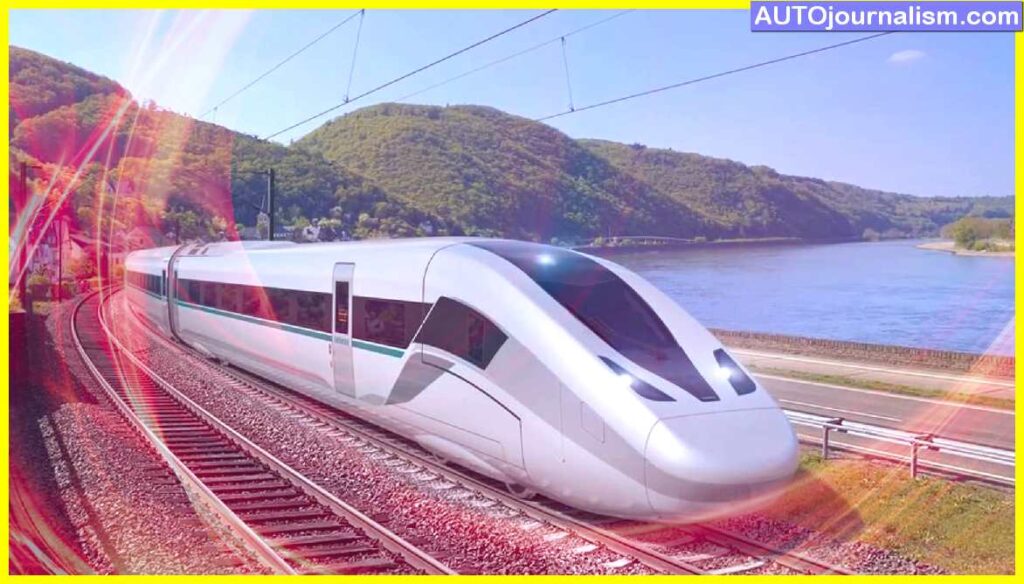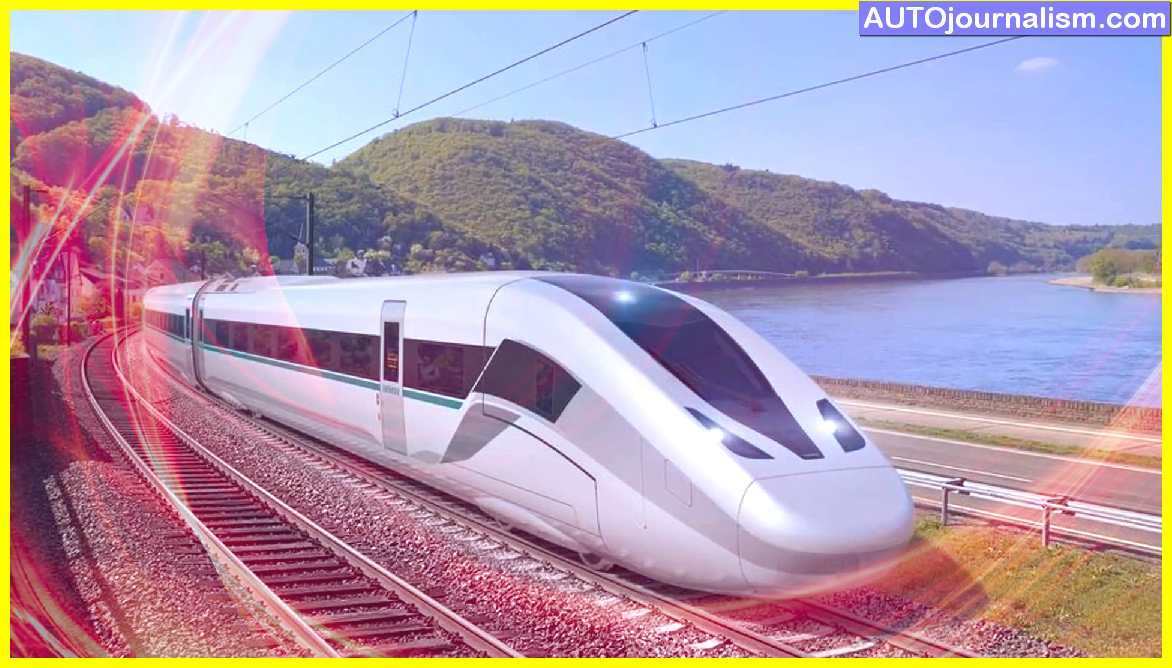 Speed: 214.4mph ( ~ 350kmh )
The Siemens Velaro E, also known as the AVS 103, is ranked sixth. The Velaro E is the Spanish variant of the Valero e high-speed trains, which were built by Siemens in Germany. The Avs 103 is the name of the Velaro E flight. The Velaro E is a high-speed train that travels between Barcelona and Madrid. Its maximum speed is 217.4 mph. The Velaro E trains were able to move passengers from Barcelona to Madrid in only two hours and 30 minutes during trials, reaching a maximum speed of 250.84 miles per hour. The Spanish national railway ordered the high-speed Velaro E trains in 2001, and operation began in June 2007. The Valero E consists of eight passenger cars with a total seating capacity of 404 people and a length of approximately 200 meters.
#5:  AGV ITALO ( Fastest Bullet Train )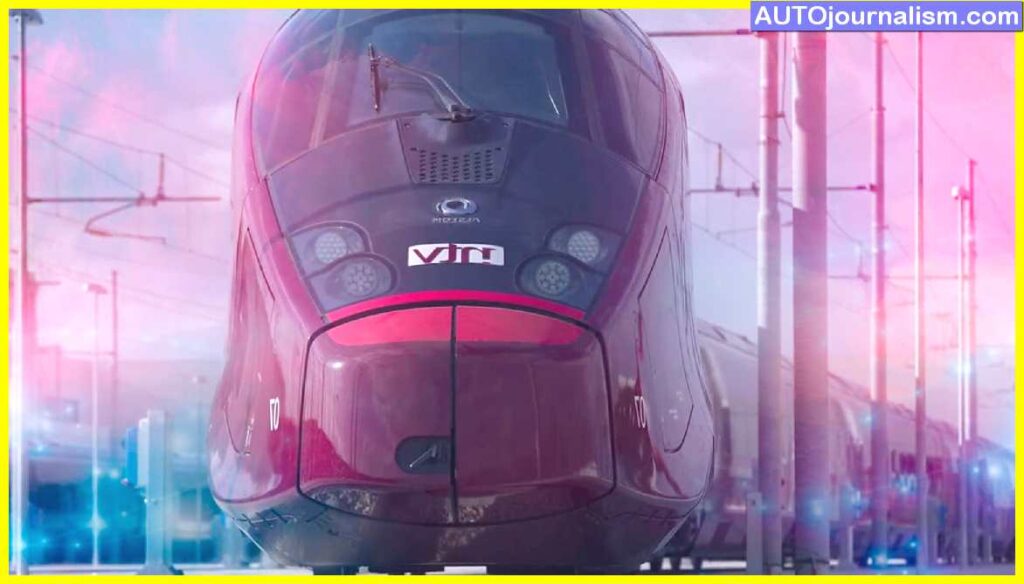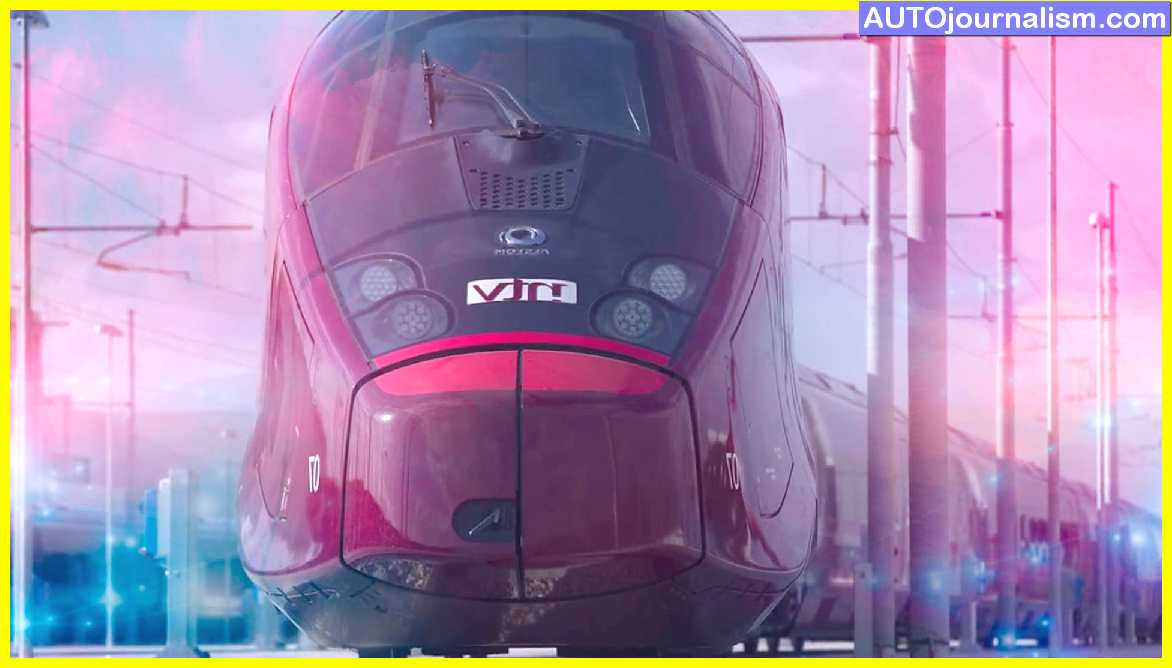 Speed: 223.6mph ( 360kmh )
The AGV ITALO is the fastest train in Europe. The high-speed train has a maximum operating speed of 223.6 miles per hour, but during initial testing in 2007, the AGV ITALO train set a record speed of 356.6 miles per hour. The AGV ITALO was designed by the French manufacturing company Elston in 2008. The Italian company Nuovo Trasporto Viaggiatori (NTV) or the 25 AGV trains from al stone for 650 million euros, the AGV Italo began the service in April 2007, it operates between Rome and Naples, and passengers of a GV Italo train will fly between the cities in less than an hour. AGV ITALO has a great eco-friendly structure. Its pieces are recyclable in 98 percent of cases.
AGV ITALO also offers:
Adjustable leather seats
Live television
And free Wi-Fi
#4: SHINKANSEN H5 & E5 ( Fastest Bullet Train )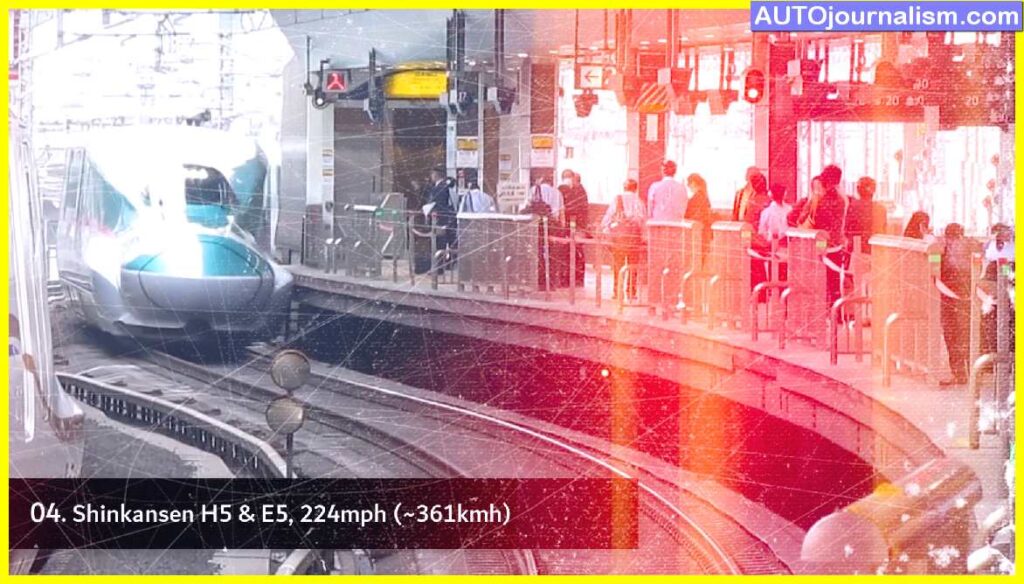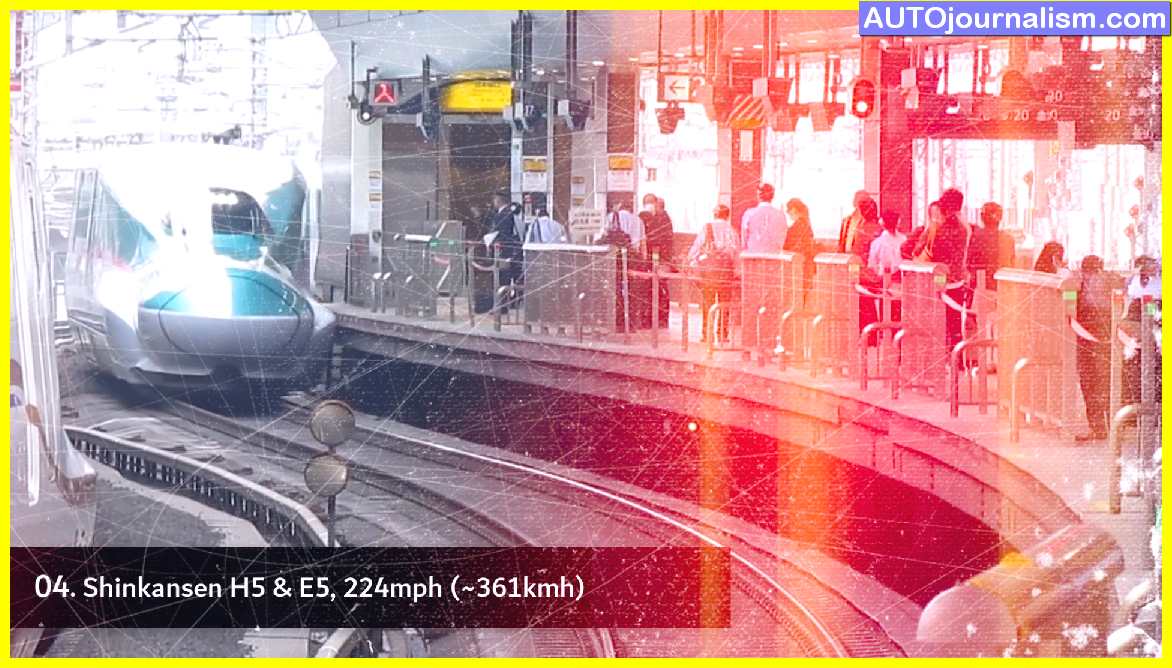 Speed: 224mph (~361kmh )
The SHINKANSEN H5 & E5 are ranked fourth. The shinkansen H5 & E5 series Shinkansen, which runs the Tohoku and Hokkaido services, are two of the newer bullet trains on Japan's tracks and, with a top speed of 224 miles per hour, are currently the fastest in regular commercial service in the country. The shinkansen H5 and E were built to connect remote Japanese regions with Tokyo, the capital, in order to promote economic development and growth. Japan Railways Company's five subsidiaries run it. The Shinkansen is more than 254 metres long, with a passenger capacity of about 730 people. There has never been a single passenger fatality or injury related to train accidents in the Shinkansen's 50-year history of carrying over 5.3 billion passengers.
#3: HARMONY CRH 380A ( Fastest Bullet Train )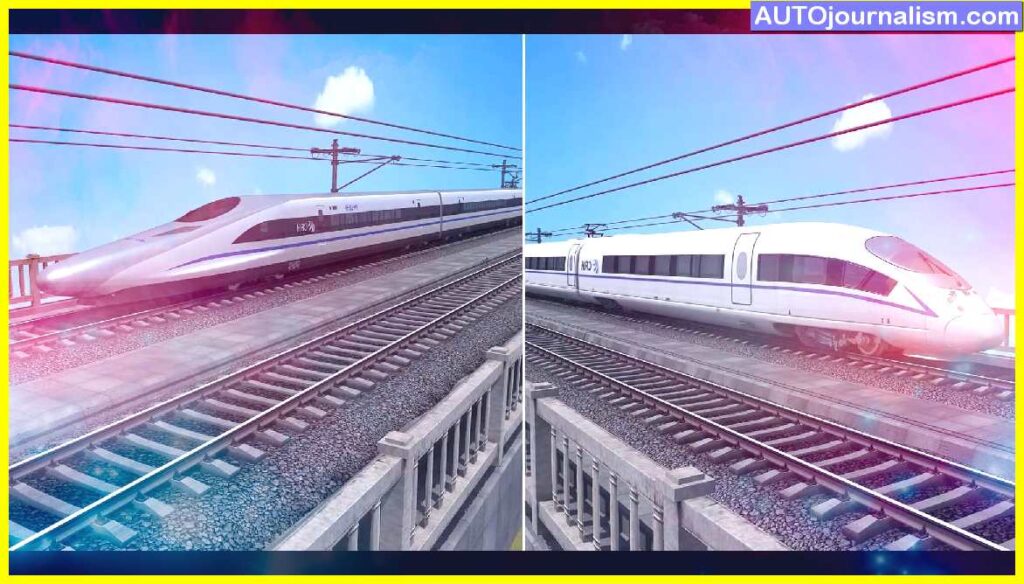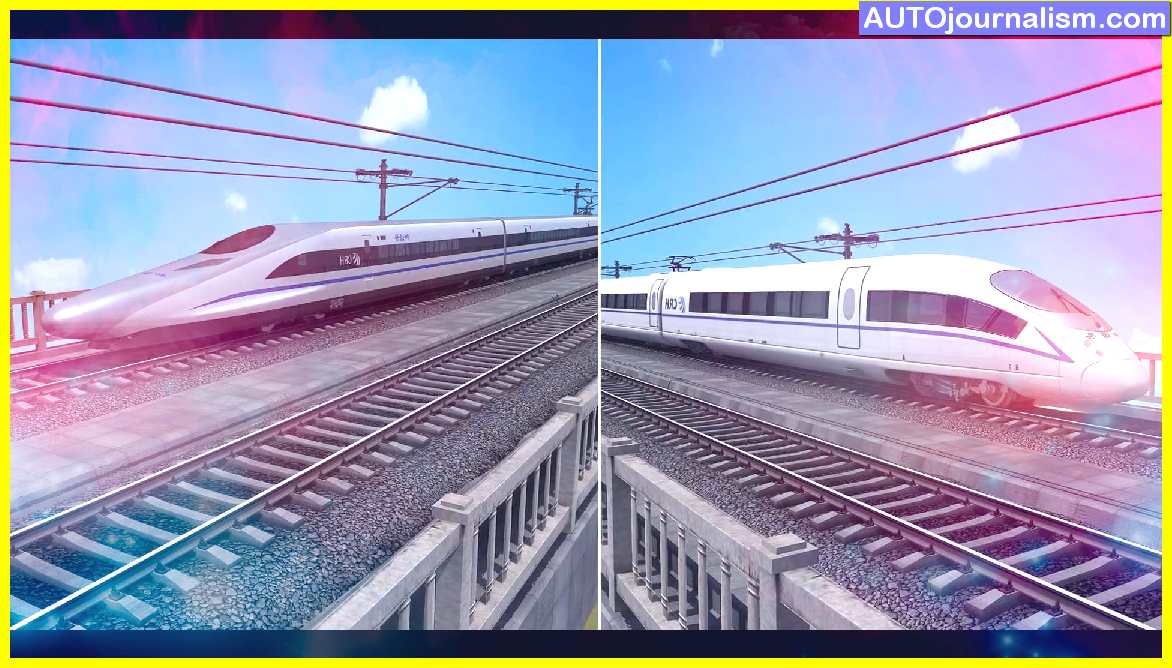 Speed: 236mph ( 380kmh )
The HARMONY CRH 380A is the third-fastest running train service in the world in commercial service, according to China Railways. This electric multiple-unit train has a top speed of 236.12 miles per hour, but during initial testing in October 2010, it set a new record of 258.58 miles per hour. The China Railways has started running HARMONY CRH 380A trains between Shanghai and Nanjing on a daily basis. The Harmony has a capacity of 494 passengers. The CRH 380 is one of four Chinese train series built to run on China's newly constructed high-speed main lines at the current normal operating speed of 380 km/h. It is the only one of the four series that isn't based on a foreign style. and despite the fact that it was not manufactured under a technology transfer arrangement, it has been accused of being based on unlicensed Shinkansen technology.
#2 Fuxing Hao CRF400AF / BF ( Fastest Bullet Train )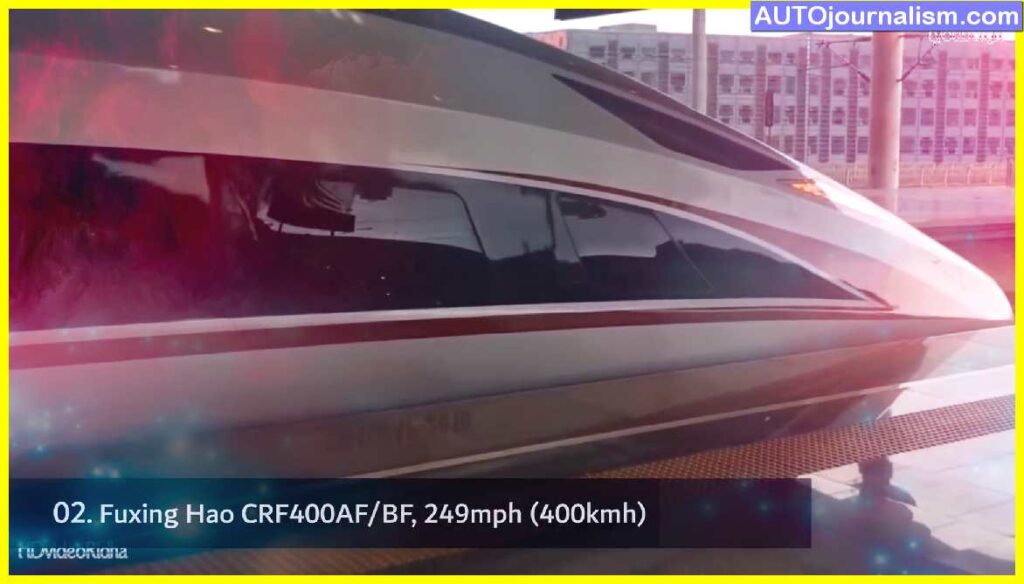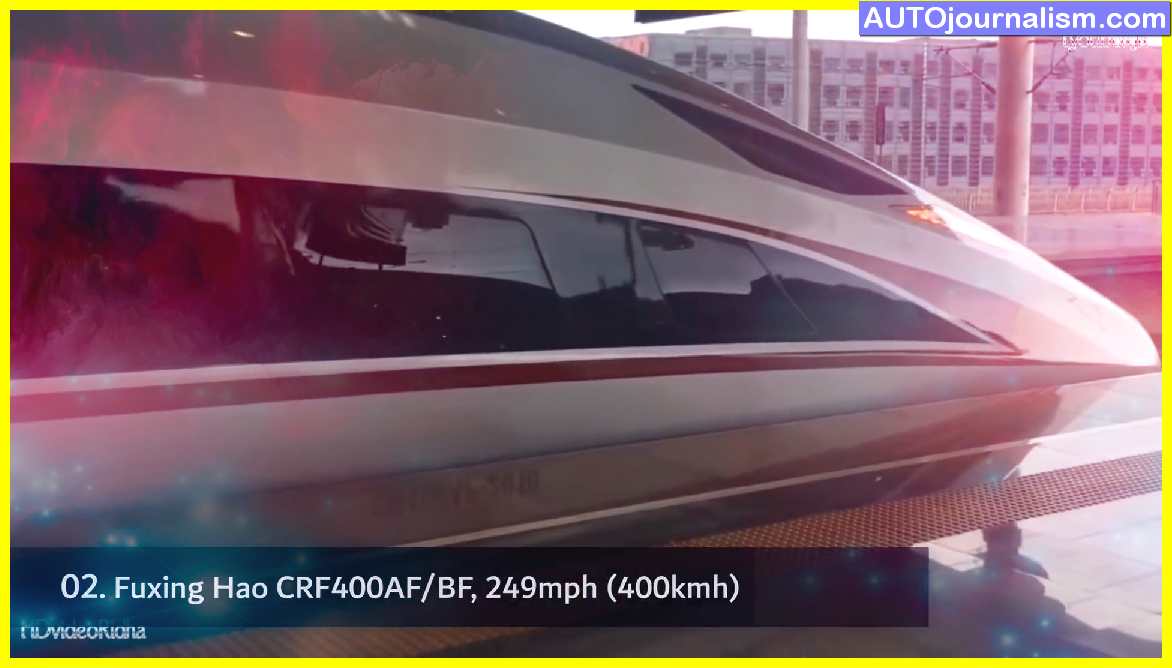 Speed: 249mph ( 400kmh )
The Fuxing Hao CRF400AF / BF is ranked second, with China once again taking the top spot as the home of the world's fastest non-maglev train currently in operation. The name Fuxing Hao means rejuvenation, and each of the two trains has been given a nickname: the CR 400AF is dolphin blue, and the CR 400 BF is golden Phoenix. The CR stands for China Railway, and it takes just over five hours to transport up to 556 passengers between Beijing South and Shanghai hometown station, comfortably outpacing the nearly ten-hour time it takes to travel between these two megacities on a traditional parallel rail line. The revitalization also outperforms China's next fastest train, the Harmony CRH 380A, which has wowed passengers since 2010 with speeds of up to 236 mph on routes connecting Shanghai to Nanjing and Hong Zhu, and Wuhan to Gwang-soo.
#1 Shanghai Maglev ( Fastest Bullet Train )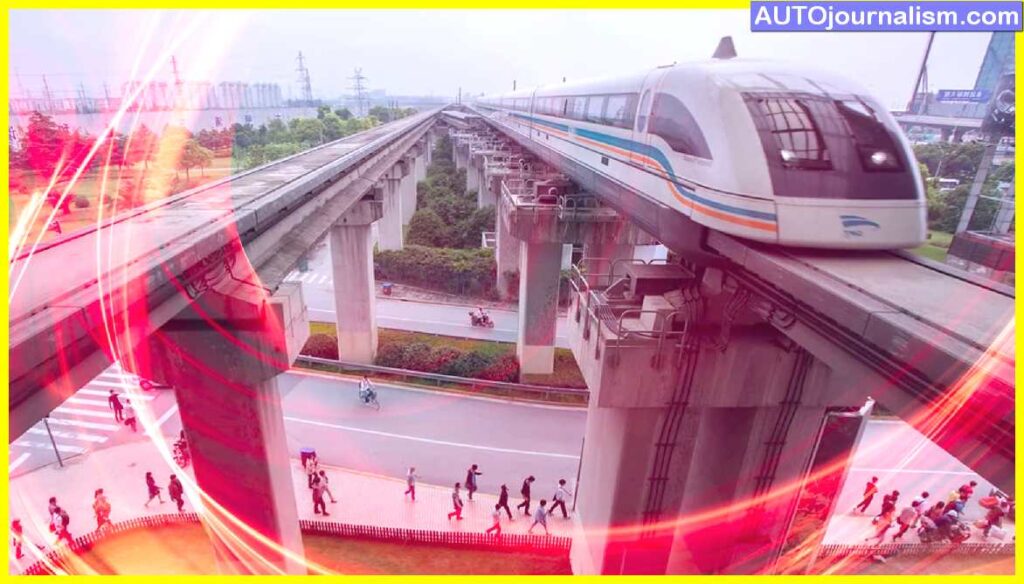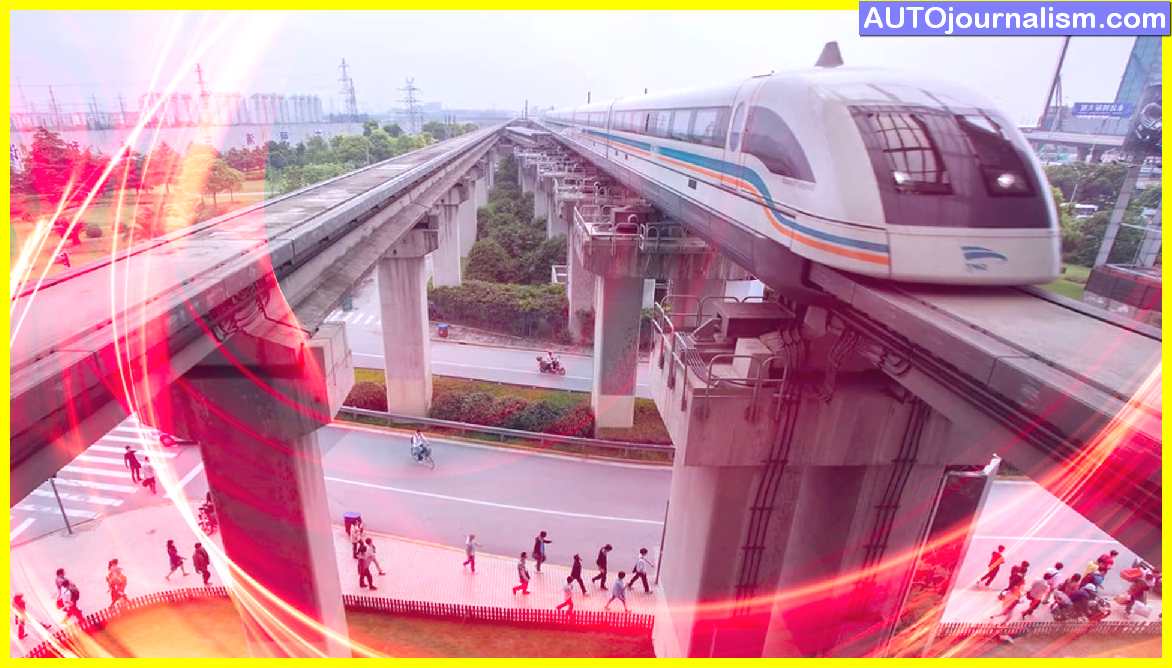 Speed: 267.8mph ( 431kmh )
The Shanghai Maglev is the world's fastest train. It isn't the newest, shiniest, or even the most expensive, with tickets costing $8 per person per trip. The maglev travels 19 miles from Shanghai's international airport to a long, modern metro station on the city's outskirts. The train, which travels in just over seven minutes thanks to magnetic levitation technology, does not stop in the city center. so the majority of passengers have been traveling to and from the airport with cameras out and ready to grab a snapshot of the speed indicators when the train reaches 431 km/h since 2004.
So guys we've come to the end of the Post of Best top 10 fastest bullet trains in the world. ( AUTO )
NEXT
Top 10 Best Strategic Bomber Aircraft In The World