Top 10 Indigenous Defence Weapons Of India
Here is the list of Top 10 Indigenous Defence Weapons Of India, there is no denying that India has one of the fastest growing economies in the world maintaining India's military standards is also crucial given its expanding economy and our history India used to be dependent on importing weapons from other nations but thanks to our rapid advancement the country is now capable of designing and manufacturing its own if we focus on present India has created a wide range of weapons for itself that can also put up a fight against others not only this but India is now able to export its weapons to other nations which is crucial for our nation and demonstrates our military might as well let's take a look at the India's top 10 indigenous weapons today.
List of Top 10 Indigenous Defence Weapons Of India
#1. INS Vikrant (Indigenous Defence Weapon Of India)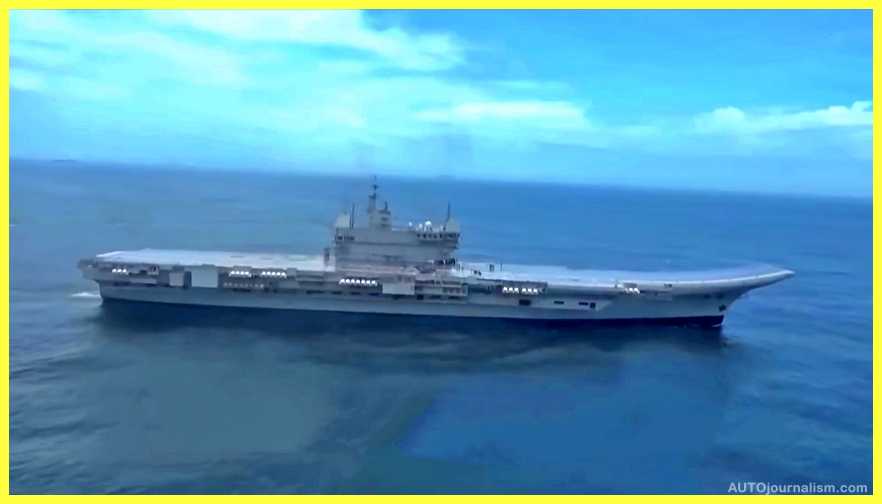 INS Vikrant is the first aircraft carrier to be built in India the crowd is 60 indigenously made while the remaining 40 of its components are imported the vessel has already completed sea trials and is expected to be commissioned in august 2022 ins for the grant is 262 meters long and 62 meters wide and a standard displacement about 40 000 tons it features a stow bar configuration with a ski jump the deck is designed to enable aircraft such as the Mig-29k to operate from the carrier it is expected to carry an air group of up to 30 aircraft which will include up to 24-26 fixed-wing combat aircraft primarily the Mig-29k besides carrying 10 helicopters.
#2. Arihant-class submarine (Indigenous Defence Weapon Of India)
The Audi hunt is a class of Indian nuclear-powered ballistic missile submarines being built for the Indian navy they were developed under the US 12 billion dollar project to design and build nuclear-powered submarines these vessels are classified as strategic strike nuclear submarines by India the lead vessel of the class ins Arihant was launched in 2009 and after extensive sea trials, it was confirmed to be commissioned in august 2016. the first two submarines of its class are 111 meters long and displace about 6000 tons the complement is about 95 including officers and sailors the boats are powered by a single seven-blade propeller powered by an 83-megawatt pressurized water reactor and can achieve a maximum speed of 24 knots when submerged.
#3. Arjun Main Battle Tank (MBT) (Indigenous Defence Weapon Of India)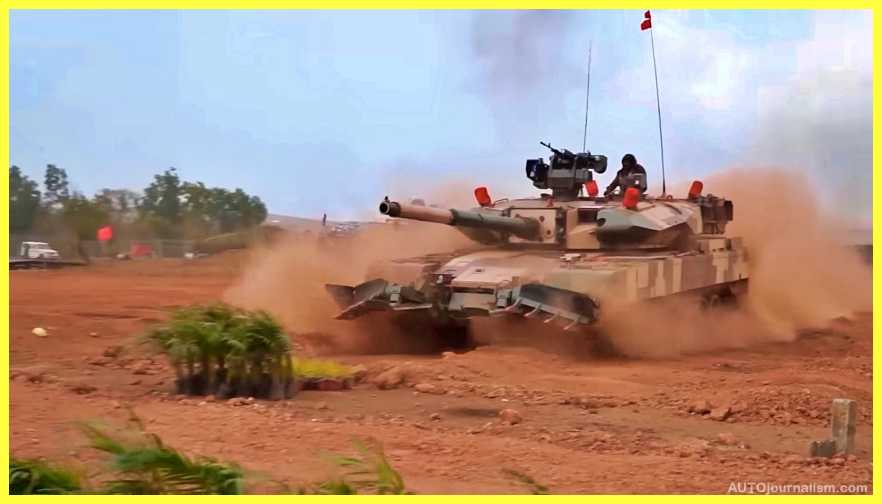 It is the third generation main battle tank that has undergone additional modifications over time and the current iteration known as mark ii is being used by the Indian army there are about 141 argent tanks in service with the Indian army today the 75-ton machine has excellent protection great mobility and superior firepower it has an advantage over tanks from the rest of the world thanks to its ability to penetrate armor with its locally developed fin stabilized armor-piercing discarding sabbat ammunition and 120-millimeter caliber rifled gun it is unique from others because it can accurately engage targets who are moving while also having the quickest possible reaction time during combat engagements.
#4. HAL Dhruv (Indigenous Defence Weapon Of India)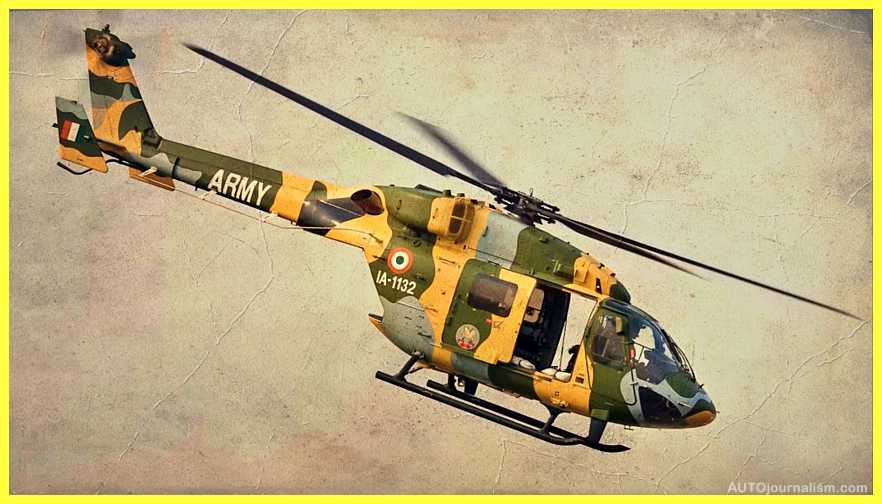 As is clear from the name it is designed and developed by Hindustan aeronautics limited Hal it is a new generation advanced lightweight helicopter with two engines that went into service in 2002 this helicopter was used by the Indian army and air force can carry up to eight anti-armor missiles and four air-to-air missiles it could also be used for transportation logistics support training and other purposes it has a 900-kilowatt shakti engine which increases its power apart from its ability to fight in combat it is also used for display purposes by the Indian air force display team Sarang.
#5. Akash surface-to-air missile (Indigenous Defence Weapon Of India)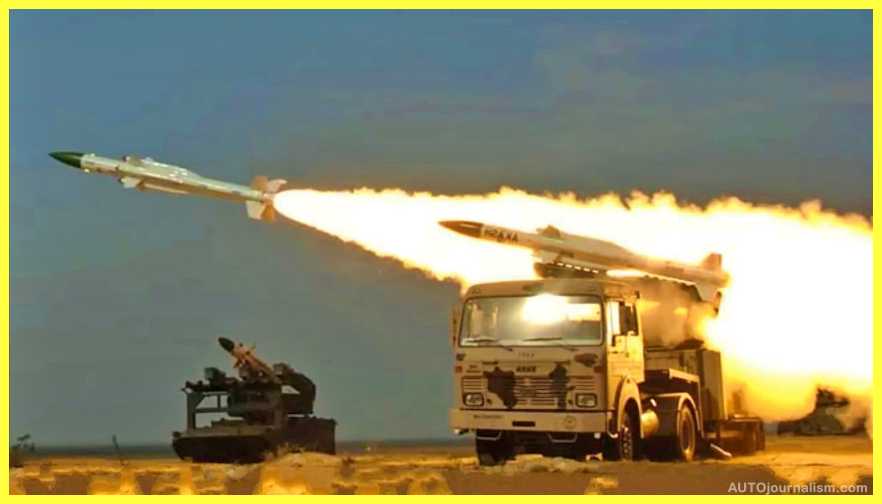 It is a surface-to-air missile with a medium range that can simultaneously engage several targets coming from different directions Akash missile system can target aircraft up to 30 kilometers it can neutralize aerial targets like fighter jets cruise missiles and ballistic missiles it measures 5.8 meters in length and has a 50 to 60-kilogram warhead and additionally it has the capacity to sustain a speed of up to Mach 2.5 at a maximum altitude of 18 kilometers it can quickly engage enemy aerial targets at a range of 30 kilometers including fighter jets drones cruise missiles air-to-surface missiles and ballistic missiles furthermore it is even riskier due to its 90 destruction capacity.
#6. Agni-V (Indian nuclear capable intercontinental ballistic missile) (Indigenous Defence Weapon Of India)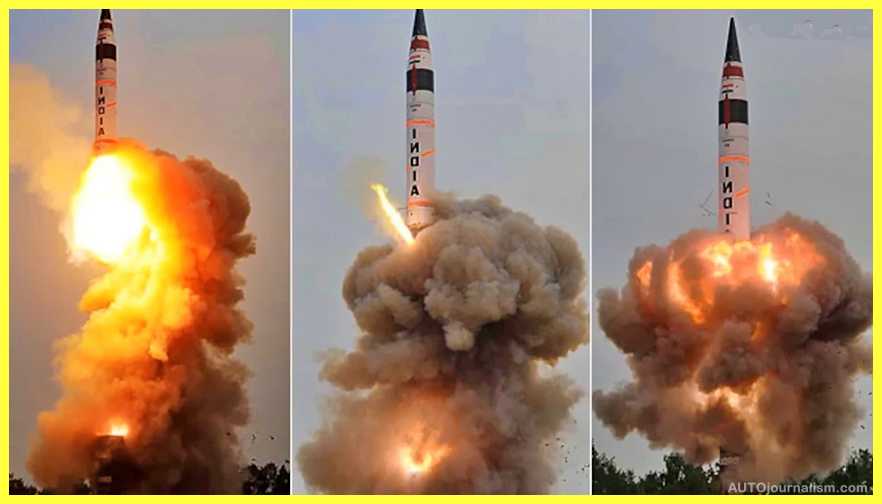 Agni 5 international ballistic missile was developed by the defense research and development organization as a part of the integrated guided missile development program it is a more advanced version of the Agni missile series with a range of 5500 to 5800 kilometers it is a three-stage solid fuel missile with composite motor casings in the second and third stages in terms of capabilities it is a nuclear-capable missile with a payload capacity of 1500 kilograms of high explosive warhead the introduction of this missile has made our country proud and allowed us to join the ultra-exclusive club of countries with ICBMs which includes the united states Russia china France and the united kingdom.
#7. NAG anti-tank guided missile (ATGM) (Indigenous Defence Weapon Of India)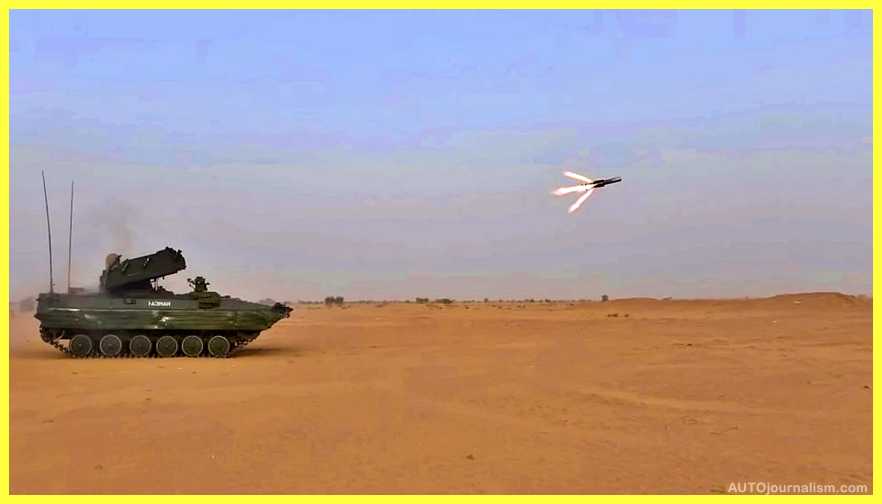 The NAG ATGM is a derived version of the naked missile here the ATGM stands for the anti-tank guided missile it works to destroy the enemy tanks from miles away in advance it has a maximum range of 20 kilometers with a tremendous speed of 230 meters per second it works on the principle of firing and forgets in this firstly the target is set by the defense personnel and then it is fired the main properties that make it unique are its image seeking and high tech guiding system which makes it full jam proof.
#8. HAL Tejas (Indigenous Defence Weapon Of India)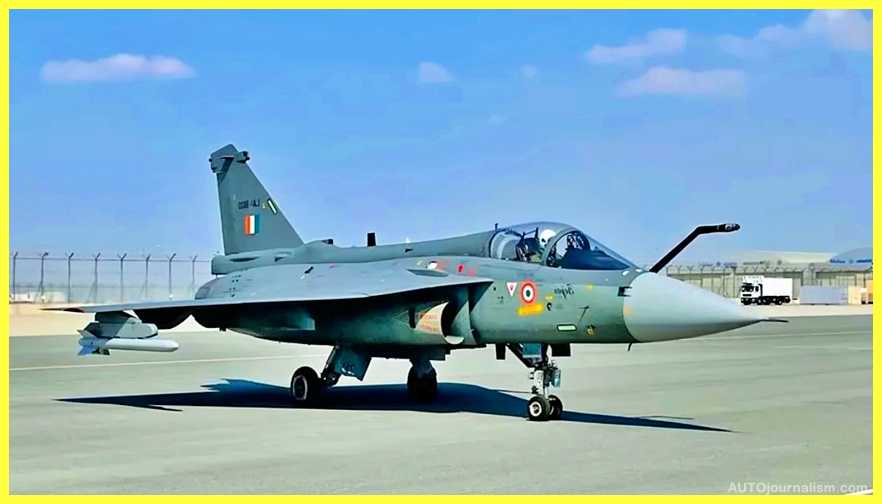 It is a fourth-generation single-engine lightweight and high agility supersonic fighter aircraft inducted into service with the Indian air force in July 2016. as it might be clear from the name it is commonly manufactured by the aeronautical development agency ada with Hindustan aeronautics limited hal as the prime industrial contractor being a fighter aircraft it has eight external hardpoints to carry stores with three under each wing the aircraft can also be armed with air-to-air air-to-ground missiles and anti-ship missiles precision guided munitions rockets and bombs till now it has done a valuable job for the country and might continue for some more years.
#9. Astra (air-to-air missile) (Indigenous Defence Weapon Of India)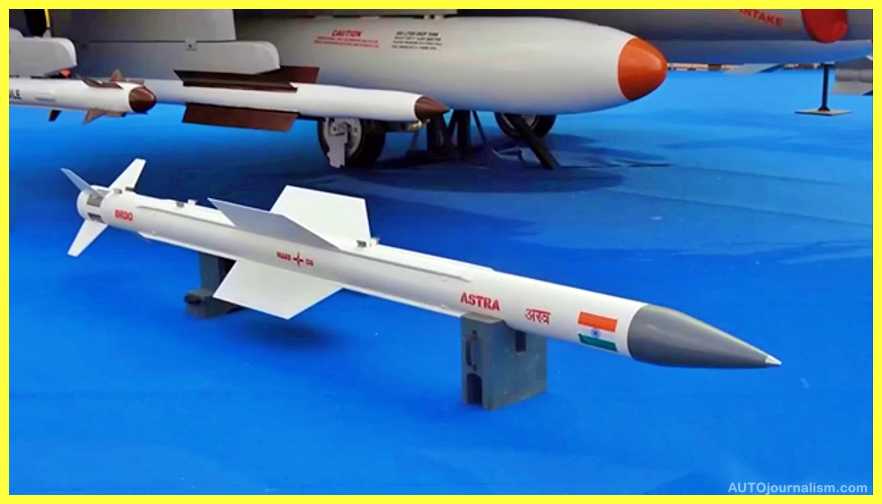 Astra name is originated from a Sanskrit word whose meaning is a weapon it is an indigenously developed beyond visual range bvr air-to-air missile manufactured under the defense research and development organization it is the first air-to-air missile developed in India for our navy and air force it is basically designed to be mounted on a fighter aircraft and destroy highly maneuvering supersonic aircraft in the air itself it uses inertial guidance system with electronic countermeasures to allow operation without jamming themselves it has a 15 kilogram high explosive pre-fragmentation warhead with a range of over 70 kilometers and can fly towards its target at a speed of over 555 kilometers per hour the missile has all-weather day and night capability.
#10. Dhanush (howitzer) (Indigenous Defence Weapon Of India)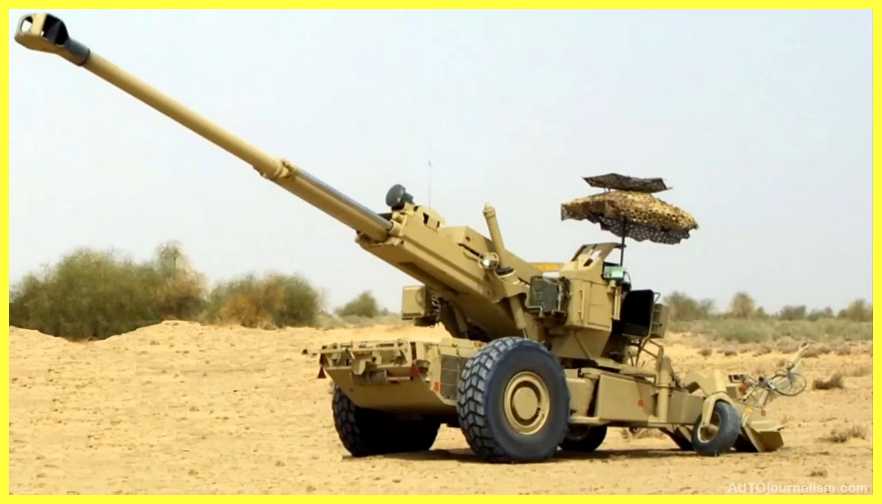 The beast was designed while taking the models of buffers in mind it is a 155 millimeter towed howitzer used by the Indian army which was approved for the previous year only its range is 38 kilometers which is more than the buffers one and is fitted with a 45 caliber gun it has the intense capability of firing three rounds in 15 seconds with having an onboard ballistic computer it is well equipped with direct day and night firing system a modern target acquisition system and a communication system which adds more value in itself.
Read also: