Top 10 Military Trucks in the World
Here are the Top 10 Military Trucks in the World – huge military trucks that can cross any type of terrain and are used for the recovery of vehicles or for the transport of heavy loads these are the 10 most amazing military trucks in the world.
Which military trucks are the best in the world? Which military truck is the best, and why? There are hundreds of thousands of different vehicle models in use for military purposes. Some are commercial designs that have been repainted in military Colours. The others are military-grade tactical vehicles intended specifically for military usage. Military vehicles are mostly used to transport soldiers and supplies.
The length of time a basic design has been produced without substantial alterations, as well as a combination of payload capacity, cross-country mobility, reliability production numbers, and other characteristics, are all important factors in our Top 10 analysis. Only operable trucks are included in this Top 10 list. It excludes vehicles that are still in development or have yet to receive production orders.
These are the top ten military trucks in the world right now:
Top 10 Military Trucks in the World
#10. MZKT 500200 (215 horsepower)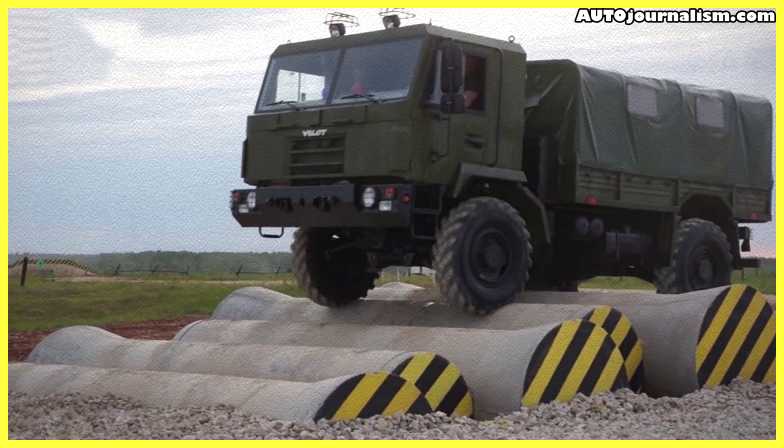 It is an off-road tactical vehicle that began production in Belarus in 2014. It is designed to transport personnel or military equipment and has a total capacity of 23 occupants. It is 19 feet in length, weighs 5.8 tonnes, and has a towing capacity of three tonnes.
It is currently in service with the Belarusian border service and has a diesel engine with 215 horsepower and a top speed of 59 kilometers per hour.
#9. 7000 MV DXM (330 horsepower)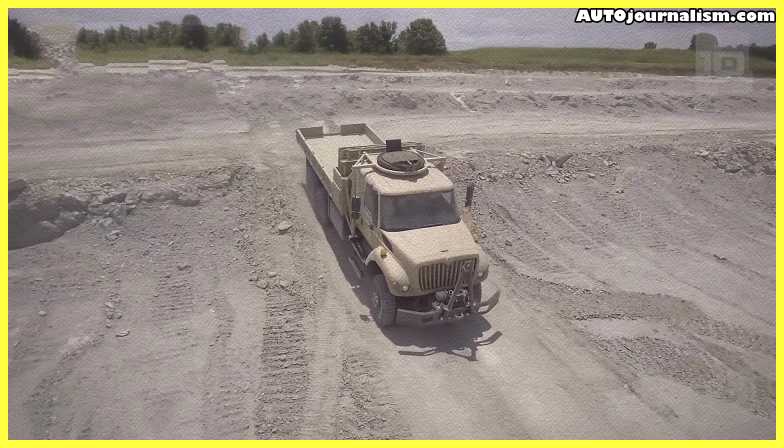 It is a medium-sized truck produced in the United States for the transportation of cargo. It can also transport water or fuel and measures 30 feet long and weighs 13 tonnes.
It is powered by a 330 horsepower diesel engine and has a load capacity of 11 tonnes. It has a range of up to 500 miles and is used by troops in countries like Colombia and Canada.
#8. MZKT 600203 (540 horsepower)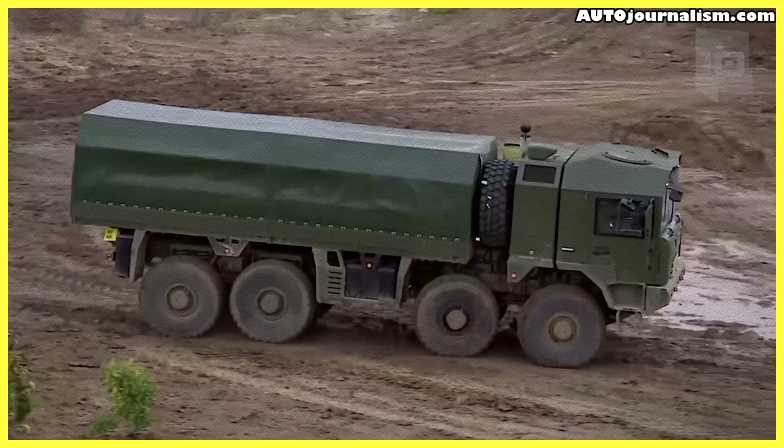 It is a Belarusian truck built to haul huge cargo. It is 30 feet long, weighs 18 tonnes, and has a carrying capacity of 15 tonnes.
It boasts a 540 horsepower engine that can reach a top speed of 65 miles per hour, has a range of 515 miles, and can readily handle various difficulties.
#7. Super Stallion 8×8 (360-horsepower)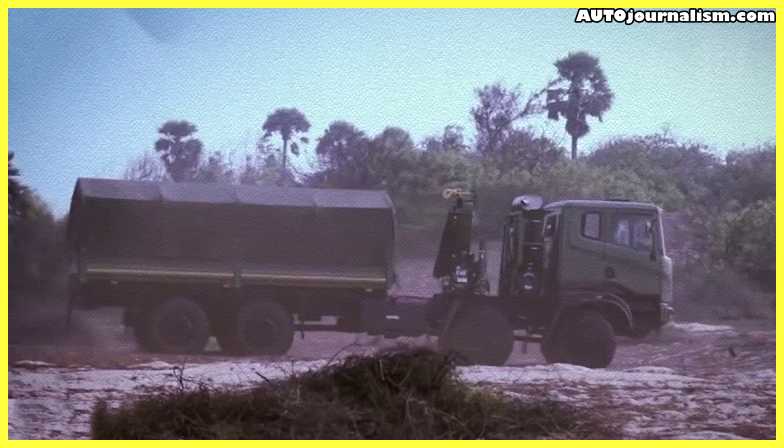 It's a 25-foot, 14-ton logistics truck developed in India that's designed for arid areas. It's powered by a 360-horsepower engine and has a top speed of 55 miles per hour.
It has a load capacity of 12 tonnes and can be equipped with a crane and recovery winch. The Indian Armed Forces utilise this truck to convey military goods.
#6. TATRAPAN 8X8 CC (400-horsepower)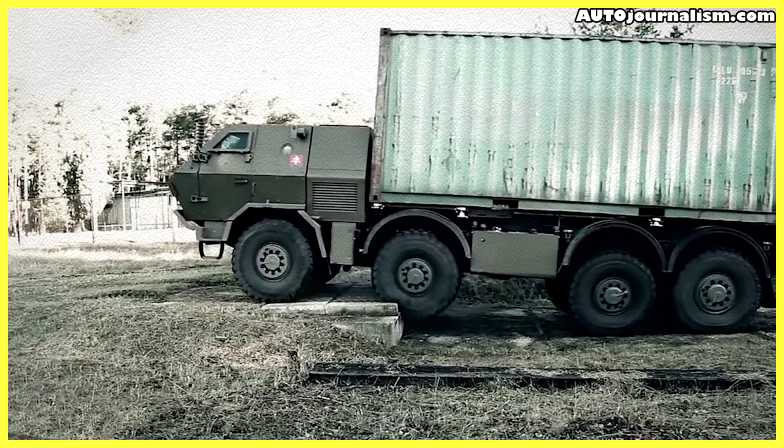 It's a Slovakia-made 8-wheel armoured off-road vehicle that's designed to haul containers across challenging terrain including sand, water, or snow. It's 29 feet long and weighs 36 tonnes.
It has a 17-ton payload capacity and a range of 495 miles. It is powered by a 400-horsepower diesel engine that can achieve speeds of 70 miles per hour. Its cabin holds three people and is armoured on one level.
#5. MAN HX 77 (440 horsepower)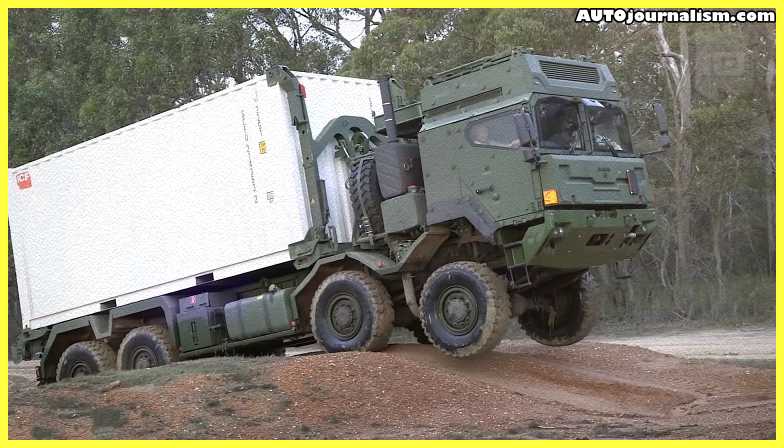 It is a 33-foot-long, 13-ton off-road vehicle developed in Germany that is used for peacekeeping missions, among other things. It can haul containers and unload them using a hydraulic system.
It features a 440 horsepower diesel engine and can achieve speeds of 62 miles per hour. It can carry 15 tonnes and has a range of 310 miles.
#4. AM70 EX (400 horsepower)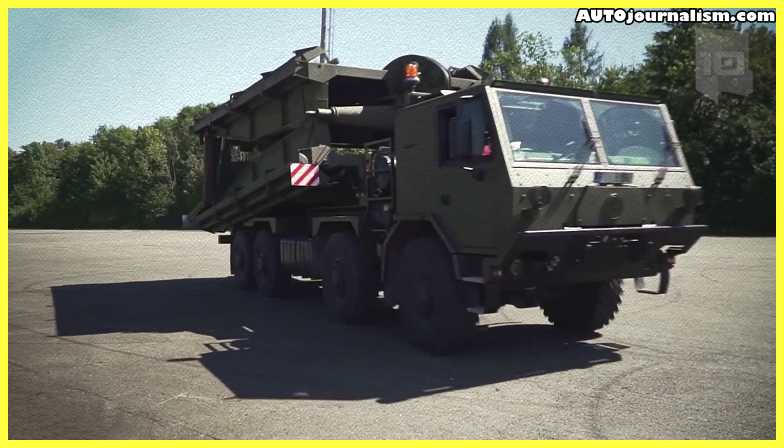 It's a bridge truck made in the Czech Republic that's designed to deploy rapidly in any situation. It's 40 feet long and weighs 33 tonnes, and it has a 400 horsepower diesel engine that can go up to 55 miles per hour.
The bridge may be erected remotely and uses a hydraulic system with extended supports. By adding 44-foot pieces, the bridge can cover a total distance of 328 feet.
#3. T8157 MAMUT (585 horsepower)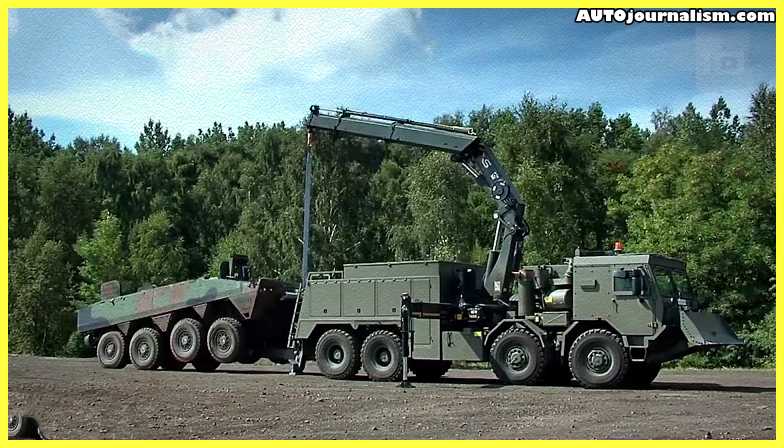 It's a car recovery truck developed in Poland that uses an articulated hydraulic crane. It's 36 feet long and 35 tonnes heavy, with a 585 horsepower engine that can achieve 55 miles per hour.
It is used to recover automobiles or assist them in reaching difficult-to-reach locations. It can lift up to 12 tonnes and tow cars with up to 44 tonnes of wheels.
#2. MZKT 7930 (500 horsepower)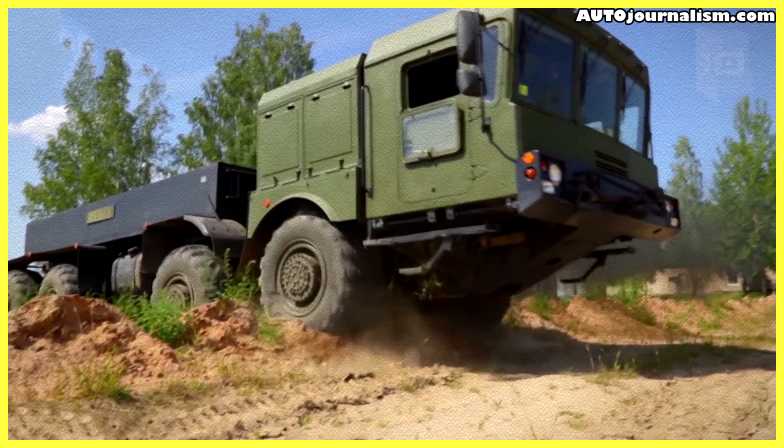 IT is a Belarusian truck that was created exclusively for the Russian market. It is 41 feet long and weighs 20 tonnes. It can carry a load of 24 tonnes and can handle rough terrain with water or mud.
It is powered by a 500 horsepower diesel engine and has a top speed of 43 miles per hour. More than 1000 units have been produced, and it has been in service with the Russian Armed Forces since 2000.
#1. XH 81 MAMMUT (680 horsepower)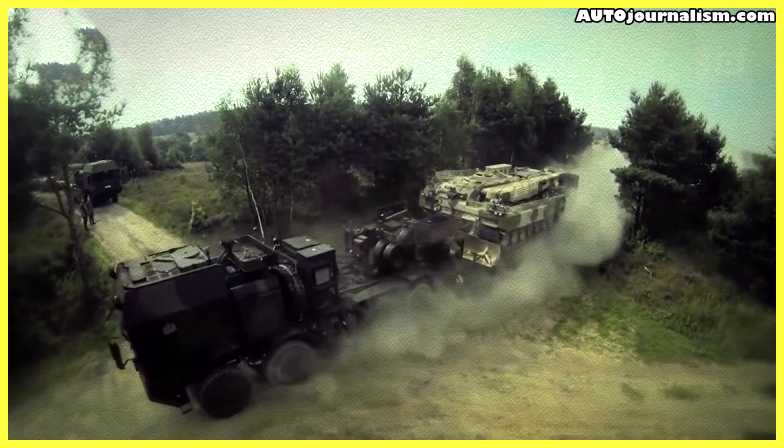 It is a German vehicle that was designed by the companies Man and Rheinmetall and is used to pull tanks or huge military goods across long distances. It has a length of 29 feet and a weight of 27 tonnes. It has a 680 horsepower engine and can attain a top speed of 54 miles per hour. The German army uses this truck for heavy duties in difficult conditions.
NOTE:-
Number three Mamut is the result of a collaboration between two Polish and Czech enterprises, Tatra and Szczeniak, well known for the Tajfun water cannon, and a scientific institute. This is one of the most advanced vehicles in this class, as well as one of the most modular, allowing it to be used for a variety of specialized tasks. The first demonstration occurred in Paris in 2010, and the tests will cease in 2015, despite the fact that the Polish Army desperately needs vehicles like this.
There was no auction in which Mamut could participate until now. Despite the fact that Polish or other regional enterprises have prospects and Army needs, the Polish government does not purchase anything meaningful, and the entire budget is spent on propaganda and the aspirations of PGZ's company unionists. That is why we continue to work on post-Soviet vehicles that are of interest to monument conservators.
Thanks for Reading.
NEXT