Top 10 Solar Cars
Here is the list of Top 10 Solar Cars in the world,  Today, we'll take a quick look at some of the already existing solar cars, so it's time to get excited about the sustainable future of automaking. Solar-powered cars have long been dismissed and ridiculed due to the cell's low efficiency, heavyweight, and high pricing, making electric vehicles the main protagonist. Elon Musk has also stated that the least effective place to put solar panels is on an automobile.
But now, the world is receiving feasible production-ready models, and Elon has taken a U-turn in his approach, adding panels on the future cyber truck, after all, there appear to be some prospects for reviews that do not need to be plugged in.
List of Top 10 Solar Cars
1. SONO SION ( Best Solar Cars in the World )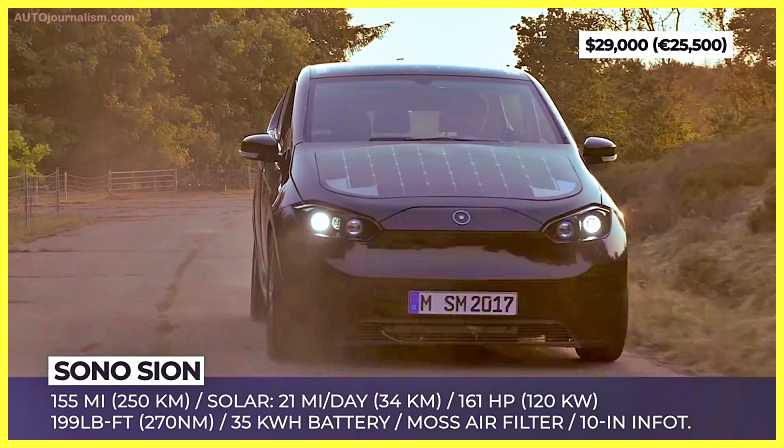 When the SION was first unveiled in 2017, it was touted as the world's first production solar-powered car with an extraordinarily low price of fewer than 20,000 euros. Since then, the price has surely risen, and the business has had to survive through a risky crowdfunding effort. But it's back on track today, with manufacturing set to resume at the former Saab facility in Sweden. The eccentric hatchback isn't concerned with appearances or performance, instead of focusing on maximizing space.
Its durability The entire body is covered in Valoi IBC cells, which can function in cloudy situations and create 21 miles of range on average per day. The 35-kilowatt-hour battery is enough for 155 miles on recharging and may be rented out. Continental supplied the three-phase electric motor, which produces 161 horsepower and 199 pound-feet of torque at highway speeds of up to 87 miles per hour.
2. Fisker Ocean ( Best Solar Cars in the World )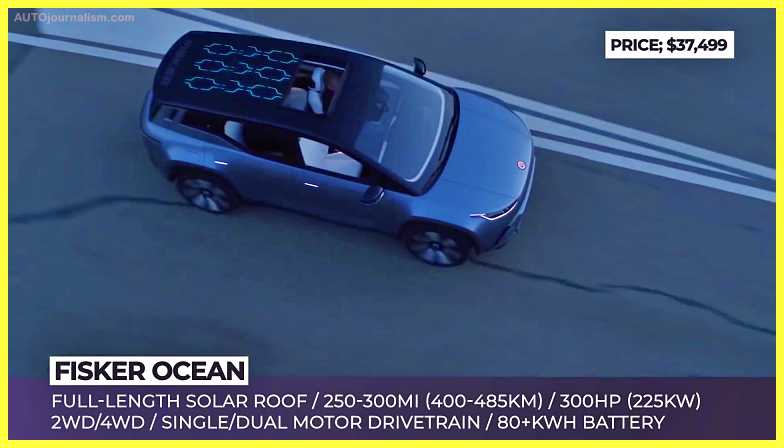 After failing with his black and hybrid karma and all-electric emotion sports cars, Henrikh Visker has earned a reputation in the UV world as a con artist. This time, the notorious designer is venturing into the electric crossover market, promising to build the most affordable long-range model in the segment. The ocean gets an 80-kilowatt-hour battery good for up to 300 miles.
and, depending on your demands, either a single or two motor propulsion system, both have the most up-to-date infotainment technology, an all-vegan interior, and an optional full-length solar roof. Fisker does not reveal its capacity or recharging capabilities, but the business does state that it is intended to improve the crossover's economy and range. As usual, the prototype sounds appealing, but only time will tell whether Henrik actually delivers on his promises.
3. Lightyear One ( Best Solar Cars in the World )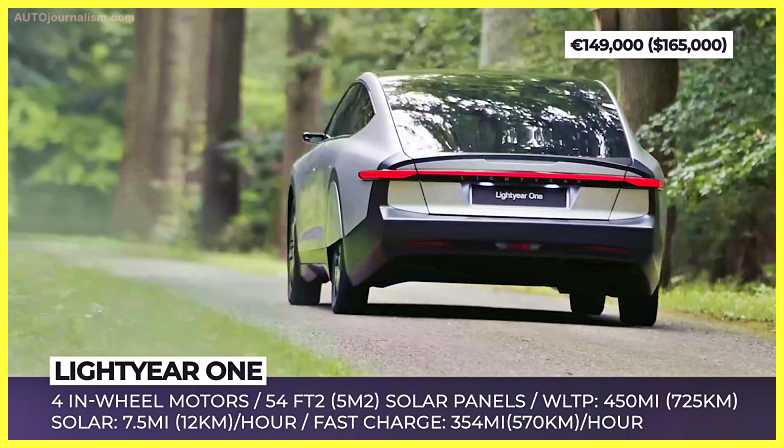 the startup light from the Netherlands Here began building a solar charging car a few years ago, and the firm has finally shown the model's final design. With the speed tail-inspired trigger, this four-door sedan has a sleek and futuristic style. There is a led strip that borders its hood and merges into the headlights to minimize weight and boost economy. One is made of carbon fiber and aluminum components.
Its roof, hood, and trunk are covered in new generation solar panels, which can add seven and a half miles to the battery charge for every hour of sun exposure. The light here foregoes the traditional drivetrain setup, instead opting for four and wheel motors and a battery with a range of 450 miles. We should also mention that light here is currently testing their solar tech on models 3 and BW crafter.
4. Tesla Cybertruck ( Best Solar Cars in the World )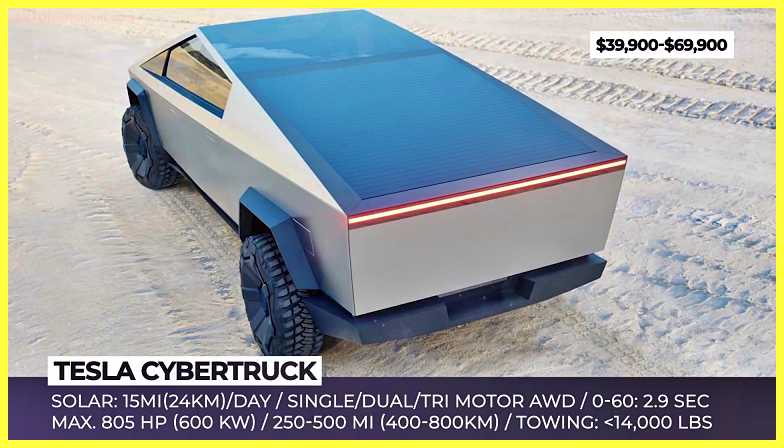 Elon is totally embracing solar, as previously stated, especially since the solar city is a vital element of Tesla. The sample truck will be the primary booster of the technology, arriving with an optional tunnel cover constructed of solar panels. Apart from its self-charging capabilities, this autonomous truck bed comfort will either replace 15 miles of range every day or function as a base camp power station if the Tesla is utilized for over landing.
The stainless steel behemoth is aiming high in terms of performance, with different powertrain combinations with 1, 2, and 3 motors, the latter of which will be capable of producing up to 805 horsepower until 14 000 pounds. The cyber beast can go up to 500 miles and accelerates like a dragster in 2.9 seconds from zero to 60. Furthermore, with 16 inches of clearance adaptable air suspension and the finest approach departure angles in the class, it is an excellent offroader.
5. Stella Era ( Best Solar Cars in the World )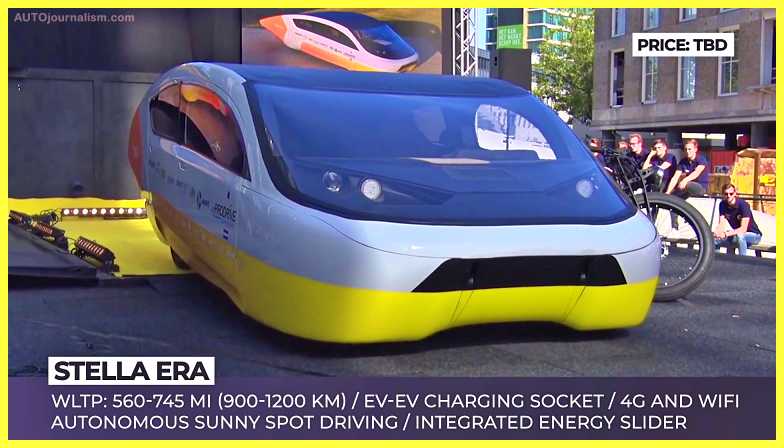 If we had to sum up the stellar era in one statement, we would say that this family car is the Robin Hood of solar energy. The Dutch non-profit solar team has not produced a vehicle capable of storing so much clean energy that it can be shared directly with other people. This four-seater vehicle is the company's fourth prototype; it is powered by two unwheeled motors and features highly effective regenerative braking. The developers do not reveal the technical specifications of the powertrain.
However, the company claims that the era can travel from 560 to nearly 750 miles on a single charge, depending on the amount of sun exposure. Additionally, the car has a built-in autonomous system that re-parks the car to sunny spots on the parking lot. Finally, the stellar era controls the amount of energy it can share with the others, ensuring that you can always drive home when needed.
6. Toyota Prius Prime ( Best Solar Cars in the World )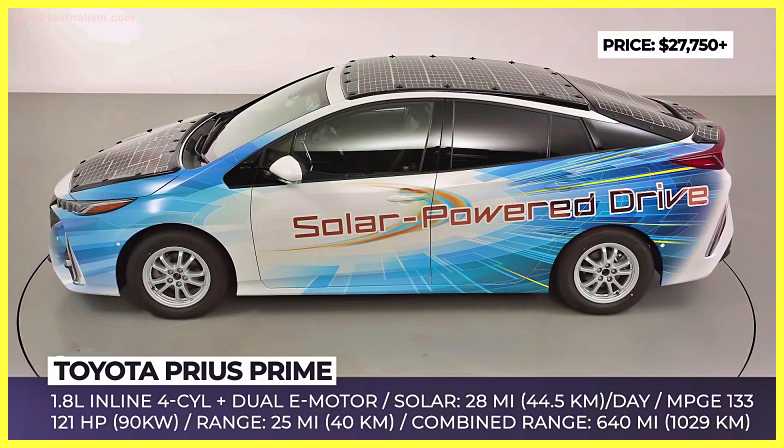 The Japanese version of the Prius Prime has been available with an optional solar roof since 2017. It was developed by Panasonic but added only 3.7 miles of daily range and was considered more of a trendy gimmick than a viable charging method for the car at the time. This time, however, Teora is partnering with Sharp and Edo to develop a new generation of onboard solar battery panels with 34 efficiencies.
The cell's coverage has now been extended to the hood and hatch, increasing the overall rate of generation output to 860 watts, which is equivalent to 28 miles of daily range and completely covers the capacity of the prime's battery. The car will retain its ability to self-recharge even while in motion, and when the 1.8-liter four-cylinder combustion engine kicks in, the incredible 130 plus mpg fuel economy and 640 miles of range are at your disposal.
7. VW ID Buzz Cargo ( Best Solar Cars in the World )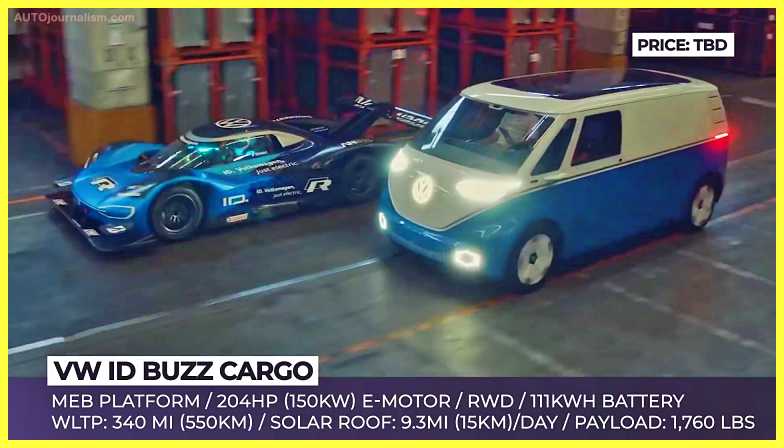 Based on the same platform as the original id bus minivan, this is the workhorse of the upcoming VW id family, which is set to go into production in 2022. It then receives several functional updates that will make it more suitable for commercial use, including a new solar roof that can add 9.3 miles per day to the battery charge and a smart cockpit workspace next to the van.
While at the back, there are a number of high voltage power outlets for running tools. The van design is significantly longer than the passenger id bus and has a payload capability of 1760 pounds. The engine configuration remains identical, with a 204 horsepower motor, rear-wheel drive, and numerous battery options allowing up to 340 miles of driving range.
8. Fiat Centoventi ( Best Solar Cars in the World )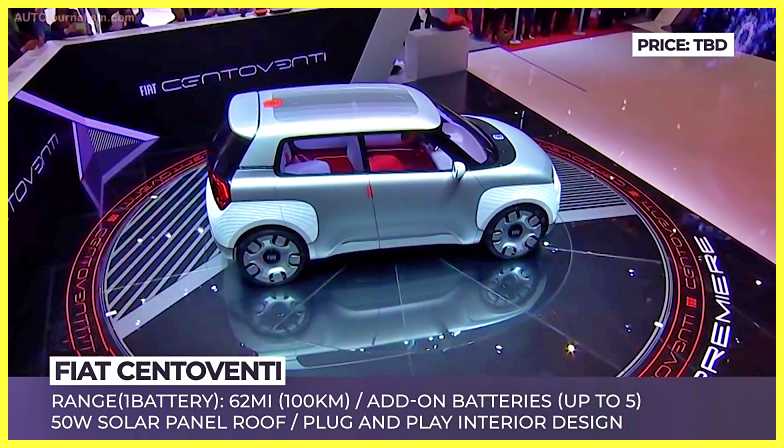 Do you remember the modular Centoventi concept from the 2019 Geneva auto show? The little unboxy hatchback was marketed as Fiat's most open-minded vehicle, and it was a plug-and-play vehicle that was totally electric. The Centoventi was powered by an array of 125 underfloor batteries, each of which could go up to 62 miles on a single charge. The hatchback was available in 256 color schemes and four roof configurations, one of which had a solar panel.
In the spring of 2020, one that can charge the car while driving or power the ad banner on the tailgate will be available. This concept reappeared after we verified it for real production; however, we are still unsure how near the mass-market version will be to the original, and there are even whispers that the Centoventi may merge into an all-electric version of the Fiat Panda.
9. Sunswift Violet ( Best Solar Cars in the World )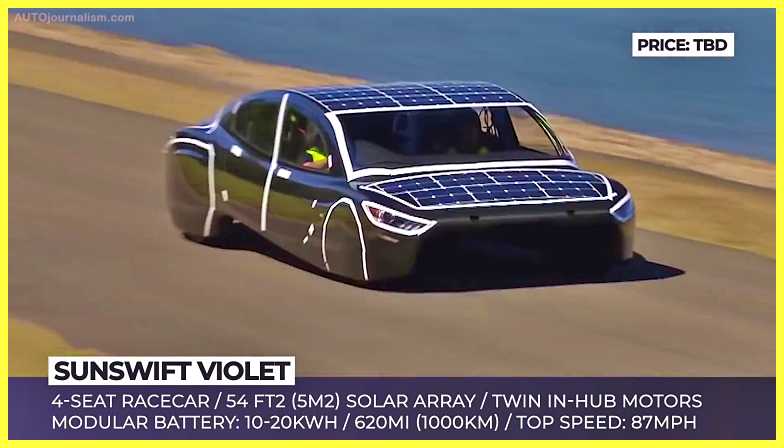 Sunswift is an Australian solar racing team that was created in 1996. They are regarded as a pioneer in the creation of solar cars as well as an active player in the World Solar Challenge. The company's initial electric vehicle prototype was created in the late 1990s, and it has gone through five generation revisions since then. The most recent iteration of the race vehicle, known as Violet, was shown in 2017. It was built to participate in the cruiser class of the challenge, with four doors and four passenger seats.
The automobile solar array was completely rebuilt, now covering 54 square feet and producing a 22 percent improvement in inefficiency. However, the carbon fiber Monica construction and two rear wheel and half motors of the predecessors were retained. The violet is powered by a modest battery with a maximum capacity of 20 kilowatt-hours, yet it can travel up to 620 miles on a single charge under the Australian sun.
10. Solarolla VW Bus ( Best Solar Cars in the World )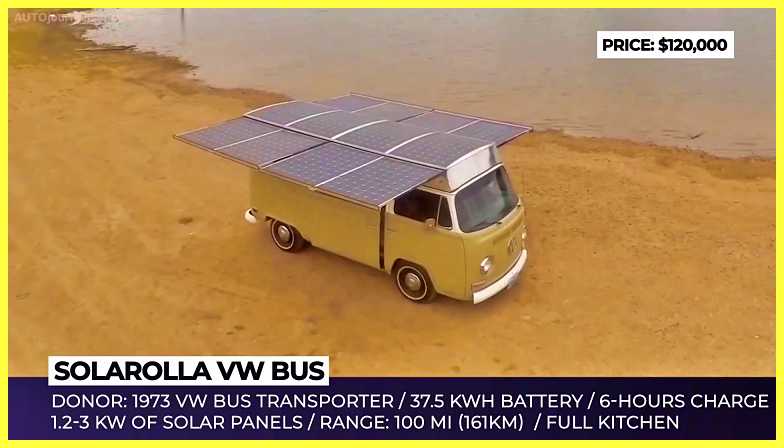 We've seen dozens of model-type conversions before, but a totally solar-powered VW bus is a rarity. Built from the ground up by the solar roller business, the camper boasts roof-mounted solar panels that may be tilted to maximize solar exposure The configuration provides 1.2 kilowatts of solar energy, but this can be more than doubled if you choose two solar awnings that pull out on both sides, delivering nearly 3 kilowatts of energy.
The solar rollers' latest modification is outfitted with Tesla Model S battery modules with a total capacity of 37.5 kilowatt-hours and promises up to 100 miles of range upon request. The bus may also be outfitted with a full kitchen an upper sleeping loft a couch and other facilities. What are your thoughts on the viability of solar-powered cars? Should we install panels on each vehicle or work on extending solar-powered charging networks?
NEXT
Top 10 Upcoming Cruise Missiles in the World
Top 10 Best Camper in the World