Top 10 Audi Cars in the World
Here is the list of Top 10 Audi Cars in the World, The core brands of the Volkswagen Group have distinct identities. Audi is a technology powerhouse that mixes the latest advancements throughout all vehicle segments, while Volkswagen develops people's cars and mass Porsche produces real sports cars with unequaled driving thrills. We'll look through this Year's lineup of this German brand right now.
List of Top 10 Audi Cars in the World
1. Audi A8 and Horch Edition ( Best Audi Car )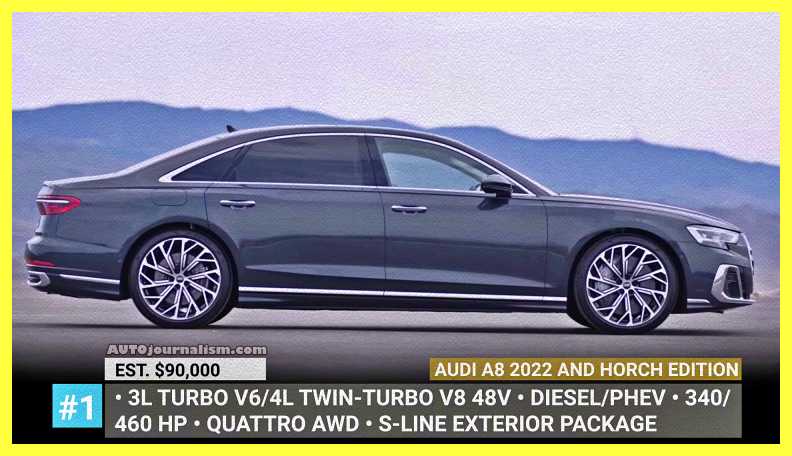 Audi A8 is a luxury car manufactured by Audi. Audi upgrades its largest limousine just after the premiere of the all-new Mercedes s-class, in order to stay up with the king. The most visible modifications are centered on a neutral design. Added wheels and a broader color pallet On the top-spec versions, high-tech digital matrix led headlights and OLED rear lights are standard, and the powertrain selection comes in four flavors. a plug-in hybrid with a larger 14.4-kilowatt-hour battery and a detuned four-liter twin-turbo v8 from the future s8 with 460 horsepower
This saloon will be available in five trim levels, the highest of which will include a rear center console, new back seat electronics, heated and ventilated seats, and even a heated foot massager. In addition, the Audi A8 will receive a China-only horse edition in 2022, with a unique green gray paint scheme. rides on beautiful 20-inch monoblock design wheels and has a 5.1-inch longer wheelbase at 214.5 inches.
2. Audi RS 3 Sportback ( Best Audi Car )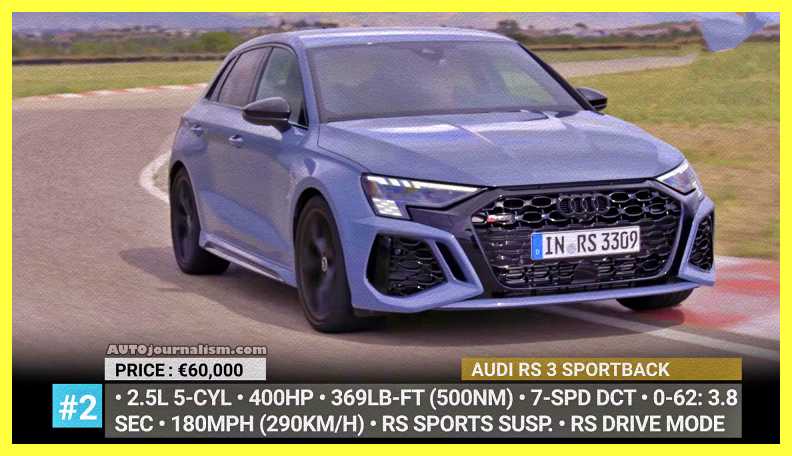 Audi rs3 Sportback Audi rs3 Sportback Audi rs3 Audi's hottest hatchback enters its second generation, drawing on the a3 and s3 models already on the market, but its ultimate aim is to compete with the formidable golf r and Mercedes-Benz mg845 vehicles. The Saudi has a redesigned grille and improved led headlights, which may be upgraded to matrix units with a checkered flag pattern as an option. The hidden weapon is a revised 2.5 liter inline 5 cylinder with unique sounds and an all-new arras torque splitter with drift mode, which has two exhaust pipes and large diffusers in the back.
The revised engine produces 401 horsepower at 5600 rpm and 369-pound feet of torque. The car accelerates to 62 mph in 3.8 seconds and can reach 180 mph with the optional arrest dynamic package. Performance equipment includes dynamic exhaust and six-piston steel brakes that can be swapped for carbon-ceramic units. A poor suspension and progressive steering are also present.
3. Audi R8 V10 Performance RWD ( Best Audi Car )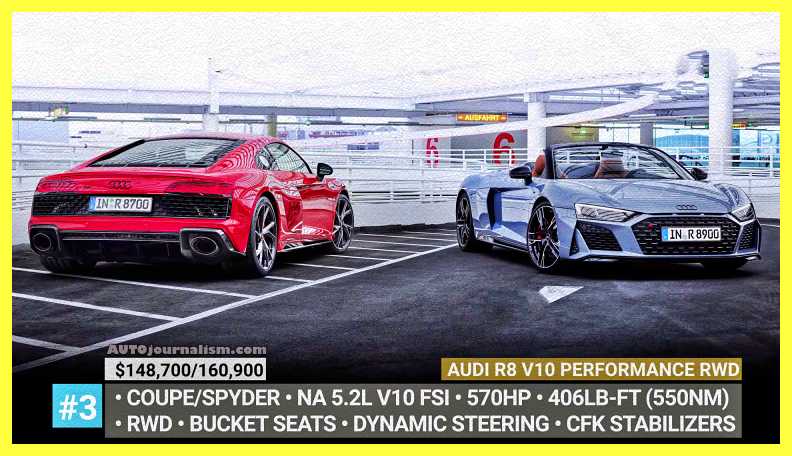 Audi r8 v10 performance rear-wheel drive, which was previously exclusively available in all-wheel drive, got a permanent rear-wheel-drive member in 2019. This year, it gains some of Quattro's high-end features as well as additional power. The v10 performance rear-wheel drive features a sport suspension and lightweight 19 or 20-inch wheels with either 18-inch steel or 19-inch ceramic brakes.
The naturally aspirated 5.2 liter v10, which produces the same 570 horsepower as the Quattro but slightly less torque 406-pound feet when paired with the 7-speed s-Tronic, produces 204 miles per hour speeds and can accelerate the car to 62 miles per hour in 3.7 seconds. Finally, there is dynamic steering, while inside it gets new optional bucket seats and a 12.3-inch infotainment system.
4. Audi Q4 e-tron + Q4 Sportback e-tron ( Best Audi Car )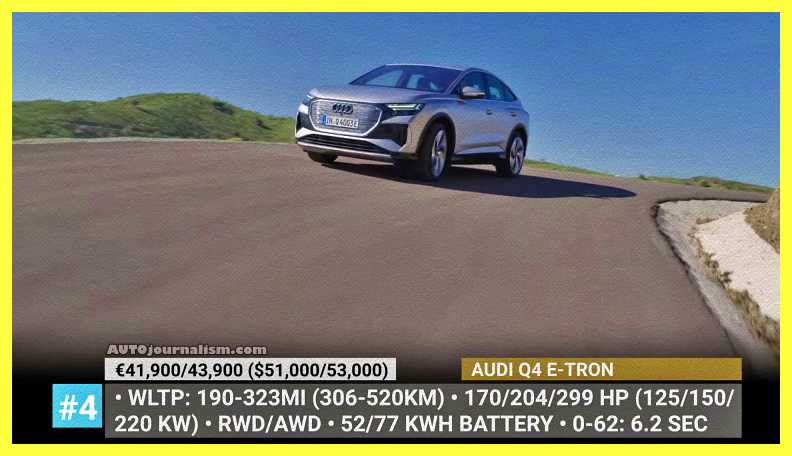 return to Audi q4 e-Tron and q4e transport The q4 and its Sportback versions will be marketed in 35 and 40 single motor rear-wheel drive and a dual-motor 50 Quattro all-wheel-drive configurations, respectively, in the increasing e-Tron line from Audi. The flagship reaches a height of 339 feet and 299 horses. It has a 77-kilowatt-hour battery and can travel between 275 and 300 miles on a single charge. It is also the quickest model in the lineup, sprinting from 0 to 62 mph in 6.2 seconds and achieving a top speed of 112 mph.
Fast charging is available in SUVs at a rate of 125 watts. Get adaptive suspension and a cutting-edge cabin with Audi's newest stack, which includes the world's first augmented reality head-up display. The rear steering wheel is square and has touch controls. 10-inch infotainment and instrument screens with a toggle switch and a wi-fi hotspot If you want to see more in-depth lineup reviews for your favorite car brands, hit the like button and leave a request in the comments section below. We will do our best to accommodate all requests.
5. Audi RS E-Tron GT ( Best Audi Car )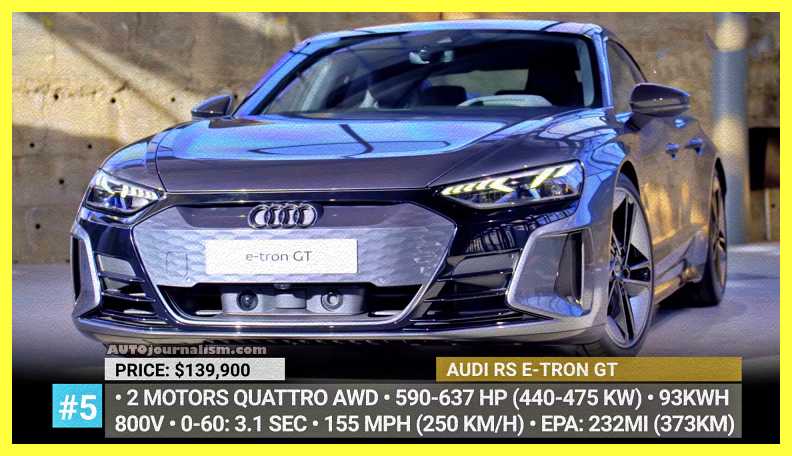 The Audi rs e-Tron gt, which is based on the j1 performance EV platform, is the first all-electric rs model in the history of Audi's performance sub-brand, as well as the "affordable" version of the Porsche Daikon. The e-Tron GT's standard 469 horsepower is increased to 590 hp, and the so-called over-boost function can boost the launches by another 50 horsepower. A planetary two-speed transmission is used in the drivetrain for effective torque transfer at 0-60 times of 3.1 seconds and efficient operating at top speeds of 155 miles per hour.
The electric Quattro all-wheel-drive system uses two motors to drive all four wheels, and optional rear-wheel steering improves handling at low and high speeds. The vehicle has an 800-volt battery pack architecture, which allows for a range of 232 miles and ultra-fast charging at 270 kilowatts.
6. Audi RS 3 Sedan ( Best Audi Car )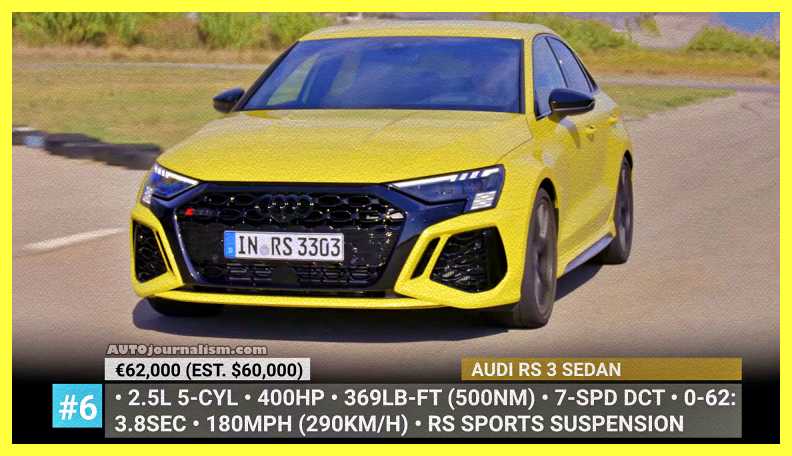 Audi rs3 sedan Audi rs3 sedan Audi rs3 Since we've already covered the significant performance upgrades, the sedan version of the rs3 compromises some hatchback practicality, and it's the only variant of the car that will be marketed in the United States. Let's take a closer look at the tram crates. After the initial edition is sold out, the model will be available in three additional grades. four sprung carbon black 19-inch alloys, Nappa leather interior, dual-zone climate, 12.3-inch virtual cockpit, and a 10.2-inch MMI are expected to be included in the base package.
the trim that has been blackened out led headlights with a darkened matrix The launch is completed by a black aluminum front spoiler and a carbon fiber interior, as well as four spring trims. Audi's comfort and sound package, panoramic sunroof, adaptive suspension with drive choose, and sport drive resistance package With sport seats with contrast stitching and a standard 12.3-inch Audi virtual cockpit plus, the interior of the rs3 has elevated your feeling.
7. Audi A6 e-Tron Concept ( Best Audi Car )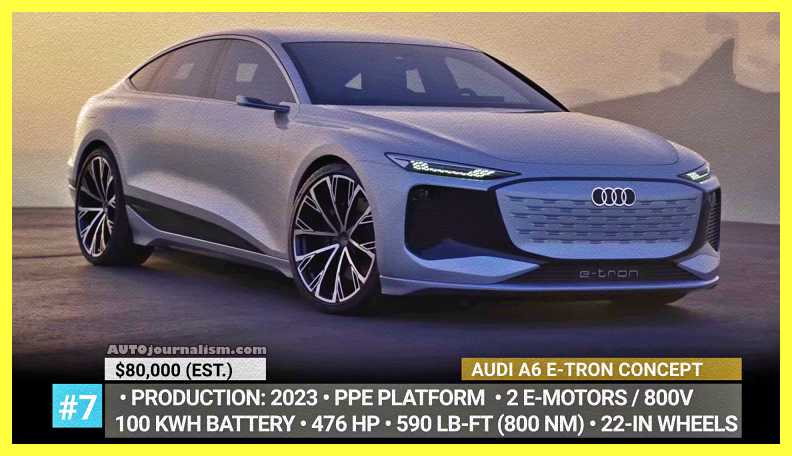 The Audi a6 e-tron concept, which is based on the new Audi Porsche PPE platform, previews a luxury electric sedan that will be available in numerous performance variants. The production model is expected to hit the market in 2023, and according to Audi, it will look practically identical to the card on the screen. On the drivetrain front, the car will benefit from two electric motors and an 800 volts battery architecture. This means a beautiful fastback shape with a dry coefficient of 0.22, a closed-off single-frame grille, digital matrix satellites, and massive 22-inch wheels.
This will allow the 100-kilowatt-hour battery pack to be charged at a rate of 270 kilowatts in 25 minutes. The maximum target range and WLTP cycle are set at 435 miles, with a peak system output of 476 horses and 590-pound feet.
8. Audi RS Q e-Tron ( Best Audi Car )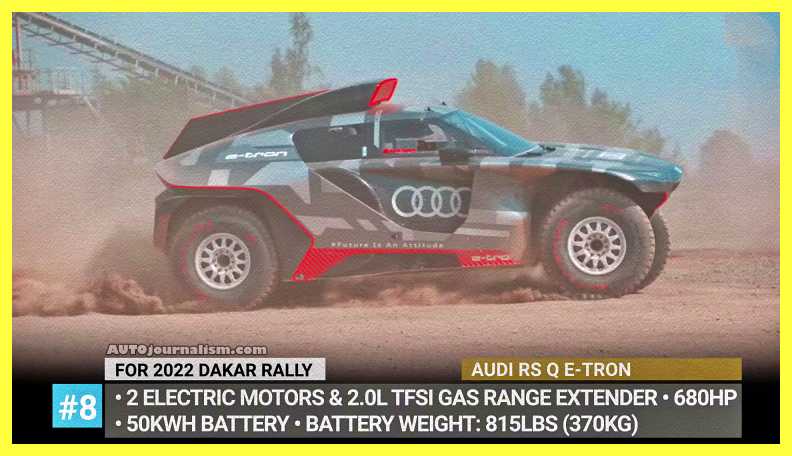 How do you want to beat all the pure ic competitors at the 2022 Dakar rally in addition to the unique carbon fiber bodywork and monster wheels wrapped in 37-inch bf Goodrich tires? Audi RS Q e-Tron With this futuristic off-road SUV powered by electricity, how do you want to beat all the pure ic competitors in addition to the unique carbon fiber bodywork and monster wheels wrapped in 37-inch bf Goodrich tires Two of the formula e motors are installed at the axles, delivering 408 horsepower combined, and each is connected with a single-speed trace transmission with a software-based limited-slip differential.
The third motor functions as a generator and is coupled to the 2-liter turbo engine, which can both recharge the battery and spin the motor for an additional 272 horsepower. With this system, each run sprints to 60 within 4.5 seconds and reaches a top speed of 106 miles per hour.
9. Audi SQ5 Sportback TDI ( Best Audi Car )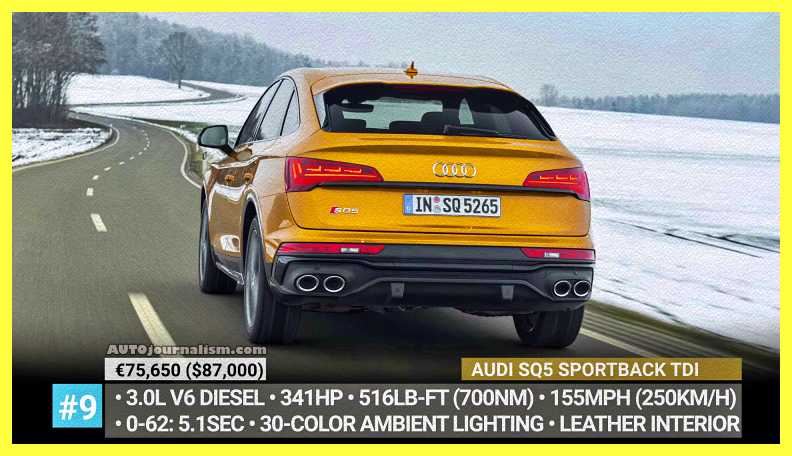 Even in Europe, high-performance vehicles powered by diesel engines are rare, but that hasn't stopped Audi from continuously providing their sk5 Sportback coupe SUV with a 3-liter v6 diesel engine. In 2022, the model will receive a facelift, following in the footsteps of the rest of the q5 line.
It features new matrix-led headlamps and optional OLED taillights, as well as a revised front grille and distinctive rear diffuser. You can also choose between 20 and 21-inch wheels. The diesel engine delivers 341 hp and is made more efficient with the standard feature hyper attack, as well as metallic external paint and a sport suspension with damper settings. The sq5 TDI also has a 10.1-inch multimedia display and a black or grey interior with contrast stitching, aluminum, or carbon fiber end lace.
10. Audi Grandsphere + Skysphere Concepts ( Best Audi Car )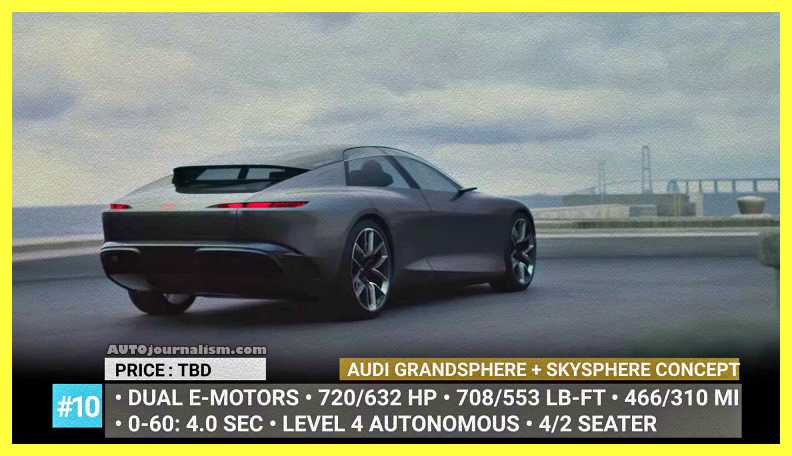 Only the Audi grand sphere and sky sphere ideas are facelifted bestsellers. Audi's range was recently spiced up with a completely new family of sphere concepts, including the grand sphere, an all-electric alternative for the a8 flagship sedan that was previously announced.
While the sky sphere is a one-of-a-kind design study of a futuristic gt with a variable wheelbase length, both versions use strong 800-volt EV designs with 720 and horsepower, respectively, and massive batteries with up to 120-kilowatt hours capacity to assure full grand touring potential. These concepts show off some of Audi's major focus areas for future production vehicles, such as adaptive air suspensions, all-wheel steering with ride-by-wire technology, level 4 driving autonomy, selectable driving modes ranging from comfortable cruising to bullet fast acceleration, and a large number of screens and advanced lighting systems.
Let us know what you think the best German luxury automobile brands are in the comments section below: Audi, Porsche, BMW, or Mercedes.
Credit-
So, this is the List of Top 10 Audi Cars in the World, Hope you like it and share it with your friends, Thanks for Reading.
NEXT