Top 10 Best Level 2 Home EV Chargers
Here is the list of Top 10 Best Level 2 Home EV Chargers, If you're thinking about purchasing an electric vehicle, you should know that the most practical place to charge it is at home. Around 70 to 80 percent of EVS owners charge their vehicles where they sleep, allowing them to fill up overnight rather than waiting at a public charging station. As more EVS enter the market, more options for a level 2 home charger are also available. so in this article, we will discuss the top 10 level 2 home EV Chargers.
List of Top 10 Best Level 2 Home EV Chargers
The table provides the list of the Top 10 Best Level 2 Home EV Chargers in the world along with their price and Names.
| | | |
| --- | --- | --- |
| S. no. | Charger Name | Charger Price |
| 10 | MeGear Level 1+2 |  $199 |
| 9 | Tesla Wall Connector |  $400 |
| 8 | Siemens US2 VersiCharge |  $549 |
| 7 | ClipperCreek HCS 40 |  $565 |
| 6 | Wallbox Pulsar Plus |  $649 |
| 5 | Grizzl E Smart EV Charger |  $459 |
| 4 | ChargePoint Home Flex |  $699 |
| 3 | Lectron Level 2 EV Charger |  $320 |
| 2 | Dcbel R16 |  $499 |
| 1 | JuiceBox 40 |  $699 |
World's Top 10 Best Level 2 Home EV Chargers
Now that you know the world's Top 10 Best Level 2 Home EV Chargers, let us learn a little bit more about them in detail.
10. MeGear Level 1+2 Home EV Charger – $199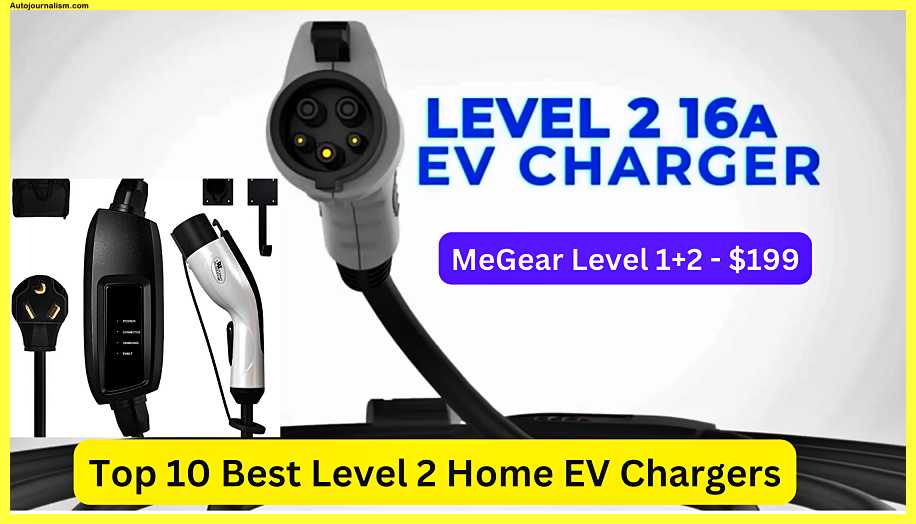 The Megear level 1 and 2 Charger looks a lot like the manufacturer-issued level one charge cord that comes with the typical electric vehicle it's 25 feet long and has an adapter that allows you to plug it into a typical three-prong 120-volt household Outlet if you do that the mid gear level 1 and 2 will charge your EV at essentially the same rate as the cable that came with the car but if you happen to have access to a 240 volt Outlet within Nema 620 plug a lot of electric clothes dryers use these me gear level 1 and 2 will raise your charge rate to 240-volt level 2. a device like this one is the cheapest path to level 2 Charging.
9. Tesla Wall Connector Home EV Charger -$400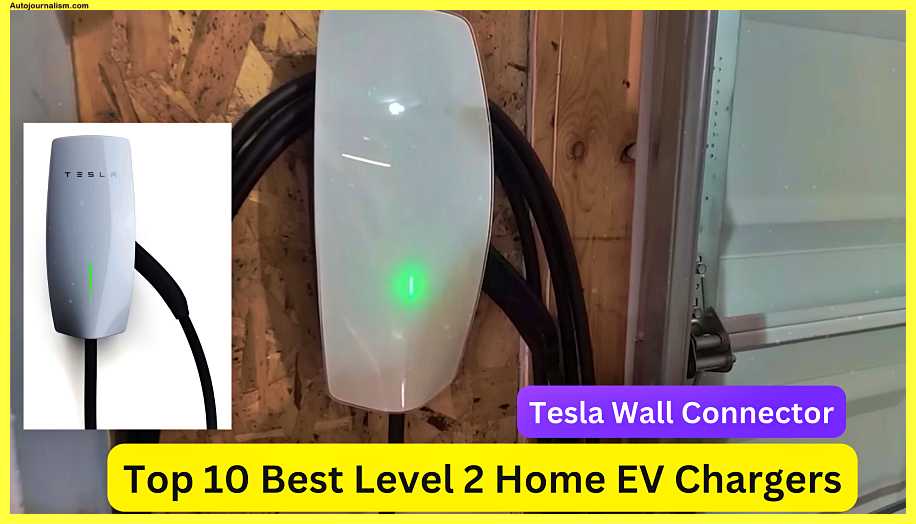 Even if you don't own a Tesla the company's wall connector is a good option connecting to a non-tesla EV simply requires an adapter to go between the Tesla-style plug to the j1772 plug type used by every other EV it's 25 feet long and this third generation Tesla charging unit does have Wi-Fi compatibility which allows the for firmware updates if it doesn't include any ability to control or monitor charging but if you do want a Tesla any of that data and adjustability is available from the vehicle using a third-party application such as testify.
8. Siemens US2 VersiCharge Home EV Charger – $549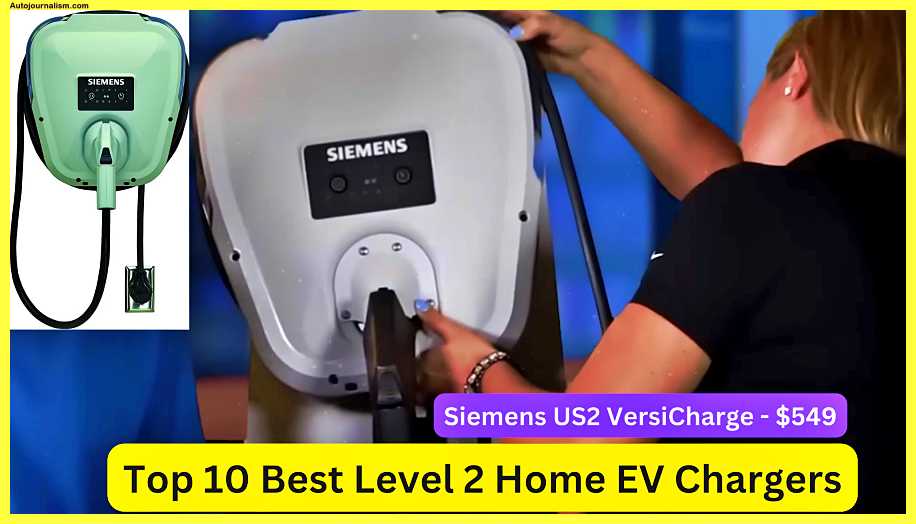 Simons has been making industrial electrical equipment Automotive components and imaging devices for 170 years and it was an early adopter of home EV Chargers too when it was introduced in 2016 the us-2 verse to charge was consistently rated one of the best level 2 home charge stations available today the Versacharge console or case is bigger than just about any out there and its connector cord is hardly the longest 20 feet with a peak charge rate of 30 amps it will still Max charge most EVS on the market but it doesn't leave much growth for the future.
7. ClipperCreek HCS40 Home EV Charger -$565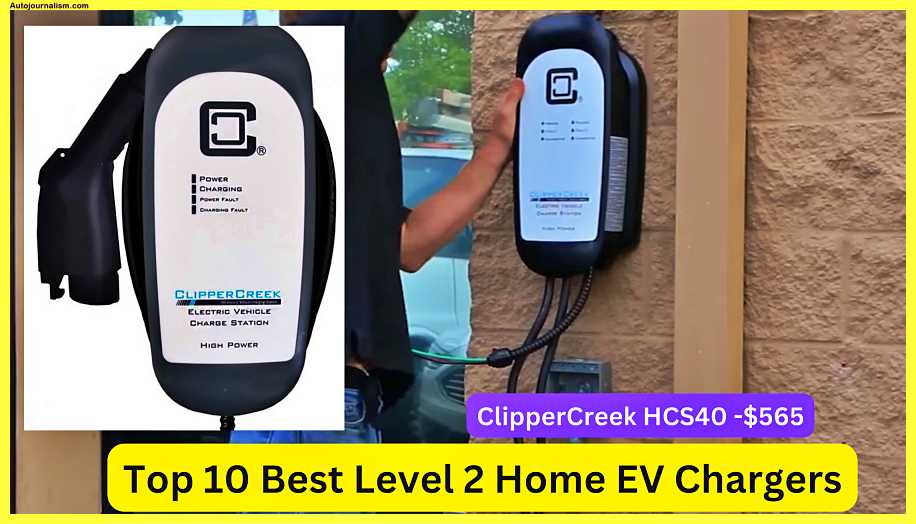 Clipper Creek began building Home and Commercial Chargers and its Factory in Auburn California in 2009 its HCS 40 level 2 home station is one of the best-selling Chargers to date in 2022 the box that houses the hardware is larger than most competitors and the HCS 40s charge rate maxes out at 32 amps this will still charge most electric vehicles on the road today at their highest rate possible on household current but it's about 20 percent less than experts recommend for the Long View beyond that the HD s40s features still hold up well its case is rated Nema 4 for extreme weather and its connector cord measures 25 feet.
6. Wallbox Pulsar Plus Home EV Charger -$649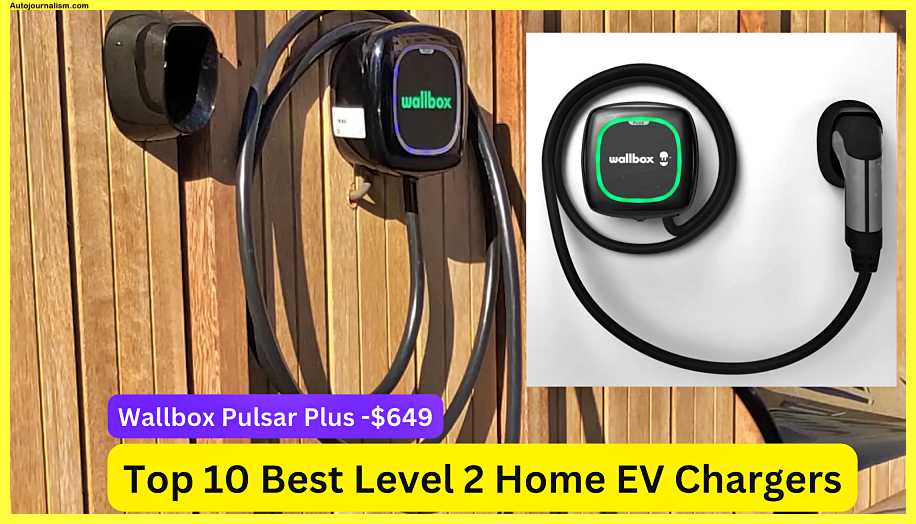 The Pulsar plus is an extra compact level 2 residential charge station it's suitable for outdoor use with 40 amps of charging power in most of the preferred features including a 25-foot connector cable and a mobile app if the app loses its connection with the charger or you don't feel like messing with it you can just plug in your EV and charge yet what separates Pulsar plus from nearly all other Home charge stations is its power-sharing feature this allows more than one unit to be connected to the same electrical circuit to safely charge multiple EVS at once without exceeding the circuit's capacity.
5. Grizzl-E Smart Home EV Charger – $459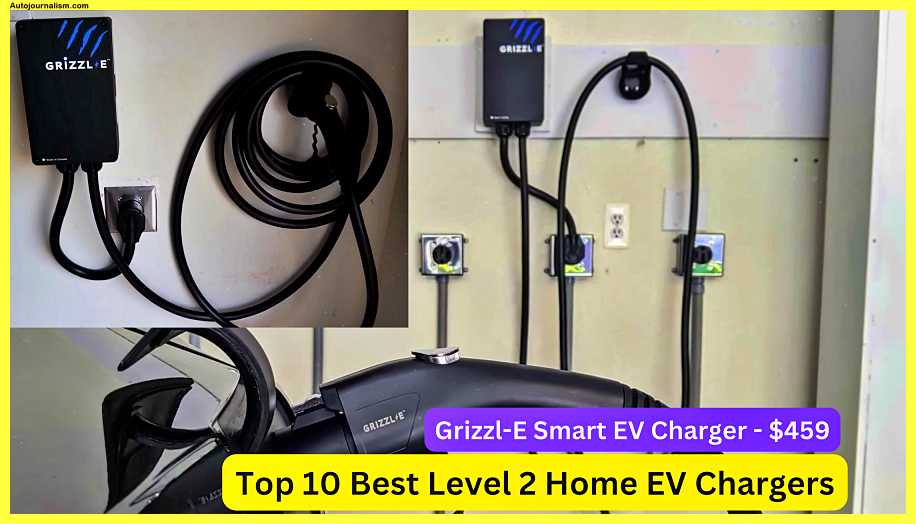 The grizzly classic car charging station is designed and built in Canada and that could be one of the reasons we like it the classic ship is a plug-in to minimize potential installation costs but it's also suitable for hard wiring it's manually adjustable from 16 to 40 amps and that can save on installation too in the short run as in you might not need a higher rated more expensive circuit breaker until you have a car that needs the higher charge rate throw in a 24-foot connector cord and that's about it there's no Bluetooth connection or phone app here yet calling the grizzly classic a No-Frills charger EV fast level 2 undervalues one of its other strengths the thing is built like a tank and packaged with a dust proof fire resistant aluminum case that's built to NEMA 6 standards which protect against full water immersion to one meter for 30 minutes most other Home stations are upgraded.
4. ChargePoint Home Flex Home EV Charger -$699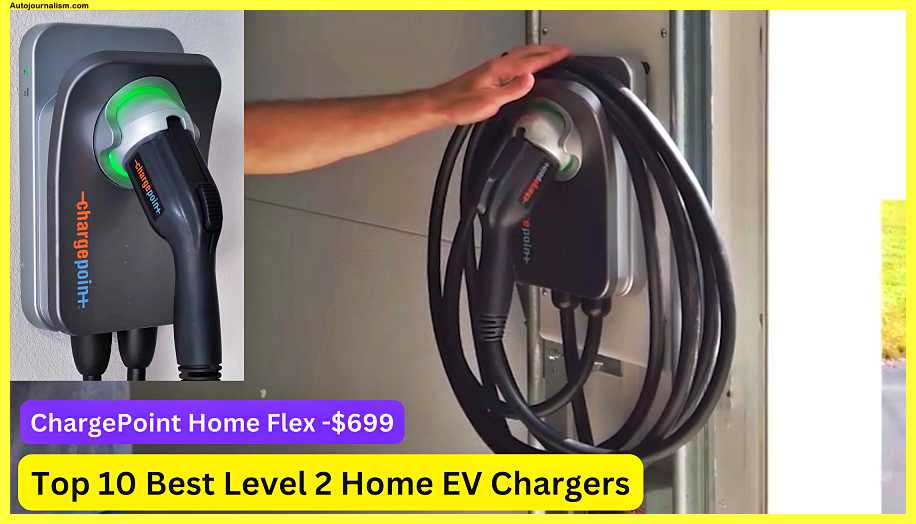 Home Flex says nearly everything you'll find in our best overall juice box 40. with even a bit more to like its vox's Compact and stylish and its connector locks into its holster or a charge port with a smooth authoritative click the holster is ringed with a softly glowing Halo of an LED more significantly home flex can raise the peak charging rate to 50 amps if it's hardwired while that's almost Overkill in a level 2 charger given that 40 amps should still charge an EV overnight for years to come home Flex will charge a few more current EVS at their fastest possible rate on residential alternating current at Nema 4.
3. Lectron Level 2 Home EV Charger -$320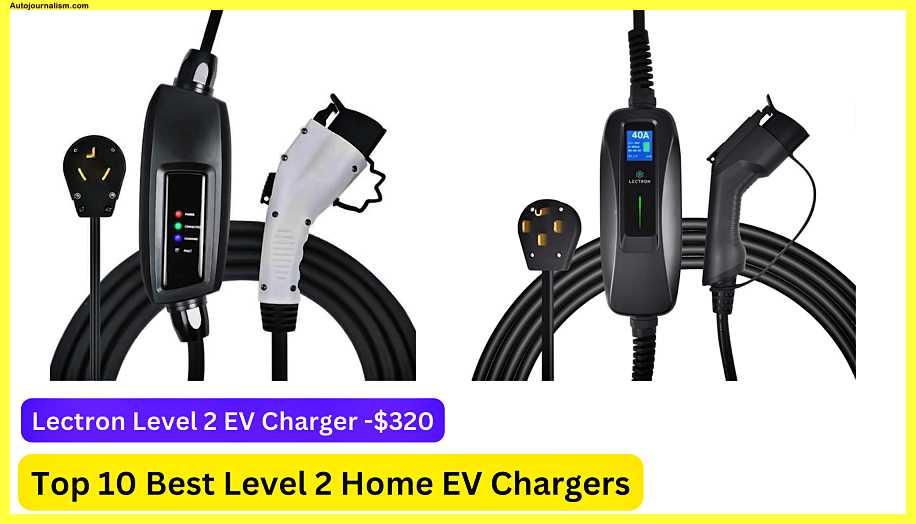 This electron is one of the cheapest options out there and there's an even less expensive variant 200 that flows only 16 amps also a more powerful 40 amp version 320 so you can pick which one matches your household outlet and vehicle's charge rate and not spend on unused charging capability the electron 32 amp charger represents one of higher quality options for a relatively bargain price there's no Wi-fi connectivity you'll have to Shell out more cash for that luxury but it comes with a display screen that displays things like amperage temperature and voltage 32 amps is the max setting which can be adjusted down to 10 amps.
2. Dcbel R16 Home EV Charger -$499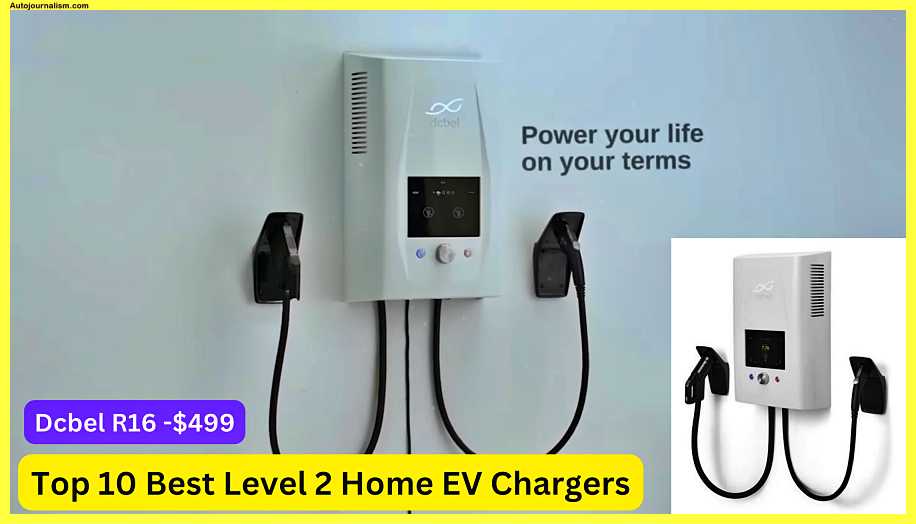 Designed and built by Montreal-based decibel energy the R16 is much more than a level 2 home charge station think of it as the electrical command center for the home of the future with its own operating system the R16 allows solar-collected direct current to charge your EV or home batteries and DC is by far the fastest way to charge your car it will turn solar DC into alternating current to power your home and it can turn your EV into a household power bank in the event of utility failure the R16 can integrate and replace up to five pieces of Hardware early solar and low carbon adapters now use in their homes.
1. JuiceBox 40 Best Home EV Charger -$699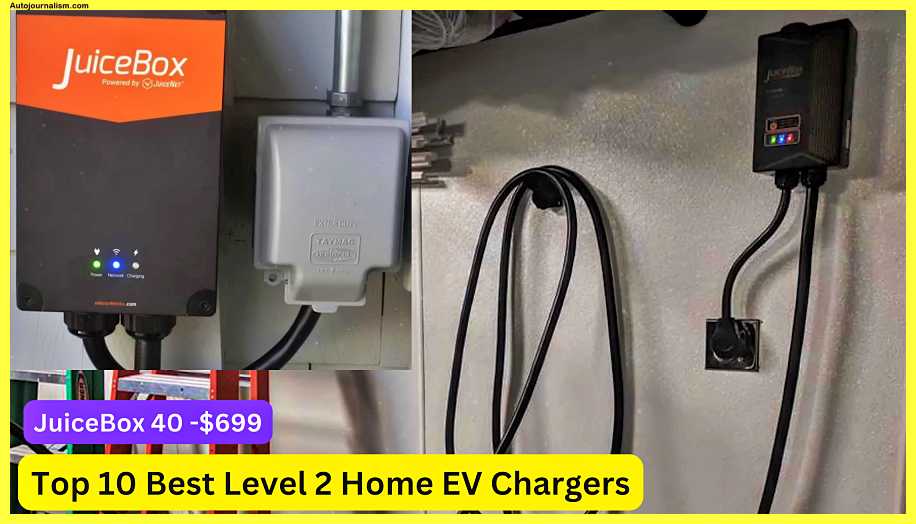 The juice Fox 40 delivers everything you need in most of what you'll want in a level 2 home charge station at a reasonable price it's UL listed as built to exceed NEMA 4 standards and is great for outdoor use it can be hardwired or plugged in it will charge any electric car pickup or SUV available in North America including Tesla with a brand standard j1772 adapter and it comes with the industry standard three-year warranty perhaps most important it hits the magic charge rate threshold of 40 amps which means it will replenish any substantially drained EV current or forthcoming in an 8 to 10-hour time frame for years to come Beyond its foundational features the juice box 40 is finished with some polished and useful details it's easy to install and its 25-foot connector cable allows maximum flexibility in use.
Bonus: Eon EV Charging at Home
Eon EV Charging Station – The EON EV Charging Station is a smart plug that allows you to charge your electric vehicle from anywhere in the house. This device plugs into a standard wall outlet and automatically detects whether or not an electric car is connected to its port. If no car is plugged in, the unit powers off after 30 minutes. If a car is plugged in, it charges the battery at maximum speed until fully charged.
Eon Home Car Charger – The EON EV charger is a smart plug that lets you charge your electric car from anywhere in the house using a standard wall socket. This device plugs into the wall socket and automatically detects whether or not an electric car is connected. If no car is connected, the unit powers off within 30 minutes. If a vehicle is connected, the unit charges the battery at full speed until fully charged. The EON EV Charger also has a built-in LED light that illuminates when the unit is charging.
The Eon Home Car Charger is designed to save energy and reduce carbon emissions. It features a built-in LED lamp that lights up when the unit is charging, reducing electricity consumption. The unit also shuts down after 30 minutes of nonuse, conserving energy.
Top 10 Best Level 2 Home EV Chargers FAQs
Who makes the best level 2 charger?
Emporia Smart Home EV Charger
Which EV charger is best for home?
Ohme Home Pro
How do I choose a Level 2 EV charger?
You must pick a charger whose amperage, or current, level, is compatible with the electrical capacity that is available in both your home and your car.
What is the fastest level 2 charger for the home?
The Blink IQ 200 chargers, which provide 80 amps of power and can charge a vehicle 65 miles in an hour, are the fastest Level 2 AC charging stations currently on the market. They can charge any battery-electric or plug-in hybrid vehicle because they run on the Blink Network.
Also Check: