Top 10 Best Off Road ATV and Big-BORE Quad Models
Here is the list of Top 10 Best Off Road ATV and Big-Bore Quad Models (4×4), the segment of sport ATVs is long past this golden age technically only Yamaha remains among the manufacturers of pure racing machines nevertheless in this episode we have attempted to gather the most capable models that match the sport description as well as modern big bore ATVs that can bring unprecedented levels of adrenaline and offroad fun.
List of Top 10 Best Off Road ATVs:
1. Yamaha YFZ450R (Off Road ATV and Big-BORE Quad)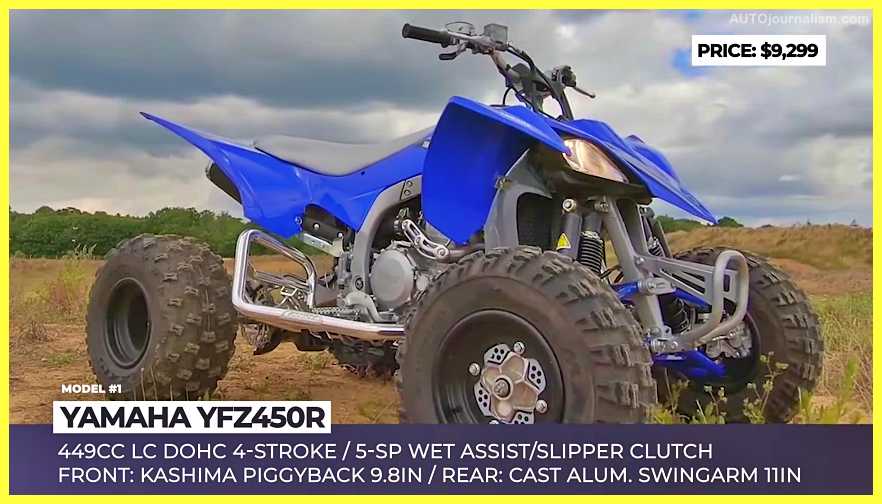 Yamaha YFZ450R this model was designed for those riders who aspired to nothing else but winning the podium capturing DNA of the Yamaha YFZ450R combines the efforts of the 449 cc liquid cooled for stroke with five titanium valves and a five-speed wet assist and slipper clutch for precise fuel delivery the powertrain uses Yamaha fuel injection a system that is comprised of a big 42 millimeter Mikuni throttle body 12-hole injector and idle speed control the weldless frame incorporates lightweight aluminum with the tension steel bottom frame, as a result, the engine sits lower and the machine possesses ideal mass centralization at the front the YCL-450r is suspended with an independent double wishbone with Kashima coated 9.8 inches piggyback shocks and at the rear, there is a cast aluminum swing arm with piggyback shock and 11 inches of travel.
2. Polaris Scrambler XP 1000 S (Off Road ATV and Big-BORE Quad)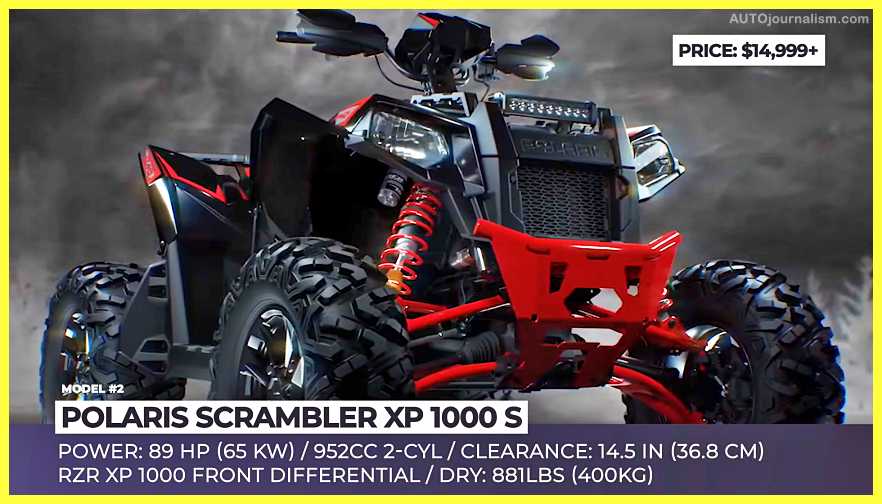 While this ATV shares lots of its core features with the same sportsman model it does possess several differences that aim at those riders who are looking for more excitement along with the wider platform and 31 larger frame tubing the new scrambler gets you race proof and RCR xb1000 front differential and a more durable transmission which has been re-engineered with stronger components it also raises the bar of riding comfort and comes equipped with an exclusive pro skier system that eliminates bumps tier the optimize 952 cc twin cylinder provides battery weight distribution while its maximum output is rated at 89 ponies unlike the sportsman the scrambler features two throttle modes standard and performance and also up front it gets additionally differentiated by an 11-inch pro armor light bar.
3. Can-Am Renegade (Off Road ATV and Big-BORE Quad)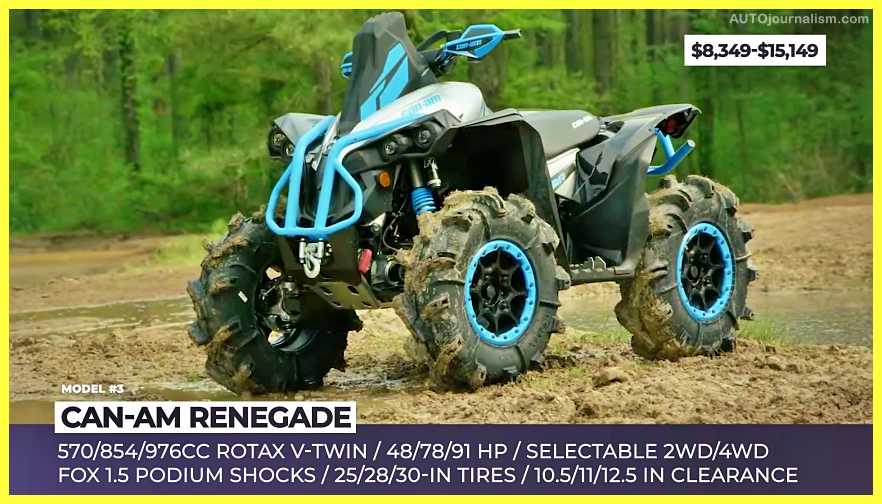 The renegade has a lighter and more agile ATV range from canon that is also by wright considered one of the most powerful on today's market this model is sold in four trumps powered by the class leading 48 hp Rotax 570 78 hp Rotax 850 and 91 hp Rotax 1000 versions of the liquid cooled v1 engine among the shared specifications are selectable two-wheel drive and four-wheel drive with lock qe auto locking front differential trimod's dynamic power steering and fox 1.5 podium shocks the xxc and xmr 1000r models additionally benefit from the intelligent throttle control system with three adaptive writing modes depending on the selected configuration 25 28 and 30 itp tires are available which consequently set the ground clearance at 10.5 11 and 12.5 inches.
4. Segway Snarler AT6 (Off Road ATV and Big-BORE Quad)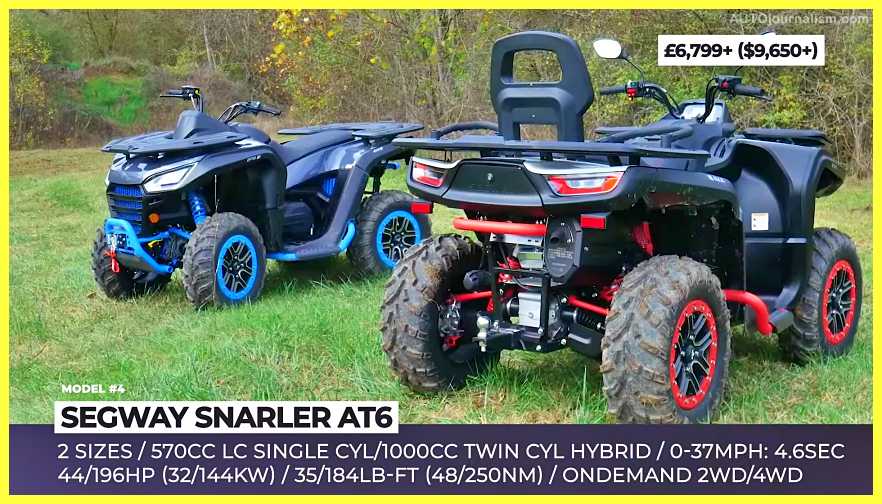 You heard that right segway previously famous for their personal transporters and scooters is now an active player in the offroad vehicles market the company currently has two side-by-side models and a single ATV the ladder is offered in two sizes and two drivetrain options pure gasoline and the industry's first mass production hybrid the former is built around a 570cc liquid cooled single cylinder engine with 44 horses and is fitted with dual an arm suspension offering 7 and 8.3 inches of travel the hybrid uses the 1000 cc twin cylinder virtually permanent magnet motor for the peak output of 196 hp and 184-pound feet it also gets larger 14-inch aluminum wheels with 29-inch tires and a more sophisticated suspension with 15.7 inches of travel on both ends.
5. Yamaha Raptor 700R (Off Road ATV and Big-BORE Quad)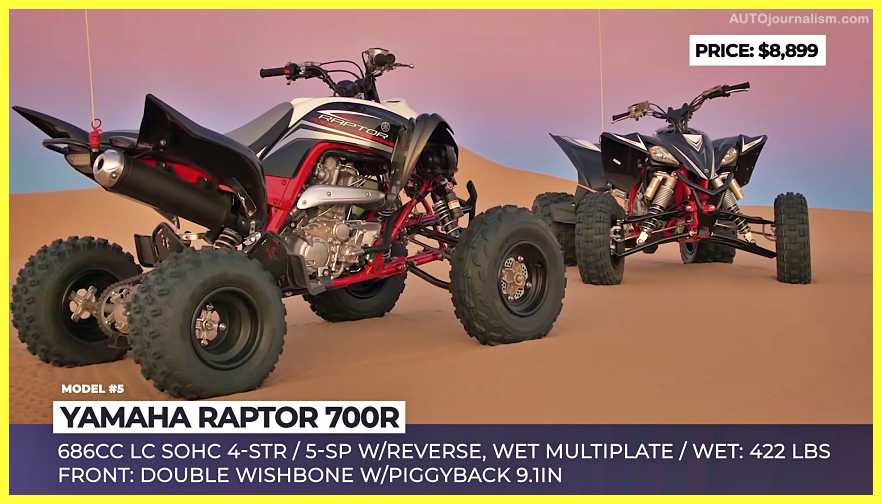 There is a reason why the 700r holds the title of the best-selling sport ATV of all time its superior style unmatched comfort and backboard performance attract the most daring riders the CTV puts to work a 686 cc liquid cooled fuel-injected raptor engine that drives to 9000 rpm and is controlled through the five-speed wet multi-plate clutch with reverse the right to be called the lightest model in the class is earned thanks to the hybrid steel aluminum frame controlled fill aluminum subframe and a cast aluminum swing arm in the rear the ladder works with preload adjusted piggyback shocks with 10.1 inches of travel while up front there was a double wishbone suspension with piggybacks and 9.1 inches of travel the raptor 700r is equipped with multi-reflector 30-watt Krypton headlights led taillights Maxxis tires and twin aluminum piston disc brakes.
6. Polaris Sportsman XP 1000 S (Off Road ATV and Big-BORE Quad)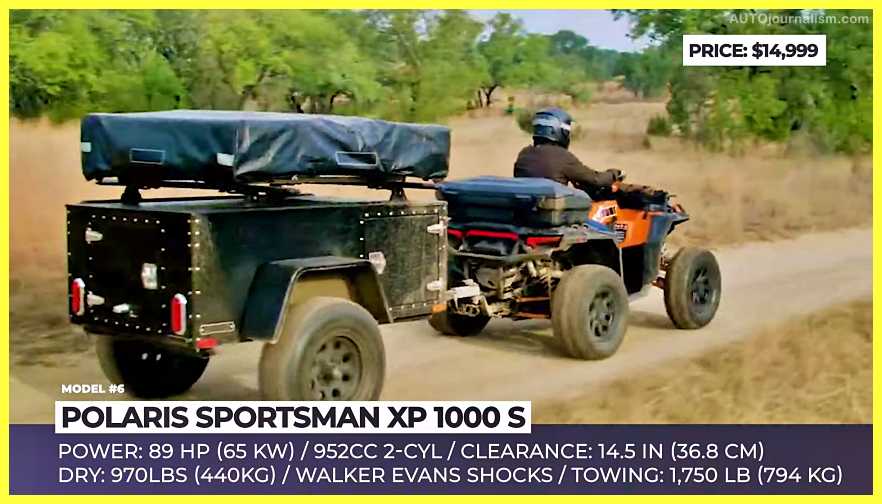 Sitting on an all-new platform with an updated transmission and 14.5 inches of ground clearance the sportsman xb1000s is ready to perform any task that you throw at it the ATV has a 55-inch wide body that provides more stability when entering fast corners or passing deep trails while its architecture features 30 bigger mainframe tubing and ensures lifelong durability, in addition, this Polaris gets reinforced stranger XP front differential and walker Athens 2.0 shocks with compression adjustment by pressing a single button the driver can choose between three driving modes standard work or performance the power is supplied by a 952 cc pro start one that delivers 89 ponies this is enough for the combined 500 pounds of cargo and more than 1700 pounds of towing capacity.
7. Suzuki KingQuad (Off Road ATV and Big-BORE Quad)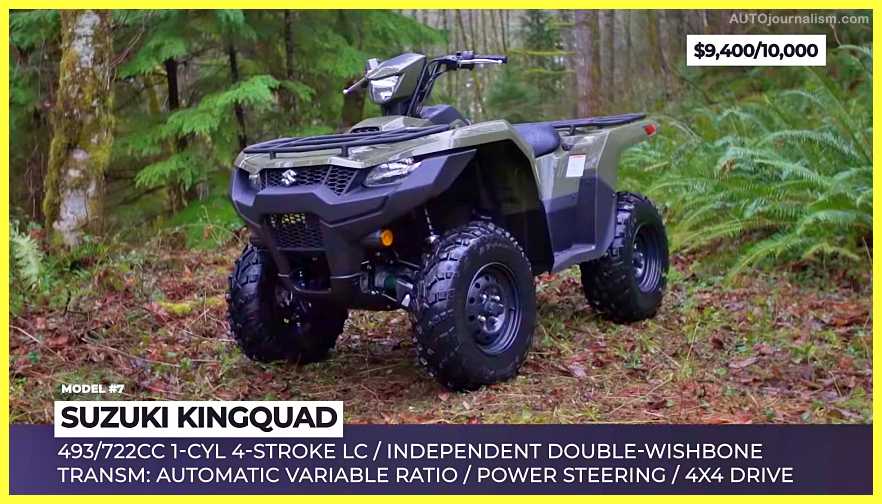 Heavily updated for the 2019 model here the fresh king quads 500 axi and kin quad 750 xi is a culmination of 30 years of engineering expertise refinement and rider's feedback these ATVs feature frames with increased rigidity updated power steering and the suspension is now fully independent with 5-way spring preload adjustable shock absorbers the latest king quads take advantage of the 483 and 722 cc single-cylinder 4-stroke engines with liquid cooling and an automatic variable ratio transmission with stronger acceleration and more effective engine braking Suzuki's exclusive t-shaped seat delivers maximum rider maneuverability and comforts and there are 11 liters of extra cargo storage which is spread across three compartments the trailers led to the handlebar mounted dual multi-reflector halogen headlight the tail light is led the multi-function LCD instrument panel has service reminder.
8. Kymco MXU700i LE (Off Road ATV and Big-BORE Quad)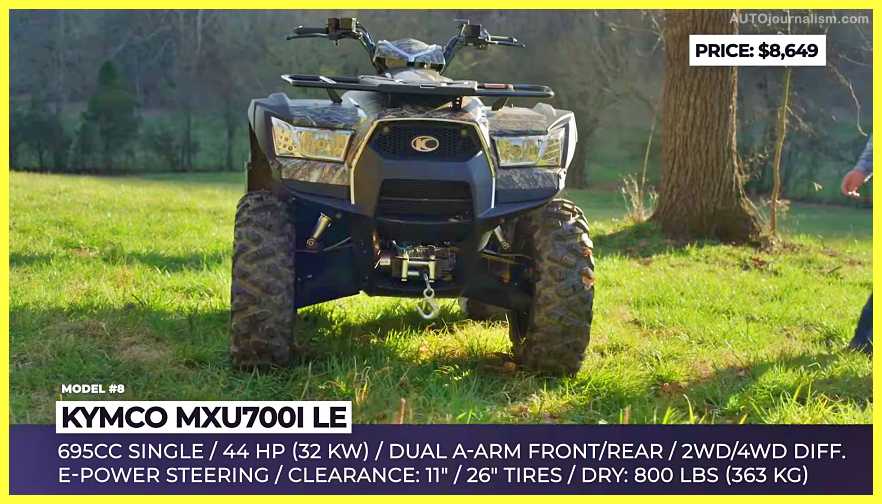 The top model of the MXU range carefully maintains the balance between hefty power and the highest level of maneuverability required by the segment in 2021 the mxu700 brings even more standard features such as electronic power steering and bigger 14-inch wheels wrapped into 26-inch tires the CTV is suspended by an independent dual an arm both front and rear while the stopping power is provided by the hydraulic brakes with the park locking feature the fuel injected cc liquid gold engine delivers 44 horsepower and 40-pound feet of torque which is enough for a 1000 plus pound stone capacity among other notable features of the build we should mention dual high low beam headlights with led markers integrated storage compartments in the front venture and a USB charging port.
9. Arctic Cat Alterra 700 and TRV700 (Off Road ATV and Big-BORE Quad)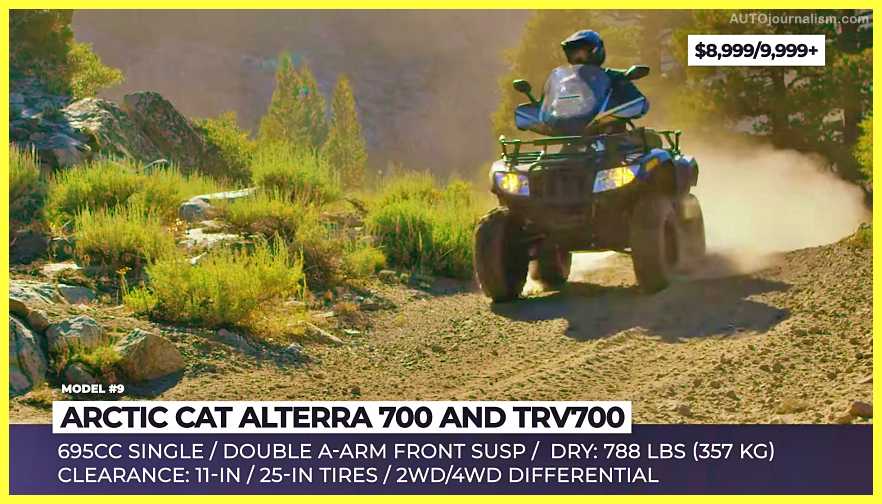 Upon entering the 2021 model here arctic cat shortens its product line to focus on the performance-oriented and off-road kin buyers the premium Altera 700 and its 2c decoration are now compact with plenty of standard features such as an electronic power steering a double an arm front suspension adjustable shock absorbers and rapid traction system these goodies combined with 25-inch tires provide 11 inches of ground clearance powering the Altera 700 is the 695 cc liquid cooled single cylinder which boasts improved fuel efficiency and puts a damper on loud engine noise thanks to the wide range of available accessories the ATV's tough train potency can be boosted by adding a premium front bumper with three thousand pounds worn winch as well as molded and one hundred pounds front and two hundred pounds rear racks with a speed lock quick installation system.
10. Can-Am Outlander (Off Road ATV and Big-BORE Quad)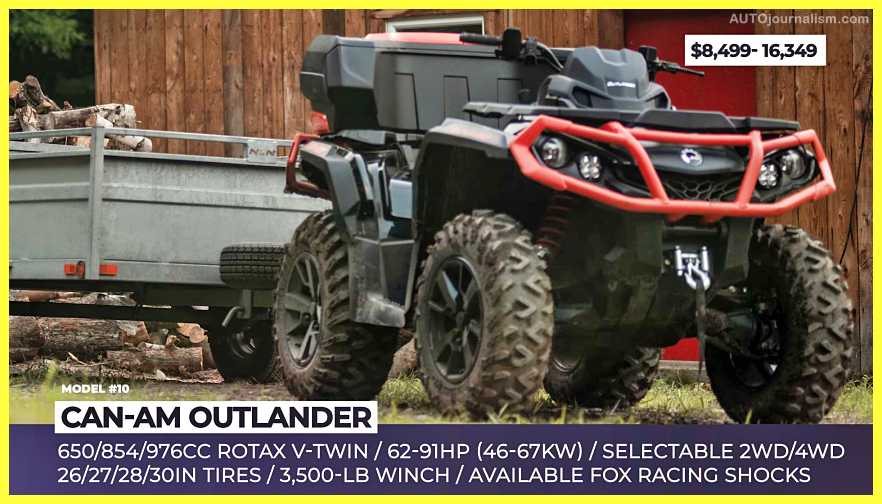 With 17 configurations four engine outputs and either one or two passenger capability the outlander is a versatile ATV range that can satisfy any need and carry out any task the lineup includes work recreation off-roading and of course, performance-focused models that feature selectable four-wheel drive and come powered by the 650 857 and 976 cc versions of the Rotax v2 and engine the least powerful model in the mix makes 62 horses while the sportiest ATVs get 91 hp these also benefit from heavy duty bumpers improved suspension setups and fox racing shocks either qs3 or rc2, in addition, the 3500-pound winch is the part of the standard equipment list depending on the chosen trim the outlander rides on 26 27 28 or 30-inch tires and has either four or six wheels
11. Kawasaki Brute Force 750 (Off Road ATV and Big-BORE Quad)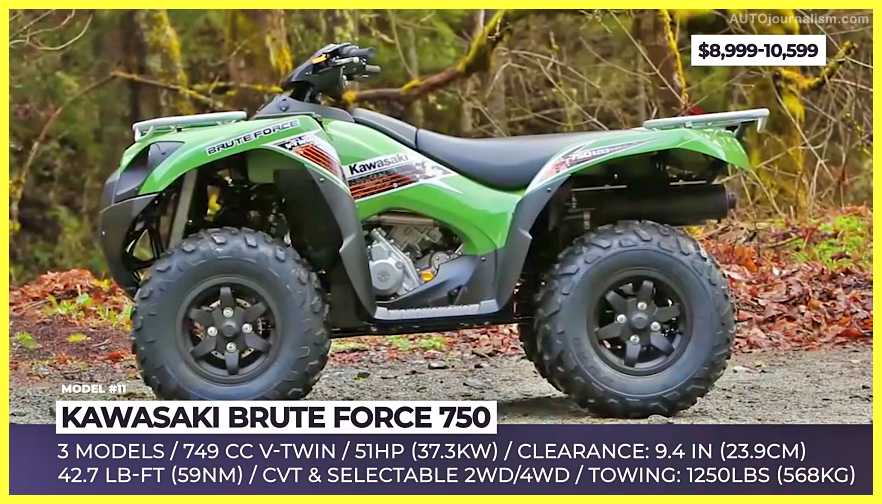 If one is willing to overpower the outdoors some brute force of a fuel-injected 749 CCV twin would definitely come in handy this big boar Kawasaki tv is the current flagship model of their recreational utility range and it is sold in three modifications based on eps and camo all the models offer precise handling mammoth power and superb off-roading skills the engine note delivers 51 horses while the torque output increases to 42.7 pound-feet the compact CVT gearbox with a centrifugal clutch enables lighter and smaller design while the double wishbone suspension with 6.7 and 7.5 inches of travel handles bumps and terrain changes with no problems the ATV also boasts 1250 pounds of towing capacity and gets two racks able to carry 264 pounds in total.
12. CF Moto (Off Road ATV and Big-BORE Quad)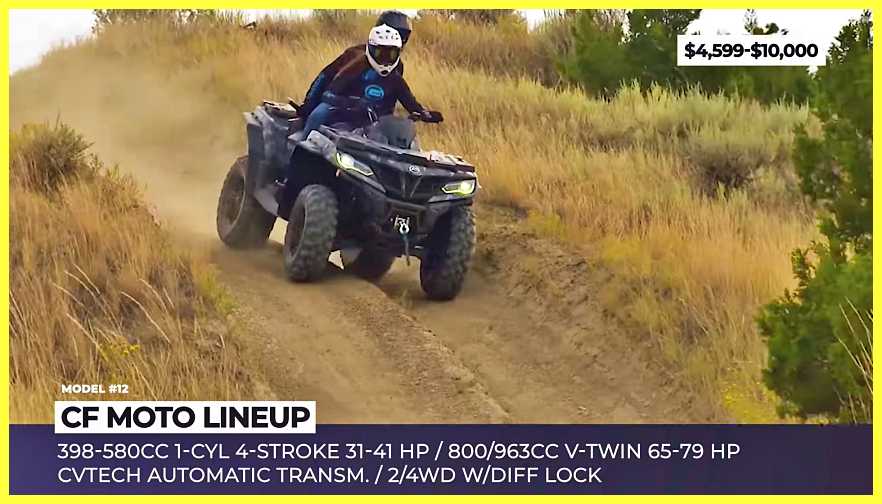 C-force the conservative community of ATV writers still treats the Chinese manufacturer with apprehension but the fact that their sales are steadily increasing and buyer satisfaction is on the rise proves that cf moto is here to stay the current c-force lineup of ATVs is represented across the wide range of displacements from 400 to 1000 cc and many features that are usually considered as extras and traditional brands here are offered the standards the two engines in service on these machines are a single cylinder for stroke for the 400 through 600 models and a v20 for the 800 and 1000 rigs all of them are enhanced with bosch electronic fuel injection the shared performance mix is acv tag automatic transmission two or four wheel drive with differential lock double a arm independent suspension and oil damped spring preload adjustable shocks did we manage to fully cover the best ATVs within the segment or was something missed make sure to mention those missed models and your favorites from the lineup in the comments below.
Read also:
Top 10 Best High Class Cars In The World (Super Luxury Cars)
Top 10 Best Troop Weapons In The World