Top 10 Lexus Cars 2022
Here is the list of Top 10 Lexus Cars 2022, it would be a stretch to collect this dynamically changing car brand but the 2022 Lexus models, here brings along quite a surprising number of renewed models and noticeable facelifts in this article we'll cover the latest news about the world's most reliable brand. So let's know about the Lexus Cars 2022.
List of Top 10 Lexus Cars 2022
1. 2022 Lexus LX 600 ( Lexus 2022 )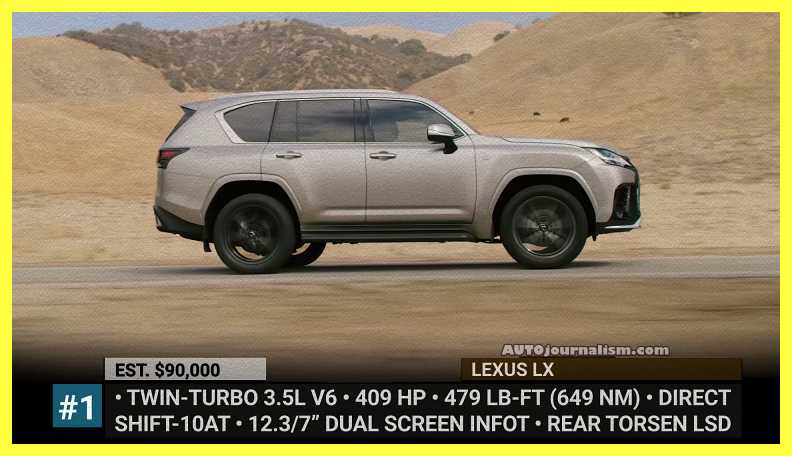 The gas gasoline v8 is abandoned in favor of a just as powerful 3.5 liters twin-turbo v6 controls via a 10-speed direct-shift automatic the new mill makes 409 horsepower and the maximum of 479 pound-feet of torque in the wide range of up to 3 600 rpm, just like the Toyota land cruiser 300 before it, the new trendsetter for the Lexus luxury moves on to the 20 percent more wretched and 441 pounds lighter GAF platform Active height control and adaptive variable suspension with rear torsion limited-slip diff multi-terrain select are standard on the Lexus lx600.
For the first time, the vehicle will be available in five trim levels, including crawl and hill assist. ultra-luxury f-sport and premium luxury f-sport The latter reaches the pinnacle of Japanese refinement with a four-seat configuration that includes 43 inches of rear vip legroom, a 25-speaker Mark Levinson surround system, 19.3 inches of screen access, and genuine leather upholstery.
2. 2022 Lexus IS 500 F Sport Performance ( Lexus 2022 )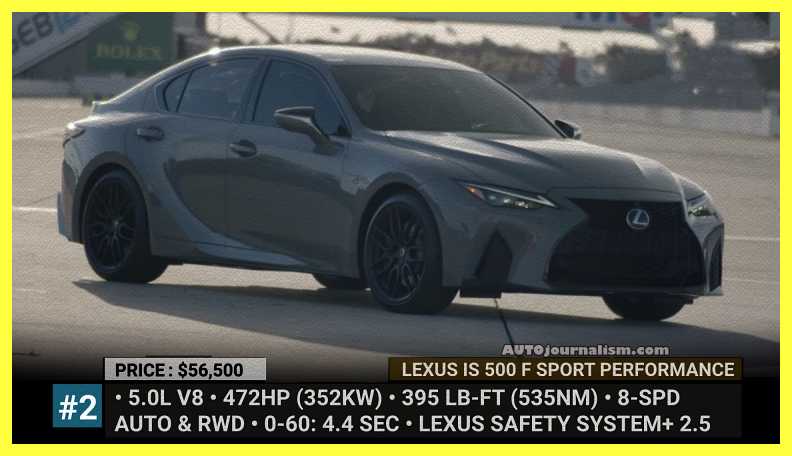 While many other automakers are ditching their large V8 engines in favor of more fuel-efficient alternatives, Lexus is bringing back the IS500 model that was retired in 2015. It is based on the recently redesigned model, but with a higher hood, taller front bumper and fenders, quad exhaust, dark chrome window trim, and a unique rear diffuser designed particularly for the North American market. The hood also features an extreme protrusion to fit the head.
The 500 f sport performance is distinguished by the lightweight 19-inch 10-spoke split Anki alloy wheels adaptive variable suspension, and a standard torsion limited-slip differential, as well as the tried and tested naturally-aspirated 5-liter engine with 472 hp aided by an 8-speed sport direct-shift automatic transmission and paired exclusively with rear-wheel drive.
3. 2022 Lexus NX ( Lexus 2022 )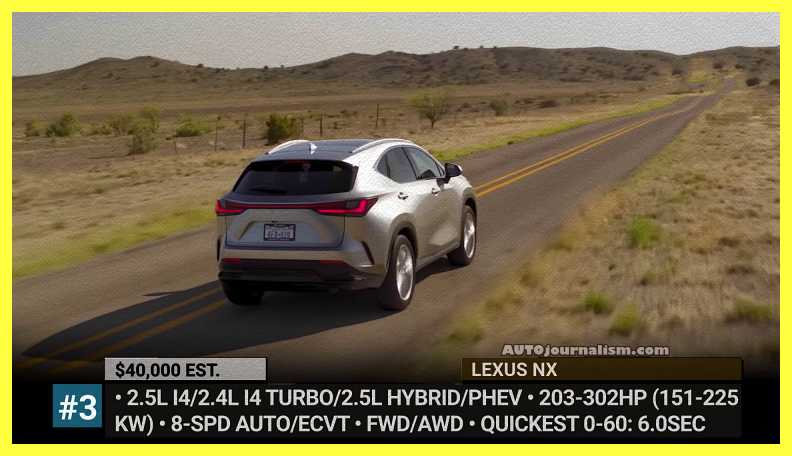 The new only Lexus NX 2022 has a more powerful appearance than the previous model, with a larger and more upright spindle grille. Its integrated l-shaped DRLs make its led headlamps look meaner, and reduced overhangs give the NX e-box your stance and allow you to equip alloy wheels up to 20 inches in diameter. In addition to the previously available hybrid, the engine portfolio now doubles in size, allowing you to swap out the entry-level 2.5-liter four-cylinder for a new 2.4-liter turbocharged four-cylinder.
The 2022nx gets a standard 7-inch digital cluster and 9.8-inch infotainment with wireless android auto and apple car play on the inside thanks to the increased wheelbase length the 2022nx offers even more passenger room. It gets a standard 7-inch digital cluster and 9.8-inch infotainment with wireless android auto and apple car play on the inside thanks to the increased wheelbase length the 2022nx gets an all-new plug-in with 302 h Heated seats, a panoramic sunroof, a bigger 14-inch infotainment system, and a head-up display are all options.
4. 2022 Lexus LF-Z Electrified Concept ( Lexus 2022 )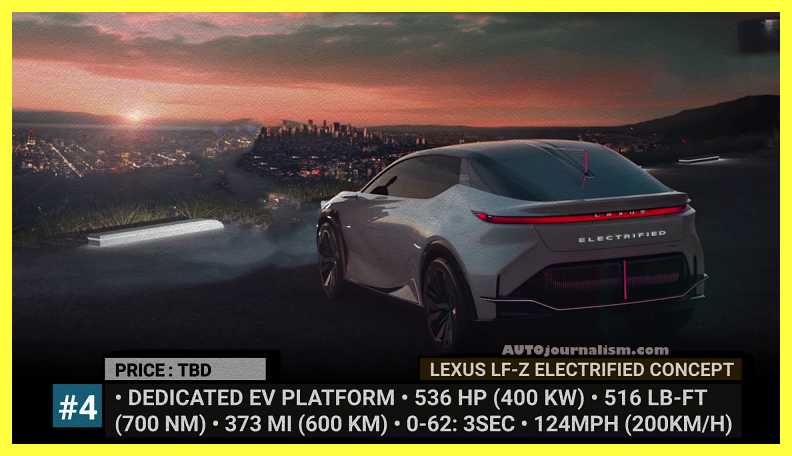 Alexis wants to catch up with fast-developing electrification trends in the future years, promising to provide 10 new hybrid, plug-in, and battery electric vehicles by 2026. For now, the LFC electrified concept is serving as a preview. The model combines the best characteristics that we should see in future Lexuses, sits on a dedicated platform, is a new generation direct-drive all-wheel-drive vehicle, and has a lot more expressive and sophisticated exterior style. The propulsion system combines the efforts of two electric motors and a 90-kilowatt-hour battery, resulting in 536 horsepower, 516 pound-feet of torque, and a range of up to 373 miles.
Of course, the cabin foregoes outmoded infotainment and analog clusters in favor of a modern triple screen arrangement, as well as ergonomic seating, ambient led lighting and a panoramic roof that can convert between transparent and opaque modes. hit the "like" button Let's keep rolling if you think that Lexus is still the most reliable automobile brand in the business, or leave a comment below if you disagree.
5. 2022 Lexus ES ( Lexus 2022 )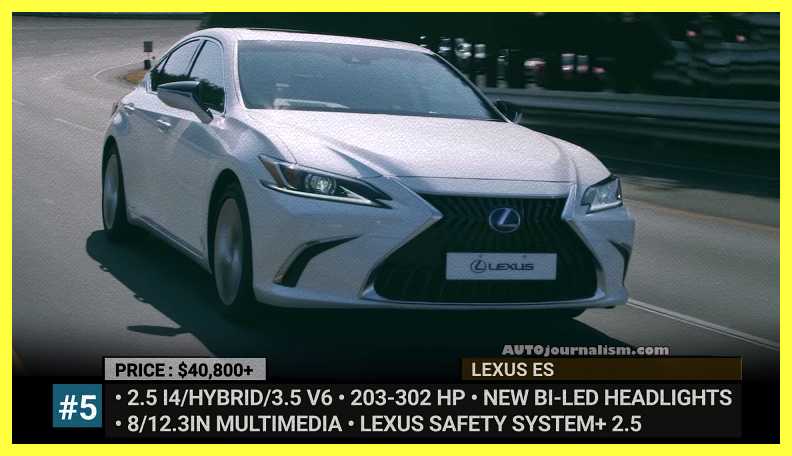 The facelift adds a new mesh pattern for the larger standard self-leveling by led headlights and new exterior colors. This mid-range Lexus sedan can hardly be termed a dramatically different vehicle in 2022, but it does arrive with a number of changes up its sleeve. The 18 and 19-inch alloy wheels with 5 or 10 spokes are available depending on the trim level, while the f sport models come with special 19 inches with a Glass black finish. The engine selection remains the same.
So you'll have to choose between a 2.5-liter four-cylinder with all-wheel drive, a hybrid that's now available in the f-sport guys and rated at 444 mpg, and a front-wheel-drive-only 3.5-liter v6 with 302 horsepower. The brand's distinctive Alexa safety system plus 2.5 is upgraded with improved adaptive cruise control, pedestrian and cyclist recognition, and new 8 or 12.3-inch touchscreens for the infotainment system.
6. 2022 Lexus GX + Blackline Special Edition ( Lexus 2022 )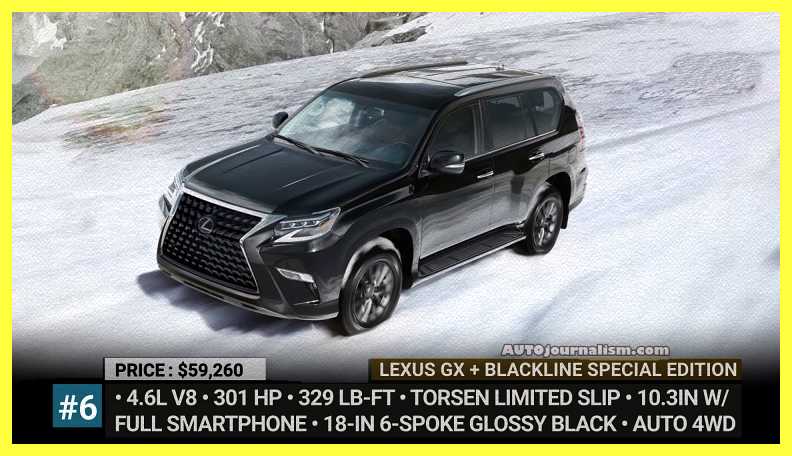 The last generational upgrade for the GX1 was in 2010, so if you were hoping to see an all-new model, you'll have to wait a few years. For now, this Lexus adds a blackline edition with an exclusive nori green exterior. The other two distinct body colors are Starfire pearl and black onyx plus.
Roof rails with crossbars are available on the SUV. The rest of the changes are concentrated on the inside, with all 2022 g-axis getting a revised interior layout to accommodate new 10.2-inch infotainment with apple android and lx integration, as well as the black line offering a black and gray Nuluxe trimmed cabin with great stitching and open for ashwood trim.
7. 2022 Lexus RC F and RC F Fuji Speedway Edition ( Lexus 2022 )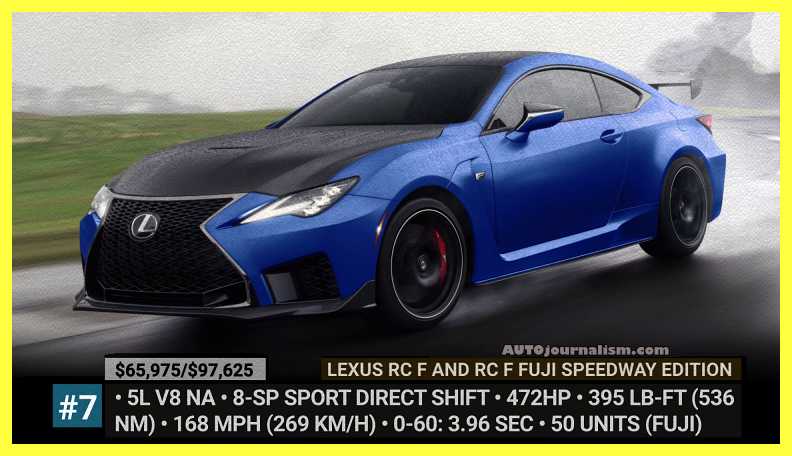 The performance-enhanced version of the RC coupe returns for 2022 with its usual naturally aspirated v8 power and a highly desired fuji speedway edition already offered last year. This time the special model has a limited run of 50 instead of 60 units and wears an electric surge exterior color in Saturn finish as before. It also adopts a generous carbon fiber exterior treatment, a titanium exhaust, and carbon-ceramic brakes from Brembo, losing 177 pounds.
In the process, it accelerates to 60 mph in 3.96 seconds, 0.2 seconds faster than the ordinary RCF. Regardless of the RCF model, the 5-liter v8 engine still produces 472 horsepower. The car is rear-wheel drive only and has a top speed of 168 miles per hour. Finally, the complete range now has new 19-inch wheels with marshland pilot sport 4s tires.
8. 2022 Lexus RX 350 and 450h ( Lexus 2022 )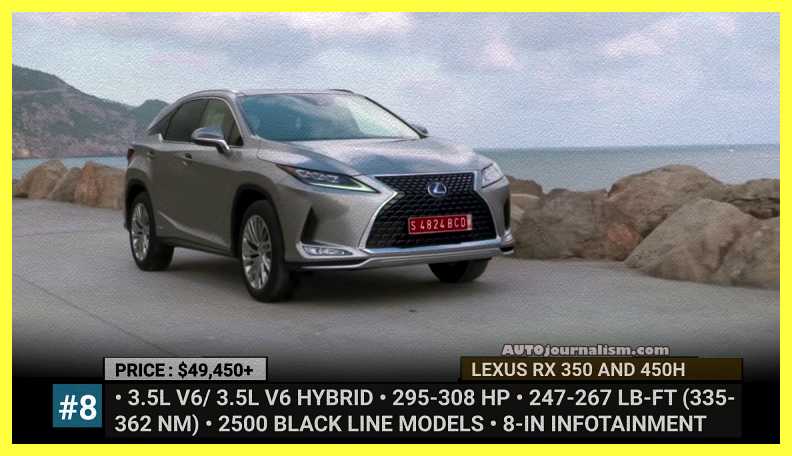 The best-selling mid-size luxury SUV in the US adds a few small tweaks for the 2022 model, including two new paint colors and updated fog lights that are now a paid option throughout the entire range. The most important piece of information is that the blackline special edition from last year will be continued.
The first run of 1000 vehicles sold out rapidly, therefore Lexus is promising a second run of 2500 black line models in 350 and 450 h grades, all with a basic premium package. Exclusive 20-inch black wheels with black lug nuts are included on the latter. Inside, there's a power-adjustable steering wheel and a power driver's memory seat, as well as a black spindle grille and a blacked-out lower bumper.
9. 2022 LEXUS LC CONVERTIBLE & LEXUS LC 500 INSPIRATION SERIES ( Lexus 2022 )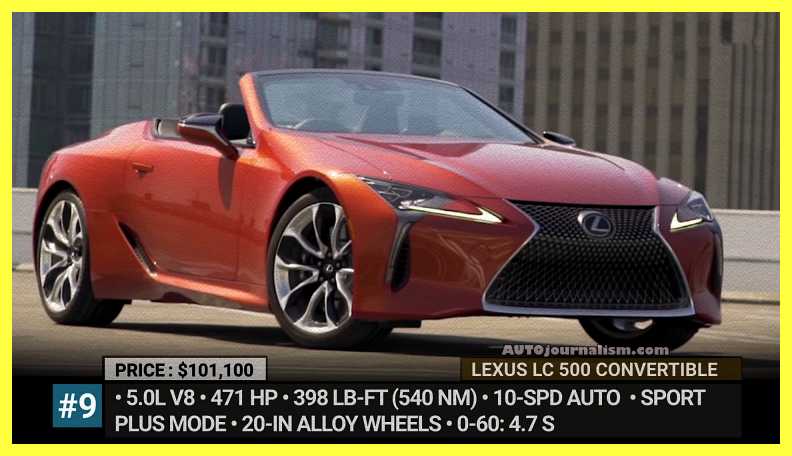 Starting in 2021, this Luxus 2 door has been offered in two body styles, a coupe, and a soft-top convertible. The latter is distinguished by a set of 20-inch alloy wheels and an electronically upgraded four-layer roof, while inside its sound and climate control systems have been adjusted for open-air driving, offering such trucks as neck heating regardless of the roof in place.
These become even larger. Exclusive paint treatments and carbon-fiber exterior components on 21-inch alloys A torsion limited-slip differential and an improved suspension with a rear Yamaha performance rod with a damper are also installed on these cars. Finally, all Inspiration series models come standard with lather and Alcantara-wrapped cabins, Mark Levinson 13-speaker audio, and head-up displays. Are you happy with the number of new features, or is it the same old, boring Lexus as last year?
10. Lexus UX ( Lexus 2022 )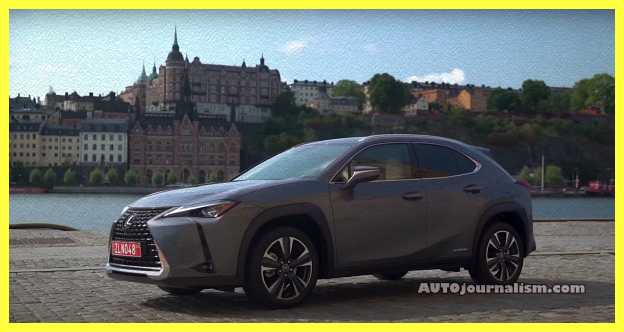 The Lexus UX was introduced in 2018 as a small SUV with a lot of luxury. It has been a global hit for the Japanese luxury brand, thanks to its city-friendly size and a variety of versions — all of which come with long standard equipment lists.
The fact that it is available in petrol or petrol-electric hybrid models across the range adds to the attractiveness. Over the years, the demand for hybrid models in SUVs and cars of all shapes and sizes has grown, and Lexus has remained at the forefront.
It's also one of the cheapest models from the company, with the UX UX200 Luxury starting at $44,445, and the fully-loaded UX UX250H F Sport +EP2 Hybrid (AWD) costing $69,700.
So, this is the List of Top 10 Lexus Cars 2022, Hope you like it and share it with your friends, Thanks for Reading.
NEXT