Top 10 Mid Size SUV Car Perfect For Family – Electric & Hybrid
Today we will tell you about Top 10 Mid Size SUV Car Perfect For Family Electric & Hybrid – unless you're planning to tow a large caravan trailer, the midsize SUV is the biggest family vehicle that you will ever need, these models are represented across all the market segments no matter the level of luxury and performance parameters, they have truly valued for their roominess right comfort, and road presence so let's take a look at the latest 2021 mid-size 5 and 7-seater crossovers, that does not fail to impress with the ever-improving safety features practical technological advancements and the coziest interiors in the business subscribe to Autojournalism.com and you will get access to the detailed overviews of the new car lineups across all body styles and Like This Post.
Top 10 Mid Size SUV Car List
ACURA MDX
VOLKSWAGEN ATLAS
GENESIS GV80
KIA SORENTO
VW TOUAREG E HYBRID and TOUAREG R
TOYOTA VENZA
BENTLEY BENTAYGA
HYUNDAI SANTA FE HYBRID
TOYOTA HIGHLANDER XSE
AUDI SQ7/SQ8 TFSI and AUDI Q8 TFSI E QUATTRO
Here is The Top 10 MID SIZE SUV for family and Adventure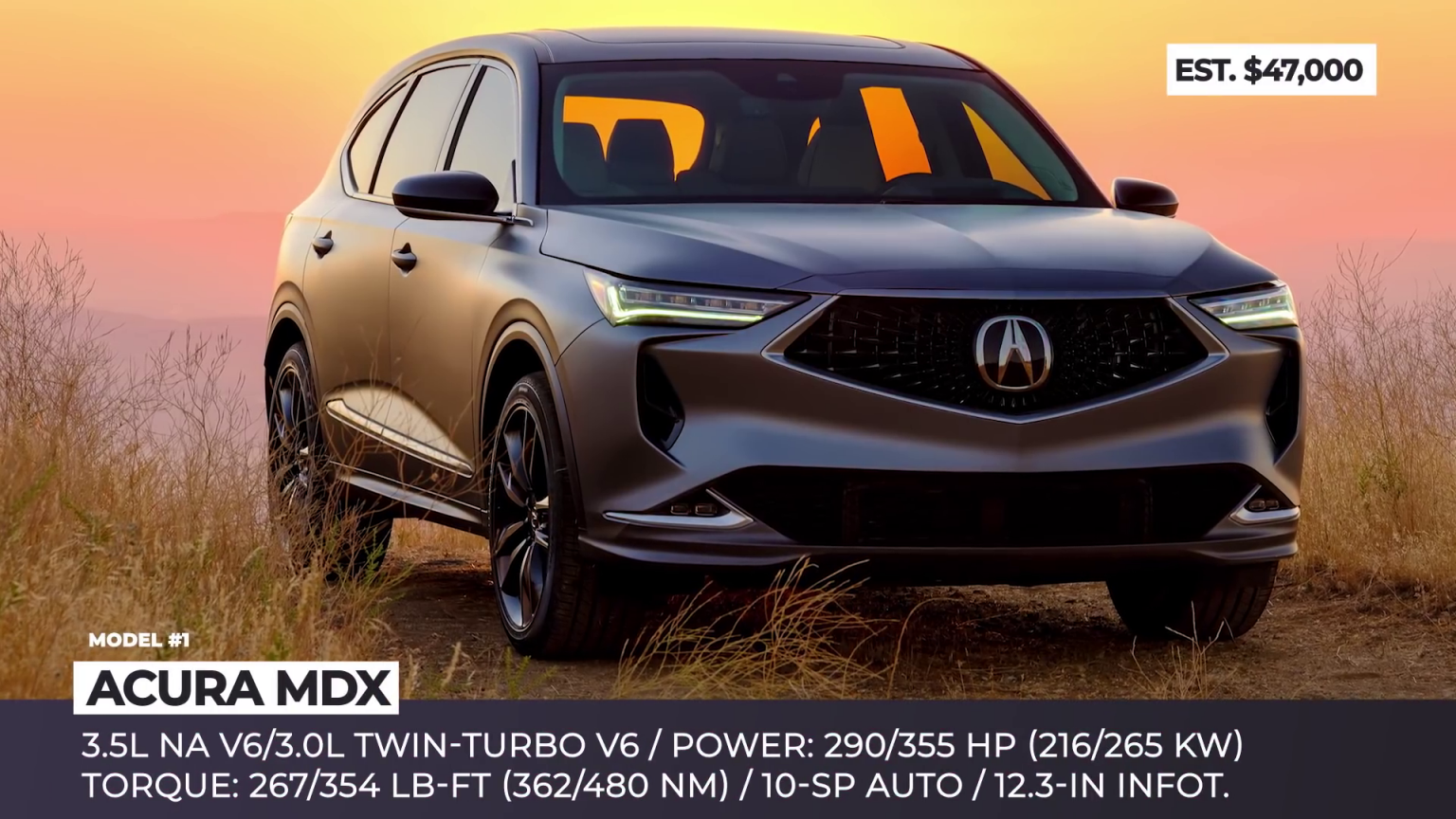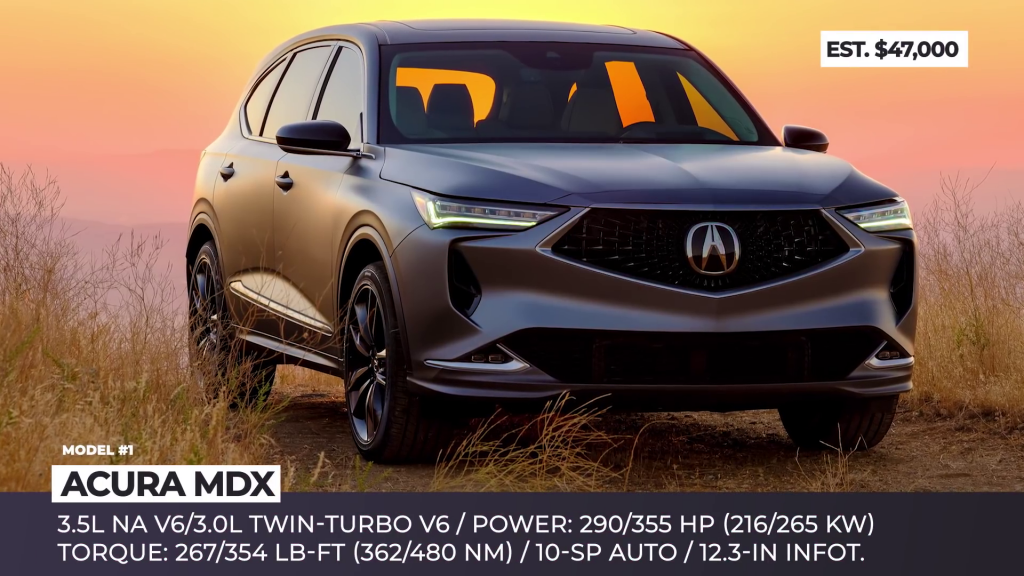 Acura's best selling 3-row is building a solid case for itself in 2021 by moving further upmarket the major visual attractions include redesigned dual eye led headlights Shikon led Drls 3d design taillights and dual exhaust outlets, The light truck platform was extended by 3 inches.
So now the model has wider tracks and obtains double-wishbone front suspension for improved ride quality, the Acura MDX performance ammunition comes in the form of standard 290 horsepower 3.5 liters naturally aspirated v6 but now it is paired with a 10-speed automatic additionally, the all-new type s grade that is used by 3 liter
twin-turbo v6 with 355 horses and 354 pound-feet of torque gives the MDX the title of the most powerful Acura SUV to date step inside the cabin to find sports Milano leather seats with exquisite quilting and massage function digital instrumentation a 12.3-inch infotainment and signature edition els studio 3d audio
VOLKSWAGEN ATLAS – MID SIZE SUV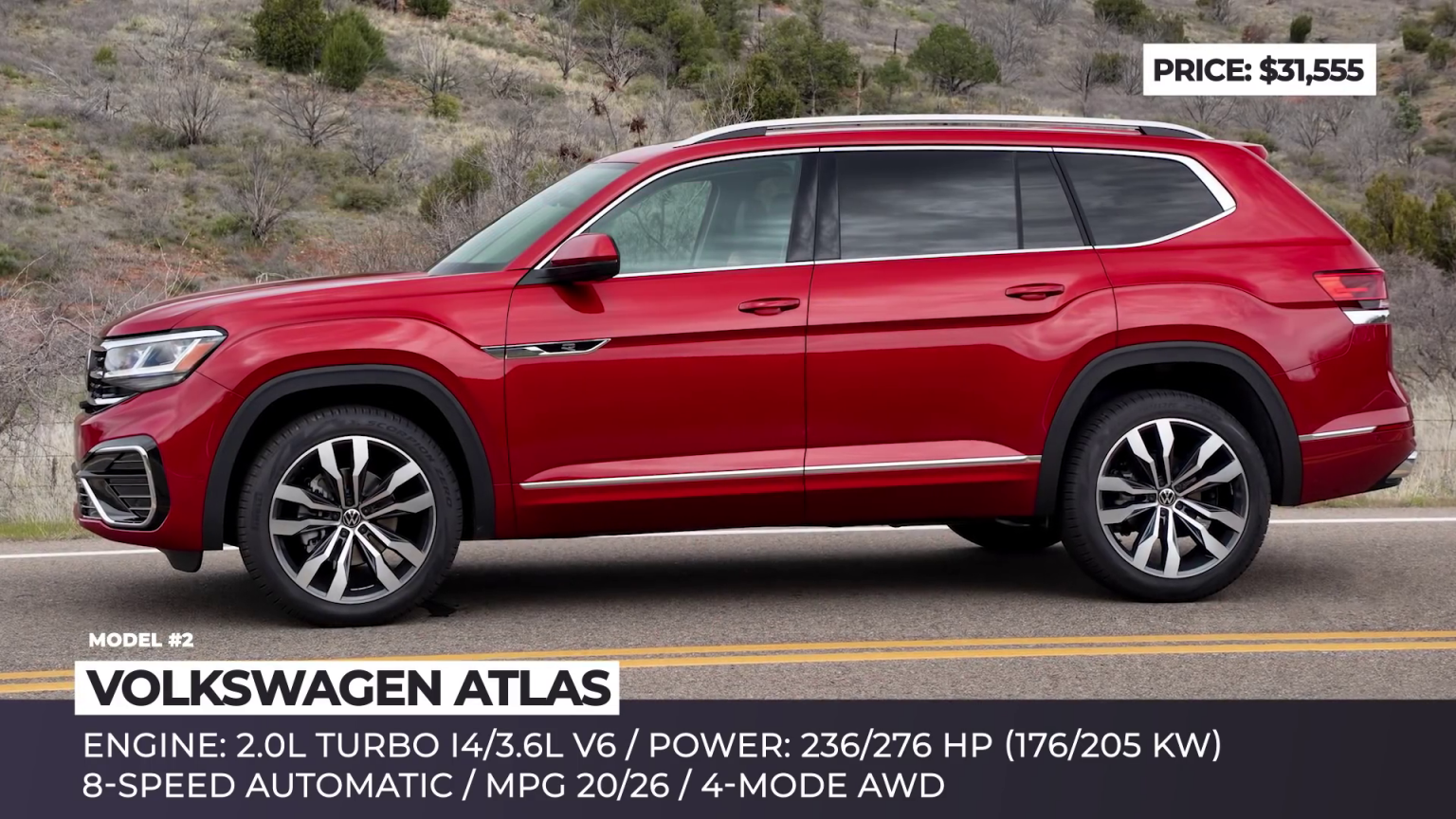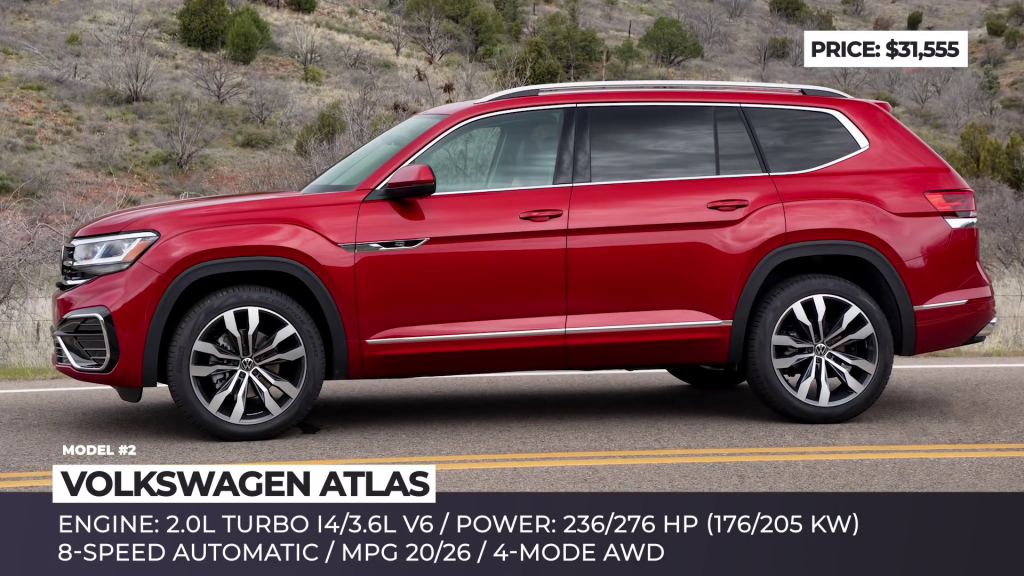 Instead of waiting for the next model here right after the 2021 facelift, the w7 suitor is getting an unusual early mid-year update labeled as atlas 2021.5 the model gets more advanced stack features to go with its new looks a new generation MIB – 3 infotainment with multi-phone pairing comes standard on 7 out of its 8 trims while the travel and emergency driver assists debut on the 4 range damping models the revised atlas offers 2 engine options A 2-liter turbo inline 4 and a 3.6 liter v6 rated at 236 and 276 horsepower respectively,
Both mills are mated with an 8-speed automatic and available with the 4 motion all-wheel-drive system on the inside this VW is comfortable spacious and practical, the options include a multi-function steering wheel a 12 speaker audio system a 10-inch digital cockpit, and ambient lighting.
GENESIS GV80 – MID SIZE SUV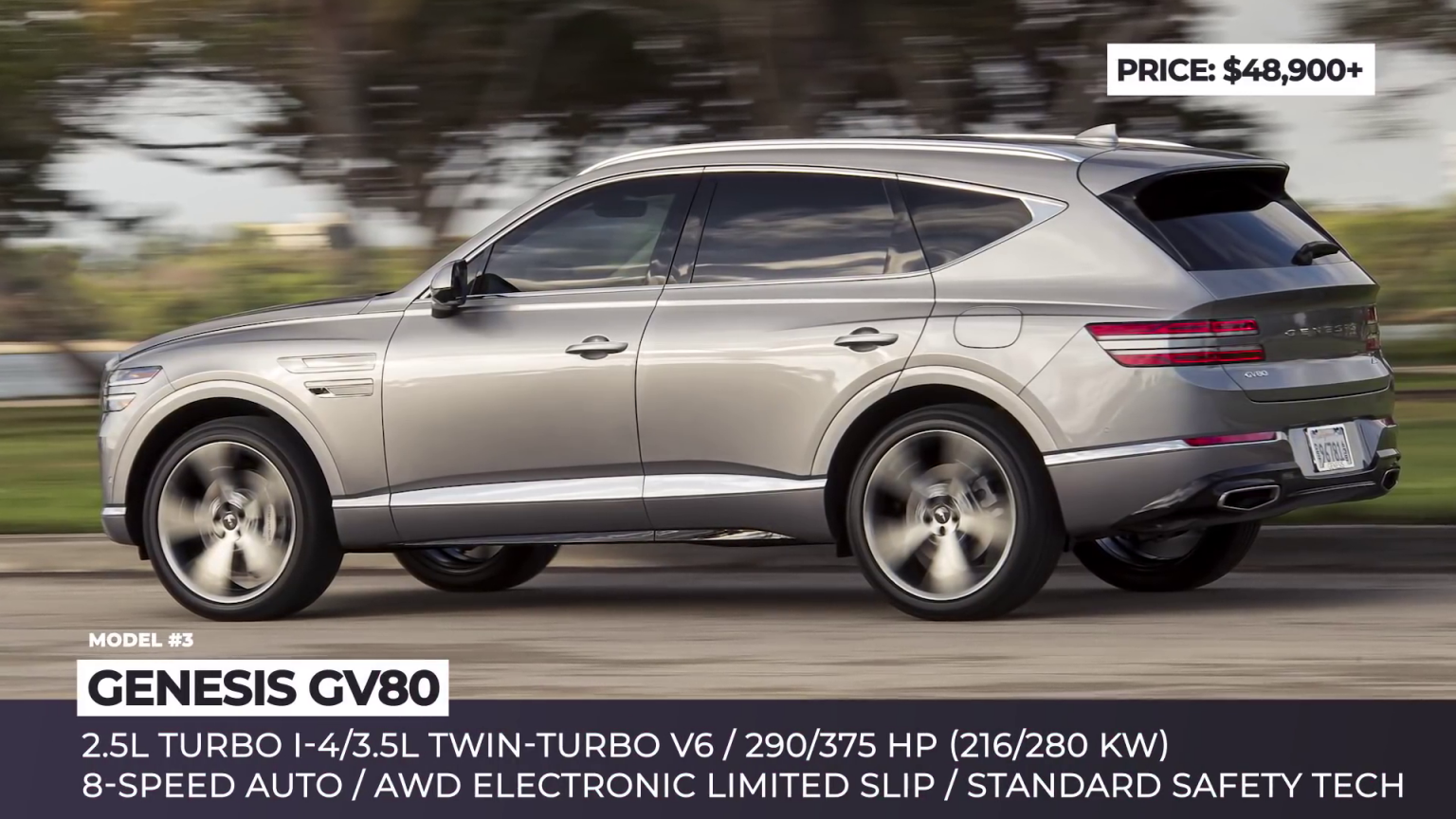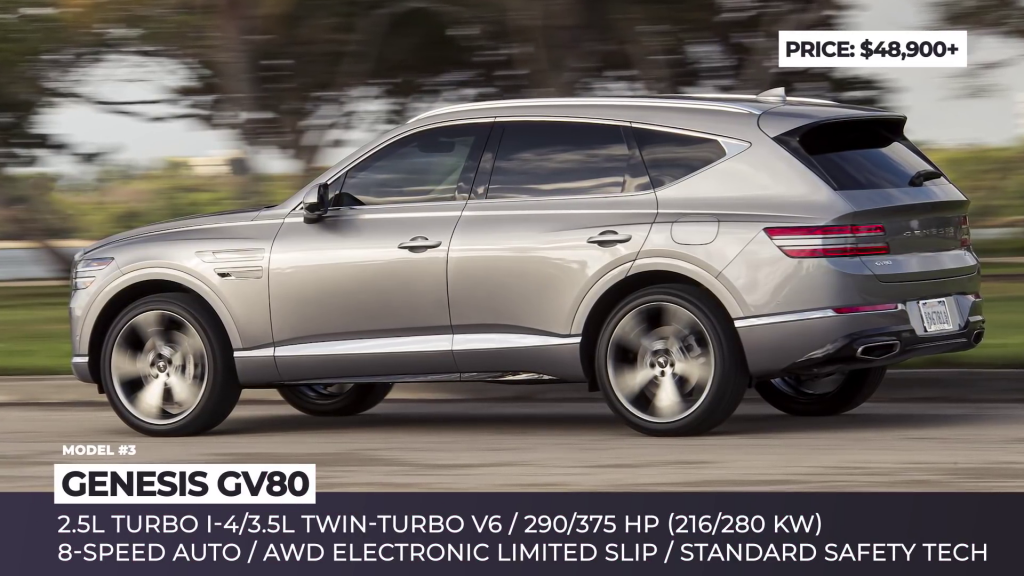 Genesis makes an exemplary debut on the modern luxury SUV market by bringing a mix of the memorable exterior non-confusing selection of engines and an interior that surpasses any expectations from the below fifty thousand dollars model this posture version of Korea's Kia Telluride and Hyundai Palisade gets a stock 2.5-liter turbo in line 4 making 290 horses but the 3.5-liter twin-turbo v6 is destined to become the buyer's favorite squeezing out 375 hp through an 8-speed automatic 204. The 5-seat layout is standard but an optional 7-seat configuration is also on the table, the front two rows have heating and cooling functions while the driver's spot could be optioned with the active motion driver c technology with seven air cells to fight fatigue, the gv80 interior environment experience is highlighted with a noise cancellation system a 14.5-inch split screen infotainment solid safety package and Janus's concierge surface.
KIA SORENTO – MID SIZE SUV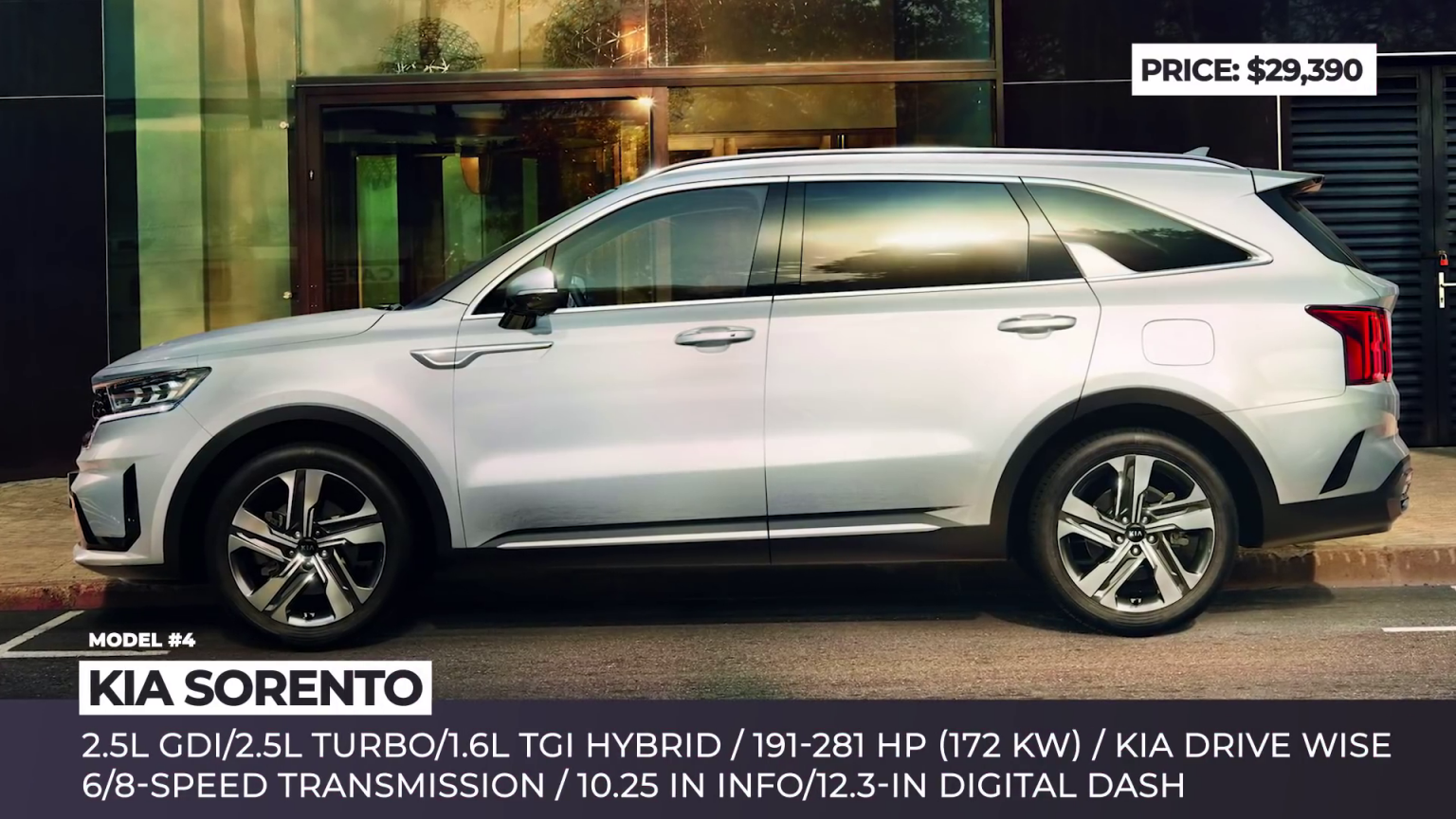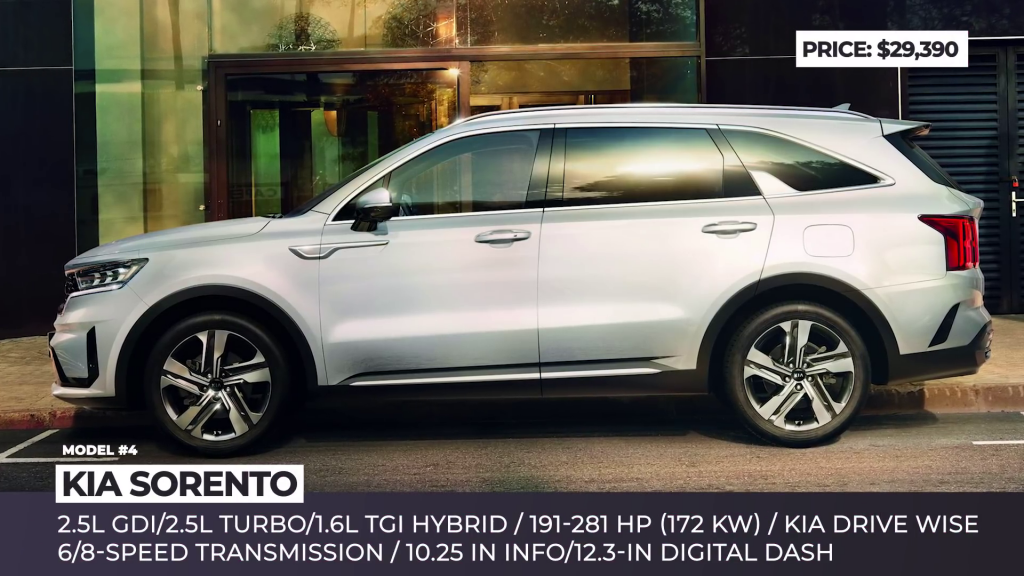 The fourth generation of Sorento is adopting the latest design choices of the brand becoming more aggressive and boxier on the outside, the new sharp edge tiger-nose grille is accompanied by tiger eye line headlights while the rear gets prominent vertical lights and trapezoidal exhausts additionally this model gets a hybrid drivetrain for the first time in its 20-year long history the system dubbed the smart stream turbo hybrid combines a 1.6-liter TGI a 59 hp motor and a 1.49 kilowatt-hour lithium-polymer battery to deliver 230 horsepower and outstanding 37 mpg fuel economy moreover the usual 2.5-liter GTI and turbo gasoline with up to 281 hp output are still an offer on the inside, the Sorento benefits from the new infotainment and digital instrumentation wireless smartphone connectivity available captain chairs standard third-row seating and a 3d embossed genuine leather trim .
VW TOUAREG EHYBRID and TOUAREG R – MID SIZE SUV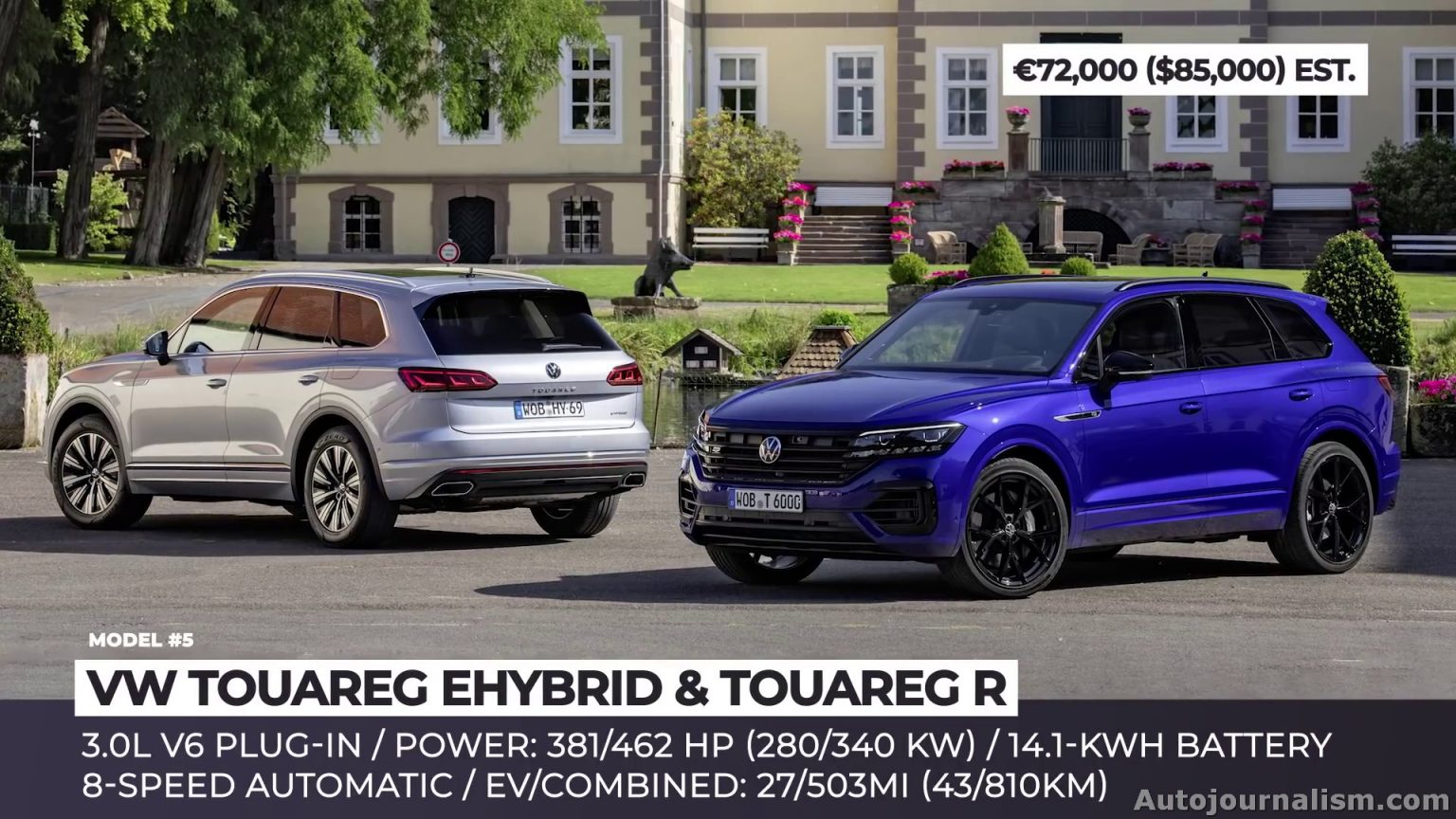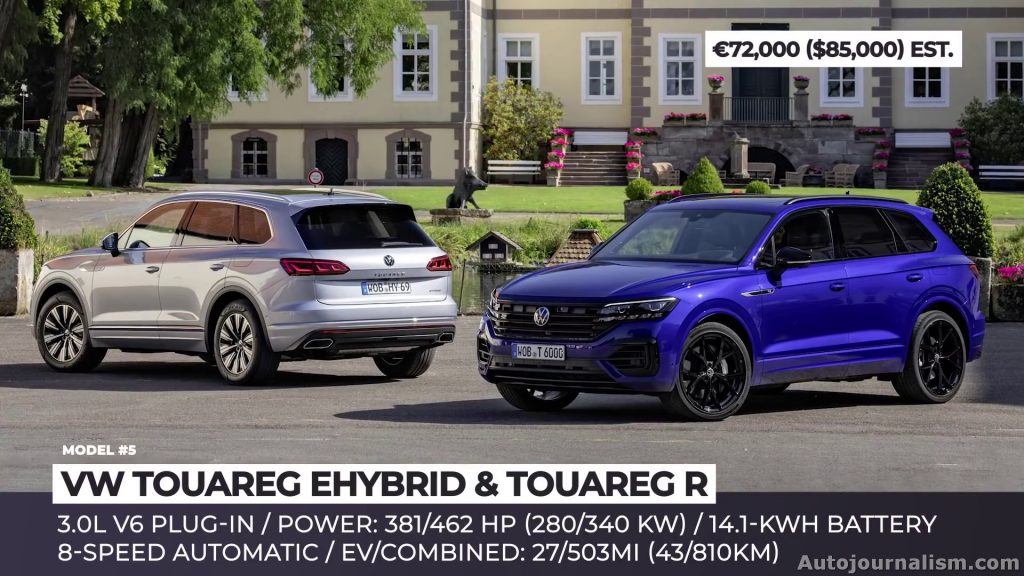 PHV car models keep proving that hybridization is not always about better fuel economy but also a significant boost in performance the mid-cycle facelift for the TOUAREG is a perfect example for this statement since it actually beats the former top-spec v8 TDI – powered models, the system is built around a 3.0-liter v6 engine an 8-speed automatic gearbox a 14.1-kilowatt-hour battery and a single electric motor, the e-hybrid crate outputs 381 horses while the R3 TOUAREG 456, both channel them to all four wheels this line of SUVs get 27 miles of electric range and 500 miles of non-stop touring capability apart from hybridization these models undergo a thorough technological uplifting with the standard four-zone automatic air conditioner travel and park assist suites and innovation cockpits with digital instruments 15-inch infotainment plus the R gets IQ light led matrix headlights.
TOYOTA VENZA – MID SIZE SUV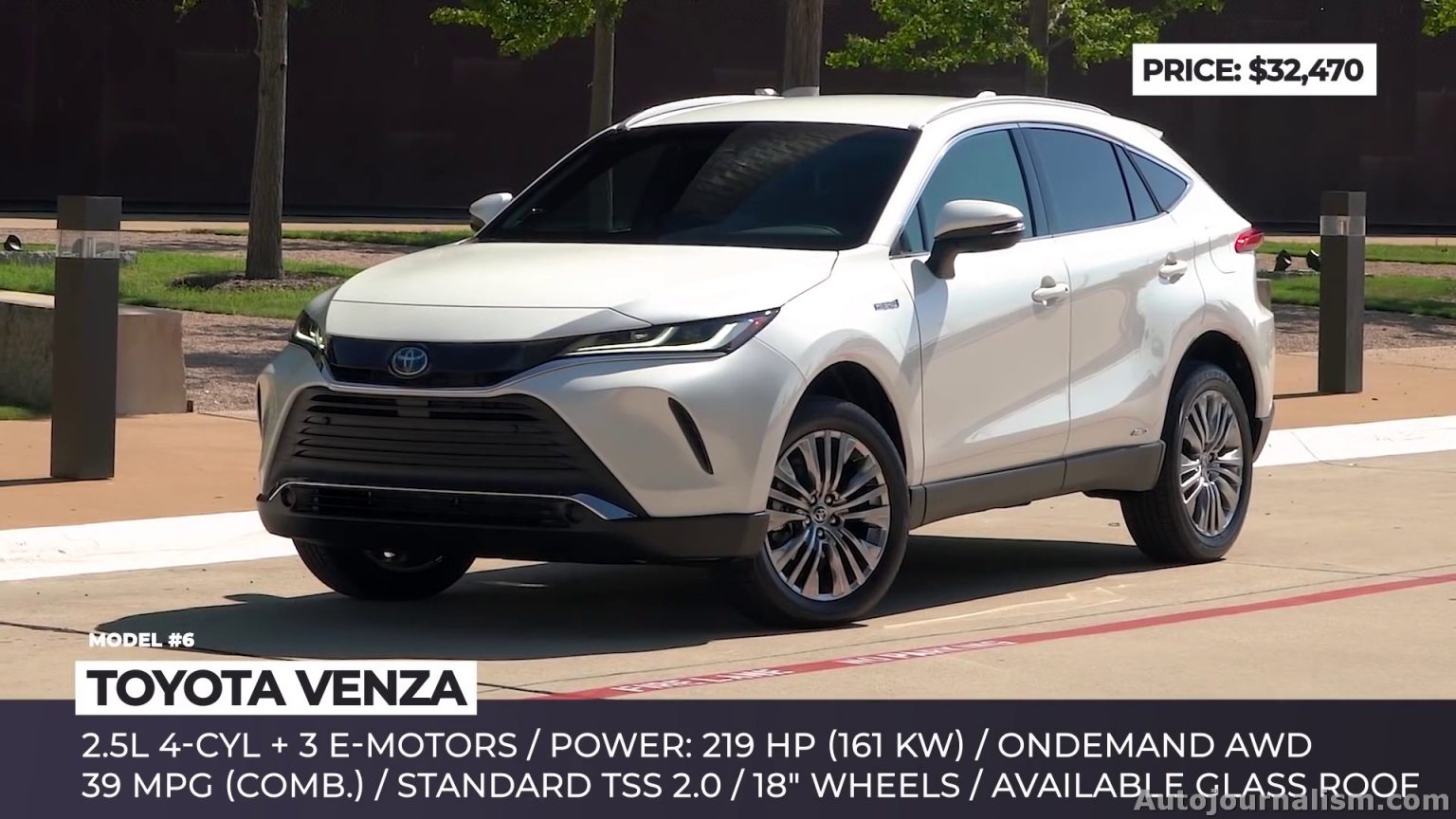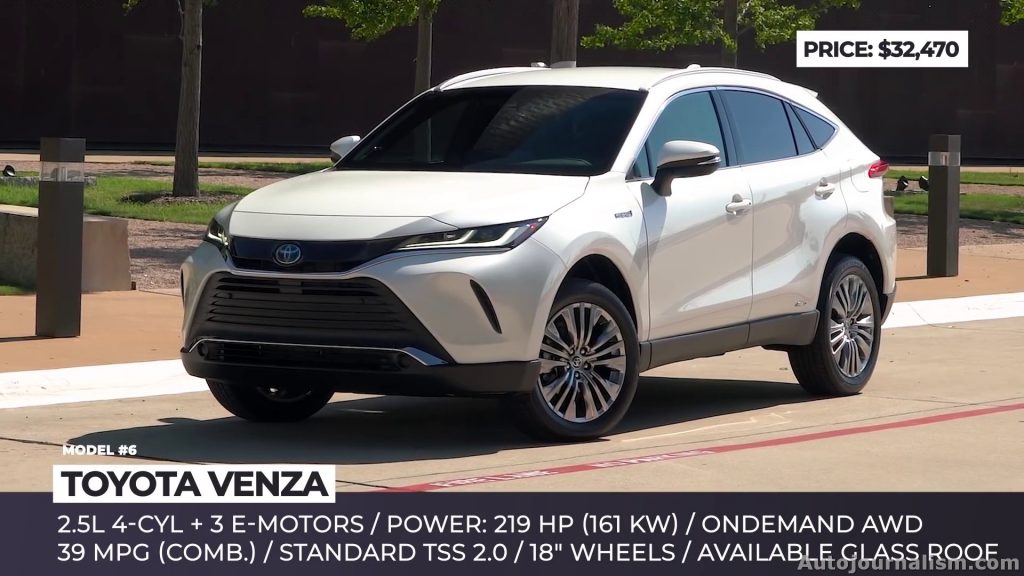 Once known as the bulky minivan-like family crossover the VENZA nameplate returns to the market with a few aces up its sleeve slotting between the highlander and compactor f4, this 2021 model sits on the same TNG AK platform but boasts a more elegant exterior design with the thin led headlights and a sloping roofline at the rear the cv is offered exclusively with a hybrid powertrain, which consists of a 2.5-liter four-cylinder and three electric motors together the system promises 219 horsepower and quite impressive 39 mpg in a combined cycle among the standard duties are the on-demand all-wheel-drive 18-inch wheels full smartphone connectivity and Toyota's suite of active safety systems opting for higher trims you can get the stargaze fixed panoramic glass roof bigger wheels and 12.3-inch infotainment.
Do not hesitate to smash the like button if you are enjoying our format of lineup previews thanks for your support and let's get back to it.
BENTLEY BENTAYGA – MID SIZE SUV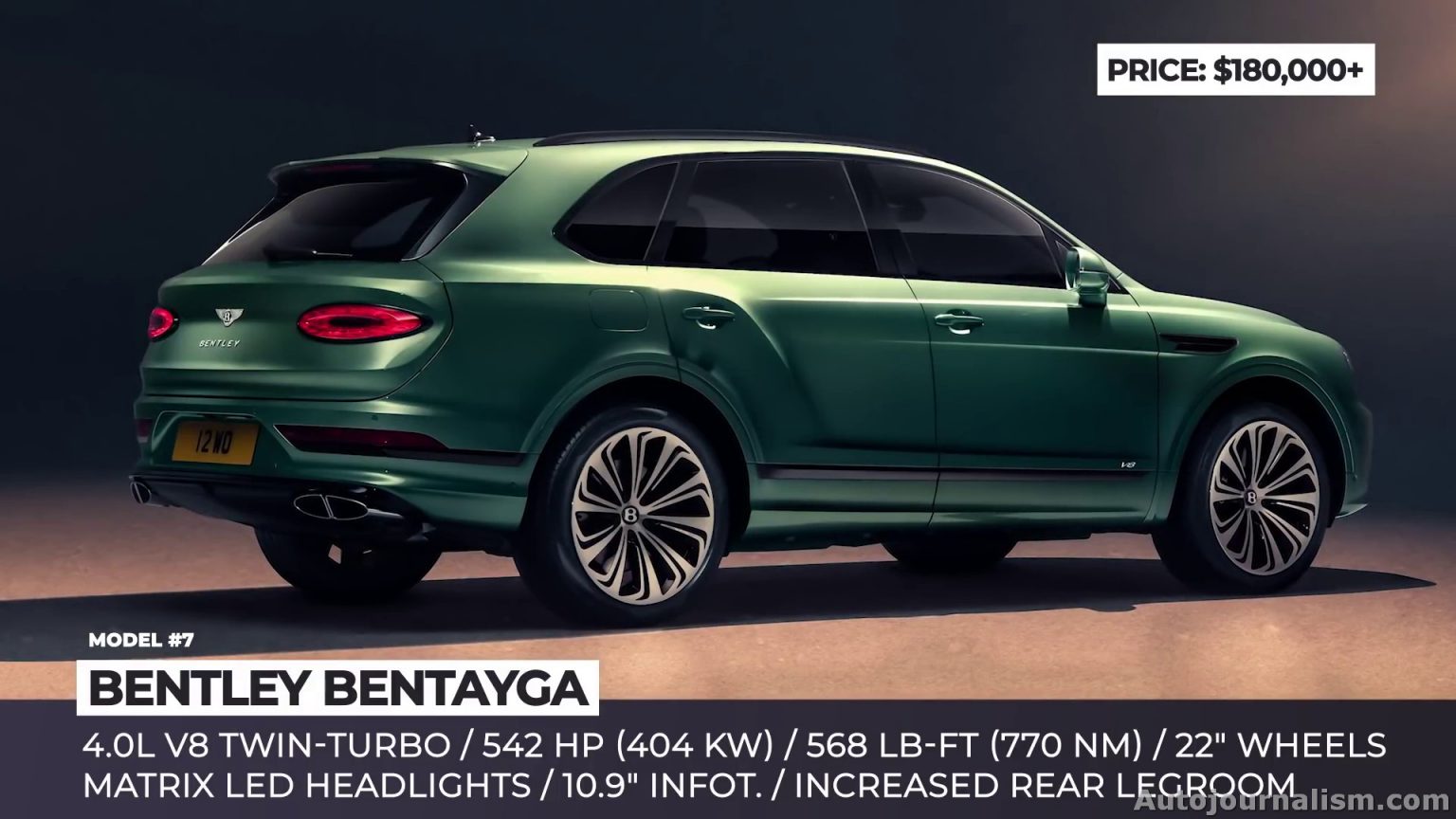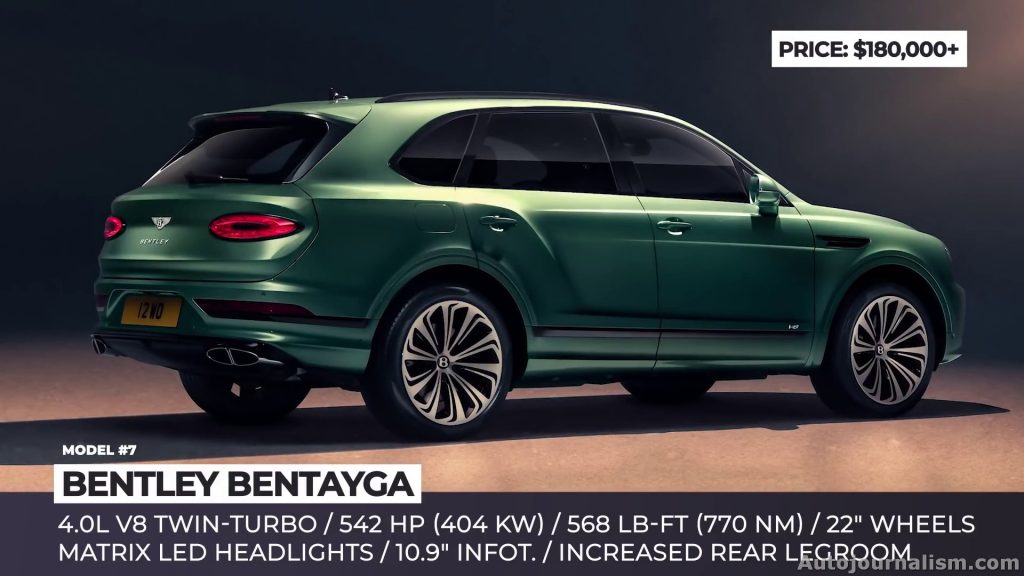 Since its debut in 2015, the BENTAYGA has sold 20,000 units on the mass market scales, the number is minuscule but for the ultra-luxury SUV segment it has been a huge success which continues in 2021, the new BENTAYGA arrives with a couple of exterior visions that are intended to bring it closer to the new continental gt and flying spur the front end now houses a wider Grill and reshaped air intakes while the rear boasts a full-width wraparound tailgate with integrated oval lights the facelifted model initially gets a familiar 4.0-liter twin-turbo v8 delivering 542 horsepower however the w12 speed and plug-in hybrid versions are expected to arrive later in the year instead the BENTAYGA is still richly equipped with the 12 or 20 speaker audio system, all leather upholstery adjustable ambient lighting and one of two Breitling dash clocks the standard infotainment. now features an all-new 10.9-inch display but you can opt for a system with two 10.2 inch screens
HYUNDAI SANTA FE HYBRID – MID SIZE SUV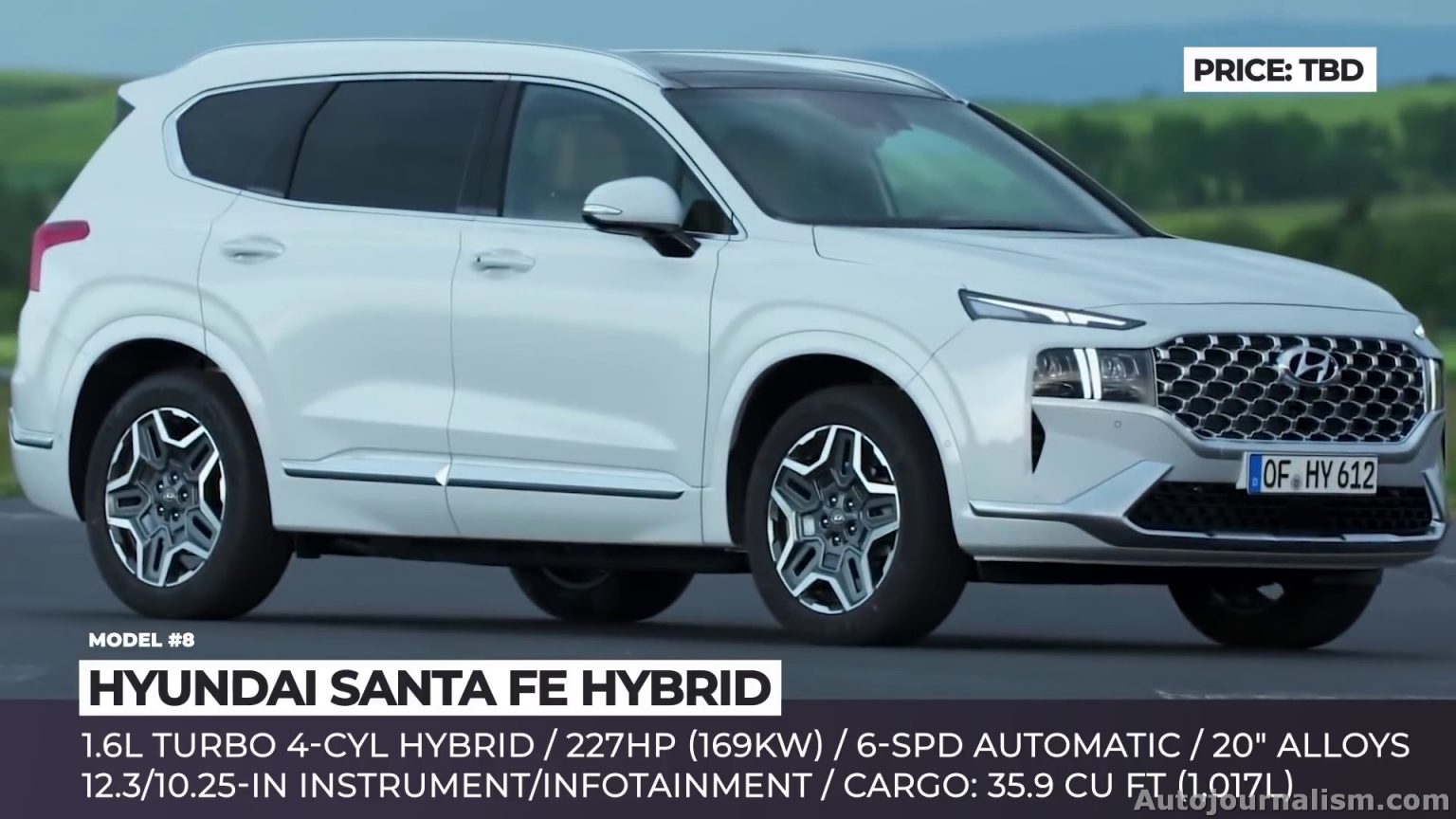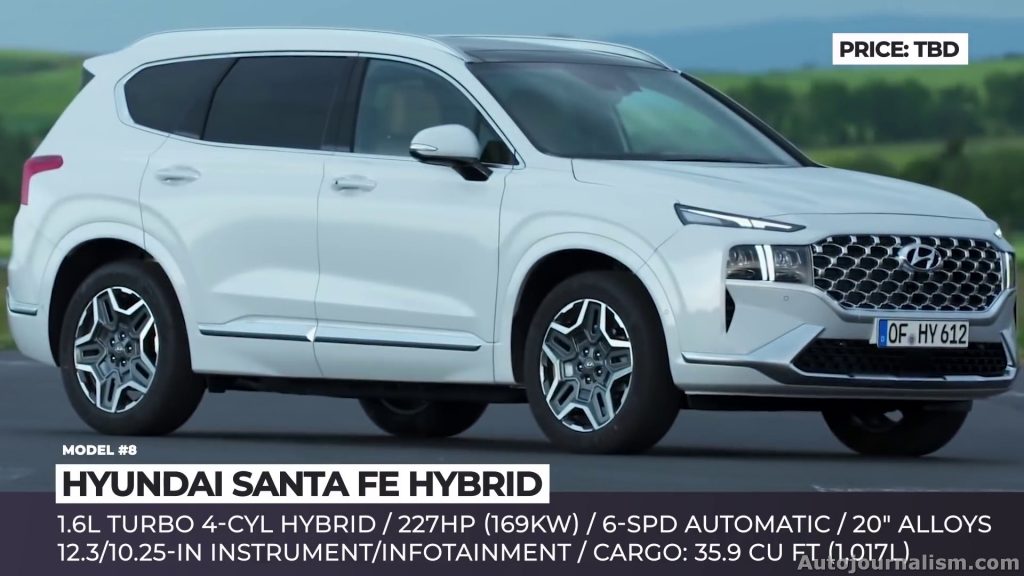 Even with the palisades rocking the worlds of family SUVs, the more affordable SANTA FE is still expected to remain, the major workhorse within the Hyundai's lineup especially so after the stunning refresh that mounts the model onto the new m3 platform, there is the conventional exterior design bring splasher insides and electrifies the model for the first time the facelift introduces signature t-shaped led Drls a wider grille with drum specific patterns and 20-inch alloys the hybrid version of the new SANTA FE comes with a 1.6-liter turbo gasoline power to a 60 hp motor a tiny battery a 6-speed automatic and an optional all-wheel drive, the system produces 227 horses and 258 pound-feet within the cabin, one will find nicer soft-touch materials a 12.3-inch digital instrument cluster and a 10.25-inch infotainment with standard voice-guided navigation additionally in early 2021 SANTA FE has been announced to get a new plug-in hybrid modification netting 265 horses.
TOYOTA HIGHLANDER XSE – MID SIZE SUV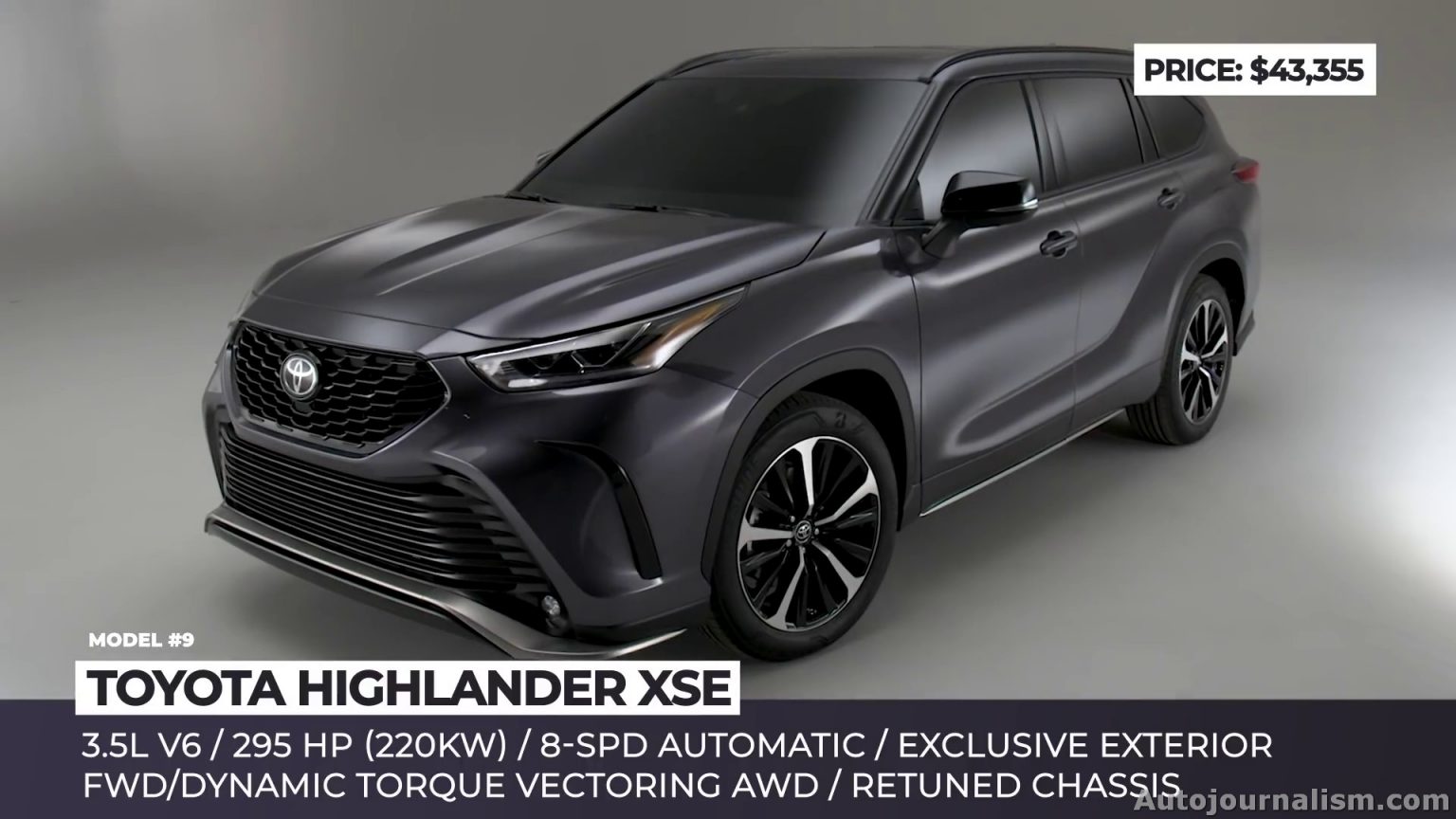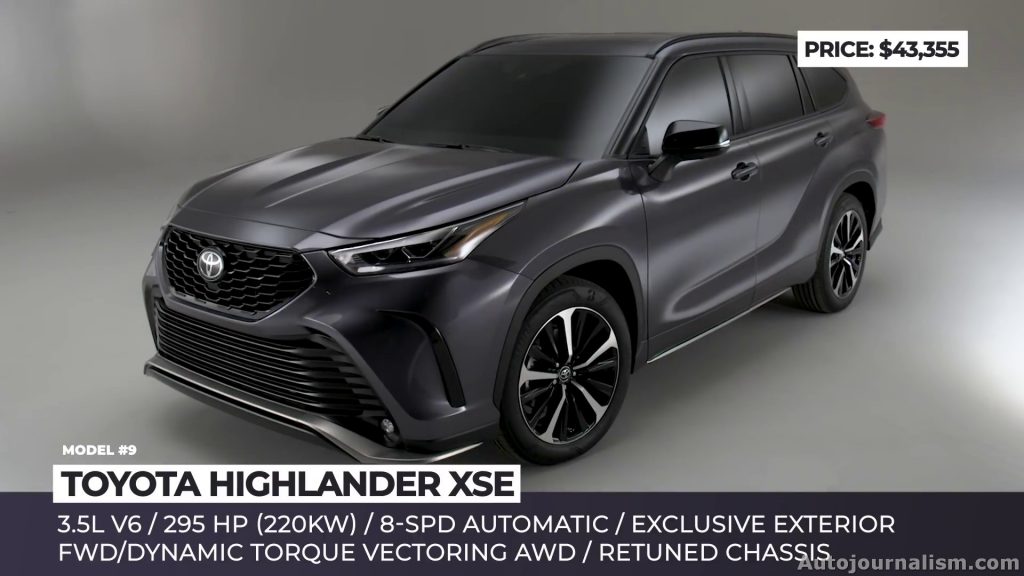 fully redesigned just a year ago the 2021 highlander adds a new sporty XSE trim for the first time in its history, this UV benefits from an upgraded suspension setup including retuned shocks new rear stabilizer bar, and higher rate springs but unfortunately
it gets no power twin changes the 3.5 liters v6 makes 295 horses and comes mated to an 8-speed automatic a front-wheel drive and an optional dynamic torque vectoring all-wheel drive on the outside the XSE arrives with a full makeover featuring an exclusive front fascia with new 20-inch wheels larger air intakes and prominent headlights with black accents the model's bolt nature is further highlighted by its sports-car-like dual exhaust tips with chrome accents, all in all, this three-row change remains first and foremost a family vehicle but now it delivers a more engaging driving experience and rocks a racy interior with premium JBL audio dynamic navigation and smartphone compatibility.
AUDI SQ7/SQ8 TFSI and AUDI Q8 TFSI E QUATTRO – MID SIZE SUV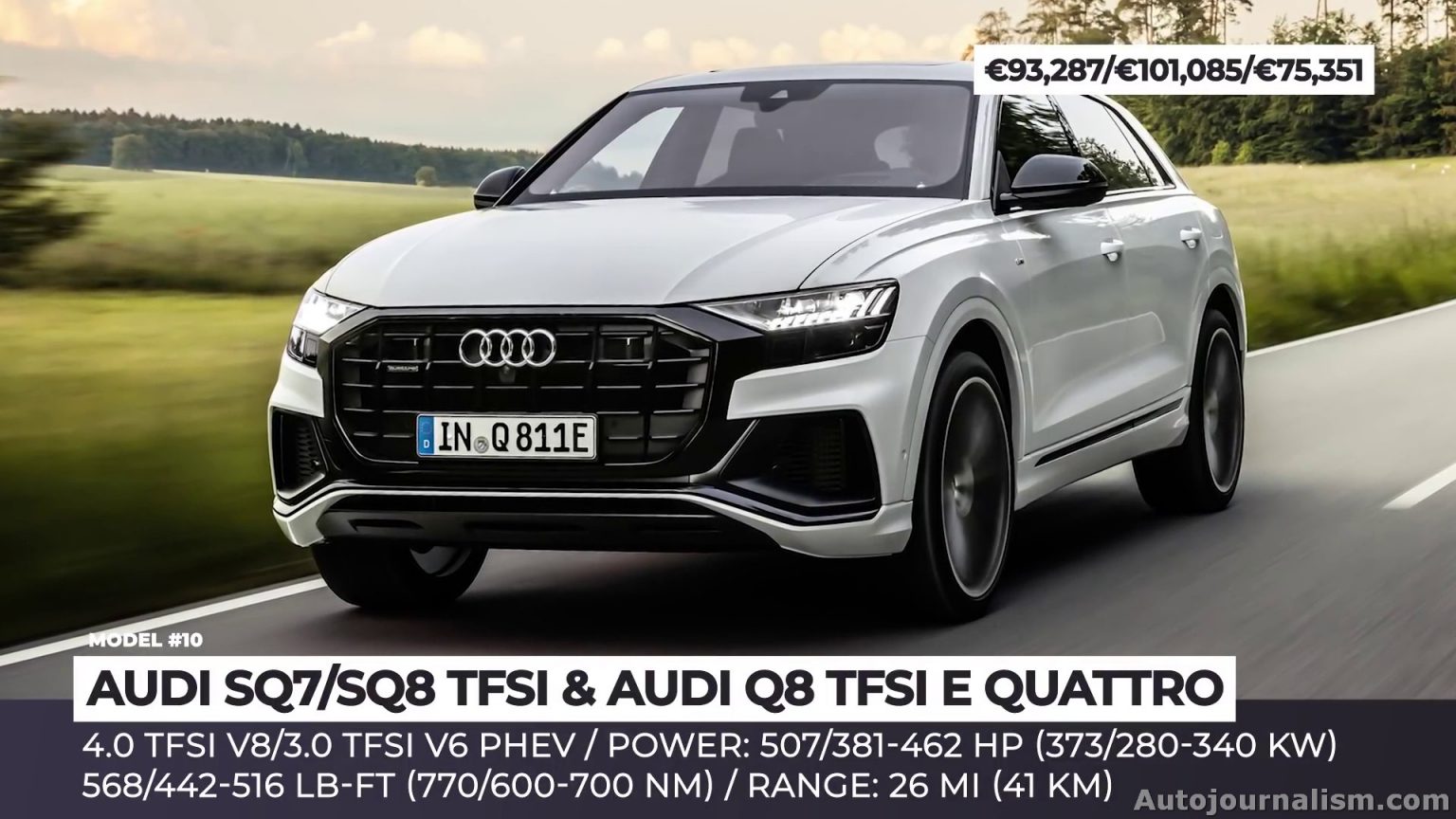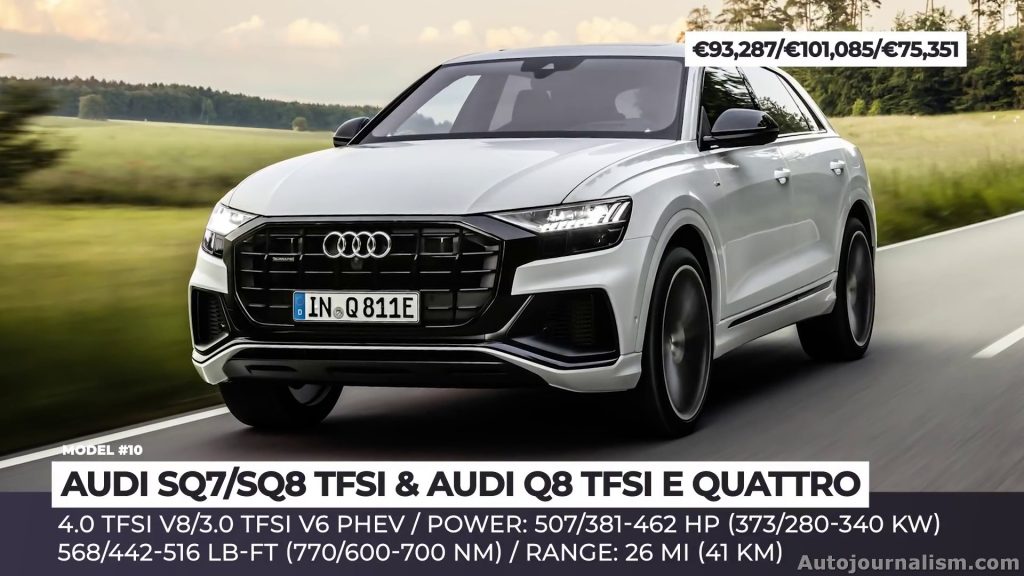 The mid-size entries from the Q line have been upgraded as recently as 2020 but some of the models are additionally powered up this year with all-new powertrains in case of the SQ7 and SQ8 it is a 4-liter turbo TFSA gasoline engine with the cylinder on demand system 8-speed Tiptronic and Quattro permanent all-wheel drive this setup makes 507 horsepower and 568 pound-feet of torque sufficient to ensure zero to 60 of 4.1 seconds these models get adaptive air suspension support with control dampers all-wheel steering and sport differential one more model that is attempting to get closer to the s grades in terms of performance is the q8 TFSI E QUATTRO plug-in hybrid in this case the sporty nature is awakened via a 3-liter TFSI v6 coupled with a powerful electric motor this tandem is offered in two states of tune 55 and 60 TFSI E QUATTRO that have combined yields of 381 and 460 hp.
now that we have covered all the SUV sizes which one would you choose for your family subcompacts compacts mid-size or a full size share your preferences in the comments below like this video subscribe to Autojournalism.com and proceed to explore our video database by clicking on the icons on the screen may the torque be with you.
Important Link:-