Top 10 Small Electric Cars
Here is the list of Top 10 Small Electric Cars in the World, Cars are becoming bigger, just look at the pickup trucks and 7-0 SUVs that are selling left and right these days. Electric vehicles, on the other hand, are not hesitant about investigating the notion of downsizing, which includes economical, highly low maintenance, and nimble daily commuters and In this article, we will look at the most recent additions to the section of Tanny electric cars that will be swarming the city streets in the near future.
List of Top 10 Small Electric Cars
1. Smart EQ ForTwo ( Best Small Electric Cars )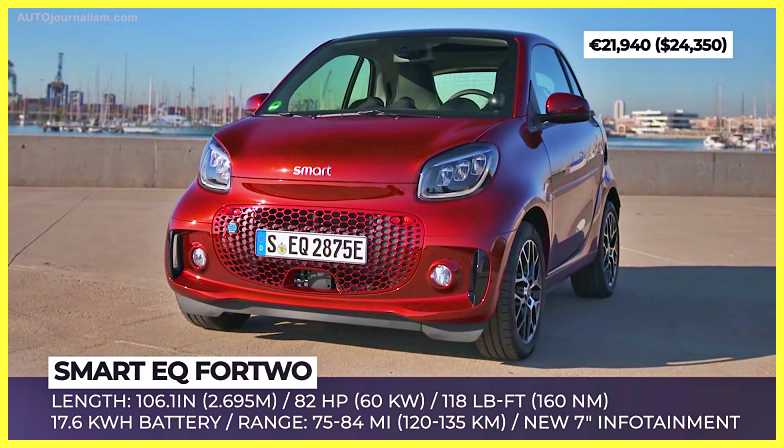 The smallest smart vehicle, which is only available with an electric drivetrain, will receive a redesign in 2020, along with its convertible and four-seat siblings. The Refresh is inspired by the 2018 for East concept, so the four – those altered head and tail lights that are full-LED in higher trends, as well as a new front with the honeycomb radiator grille and updated air intakes that clearly signal
Since the Smart has an electric heart the model has a single electric motor with 80 horsepower and 118 pound-feet of torque that gets juice from his 17.6-kilowatt-hour lithium-ion battery good for up to 84 miles of range with the optional 22-kilowatt onboard charger to fit her demands 40 minutes to recharge from 10% to 80% The entry-level Q4 will come standard with 15-inch alloy wheels and a new 7-inch multi-touch infotainment system with Bluetooth, Android Auto, and mirror link.
2. Microlino 2.0 ( Best Small Electric Cars )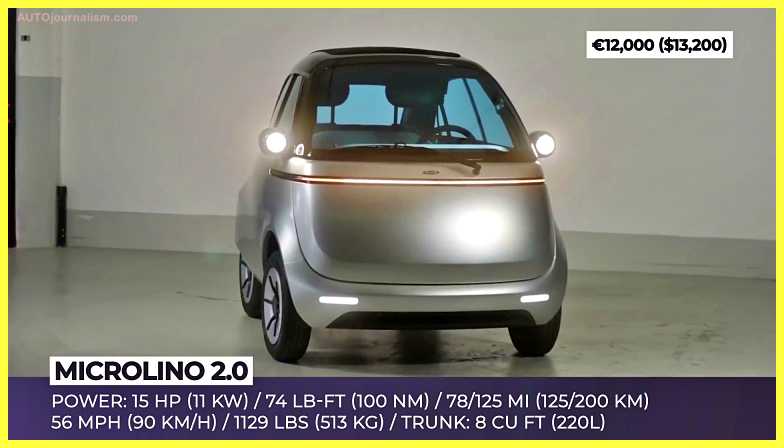 The ISO Isetta, also known as the bubble car, is an unforgettable oddity as well as a classic of the twentieth century, and its design is being resurrected by the youngster's startup micro-mobility in the ole electric form. Technically, this is the second version of my crew lino, which was first presented in 2016, but the CV was rebuilt from the ground up to bring it closer to production. The tubular framework of this two-seater is replaced by pressed steel and aluminum components.
In addition, the rear axle has been reinforced up by up to 50% to support and dependant suspension any more powerful 15 HP 74 pound-feet motor the battery has grown in size as well there are 78 and 125-mile alternatives The micro lino 2.0 retains its one-of-a-kind front entry single door, but it also has an 8 cubic foot or 220-liter trunk for all of your shopping.
3. Fiat 500e ( Best Small Electric Cars )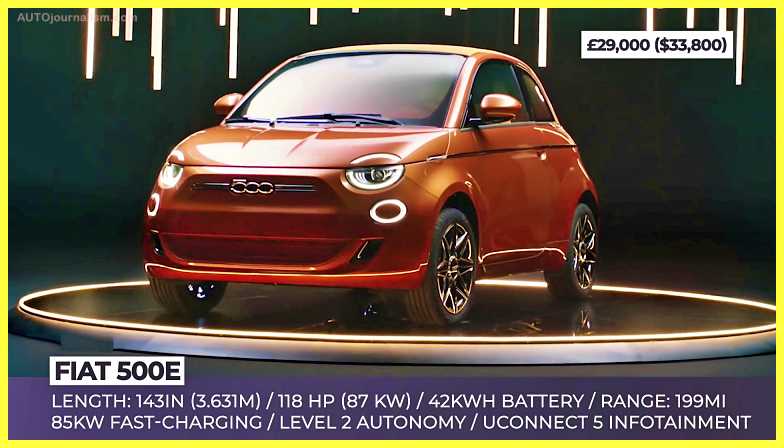 The famous two-door is entering its third generation and will debut in 2021 as a fully electric convertible that sits only on a newly developed Fiat platform. The course sticks with a familiar exterior design but becomes slightly less compact measuring 91 inches in the wheelbase and 143 inches in overall length. The more massive stance requires bigger wheels, so the 500 e-rights and 17 ensure the standard at the same time.
The car gains an all-new UConnect 5 infotainment system consisting of a 7-inch TFT display and 10-point 25-inch touchscreen with smartphone integration among other goodies are the level 2 autonomous driving an 85-kilowatt fast charging that regains 80 percent of the 42-kilowatt hour battery capacity in 35 minutes once full you can expect the 118 horsepower 500 e to cover up to 199 miles according to the W LTP cycle
4. e-Go Life Sport and Concept Cross ( Best Small Electric Cars )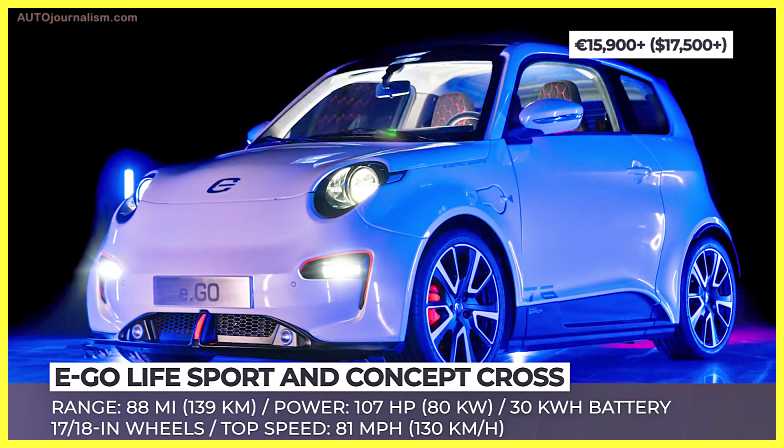 The eco model AG was founded in 2015, drawing intellectual resources from the eighteen University campuses. Their pioneering project was an electric delivery van called a scooter, which was later fouled by tiny two-seater ego life the year 2020 well comes to new near-production already versions of the city commuter the athletic sport and off-road across the improved electric setup is represented by a 107 horsepower Bosch motor and a 30-kilowatt hour battery.
The racing tram benefits from a reduced center of a gravity performance suspension, seventeen insurance, and a probably steered design rear axle. The options list also allows you to set light alloy 18 assures bigger spoilers and sports interior with red stitching as for the cross-version it will arouse your emotions with the wide rough tires powerful silhouette with cladding and functional roof rails
5. Citroen Ami ( Best Small Electric Cars )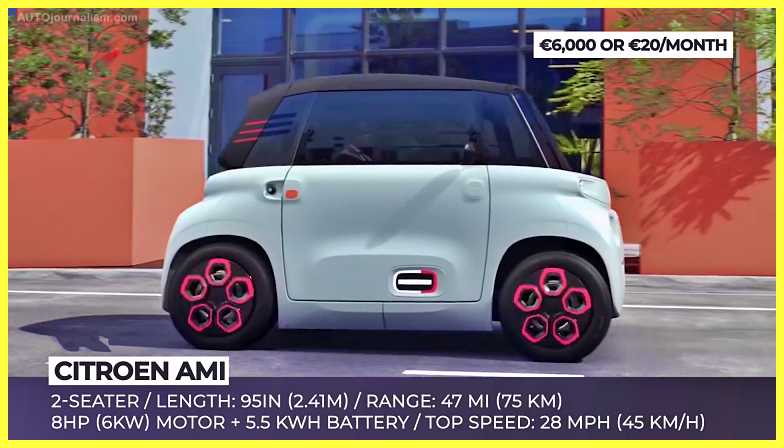 Thus, two doors marketed as the quarter will make individual electric mobility accessible to everyone, and with a price tag of six thousand euros or $19.99 per month, a deaf aunty will the Amy comes powered by an eight horsepower motor linked to a five-point five-kilowatt-hour battery that still provides up to forty-seven miles of driving on a charge its maximum speed reaches 28 mph which should not be a problem when maneuvering crowded streets especially in town
The Amy is intended to appeal to the younger generation, as seen by its colorful appearance. There are seven personalization options available, as well as specifically designed 14-inch wheels. It also receives my Citroen app, which allows your smartphone to function as the vehicle's key as well as its main dashboard screen for navigation and infotainment. In Europe, the Citroen is categorized as a quadricycle, so even 16-year-olds may drive it without a license.
6. VW e-UP! ( Best Small Electric Cars )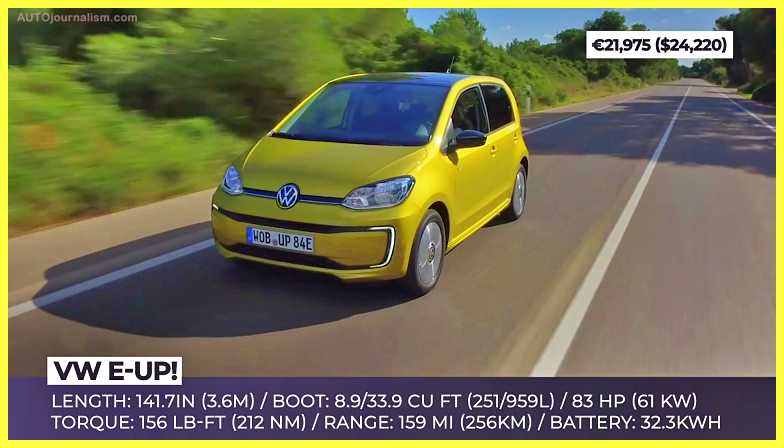 Despite the fact that the second generation II app's debut was somewhat overshadowed by the media buzz surrounding the id3, the smallest VW model actually becomes a much better word truly matters its range goes up to 159 miles in recharge while the price goes down to the appealing 22,000 euros before subsidies. The drivetrain configuration is represented by a single electric motor that still produces 83 horsepower but is now supplied by a new battery with a net capacity of 32 three kilo hour.
The tandem is responsible for Swift's zero to 60 acceleration time of 11.9 seconds and a peak speed of 81 miles per hour. The e-app is just 141 inches long, yet it seats four passengers and has 8.9 cubic feet or 251 liters of cargo space behind the back seats. What is your favorite little V from the list? The basic version also has standard automatic air conditioning, lane departure warning, and a docking station that converts your Smartphone into the infotainment display.
7. iEV X and XX ( Best Small Electric Cars )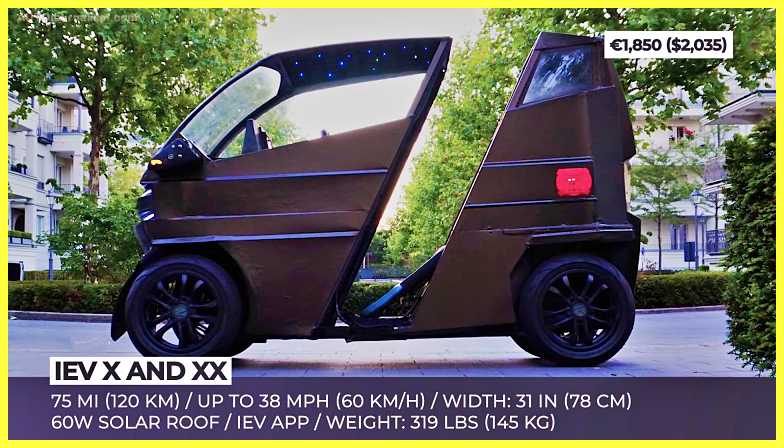 Probably the oddest IV on our list, the IE VX takes the notion of downsizing to its logical conclusion, allowing you to protect the car and the corridor instead of a garage. In essence, the IE VX is a glorified what will scooter with a roof.
Despite the fact that it has a unique flexible robotic platform with the capacity to expand the body length and accommodate a passenger in the rear, the 31-inch width of this computer will cause some problems for people with broad shoulders. However, motorcycle-style passing through traffic is now a reality of the top ie VX configuration as the top speed up to 30 mph and the range of 75 miles that could be replenished with a 60-watt solar roof it should be noted that the Kickstarter campaign to fund this project failed miserably, so we may never see the production model
8. Honda E ( Best Small Electric Cars )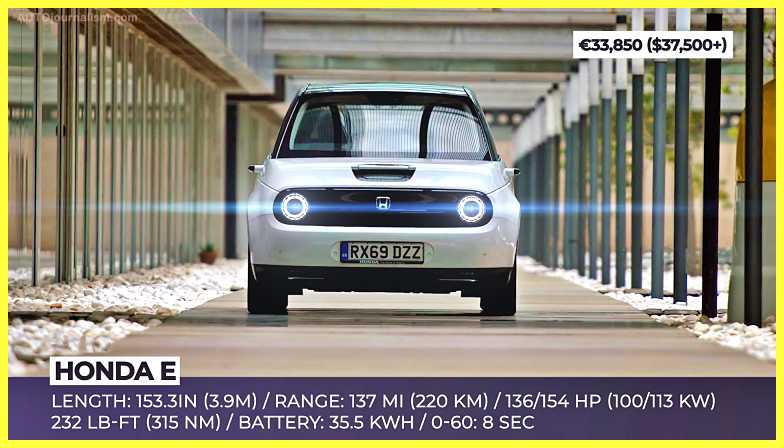 When compared to other passenger cars or even city-oriented hatchbacks, the five-door Honda II appears to be any skill automobile but in today's selection it is actually the largest model the car sits on a 100-inch long wheelbase and measures 153 inches in length and 69 inches in width its exterior is rather minimalistic and retro-looking paying homage to the first generation Honda Civic produced in the 1970s the chorus powered by a 35 point five-kilowatt hour battery
It may be constructed with a base 136 HP motor or a more powerful one producing 154 horsepower and can go 137 miles on a single charge and is compatible with 60 kilowatt DC stations Regardless of its appearance The E is a high-tech car that replaces regular side mirrors with cameras to improve aerodynamics and features a spectacular full-width instrument cluster with five displays.
9. Renault Twingo Z.E ( Best Small Electric Cars )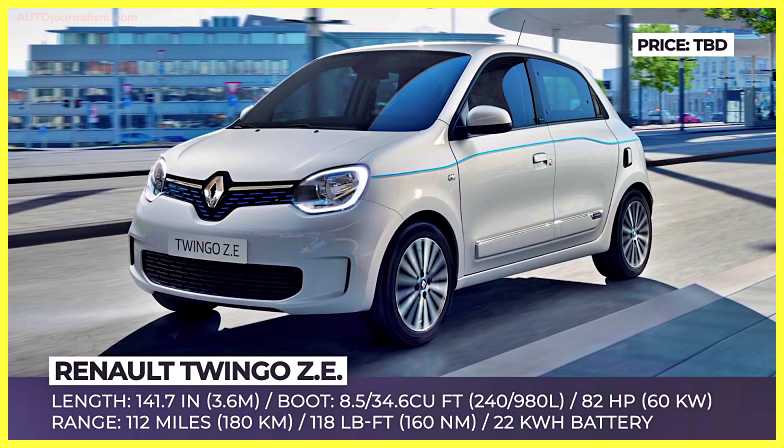 ignoring the Renault Twizy This is Renault's second electric passenger car, and it will hit the market sooner than planned. The C II is built on the same platform as the Smart Forfour Electric, which means it has a rear-mounted electric motor with a single-speed gearbox, delivering 80 horsepower and 118 pound-feet of torque. However, Renault installed a larger 22-kilowatt hour battery, resulting in an approximate WLTP range of 112 miles.
Lycra knew best seller Zoe the Twingo features liquid coolant for the pack which ensures better battery protection and improved performance it is power demands as we can judge from the pictures the Twingo ze does not look much different from the gas-powered sibling receiving only a few C batches and electric blue exterior accents
10. Baojun e300 ( Best Small Electric Cars )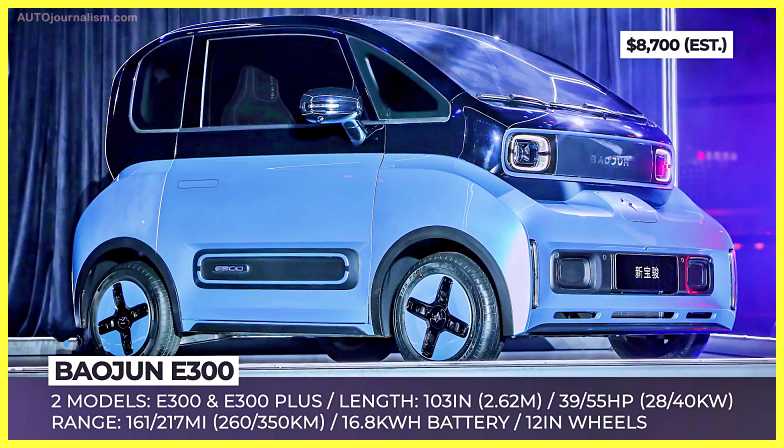 Bao Jun is a joint venture of General Motors as AIC motor and bullying that has been selling cars in China since 2010. Bao Jun cars offer a more affordable alternative to popular chevy and Buick vehicles plus starting in 2017 the company produces tiny all-electric city cars the newest one in the lineup is the three-door III hundred unveiled in early 2020 the 103-inch long car rides in small with 12-inch wheels and sits from two to four people depending on the modification
The base model gets a 39 horsepower electric motor and a 16.8-kilowatt-hour battery that should be good for 161 miles of range while the more powerful plus version gets a 55 horsepower motor and a larger pack though its exact capacity has not been revealed yet Bao Jun estimates that we'll have enough juice to cover 217-mile distances though all of these figures are reflected and the very optimistic and EDC cycle VW
11. Der e-Kafer ( Best Small Electric Cars )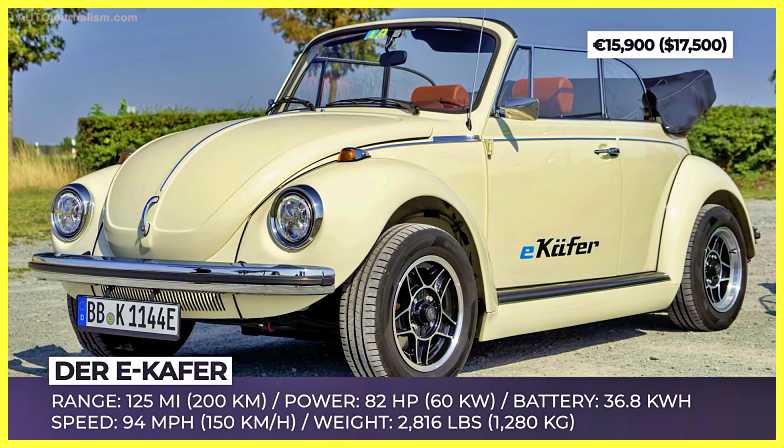 Volkswagen is seriously considering resurrecting the recently retired Beetle as a new generation vehicle. For the time being, the iconic retro model is being converted in collaboration with a German restoration specialist eClass X the electric components were borrowed from the latest generation yup so we're looking at an ad 3 horsepower strong convertible wooly 14 module battery with a capacity of 36.8-kilowatt-hours and a range of 125 miles.
Because of the double performance parameters, the chassis and brakes had to be reinforced; after all, compared to the predecessor, they each offer twice to 16-page in under 12 seconds and top out at 90 for the spot concept opens the door for electrification of other VW Group historic vehicles, such as a Porsche 356.
credit
NEXT
Top 10 Cruise Missiles in the World