With the current car prices and expansive large family, SUVs have almost become characters of the fables about the times long gun but in this Post, we still managed to gather a list of the most affordable new seven suitors that will be arriving in 2021 and beyond.
We'll be including all the prices and details about the most important technical specifications for the markets across the entire globe so you'll surely find a model that fits your needs.
Here is the Top 10 Upcoming New 7 Seater Family SUV Cars 
1. MITSUBISHI OUTLANDER ( Upcoming SUV )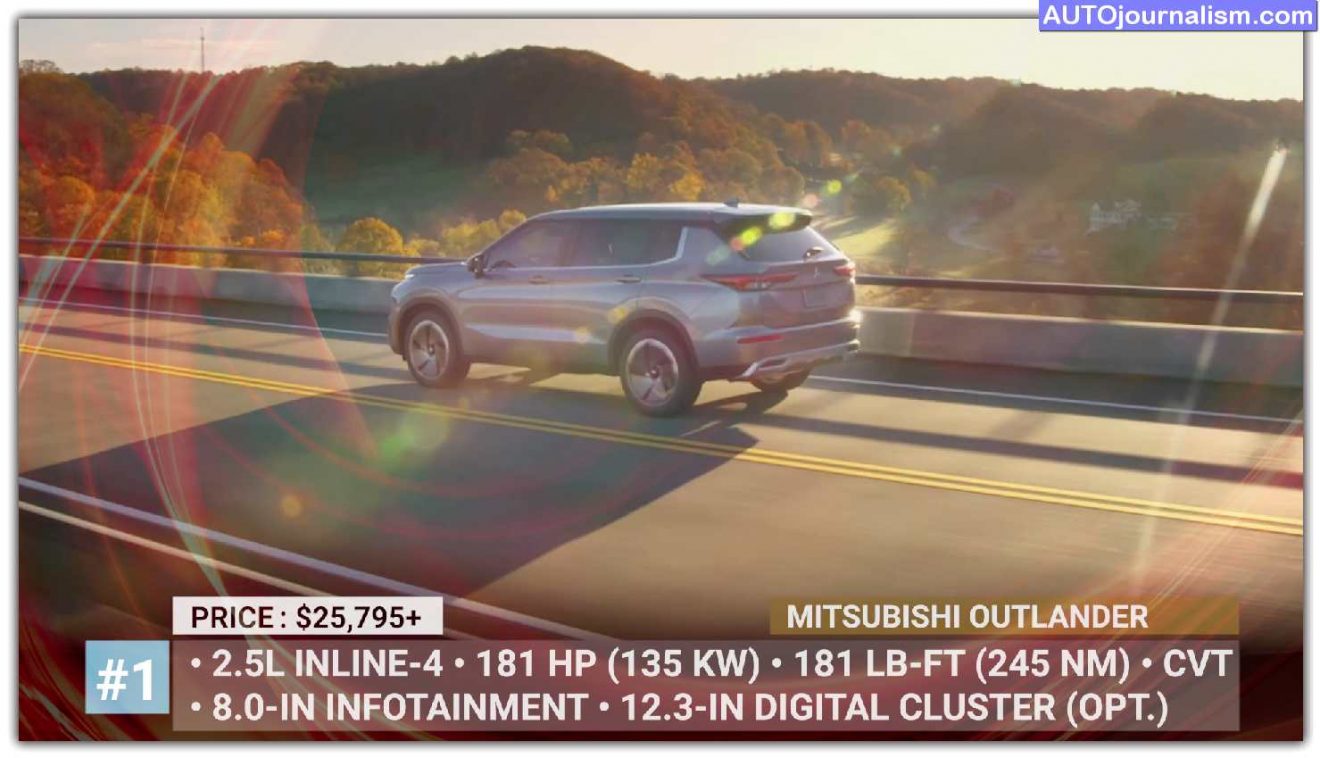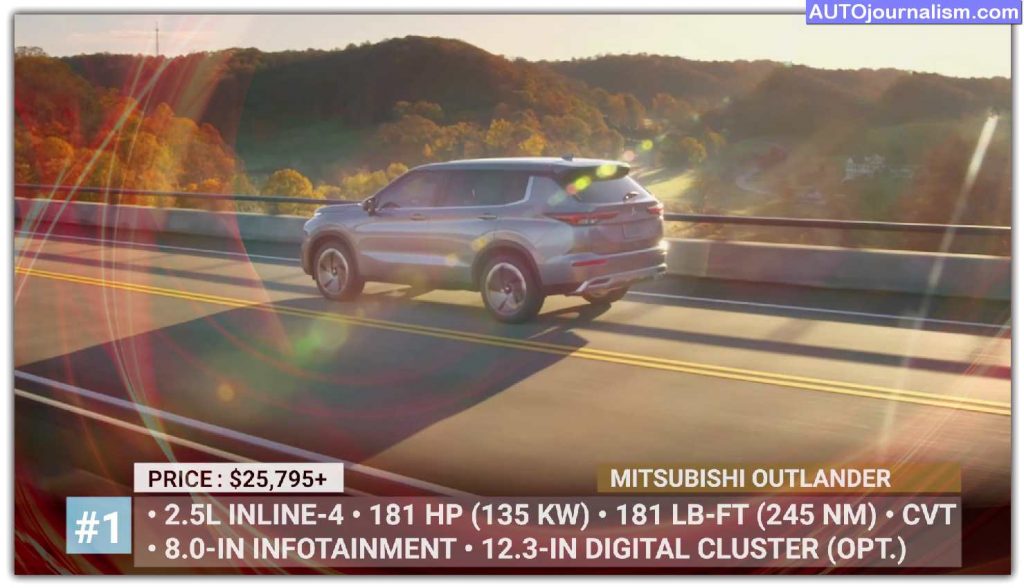 PRICE: 25,795+ DOLLARS
MITSUBISHI OUTLANDER – After nine years on the assembly line, the current Outlander gives way to the next generation crossover, which is built on the CMF CD platform, which is Mitsubishi's first attempt. The exterior undergoes a complete transformation, becoming bulgier and boxier. On the inside, a 2.5 liter inline-4 with 181 horsepower and 181 pound-feet of torque replaces all previous engines, including the v6. The Outlander improves on its predecessor by using higher-quality materials and introducing a bi-level horizontal design that is more modern. A regular 8-inch infotainment monitor with apple car play and wireless android auto are included, with larger 20-inch wheels, a 12.3-inch digital gauge cluster, and a head-up display available as options.
2. NISSAN PATHFINDER ( Upcoming SUV )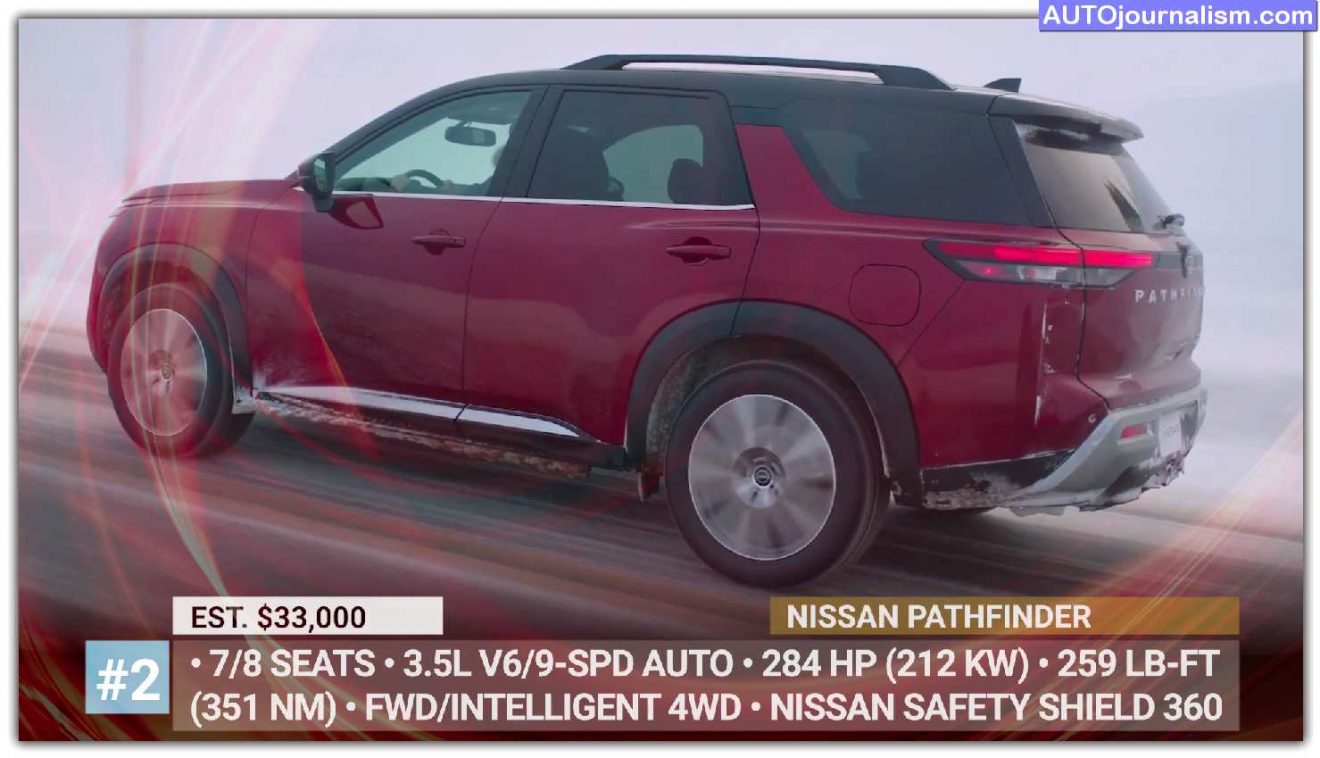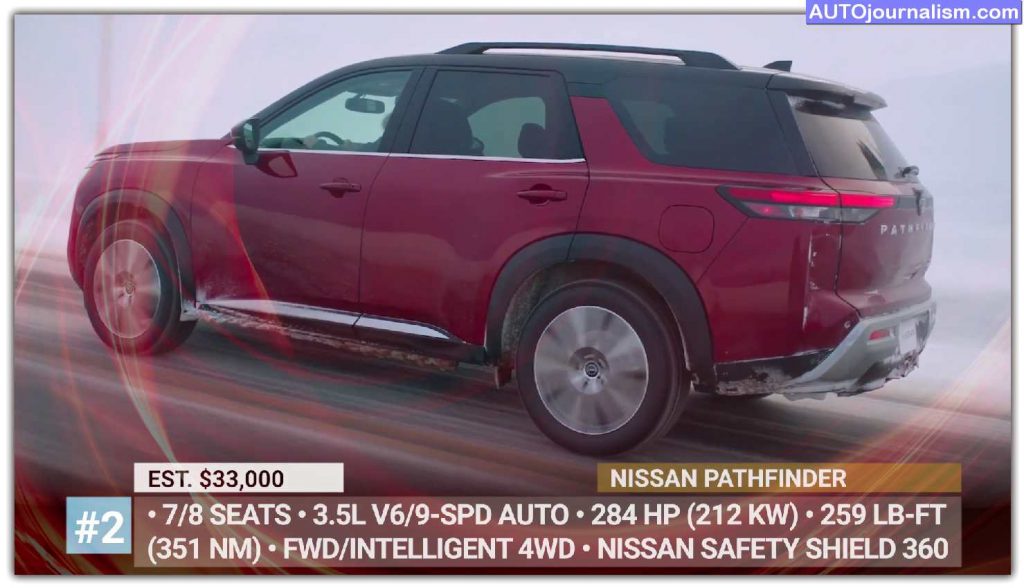 PRICE: 33,000 + DOLLARS
NISSAN PATHFINDER -The new generation Pathfinder, though still a crossover in terms of construction, stands out as a more stylish, rugged, and technologically superior version of itself. The 2022 model gets a sloping roofline and a burler front, its led headlights have a curious two-piece design, and the three slots at the top of the grille are a clear homage to the original truck-based model. However, instead of the driver-despised CVT, it is now mated to a classic cf9 speed automatic torque converter. The available all-wheel-drive system has been updated to include terrain select and seven drive modes. Finally, Nissan has offered the Pathfinder a new dashboard with an 8 to 9-inch infotainment screen and a 12.3-inch digital gauge with a head-up display for the upper trunks.
3. KIA SORENTO ( Upcoming SUV )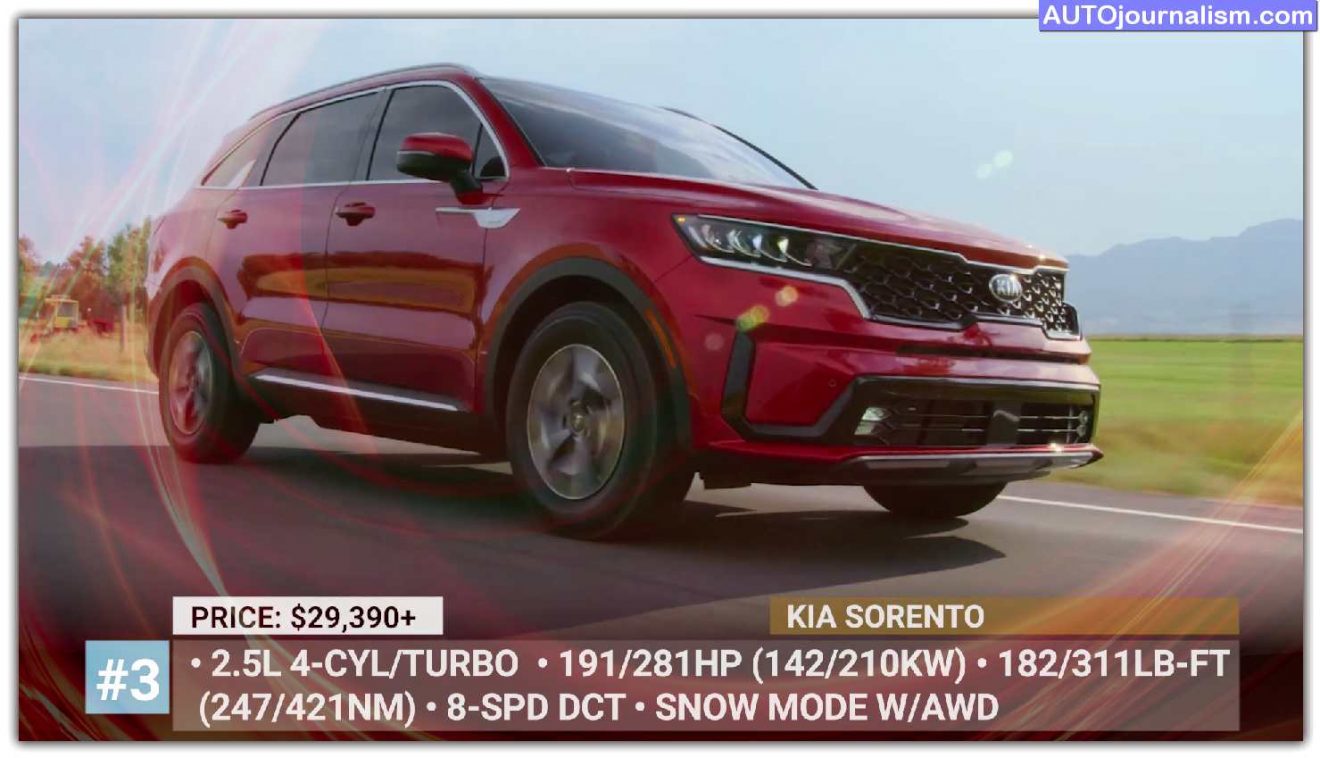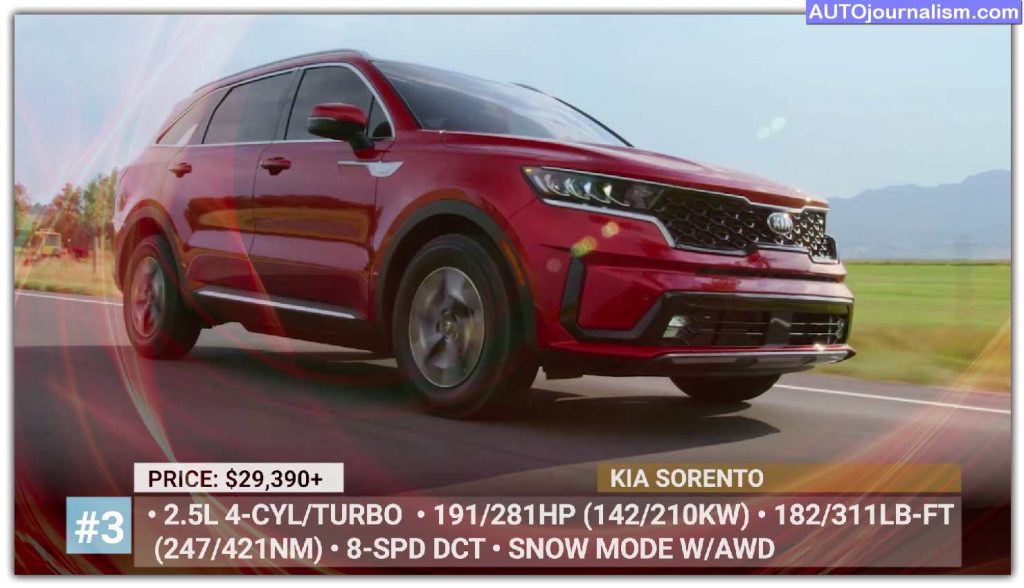 PRICE: 29,390 + DOLLARS
KIA SORENTO – the previous-generation Sorento was a rather tamed minivan-like mid-space SUV that in 2019 experienced in 19 drop-ins our sales this year he is trying to rectify the situation by releasing a fully overhauled Toronto that grows by 1.4 inches in wheelbase has a more aggressive face and flashes a telluride-inspired rear section the entry-level trunks of the SUV rely on a 2.5-liter four-cylinder with 191 horses 8-speed automatic and all-wheel drive while more expensive Sorento is available with a 2.5-liter turbo with 281 hp a hybrid or a PHEV in Europe there is also a diesel option though pricing there is far from being on the affordable site its cabin seat 7 benefits from high-quality sound insulation and offers standard 8-inch infotainment with wireless smartphone connectivity.
4. MG HECTOR PLUS ( Upcoming SUV )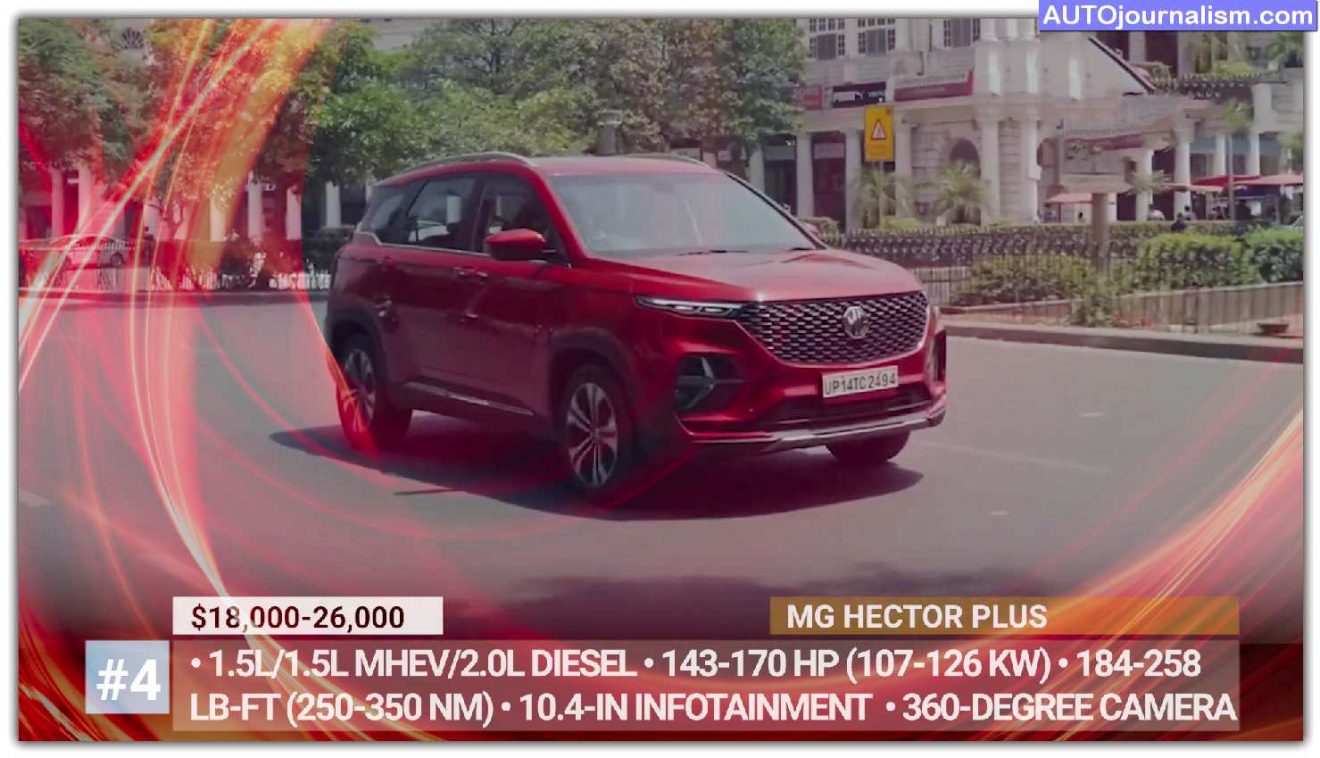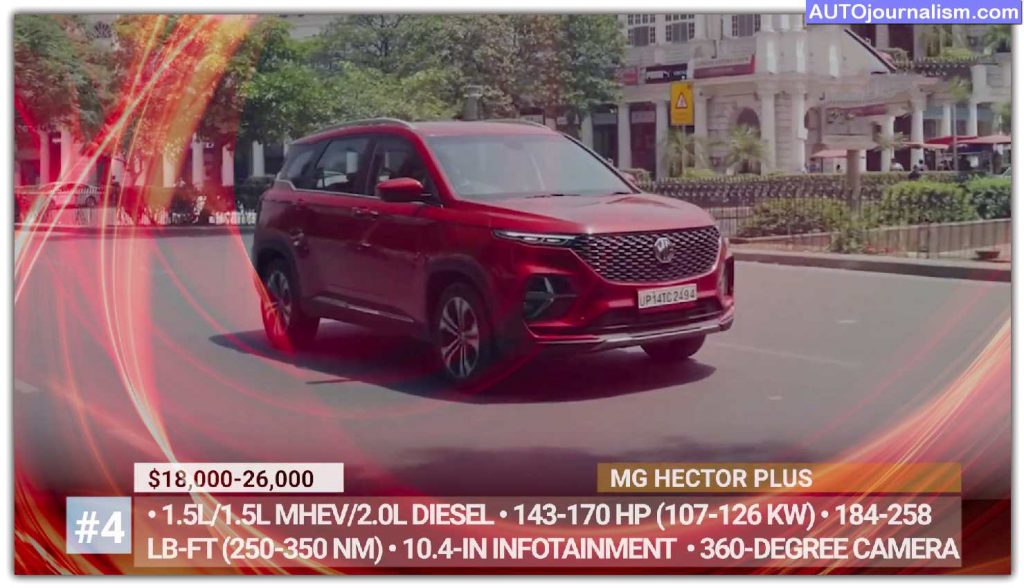 PRICE: 18,000 – 26,000 + DOLLARS
MG HECTOR PLUS – morris garages continues to strengthen its foothold in India with a 60 hectares UV sales growth during the last year to consolidate the gains achieved mg refreshes the model's exterior and further expands the lineup with the new seven-seat plus variant the hack tour plus gets a bulger Thermo pressed front grille gunmetal finish for the skid plates and standard 18 inch dual-tone wheels future owners will have to choose between a 1.5 liter turbocharged engine a 48 volt mile hybrid version based on the ladder or a 2.0 liter diesel the cabin of the refresh 3 row boasts a 10.4 inch touchscreen infotainment system with android auto and apple car play panoramic sunroof ventilated front seats 360 degrees camera 6 airbags and an electric parking brake.
5. VOLKSWAGEN ATLAS ( Upcoming SUV )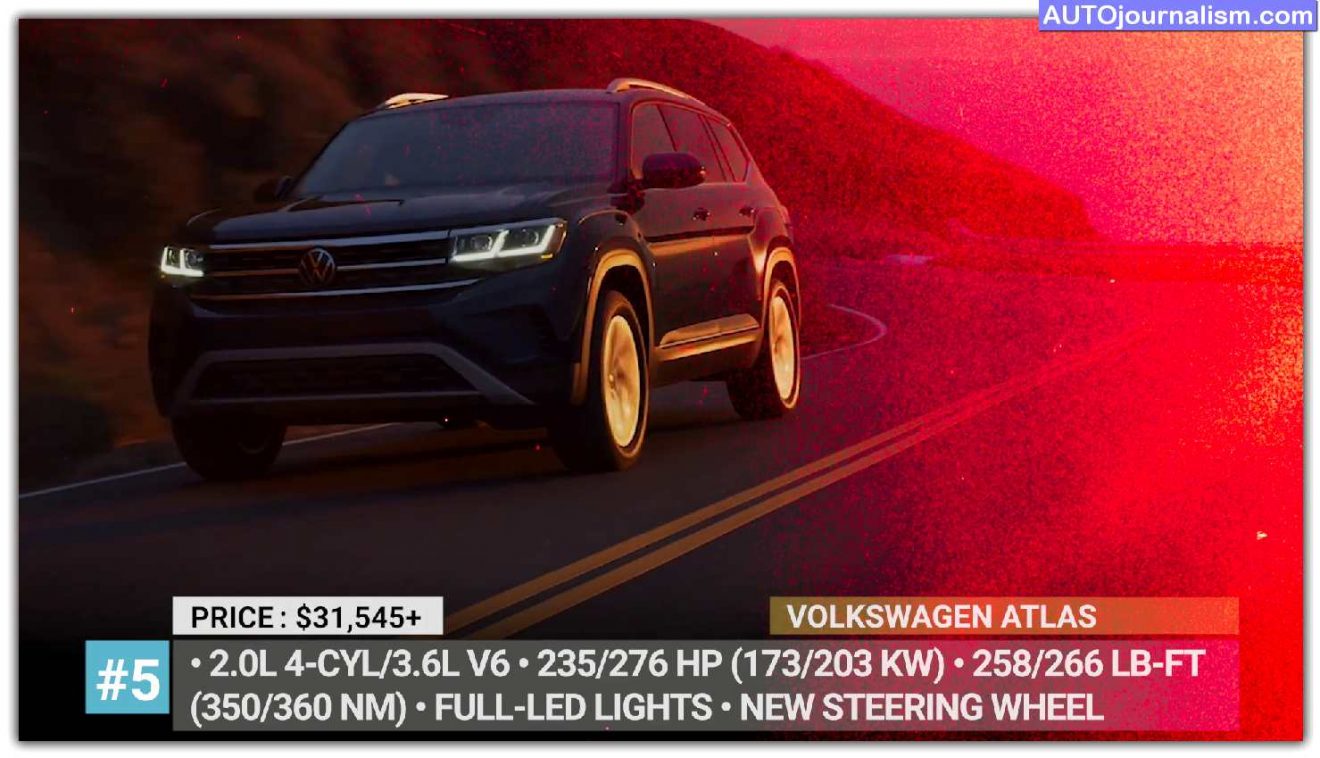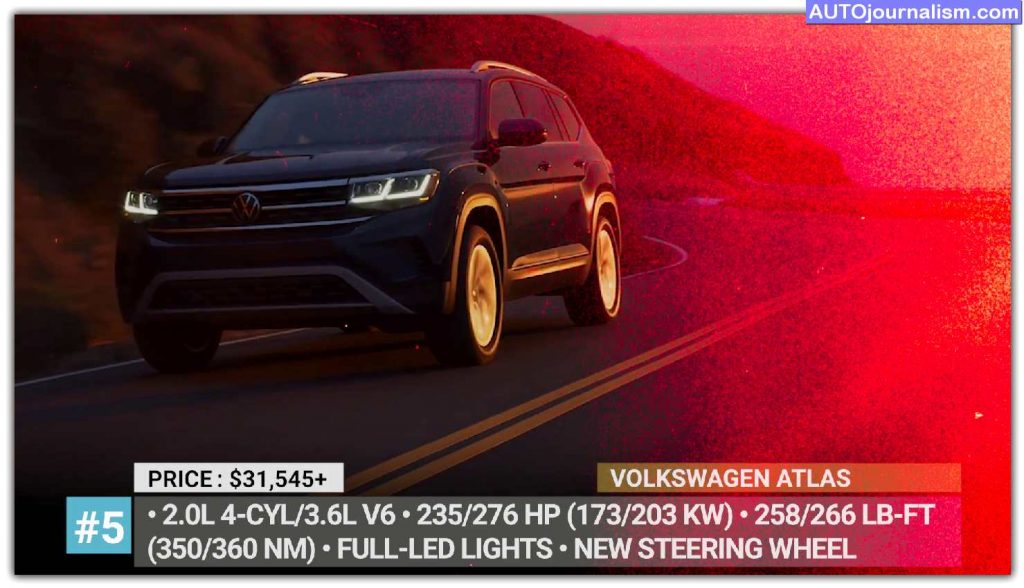 PRICE: 31,545 + DOLLARS
VOLKSWAGEN ATLAS – during the latest 2021 refresh the largest Volkswagen available on the western market received not one but two facelifts it drives with the spruce top exterior and becomes three inches longer due to a new front end inspired by its cross sports five-seater variant the revised atlas boasts a similar 3 bar grille rounder led headlamps and lower the air intake setting The taillights are now equipped with standard LED technology, and the rear bumper has been redesigned to include ditches. the previous model's boxy appearance the interior adds a new steering wheel and a new 8-inch infotainment screen on all models excluding the base s-tram safety-wise the meteor upgrade brings new optional driver-assist features such as the traffic jam assist and the dynamic road sign display finally the all-wheel-drive atlas becomes cheaper since this UV now offers it with the entry-level 2.0-liter four-cylinder.
6. SSANGYONG REXTON ( Upcoming SUV )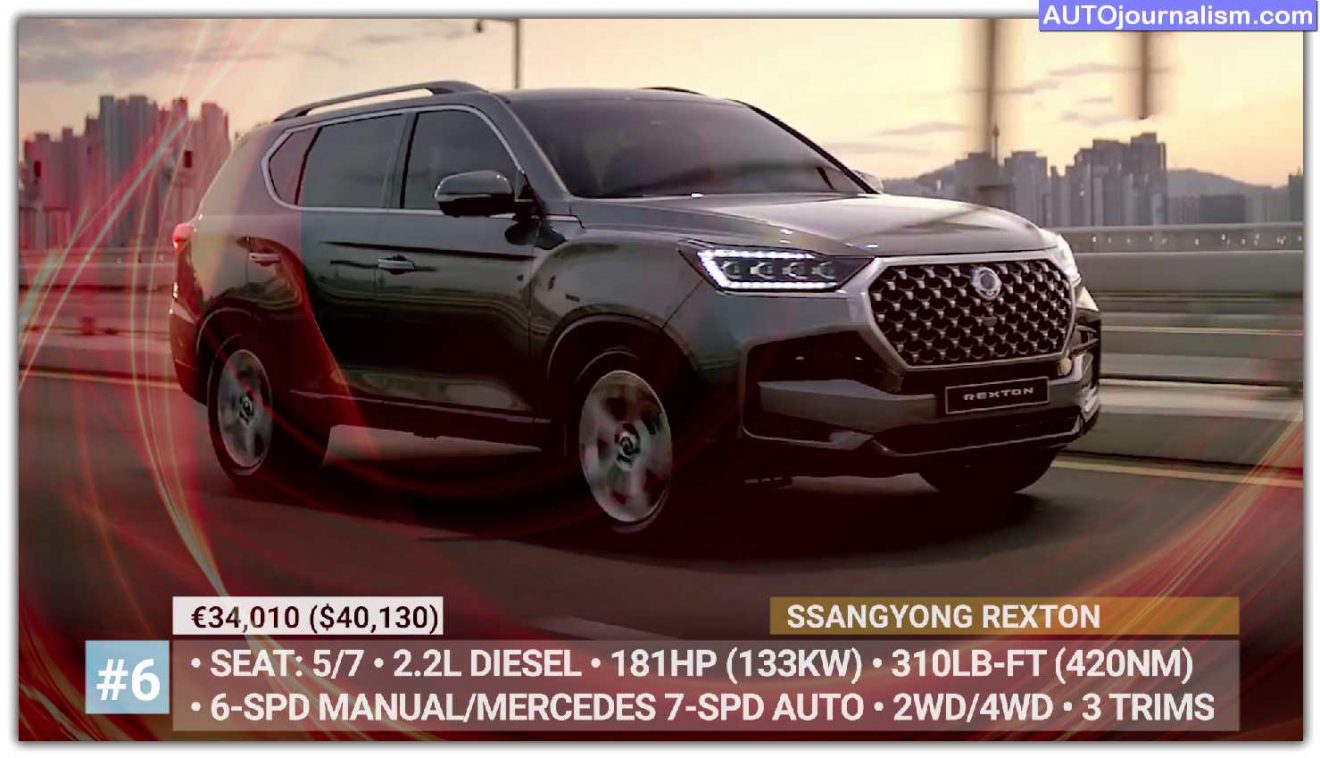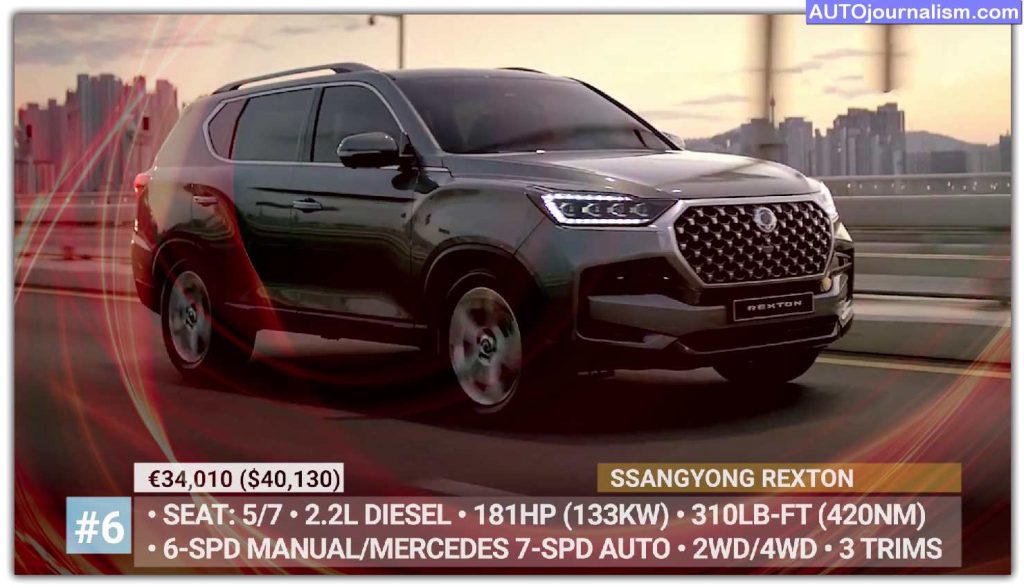 PRICE: 40,130 + DOLLARS
SSANGYONG REXTON –  The flagship SUV and the san Yong's lineup received a facelift for the 2021 model here to reflect the brand's latest front end design you will notice an all-new grille led lighting and optional 18-inch wheels the flagship retains its part-time four-wheel-drive capability with auto-locking rear differential and comes in 5 or 7 seat layouts the engine's lineup in Europe includes 2.2 – liter diesel with 181 horses and 310-pound feet while in other countries a 225 hp 2-liter turbo gasoline is also available the former can be mated to a 6-speed manual or a 7-speed automatic developed by Mercedes-Benz the new Rexton also comes with an 8-inch infotainment 12.3-inch LCD instrument cluster and offers the latest assists such as autonomous emergency braking cruise control and traffic signs recognition the package can be further enhanced to the powered sunroof 360-degree camera and premium leather interior.
7. DODGE DURANGO ( Upcoming SUV )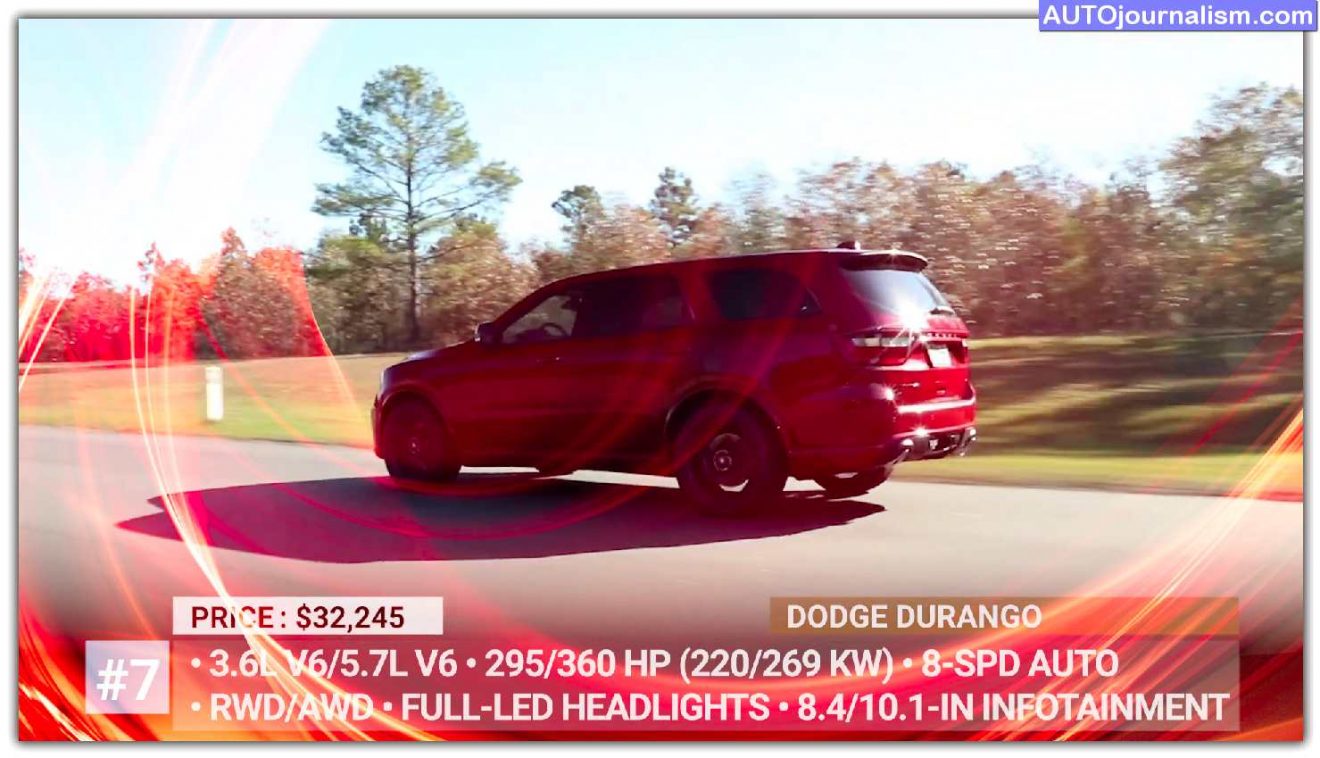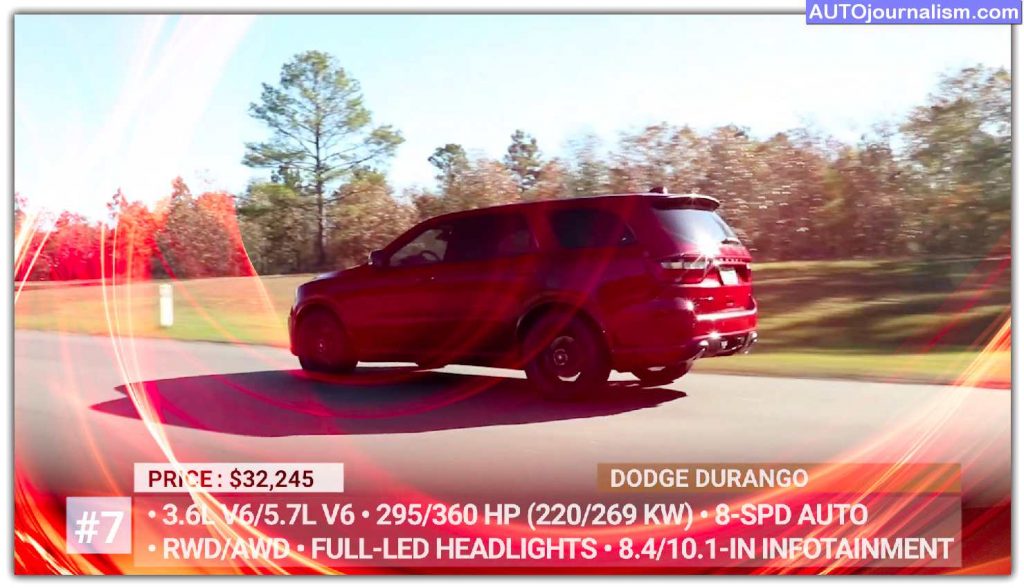 PRICE: 32,245 + DOLLARS
DODGE DURANGO – As usual the bunker's Srt hellcat version of the Durango gets all the spotlight in 2021 but those buyers interested in the less powerful hands cheaper tramps enjoy a few benefits as well the bulky 7-seat SUV acquires a more aggressive face and lifts a few styling tweaks from the charger white body the engine selection starts with a 3.6 liter v6 that nets 295 horses while the higher rt tram gets you a 5.7 liter v8 with 360. all are paired with an 8-speed automatic and either rear or all-wheel drive more changes happen inside the Durango's cabin that now packs a standard 8.4 infotainment with android auto and apple Carplay 3 zone climate control keyless entry and push-button start.
8. ISUZU MU-X ( Upcoming SUV )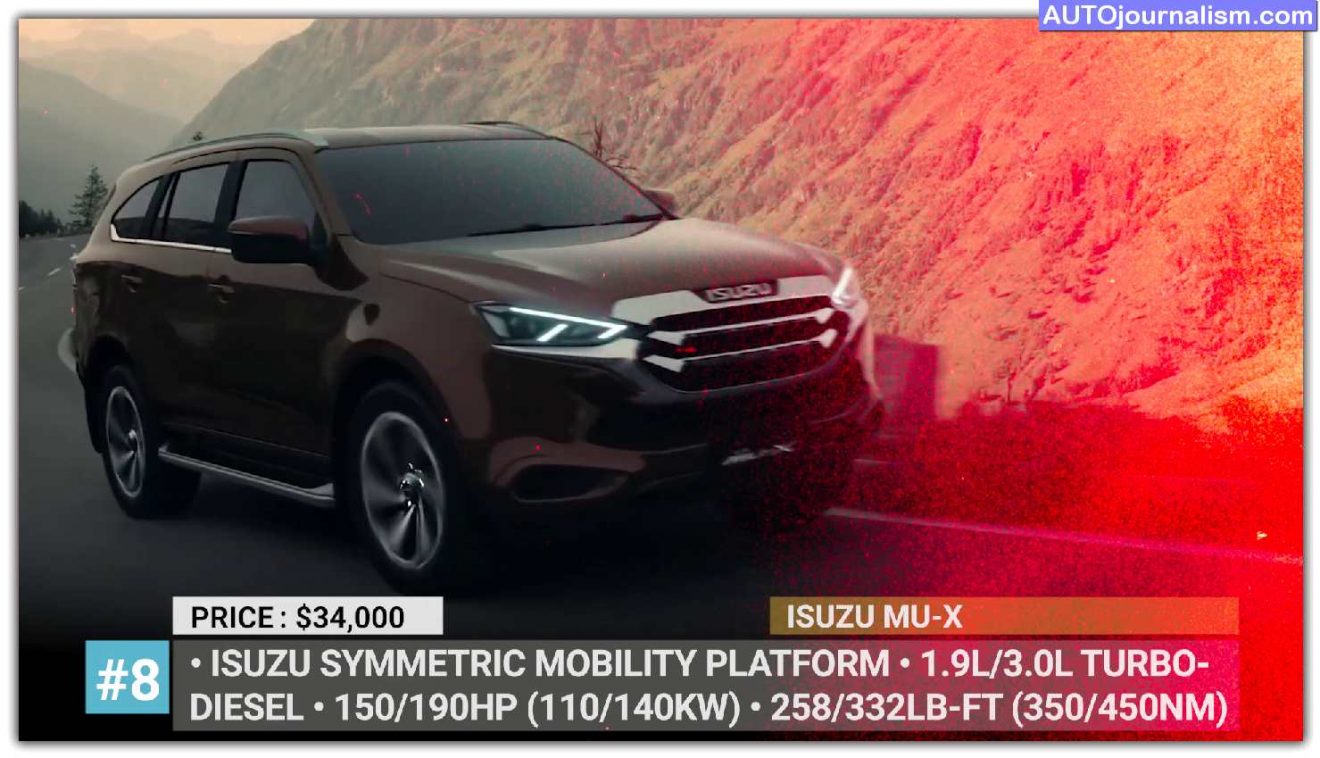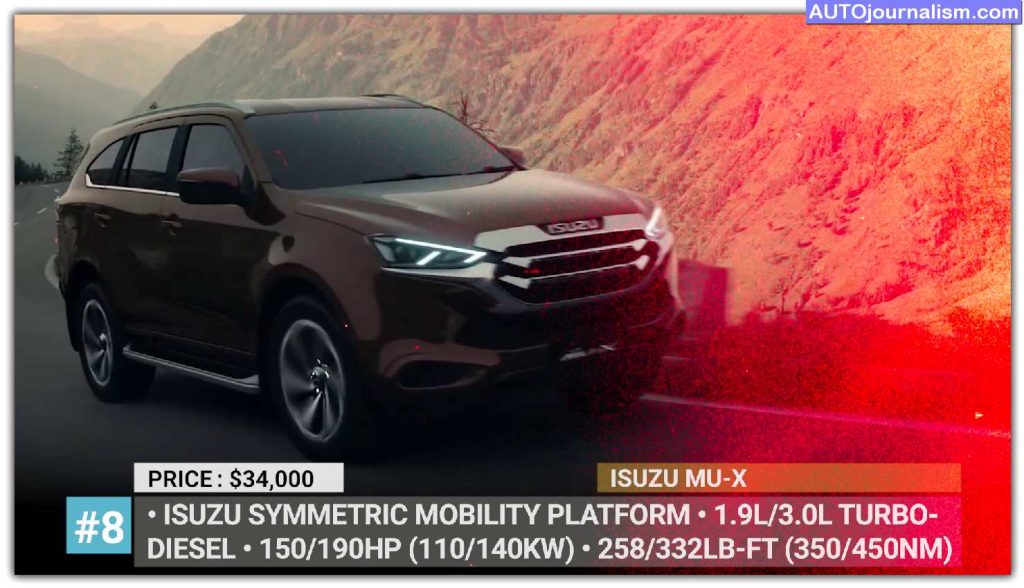 PRICE:   + DOLLARS
ISUZU MU-X – the Japanese truck maker Isuzu does not claim to occupy leading market positions but their makes do manage to strike the balance between affordability and reliability the MU-X makes you exciting SUV is their flagship passenger vehicle that enters a new generation in 2021 and moves on onto the ISUZU symmetric mobility platform this midsize adopts slimmer led headlights a new taillight design different style 18-inch alloys and the signature chrome grille is now positioned higher all of the entry-level models come powered by the unchanged 1.9-liter turbo diesel paired to the 6-speed manual or an automatic gearbox both sources from ISON – the high-respect SUVs get a 3-liter turbo diesel that is now boosted to 190 horses as usual Isuzu's shift on the fly four-wheel drive system remains an offer the cabin brings more safety and comfort features like automatic emergency braking remote engine start reclining third-row seats and 9-inch infotainment with android auto and apple car play
9. GEELY HAO YUE ( Upcoming SUV )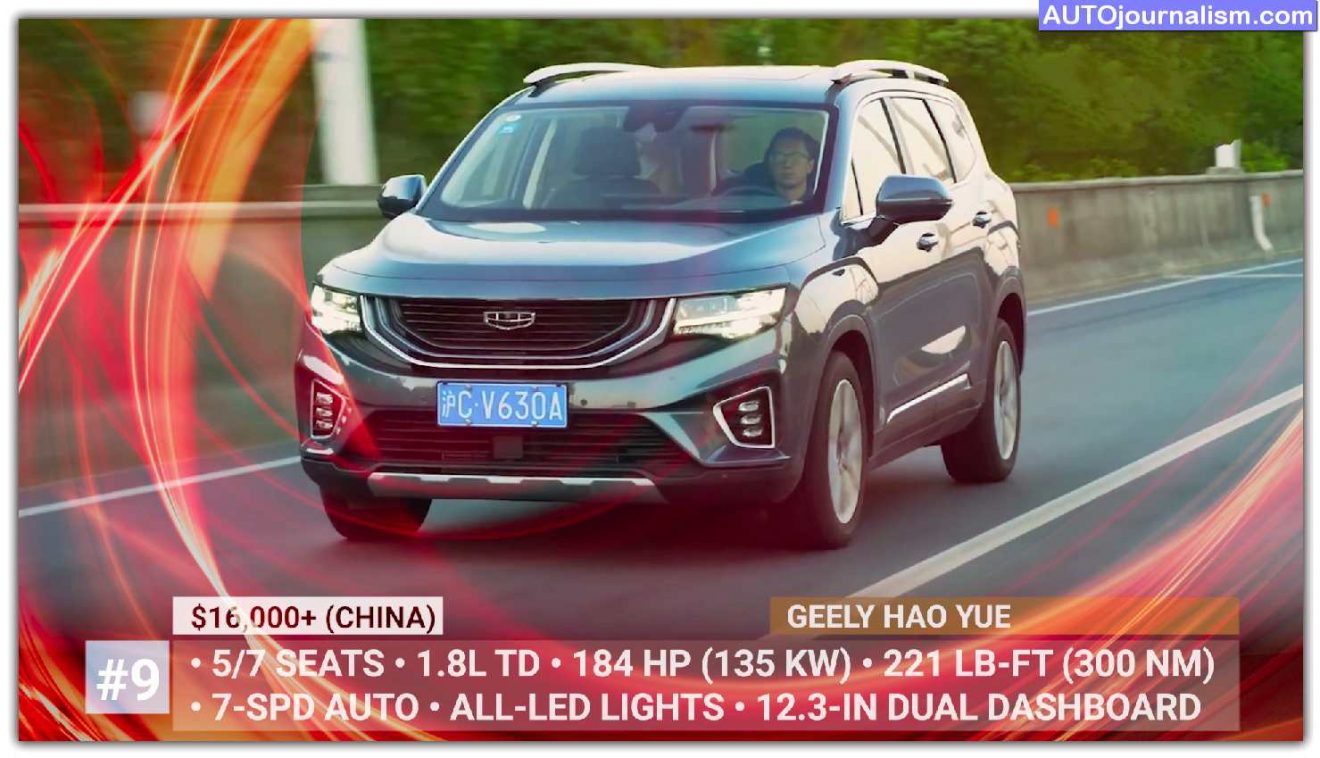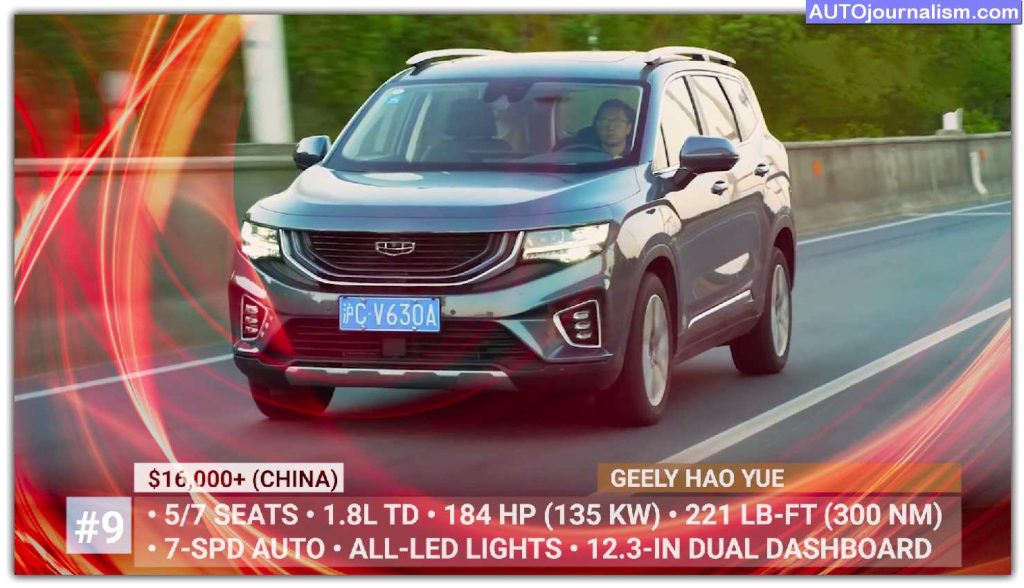 PRICE: 16,000 + DOLLARS
GEELY HAO YUE – this is the largest crossover SUV model from the company that targets the highly competitive d segment which in china is currently dominated by foreign joint-venture brands, The HAO YUE is offered in both five-seat and seven-seat configurations and with fully flat rear seats the car boasts up to 2 360 liters of trunk space the model adopts Keely's latest design language with a space scroll pattern rectangular led headlights and l-shaped URLs on the inside this UV can be equipped with a high definition instrument cluster and an infotainment system both measuring 12.3 inches there could be an advanced head-up display park assist with 360-degree panoramic imaging and high-efficiency air purification system the powertrain portfolio consists of a 184 hp 1.8-liter turbo inline-four and an upcoming 2-liter turbo co-developed with Volvo that produces 247 horses.
10. CHEVROLET TRAVERSE ( Upcoming SUV )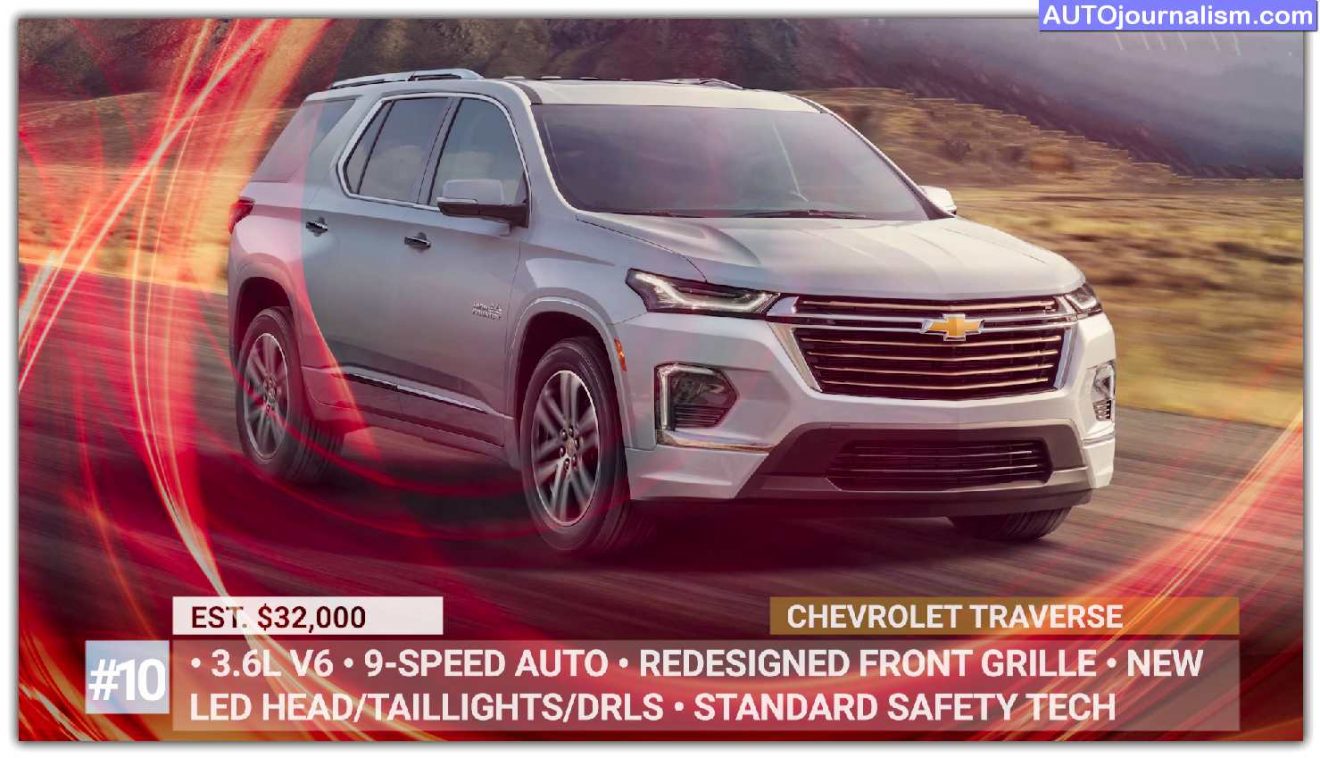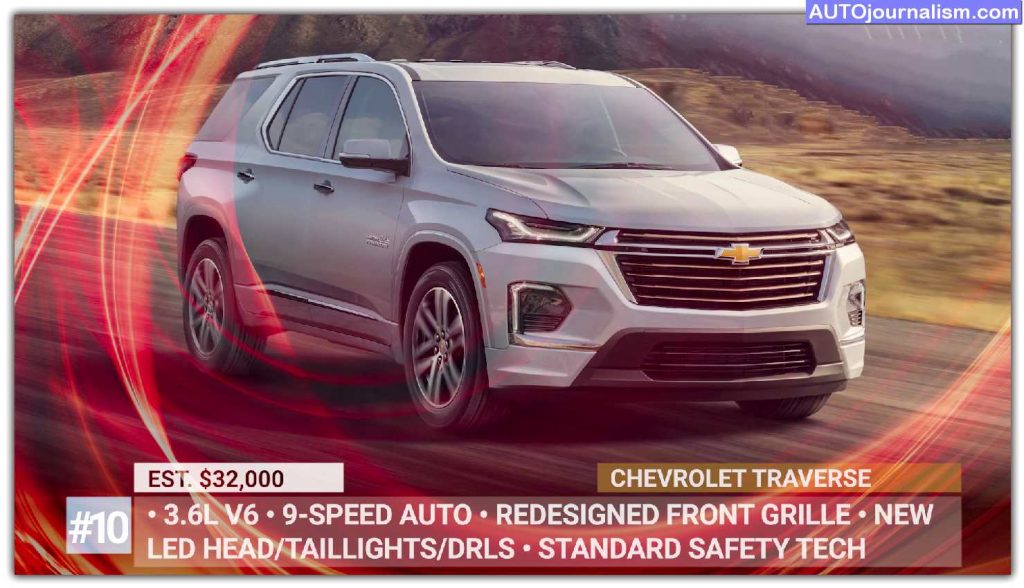 PRICE: 32,000 + DOLLARS
cheerfully traverse available from the third quarter of 2021 this three-row SUV becomes more aligned with the rest of the chevy's lineup it is adopting suburban light front and rear faces plus the commanding appearance is reinforced by four new wheel designs there are revised signature thin led head and taillights plus turn signals are now integrated into the Drls the interior gets updated seating options plus the list of the available features now includes a dual skyscape 2-panel roof with a rear power sunshade the in-cabin tech package was expanded with wireless apple and android capability 8 infotainment wireless charging and USB ports for all three rows the engine selection is not confirmed yet but we do expect the usual 3.6 0 v6 with a competent 9-speed automatic growing price are a painful side effect of the recent supply line shortages and lockdowns but hopefully we still manage to gather a lineup that will match your wallet. ( BBC )
NEXT