Top 10 Countries with Highest Defense Budget in 2023
Today in this article we will give you the Top 10 Countries with Highest Defense Budget in 2023 (List) with a Pdf Download Link. So, Defense spending is an essential aspect of a country's economic and political development, as it plays a significant role in national security and defense capabilities. Every year, governments across the world allocate a significant portion of their budget to defense to cover various aspects of a standing fighting force, including procurement, maintenance/support, and pensions. In this article, we will list the Top 10 Countries with Highest Defense Budget in 2023.
List of Top 10 Countries with Highest Defense Budget in 2023
Here is a table listing the top 10 countries with the highest defense budget for the fiscal year 2023:
Rank
Country
Defense Budget

(in billions of US dollars)

1
United States of America
857.9
2
China
230.0
3
Russia
84.0
4
India
72.6
5
Saudi Arabia
69.0
6
Germany
53.6
7
Japan
51.4
8
United Kingdom
48.4
9
South Korea
44.7
10
France
42.8
Note: The numbers listed here are based on the information available at the time of the knowledge cutoff date and may be subject to change.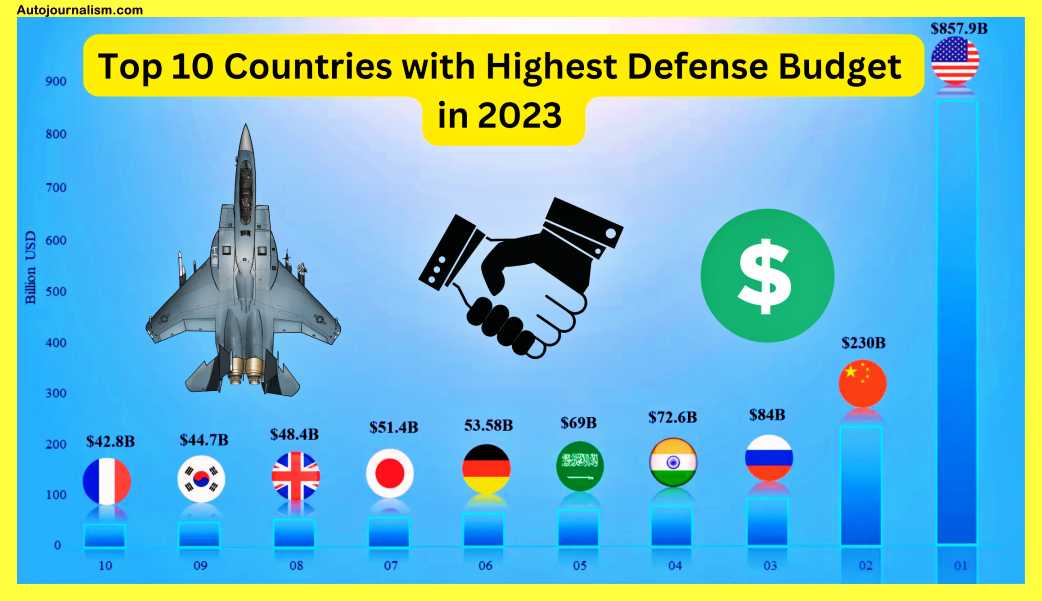 1. United States of America: $857.9
The United States has the largest defense budget in the world. The 62nd annual NDAA supports a total of $857.9 billion in the fiscal year* 2023 funding for national defense. The legislation authorizes $30.3 billion for national security programs inside the Department of Energy and $816.7 billion for the Department of Defense. The act means a 4.6 percent pay raise for military and civilian members of the department, and includes $45 billion more than originally requested to counter the effects of inflation and to accelerate the implementation of the National Defense Strategy.
2. China: $230.0
China is the second biggest spender on defense after the US. China's hike in defense spending comes amid the People's Liberation Army's growing incidents of muscle-flexing in the strategic Indo-Pacific region. Its defense budget for 2023 is over $230 billion US dollars.
3. Russia: $84.0
Russia spends more on the military than any country in the European Union. According to reports, $13 billion has been raised for defense spending in 2023. Russia has revealed an $84 billion defense budget for 2023, an increase of more than 40% from the initial 2023 budget disclosed in 2021. This will enable Russia to supply military formations and permanent-readiness units with weapons and equipment.
4. India: $72.6
India's proposed defense spending for the fiscal year 2023–2024 is reportedly 5.94 trillion rupees, or $72.6 billion, a 13% increase from initial projections for the prior period. India wants to increase the number of fighter jets and build additional highways along its sensitive border with China.
5. Saudi Arabia: $69.0
Saudi Arabia has stated that it will increase its defense budget by 5.7% in 2023, from $65.2 billion to $69 billion dollars, if 2023 spending follows the country's budget plan. The rise means military spending will be the fastest-growing major element within the Saudi state budget for both 2022 and 2023 and brings defense expenditures to around 8% of GDP.
6. Germany: $53.6
Germany will supplement its annual defense budget of roughly €50 billion or 53.58 billion US dollars over several years, allowing the country to reach NATO's aim of spending 2% of its GDP on defense each year.
7. Japan: $51.4
Japan has approved 6.82 trillion yen or $51.4 billion in defense spending in the fiscal year 2023, which they call a "major shift" in defense policy.
8. United Kingdom: $48.4
The United Kingdom's core spending is set to fall back in line with original plans in subsequent years, reaching GBP $48.4 billion US dollars in 2023 and GBP48.6 billion in 2024. Military expenditure in the next three years will be roughly equivalent to around 1.9% of GDP.
9. South Korea: $44.7
South Korea has finalized a 4.4% hike in defense spending for 2023, including funding for new preemptive strike capabilities to defend against North Korean attacks. Seoul's entire defense budget for 2023 will be $44.7 billion, the defense ministry revealed recently.
10. France: $42.8
France's Ministry of Defense has unveiled a 2023 budget worth billions more than the previous year to launch a new "war economy. The 43.9 billion euros or $42.8 billion in military spending that is being proposed for France is an increase of 36% over the 2017 budget and 7.4% over 2022 funds.
---
Note:-
Fiscal Year*: "Fiscal year" is a period of 12 months used for accounting purposes, which may or may not coincide with the calendar year. The fiscal year is typically designated by the government or organization, and it helps to track financial data and budget planning.
In the United States, the federal government's fiscal year starts on October 1st and ends on September 30th of the following year. In other countries, the fiscal year may vary. For example, in India, the fiscal year runs from April 1st to March 31st, while in Japan, it starts on April 1st and ends on March 31st of the following year.
---
Also Read: