Top 10 Holiday Trailers (Best Travel Trailers) (Caravan)
( Top 10 Caravan Trailers )
Here is the list of Top 10 Holiday Trailers (Best Travel Trailers) (Caravan), A luxurious travel trailer does not have to be a fifth wheel, as premium caravans can come in a smaller form factor. Today, we will look at the smallest trailers with the highest interior quality and extensive equipment packages. These constructions may be hauled by lighter vehicles while yet providing all of the luxuries that an adventurous soul may require on each rep.
List of Top 10 Holiday Trailers
1. In-Tech RV Sol Horizon ( Best Travel Trailers )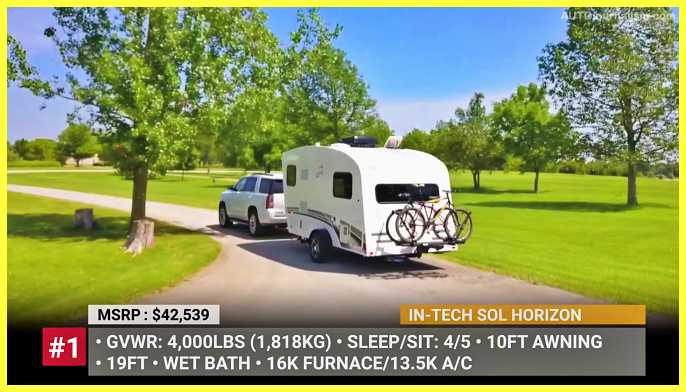 When exploring the great outdoors, do it with your soul. The horizon, the flagship model in this range of trailers, was designed to tow with a lightweight aluminum a-frame, completely welded cage, and full fiberglass external intake. RVs are famed for their unique tilt forward design, which incorporates any eating space and a massive panoramic windshield with three-ply laminated glass. In the case of Horizon, it seats five people and changes into a queen-size bed with the best view at night.
The horizon has a beautiful modern interior with handcrafted cabinetry and chic finishes. Each soul horizon receives a farmhouse style sink a two-burner lp stove a fridge with a microwave on top of a 10-foot awning and one of a kind exterior kitchen you will be kept warm with a 16k BTU furnace while in summer the heat will be kept at bay with a 13.5 kbu air conditioning
2. Airstream Bambi ( Best Travel Trailers )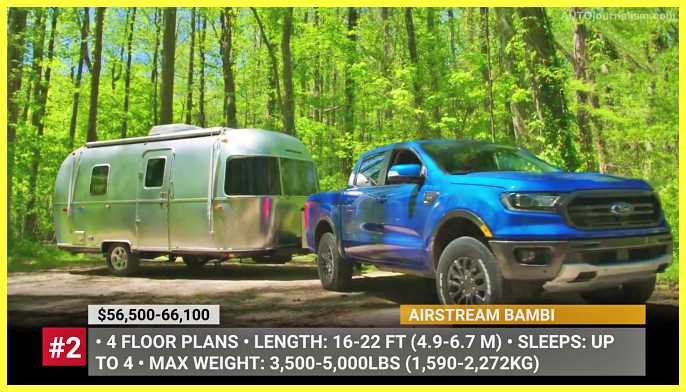 Since the first mansion of this moniker dates back to 1960 cape town to Cairo caravan trip for years every single axle travel trailer from the brand was nicknamed by campers as Bambi but only in 2019 it was separated into a standalone model positioned as the smallest airstream with a classic design it offers four-floor plans that differ both in size and standard equipment these range from 16 to 22 feet in length these range from 16 to 22 feet in length
Even the smallest version of this caravan has a shower and a toilet, while the 22fb floor plan has a spacious bathroom that spans the entire back of the trailer. The interior is done in a calm and neutral color palette, and you get a fully equipped kitchen with a two-burner cooktop and a fridge, as well as a dedicated closet and under-bed storage.
3. Caravelair Caravans Antares Titanium Anniversary ( Best Travel Trailers )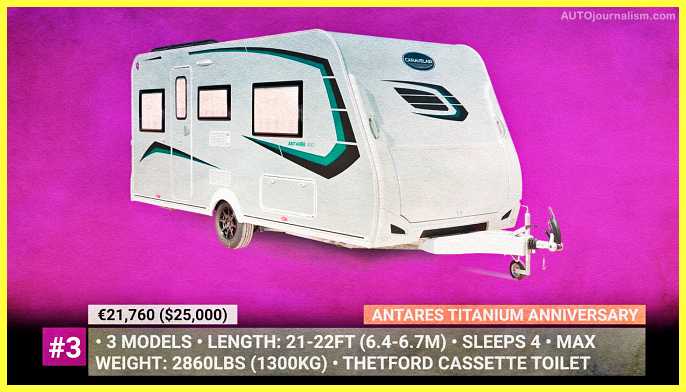 This French brand has been building caravans for 60 years, and to commemorate the occasion, they are launching a special edition model labeled as a true collector's piece. The trailer offers three well-equipped layouts 450 with twin beds 455 for the french bed and the largest 470 but is a foot longer and has an aisle bed in the rear each caravan rides on the heavy-duty alco chassis gets five windows and an additional luggage door each caravan rides on the heavy-duty alco chassis gets five windows.
The trailers sleep up to four people thanks to their convertible day net and feature special edition fabrics with anniversary labels and embroidery, as well as a bathroom with a cassette toilet and a shower, a kitchenette with a three-burner stovetop and an extendable countertop surface, and the entire cabin is well lit with all-around ambient lighting.
4. Cortes Camper ( Best Travel Trailers )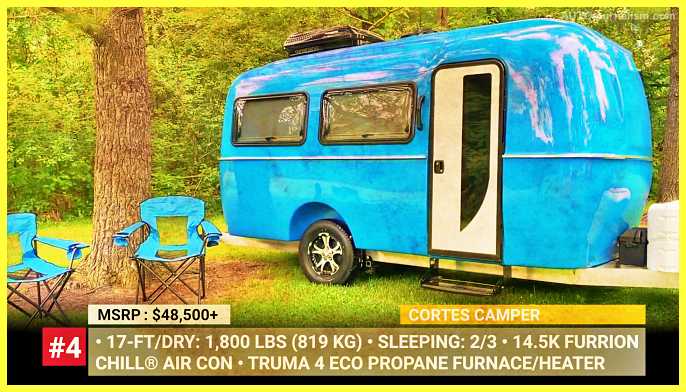 They take pride in using only the best-in-class manufacturing materials, such as their patent-pending 1208 biaxial aluminized fiberglass and carbon fiber, which are used for both interior and exterior surfaces. The shell is protected by modern polyester armor coats 991 series gel coats that provide outstanding weather and ultraviolet protection. The 17-foot Cortes trailer was built with no wood, no rivets, and no cheap steel. It sits on Tempran's unique axles independent suspension.
The inside can accommodate two to three travelers on double or twin beds that transform effortlessly from day to night floor plans. Weatherproofing is provided by double pane windows, a 14.3k furnace max air vent, and an efficient 9200 Coleman furnace. Last but not least, the kitchen and living room spaces are outfitted with acrylic furniture, luxury built-in Furion equipment, and an HD-led 24-inch television.
5. Adria Action ( Best Travel Trailers )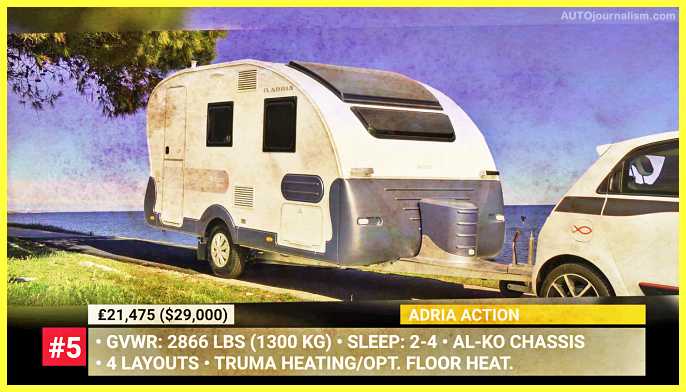 This small caravan's name speaks for itself. Being Adria's smallest trailer, action manages to fit all of the basic humanities for the adventurous lifestyle in a compact package measuring from 13 to 14.6 feet long. The trailer is built on a sturdy alco chassis has a lightweight GFK polyester body three sporty colors and four panoramic windows on all four layouts that sleep two to four travelers.
Elegant interior details adorn the adaptable living area. Optional trauma heating, heated floors, comfortable chairs, and a sophisticated rear-facing kitchen with three burners The atria action transports 50 liters of clean water. The arco bathroom features a vaulted sink, a chemical toilet, and a simple to drain shower setup. The entertainment kit is extremely modest, consisting of only loudspeakers and a Bluetooth transmitter.
6. Eriba Touring 60 ( Best Travel Trailers )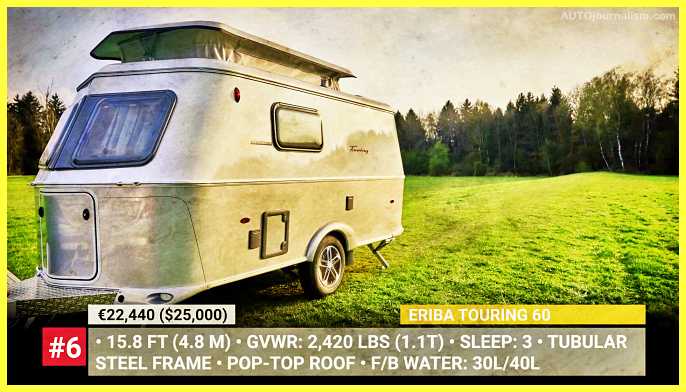 steel, aluminum, and tradition The first chapter of this trailer was written over 60 years ago by Oppenheimer and Eric Baham who told Robert Brandt that this caravan is based on a steel frame that has its origins and aircraft design on the roads it offers supreme aerodynamic efficiency but at camp, it is a true attention grabber with elegant rounded edges unique to color paintwork chick alloy ramps and a pop-tart proof
This brings the interior headroom up to 6.4 feet. The purchasing catalog contains four layouts ranging in size from 15.8 to 19 ft. The ureba traveling anniversary features a welcoming modern oak decor with white high gloss locker doors and chrome knobs, and the sofas are upholstered in modern textiles with a clever button pattern.
7. Airstream Basecamp ( Best Travel Trailers )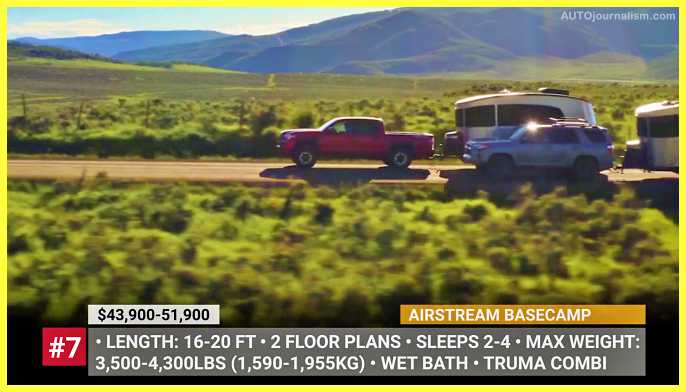 The base camp, available in 16 and 20-foot sizes, is a pleasant break from the rest of the Airstream family. It has an odd slightly squared-off form huge wraparound windows and a simple but multipurpose cabin regardless of model. The back of the caravan has two benches with a table between them that changes into a sleeping area at night. Both have a wet bath and a little kitchen.
However, in the case of the larger Base Camp 20, the ladder is placed to the center of the trailer, freeing up space for the u-shaped couch. As standard, the trauma combi heating system will keep you warm, while options include air conditioning and 180 watts of solar power. Finally, if you're tired of beige interiors, the base camp offers three options in grey, blue, and green.
8. Little Guy Max ( Best Travel Trailers )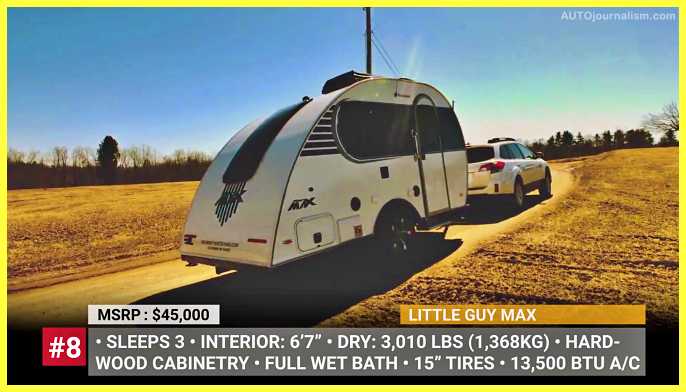 Since 2002, the year of Little Guy's inception, thousands of teardrop trailers have left the Pennsylvania factory, and as the numbers of teardrop trailers screw so do their sizes. The max is the flagship model of the range it rides on a single axis has a tubular steel frame and 15-inch tires it weighs three thousand pounds dry and offers six feet and seven interior heights the versatile cabin fits a queen-size mattress pad a full wet bath
and a functional kitchen with a dinette, a four-cubic-foot fridge, a two-burner glass-top stove, and a microwave The small guy Max has three tanks that hold 20 gallons of freshwater, 30 gallons of gray water, and nine gallons of black water. This premium layer drop offers both internal and external entertainment centers, as well as a 13 500 BTU ac and a 16k BTU ducted furnace. Seven dual pane windows, led porch lighting, and an optional Thule crown awning are included.
9. Forest River R-Pod Drop ( Best Travel Trailers )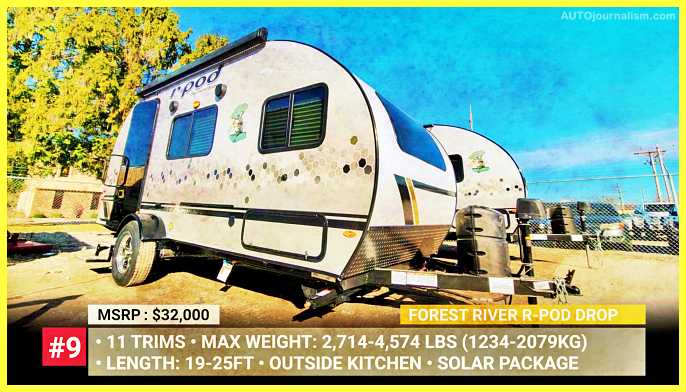 This is a small spartan trailer by forest driver standards, but because it's a teardrop, it's one of the largest models in the business. The r-pod offers 11-floor plans ranging in length from 19 to 25 feet and providing 6 feet 6 inches of interior height. Each one is built on a powder-coated steel frame with a torsion axle and has actual composite bodywork. Some of the changes even have slide-outs that push out.
From a purely practical aspect, this forest river is fully filled with 30-gallon tanks for fresh gray and black water, as well as a huge outside awning. Air conditioner 13.5 kb2 20,000 furnace fat for the toilet You can choose between a two-burner recessed stove and a six-cubic-foot refrigerator, as well as a 28-inch led television, solar panels, a convection microwave, and an outdoor kitchen.
10. Beachy Caravan ( Best Travel Trailers )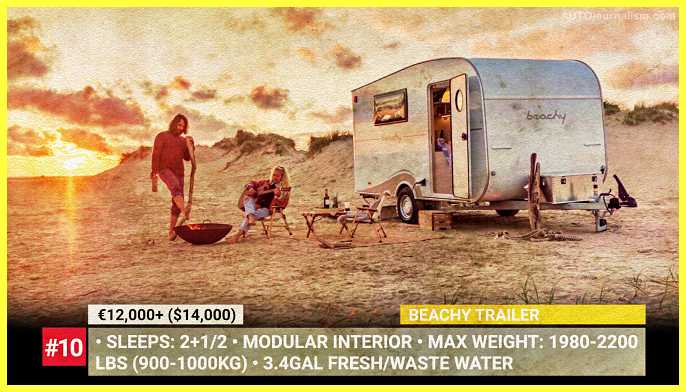 In 2021, a new was reimagined. The new version of the BG trailer is based on the Scandinavian art of living and features a nice shape and a pleasant airy inside. The caravan comes in three sizes ranging from 16 to 20 feet in length and can accommodate a family of two adults and up to two children. The bc gets a wider back door in addition to the typical side doors for enjoying sea views. The interior design is straightforward, with a modular back that converts from a dinette to a bed.
While the front is occupied by the mini kitchen, the trailer also has plenty of storage areas both inside and outside. Finally, despite its free travel anywhere Vipe, this hobby is a grid-dependent model with very limited 3.4-gallon water tanks, no onboard battery, and no bathroom.
NEXT
Top 10 Future Weapons of Russia
Top 10 US Military Weapons 2022 ( Update )
Top 10 Future Weapons of Pakistan
Top 10 Most Powerful Militaries in the World 2022 (Update)
List of All Weapons Sent by the US to help Ukraine