Top 10 Off-Road Buses In The World
Here is the list of Top 10 Off-Road Buses In The World, Huge off-road buses with powerful engines capable of traversing sand, mud, water, or snow and transporting people to distant locations across the world These are the world's ten largest off-road buses.
List of Top 10 Off-Road Buses In The World
10. Beachmaster ( Off-Road Bus )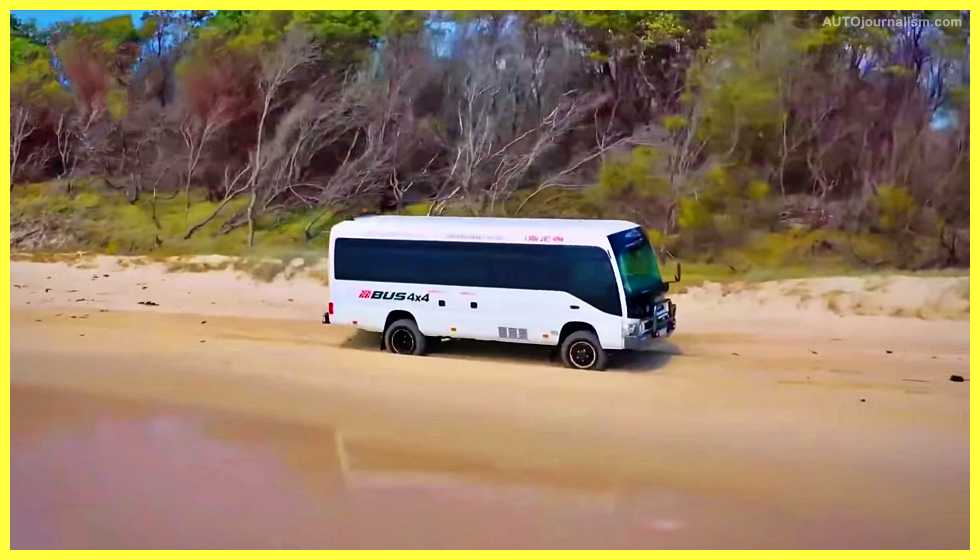 It's a Toyota coaster bus that's been customized by the Australian bus 4×4 firm. Its ground clearance has been enhanced to improve grip and control on tough terrain, and it is built to move effortlessly on beach sand.
It is 7 meters long, 2 meters broad, and 2.6 meters tall, with a weight of 6 tons and a capacity of 22 passengers. It has horsepower and torque of 420 newton-meters engine and can attain a top speed of 100 kilometers per hour.
9. Monster Bus ( Off-Road Bus )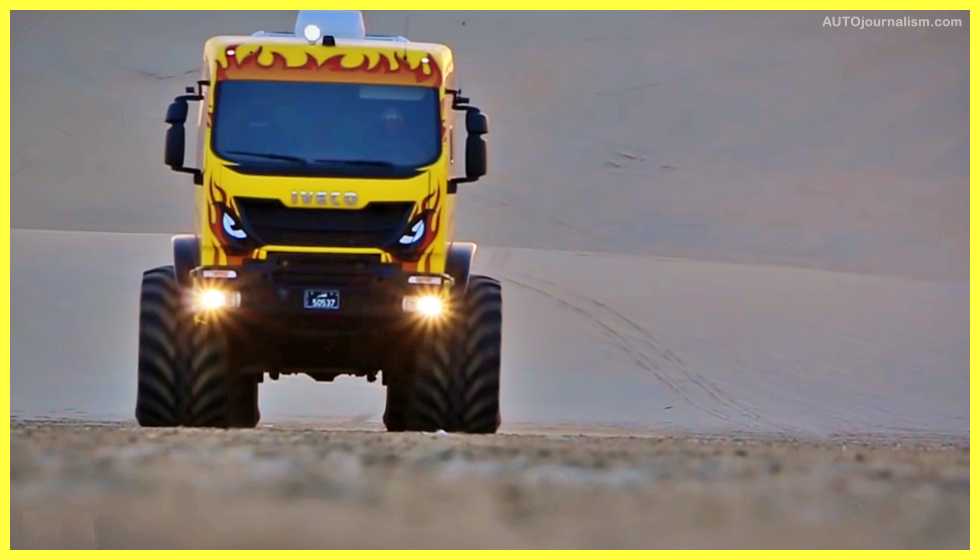 It is an exceptional high-powered bus built in Australia on the chassis of an Iveco tracker truck. It is designed to effortlessly climb desert dunes that can be up to 50 meters high. The bus measures 7.8 meters long by 3.5 meters wide and can carry 32 passengers.
It has a 450-horsepower engine and 1.6 meters diameter wheels. It is used by the Doha bus operator to conduct tours that carry tourists from Doha to the desert.
8. Attack 8 4×4 Escolar ( Off-Road Bus )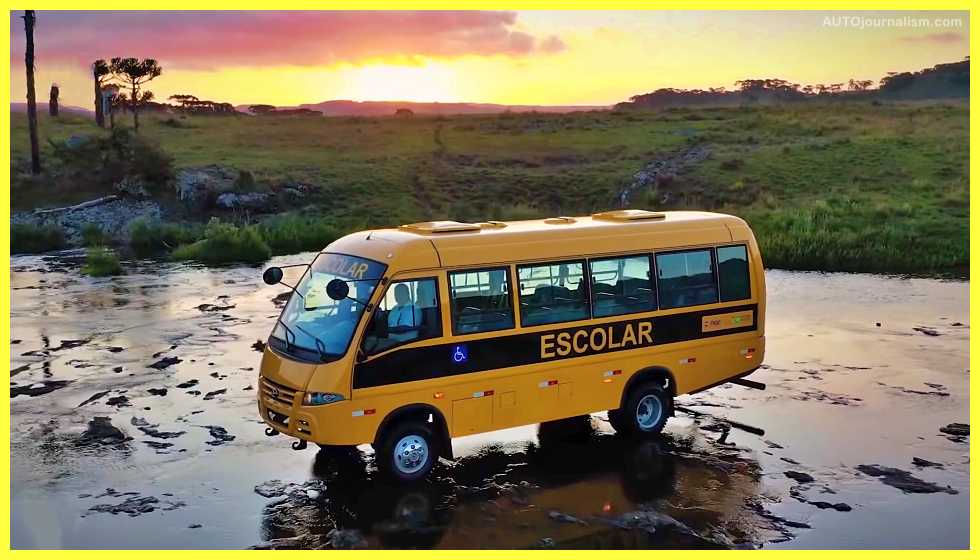 It's a tough bus built to transport passengers safely and quickly through harsh terrain and bumpy roads. It was created by the Valer firm in Brazil and stands out for its safety and efficiency. It is used to transport individuals who reside in rural areas and must travel on unpaved roads or through waterways.
It has a length of 8.6 meters and a weight of 8.7 tons. It has stronger suspension, unique tires, and additional engine protection. It has a 152 horsepower engine and can carry up to 31 passengers.
7. Torsus Praetorian ( Off-Road Bus )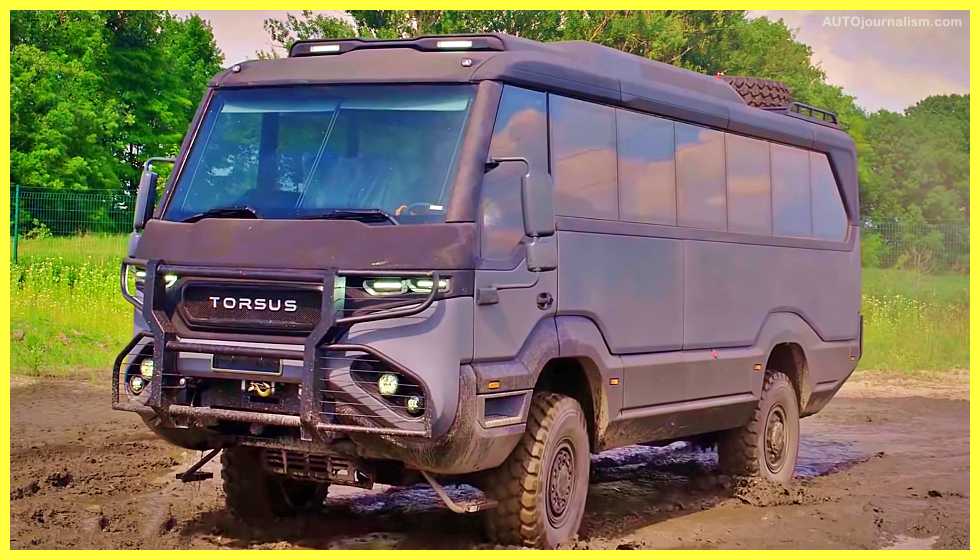 Torsus Praetorian is a highly resistant and nimble bus built in Slovakia. It is meant to transport passengers or cargo through wet or muddy terrain in harsh conditions. The bus is 8.7 meters long and weighs 13.4 tons. It has a horsepower engine with 1150 newton meters of torque.
It has a limited top speed of 110 kilometers per hour and can traverse water up to 90 centimeters deep. It has a fuel tank capacity of 300 gallons and can transport a total of 37 persons.
6. Rotel Bus ( Off-Road Bus )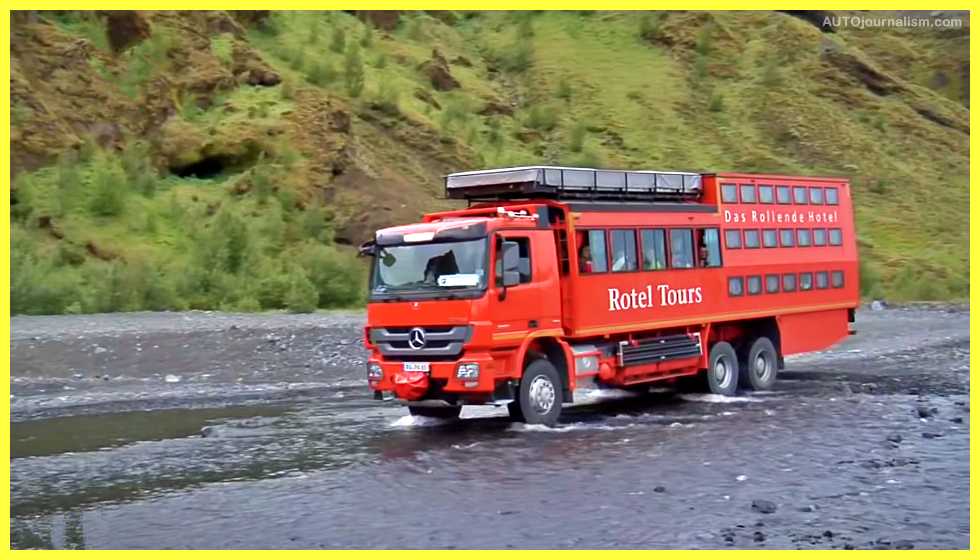 It is a specialist bus based on a Mercedes-Benz Actros truck that functions as a rolling hotel and travels across the world on expedition excursions. It is meant to be versatile and resistant and can travel through harsh terrain with water or mud.
It has a 510 horsepower engine and can carry a total of 20 passengers in its back section, which has a total of 21 compartments where travelers can sleep while traveling. This bus is run by Rotel Tours, a firm that organizes specialist tourist journeys to distant parts of several nations.
5. Monster Truck Tour ( Off-Road Bus )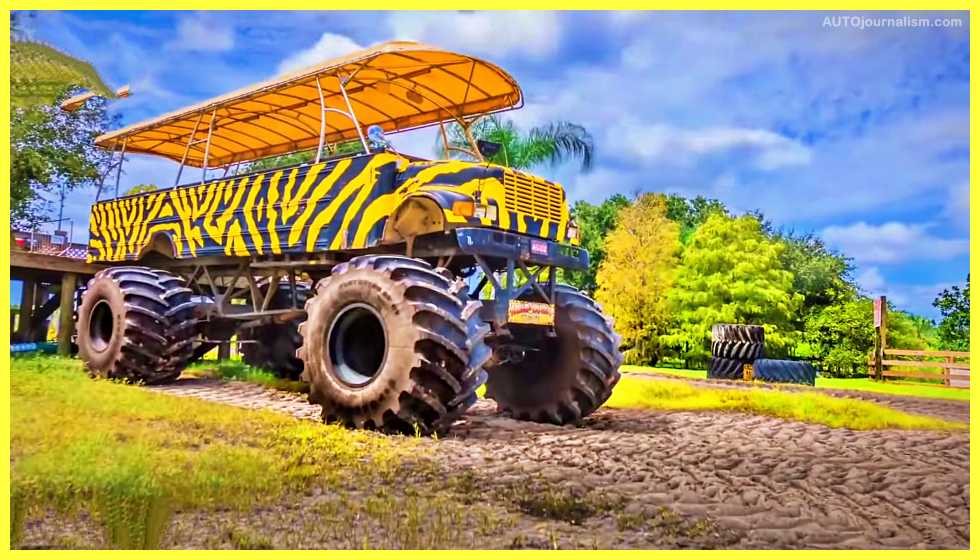 It's a massive bus with massive wheels that allow it to travel any terrain. It's meant to navigate swampy areas and keep passengers secure during the voyage. The bus has a length of 12 meters, a width of 4.2 meters, and a height of 4.8 meters.
It is administered by the firm display of citrus, which has a large land with trees and animals. Visitors take a one-hour trip through forests and wetlands where buffalo or alligators may be seen.
4. Atacama Hat bus ( Off-Road Bus )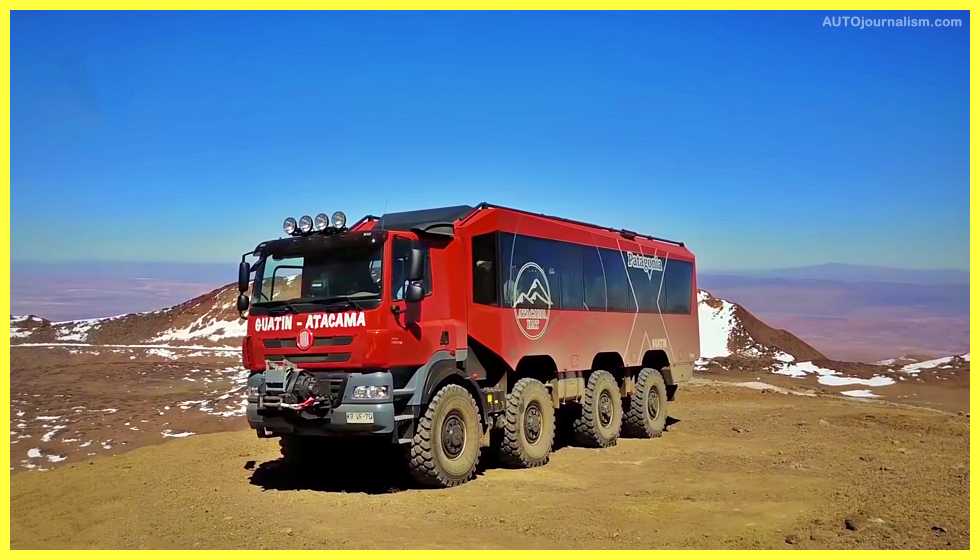 It is a tourist bus made from a Tatra phoenix 8×8 truck that conducts tours in the Atacama desert and reaches elevations of more than 5000 meters above sea level. It is equipped with oxygen tanks for passenger safety and comfort.
It has a 462 horsepower engine with 2300 newton meters of torque. It includes a self-recovery winch and can accommodate 34 passengers. It contains monitors and cameras to improve security during visits and to keep an eye on the animals in the region.
3. MAN Overlander 8×8 ( Off-Road Bus )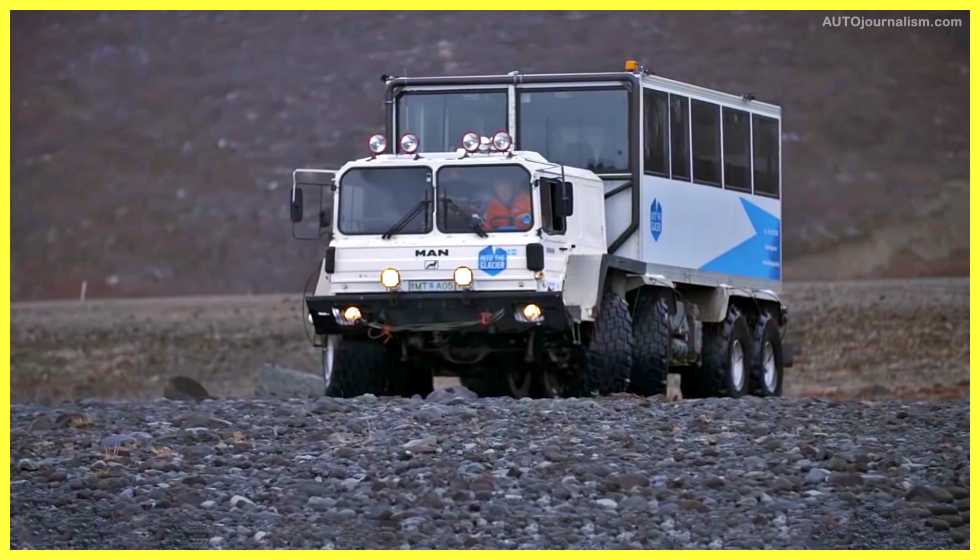 It is a versatile and dependable bus that has been designed to travel the most challenging terrain. It is 10 meters long, 3 meters high, and weighs 13 tons. It has a 360 horsepower engine that can reach a top speed of 90 kilometers per hour.
It has space for 38 passengers and can travel areas with water up to 1.2 meters deep and work in temperatures as low as 50 degrees below zero. It is employed by the firm into the glacier to transport tourists into the ice cave in Iceland's glaciers.
2. Terra Bus ( Off-Road Bus )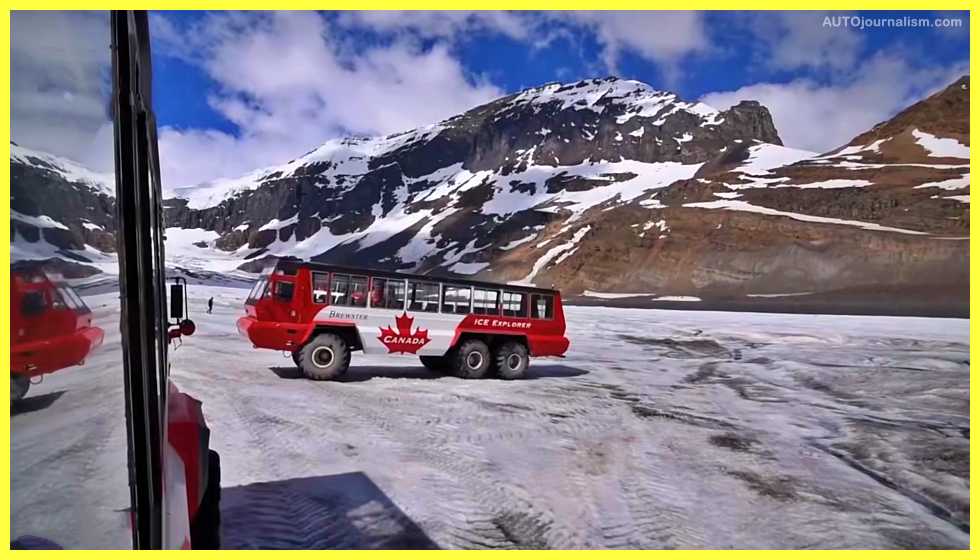 It is a three-axle bus designed for most industries and made in Canada by the firm. It measures 14.9 meters long, four meters high, and weighs 25 tons. It has a 250-horsepower engine and can attain a top speed of 40 kilometers per hour.
It has low-pressure tires with a diameter of 1.7 meters, which allow the bus to maintain its grip on ice and snow. It has a capacity of 56 passengers and tours the Columbia ice field, where guests are taken to the glacier by specialized tour companies.
1. Sleipnir ( Best Off-Road Bus )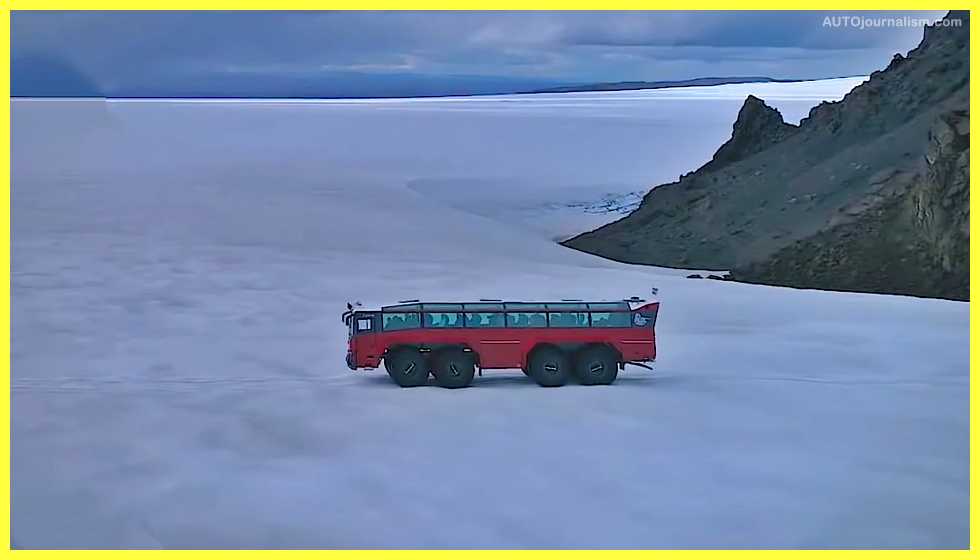 It's a four-axle bus manufactured by Sleipner Tours that's 15 meters long, 4 meters tall, and weighs more than 30 tons. It seats 48 people and includes a central tire inflation system.
It features an 850 horsepower engine with 300-newton meters of torque and a top speed of 60 kilometers per hour. Its tires are two meters in diameter and allow it to overcome the glacier's huge fissures. This vehicle is primarily used for tourist tours of Iceland's glaciers.
Read also: Top 50 Most Expensive Car In The World
NEXT