Top 10 Largest Tow Truck In The World
Here is the list of Top 10 Largest Tow Truck In The World, Huge tow trucks with enormous cranes are used to transport various sorts of vehicles, such as buses and huge trucks, from roads to repair facilities.
List of Top 10 Largest Tow Truck In The World
 1. Century M100 ( Largest Tow Truck In The World )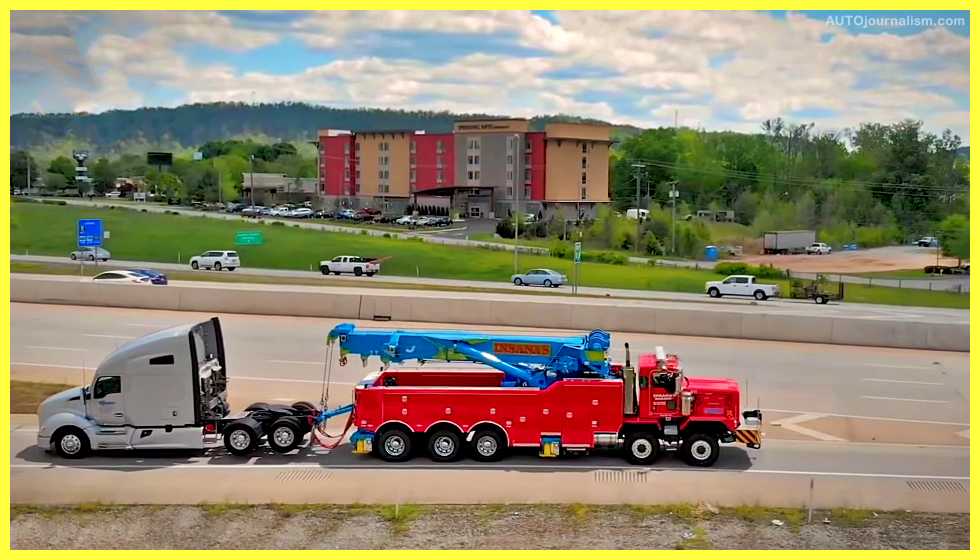 It is a five-axle rotator tow truck intended for the toughest duties. It was built by Miller Industries, the world's leading manufacturer of towing and recovery equipment. Its hydraulic crane can reach a height of 16 meters, and the turret has a travel length of 3.5 meters. Its primary winch has a capacity of 29 tons and a length of 76 meters, and it comes with a unique controller that allows the crane to be controlled remotely. It can lift two trucks weighing more than 43 tons.
2. CSR85 ( Largest Tow Truck In The World )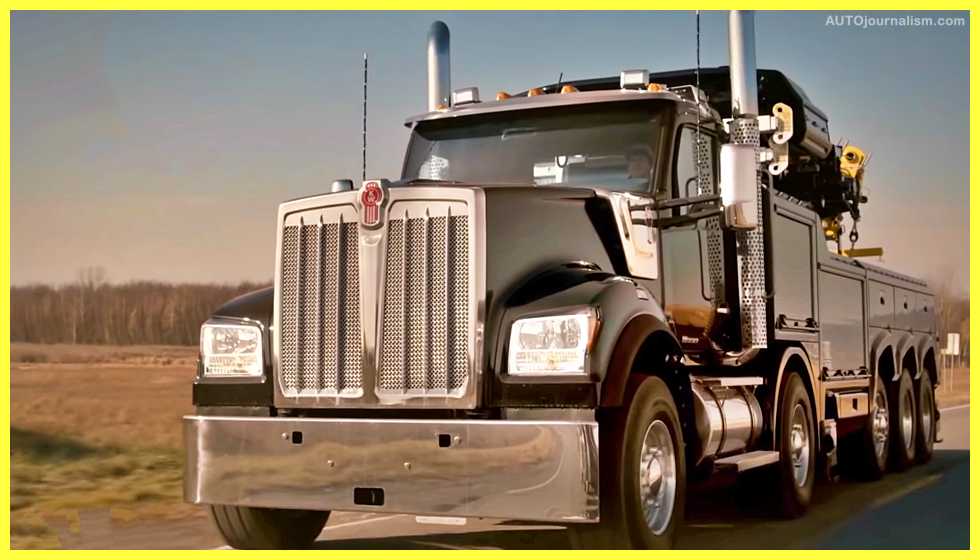 It is a heavy recovery truck created from the ground up to obtain the highest lifting capability in the most challenging scenarios. It is 12 meters long, 2.6 meters wide, and 3.4 meters high and is made in Canada by NRC industries.
It includes front and rear stabilizers, as well as 27-ton winches. It is built for heavy vehicle recovery operations and may be outfitted with additional specialized equipment. Its crane is 11.8 meters long and has a lifting capability of 85 tons. It can spin 360 degrees continuously.
3. Century 1150 ( Largest Tow Truck In The World )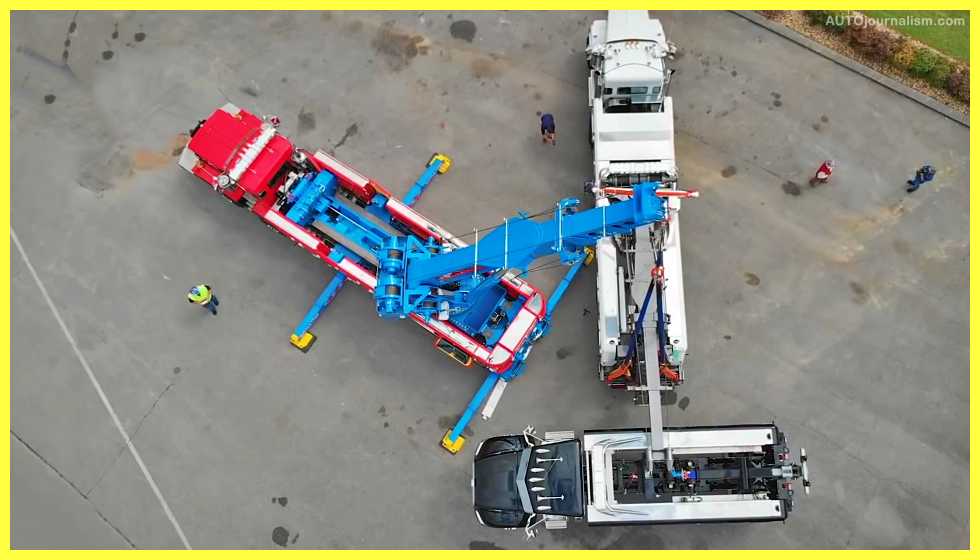 It is a 50-ton rotator recovery truck manufactured by Miller Industries to be used in the most difficult situations and to quickly solve vehicular congestion. Its hydraulic crane with 360 degrees of rotation and three stages can lift a weight of 60 tons and extend up to 6.3 meters in length and reach up to 12.5 meters in height.
Even with large loads, it can move 1.5 meters distant while turning. Its lowest elevator can raise a weight of 25 tons and has 2 inches of 50 tons.
4. Century 9055XL ( Largest Tow Truck In The World )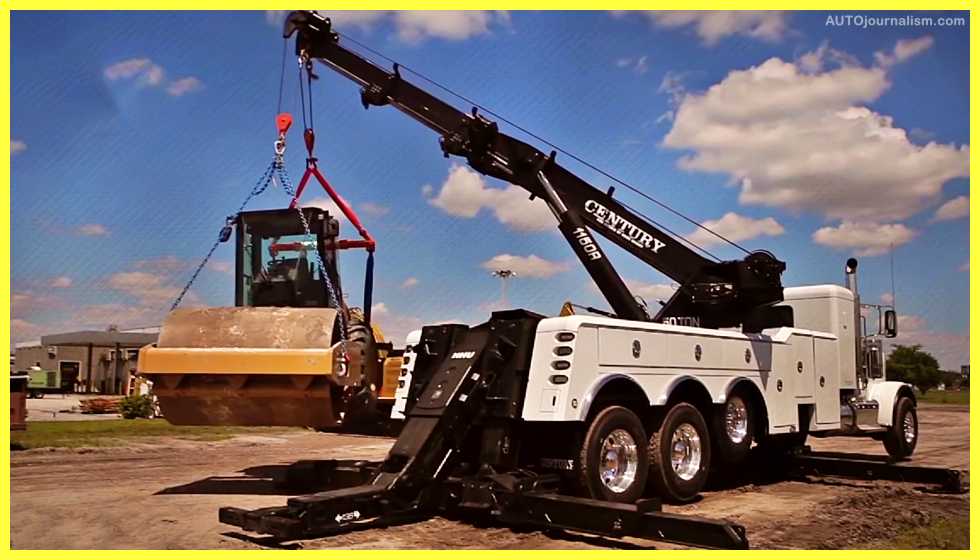 It is a heavy-duty towing and recovery truck that is meant to rescue automobiles that have become stuck in hazardous conditions. It was made in the United States by Miller Industries and is suitable for heavy-duty recovery of a variety of vehicles such as buses and trucks. It is equipped with a 50-ton capacity three-stage recovery crane that can stretch up to 7 meters in length and reach a height of 9 meters.
It has a capacity of 22 tons and high mobility that allows it to go into tight spaces.
5. ER-122000 L4 ( Largest Tow Truck In The World )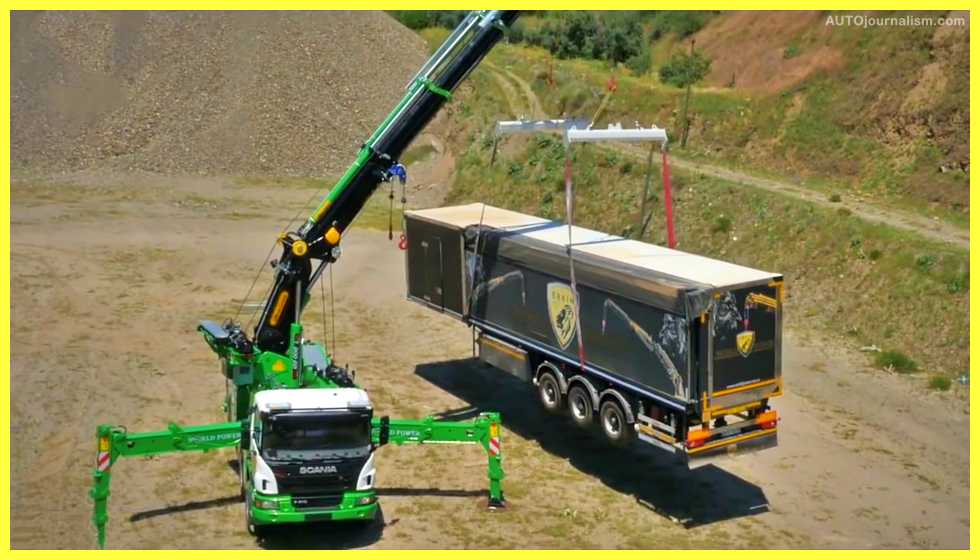 It is a new generation tow truck built in Turkey by Urkin World Power Company. It includes hydraulic stabilizers and a rotating articulated arm with a 120-ton capability. It is 10.6 meters long by 4 meters high and weighs 34 tons.
It has four self-recovery winches that can tow 32-ton cars and pull a total weight of 60 tons. It can lift 40-ton weights and tow 32-ton automobiles. Its horizontal lifting capability enables it to salvage automobiles stranded beneath bridges or tunnels.
6. Volvo FH16 750 ( Largest Tow Truck In The World )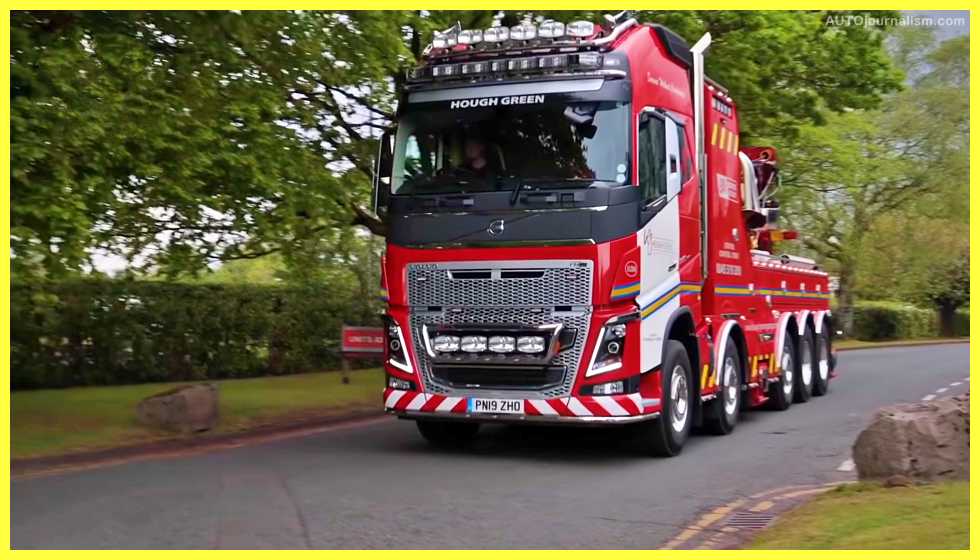 It's a 5-axle rigid recovery vehicle with the goal of maximizing productivity. It is used to retrieve automobiles in the northwest of England and North Wales by the Hugh Green Garage firm.
It is fitted with extensible side supports and a strong crane with two recovery winches. It features a recovery system with a 75-ton rotor that was developed in the United States by the business miller industries and installed in England. This truck is known for its excellent stability and boasts a 750 horsepower engine.
7. Rotator 1175 ( Largest Tow Truck In The World )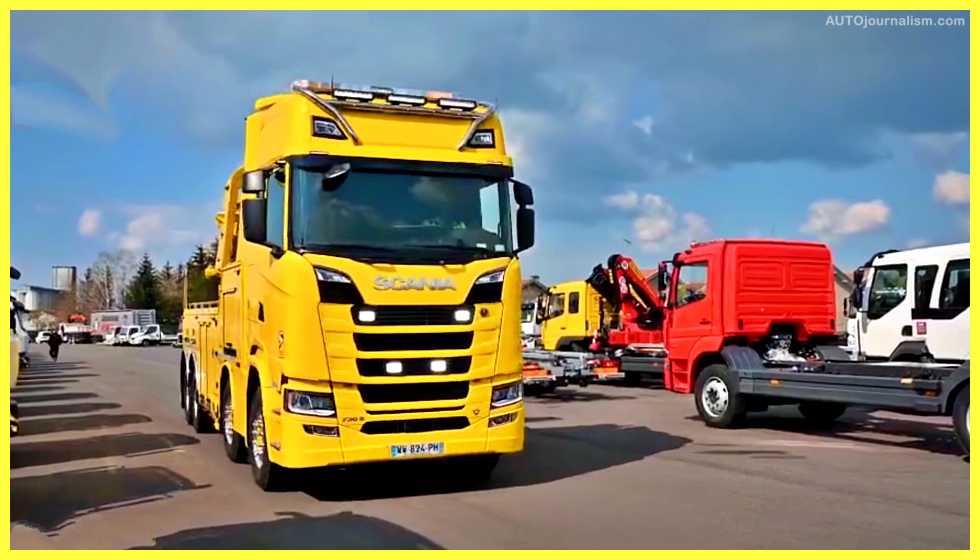 It is a heavy-duty tow truck that combines extension and elevation systems and is designed to deliver optimum reliability on challenging assignments. It was made by the business gige international.
It weighs 22 tons and measures 11 meters long, 2.4 meters wide, and 4.1 meters high. It includes hydraulic rear stabilizers and a lower lifting platform, as well as two winches with 70 meter long cables and a combined capacity of 27 tons. Its crane is 16 meters long and has a lifting capability of 270 tons per meter.
8. EuroTow 45 ( Largest Tow Truck In The World )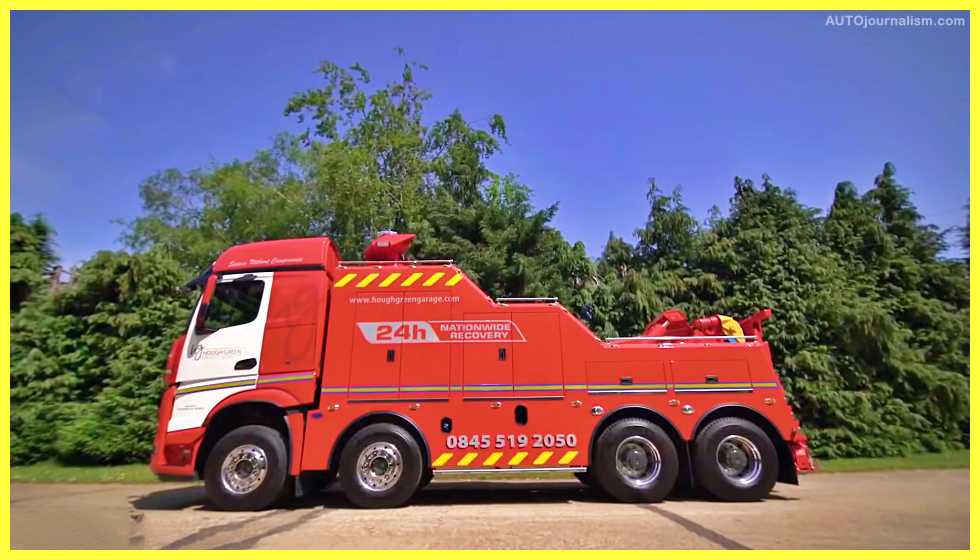 It is a four-axle tow truck built by the gige international corporation to provide a rapid and effective service in the city. The truck is equipped with a primary crane, two lifting cylinders, and one hydraulically extended telescopic towing arm.
It comprises two extensible supports and a hydraulic recovery mechanism operated by a remote control device. Its towing arm has a maximum towing capacity of 45 tons, and its high power and agility enable it to haul huge trucks with ease.
9. Boniface Recoverer Trident ( Largest Tow Truck In The World )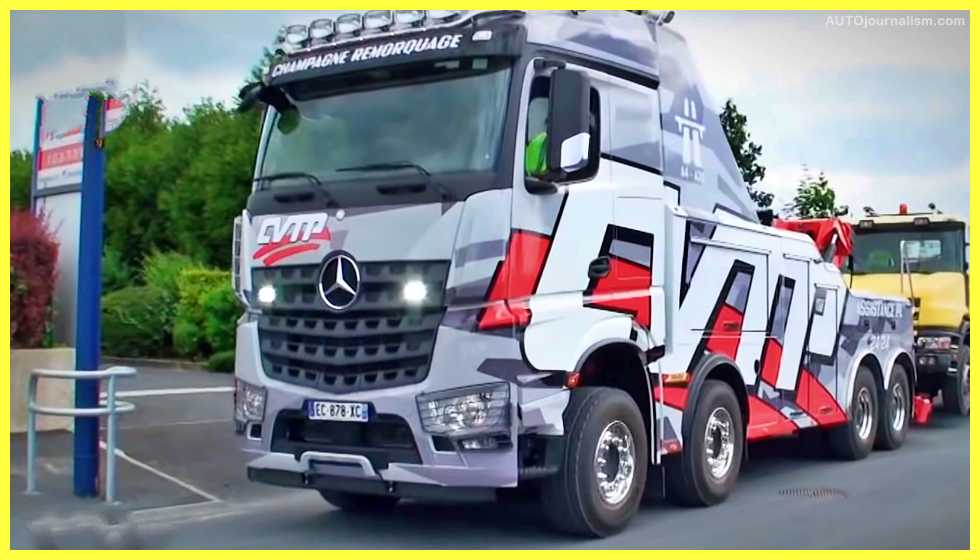 It's a large recovery truck that's meant to help people in emergency situations. It includes lateral areas to store several accessories and tools and may be used to recover automobiles in instances of accidents on both highways and in the most difficult terrain.
It contains two 60-meter-long automated recovery winches with a total capacity of 28 tons, as well as a central lower lift with a capacity of 33 tons and two lateral stabilizers. Its three-stage recovery crane has a maximum capacity of 45 tons and may be extended and lifted simultaneously.
10. DAF CF ( Largest Tow Truck In The World )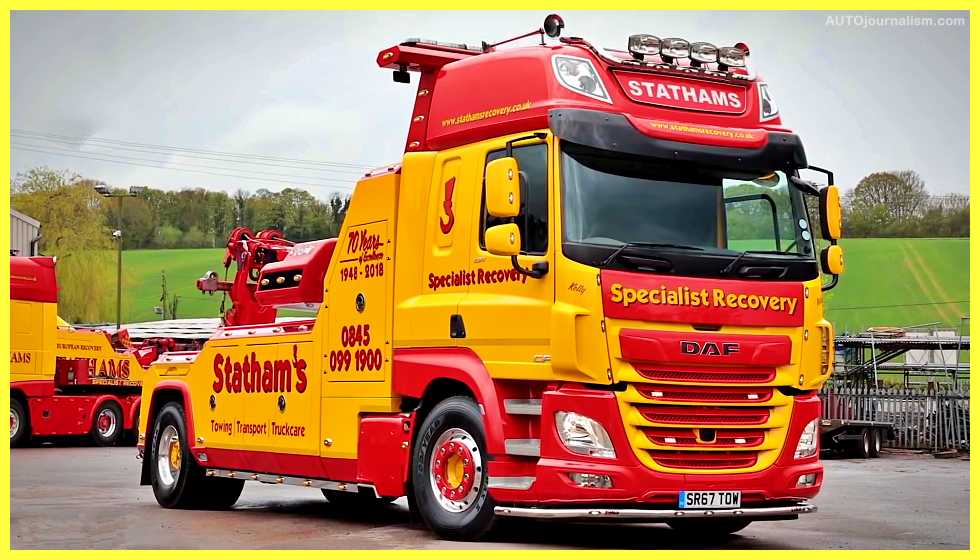 It is a two-axle tow truck that is used by Statham's motor engineers to pull huge automobiles and give service over vast distances. It has a length of 6.1 meters, a width of 2.4 meters, and a height of 4 meters.
It features a 530 horsepower engine with 2600 newton meters of torque. It contains a mobile recovery crane, two self-recovery winches, and a lower lift arm, as well as a retractable axle that allows it to function as a three-axle vehicle.
towing truck for sale is Available, just Search on Google towing truck for sale near me and you will get the Best Result. Thanks for Reading.
Read also: Top 10 Anti Ship Missiles In The World (ASHM)
List of all Car Segments in the World (Classification)
Types Of Motors Used In Ev ( Electric Vehicle Motor Types )