Top 10 Largest Naval Bases In The World
Today we will share the List of Top 10 Largest Naval Bases In The World, Naval bases are critical to the military power of a country. The biggest naval bases in the world are often massive and can be mistaken for entire cities. The majority of the largest naval bases in the world are located in the United States.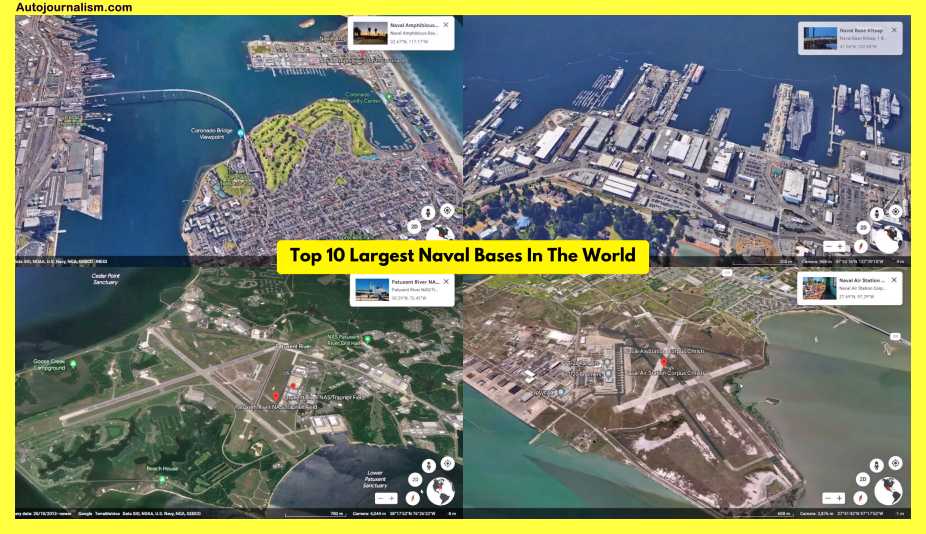 Naval bases play an essential role in a country's naval power and defense capabilities. They provide a home for naval ships and submarines and offer various services, such as maintenance and repair, training, and logistics. Additionally, naval bases often include research and development facilities for new naval technologies and systems. So In this article, we have compiled a list of the Top 10 Largest Naval Bases In The World based on their physical size.
Here are the top 10 largest naval bases in the world:
Naval Base Coronado (Largest Naval Base): This base spans approximately 57,000 acres in size and is one of only two Navy amphibious training bases in the United States. The base includes Naval Air Station North Island, Naval Amphibious Base Coronado, Camp Marina, four SEAL Teams, the Pacific Fleet, and much more.
Naval Base Kitsap: With a total area of about 12,000 acres, this base is located on the Kitsap Peninsula in Washington. It is one of the largest naval bases in the U.S. in terms of population, with about 12,000 active duty members, 14,000 civilians, 12,000 veterans, and military families calling this base home. Kitsap primarily deals with submarines due to its proximity to Puget Sound and Naval Shipyard.
Naval Air Station Patuxent River: This base is located near the Chesapeake Bay and is one of the most physically impressive naval bases, with a 6,400 acre site and about 15 naval tenant commands. It records over 165,000 different aircraft movements per year, making it one of the most active bases on the East Coast.
Naval Air Station Corpus Christi: The current total area of this base is 5,662 acres, and it has a population of about 48,000. This is where the majority of airmen who serve in the Navy get their training and many of the aviators that get trained at this base end up working with the Department of Defense.
Naval Station Norfolk: Established in 1917, this base has a total of 4,300 acres as part of its territory. It is the world's largest naval station in terms of infrastructure, supporting 75 ships and 134 aircraft, along with 14 piers and 11 aircraft hangars. The base is home to over 149,000 soldiers and military families, and it is the hub for Navy logistics going to the European and Central Command theaters of operations and the Caribbean.
Naval Station Mayport: This base is 3,409 acres in size and is located half an hour away from Jacksonville. Over the years, it has served as a major center during important missions like Operation Desert Shield, Operation Desert Fox, and the Cuban Missile Crisis. Approximately 48,000 soldiers call this place their home base.
Naval Air Station Jacksonville: Around 53,000 people live and work on this massive 3,400-acre plot of land, and much of the work here involves America's most elite training and some of our most advanced anti-submarine tactics.
Joint Base Pearl Harbor Hickam: This massive 2,850-acre base now hosts over 55,000 people who live there, work there, or otherwise conduct business within its limits. Over 160 different commands are based at Pearl Harbor, making it one of the most active bases on this list.
Naval Air Station Joint Reserve Base Fort Worth: This base is 2,300 acres in size and has a population of 27,000. It focuses on air training and is a joint reserve base that gets quite a bit of action. There are around 40 different commands inside its grounds.
Naval Base San Diego: Comprising over 1,600 land acres and 326 acres of water, Naval Base San Diego is home to about 48,000 military personnel from approximately 180 different commands, making it one of the more active places for the biggest Navy in the world to work.
---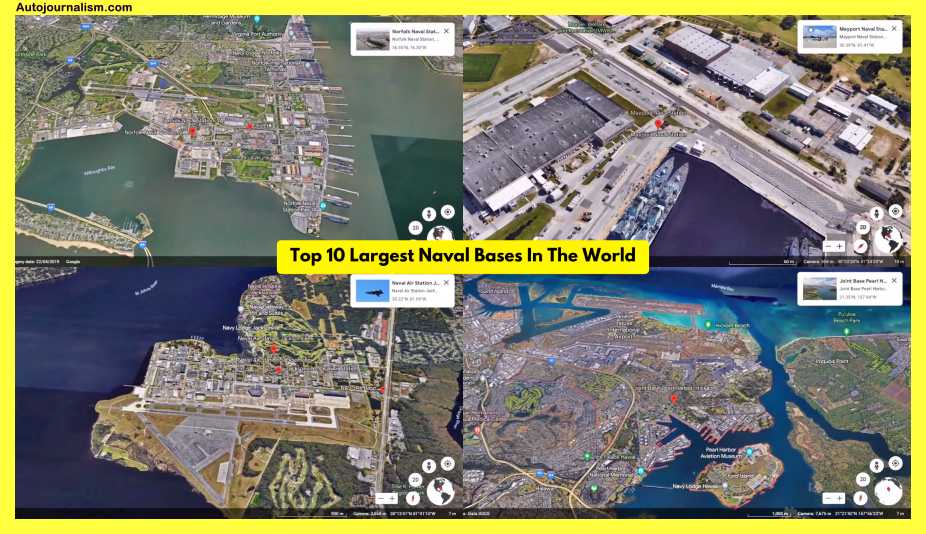 Table of Top 10 Largest Naval Bases In The World with areas:
Rank
Naval Base
Area (acres)
10
Naval Base San Diego
1600 land,

326 water

9
Naval Air Station Joint Reserve Base Fort Worth
2300
8
Joint Base Pearl Harbor Hickam
2850
7
Naval Air Station Jacksonville
3400
6
Naval Station Mayport
3409
5
Naval Station Norfolk
4300
4
Naval Air Station Corpus Christi
5662
3
Naval Air Station Patuxent River
6400
2
Naval Base Kitsap
12000
1
Naval Base Coronado
57000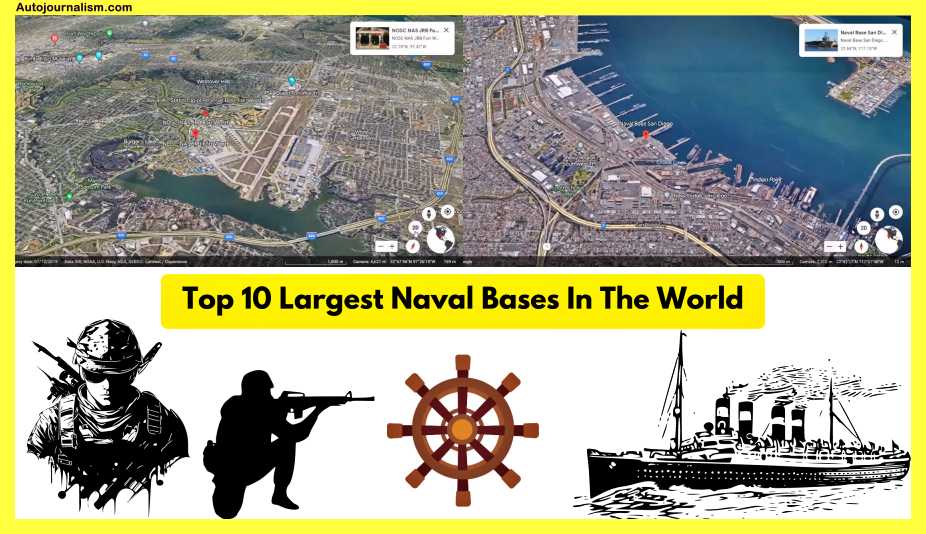 ---
Also Read: