List of All Types Of Motors Used In Ev
Here is the List Of All Types Of Motors Used In Ev, electric cars are available in different drivetrain options the placement of the electric motor plays a very important role in the power delivery, and the purpose of the vehicle EVs can come in different configurations.
Such as a single motor dual motor three motor or a separate motor for each wheel some EVs like Tesla use a single or dual-motor setup the wheels are directly connected to the motors by eliminating transmissions the model s plaid and the tesla roadster come with a three-motor setup two individual motors dried each of the rear wheels and a common motor driving the front wheels the Rivian r1t and r1s have separate motors for each wheel however they are inboard and not hub motors this setup will increase the agility and handling of the vehicle before getting into these motor configurations in details.
How does Electric Motor work?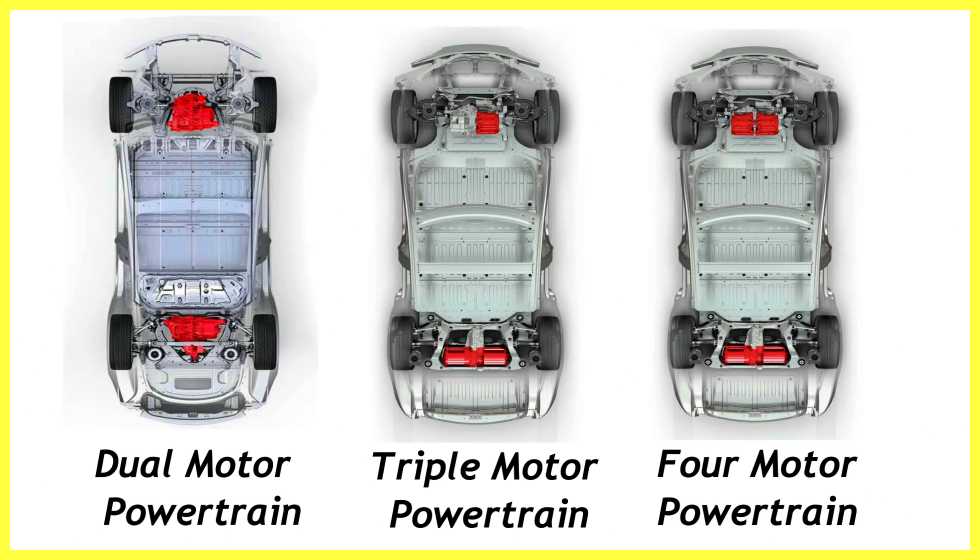 let's understand how an electric motor works inside an electric car an electric car motor works using a physical process that consists of using a current to create a magnetic field at the fixed part of the machine called the stator whose displacement sets in motion of a rotating part called the rotor understanding how an electric motor work is pretty simple.
here's (see image) the simplified explanation of how a 4-pole 3-phase ac induction motor works in a car it starts with the battery in the car that is connected to the motor electrical energy is supplied to the stator by the car's battery and the coils within the stator that is made from the conducting wire are arranged on opposite sides of the stator core and act as magnets in a way therefore when the electrical energy from the car battery is supplied to the motor the coils create rotating magnetic fields that pull the conducting rods on the outside of the rotor along behind it the spinning rotor is what creates the mechanical energy needed to turn the gears of the car which in turn rotate the tires well that's about the working part.
What Types of Motors are Used in Electric Vehicles?
Now about the motors, there are different types of electric motors used in the automobile industry when it comes to electric vehicles there are seven types of motors with each having its own strength and weaknesses they are –
Brushed DC Motor
Brushless DC Motor
Permanent Magnet Synchronous Motor
Induction Motors
Switched Reluctance Motors
Synchronous Reluctance Motor
Axial Flux Ironless Permanent Magnet Motor
Now let's see how these motors are different from one another.
1. Brushed DC Motor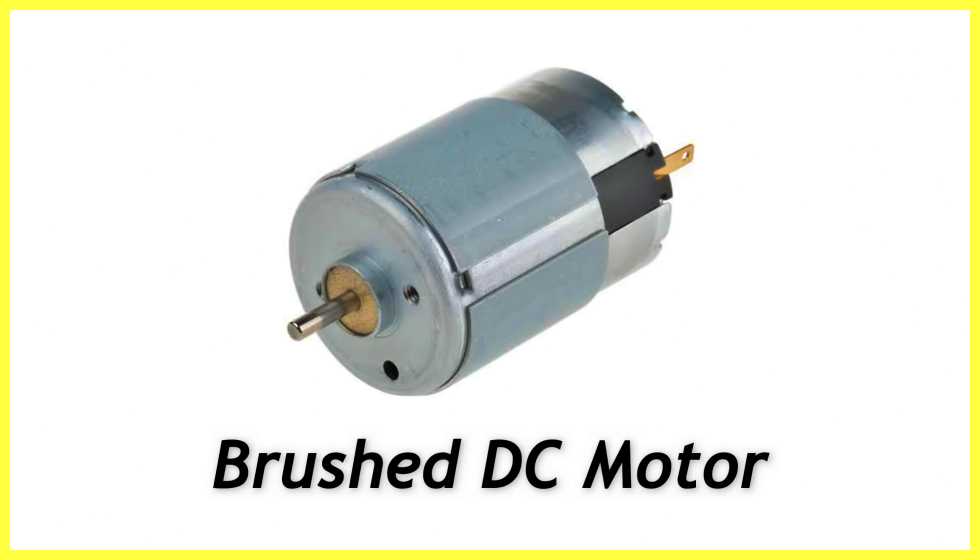 A brushed dc motor is one of the simplest types of dc motor it uses brushes to transmit current to the motor winding through mechanical commutation the armature or rotor is an electromagnet the field magnet is a permanent magnet this motor does not require any controller to operate or vary the speed the advantage of these motors can be the ability to provide maximum torque at low speeds,
on the other hand, the disadvantages are its bulky structure low-efficiency heat generated by the brush, and the associated drop in efficiency the heat is also difficult to remove as it is generated in the center of the rotor because of these reasons brushed dc motors are not used in evs any more cars like fiat panda electric used a series dc motor
it is a dc motor with permanent magnets it is called brushless because it does not have a commutator and brush arrangement the commutation is done electronically in this motor because these motors are maintenance-free they have traction characteristics like high starting torque and high efficiency of around 95 to 98 percent and are suitable for the high power density design approach brushless motors are the most preferred motors for electric vehicle application.
due to their traction characteristics, these are useful for use in small cars requiring a maximum of 60 kilowatts of power the disadvantages are a short constant power range decreased torque with an increase in speed high cost because permanent magnet cars like Toyota Prius used brushless dc motor.
2. Brushless DC Motor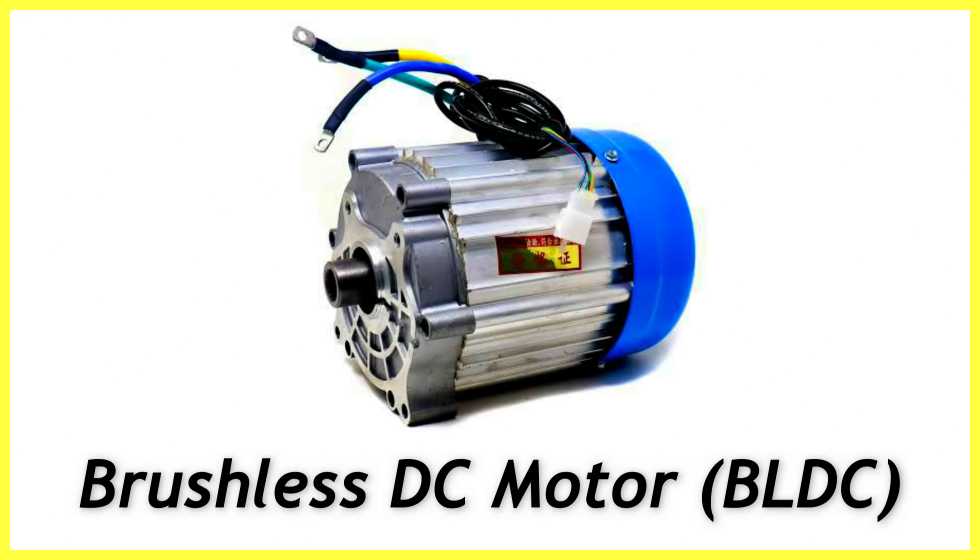 Brushless DC Motors (BLDC): BLDC motors are the most popular type of motor used in EVs today. They offer high efficiency, low maintenance, and a long lifespan. They are also more efficient than traditional brushed motors and have a longer lifespan.

In this motor, there are permanent magnets on the rotor like brushless dc motors these motors also have traction characteristics such as high power density and high-efficiency permanent magnet synchronous motors are available for higher power ratings

it is also expensive as compared to other motors the advantage of this motor is that it can operate in different speed ranges without using a gear system it is efficient and compact suitable for in-wheel applications it also has high torque even at very low speeds The disadvantage is that the huge iron will lose at high speeds during in-wheel operation.
3. Permanent Magnet Synchronous Motor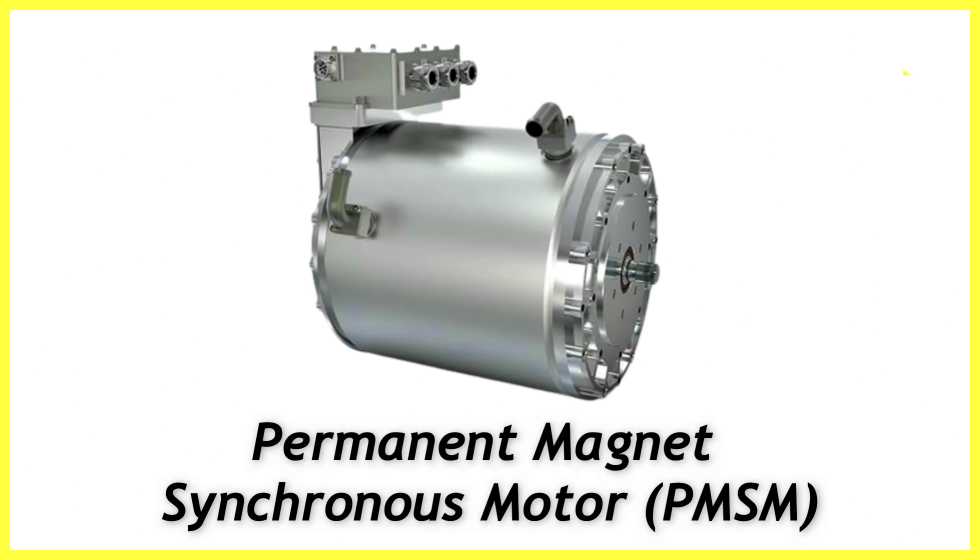 Permanent Magnet Synchronous Motors (PMSM): PMSM motors are similar to BLDC motors but have a slightly different design. They use rare-earth magnets to produce a strong magnetic field, which allows them to achieve high efficiency and torque density.

Most automotive manufacturers use these motors for their hybrid and electric vehicles, for example, the Chevrolet bolt EV Ford focuses on the electric Nissan Leaf, and BMW i3 use permanent magnet synchronous motors for propulsion.
4. Induction Motors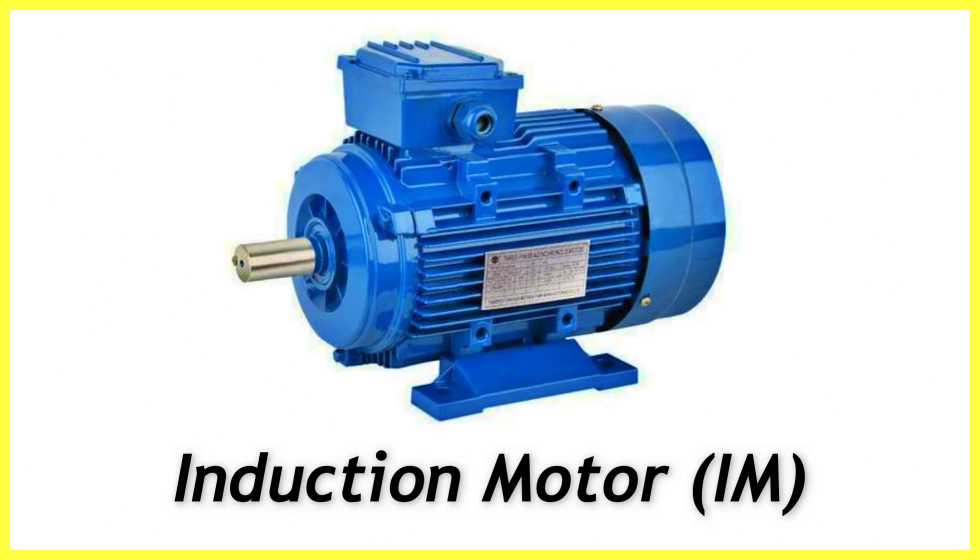 Induction Motors: Induction motors are also known as asynchronous motors. They use electromagnetic induction to create rotational force. They are relatively simple and inexpensive to manufacture, making them a popular choice for EVs.

The induction motors do not have a high starting torque like dc series motors under fixed voltage and fixed-frequency operation but this characteristic can be altered by using various control techniques like vector control or field-oriented control methods by using these control methods the maximum torque is made available at the starting of the motor which is suitable for traction application squirrel cage induction motors have a long life due to less maintenance these motors can be designed up to an efficiency of 92 to 95 percent

the drawback is that it requires a complex inverter circuit and control of the motor is difficult induction motors are the preferred choice for performance-oriented electric vehicles due to their cheap cost tesla model s is the best example to prove the high-performance capability of induction motors Toyota rav4 and gm ev1 also use.
5. Switched Reluctance Motors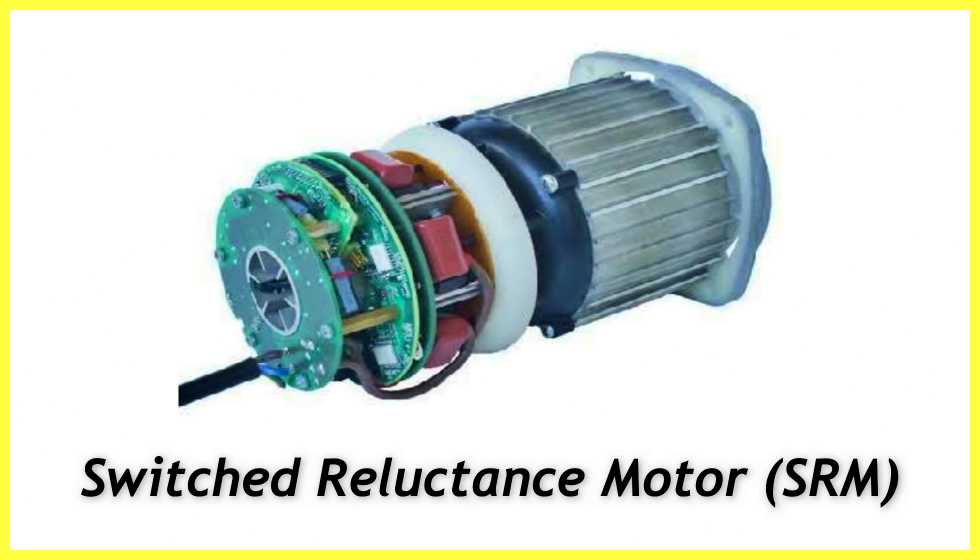 Switched Reluctance Motors (SRM): SRM motors use a simple design with fewer parts than other motors. They are highly efficient, but they can be noisy and produce a lot of vibrations.

This motor switched reluctance motor is a category of the variable reluctance motor with double saliency simple and strong in construction the rotor of this motor is a single piece of laminated steel with no windings or permanent magnets on it this reduces the inertia of the rotor which helps in higher accelerations the robust nature of this motor makes it suitable for high-speed applications

it also provides high power density which is an essential feature of electric vehicles the biggest drawback of switched reluctance motors is the complexity of control and increases in switching circuits it also has some noise issues.
6. Synchronous Reluctance Motor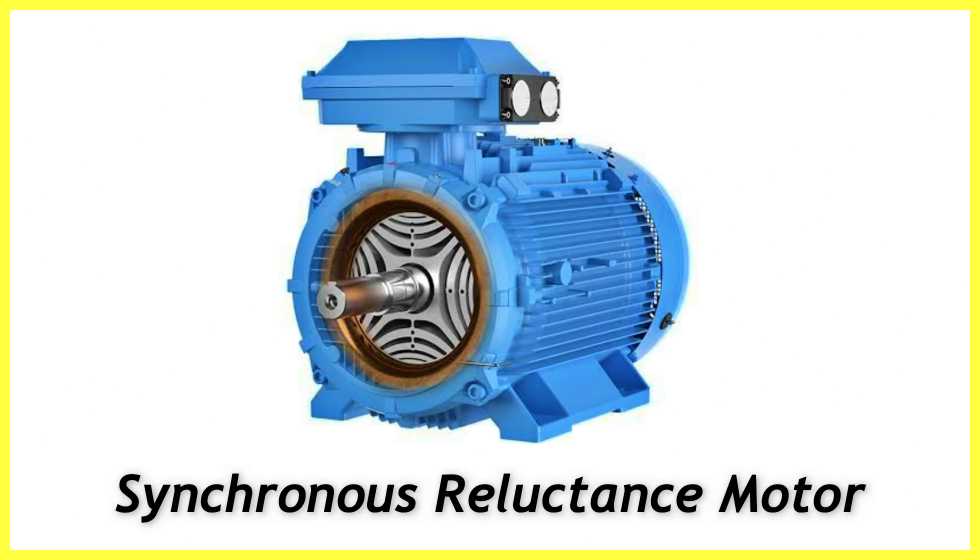 A synchronous reluctance motor is a synchronous electric motor the torque of which is due to the inequality of magnetic conductivities by quadrature and direct axes of the rotor which has no field windings or permanent magnets.
currently, this type of motor is becoming very popular as an alternative to electric as well as hybrid vehicles due to its easy and strong construction the main advantage of this motor mainly depends on the non-existence of rotor cage losses by allowing a higher permanent torque than the torque of an induction motor of the same size.
7. Axial Flux Ironless Permanent Magnet Motor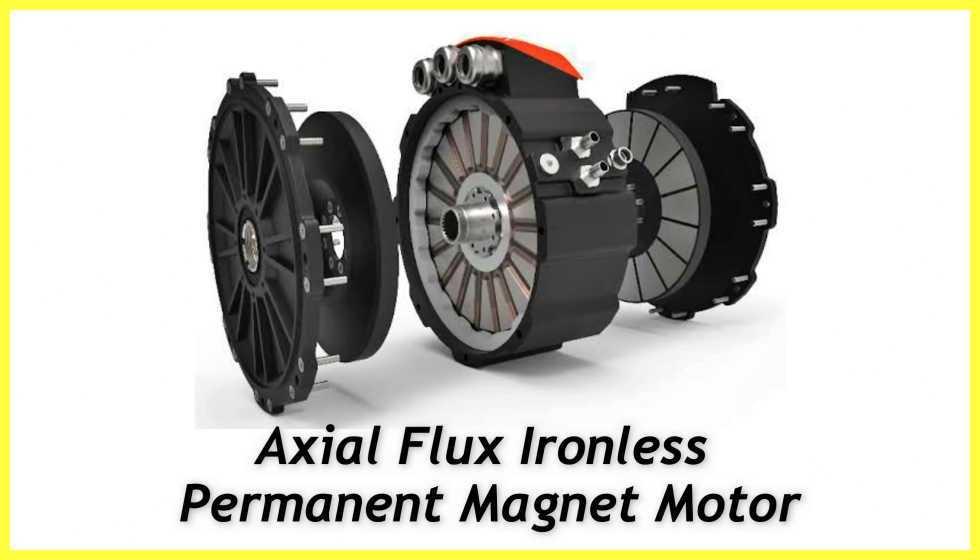 This motor is the most advanced motor used in EVs it has an external rotor with no slots the use of iron is avoided here the stator core is also absent to reduce the weight of the machine the air gap here is radial field type providing better power density a notable advantage of this machine is that the rotors can be mounted on the lateral sides of the wheels placing the stator winding on the axle the slotless design improves efficiency by reducing copper losses as more space is available Renovo coupe used this motor.
8. Hybrid Motors
Hybrid motors combine the features of two or more types of motors. For example, some hybrid motors combine the efficiency of a BLDC motor with the power of an induction motor.
Different Motor Configurations Used in EVs
According to the number of motors used in vehicle and their configuration existing powertrain EVs can be classified into two types, Including the centralized single-motor driven powertrain and the distributed multi-motor driven powertrain the centralized single single-motor one-speed driven powertrain is the most common structure in modern EV some EVs are focused on distributed multi-motor driven powertrain and it is mainly classified into three categories dual-motor powertrain triple motor powertrain and four motor powertrain.
Electric Vehicle Motor Types
Single Motor Configuration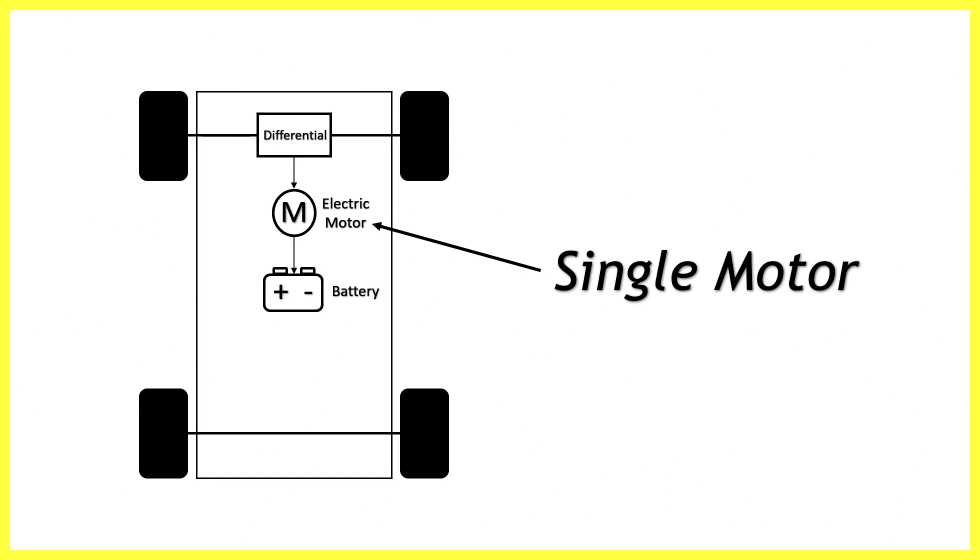 let's start with single motor configuration it's relatively simple to understand the single motor system there is a single motor that drives the car it is the motor that is charged and produces torque to the engine in the single motor configuration the electric motor is mounted as front wheel drive there is also a differential as well that allows the wheels to rotate at different speeds the motor converts the electrical energy received from the battery into mechanical energy which enables the vehicle to move it also acts as a generator during the regenerative process which sends energy back to the energy source.
Some Tesla EVs and Pulstar 2 come with a single-motor front-wheel drive and there is also a dual-motor all-wheel-drive version the electric range of this car is 425 kilometers with a top speed of 160 kilometers per hour fewer components are needed to create a single motor system with an adapted conventional transmission used which makes it all in all cheaper to build this makes it a less expensive option for consumers which is always a good selling point for the eager buyer.
it's also a better option for those who are new to the electric car as it has a slightly different feel than a regular gas-powered car it might not be as efficient as a dual motor system simply because it lacks the second motor to create power braking won't feel as normal as a driver is used to while the transmission is downshifting to put it simply the single motor system provides enough power to suit most individuals.
Dual Motor Configuration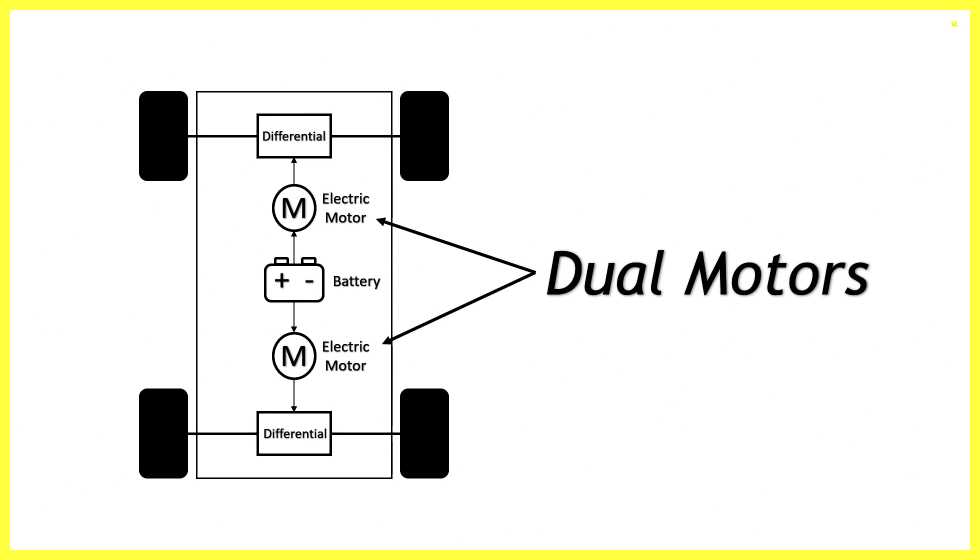 When it comes to a dual motor system you can expect to have a pair of motors that are placed in different spots of the vehicle it's relatively clear that a car with two motors should be able to offer more horsepower behind the wheel the combination of the torque from both motors ensures that there is a significant boost in acceleration for the driver
it is important to note that the same is also true for a single motor electric car however a dual motor is going to outperform a single motor in terms of efficiency and speed at a higher altitude with the AWD system in the dual motor the car is able to distribute the horsepower and maximize the torque levels in immediate response to the road conditions.
in this system two motors are provided on each axle and are coupled through planetary gear and the torque is coupled through shaft fixed gear front and rear motor drives are supplied by one or sometimes two different battery packs by using two motors two-axle configuration.
it is possible to choose different power and torque sizing for the drives and also to adopt different gear ratios for the gearboxes you can check out this performance table for the two traction motors for front and rear gear ratios the use of two traction drives improves the total tractive effort delivery in the whole speed range with respect to a single drive of the same total power rating the main reasons for having more than one traction motor is that the additional degree of freedom in vehicle torque vectoring for enhancing traction and stability control and the increased reliability of the overall traction system tesla model 3 comes with the option of dual motor all-wheel drive system.
it has two independent motors for improved redundancy each with only one moving part for minimal maintenance and maximum durability unlike traditional all-wheel drive systems they digitally control torque to the front and rear wheels for far better handling and traction control the electric range of this car is 576 kilometers with the top speed of 260 kilometers per hour the dual motor system allows for the car to speed up more quickly than ever before.
while also having the ability to stop quickly there are little to no gear shifting feels to the driver leaving you with a smooth drive one of the motors can be used to power up the car while the other set of batteries can be recharged this gives the user the ability to travel further without worrying about charging up dual-motor systems are going to be more expensive due to the simple fact that they are more complicated to put together and there is a lack of standard transmission the overall control software is going to be slightly more complex than a single motor system.
Triple Motor Configuration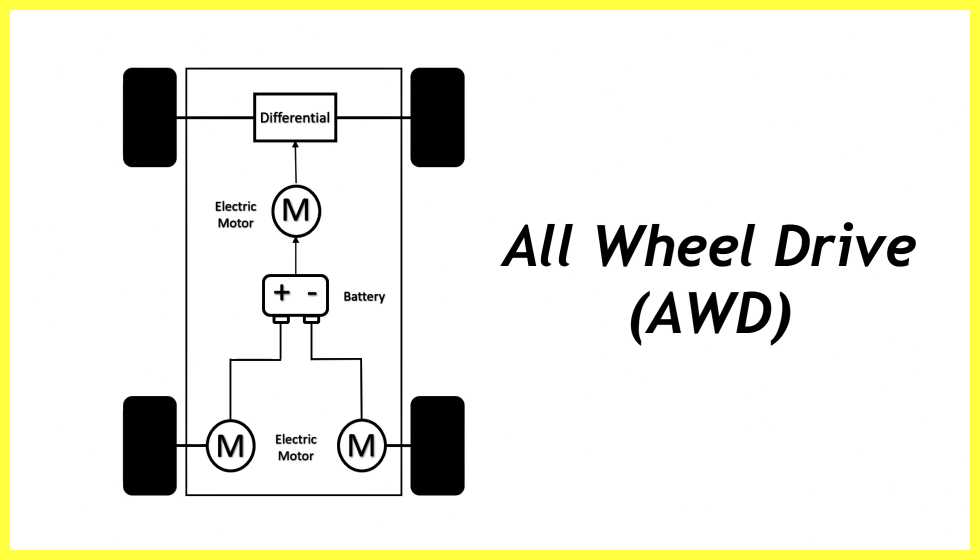 In this system, one motor is being placed on the front axle while two motors fitted to the rear axle thus making the car all-wheel drive the two motors drive each wheel of the rear axle to improve efficiency and are solely responsible for powering the car in normal driving conditions the third front-mounted motor comes to life when the driver needs more performance each of the electric motors mounted on the rear axle drive Torx directly to the corresponding wheel through a single-speed transmission that's what called electric torque vectoring and it eliminates the need for a mechanical differential.
this exponentially enhances the all-wheel-drive system and the cars have improved handling stability and grip they stay true to tradition the driving feel of the cars being focused on the rear this powertrain feels sportier than your everyday car and is very eager to drift Audi revealed their latest version of the company's first mass-production EV in the shape of the e-Tron s and its Sportback twin it is the first EV with a three-motor powertrain tesla model s and model x also use the three motor powertrain.
Four Motor Configuration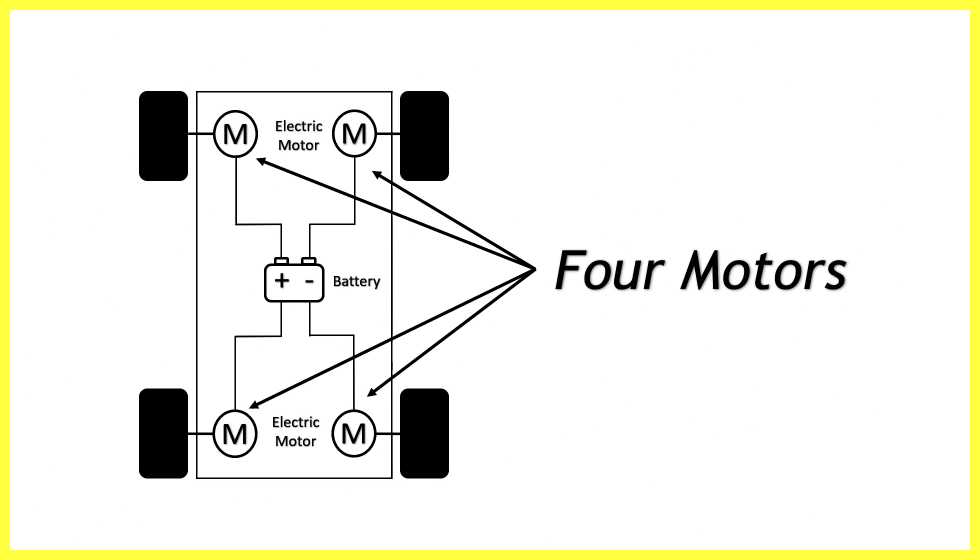 With a dedicated motor at each corner, the super handling all-wheel drive system can precisely apply either positive or negative torque individually to each wheel this opens the door to torque vectoring in full time acted your control something that will make consumer EVs safer and more energy efficient for motors means proper torque vectoring usually as you turn a corner the inside wall and the outside will are rotating at the same rate with torque vectoring the outside will can get more power pushing the car into a sharper tighter turn an ev with four electric motors can also be faster and more responsive as it is adjusting torque electronically by how much power goes to each motor rather than mechanically things get even more flexible.
If you use two electric motors for each pair of wheels rather than one that way you can use two smaller motors rather than one big one on an axle and split them out to the sides of the vehicle it'll arguably be even more efficient when in-wheel electric motors start to make it to production vehicles then the majority of the motor is actually contained within the wheel itself further pushing the hardware out to the periphery of the car and freeing up even more space in the body for more practical uses.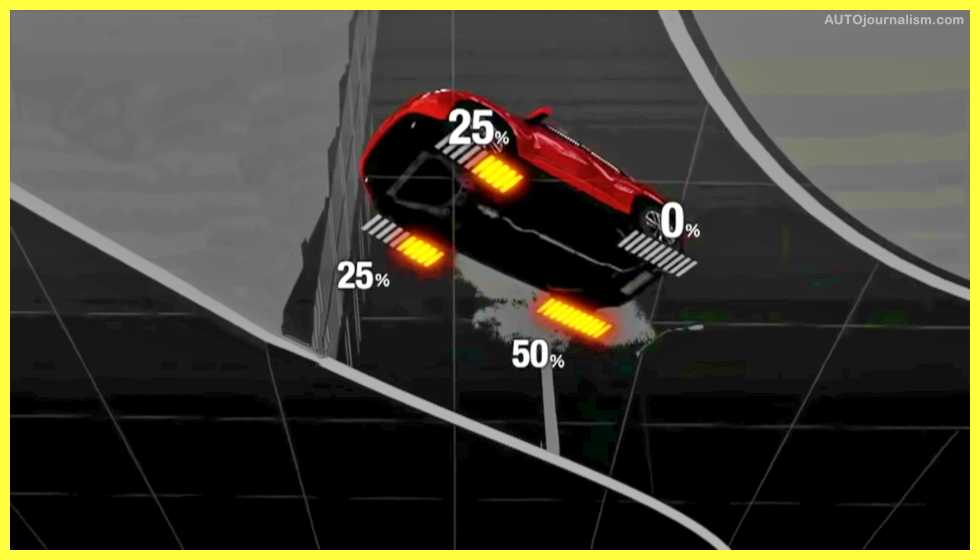 ---
Read also: